The Jumeirah Port Soller Hotel & Spa in Mallorca is one of those iconic properties that you see photos of and just think "wow". We were staying in Mallorca but had decided to stay closer to Palma at another hotel. However, we had planned to do a trip to one of my favourite parts of the island, Soller and its Port. So, of course, we decided we must visit the Jumeirah to see if it looked as great in real life as it did in the photos. Jumeirah kindly offered us free access to a day room during our visit so we could check out the facilities.
Location
The Jumeirah is situated high on the cliffs overlooking the Port of Soller with its sandy beach and multitude of seaside restaurants.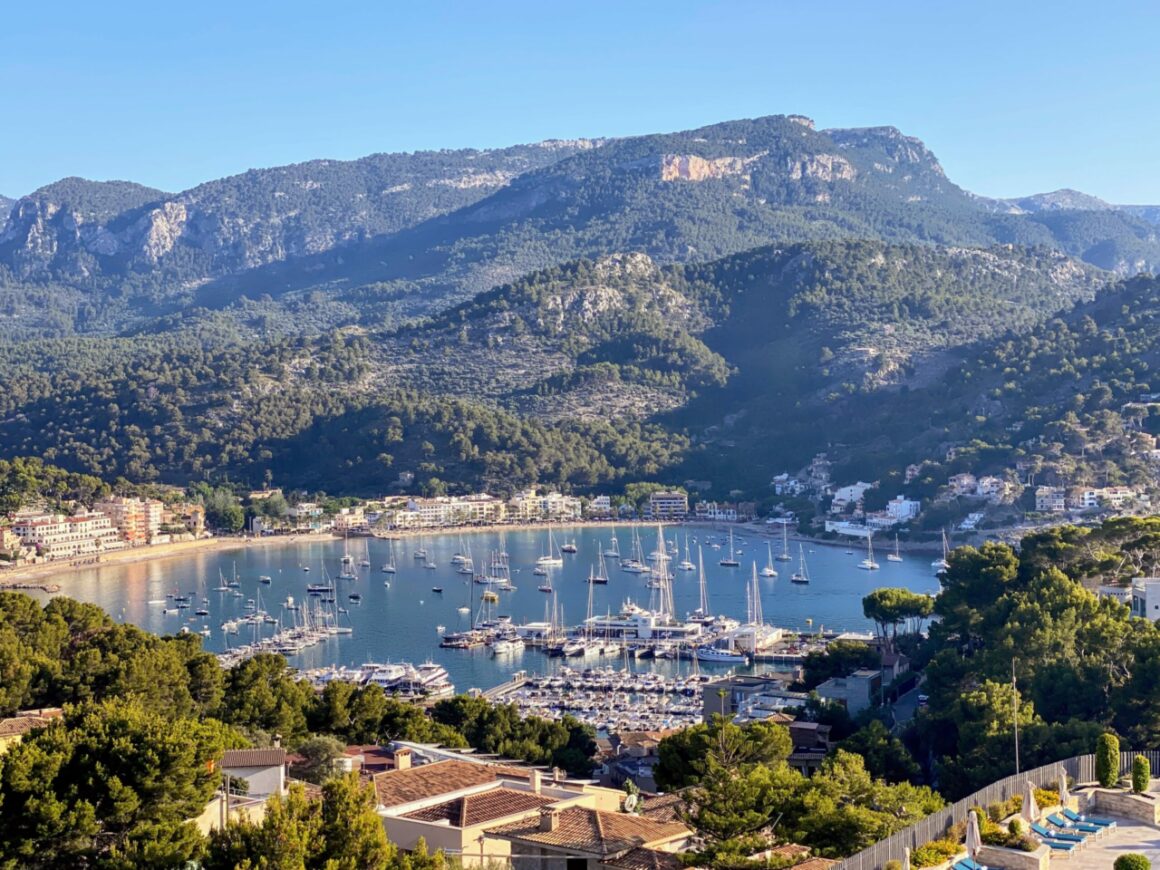 It is around 35-45 minutes from Palma and the airport.
If you are visiting Mallorca, one of my must-dos is the old wooden train that runs between the capital Palma and the pretty town of Soller.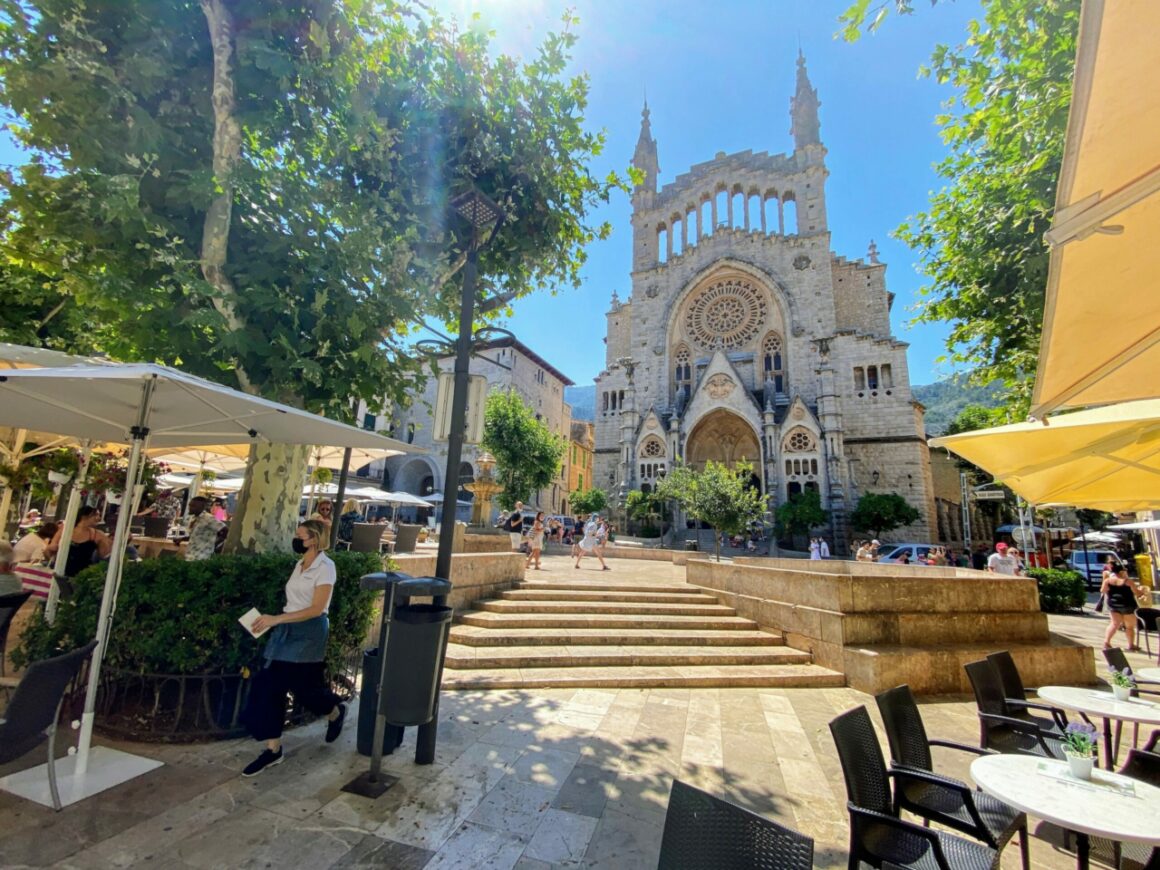 It trundles along the beautiful countryside and makes a stop in one of the most scenic spots for you to take a few photos and enjoy the view.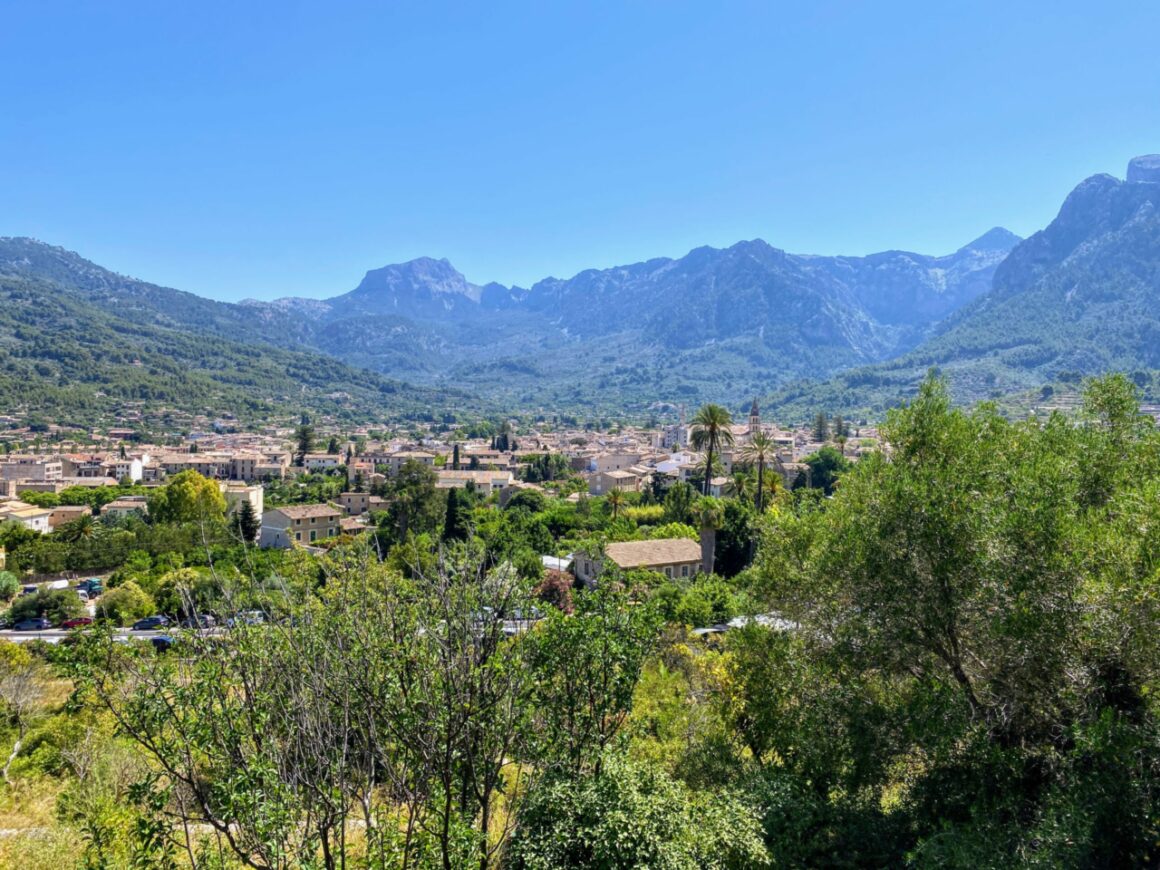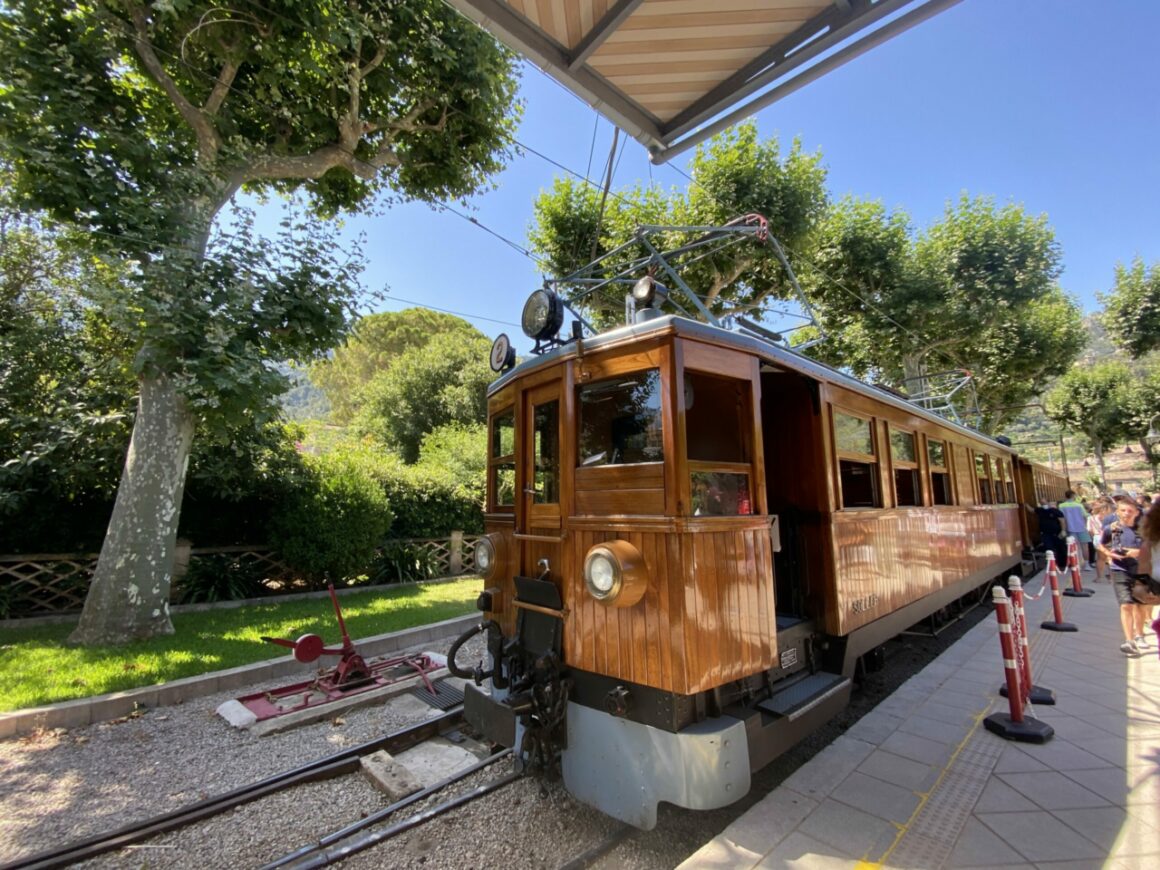 Once in Soller, there is a tram that runs down to the port. So if you are staying at the Jumeirah you could do a day trip to Palma in the other direction.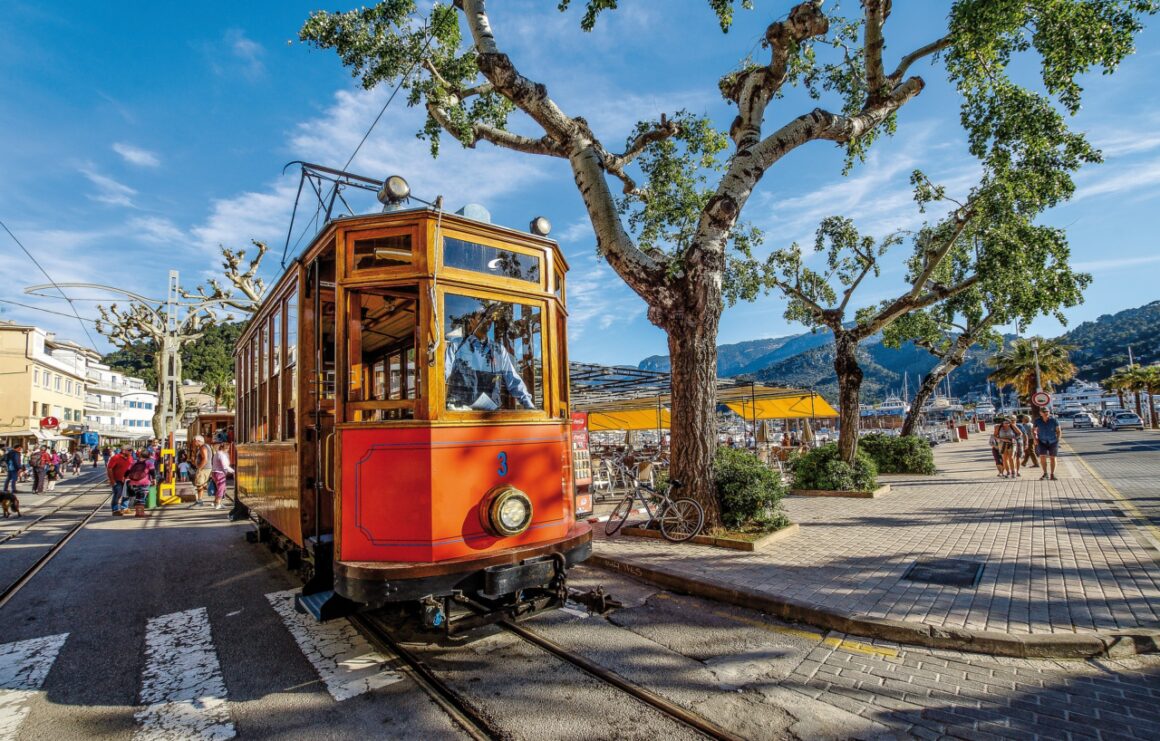 Although the Jumeirah is in a slightly remote location there is a free hotel shuttle down to the Port which takes around 5 minutes and it is easy to get taxis from the hotel too.
There are enough restaurants in the port and Soller itself to keep you occupied for quite a while in combination with the hotel's restaurants. One of my favourites in Port Soller is Kingfisher. This time we treated ourselves to a lobster paella at Albatros before heading to the hotel.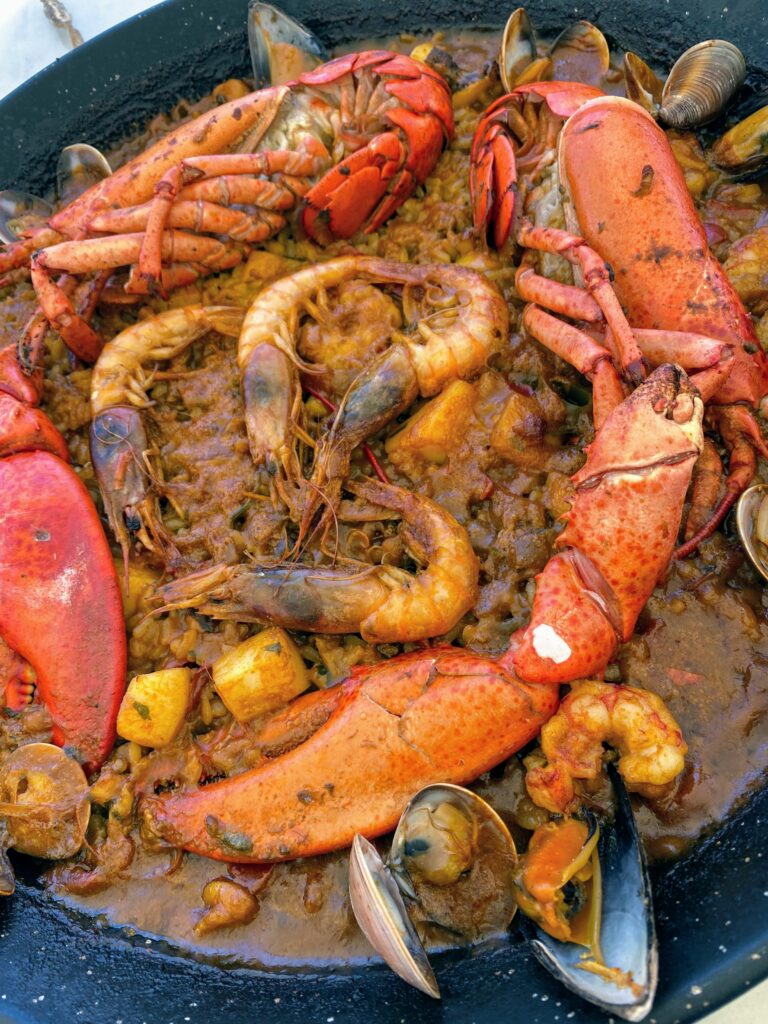 Check-in at Jumeirah Port Soller hotel & spa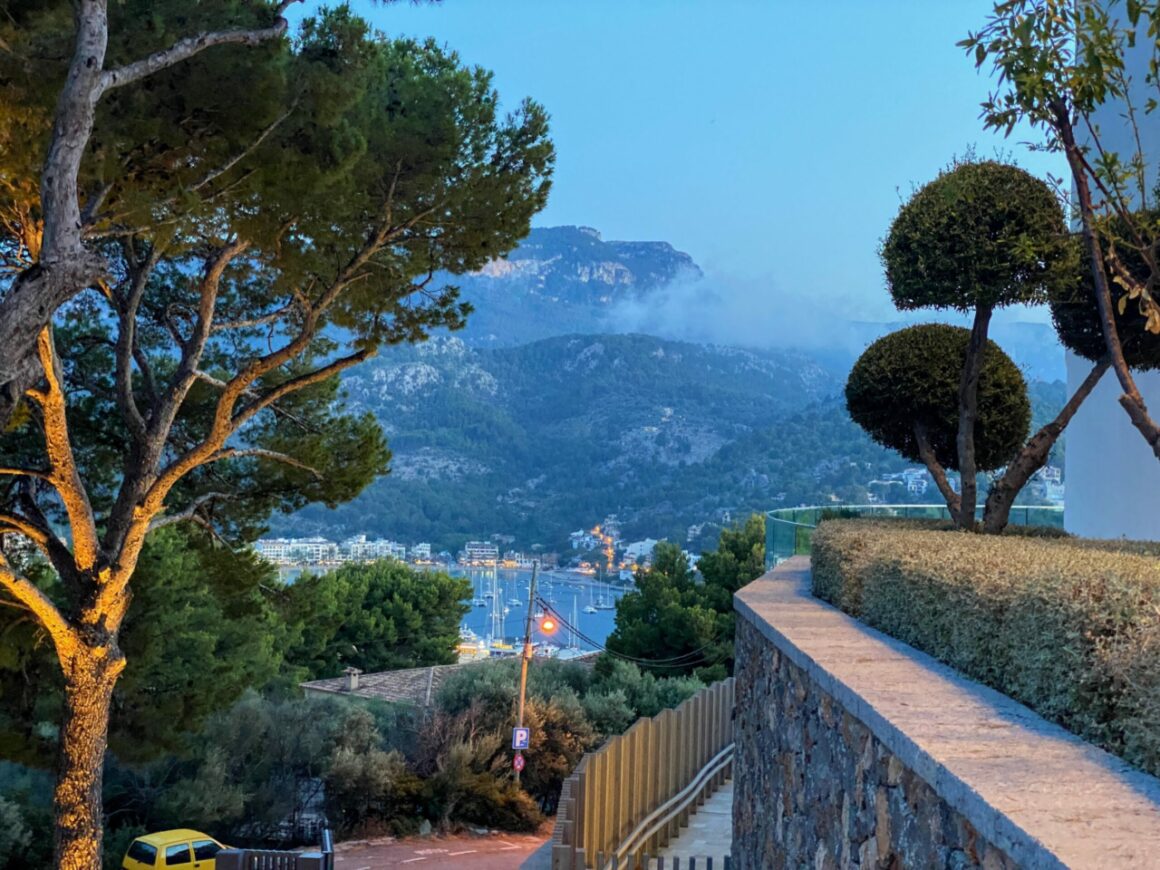 The outside of the hotel is fairly non-descript in a typical Mallorcan stone and hides the delights that lie beneath the facade. However, there are some lovely views backs to the Port.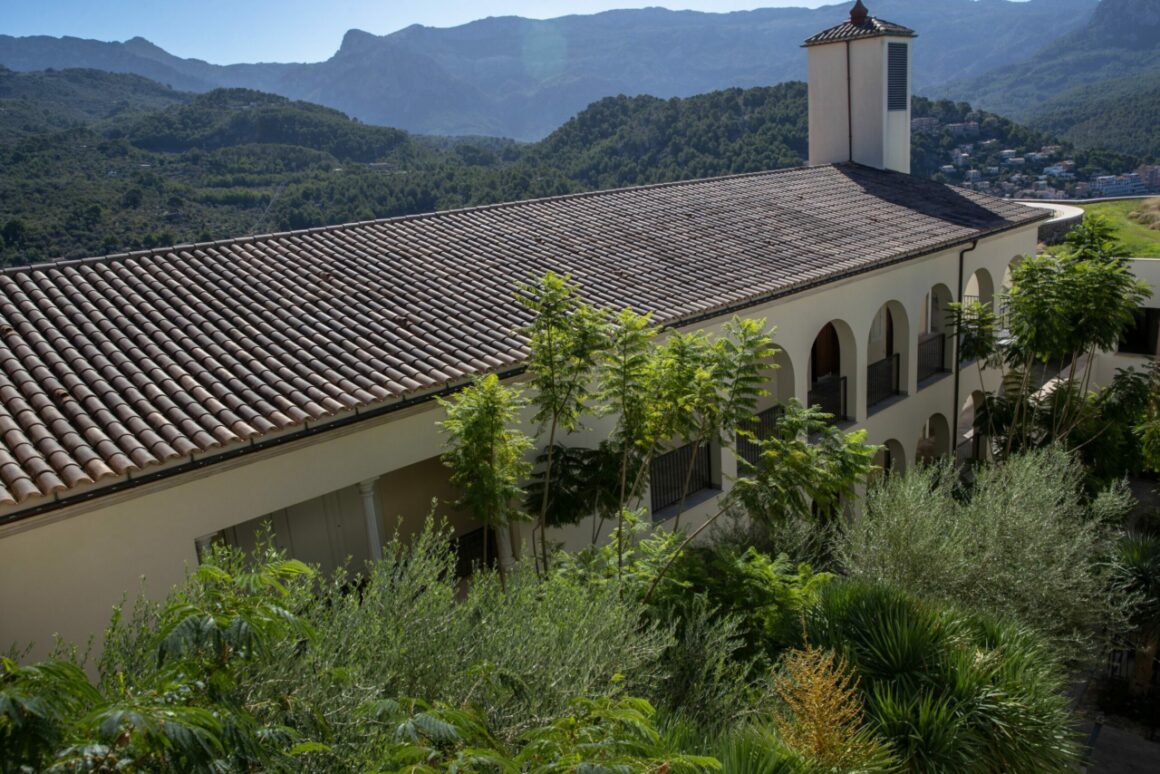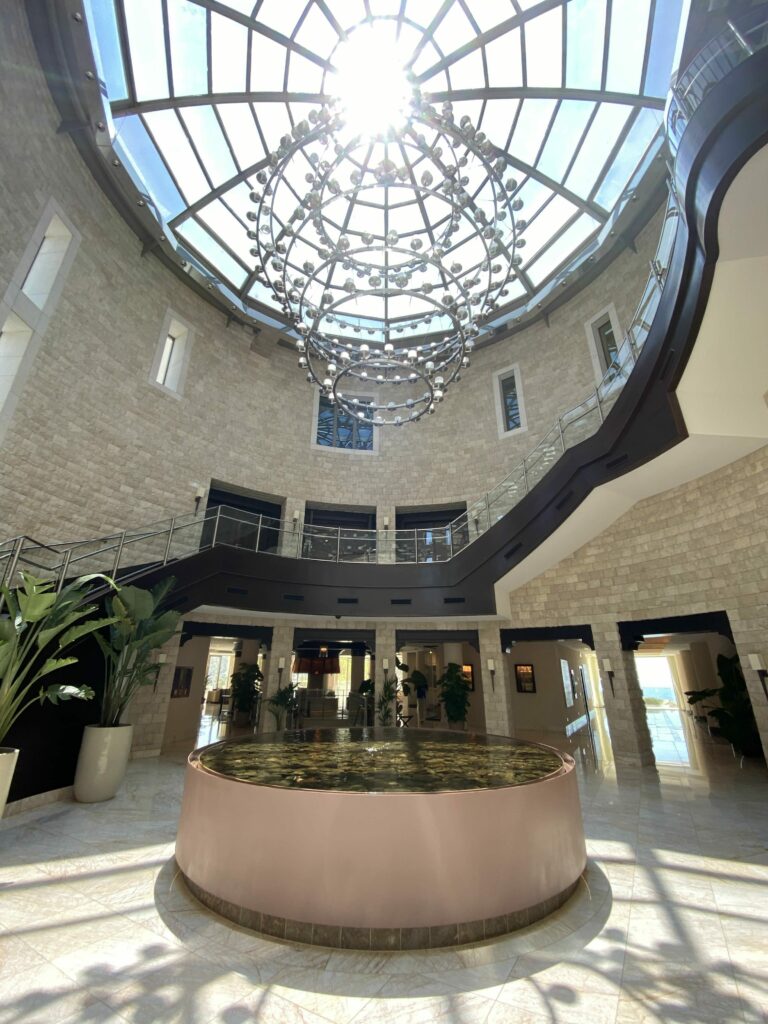 The entrance hall is gorgeous and looked particularly good with its atmospheric lighting at night. We made our way to the reception which again has a view to the sea and a series of sculptures standing guard.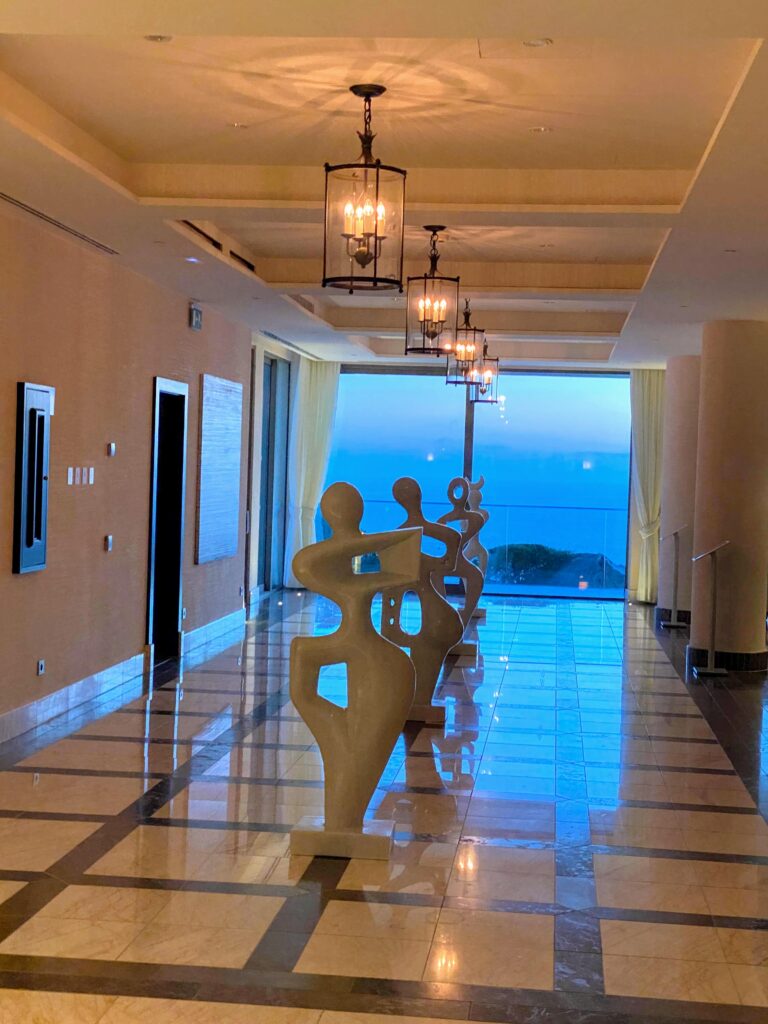 We were greeted with a cold towel that was much needed in the Majorcan afternoon heat and a refreshing drink of freshly squeezed juice.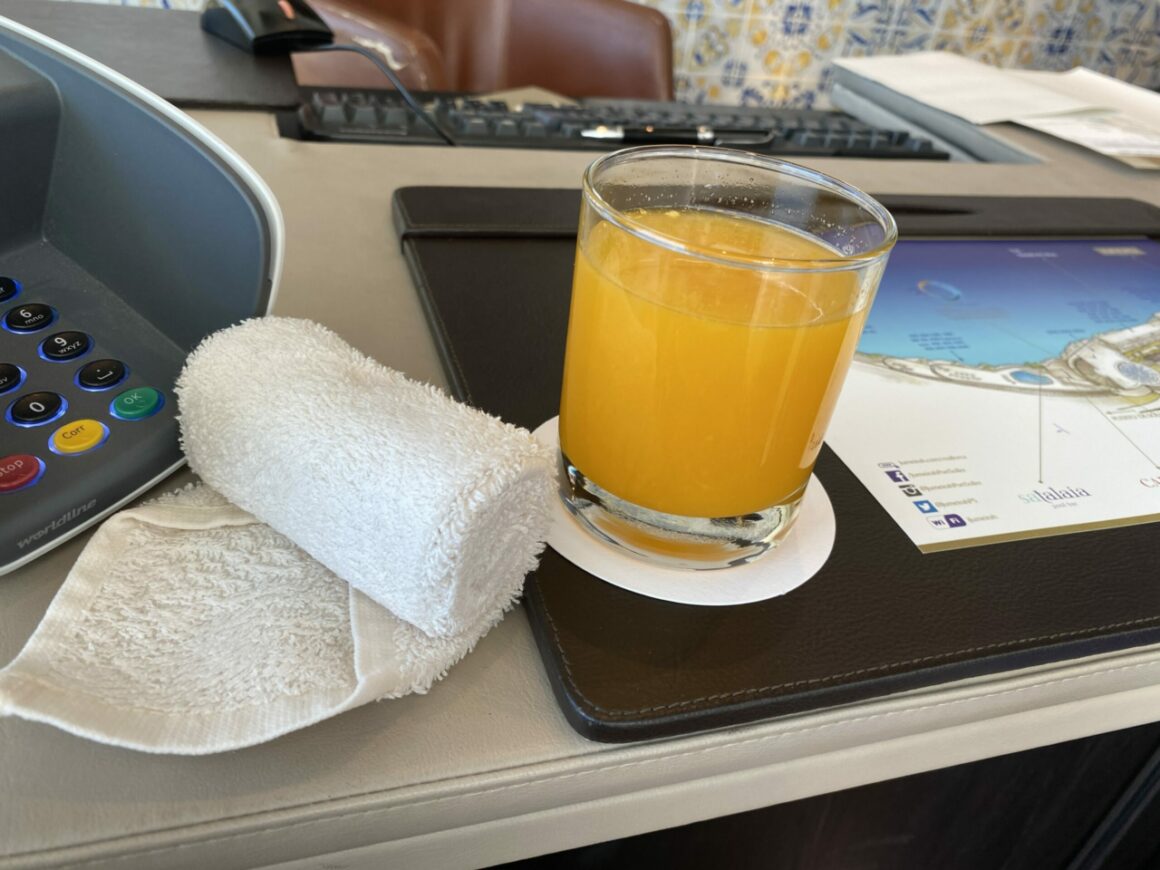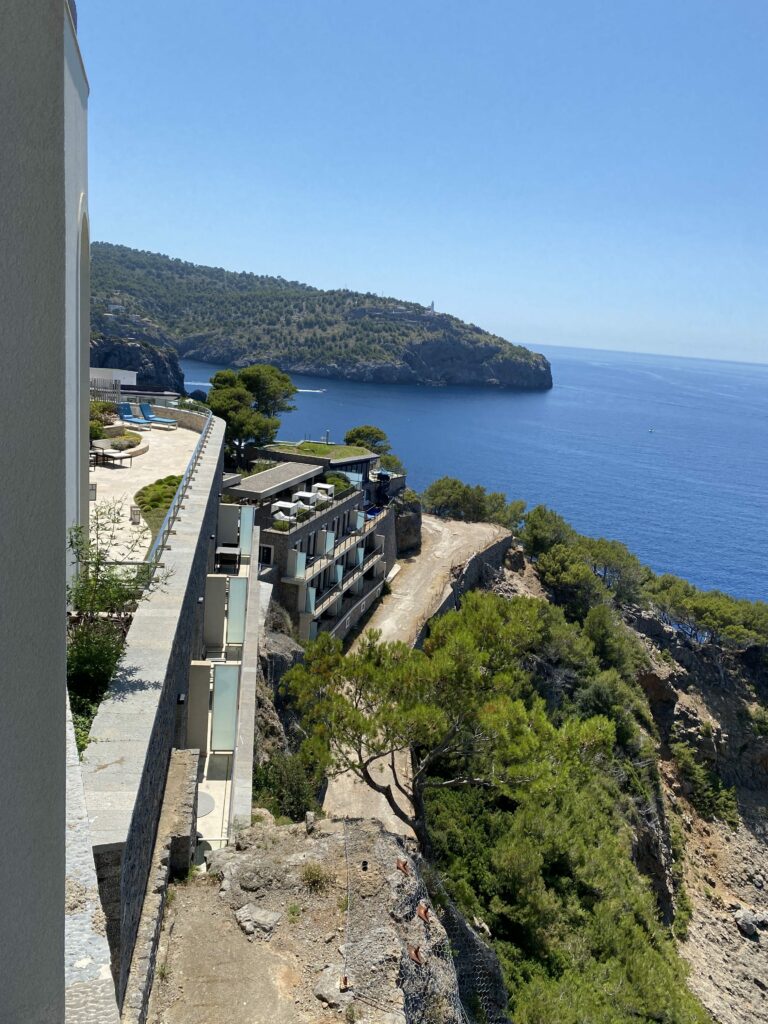 The hotel is spread out over 1km as it hugs the cliffs all the way along. It is a little maze-like so we were given a map and told where to find everything.
One thing that stood out as well as the gorgeous scenery was the staff. Without exception, every staff member was on point and we had one scenario which really proves the difference with a luxury hotel like this. We had left one of our phones in the restaurant in Port Soller. When we told reception they not only located the phone but arranged for the hotel to go and collect it in the shuttle and deliver it to our room. You may think that's because they knew who we were, but even those staff that had no clue who we were, gave the same level of friendly and professional service. Nothing felt like too much trouble!
Jumeirah Port Soller hotel & spa room

We had a double deluxe room with sea view. Each room is slightly different so they won't always look exactly the same as the pictures.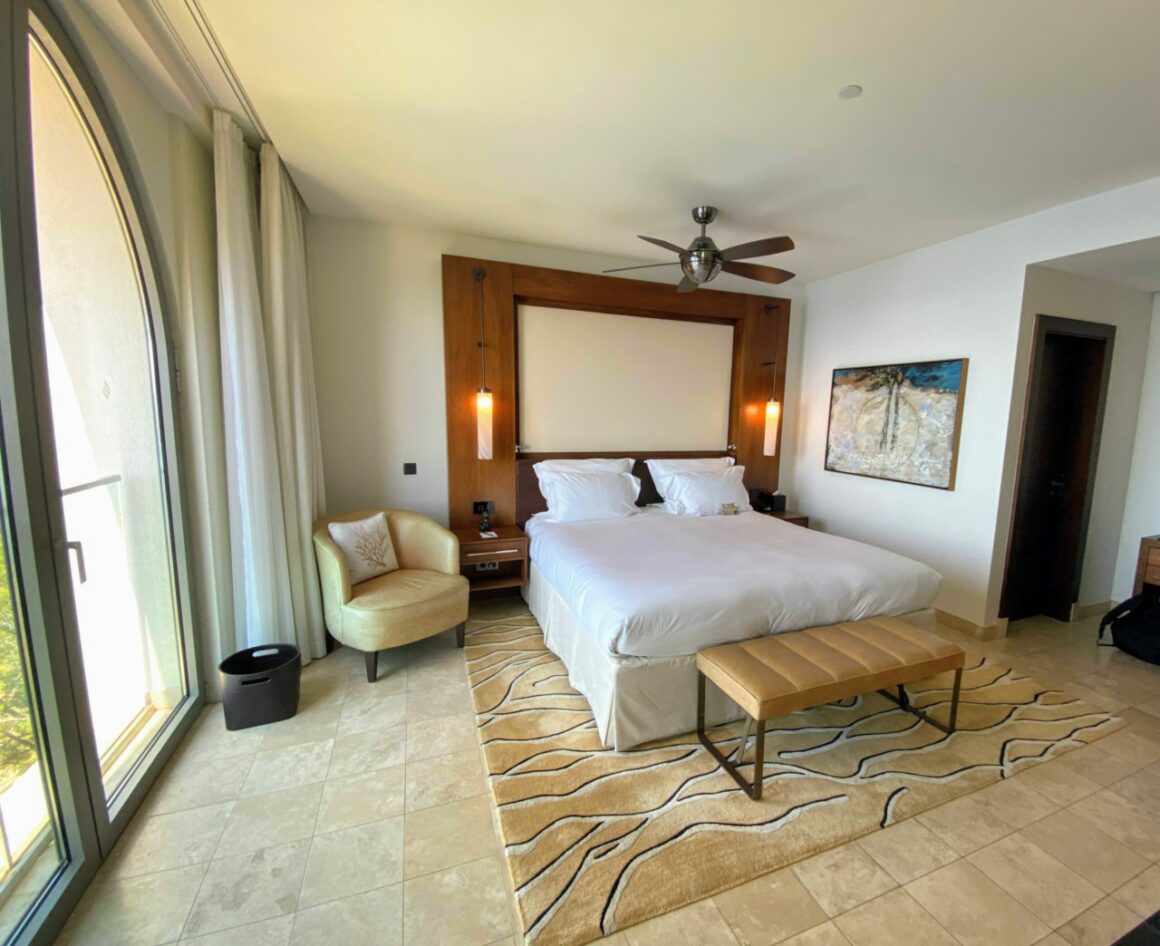 The room had a light, modern feel that made the most of the views from every area. As you walk in the framed view of the turquoise and deep blue sea has an incredible "wow" factor to it. It almost felt like it was a framed picture and part of the colour scheme! You could open the doors fully to take in the view if you wanted or to get some fresh air.
While I didn't sleep in the bed, I gave it a good test out and it met my "princess and the pea" test for being soft enough with good quality pillows and linen.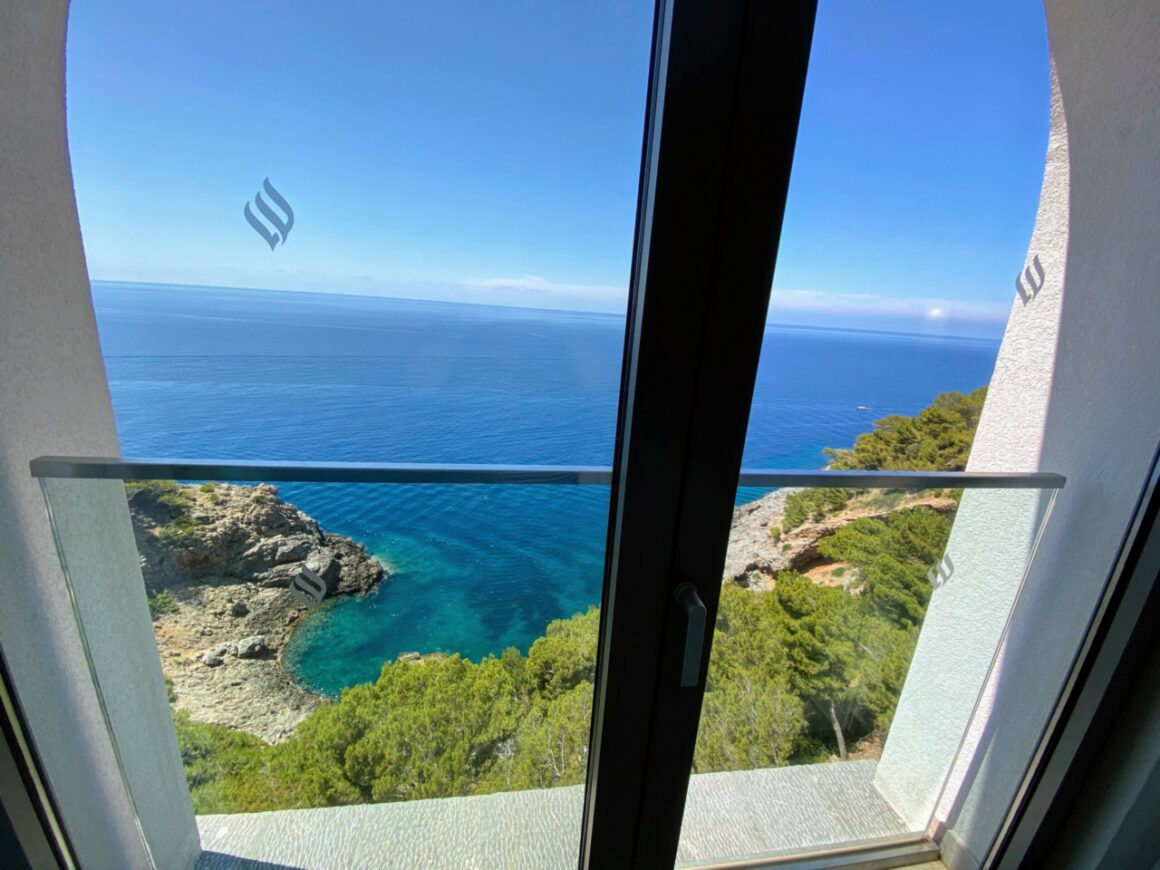 Our room had a desk to use for working (with a selection of power points) or as a dressing table, a chair, and a generous selection of premium teas and a coffee machine.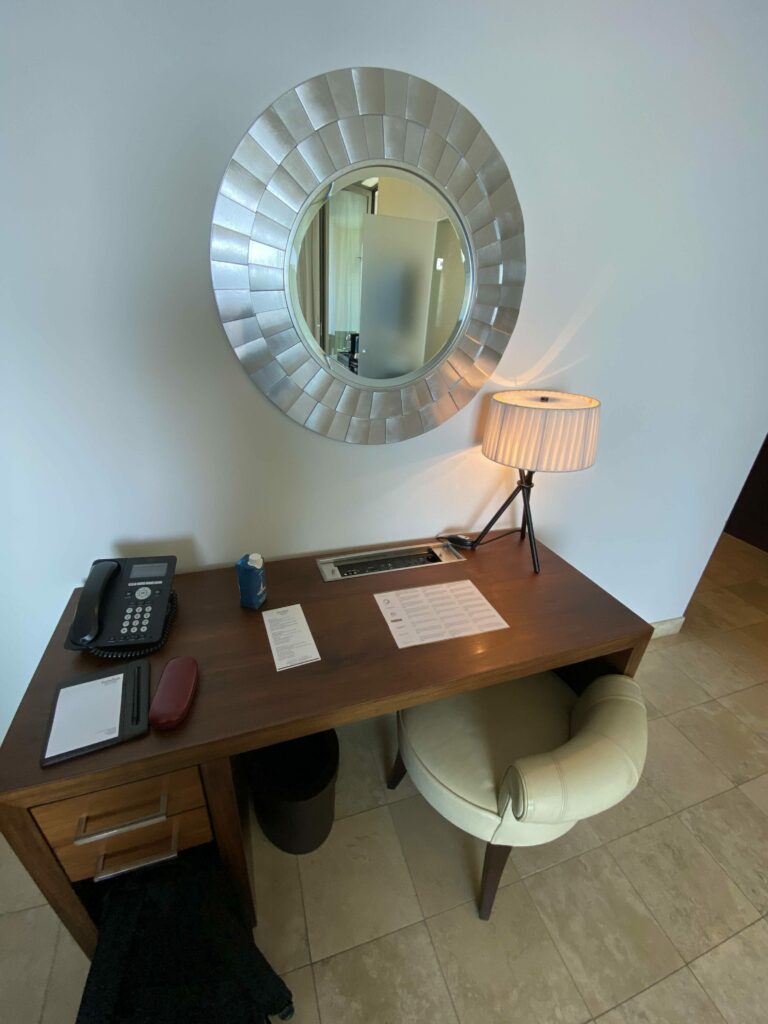 There were even some very yummy biscuits to go with your drink. A generous supply of mineral water was also with the drinks in eco-friendly glass and cartons.
The room also had a good-sized covered balcony to enjoy a pre-dinner drink while drinking in the gorgeous view!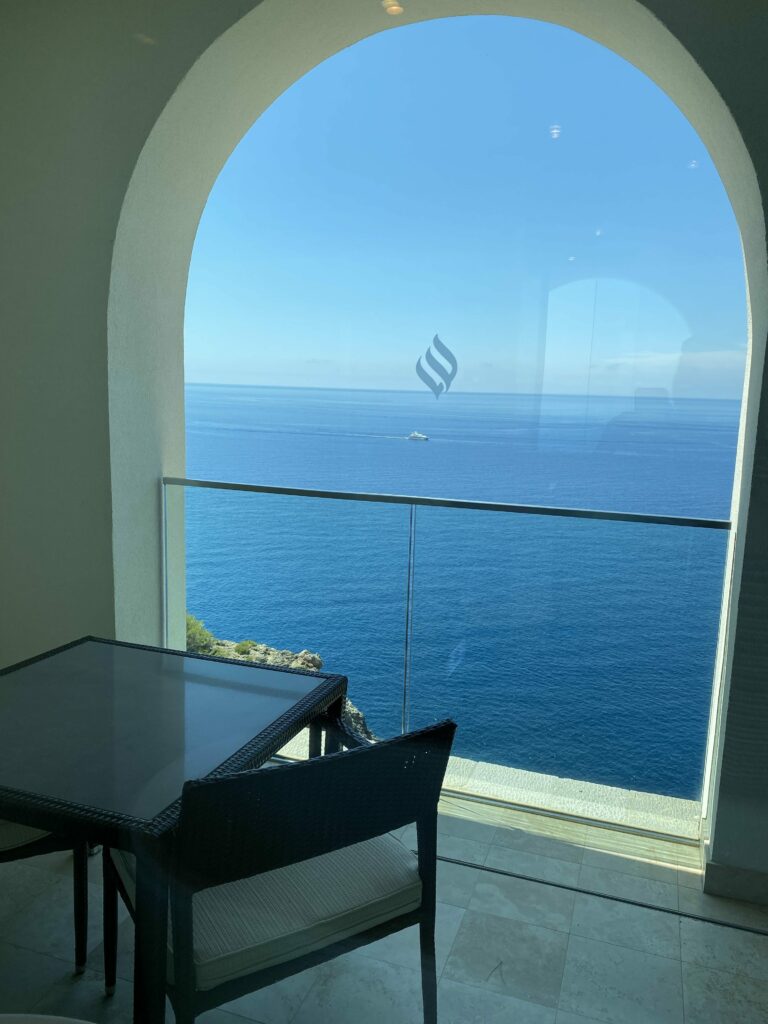 For storage space, there was a large bank of wardrobes with my favourite glass-fronted drawers. All the usual amenities such as slippers and robes were supplied as well as an umbrella. A stylish straw basket was provided to carry your pool gear around.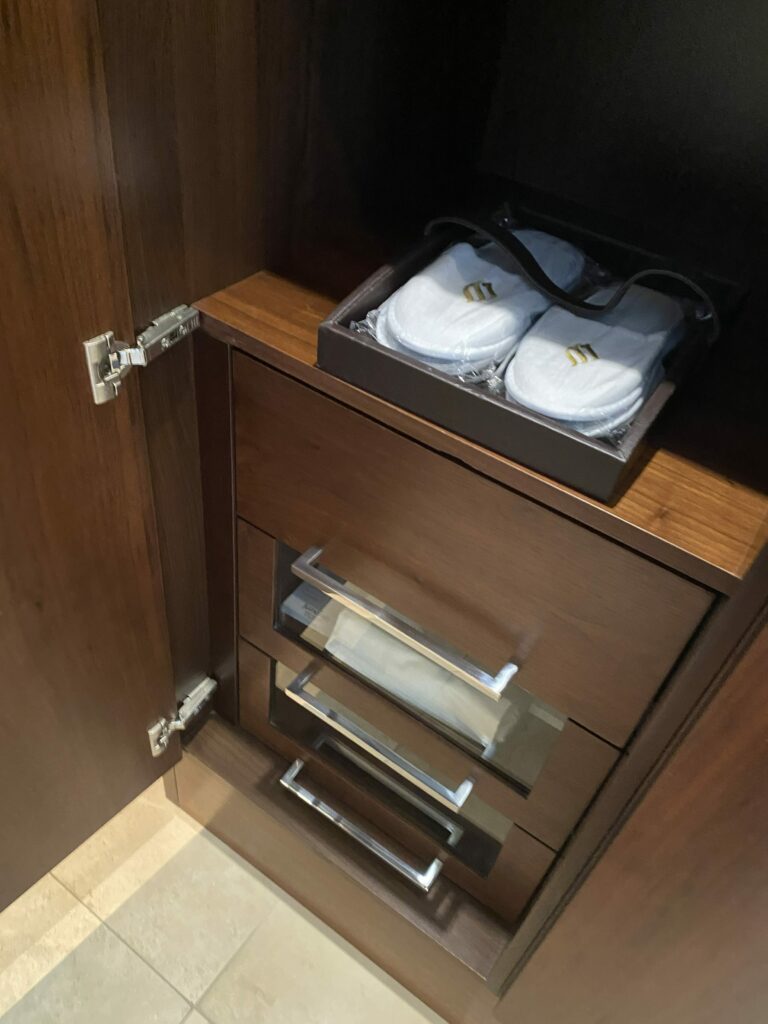 The room has an unusual layout bathroom wise but I quite liked it. If you wanted a long soak in the bathtub taking in the sea views then your travelling companion could use the separate toilet. As you can see into the bathroom from the balcony, it also solved a problem with that as well.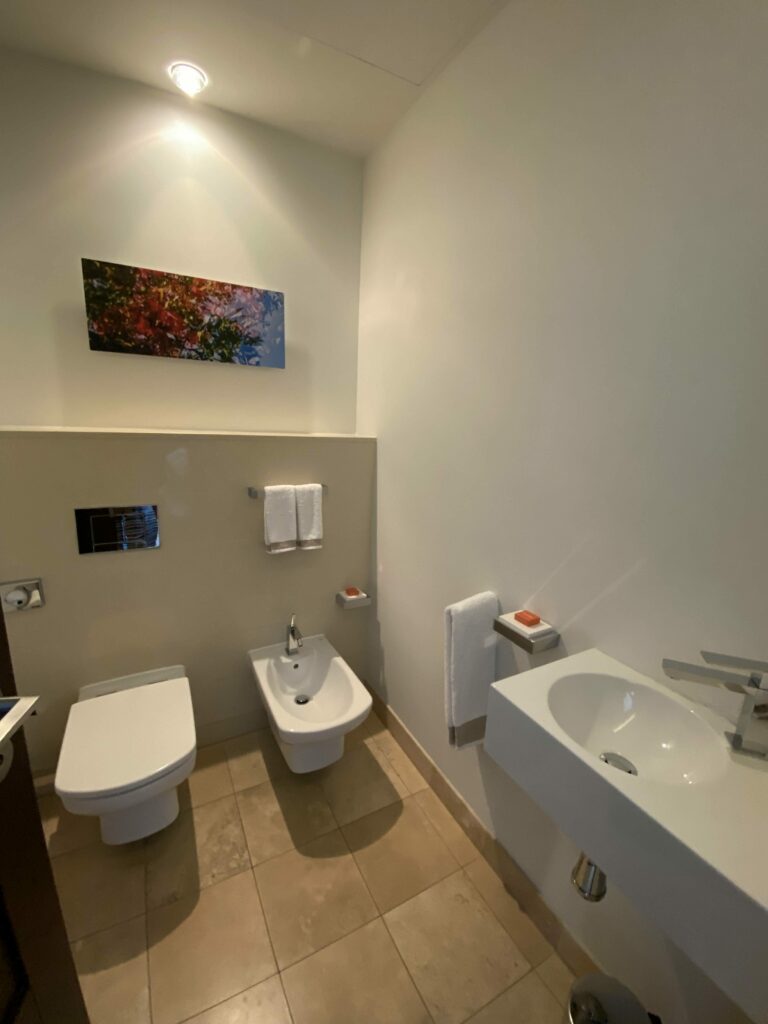 In the main bathroom, it was again focused on the view with the bathtub and walk-through shower both having a view.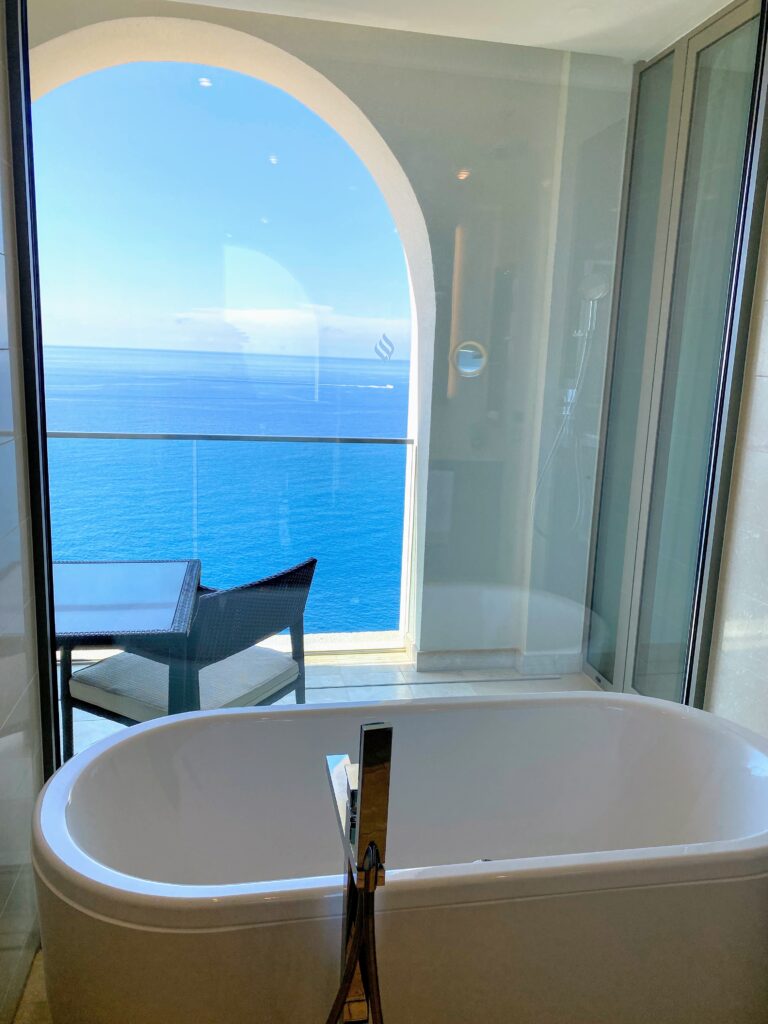 The two sinks were set into a huge vanity area with a lit magnifying mirror and plenty of storage space.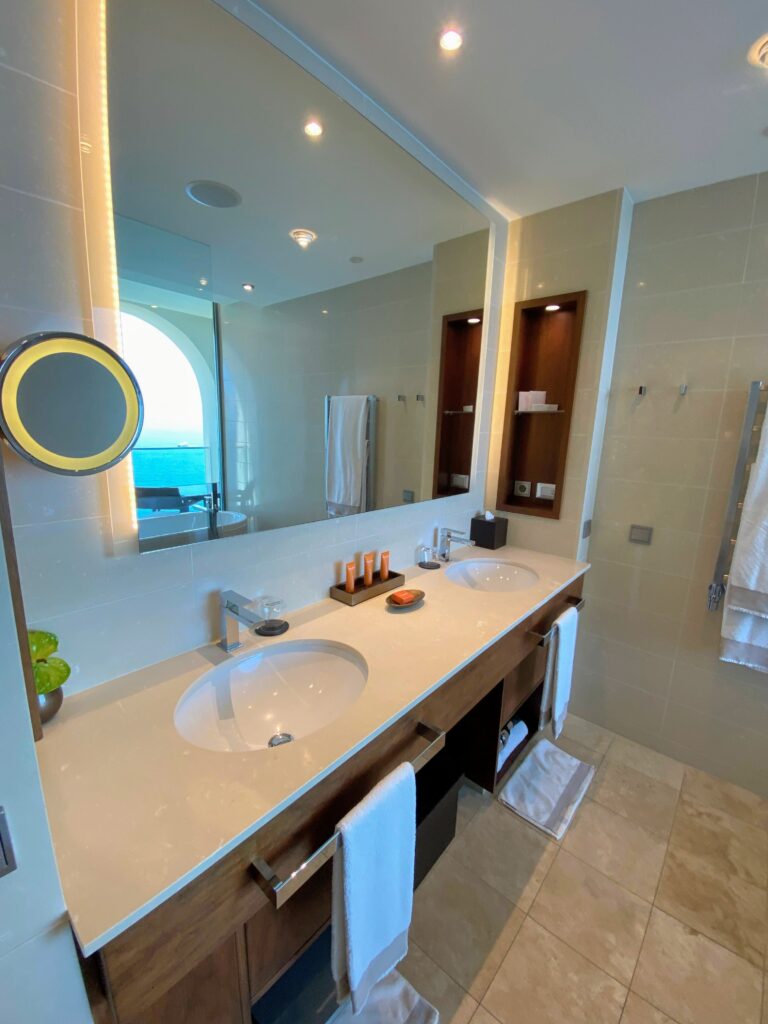 Toiletries were by high-end brand Natura Bisse which I have not seen in a hotel before. They were a good size and had a refreshing citrus smell.
Here is another example of a Deluxe category room: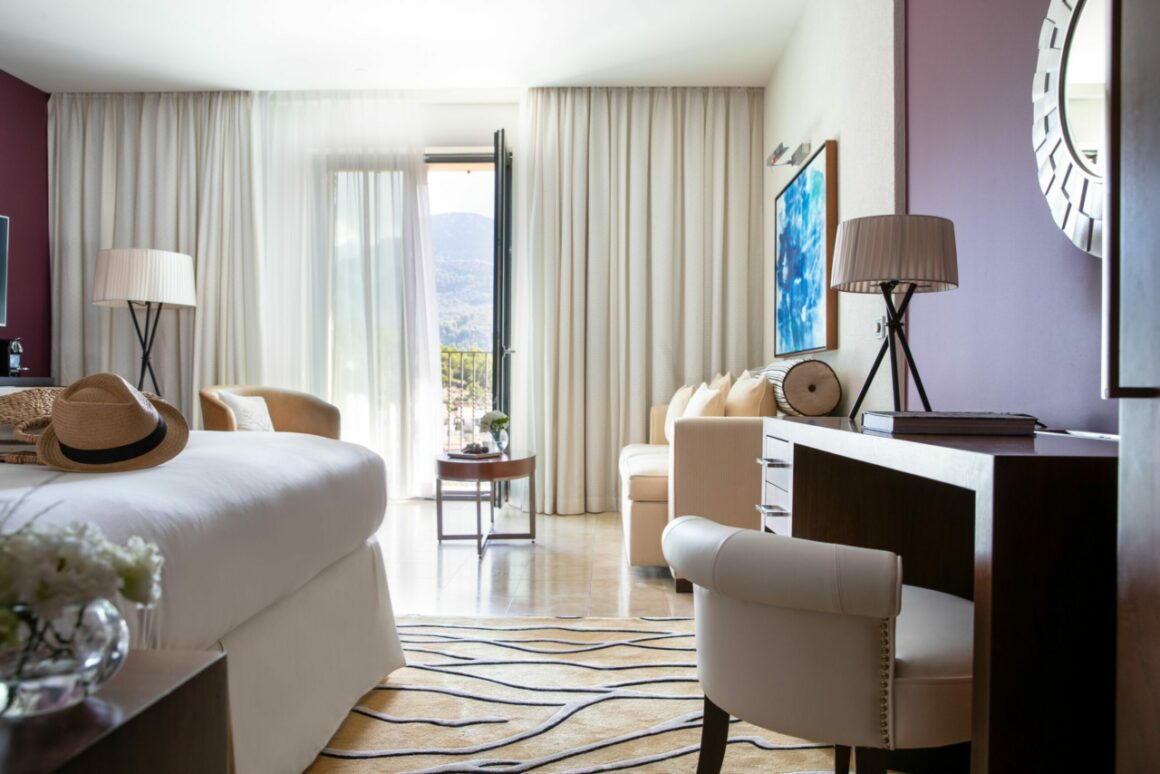 Other room types
There are many different categories of room right up to the Mar Blau Suite with its private pool.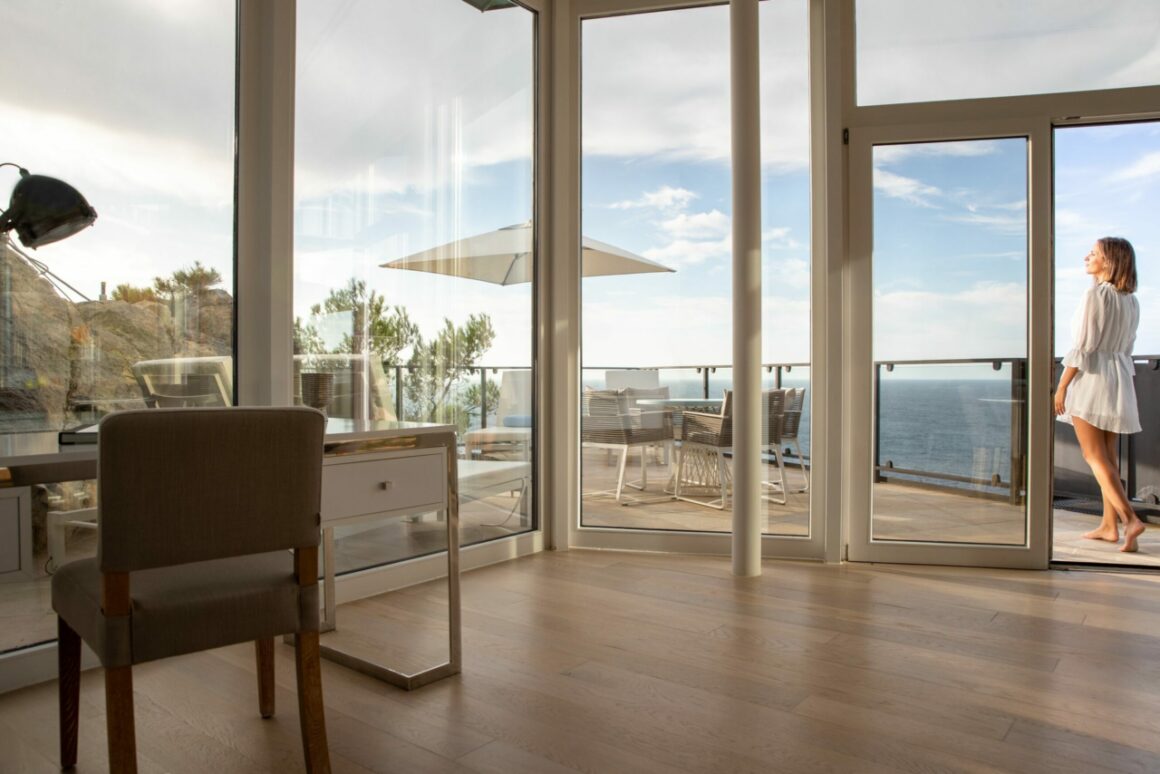 Above our category of room there's a Grand Deluxe category with sizeable terraces and then Junior Suites.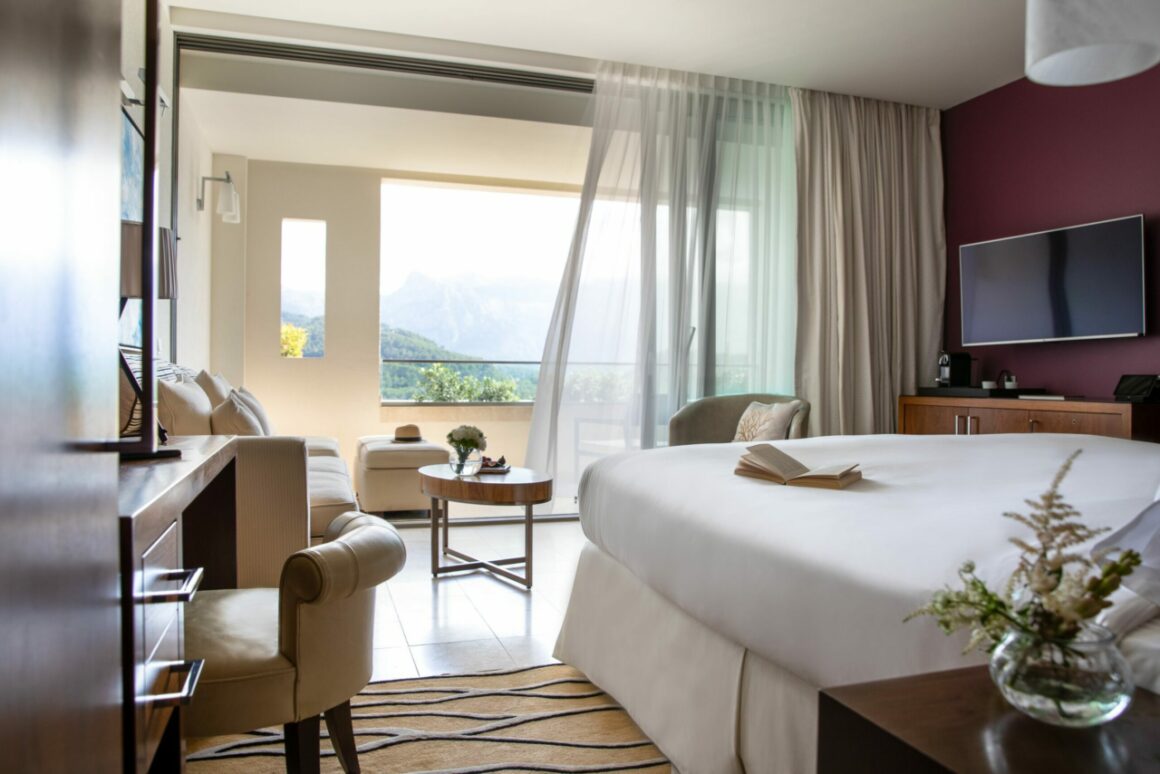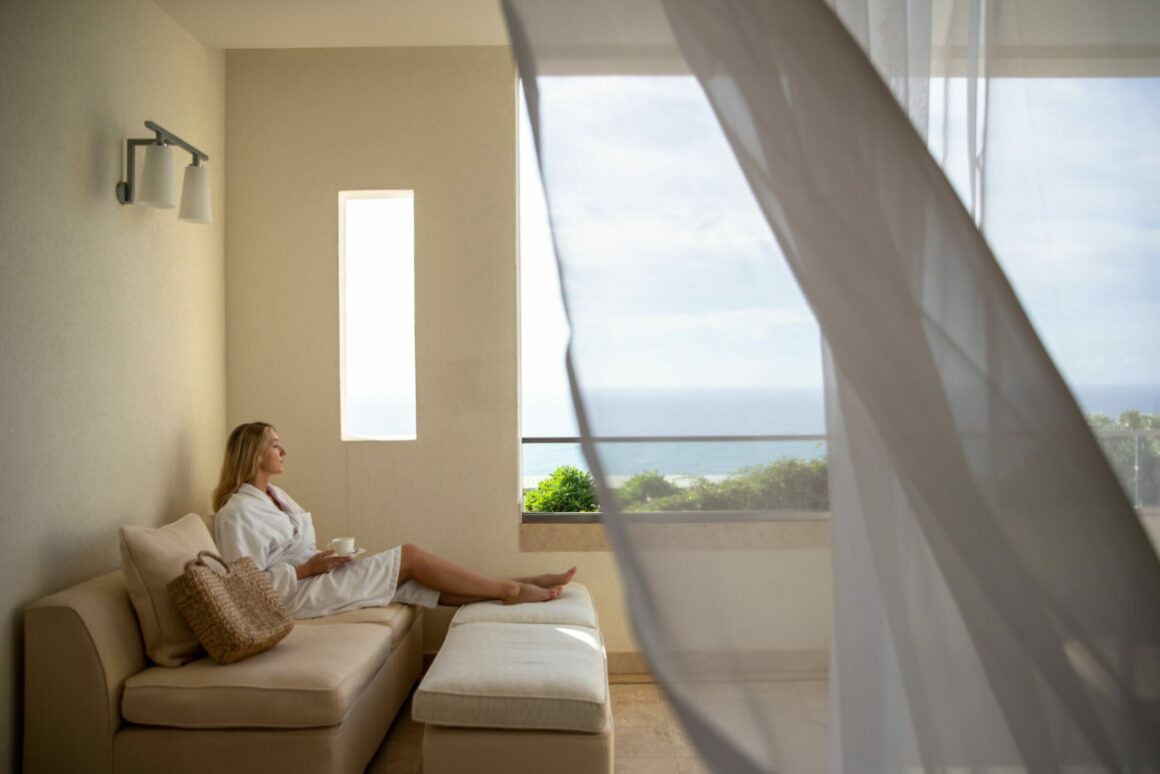 Jumeirah Port Soller hotel Pool and spa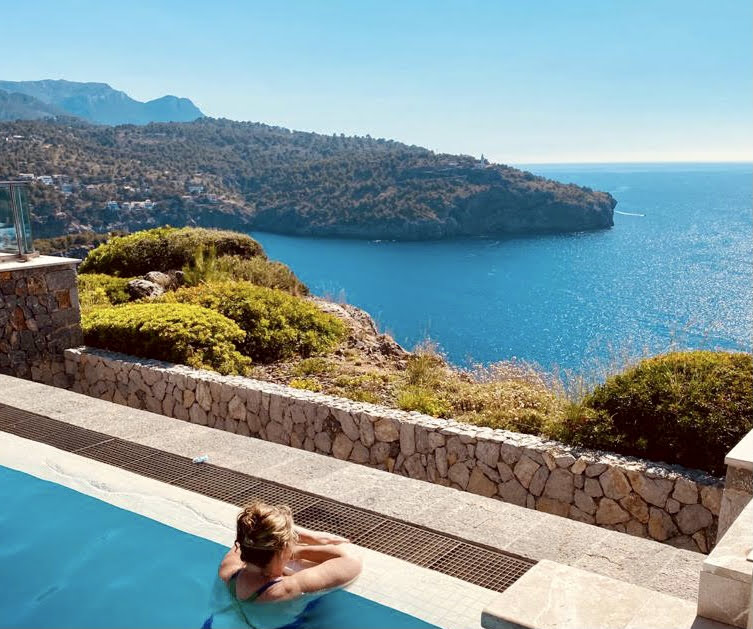 One of the highlights of the hotel for us was the two pools with the infinity pool perched over the edge of the cliff making it seem one with the sea below. The infinity pool is for those over 12 whereas the Sa Talaia Pool is for all ages.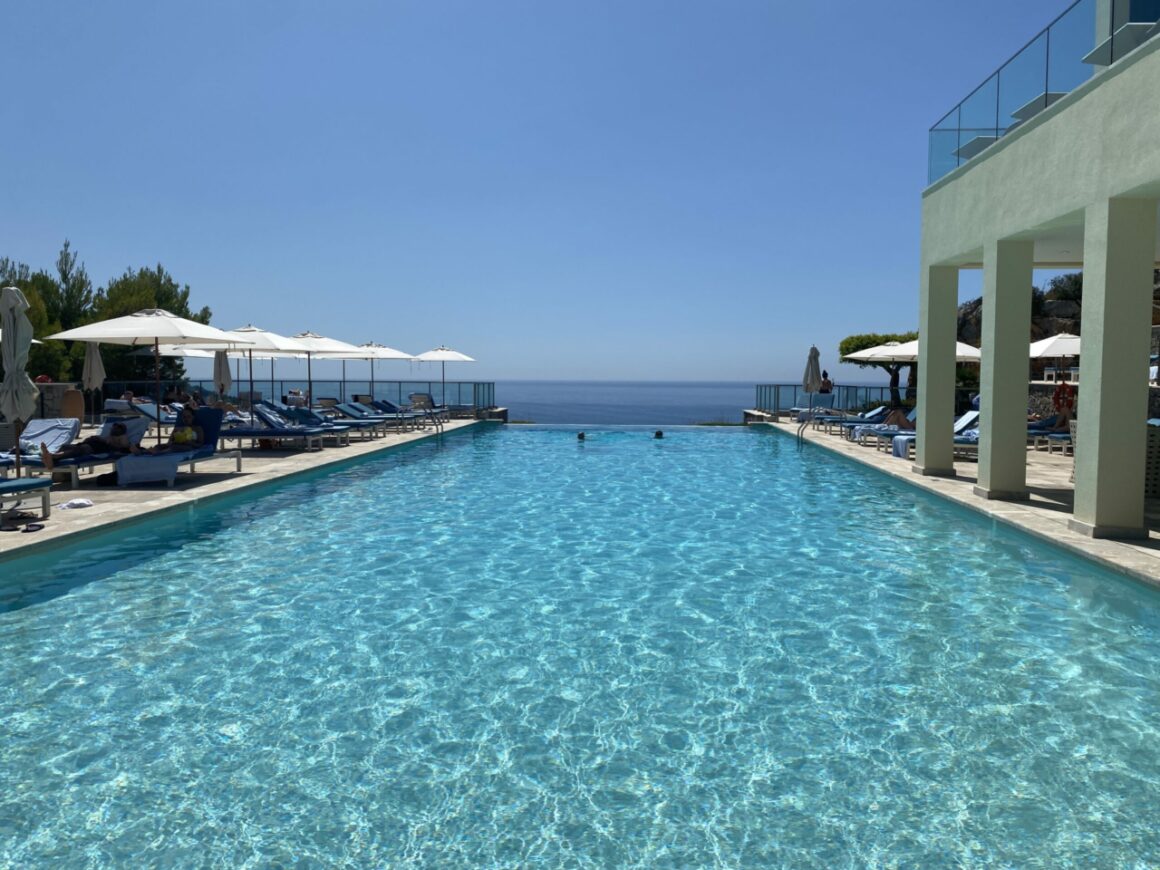 There was no shortage of loungers and before long we managed to secure the two most premium ones that jutted out over the edge. The only drawback we found with the hotel is that it is spread out over a long distance and over multiple levels. Getting to the infinity pool was quite a trek with 2 lifts rides and a walk through several bits of the hotel. However, the other pool was much closer.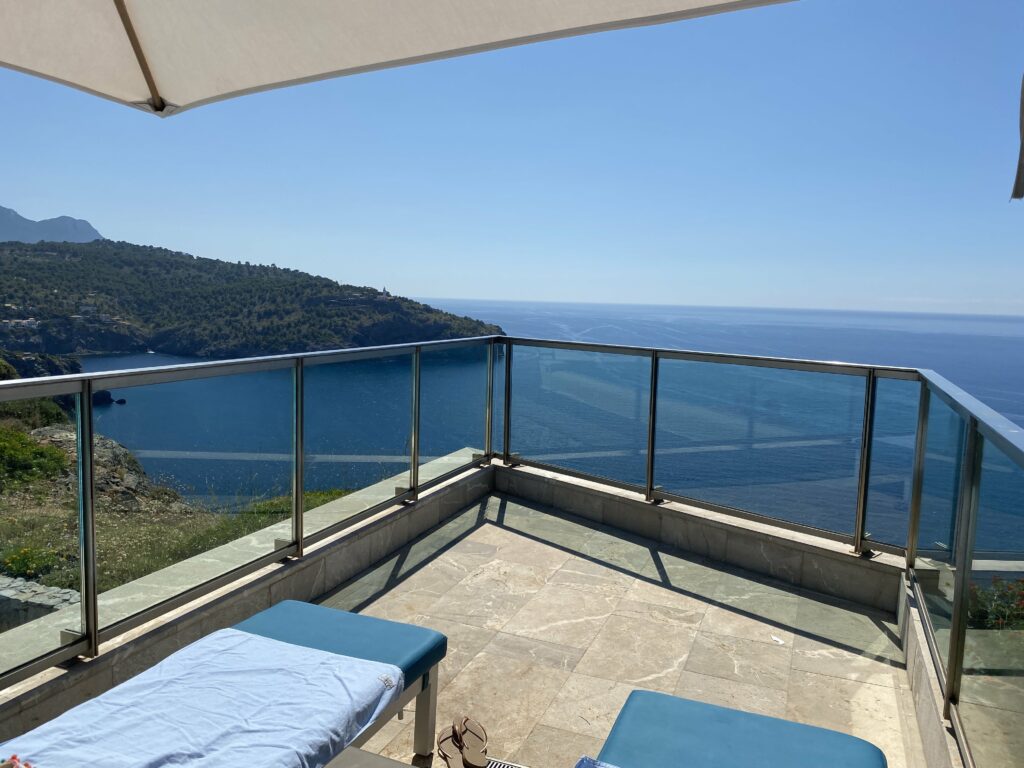 Staff at the pool were amazing, probably some of the best I have encountered outside my all-time favourite, the Four Seasons in Vegas. When we wanted to move loungers they carried everything for us and set up new loungers. Loungers were well-padded and comfortable and most importantly there was plenty of shade from umbrellas if you wanted it. We enjoyed a few poolside cocktail classics and were also given iced water free.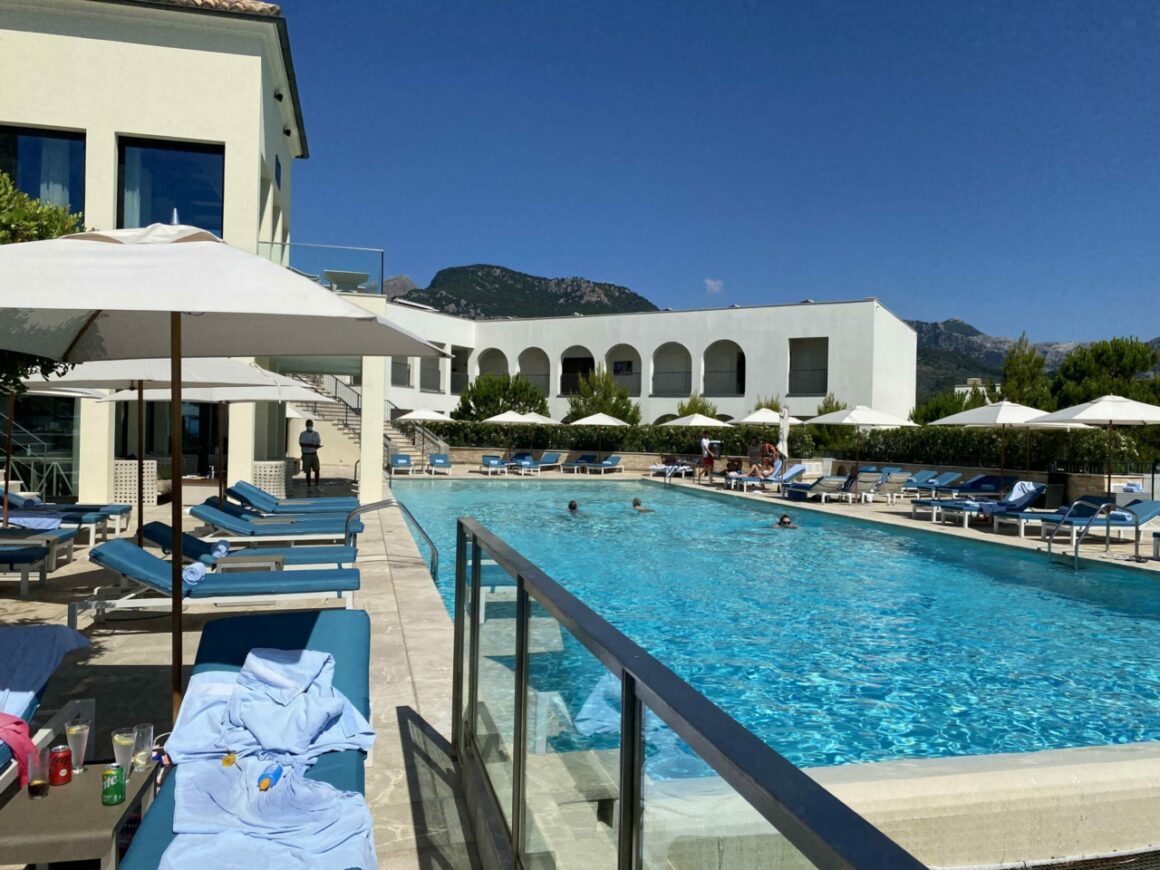 There was a second pool that was more child-friendly but had equally beautiful views. Both pools were the perfect temperature for both cooling off but being able to lounge around in for ages.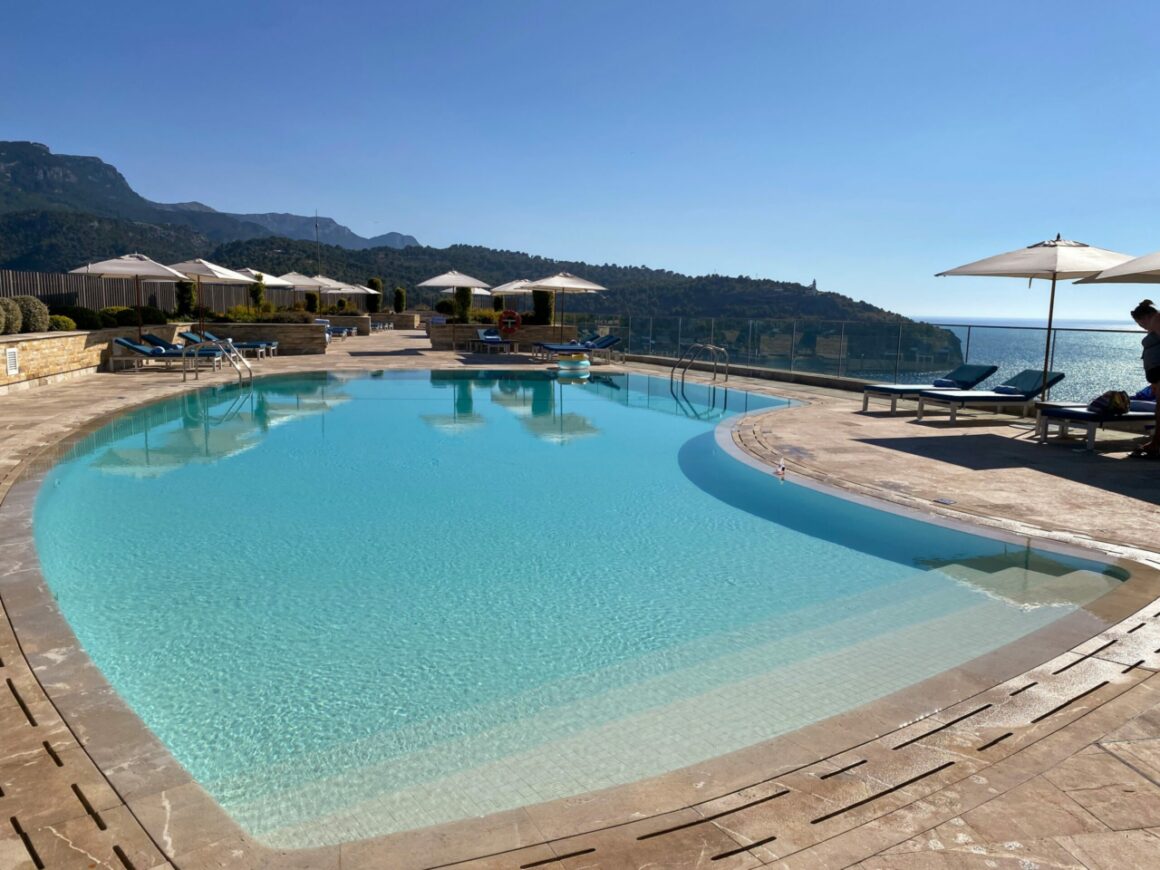 As part of your room price you also get access to the Talise Spa thermal area. The spa has a treatment menu featuring local ingredients such as olive oil, lemon, and almonds, and is complemented by an open-air heated hydropool, hammam, salt steam bath, Relaxation area Meditation room, and ice fountain. Couples can also relax together in a treatment room for two.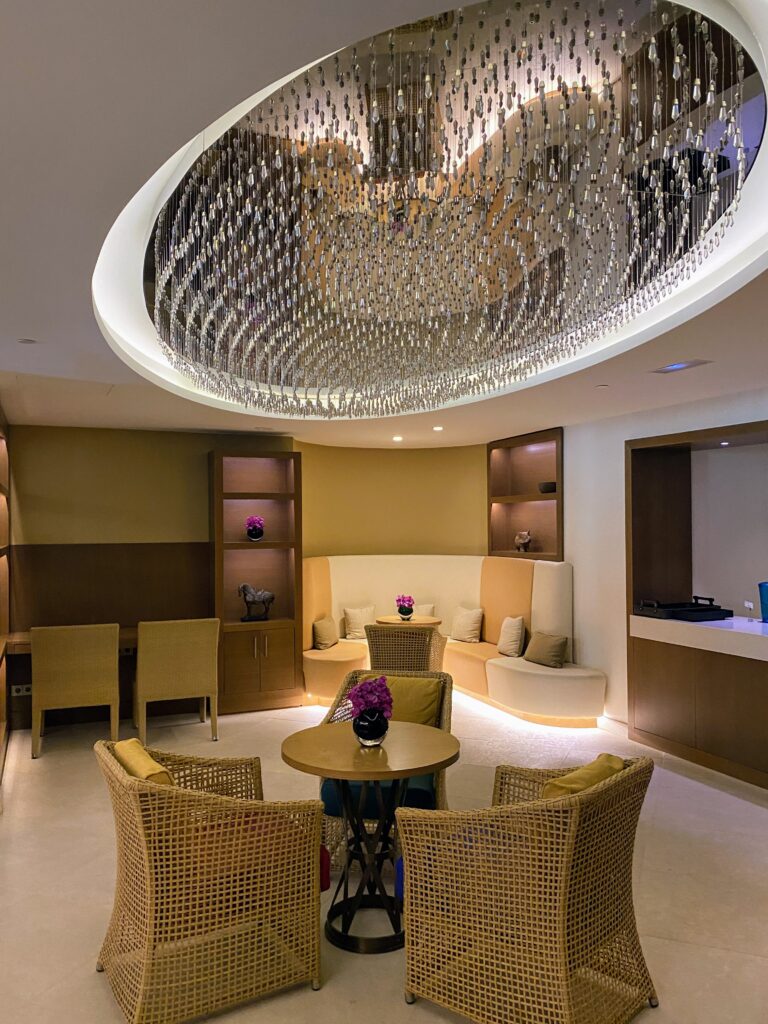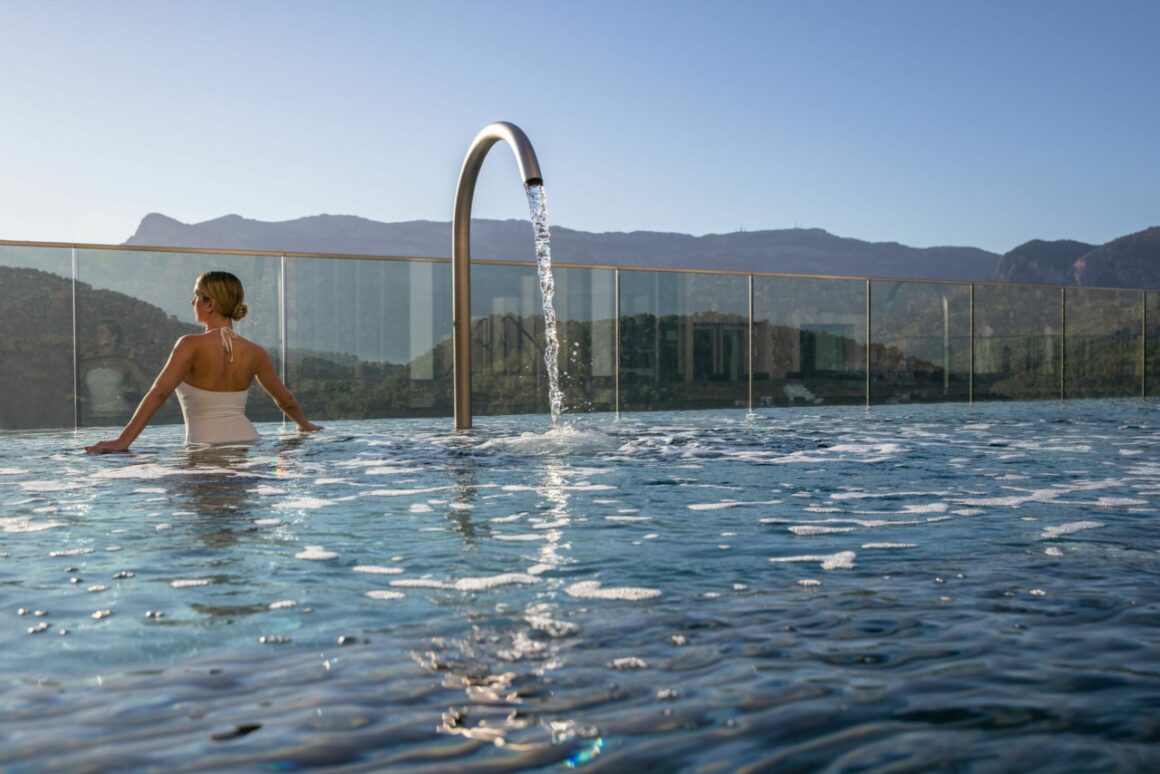 As well as the gym the hotel also offers a variety of yoga classes including hot yoga, a personal trainer on-demand, and regular guided fitness classes.
Food and drink at Jumeirah Port Soller hotel & spa
Sunset lounge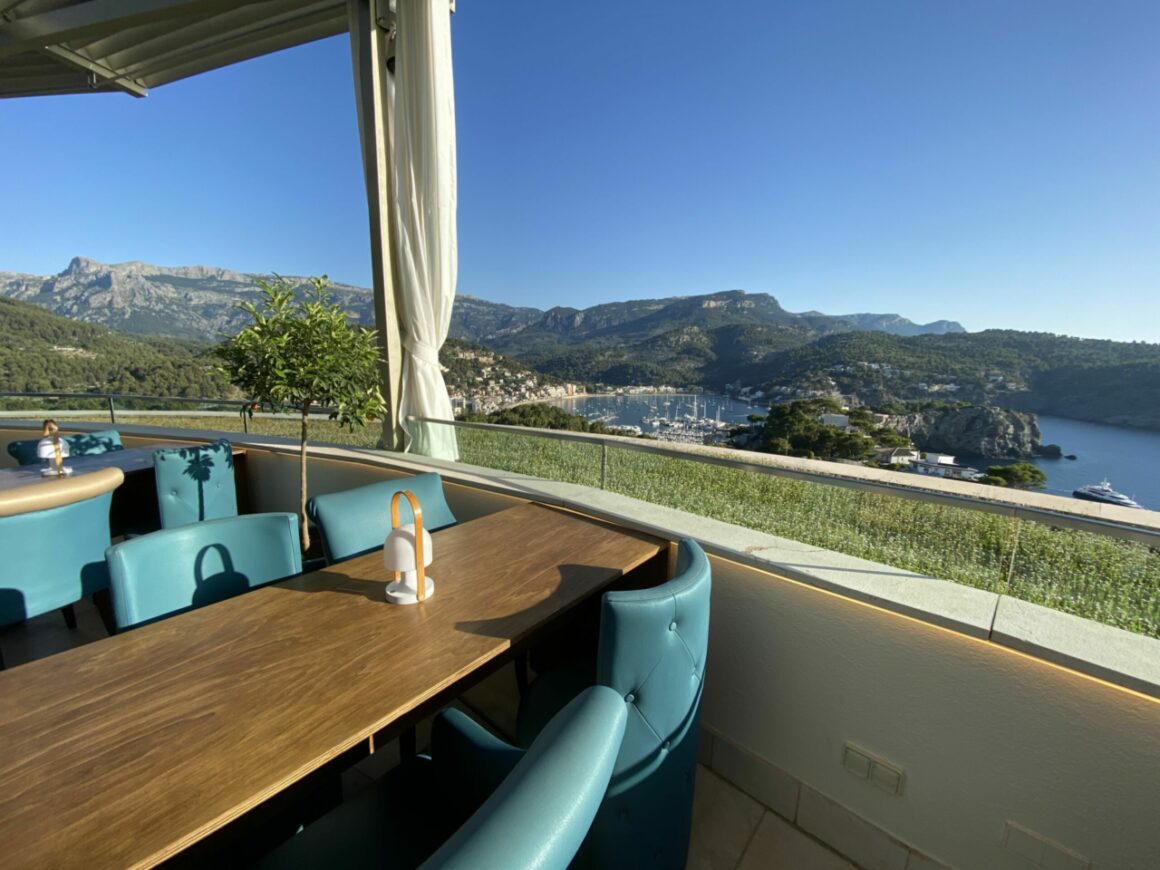 The hotel has several restaurants and bars to choose from. We visited the Sunset Lounge which is worth a visit even if you are not staying a the hotel. You will definitely need to book if you want to sit outside.
After a refreshing cold towel, we started with some drinks.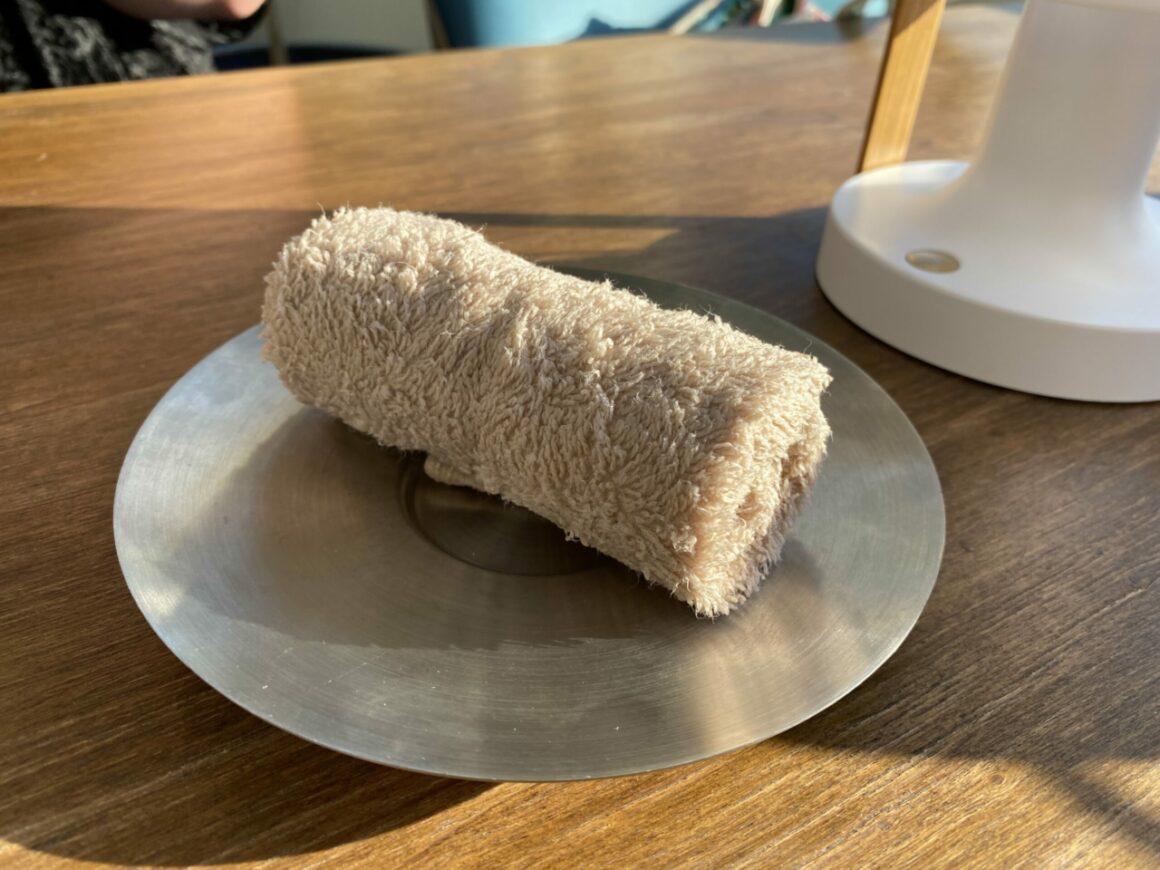 First, we started we their amazing gin trolley which had one of the best selections of accompaniments for gin I have seen. You could either choose your own or ask for suggestions from the knowledgeable staff.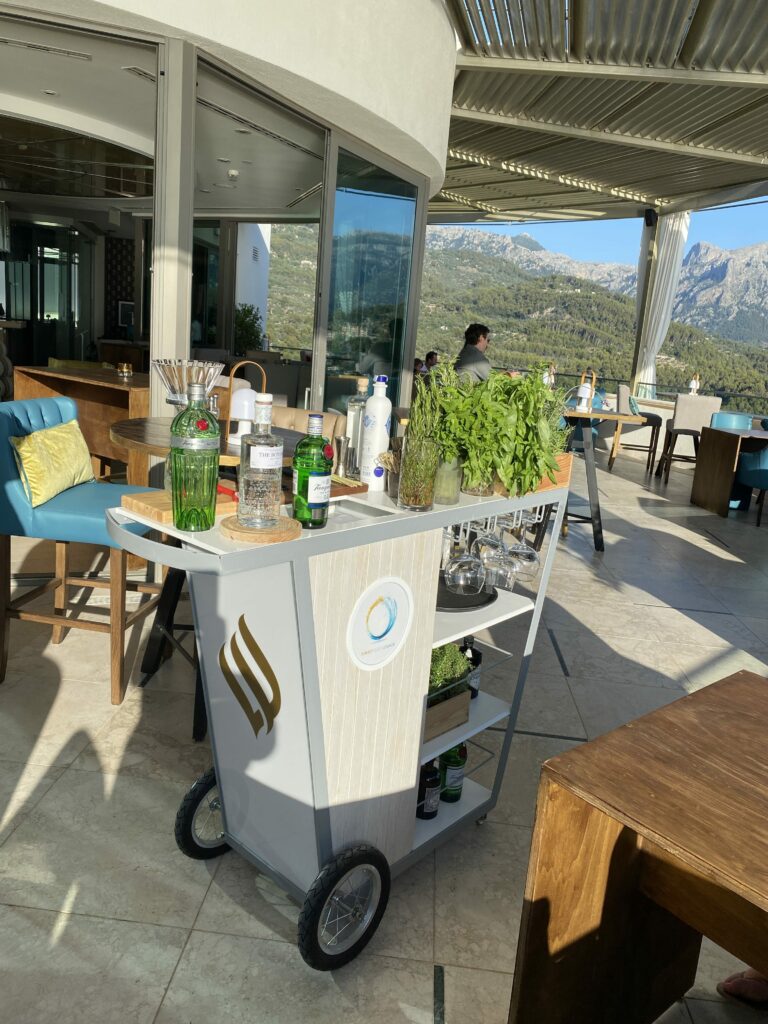 I tried one of the local Mallorcan gins with their suggestion of garnishes.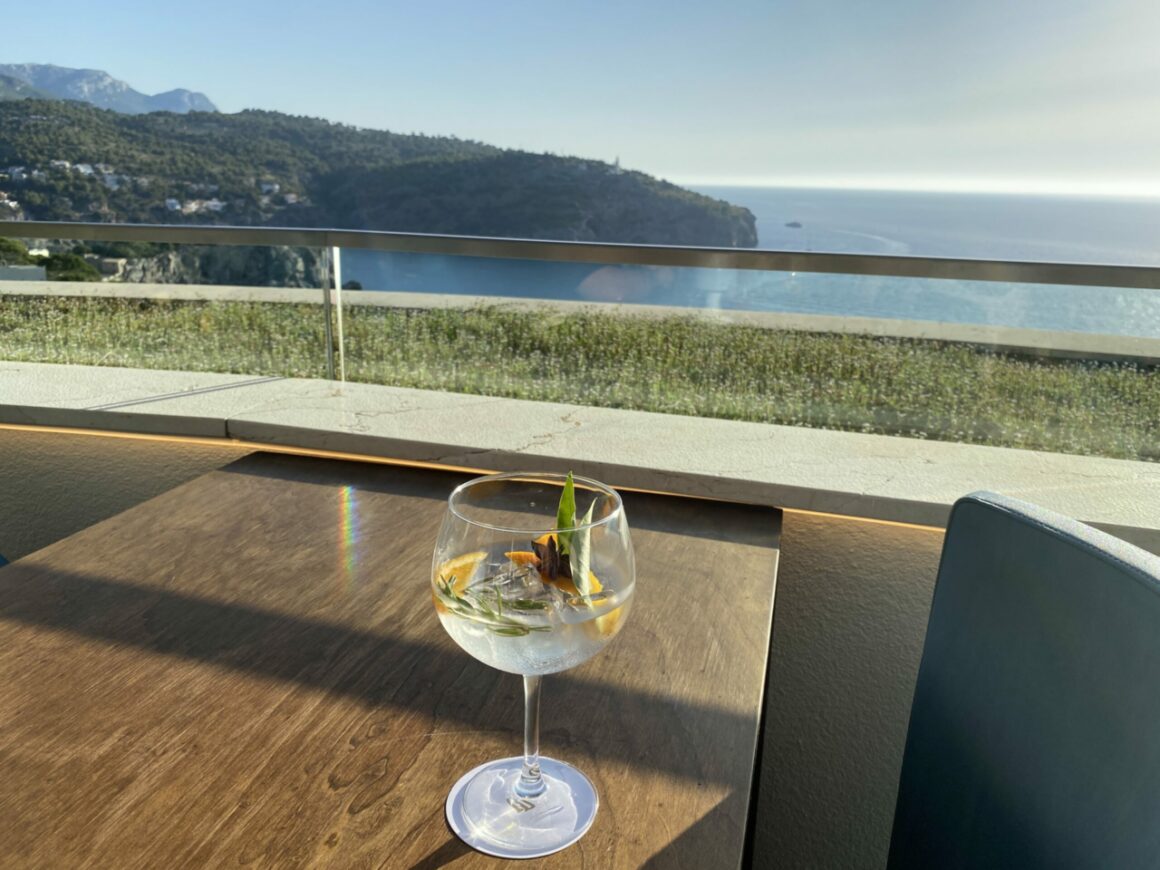 In the interests of this review, we soldiered on and tried one of their signature cocktails. I tried a Golden Shake with Vodka, Saint Germain, Mango Puree, and Lemon juice. It was well-balanced and not too sweet.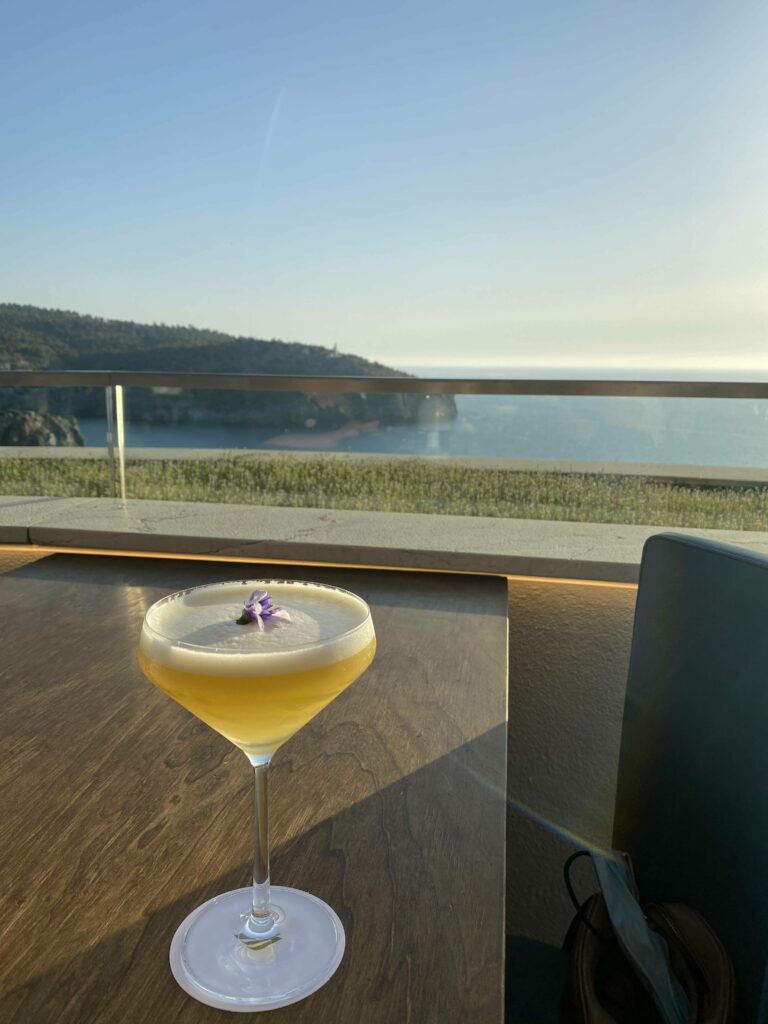 We also wanted to try the food which is a selection of Asian, Peruvian, and Spanish small dishes.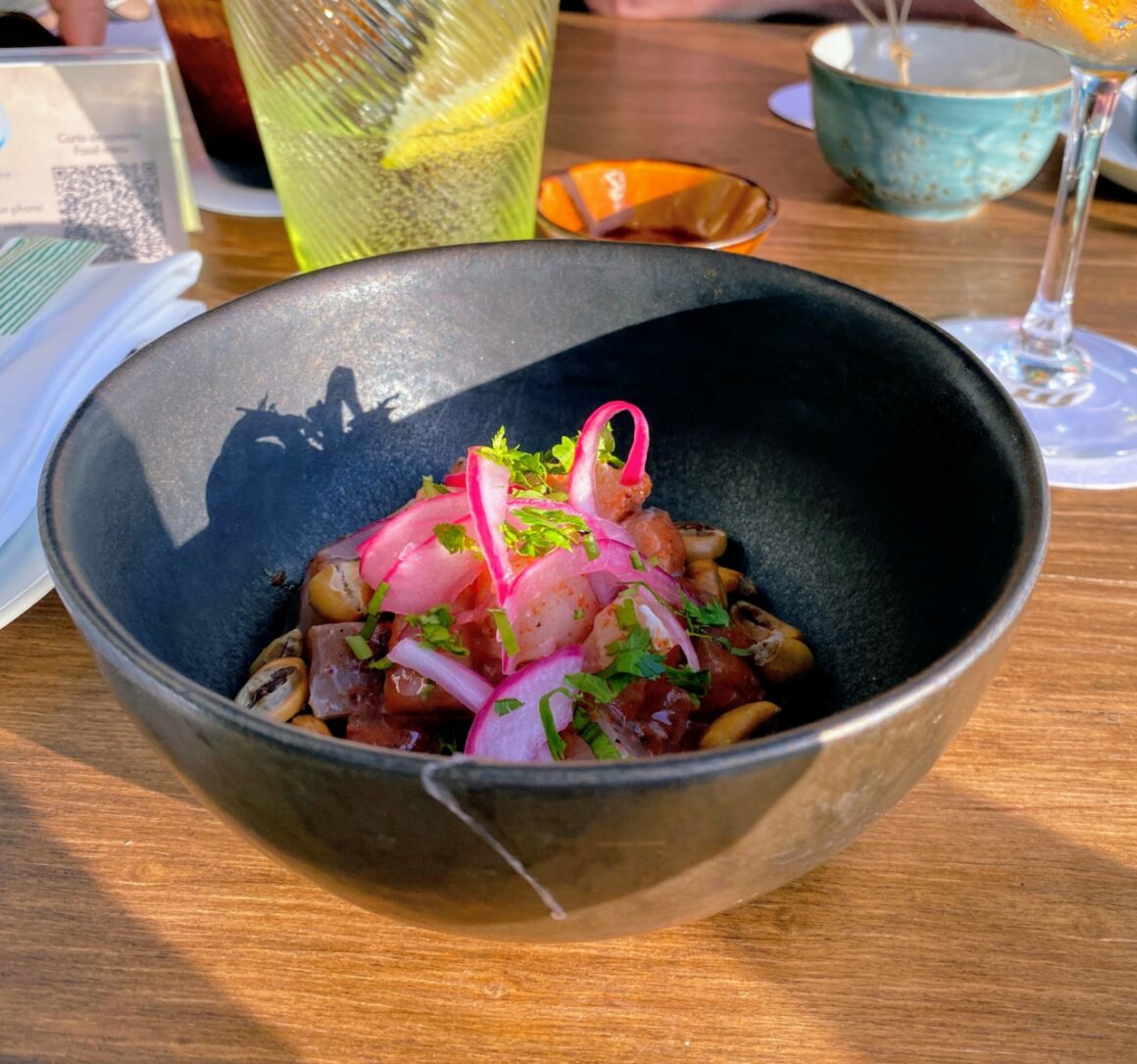 We started with the Red Nikkei corvina ceviche with Leche de tigre, red onion, tamarind, fresh ginger, lime, coriander and corn. This was a zingy fresh ceviche with just the right kick of citrus and ginger with the toasted corn giving a bite of texture versus the melt in the mouth fish.
Next, it was on to Asia and some well-executed Beef gyoza.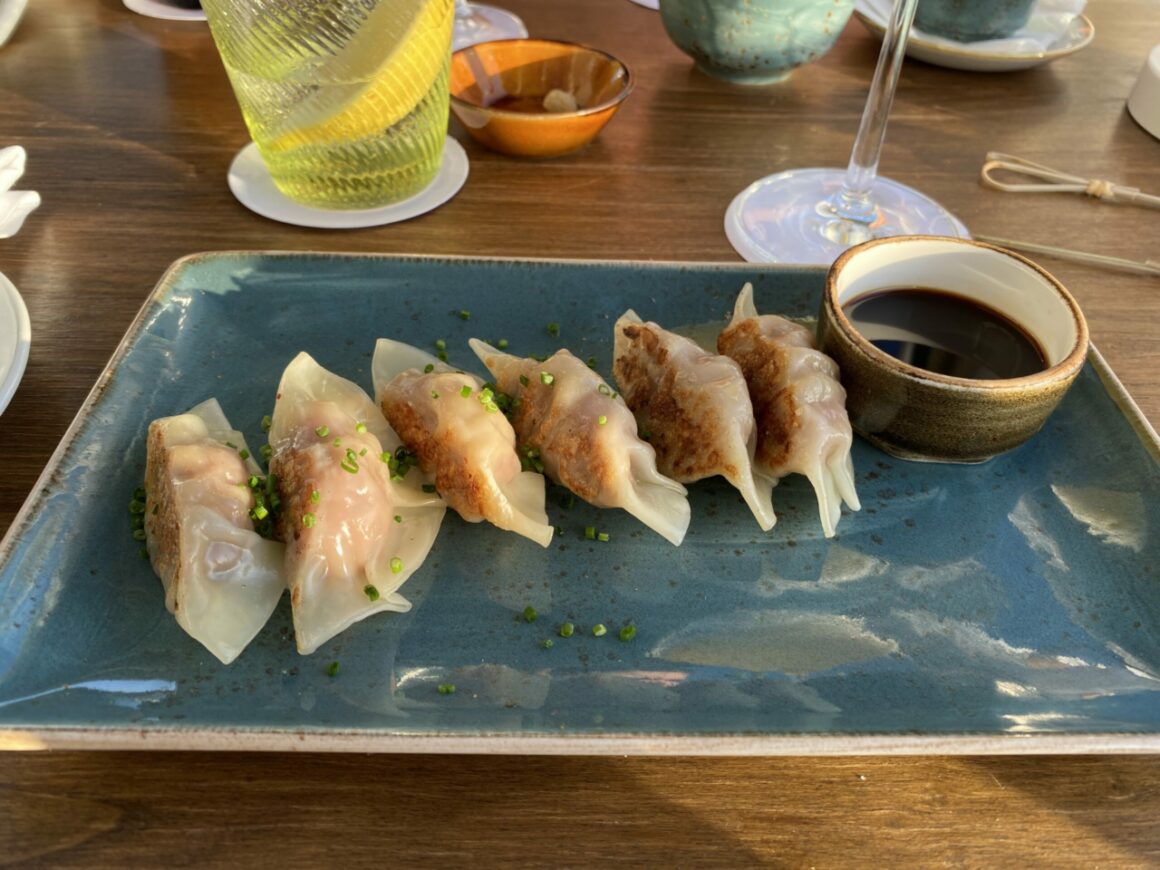 Finally came some rather intriguing semi-liquid croquetas from the Spanish tapas. Many people think that Spanish croquettes are made from potato but actually, they are made from a thick bechamel sauce with flavours such as the ham in these. The semi-liquid consistency made these lighter than a normal croquette and with the salty ham, they were very morish and seemed to just disappear!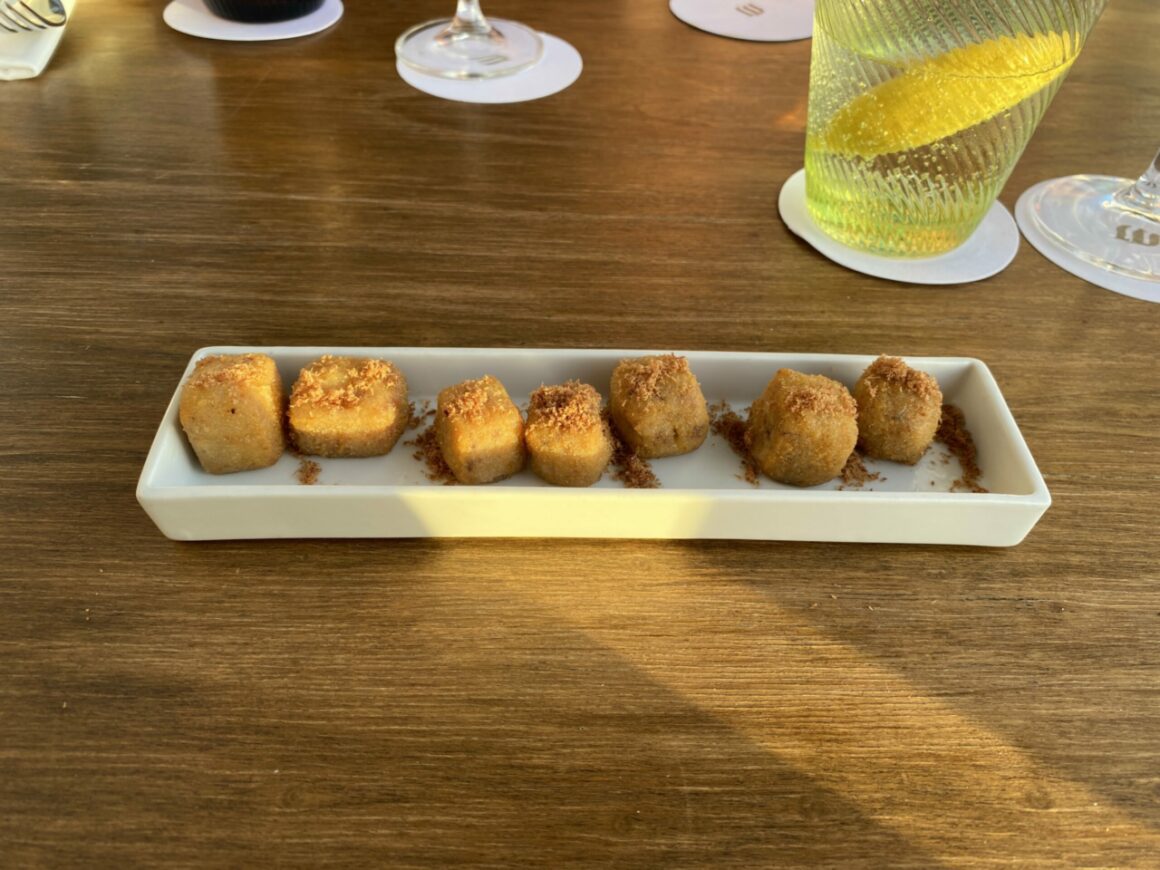 Portions were generous, so three dishes each was about right for us.
Of course, the food and drinks were slightly overshadowed by the glorious view as the sun slowly set over the sea …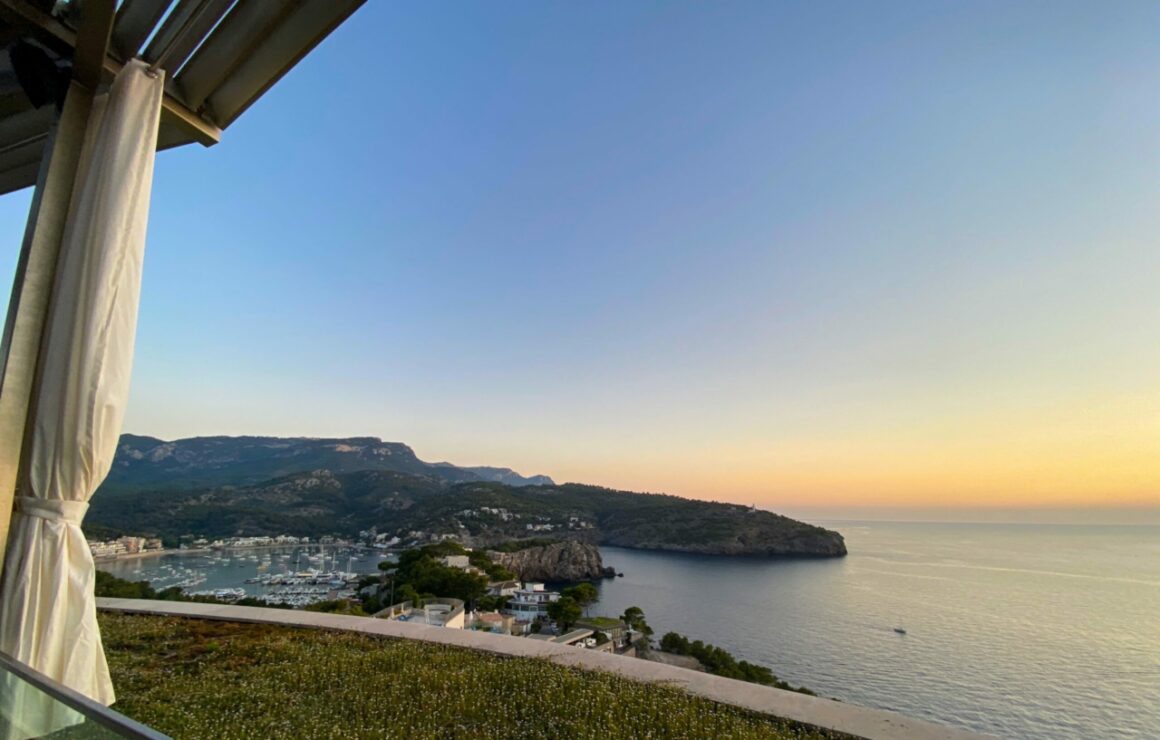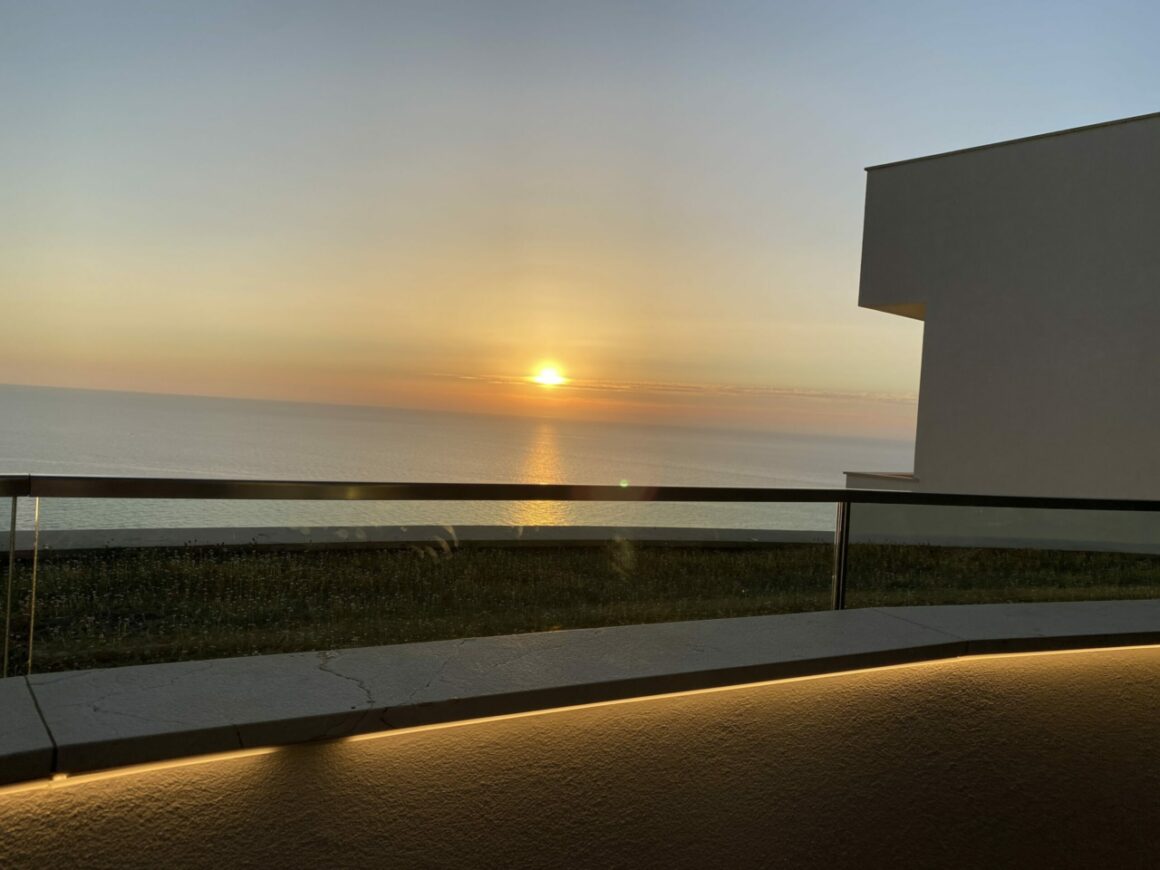 The inside of the bar looked great too as we walked through sadly headed back to leave the hotel.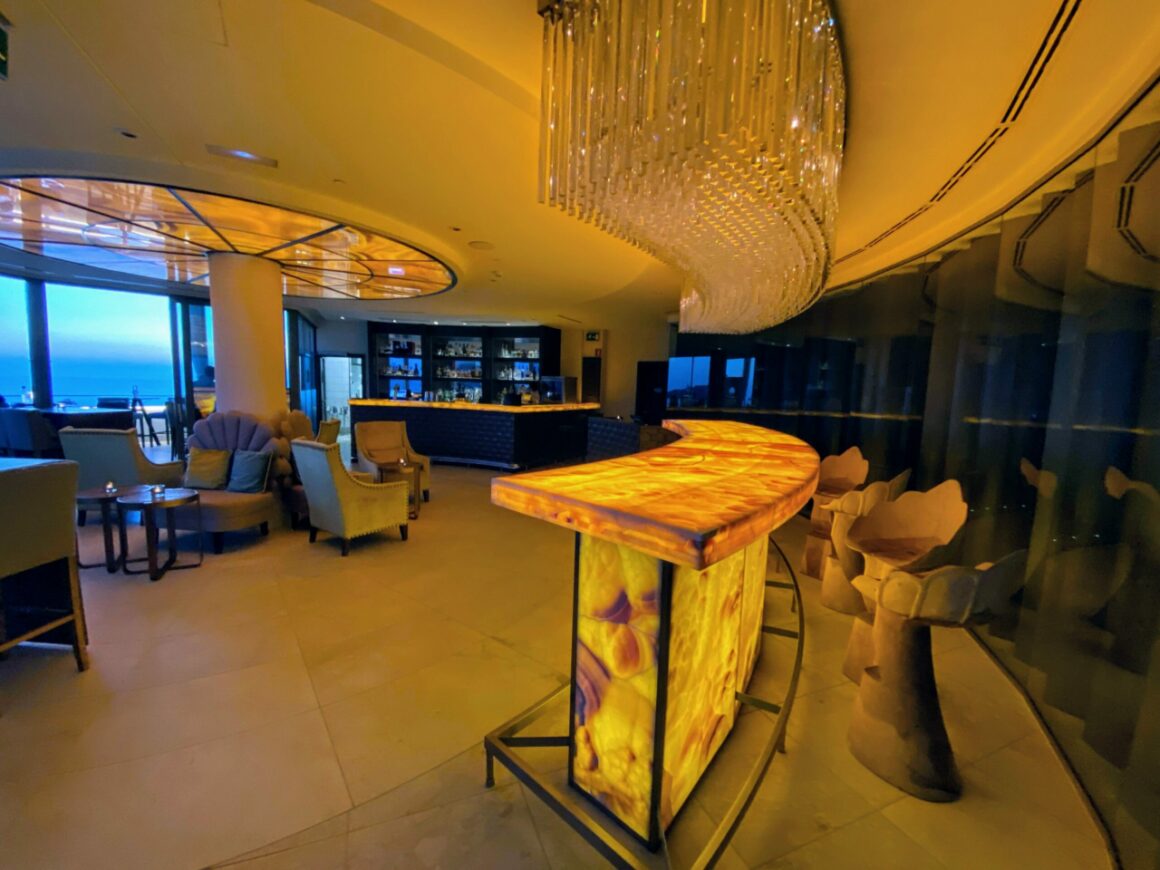 You can see more of our Jumeriah food on Katie's Instagram page.
The other restaurants are:
Es Fanals by Javier Soriano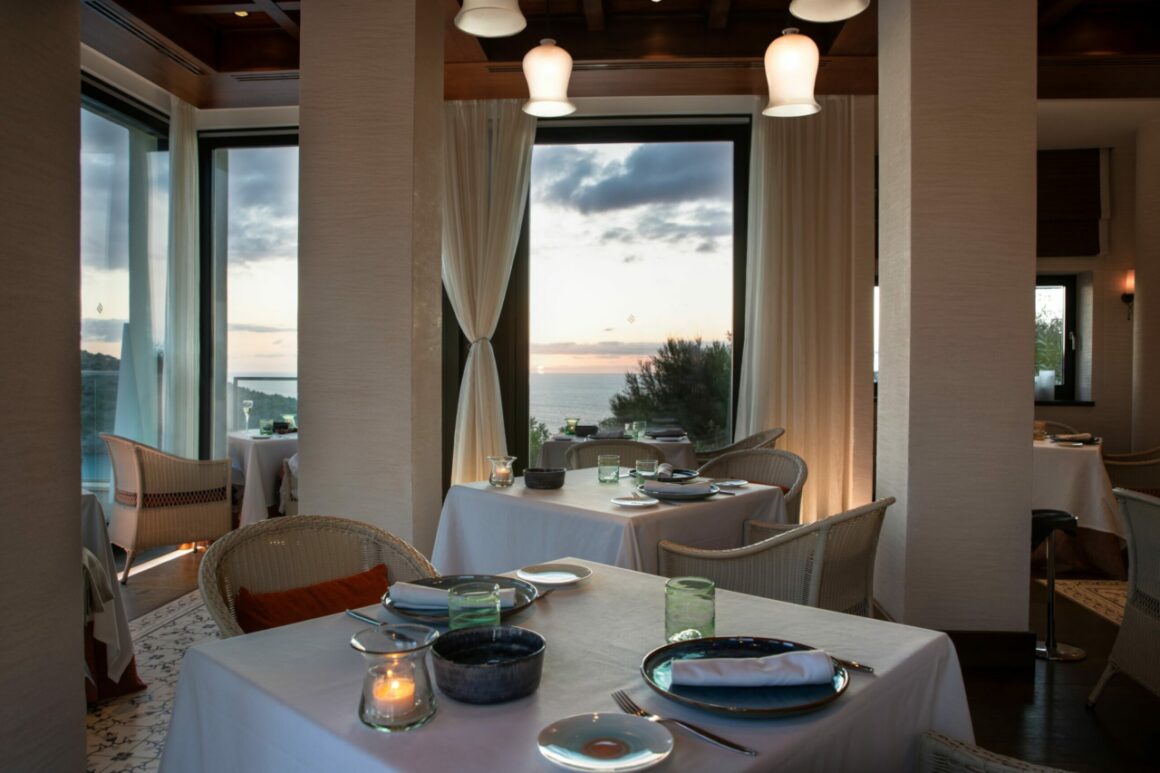 This is their signature restaurant with Spanish cuisine served at the relaxed fine-dining restaurant atop the resort. Menus change weekly in accordance with the fresh, seasonal ingredients, always reflecting Mallorca's local produce.
Cap Roig Brasserie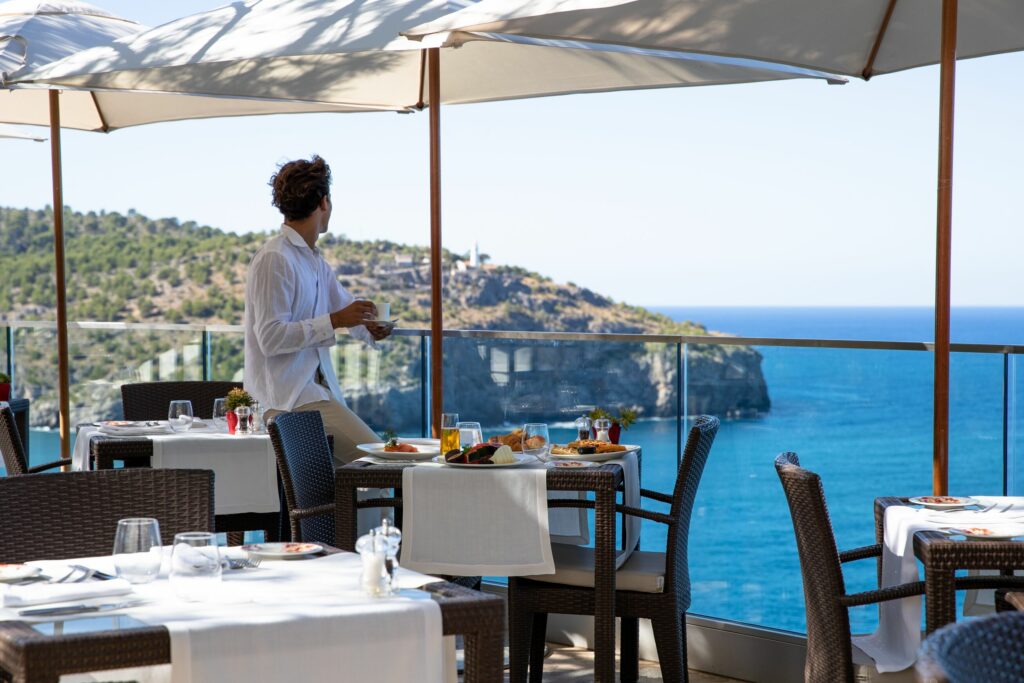 Mediterranean flavours such as paella from locally sourced ingredients bring quality meats, fresh fish and creative vegetarian and vegan dishes are served al fresco at the more casual restaurant. Breakfast is also served here.
Other facilities
For parents, there is a free kids club for ages 3-12 included in the room rate and you can pay extra for them to have lunch there if you want a day out or some relaxation time.
Jumeirah Port Soller Hotel & Spa also offers their own Unique Experiences, specially developed by the Concierge team, enables guests to effortlessly encounter the island and its special culture with numerous choices like Exclusive Helicopter Tours, Sunset Boat Trips and Walk & Wine experiences.
Booking and offers
If you book through GTC, our partners, you will get a range of additional perks:
100 USD resort credit for hotel bars and restaurants
Complimentary buffet breakfast for two daily at Cap Roig Brasserie
Property will offer early check-in and late checkout upon availability
Property will offer upgrade at time of check-in – subject to availability
There is also a special long stay offer currently which in addition gives you:
• Airport return transfer
• Welcome Talise Spa Ritual
• VIP amenities
• Private Bali Bed at Infinity Pool
• 20% savings on F&B & Spa (excludes Sodashi products)
Booking Period
5/21/2021 – 10/31/2021
Travel Period
06/10/2021 – 10/31/2021
Blackout Dates
09/08/21 – 09/10/21 | 10/07/21 – 10/09/21
You can enquire with GTC for prices and availability here.
We are experiencing an issue with our booking form at present. If you wish to book please email [email protected] if the form does not work.
Conclusion for Jumeirah Port Soller hotel & spa
This very special hotel was probably even better than it looked in the photos and would be a fanatstic place for a romantic holiday such as a honeymoon or a relaxing spa break. It's not too far from the airport despite being outside Palma so it would be great for a short break too.
The rooms are stylish and comfortable but really it's all about the views. Additonally their amazing staff really did impress us by going above and beyond.