This is the second part of Jason's review of the KLM B787-9 Business Class aircraft. You can read about his hair-raising 55 minute connection at Amsterdam in part one here.
Boarding
When I arrived at the door in a dishevelled yet relieved state, I turned left into KLM's 'World Business Class', where everyone else was obviously boarded.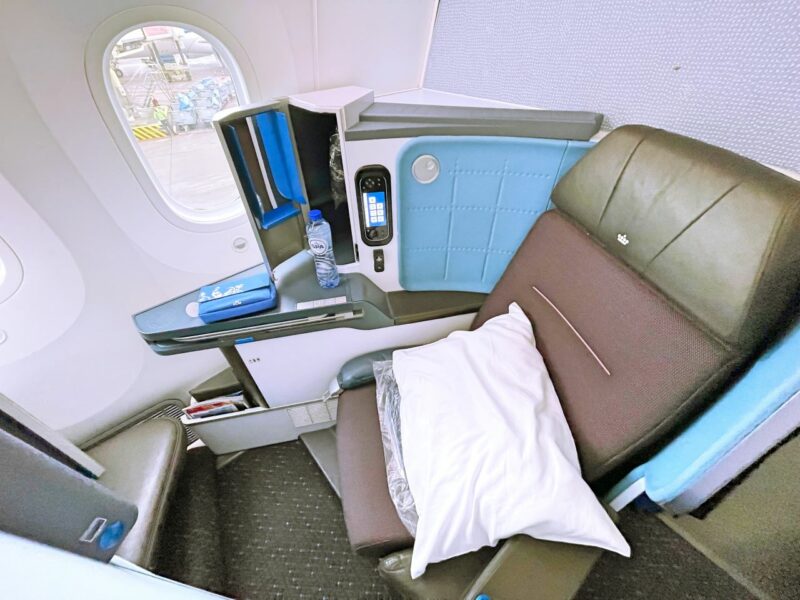 Thankfully, I had selected seat 8K, which was the very last row of Business by the window so I was spared having to do the walk of shame past any other customers.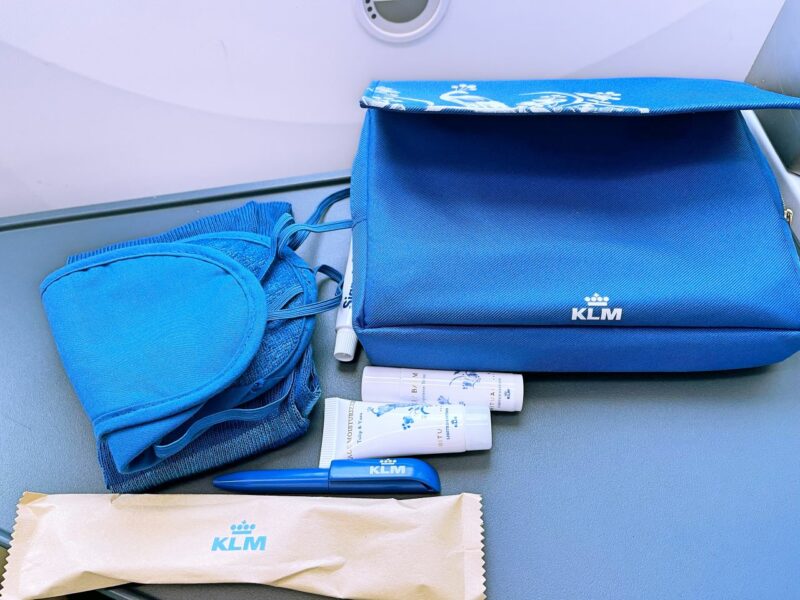 I had obviously missed welcome drinks, and waiting at my seat was a washbag with Rituals products, a bottle of water and the bedding.
I was immediately impressed with the overall look of the KLM B787-9 Business Class' cabin. It was sleek, modern and on point with branding in terms of palettes (KLM Blue along with brown) and adornments. As I took my seat, the captain made a PA that we would remain on stand for another ten to fifteen minutes to await some connecting passengers and announced a flight time of eleven and a half hours. But literally, as he finished speaking, I heard the boarding door behind me close, and the jetty was removed. Unlike the long taxi in, the taxi out was extremely quick, and we were airborne within minutes.
KLM 787-9 Business Class seat and cabin
KLM has arrived late to the 'all aisle access full flat' party, with their first 787's delivered in 2019. The 787-9 sports the Safran Cirrus seat, which Cathay first installed around fifteen years ago and can also be found on sister airline Air France. Oddly, the KLM 787-10's feature a different seat, manufactured by Jamco, which is very similar to the 787-9 seat and is currently also found on Air Europa. It is worth pointing out at this point that if you fly KLM Business Class today, you are likely to be in a woefully uncompetitive 2x2x2 set up. KLM has eighteen 787's in the fleet currently, all with the new product.
However, 42 Boeing 777's and airbus A330s that make up the remainder of the KLM long-haul fleet have the old product, although plans are afoot to retrofit the 777's. So, back to the 787 cabin. The 787-9 has thirty World Business Class seats that occupy the entire forward cabin between doors one and two. The seat is a reverse herringbone set up, and although it isn't the newest product out there, it is one of my favourites. The main reason is all seats are equal. With a lot of the newer staggered configurations, there are many variations of seating. Some window seats are closer to the fuselage (which is generally more desirable), and others are closer to the aisle. Some have a few 'throne' seats. With the reverse herringbone seat, every seat is consistent, and you know exactly what you are getting. Another thing I prefer is that when in flatbed mode, my feet rest on top of the ottoman on the KLM seat instead of in a cubby hole which most staggered variations feature.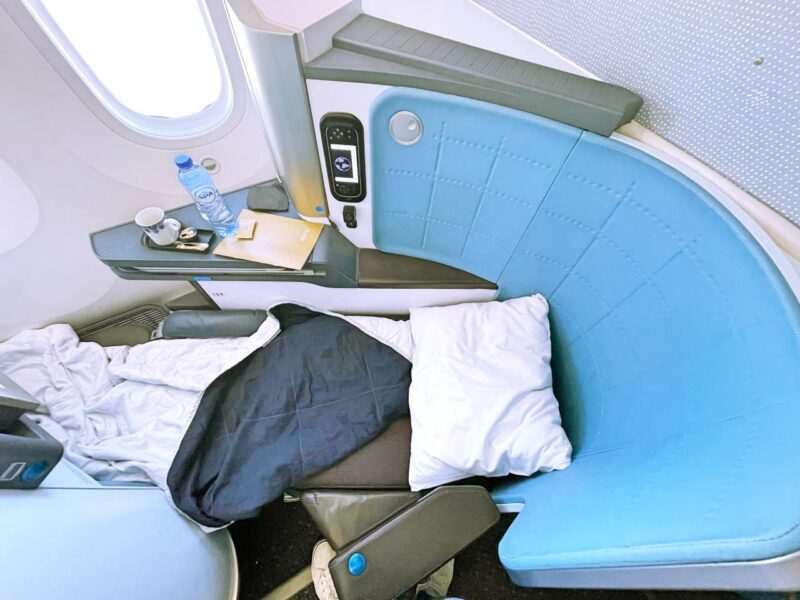 I loved the blue leather with stitching that surrounds the seat, it gave it a premium and distinctively KLM look.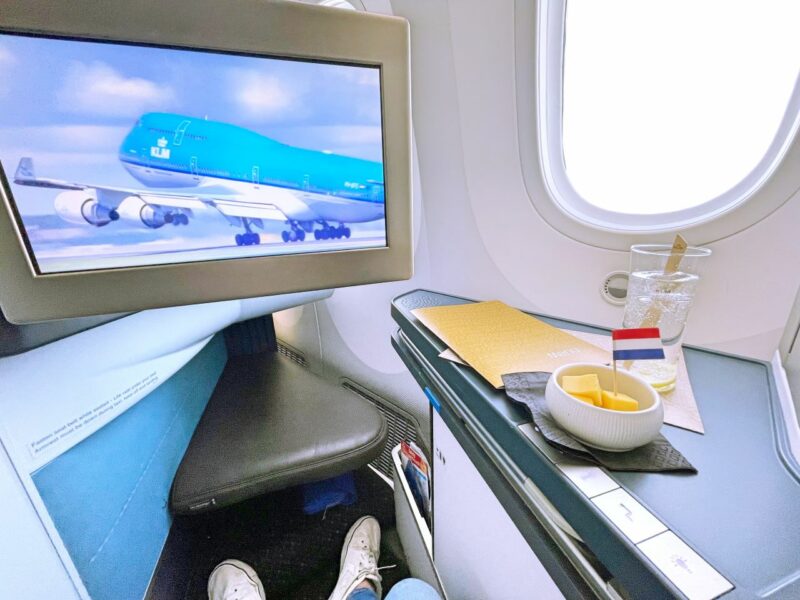 The 18.5-inch IFE screen is large and swivels out at the touch of a button (which I was surprised was allowed to be deployed for take-off and landing), there were personal air vents (extra points!) and three lighting options (direct overhead one at shoulder height and one at the bottom of the seat. The seat was controlled by easy-to-use buttons, and storage space included a small compartment at shoulder level which also housed a vanity mirror. There was also a universal power plug and two USB ports. The table extends from the armrest by pressing a button and can be slid forward and back as well as folded over to take up less space when drinking a coffee etc. There were two bathrooms, both at the front of the Business Cabin, and I loved the delft house wallpaper in them.
Meal Service/inflight
Two meals would be served on this eleven-and-a-half-hour flight, the main meal after take-off and a second smaller affair prior to landing. After take-off, the Purser made her welcome on board PA advising passengers that it was not permitted to photograph or film other passengers or crew. I was hoping my constant snapping of food and seats would not bring me a telling off, but I was careful not to include any people in my pictures. Another crew member distributed the menus, followed by hot towels.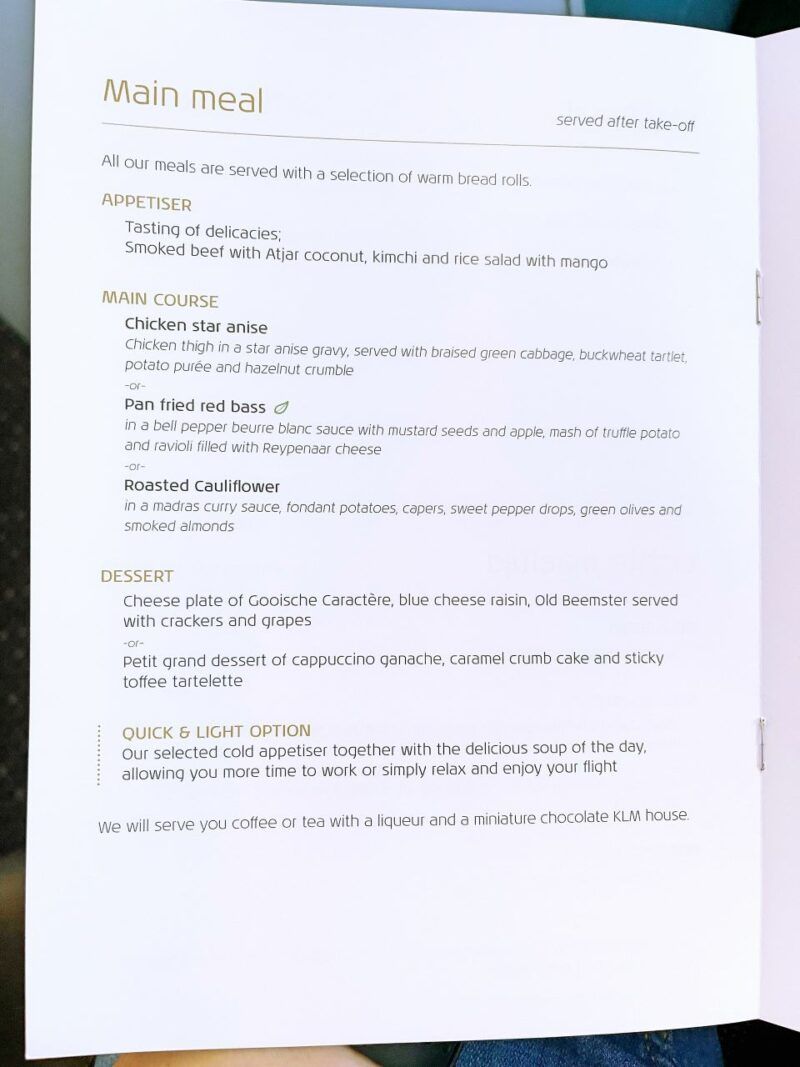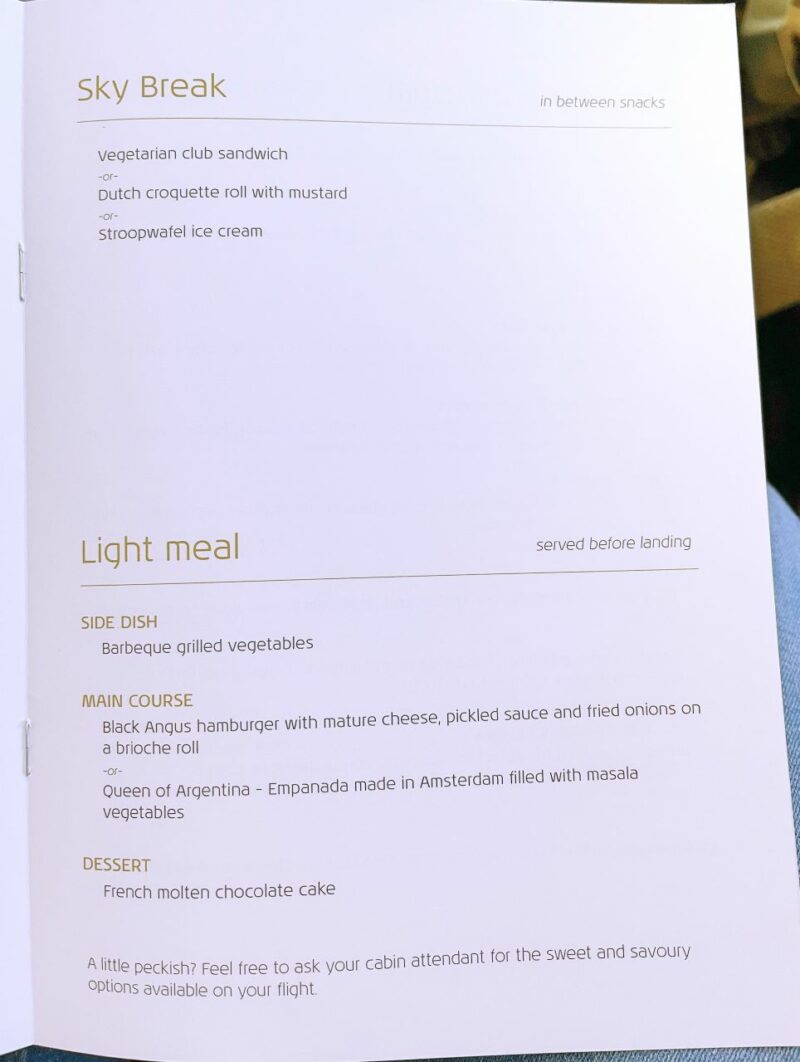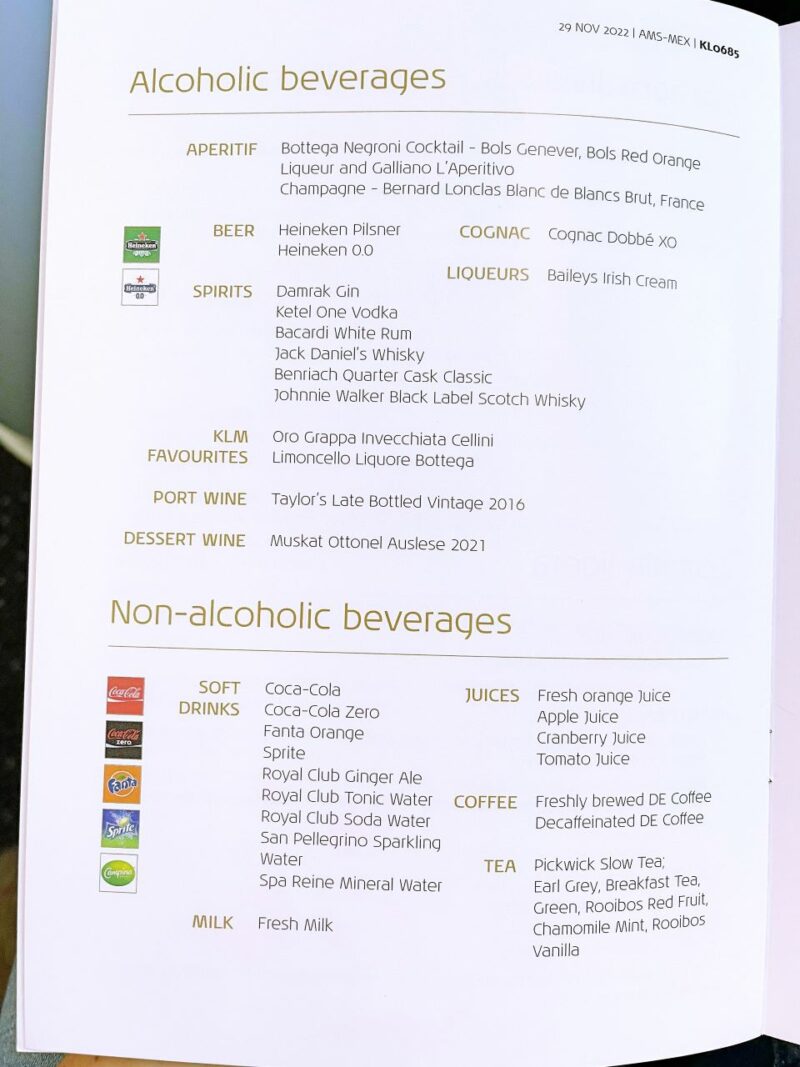 The Purser came around and personally introduced herself to every customer. I took the opportunity to advise her my IFE screen had frozen, and she quickly reset it but, more importantly, also returned a few minutes later to make sure it was now functioning.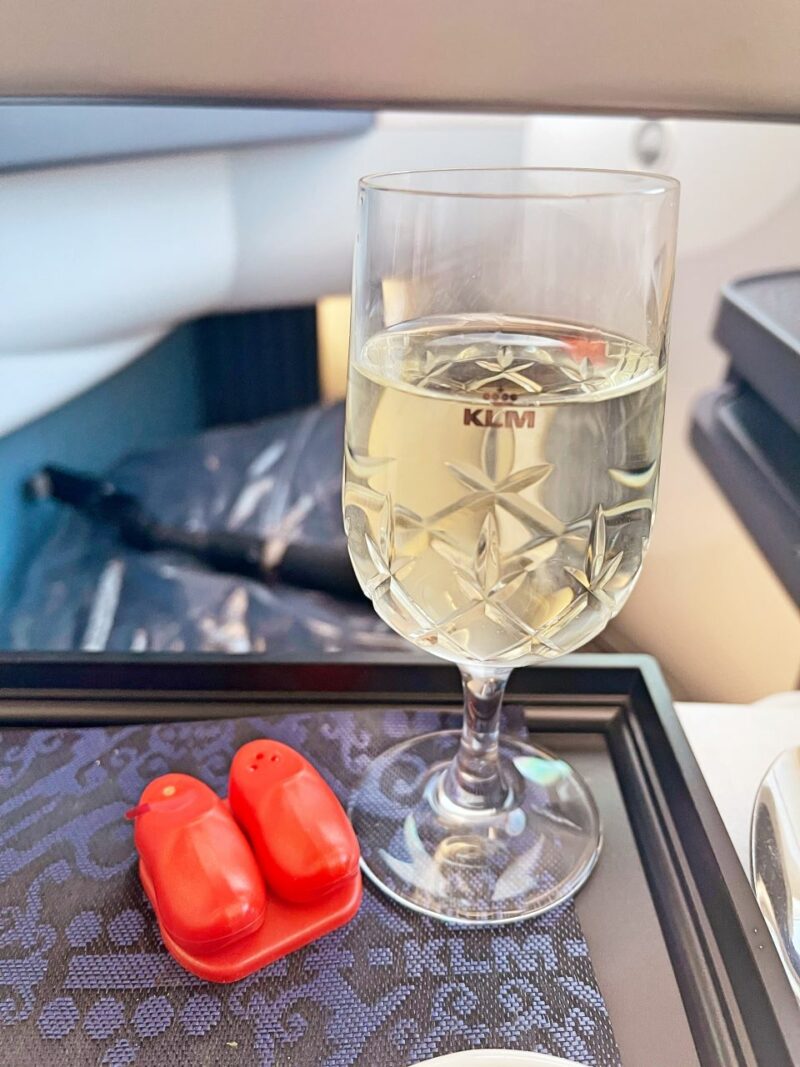 The drinks trolley appeared in the cabin twenty-five minutes after take-off, and I chose a gin and tonic, which was served in cute glassware.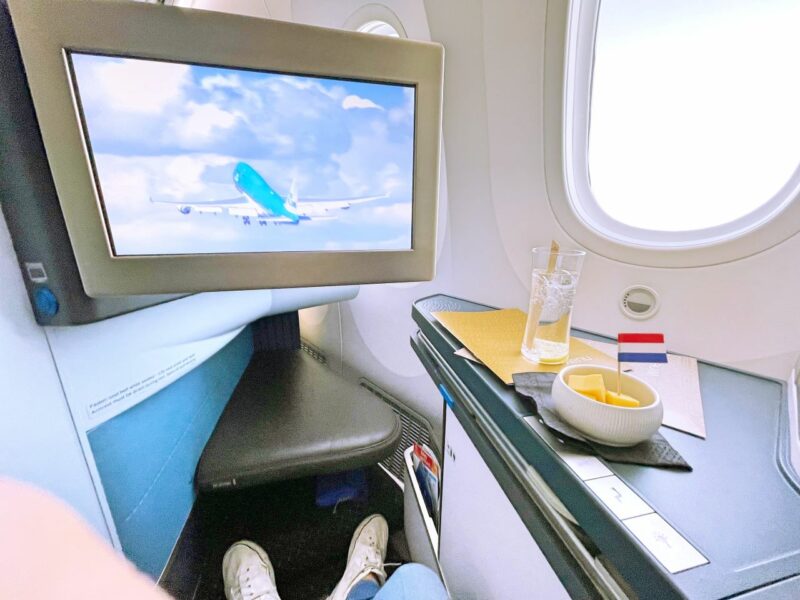 I really liked that there was a choice of bar snack, too – Seat (complete with a little Dutch flag) or nuts. Although it wasn't as elevated as a canape, it was still a nice attention to detail that I appreciated. The bar cart made a second appearance, and my drink was refilled, and a tablecloth laid, and my main meal choice is taken.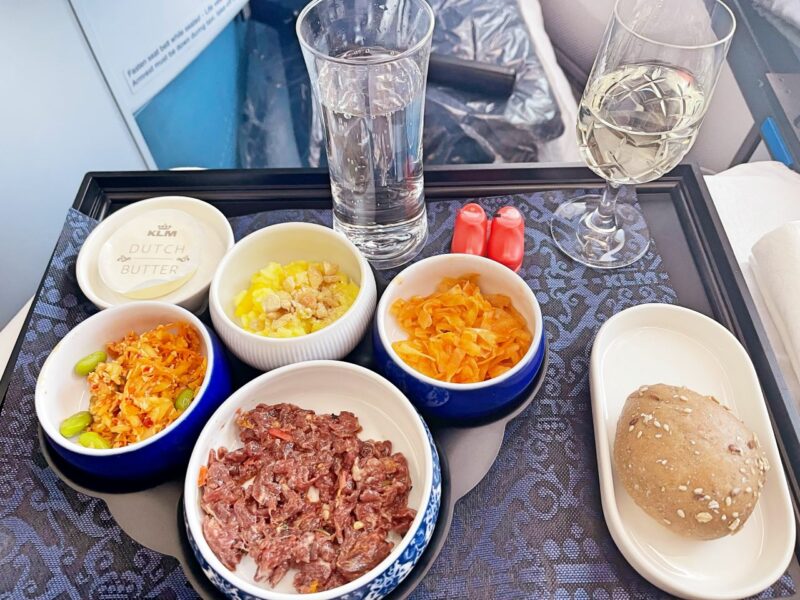 The first meal consisted of a starter which was listed as 'a tasting of delicacies' including smoked beef with Atjar coconut, kimchi and rice salad with mango, as well as three mains – chicken, fish or a vegetarian curry. I prefer when there is no choice of starter and instead a smaller selection of a couple of different things than a choice of different starters as sometimes it leads to disappointment when your selection is unavailable.
The meal cart then commenced from the front of the cabin, making its way down each aisle. I know many people prefer a hand-run restaurant-style service. Still, the reality is most airlines simply do not have the galley space nor the crew numbers to execute this effectively, and I actually prefer the trolley style as the crew member has everything there they need. My tray was placed in front of me, and I was offered wine and water. The presentation was….interesting. I would definitely say that this start would not be to everyone's taste. The smoked beef was tartare style, and it was an odd combination of 'delicacies'. Thankfully, it is exactly the kind of food I like. Raw, healthy, tasty, unusual. The bowls and plates were all very nicely decorated, and a little pair of clogs housed the salt and pepper.
The starters were cleared, more wine and water top-ups and then the main was delivered. Again, the presentation was not the main meal's strong point, although it was very tasty.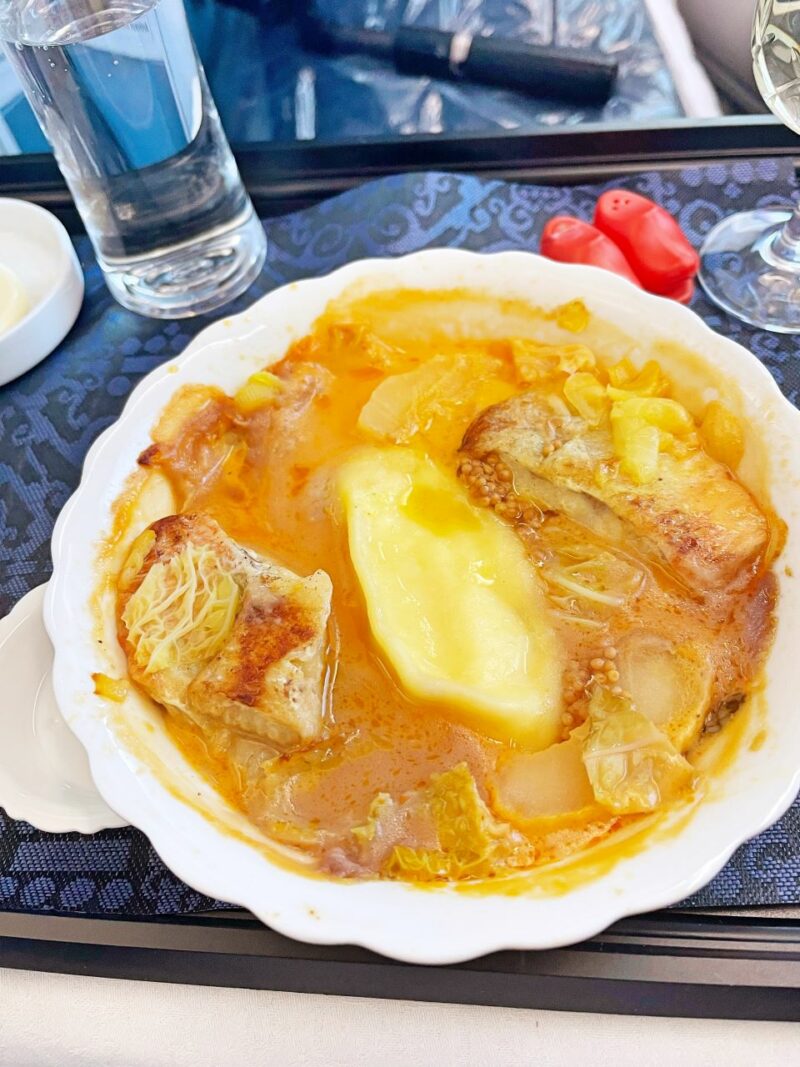 I mean, a fish dish that also combines a sauce, apple, truffle mashed potato and ravioli has to hit just about every tastebud! What was interesting is that KLM, like most airlines, collaborated with some kind of well-known chef in their home country. Whilst there was a blurb in the menu about KLM's collaboration and a little chef's hat insignia indicated a 'signature meal choice', none actually featured on this menu.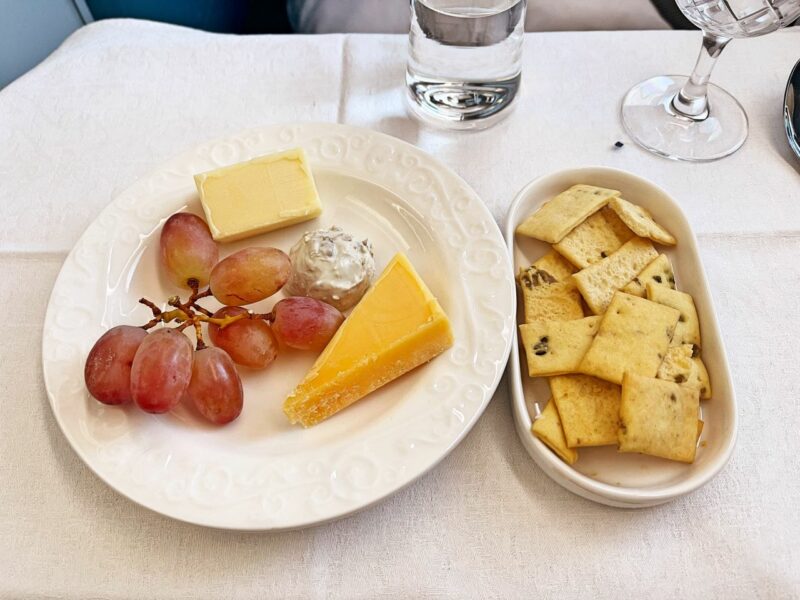 The tray was then entirely cleared away, and dessert and/or cheese were served. The cheese plate had three varieties which were nice, and this was followed up by tea and coffee (and a little delft house chocolate). There are no espresso-based coffees on KLM, but like the short flight from Madrid to Amsterdam, whatever form of coffee they used tasted excellent.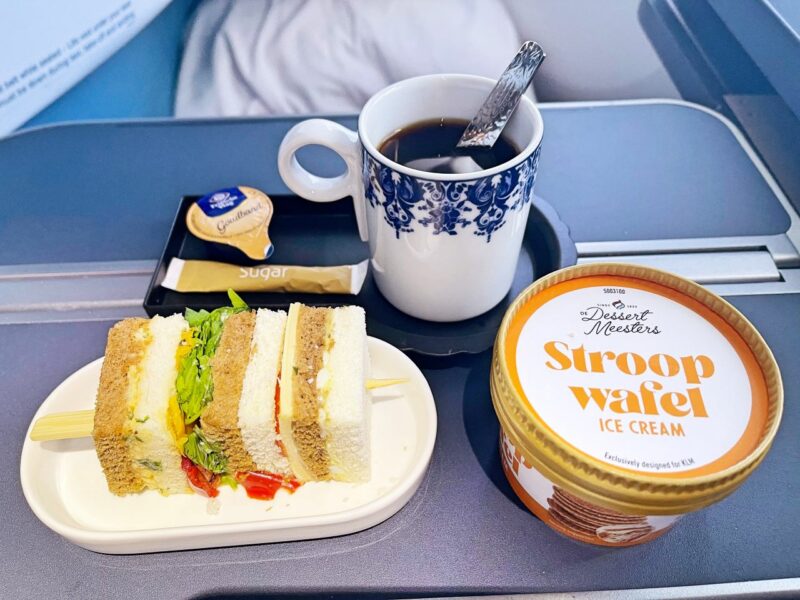 In the middle of the flight, the crew came around with options from the 'Sky Break' menu, which included a Club Sandwich and ice cream.
Two hours prior to arrival in Mexico City, hot towels were again distributed and tablecloths laid for the pre-landing meal. There were two choices, and I have to admit neither particularly appealed to me – a hamburger or a vegetarian empanada.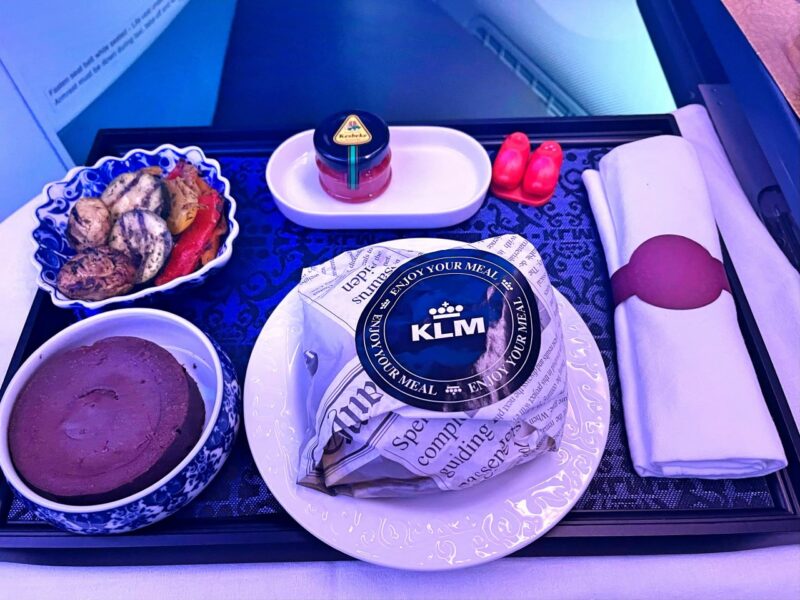 Burgers CAN work on aircraft sometimes, but mainly when the components are heated up separately and assembled by the crew. I knew in a 30-seat cabin with the crew complement working today, this would not be the case, and indeed the burger had been heated up in its entirety in the wrapper and was not particularly enjoyable. Drinks, tea, and coffee were again offered before the second meal items were cleared in. At this point, the Purser came around to farewell each customer and offer everyone a choice of a selection of miniature delft houses filled with gin as a gift.
I have certainly experienced more elaborate and extensive Business Class meal services, but nonetheless, I enjoyed my late lunch with KLM, and it was tasty and served efficiently and not too much of a drawn-out affair which is sometimes the case.
IFE and Wi-Fi.
The 18.5-inch IFE screen was crisp and clear, and there was a wide selection of content.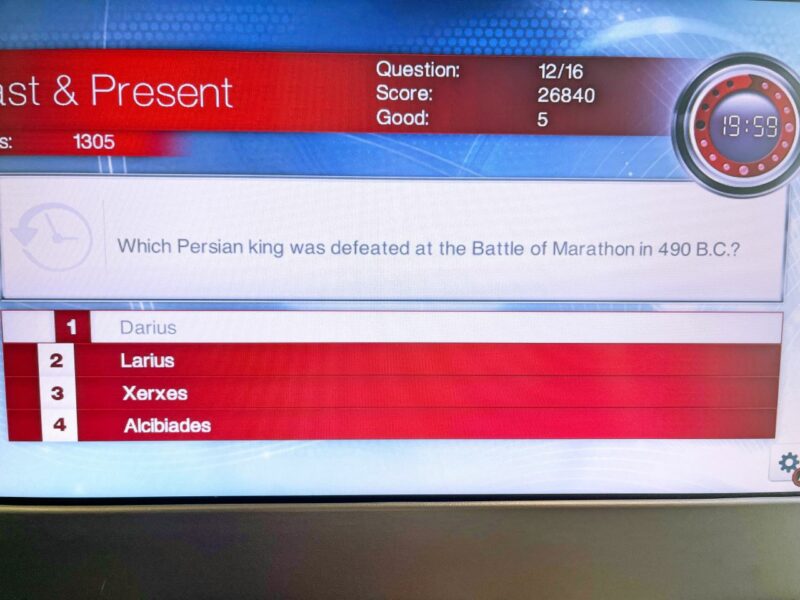 There were literally hundreds of movies available, including around 40 new releases, and the content could be controlled by either touching the screen itself or a touchscreen handheld control. There were also several games available, including a Who Wants to Be a Millionaire kind of one which had some very hard questions, for example, 'the first neanderthal remains were found in which country' and 'what term describes people who went to California during the goldrush'? I have to say it left me feeling a little thick!
I did have problems with my IFE at the beginning of the flight, the screen kept freezing. Two resets sorted this out.
Wi-Fi was also available, and although I can't comment on its speed or reliability throughout the whole flight, I did use the 1-hour free messaging service midway without issue. One hour of surfing was available for 8 euros or 18 for the whole flight, which seemed reasonable.
Inflight Service.
For me, the absolute highlight of the trip. Firstly, there were only three crew working the 30-seat Business Cabin, which is on the low side of the crew complement-wise. Jeez, did these guys hustle and work hard. Not only that, but their professionalism and friendliness never suffered as a result. And these crews were of the more senior variety with, I imagine, a good few decades of KLM service under their belts. I found them so genuine, so open and helpful despite the full cabin and high workload they had. For example, after take-off, the Purser made the rounds doing a welcome to every customer. Nothing ground-breaking in that. But the way she engaged was. None of the predictable 'Hello Mr D'Suvio, my name is XXXX, and I'm the Purser. Welcome on board if there is anything you need, please let me know', move on to the next customer, repeat. The Purser on this flight found something different with each customer to strike up a conversation about. With me, she asked about the book I was reading. I saw her comment about how much she enjoyed the film the next customer was watching. The one before me, the Purser, enquired after the wine that the customer was drinking. It was all just so natural.
In the middle of the flight, nature called, and I made my way to the bathroom. There was only one single crew member on duty at this time in Business Class (between meal services crew took turns going on rest), and she was juggling the requests of several customers who were awake. I didn't even have to ask her for a thing, she proactively came up to me and asked me, 'can I get you a drink or a snack, perhaps?' Although I declined, I took the opportunity to have a chat with her about her thirty-year career at KLM, and I commented that they seemed to work very hard on these flights. And her reply was, 'to be honest….yes, we do. They are hard work. But we love our jobs, and KLM looks after us, so we are happy to'. Again, without a single bit of sarcasm or falseness.
It was KLM's staff – in the air and on the ground – which left the biggest impression on me. Their attitude is so great, which is remarkable as they are paid less and work harder than their counterparts at Air France, whom I find offer very inconsistent inflight service.
Summing up.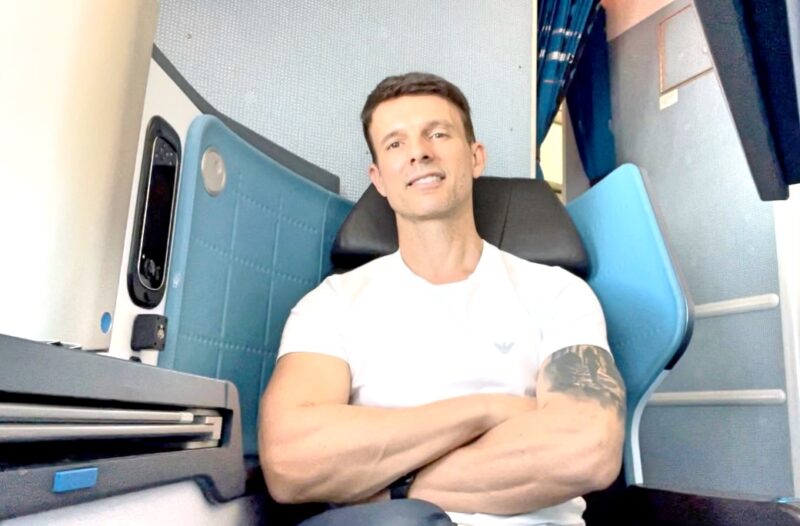 Despite the (self-inflicted) stressful start, I loved my flight on KLM B787-9 Business Class. The strong points for me were the KLM people and the 787 Business Class cabin. Catering could do with some work on the long-haul flight, although I have certainly had worse. The catering proposition on the short-haul flights, though, is as poor as it gets compared to European competitors. Ironically, despite being the same family, KLM's biggest strengths are Air France's weaknesses and vice versa. I love the catering on Air France, yet I find the inflight service pretty variable. If I could have Air France catering with a KLM crew, I would be in heaven!
Obviously, caution needs to be made when booking KLM flights if a direct aisle access seat is one of your priorities. Most of the KLM fleet still has an old traditional 2x2x2 configuration and even those rostered with the new seat are prone to being swapped at the last minute. Saying that, if I were travelling with my husband, I would be more than happy to take KLM's older-style seat.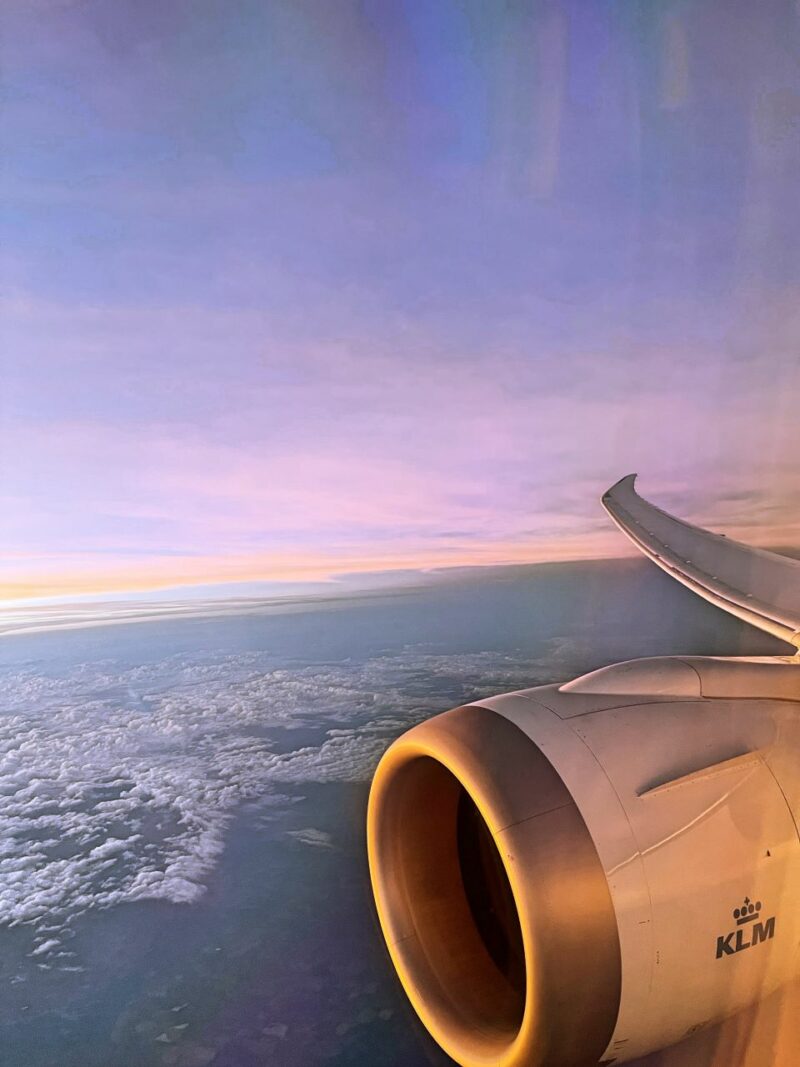 KLM offers competitive fares from the UK and also flies from an impressive seventeen UK cities to its nearby Amsterdam hub and on to the rest of the world and its single terminal operation makes transiting a breeze – providing you don't be a fool like me and leave yourself with twenty minutes!
Like our KLM B787-9 Business Class review? You can read more flight reviews here.