This is an article about the KLM B737-800 Business Class review from Madrid to Amsterdam. This was a positioning flight for a long haul flight review that will be published tomorrow.
I will preface this review by saying, 'Jason…. you are a fool'.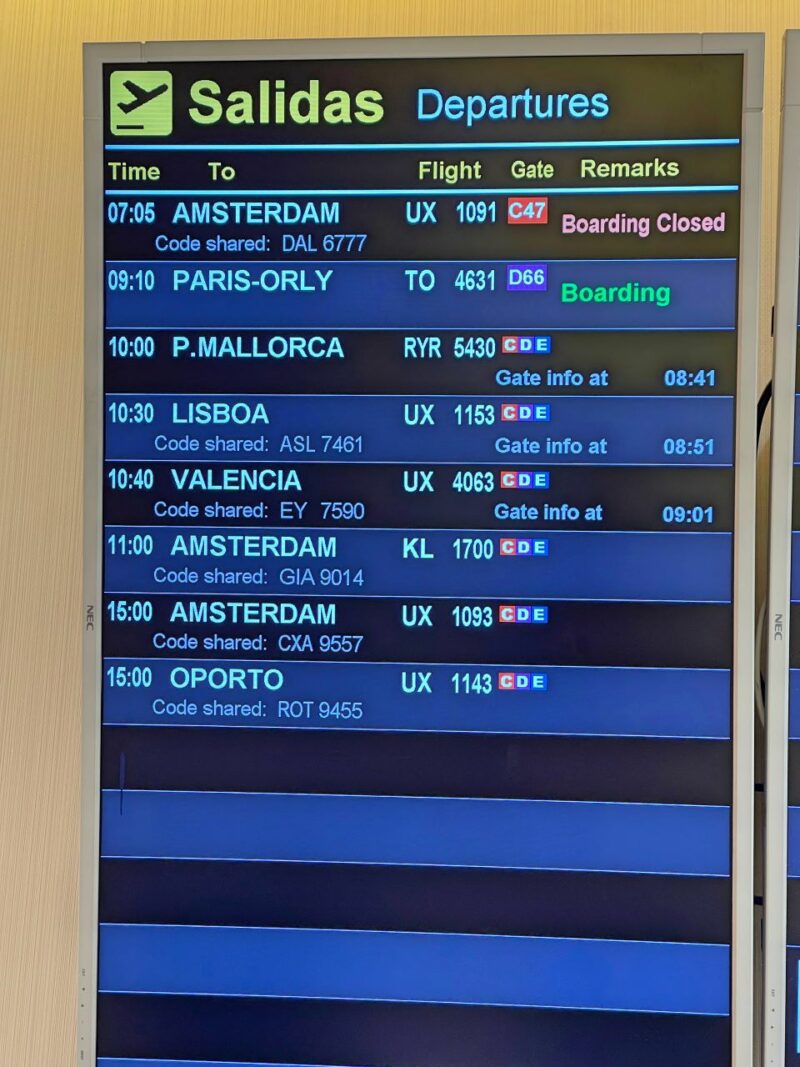 I will be the first to admit – booking a trip with a 55-minute scheduled connection time is not clever. Especially when one is aware of the challenges facing the world's airports at the moment. It is quite incredible how you can actually convince yourself that a bad idea really isn't that bad. After all, I had been monitoring the punctuality of both my MAD – AMS flight and my AMS – MEX flight on Flightradar24 and was reassured to see a history of my short flight to AMS usually arriving a little early than scheduled and my departing flight from AMS to MEX departing 15-20 minutes behind schedule. I had also researched the transit procedure at AMS and was relieved that I wouldn't have to clear any dreaded transit security. However, I would have to pass immigration as I was arriving from within the Schengen area and departing from outside it. And what was the worse that could happen anyway? KLM is late, I missed my connection and am rebooked and entitled to EU261.
Check-in/Lounge/Boarding.
KLM, along with its SkyTeam partners, use the very quiet and fairly basic Terminal 2 at Madrid Airport.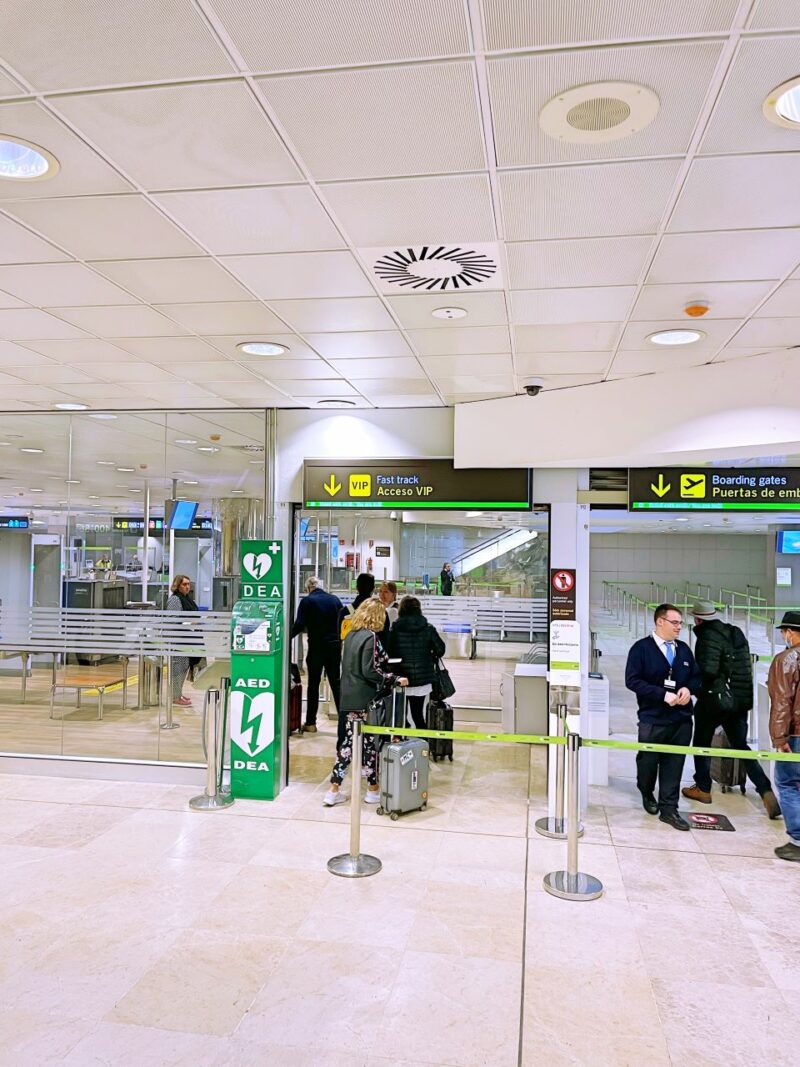 Although the terminal itself was calm, the KLM/Air France check-in area was so not.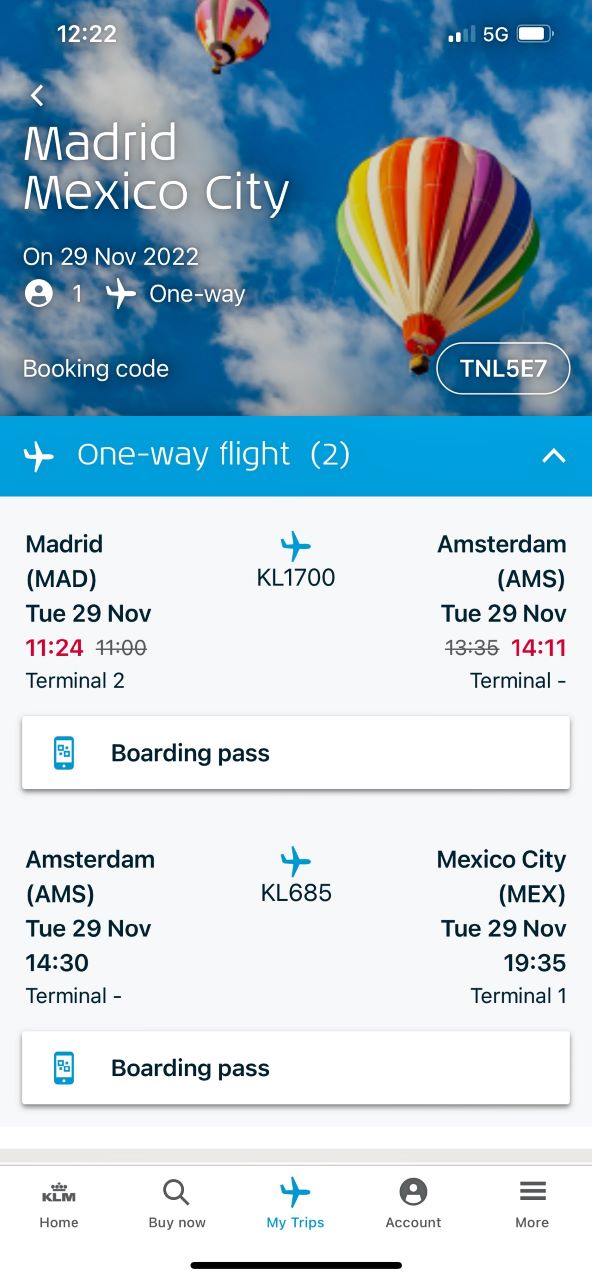 I, as always, was only travelling with hand baggage and checked in via the excellent KLM app but I was still hoping to snap a quick picture of the check-in area for this report. I could not even get near it. The whole area was a sea of people.
Fast Track security was available and from entry to me being repacked of my liquids and laptop and on my way was exactly seven minutes. It's worth mentioning that there were no queues at the regular security checkpoint either. I have travelled quite a few times in and out of both Madrid and Barcelona over the past six months, and I have not witnessed any of the chaos I have seen at many other airports around Europe.
KLM contracts the use of the Puerta de Alcala lounge, which seemed to be the only lounge within Terminal 2.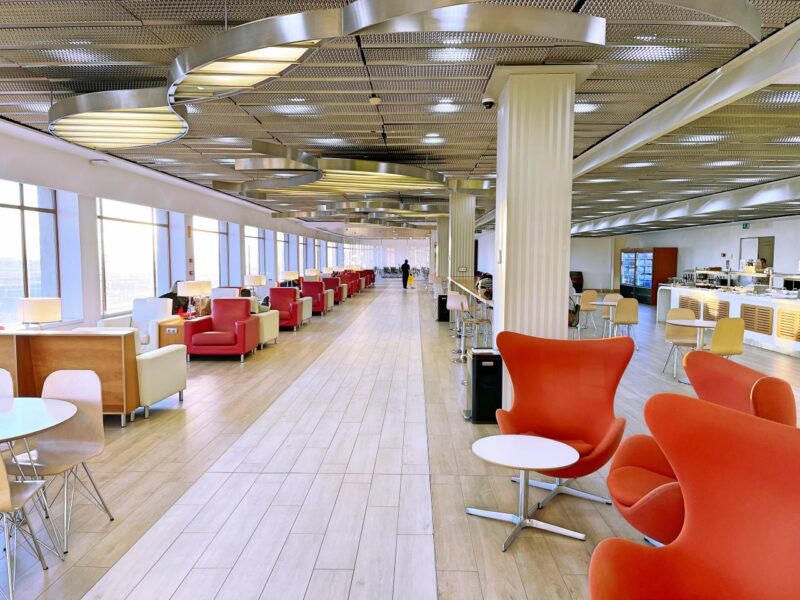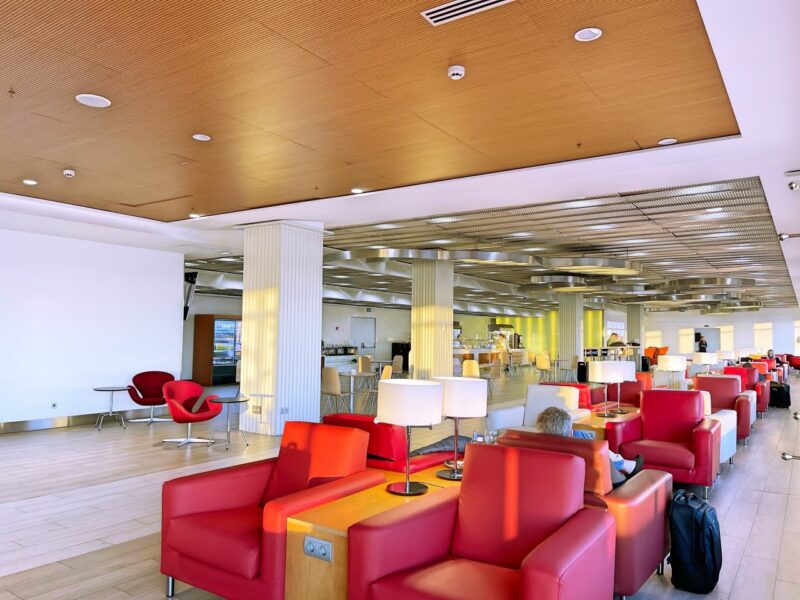 It was also available as pay-on-entry or in conjunction with several of the lounge pass programs. It certainly wouldn't win any awards, but as far as contract lounges go, it was pretty good. Essentially it was one large rectangular room with plenty of various seating areas and impressive views over the tarmac and runway. There was no difficulty in finding EU-style power points, and Wi-Fi was fast and stable. In line with the rest of the terminal, the lounge was pleasantly quiet. Food and beverage options were fairly limited, with some light breakfast items (pastries, yoghurts etc.) on offer from a self-serve buffet.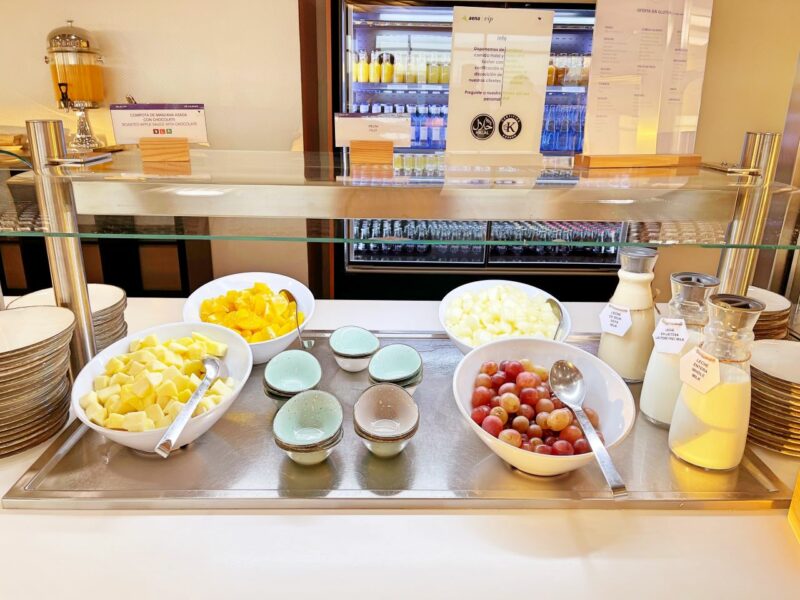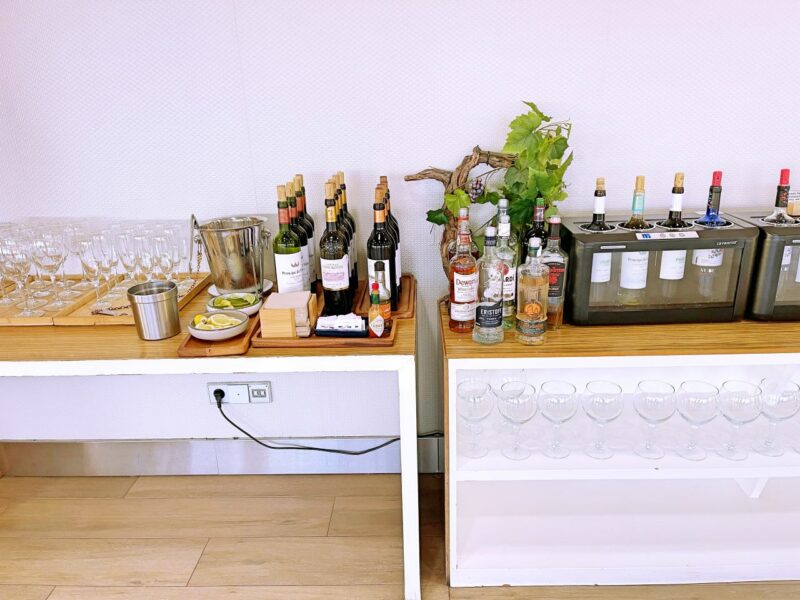 From the lounge, I could see my KLM B737-800 Business Class aircraft arrive from AMS early and reassure myself, 'see – nothing to worry about' and I headed off to the gate.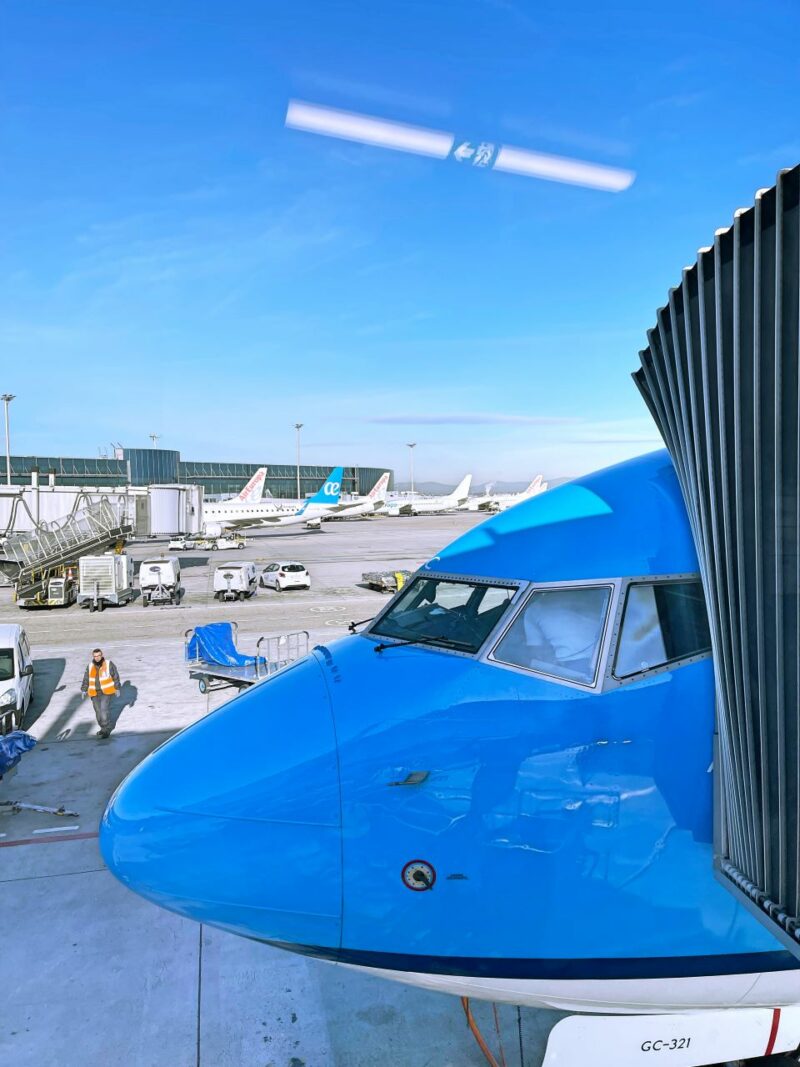 I first knew something was up when I checked my app at the gate. I was looking at my plane in front of me, which had arrived early, yet the app was informing me there was a 45-minute delay on departure. This could only mean one thing – a slot delay. A little bit of panic had set in at this stage, but the zonal boarding procedure commenced on time at 10:20, and I held hope that the app was just displaying the wrong information. I was warmly welcomed onboard by the Purser and took my seat in row 1 of the aircraft.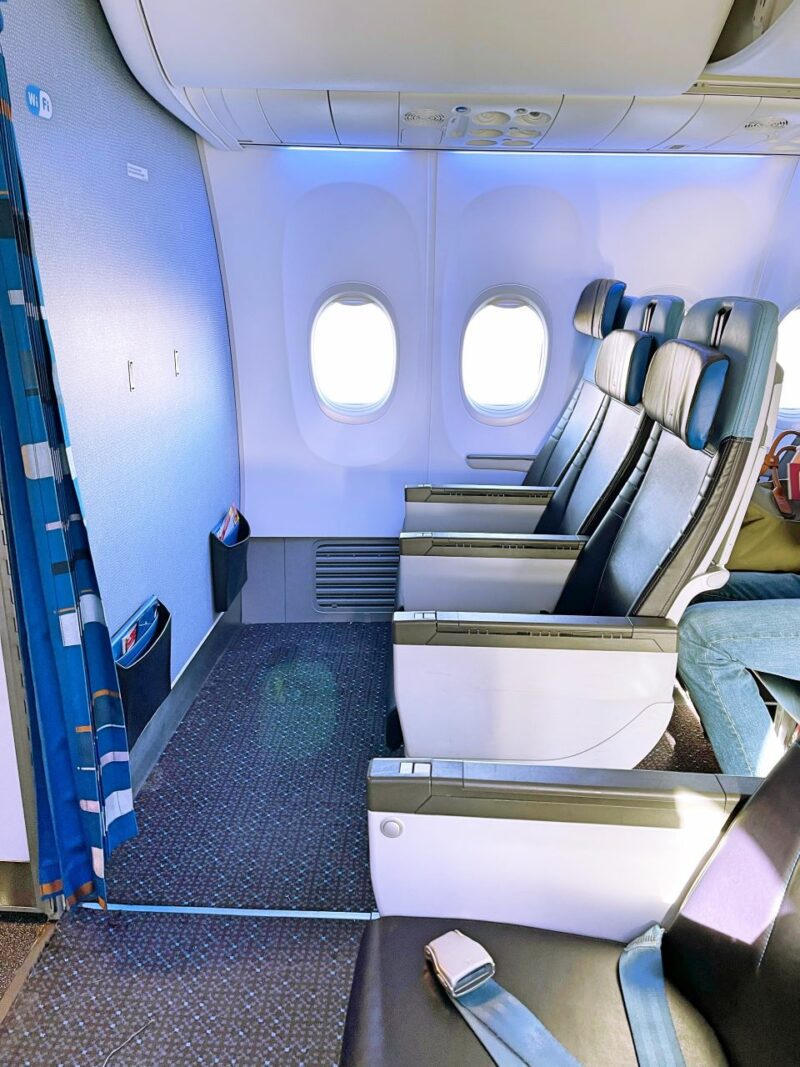 KLM B737-800 Business Class, like nearly every other European carrier, adopts the 'euro business' model where business class is basically a row of three economy seats with the middle seat blocked. On my flight, there were only two rows of business class, and there was no cocktail table or such on the blocked seat. The flight seemed full, and all of the eight business class seats were occupied. Being in row 1, all items had to go in the overhead locker. This is no easy task as the locker above row one on the A-C side is fully occupied with emergency equipment. All seats had USB charging ports, and Wi-Fi was available (which would come in handy during the flight for me researching options should I miss my connection!). A choice of orange juice or water was also offered before departure. I'm not sure if this is the norm for KLM short-haul flights or whether it was on account of the delay, but it was welcomed anyway. The door was closed five minutes ahead of our scheduled departure time.
I am a firm believer that any business in the customer service industry can turn a detractor into a promotor, even in times of disruption, by how they deal with the issue and how they communicate with the customer. At this, KLM exceeded. Once the door was closed, the captain of the aircraft left the flight deck, took the public address speaker in the forward galley, stood in the middle of the aisle at row one where everyone could see him and addressed all the passengers. He relayed that fog earlier in the day had reduced the flow of aircraft able to land into AMS, which was having a knock-on effect, and our flight had been given a slot delay of 11:40. He explained the crew had taken the decision to get everyone on board for departure as early as possible to take advantage of any last minute bringing forward of the slot. He apologised to customers with connections at AMS (the vast majority of the flight) and assured them that the KLM operations centre would be re-arranging missed connections while we were airborne and he would try and get back to us with any information once we were closer to AMS. He then walked the entire length of the cabin, chatting with customers and answering any questions. I found this incredibly impressive and showed KLM in a very positive light. The empathy and openness displayed were incredible, especially as it is often the case that the crew will literally hide when having to give out bad news such as this. Following the captain's address, the Purser did exactly the same. She stood in the middle of the aisle at row 1, introduced herself and apologised for the delay. She then came around with her handheld device, welcoming all those in Business by name and acknowledging our onward connecting flight information and assuring us she would get back to us with any information she had before landing.
These kinds of interactions with KLM staff were the first of what seemed to be the norm of KLM people – all along the way to MEX, every KLM staff member I encountered was hard-working, friendly, helpful, genuine and empathetic. I'm not sure if this is just how the Dutch are or whether KLM is very clever at recruiting the right people, or whether KLM values their people and makes it a place their staff are happy and proud to work for, but it was very evident.
Thankfully, our slot did come forward a little bit, and we pushed back at 11:24. A quick glance at my app before take-off, and it was displaying a transit time of nineteen minutes in AMS. At this point, I was thinking, 'game over, no chance'.
As soon as we took off, I logged onto the Wi-Fi, obsessively checking two things – the departure time of my onward flight (praying it would show a delay) and alternatives to get me to MEX (which would hopefully involve a KL 787). Wi-Fi was reasonably priced, with the ability also to pay using miles. Half an hour of messaging was free, internet access 'surf' was E8 for the whole flight and 'stream' for E12.
The inflight service kicked off with hot towels, and then a meal was served. The meal was definitely the lowlight of the trip. I have come to manage my expectations of short-haul catering even in Business Class (hello Lufthansa), but this was, without a doubt, the worst meal I have ever been served in a premium cabin. KLM has moved away from the standard tray format to the 'sustainable' (and cheaper) cardboard box. The box is actually quite cute in presentation, and I could even overlook the wooden cutlery, but the contents were just dire. There was a menu card within the box listing the cheap and unhealthy contents.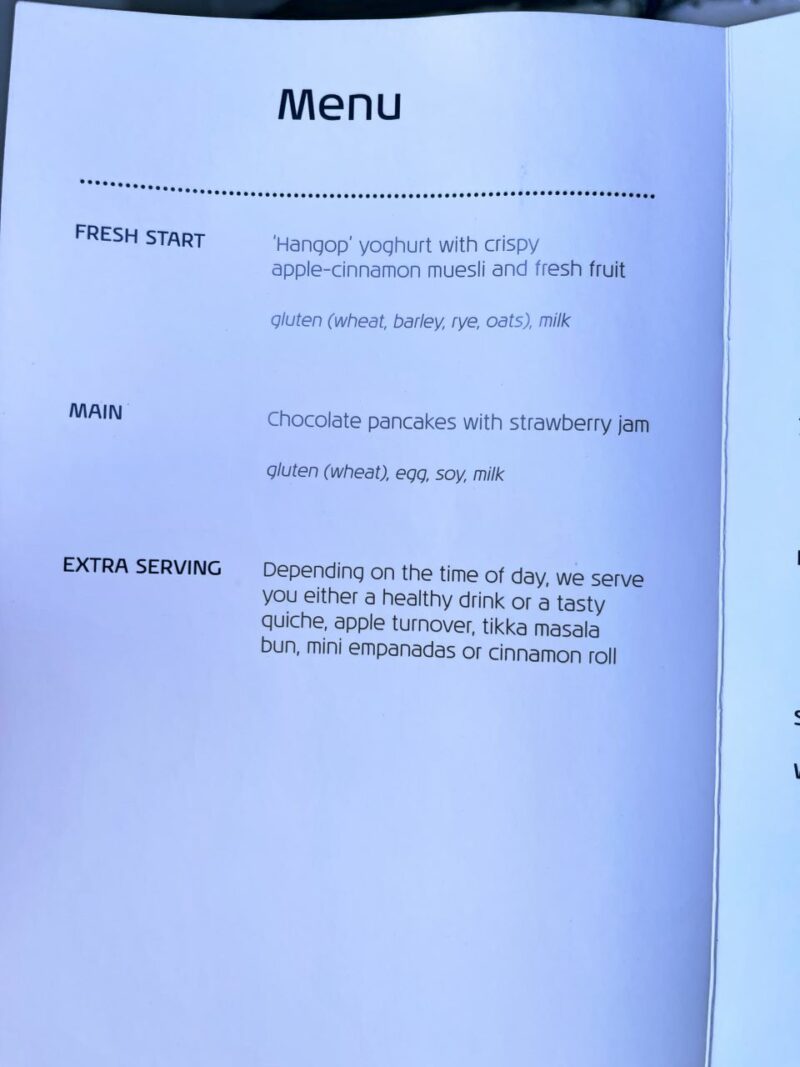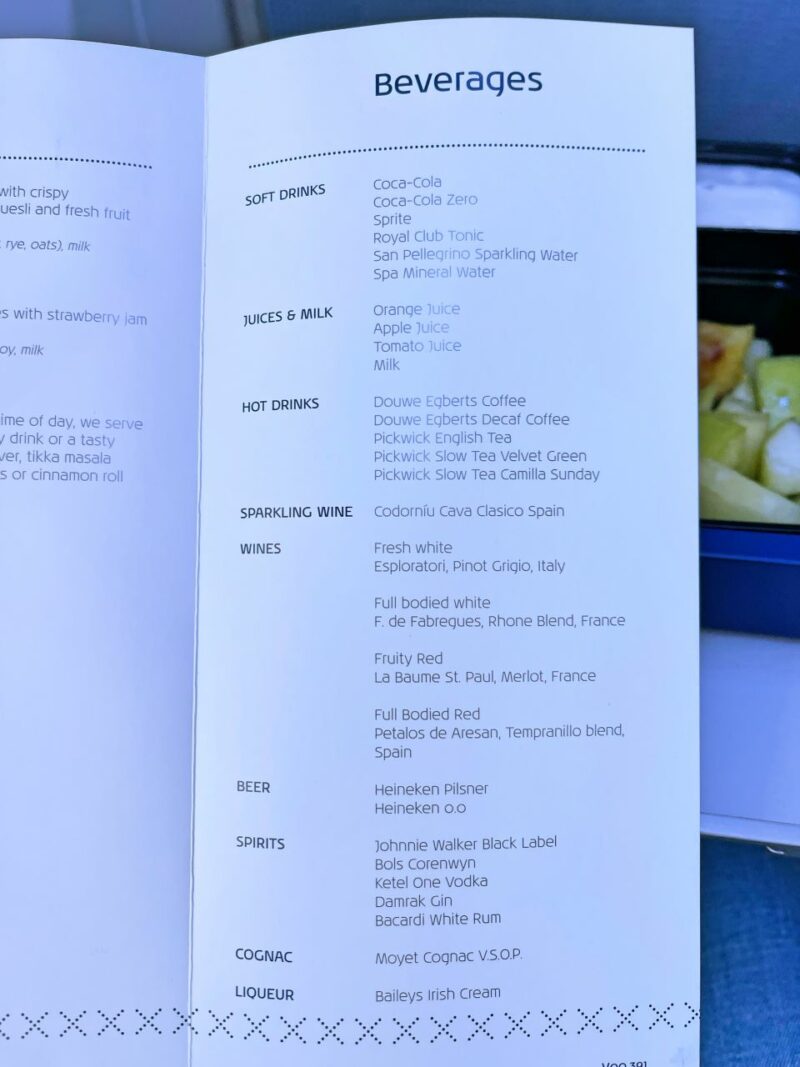 Yoghurt, muesli, fresh fruit, chocolate pancakes with strawberry jam and an 'extra serving surprise'. On the face of it, it doesn't sound unappealing. The reality was my box had no muesli (I had two portions of plain yoghurt), the 'fresh fruit' was a chopped green apple, and the chocolate pancakes were cold. I don't mean they were heated onboard and lost some of the temperature waiting to be served, nope, these were chilled and meant to be served chilled.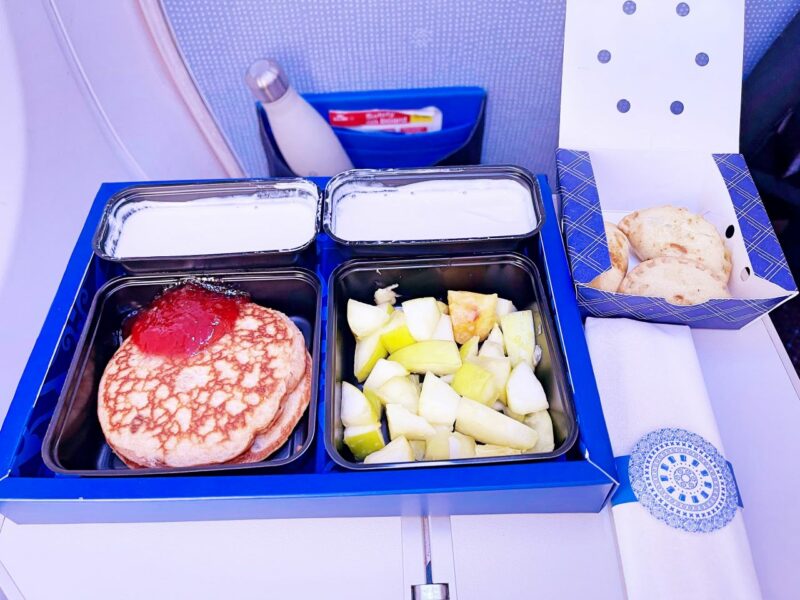 The 'extra serving' I still don't know what option I got was some weird pastry filled with. I have no idea what. I ate a bit of the yoghurt, picked at the apple and I was done. Maybe my expectations are too high as my American seatmate commented 'wow I can't believe they give a whole meal on such a short flight'. OK, one happy customer food-wise! I was so happy the delightful Purser didn't ask me if I enjoyed the meal.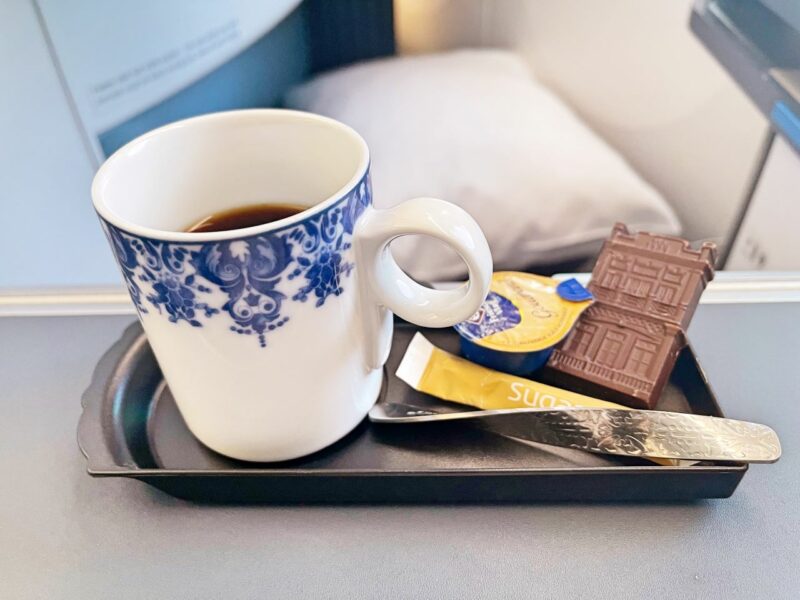 Drinks and tea, and coffee were also offered. I loved the crockery they served the coffee in, and I'm not sure whether it was instant or brewed, but it was actually very good.
Throughout the whole KLM B737-800 Business Class flight, I was addressed by name, and the crew could not have been friendlier. I was manically checking the status of my onward flight, and it was still annoyingly showing 'on time'. I could only pray there were no queues at immigration and hope that there were a good number of customers from other delayed passengers connecting onto the MEX service so they may wait a little while.
As promised, the Purser did come back over to the public address with some information for connecting customers as we approached Amsterdam. She announced two Scandinavian destinations where customers had been rebooked and provided details. And advised all other customers to proceed as quickly as possible to their gates. On the app, I could also see our arrival gate and my departure gate, and after a google of an AMS terminal map, it seemed I was in luck – they appeared to be not too far apart. We were arriving at C gates, and I would depart at D gates.
We landed at AMS, and after a frustrating long taxi to our arrival gate, the jetty pulled up to the door, it was open, and I thanked the Purser, and I RAN. And I didn't stop running until I reached immigration. Immigration was not overly busy, but there was still a queue of twenty to thirty people which I knew if I joined, I would almost definitely miss my flight.
So, I did something that I've witnessed time and time again whilst standing in security/passport queues and usually roll my eyes at – I apologetically pushed my way to the front of the queue 'so sorry so sorry I'm about to miss my flight' and despite a few tuts and murmurs I was soon in front of the immigration officer. 'How long have you been in the Netherlands?' the immigration agent asked, and literally almost out of breath, I replied '17 minutes'. He stamped my passport, and I started running again. As I reached my gate, I could see signs of life. There was no 'closed' showing on the monitor, and there were still gate staff there. The gate staff were so lovely. No 'hurry up the flight is departing' but instead a 'I'm so happy you made it, welcome on board'. The relief I felt at that moment was immense. And I can happily say – lesson learnt.
If you're interested in more flight reviews, you can find them here.