In this article I will look at choosing a hotel, which hotels I recommend and how to get the best price. I have visited Las Vegas at least once a year for the past 6 years and 4 times last year (no, I am not a gambling addict!). This is the second in my series of articles on Las Vegas. You can read the first article here.
Choosing your hotel
There are so many hotels in Las Vegas it is difficult to know where to start. One thing to be wary of when checking prices is that most hotels charge what they call a resort fee which is non-optional and not included in the headline price. This is usually around $20-30 per night and covers things such as internet and gym access. Also most hotels in Las Vegas don't have coffee machines or kettles in the room unlike most US hotels.
All the hotels reviewed are rated 5* but I would take that with a pinch of salt as they vary in terms of service and amenities. The ones with * are hotels I have personally stayed in and would be happy to recommend. If you have any Vegas questions please feel free to email me at [email protected]
The first thing you need to do when choosing your hotel is decide on a few basics:
Location
This should be high up on your list of requirements. Although everything looks close together, the strip is 4 miles long and it's nearly 2.5 miles just from Mandalay Bay to Wynn.  Getting around Vegas is time consuming even if you have your own car. Traffic is usually heavy along the Strip and there are numerous traffic lights to get through. Unless you use valet parking it is a long walk from the car park into the casinos. Often walking is just as quick. If you plan to visit a lot of different locations on the strip then somewhere in the centre would be ideal such as the Bellagio.
Do you want to stay in a casino hotel?
These are the large hotels that most people of think of when they come to Vegas such as The Venetian, Wynn and the Bellagio. They are a good option if it is your first time to Vegas and you want to be in the thick of it for the full Vegas experience. The disadvantage is that you will have to traipse backwards and forwards through a large smoky casino to get to your room. Given the size of the hotels it can often take up to 15 minutes to walk from your room until you get onto the Strip. If you chose one of the more popular theme hotels they will be busy in nearly all the areas of the hotel so expect to queue for eveything.
Wynn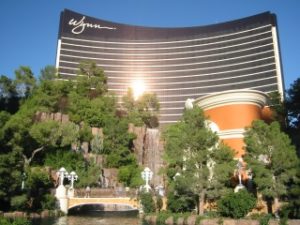 This is one of the most luxurious casino hotels and opened in 2005. The resort has earned 5 star ratings as well as one Michelin star for its restaurant Wing Lei. Wynn Las Vegas and its sister property Encore Las Vegas collectively hold more Forbes five-star awards than any other resort and casino in the world.  The resort is named to the Condé Nast Traveller Gold List as one of the "Top Hotels in the World".
The luxurious rooms here offer floor-to-ceiling windows and pillow-top mattresses. Amenities include 2 spas, gyms, pools and hot tubs, as well as an 18-hole golf course and numerous restaurants and bars.
The location is OK but it is at the end of the main part of the strip so it would be a very long walk to get to the Mandalay Bay end of the strip. It is ideally placed for the Fashion Show Mall across street and also connected by walkway to the Palazzo hotel. If you decide on Wynn make sure you ask for a room away from the nightclub during the summer months, as there are complaints about noise from the outdoor club on Trip Advisor. The Wynn is not part of either of the 2 main casino groups and has its own players club, Red. However you need join Wynn Insider and then you automatically qualify for a 15% discount on any room booking. This is free to join. Rooms generally start at around $160 when on offer.
Bellagio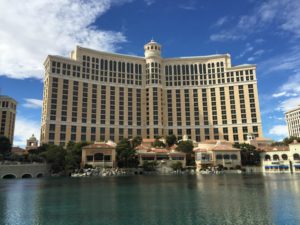 Opened in 1998, this  high-end hotel is housed in an Italian-inspired, 36-story tower fronted by a man-made 8-acre lake featuring dancing fountains. The inspiration for the hotel came from the Italian town of Bellagio on Lake Como. Rooms are elegantly furnished in a modern style and feature custom artwork and marble bathrooms with soaking baths. Suites and villas come with private elevator access, living rooms and butler service. Amenities include several outdoor pools and a botanical conservatory, as well as a fine art gallery, a spa and multiple dining options.
Location wise this is in an ideal spot about half way along the strip. This makes it easy walking distance to most of the strip. There is a free tram that runs between Bellagio and Monte Carlo which also covers City Centre and Aria. Bellagio is a very popular hotel for tourists to visit so be prepared for large numbers of people in the hotel. Bellagio is part of MGM Resorts.
Palazzo*
The Palazzo is situated between the Wynn and the Venetian, and is an all-suite resort and casino.
The large rooms feature Italian-inspired decor and range from modern rooms with flat-screen TVs and soaking baths There is a huge Canyon Ranch spa, an outdoor pool, and several restaurants and bars. It is a good option if you fancy the Venetian but are worried about how busy it will be. Palazzo and Venetian are part of their own group and have a players club called Grazie. They are also both affiliated with IHG hotels.
Cosmopolitan*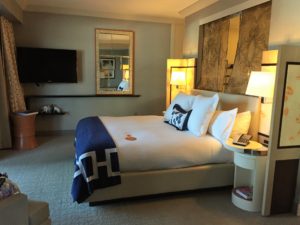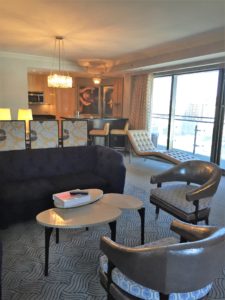 I stayed here in March 2016 when I got a bargain second night in a Wraparound Terrace suite for just $5. The hotel is across the Strip from Planet Hollywood, and has rooms with views of the adjacent Bellagio fountains. Despite the young vibe of the hotel the clientele spanned every age group. As the hotel is not as large as some casinos, the walk from the room was better than most and the hotel was rarely crowded except at the pool. I would not normally have chosen the Cosmopolitan but I was very impressed with the suite, especially at the price.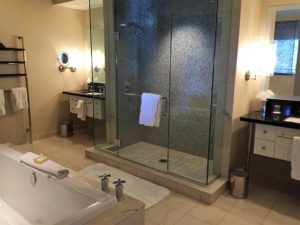 The stylish rooms feature floor-to-ceiling windows, flat-screen TVs, Wi-Fi access and marble-floored bathrooms.
My suite had a separate living room with dining area and kitchen, a bedroom and a large bathroom with an enormous bath and 2 sinks. If you can afford it I would recommend the wraparound terrace suite with a Fountain View or failing that a Studio terrace fountain view. You can't beat lounging on the terrace watching the Bellagio fountains with a glass of Bubbles!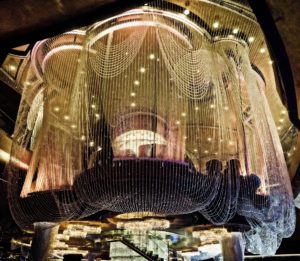 The hotel also houses the Chandelier bar which is one of the most iconic in Vegas being set inside a 3-story crystal chandelier. Other hotel amenities include an outdoor concert venue, a serene spa and hammam and 3 pools.
The Cosmopolitan is part of the Autograph collection within Marriott hotels so you can get the terrace suite I stayed in for 45000 points +$100 per night. They will also honour the Marriott redeem for 4 nights and get the 5th night free. You can also earn Marriott points at the usual Autograph rate. They also have their own players club Identity which I suggest joining to get access to special offers. It is free to join here. Rooms start at $150 per night. The way to get special offers such as this one is to sign up for their newsletter and secondly monitor the TripAdvisor Las Vegas forum which often has tip-offs.
Do you prefer peace and quiet but still want to access the Strip easily?
In this case you can choose one of the non-casino hotels that is on or very close to the strip. The advantage is that they are much quieter and it is usually quicker to get to the strip.
The two I will discuss are my personal favourite hotels in Las Vegas where I nearly always stay.
Mandarin Oriental*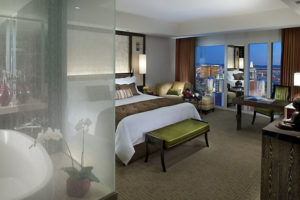 This is ideally situated a few feet from the strip between the Monte Carlo and City Centre. The location of the Mandarin Oriental is perfect for accessing the majority of the strip. It is a few minutes walk to Aria as well, where you can also access the tram to Bellagio. Yet when you enter the hotel it feels like an oasis of Asian tranquility compared with the craziness of the strip.
The rooms at the Mandarin Oriental are some of the best on the strip although not necessarily the largest. They have wonderful standalone soaking bath tubs and feature a very innovative valet closet that allows things such as newspapers cleaning and room service items to be placed in a cupboard for delivery or collection. The cupboard is accessible from both inside and outside the room, maintaining your privacy. Rooms are decorated in a modern oriental style and equipped with the latest technology. Lights, curtains and temperature are all controlled from a tablet display by the bed or via the TV. A tea pot, kettle and selection of teas are available in the room.
The hotel has a wonderful spa which although not the largest or best equipped has the most amazing service and tranquil ambiance. When you arrive they swap your shoes for sandals magically bringing you the right size and preparing a locker with the correct size robe all without asking a question.
There are 3 dining options, the fine dining Twist by Pierre Gagnaire, Mozen Bistro and seasonally the Pool cafe which serves lots of healthy options from breakfast onwards. The cocktail bar is a great place for a sophisticated drink with a great view of the strip.
For me the pool is the only area that lets it down. The area is fairly small with 2 very narrow pools and it is often very windy. The service has improved recently but is still nowhere near the level of the Four Seasons pool staff.
Rates start from around $229.
Four Seasons Hotel*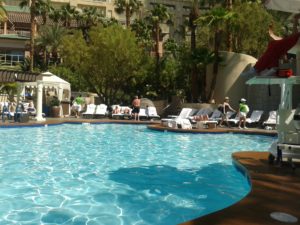 This is the hotel I would recommend if you enjoy a lot of pool time. It is situated at the far end of the strip next door to the Mandalay Bay. The location is the only drawback with this hotel. It is however connected to the Mandalay Bay where you can get a tram to Excalibur for free.
The Pool area is one of the nicest on the strip and rarely gets crowded. Pool staff will set up your chair, regularly bring you jugs of iced water and frozen treats as well as even misting you with Evian when it is hot! The other advantage is that you also have access to the Mandalay pools complete with beach, wave pool and lazy river.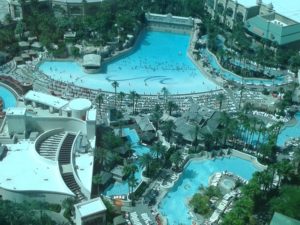 The Rooms were recently redecorated and now have a modern resort feel. A Keurig coffee maker is in the room unlike most hotels in Vegas. The bathrooms have a separate bath and shower but I do feel that the bath is on the small side compared with other Vegas hotels.
In terms of room choice I would normally just go for the basic room although if it is your first time to Las Vegas you may prefer the strip view category. These can have a little aircraft noise from the airport sometimes but you will enjoy the view of the airport of you are a plane spotter! The Strip view studio is a beautiful large room which I would recommend if you can get a decent price but unless it is a special occasion I don't think it's worth the large difference in price from a normal room.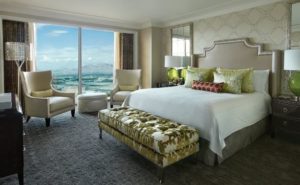 The spa at the hotel is highly rated for treatments but it is very lacking in facilities so I would normally go to a different one. There is a good Spa at the Delano Hotel which is also attached to Mandalay Bay.
Dining has 2 main restaurants plus a plethora of options within Mandalay Bay. Charlie Palmer Steakhouse is the fine dining option and Veranda is the all day restaurant with an Italian style menu. It is a great place to start your day having breakfast outside on the terrace overlooking the pool.
Four Seasons usually have some good deals on their website where you can get $100 resort credit which if you are likely to have breakfast or drinks in the hotel is a good discount. Another tip is to download the Four Seasons app. With this you can check in beforehand and when you arrive the bellman simply hands you your key before you even enter the hotel. No queuing at reception! Rooms start from around $200.
Do you want to self cater or have a larger space?
There are several self catering options on or near the strip. The 2 I have stayed at are:
Vdara*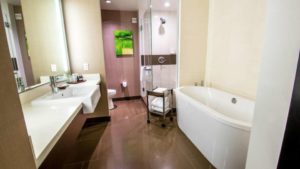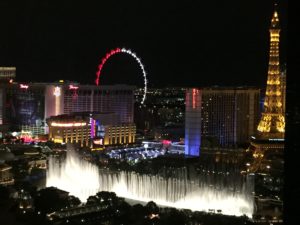 This is a very modern hotel which is has a walkway to Bellagio and is next to Aria. It is quite a long walk to get to the strip but it is usually very affordable and the rooms are modern and large.
One thing I didn't like it that you have no coffee maker, not even a kettle and they will charge you if you ask for a coffee maker. You would be better buying a cheap travel kettle to take with you. There is plenty of kitchen equipment but no plates, cutlery or post and pans. These can be requested. Be very specific as when I asked for plates and cutlery all I got was one of each!
The pool at Vdara is not particularly attractive as it is in effect a rooftop pool so if you wanted a great pool area I would go for the Signature. Vdara is a good winter option. It is also part of MGM Resorts and the MLife program. Rates start from $119.
Signature at MGM*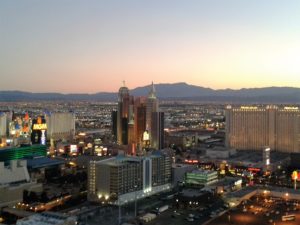 These 3 apartment hotels often offer great value and you can often get them even cheaper by renting privately. They come in several sizes from a studio suite to a 2 bedroom suite. Many have good views of the Strip, a good size kitchen and dining table and come with a balcony. Rooms have:
Toaster
Blender
Microwave
Stove Tops
Refrigerator
Coffee machine
Unless you have rented privately you will have to request plates, cooking equipment etc but you do get a good selection. The bathrooms are huge with TVs, dressing table area, huge jacuzzi bath and 2 sinks.
It is quite a walk to the strip through either the MGM by moving walkway or via the street which brings you out by Planet Hollywood.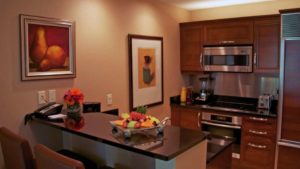 One thing that always make me smile is that at busy times they have a small bar half way along the moving walkways in case you can't manage in Vegas without a drink for that long! Only in Vegas!
It is wise to request a specific tower. Tower 1 is the oldest but is closest to the moving walkway. Tower 3 is newer and closer to the outside route to Harmon Avenue. I normally go for Tower 1 as by the MGM entrance is the Monorail and it is the quickest route down to the far end of the strip.
There are 3 pools and jacuzzis which are all good although there is often no shade unless you want to rent an umbrella. One pool is adults only. All the pools have waitress service for food and drink.
Signature is part of MGM Resorts and MLife. Rooms start from a bargain $99. You can find the hotel website here.
*These are the hotels I have personally stayed in that I would recommend depending on your requirements. 
How to get the cheapest rates
First make sure you have read my previous article so that you time your visit right. A good example of why it is important is by looking at the cheapest rates for the Cosmopolitan in January as they range from $160-$900 depending on the date. Another way to get special offers is to monitor the TripAdvisor Las Vegas forum which often has tip-offs of good rooms rates.
Hotel loyalty schemes, Casino Players clubs and Hotel Newsletters
Secondly once you have decided on a hotel, sign up for their emails and also sign up to their casino program such as Mlife for MGM which offers up to 20% off room rates. This is how I would usually book the Signature or Vdara for example.
Many hotels are affiliated with a major hotel chain such as MGM Resorts and Hyatt. You can therefore earn and use miles:
Hilton
Flamingo (not recommended)
Tropicana (now a Doubletree)
Starwood SPG – Caesars and SLS Hotel
SPG® members who link their SPG and Total Rewards (Caesars Players club) accounts can earn Starpoints® and elite qualifying night credits for stays at Caesars Entertainment hotels, including Planet Hollywood, Caesars Palace, Paris and more.
Hyatt – MGM Resorts
You can earn Hyatt Gold Passport points on eligible M Life spend and redeem your points for free nights at any of MGM Resorts Hotels.  Plus, all of your eligible stays will count toward your Hyatt Gold Passport tier status and can be booked directly on hyatt.com. Be sure to present both your Hyatt Gold Passport and M life Rewards membership numbers upon check-in.
Marriott – Cosmopolitan
The Cosmopolitan is part of the Autograph collection within Marriott hotels so you can redeem and earn points at the Cosmopolitan. They will also honour the Marriott "redeem for 4 nights and get the 5th night free".
Direct with the hotel
The best offers can sometimes be found only direct with the hotel such as my $5 second night at the Cosmopolitan. The Four Seasons is another good example as they periodically offer $100 resort credit per stay which for me is a better deal than Virtuoso as their credit is for the Spa which I don't use at the Four Seasons. (I will be covering Vegas Spas in a later article.)
Added benefits Travel agents
It is also worth consulting American Express Fine Hotels if you have a Platinum Amex or a Virtuoso agent such as Classic travel as they both give additional valuable benefits. You can read about Virtuoso in this article. Classic Travel features, Wynn, Bellagio, Four Seasons, Aria, Signature and Cosmopolitan hotels. Virtuoso's benefits include:
• Upgrade on arrival if available
• Breakfast credit  daily for two
• Around $100  credit for either food/drink or spa depending on the hotel.
Make sure you compare the Virtuoso price with other offers as it is normally slightly more but when you take into account the benefits it is a good deal if you will use them.
Other Websites
I would also look at Vegas.com as they often have sales and promotions. If you sign up for their emails they will give you an extra 10% off. I would then compare that to the main booking sites such as Expedia and Hotels.com taking into account what cashback offers are available via Top Cashback and Quidco which can save you up to 13%. Remember rates vary daily so it is usually worth waiting until it goes over the 10% mark for travel booking sites before booking. Booking.com is the exception as it rarely goes over 4%.