Las Vegas is a lot like marmite – you either love it or hate it. I am in the 'love it' camp and go at least once a year. Amazingly I have managed to go 4 times this year although in my defence once was by accident!
What happens in Vegas….
If you thought you knew what Vegas was all about, you may have to change your opinion if you haven't been there or not visited recently. I remember years ago watching a TV series called Las Vegas and being very surprised when I got to Vegas and the people definitely did not look like the glamorous ones on the TV program! Now it would be a very different story. Vegas used to be a much more downmarket place a few years ago, full of stag nights, middle aged people chain-smoking whilst stuffing coins into the slot machines and $9.99 buffets. In the last few years Vegas has changed and the clientele is now much younger, affluent and a lot more stylish. Luxury hotels, Michelin starred dining, shops and ultra clubs  attracting residencies from some of the world's top DJs have sprung up.
Getting there
If you are travelling from the UK the 2 main airline choices if you want to go direct are British Airways and Virgin Atlantic. If you are not bothered about flying direct the cheapest way to fly business class is usually via Dublin. My guide to ex EU flughts is here.
British Airways
The advantage of British Airways is that they fly from Heathrow rather than Gatwick like Virgin. If you fly British Airways they are currently using a B747 from Heathrow which although old, is still my favourite for Club World with the upper deck seats.
There is no dedicated BA lounge at LAS, however the sub-contracted lounge is the Club at LAS. It's nothing special but still a lot better than most lounges. There is a small selection of sandwiches, salads, snacks and crudities and a staffed bar with free drinks. They make a good margarita if you are so inclined. If you have a Platinum Amex card there is a Centurion lounge which has better food and wine plus a small selection of cocktails. However if you want to visit this lounge allow plenty of time as it is in D concourse which you will have to get the train to.
Using Avios or Flying Club miles
If you are travelling on miles you may struggle to get a redemption to Las Vegas. I usually end up flying via San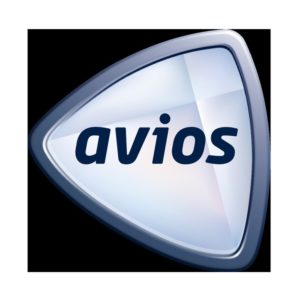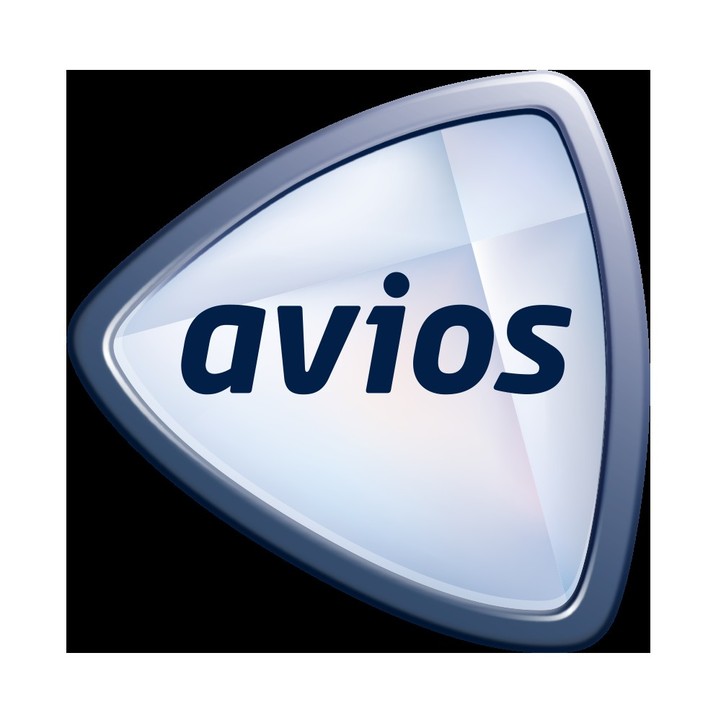 Francisco as that normally has the best availability and I have had no issues getting through immigration and security quickly there. There is plenty of flights to Las Vegas from there and it takes about 1hour 20mins. Los Angeles and Phoenix are also close by for connections. Oakland could be worth considering, as a new route it may have more availability for Avios. You can fly from Oakland to Las Vegas using my favourite low cost airline, SouthWest. BA and the American legacy carriers could take a leaf out of their book. As well as getting 2 free checked bags, a free soft drink and snack, the staff are friendly and the whole experience relatively pain free. They also fly to Vegas from SFO, LAX and PHX amongst others.
Doing Vegas in style for less
Best times to go for cheaper prices
The most crucial thing about planning your trip to Las Vegas is timing. Hotel prices vary wildly according to occupancy and this is not just seasonal. Generally prices for luxury hotels are much cheaper compared with other major cities and tourist destinations. The things to consider before you book ANYTHING are:
Public holiday weekends
The first thing to do is avoid any US public holidays as Vegas is normally heaving. I stupidly once managed to book to go on Memorial weekend and I have never seen so many people in Vegas in my life. The pool was like human soup it had so many people in! Here is a good website for checking dates.
Conventions
Secondly you need to check if there are any major conventions in town. These can increase the hotel prices by 2 or 3 times when a major convention is taking place. Some of the largest ones involve more than 150,000 peope like CES in January. You can find out what conventions are on and the expected number of attendees on this website.
Day of the week
Thirdly if you can, don't pick a weekend. If you are only in Las Vegas for a few days,it is cheaper to come during the week opposed to the weekend. You can usually get a cheaper rate Sunday to Thursday than from Friday to Sunday.
Best months to go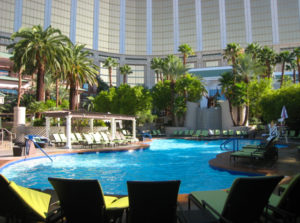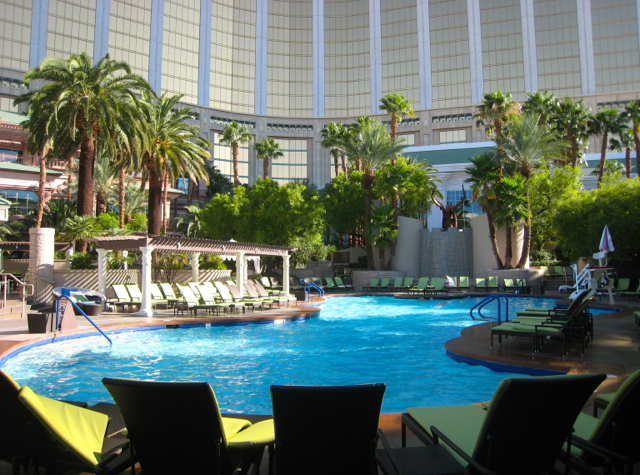 Finally there are a few periods of the year that are always cheaper. December is an inexpensive time. The exceptions would be during the National Finals Rodeo (usually the first week) and around New Year's Eve. The downside to coming at this time of year is that contrary to popular belief it will most likely be cold. Temperatures can go down as low as 8°c during the day and 1°c at night and many of the pools close over the winter. The average daytime temperature is 14°c.
At the opposite end of the spectrum is late July and August. These can also offer attractive deals but it will be very, very hot. I was in Vegas at the end of July this year and the temperature peaked at 46°c with temperatures still well into the 30s at night! If you can stand the heat, this is one of the quietest times I have seen in Vegas. The best times to visit for the weather are March-May and October-November when it is pool weather but not scorching hot.
Other ways for doing Vegas in luxury for less
Travelzoo and Groupon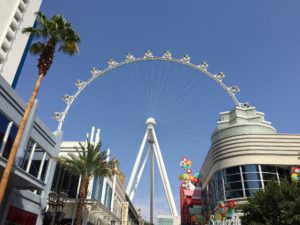 These normally have some good offers on activities and shows in Vegas. I have used Travelzoo for lots of show tickets and the happy hour car on the High Roller Wheel. This is where you get a free bar inside the car complete with bartender who will make you cocktails as you enjoy the view! Groupon sometimes has offers on activities such as the Scoot Red Rock canyon tour.
MyVegas
MyVegas is an app for Face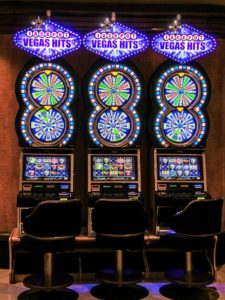 book, iPhone, and Android where you play blackjack or the slot machines with virtual cash and earn real FREE rewards. If you want to get free shows, buffets and even hotel stays within MGM group hotels you will have to put some time and patience in.  I often use it to get the odd freebie such as unlimited free wine and cocktails at the Aria Buffet. Whatever you do, do not spend any money to get more virtual cash. If you don't play for a few days they will normally send you some in addition to your daily boost. This seems to only happen if you play through Facebook. The more often you play the more you unlock such as autoplay where you can leave your computer spinning for you rather than having to keep hitting spin. Once you have earned enough for a free reward you claim the code and then redeem it in Vegas. Make sure you read all the rules carefully before purchasing a reward.
Tix4Tonight
This company sells tickets to all the main shows for half price on the day of the performance. There is no guarantee what they will have each day but they normally have a good selection except at peak times. They also have discounts for restaurants and attractions as well. Be prepared to queue! There are 10 booths along the strip. More details can be found here.
Vegas.com
This site regularly has discounts on hotels, attractions and shows. They also do discount codes now and again. I managed to get a ticket to Titanic for only a few pounds using this site. You can find the website here.
In future parts I shall be reviewing luxury hotels, dining and attractions.