Malaysia Airlines have been offering some excellent fare deals from the U.K. for the last year. Presumably, this is to help with their mission to return to profitability after the loss of 2 aircraft. Malaysia are confident that this is achievable by 2018, with their latest figures showing a 12% increase in passengers versus last year.
Fares have been as low as £1500 flight only or £1600 including accommodation, which is very competitive with other oneworld airlines such as Qatar and Finnair from Heathrow. Although they use an A380 on the Heathrow route, the seats are showing their age and are not up to the standard of Qatar's A350 and B787 aircraft, for example. The A380 seats are a similar style to Qatar's B777 seats in a 2-2-2 layout, so not ideal for solo travellers. They do generally have excellent service and good food, though. This includes their Chef-on-Call menu, which has 25 meal options you can book in advance.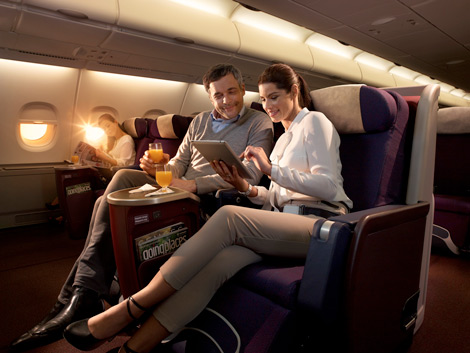 Malaysian upgraded their A330-300 fleet last year with more modern seats which are used on the Australian and New Zealand routes, amongst others. The newer seat is 20.6″ wide, 43″ pitch, with a fully flat length of 76 inches. They are configured 1-2-1 and 1-2-2. This means that 90% of the seats have direct aisle access.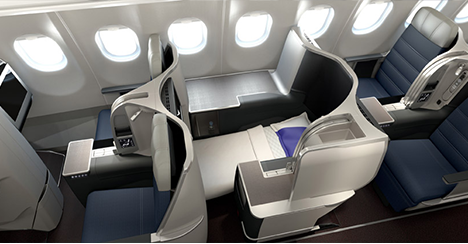 New aircraft for London – Kuala Lumpur route
Malaysia Airlines are now due to take delivery of 6 new aircraft in 2018 and 2019. They are due to receive 6 A350-900s, with the first by the end of 2017. The A350s were originally earmarked for Tokyo and Auckland first but it has now been revealed they will be used on the London route. Malaysian have yet to reveal the actual seats for the new aircraft, other than it will hold around 300 passengers. This could be a mixed blessing for the London route, as it potentially reduces capacity by around 400 seats per day versus its twice daily A380 service. This could mean an end to the cheap business class fares. However, the majority of the cheap fares have been on indirect routes where there is competition on the route with direct flights from London. This is similar to the way BA often discount flights from Dublin to American to fly via Heathrow.
It will also be interesting to see if they go with the reverse herringbone seats on most A350s, such as Qatar and Finnair, or do something different. There have been numerous issues with the manufacture of these 'Cirrus' seats with delays and quality issues but I suspect these may have come to light too late for Malaysian.
Malaysian are now looking at purchasing or leasing B787-9 Dreamliners as well, which again will mean more modern seating. Depending on the price and seating style chosen, Malaysian could prove a smart choice for oneworld flights to the Far East and Australia. You would, of course, get extra tier points versus flying direct to many Far East destinations with Malaysian.