I recently flew on Finnair's A350 (review here), in business class from Heathrow, which allowed me to use the Cathay Pacific lounge. Last week I reviewed the First Class Cathay Pacific Lounge. Today I will look at the Business class section. You can access this lounge if you are flying on any one world airline from T3 in business class or have BA silver (oneworld sapphire status) or above.
Cathay Pacific Business class lounge Heathrow review at T3
The Cathay Pacific Business Class Lounge at London Heathrow airport T3 was renovated and expanded in November 2016. The new space has a sophisticated but relaxed feel to it, with Asian influences. They have used lots of natural material such as limestone floors, cherry wood walls and plenty of plants. Although not quite as light as the First Class lounge, there was plenty of natural light and airport views with floor to ceiling windows. The lounge felt very spacious and when we visited on a Friday morning, it was very empty. I would suspect it is much busier later on, when the Cathay flights are departing.
Seating
I liked the attention to privacy in the seating choices such as high sided chairs and booths.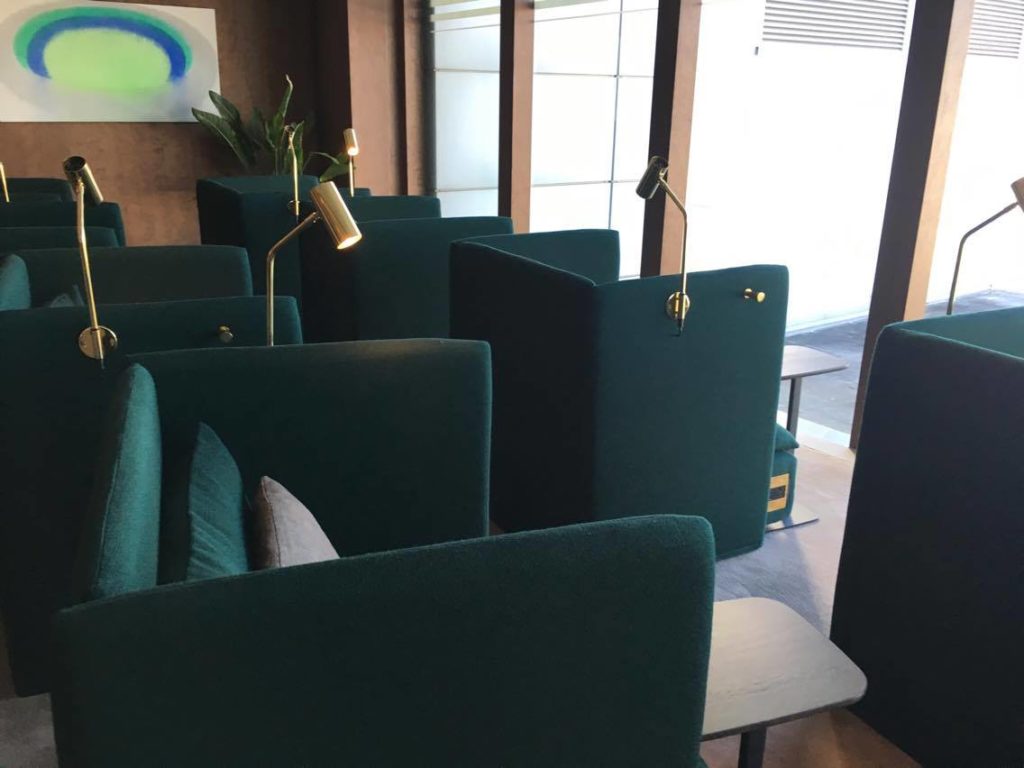 There are eight of these cube-type chairs pictured above which have a built-in side table, coat hook, power outlet, and USB port.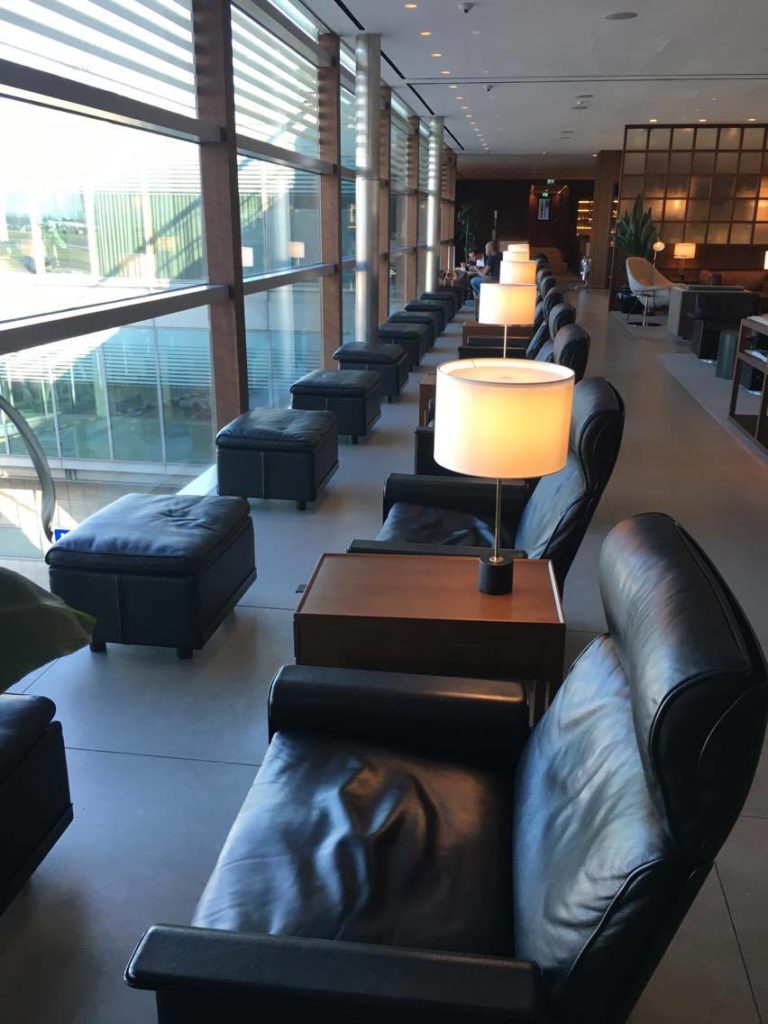 I also liked these seats with an apron view and a foot stool for relaxing.
Food and drink
As we were there at breakfast time and had eaten in the First Class lounge, we didn't need to eat in the Business lounge. There was a great selection of appetising looking options. We did have time to try a cocktail though!
Noodle bar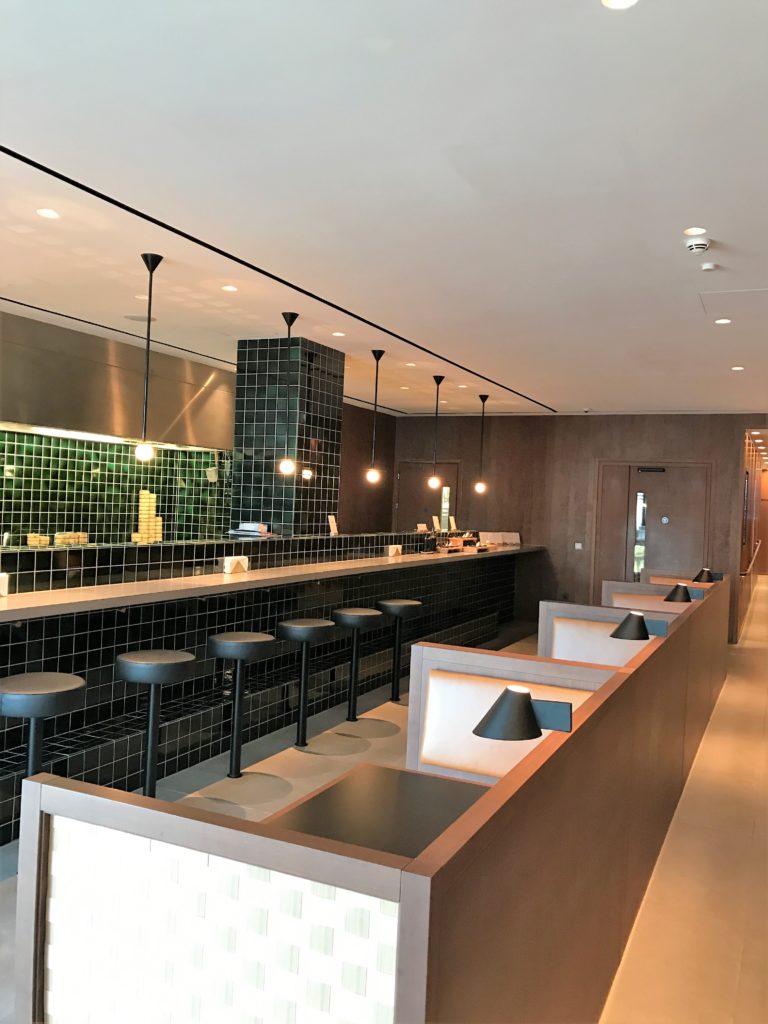 The noodle bar offers dishes cooked to order in the open kitchen such as wonton noodle soup, dan dan noodle soup, and steamed bao buns. You place your order and then get a pager which buzzes when it is ready. It wasn't open when we were there as I believe it opens at 10am.
The Food hall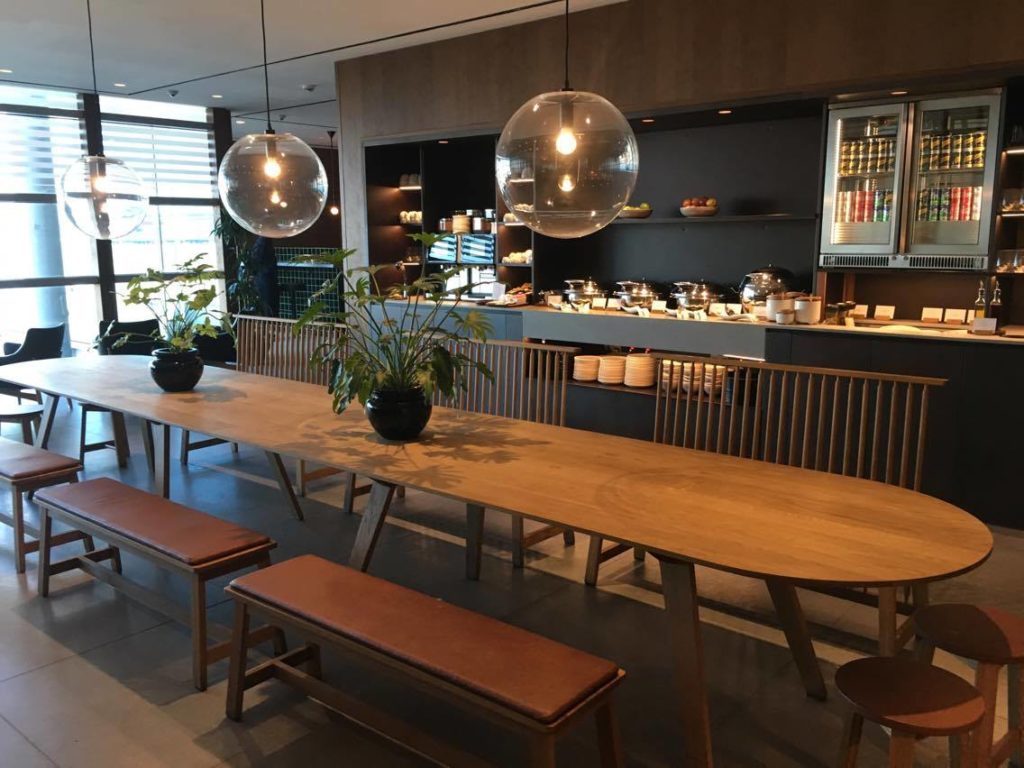 As well as the Noodle bar, there is also a buffet area called the Food Hall. In this area there was a coffee machine, as well as the same selection of Jing teas as the Cathay First Class lounge. Soft drinks were also in this area, with all the usual choices you would expect.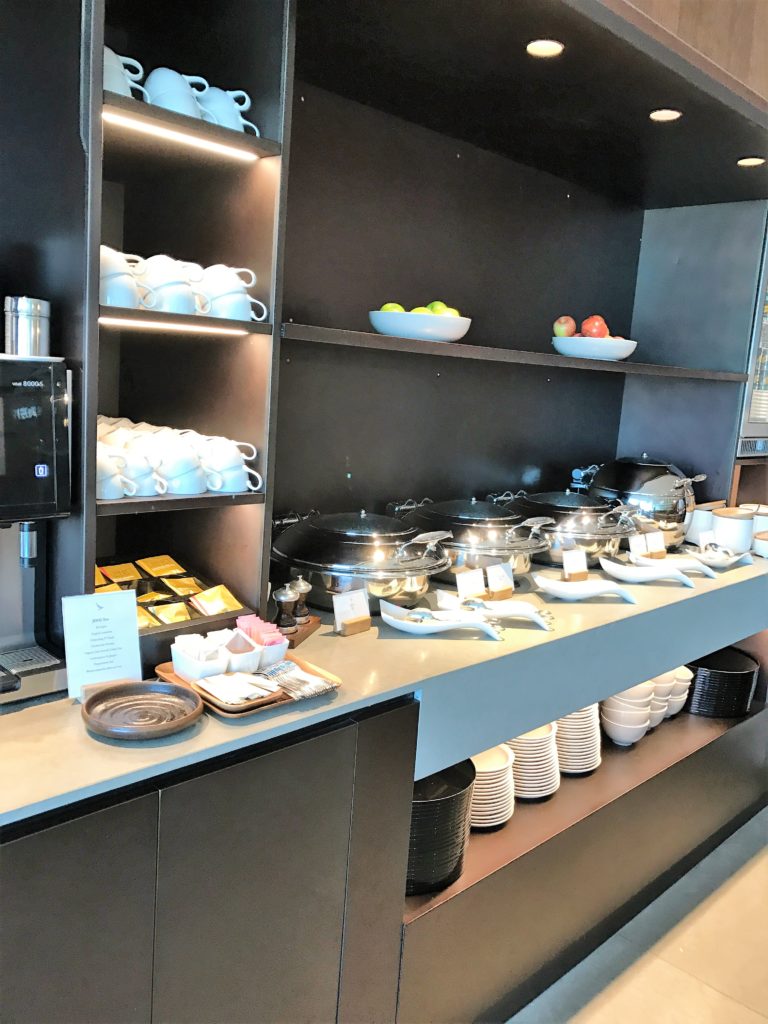 The food was far, far superior to the BA offering at 9.30am. There was a full English breakfast selection including scrambled eggs, bacon, baked beans, Cumberland sausage and mushrooms. There was also porridge, cereals, a selection of Danish pastries and muffins, fruit salad, and a couple of salads. They even had warm croissants. Everything was presented beautifully in special wooden baskets and bowls. If you wanted a more continental style breakfast, there was a large fridge which had cheeses, meats and yoghurts that you could help yourself to.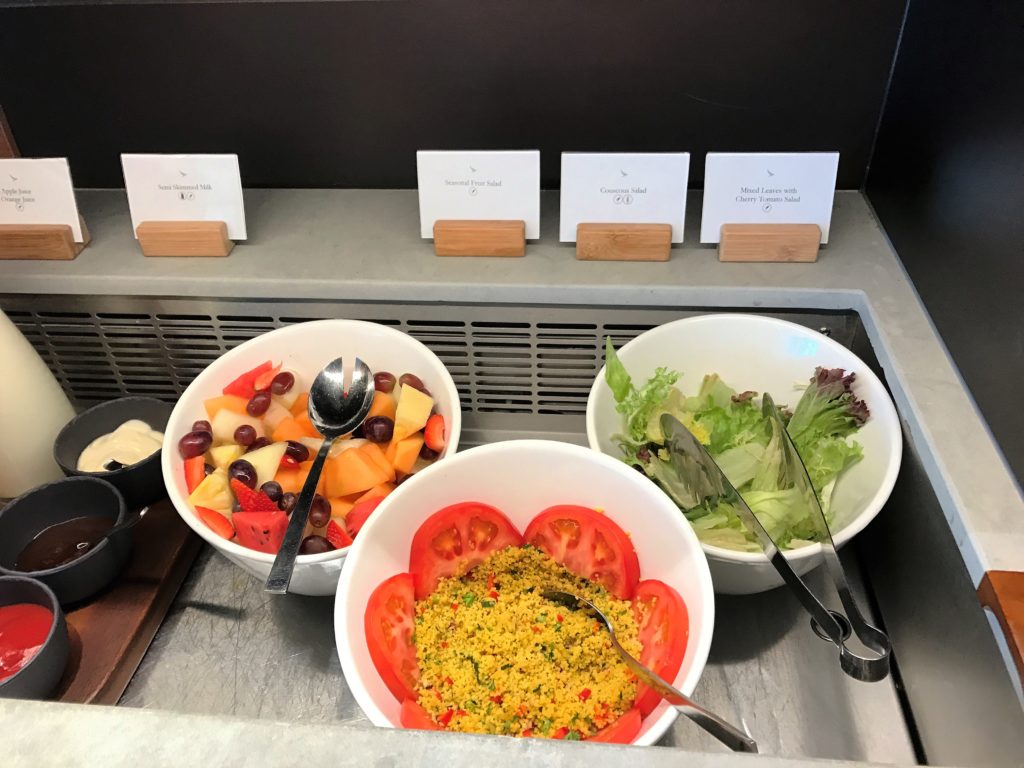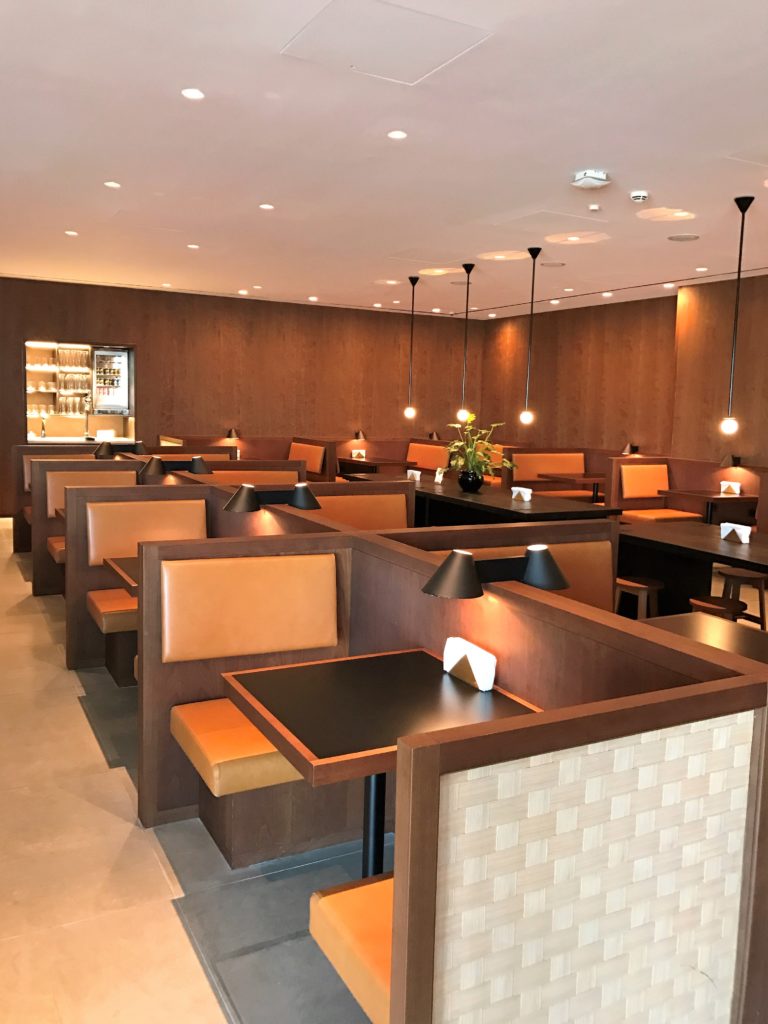 Drinks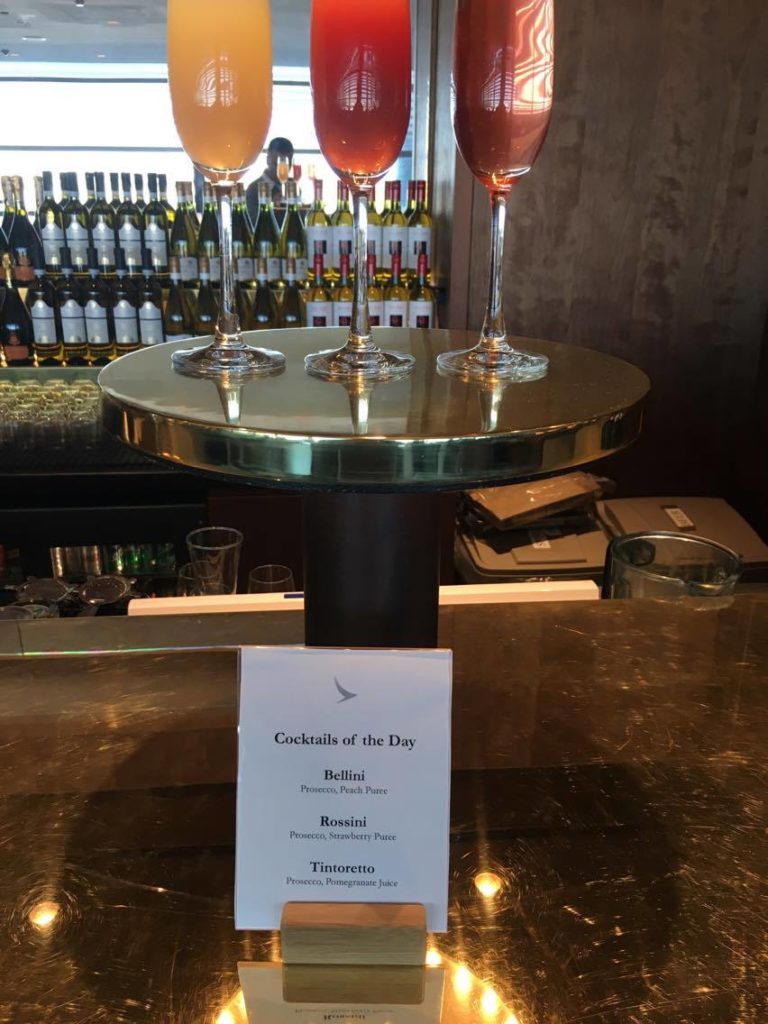 The only drawback with the drinks in the Cathay Lounge is that it is not self service. Personally I prefer to have a browse at my leisure and try a sip of wine before I commit to it! Apparently they have Moet et Chandon champagne, but I didn't see any. I did see the Prosecco and the cocktails made with Prosecco. We tried one with pomegranate and Prosecco which was delicious. There were a few wines to choose from and a small range of the usual spirits. On my next trip in July, I will do some more extensive research and write an updated review with the all day dining options, as well as more detail about the drinks.
Other Amenities
There are 8 limestone shower suites with a large walk-in rain shower, toilet, sink, and luxurious Aesop products. The toilets are decorated in a similar style and felt luxurious.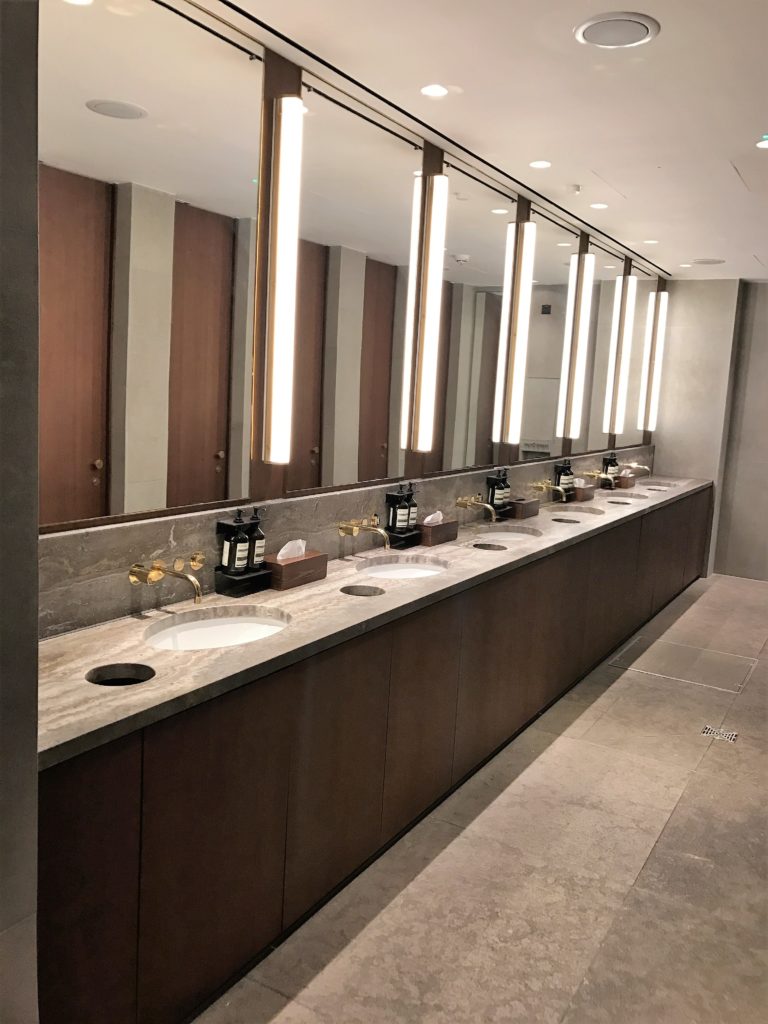 If you need to work, the lounge also has the Bureau area which is a business centre with several Mac computers and a printer.
Location: Airside Terminal 3 departures, Lounge C near Gate 11
Opening hours: 05:30 to last departure (Monday to Saturday), 07:30 to last departure (Sunday)
You can find more details on the lounge here.