You may remember a while ago that British Airways took us on a mystery trip to Venice after a trip on the BA i360 in Brighton. Roving Reporter and I decided to stay the night before at the Malmaison Brighton as neither of us had stayed there before.
Arrival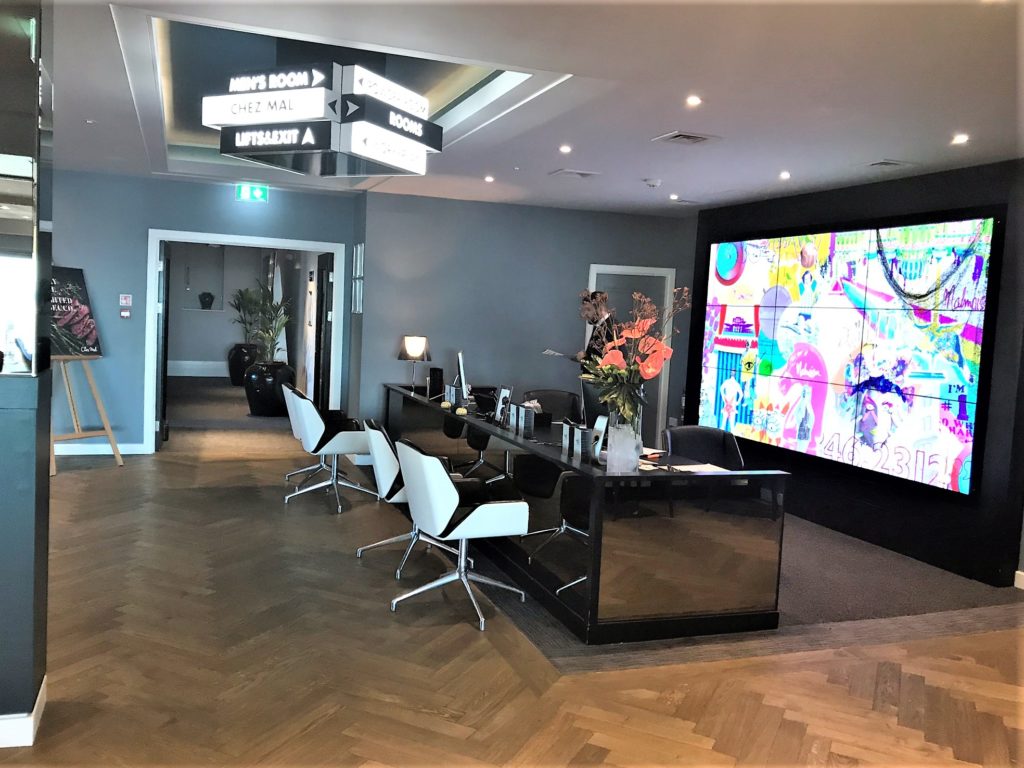 The hotel is not overly easy to spot immediately as it is in the middle of the Marina shopping centre via a lift to the reception. It didn't look particularly appealing from the outside in terms of first impressions.
We had to wait a long time to check in as there were no staff around and then they were very slow. They were at least friendly but the whole thing was fairly torturous.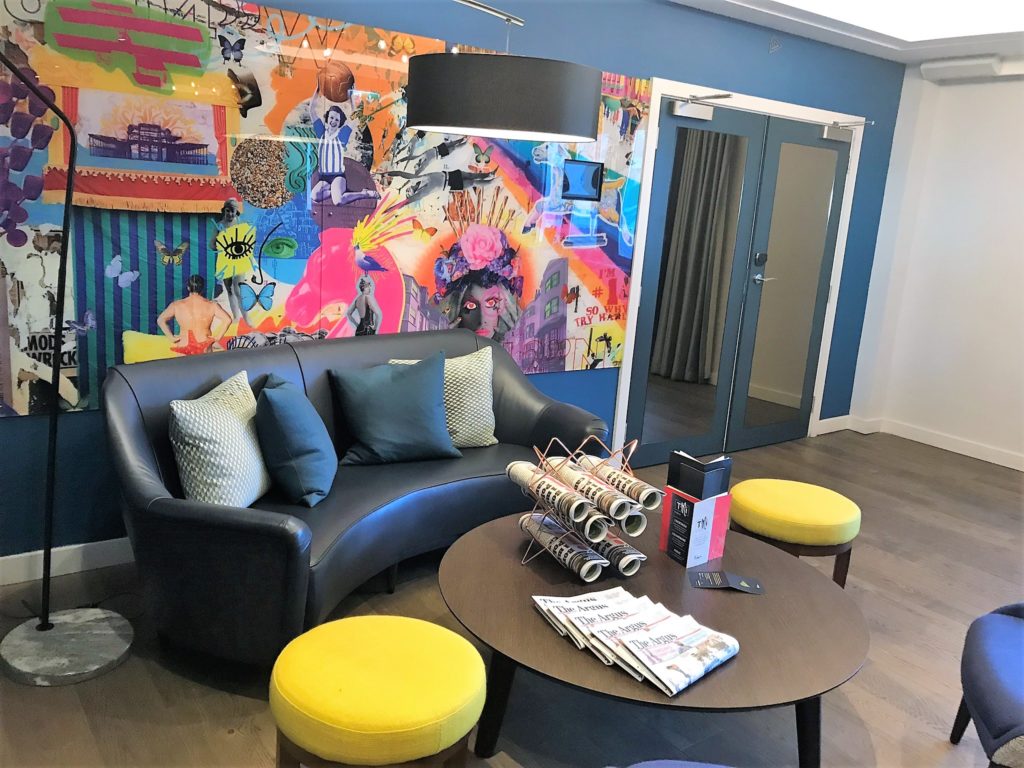 Finally, we headed off to our rooms. The hotel is full of quirky design touches like this old-fashioned hotel trolley of suitcases by the lift (even Roving Reporter doesn't pack that much luggage!).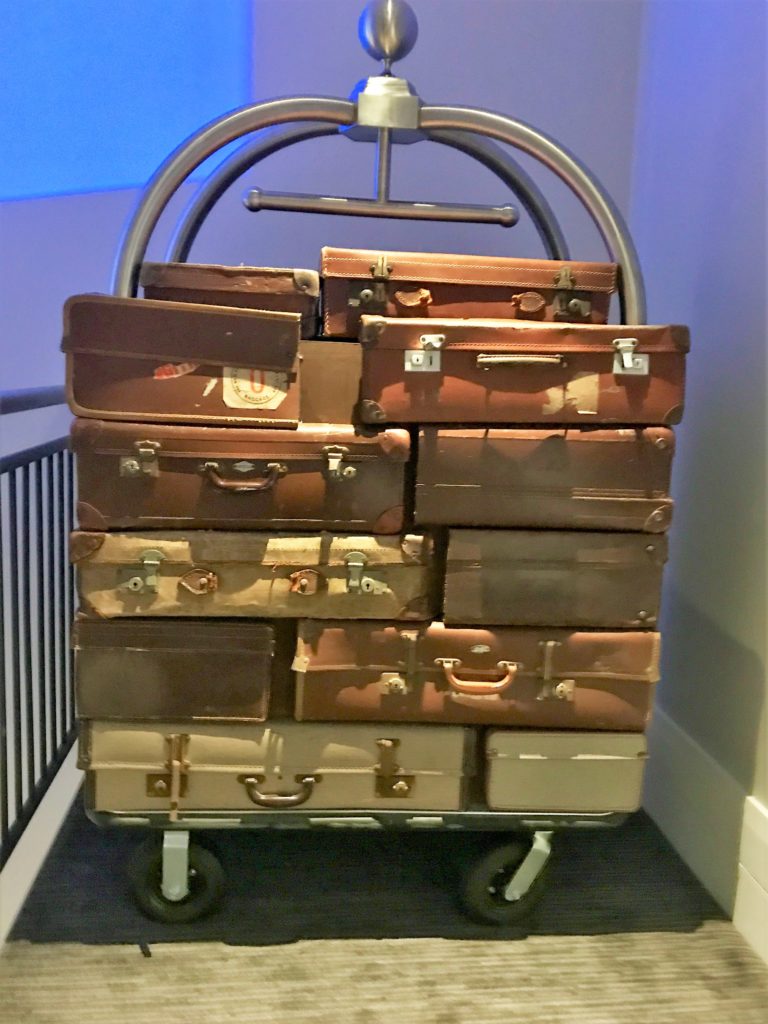 The corridors had a different look too – a bit disco in a prison!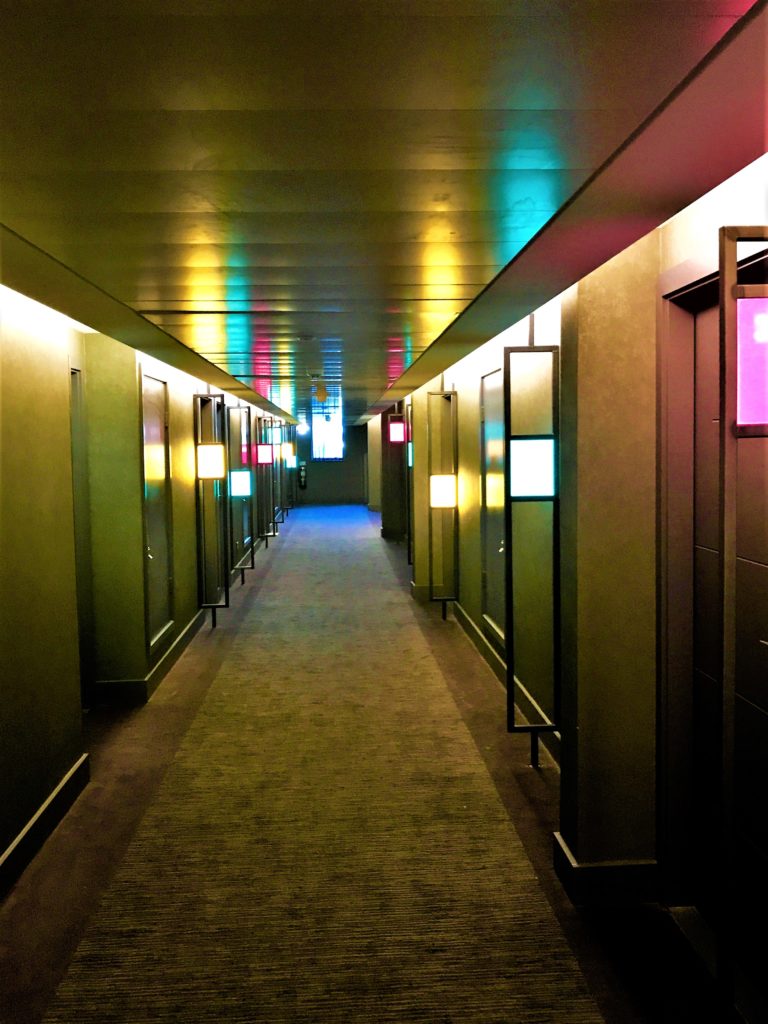 Room
Roving Reporter and I had booked separately and even though we booked the same deal his room was definitely a bit larger than mine!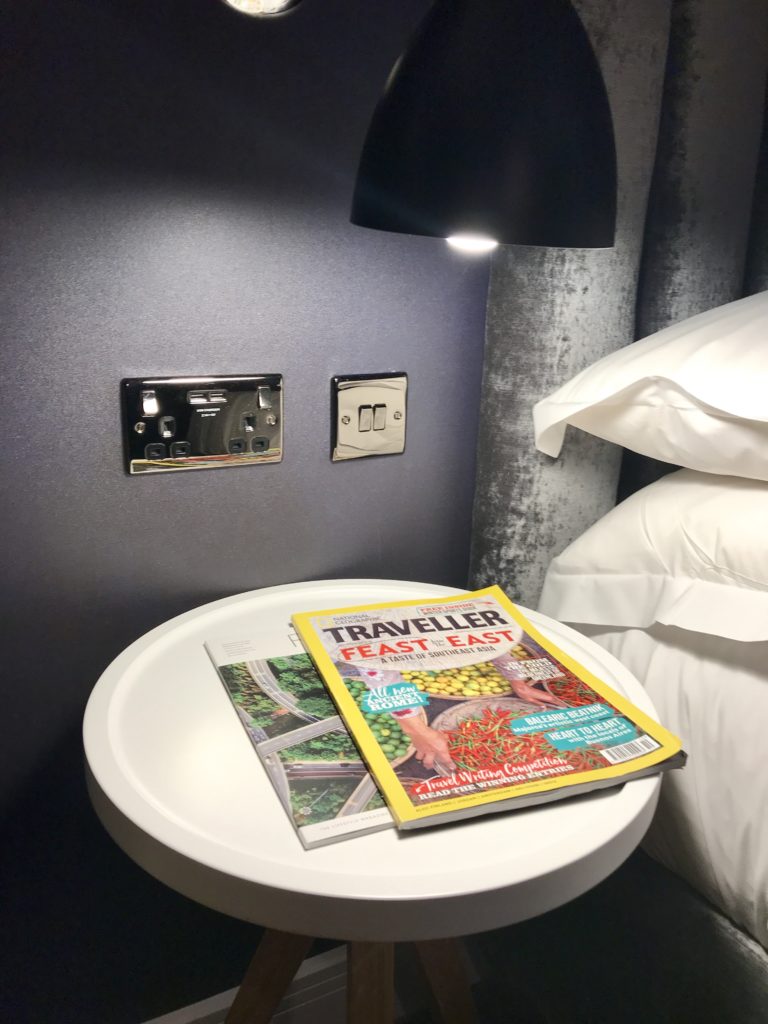 I liked the magazine provided by the bed and the fact there were two sockets by the bedside which is often overlooked in many hotels.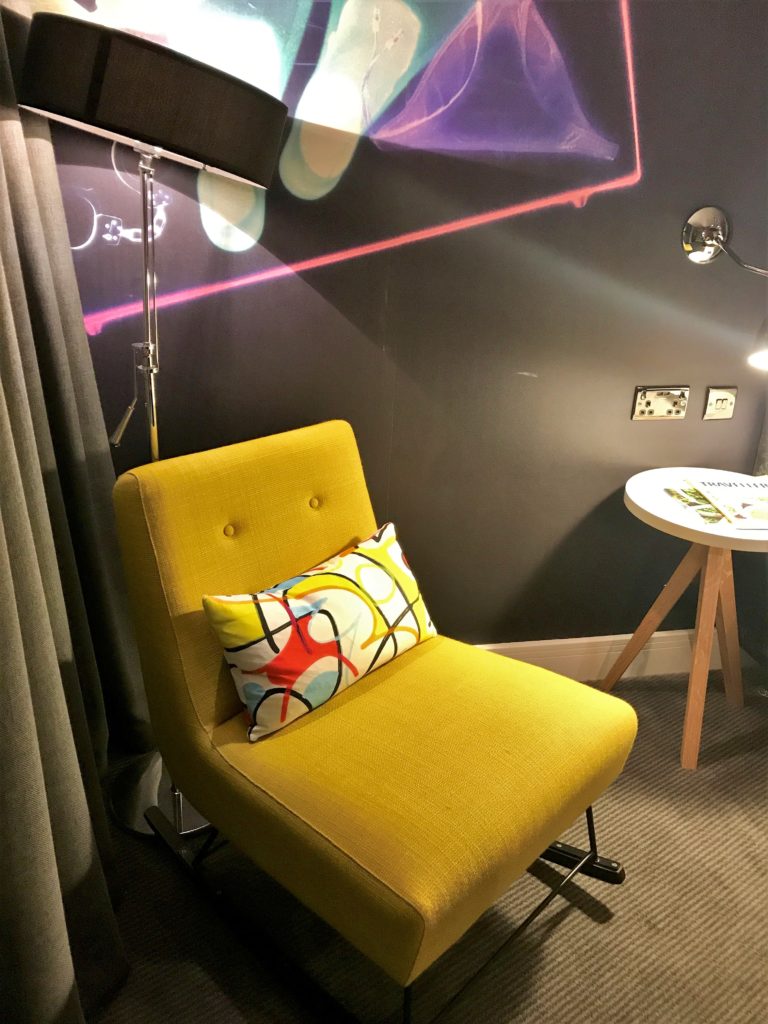 There was a small wardrobe with a kettle and some nice biscuits (if you like rhubarb which I hate!)  as well as the usual tea and coffees. The armchair crossed with a rocking chair was fun to relax in too.
The room had pretty much everything else you would expect to find in a four star hotel – safe, iron and iron boarding, fridge and a decent hairdryer. Mineral water was provided. If you needed to work there was a small desk with plenty of sockets and the Wi-Fi was free.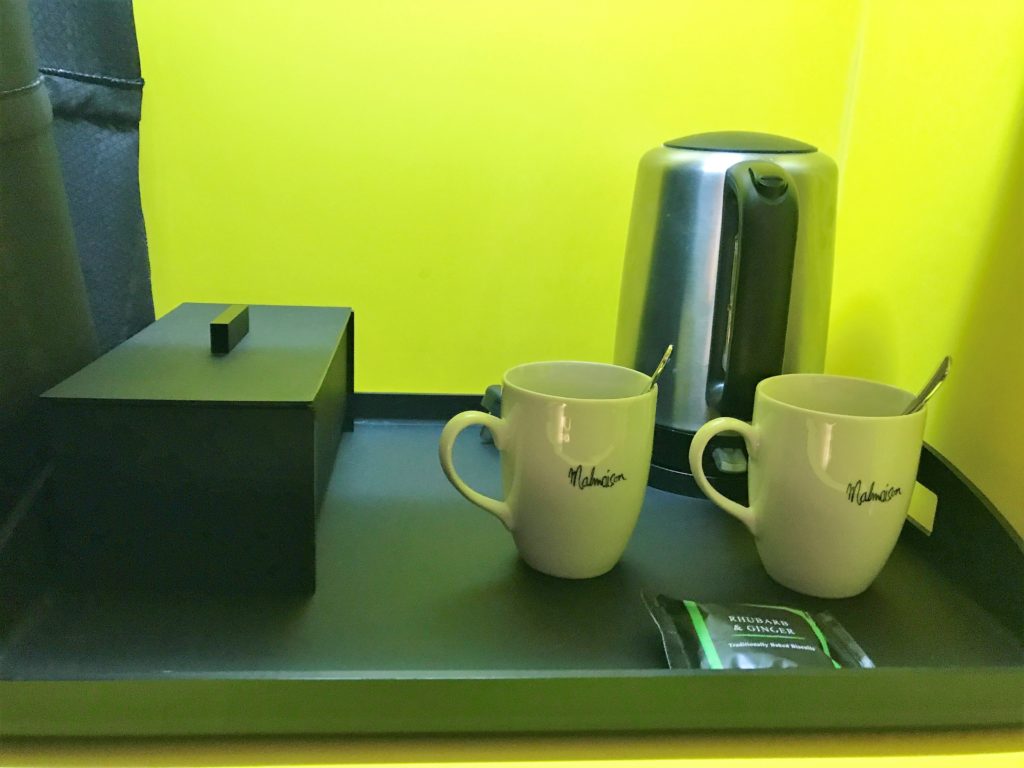 The bathroom was simple but spotlessly clean and modern. There wasn't exactly a large selection of toiletries as all you got were shower gel and shampoo/conditioner.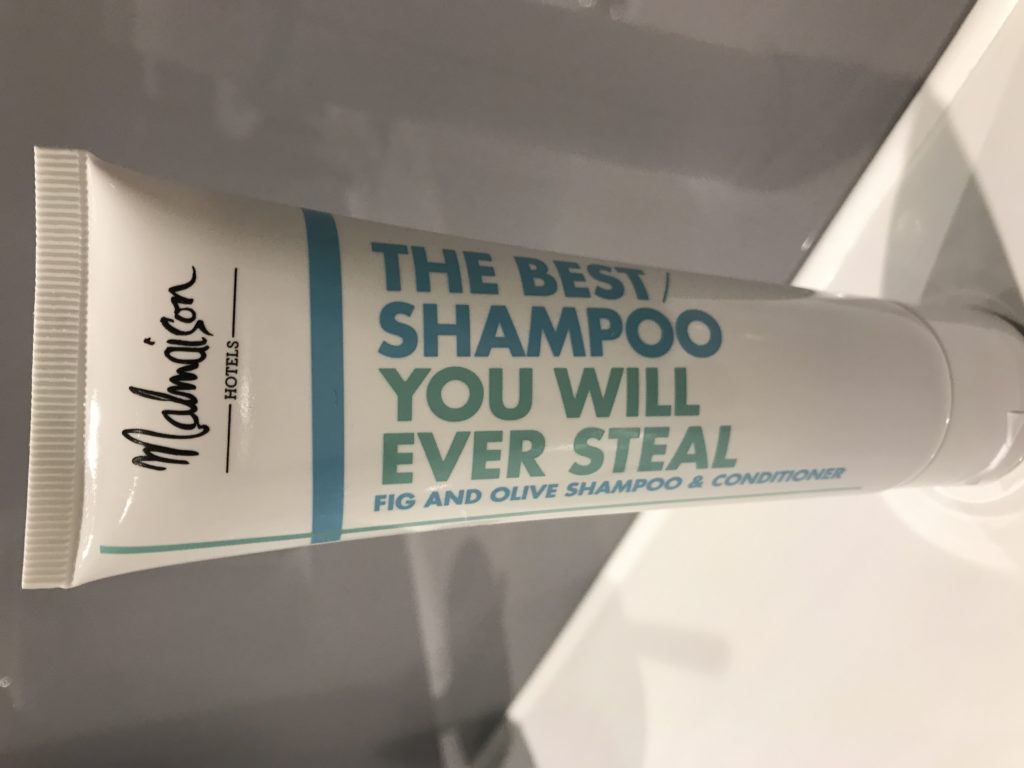 There were much larger than usual though and I liked the quirky names of them. 'the best shampoo you will ever steal'. The toiletries were fig and olive but I can't say that I thought they were worth stealing when I tried the shower gel.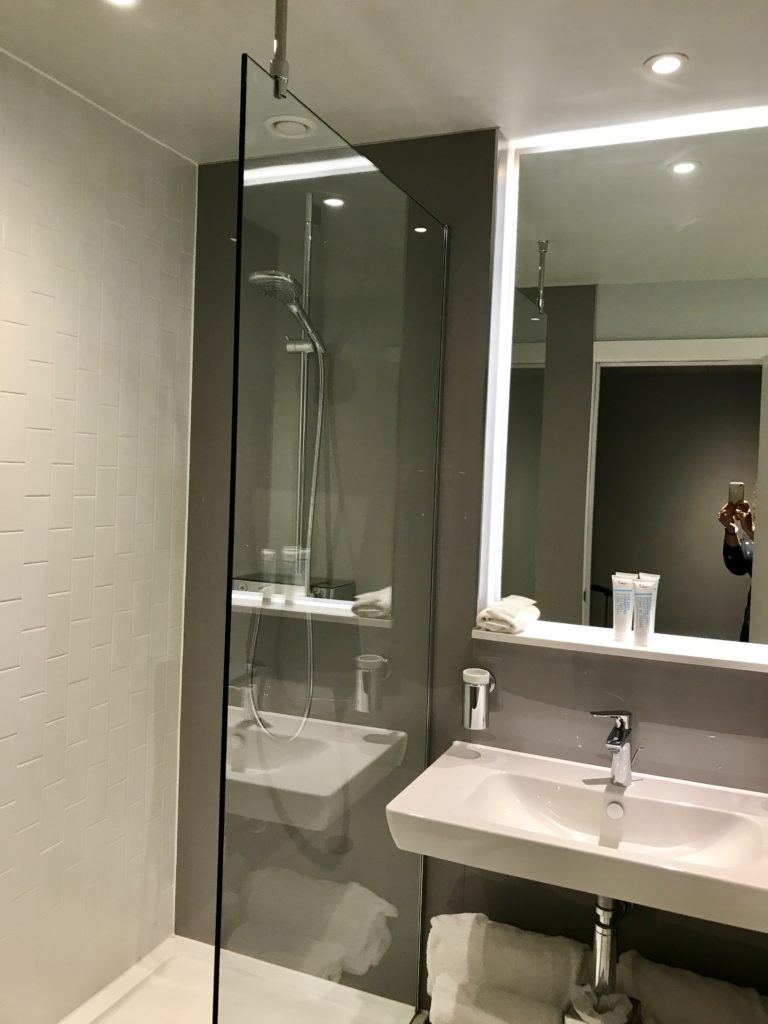 Restaurant and bar
Bar – Malbar
We popped into Malbar before dinner to meet up with fellow blogger Jetsetting Ben. I had managed to get a free cocktail coupon by going to leave the Malmaison website during the booking process and I was offered a free cocktail to finish my booking. Roving Reporter had seen an offer for 2-4-1 cocktails on their autumn specials. Unfortunately the barman hadn't heard of the deal so it caused some confusion but they agreed to honour the deal anyway. On Fridays you can also get £5 classic cocktails, signature drinks and £6 glasses of Maison Champagne between 5pm and 8pm.
Dinner – Chez Mal
We had dinner included in our rooms which was either the set menu or a credit towards the a la carte. The service was a little slow to start but the waiter was very helpful. I went with the a la carte. I chose the seared Cornish scallop & crab risotto, Carnaroli rice, white crab meat, bisque, scallop & lemon butter. I enjoyed this, the scallops were nicely caramelised and the rice just al dente. It was quite rich though so it was pretty filling.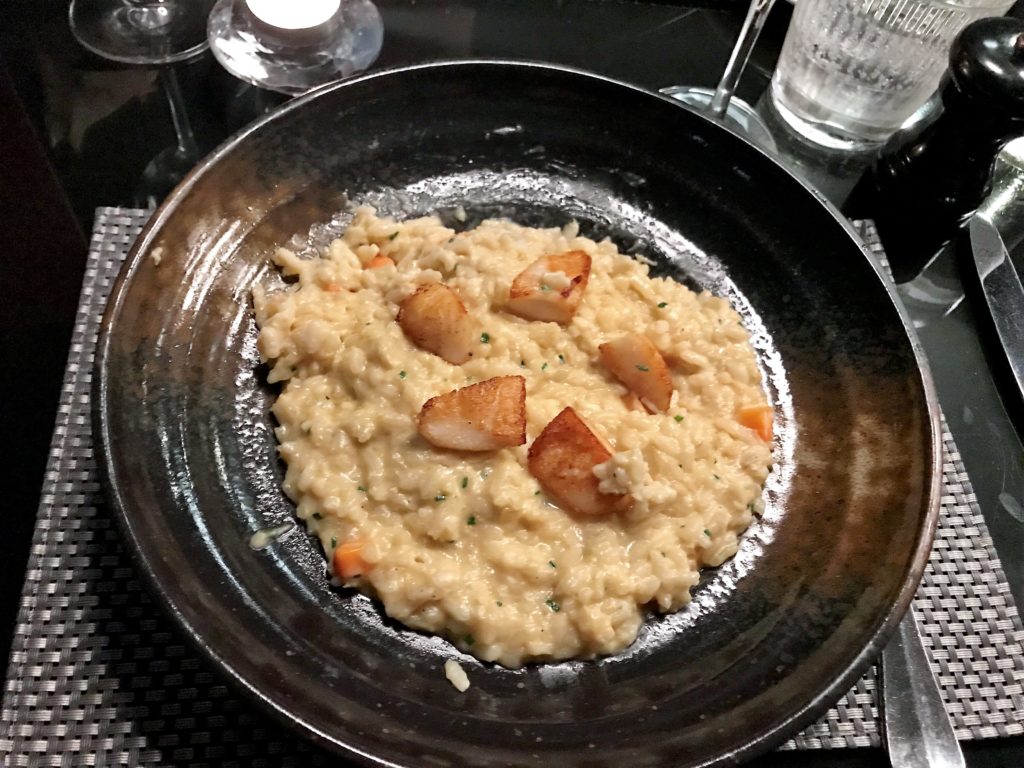 We decided to have a light pudding so I chose the Affogato. In case you haven't had one it is espresso poured over a scoop of ice cream. This one offered a shot of Pedro Ximenez sherry as well so it was a no-brainer. Unfortunately it came with a massive dollop of coffee cream on the top which I found too much. I would have much preferred the normal version. We enjoyed the Pedro Ximenez though!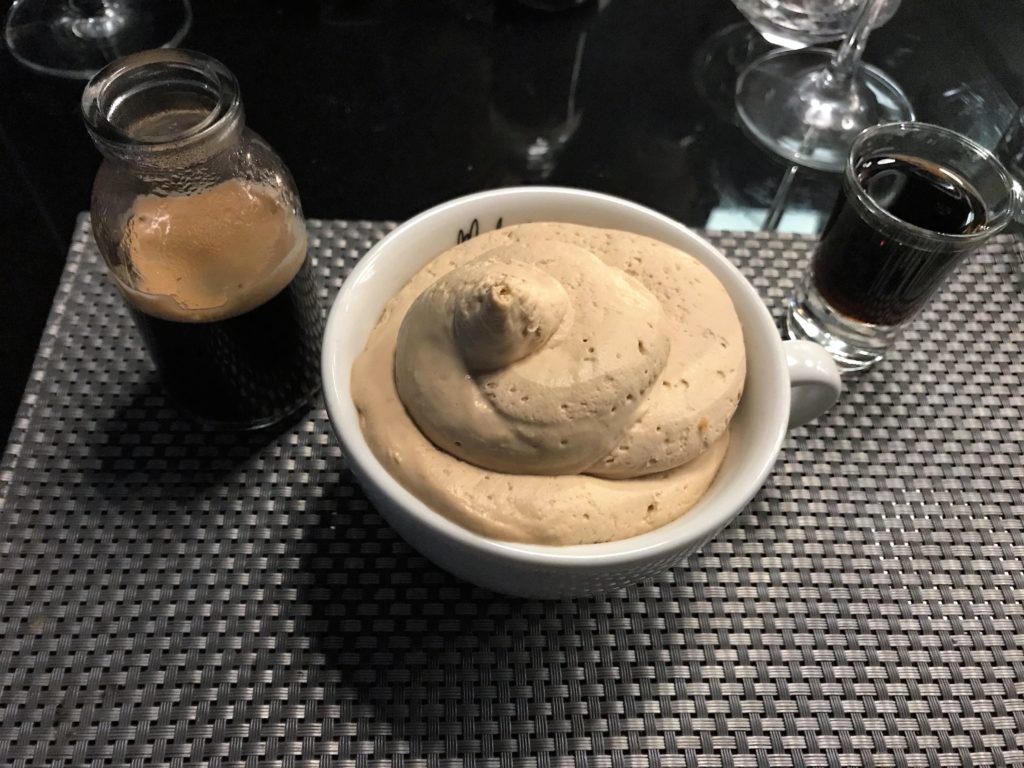 Breakfast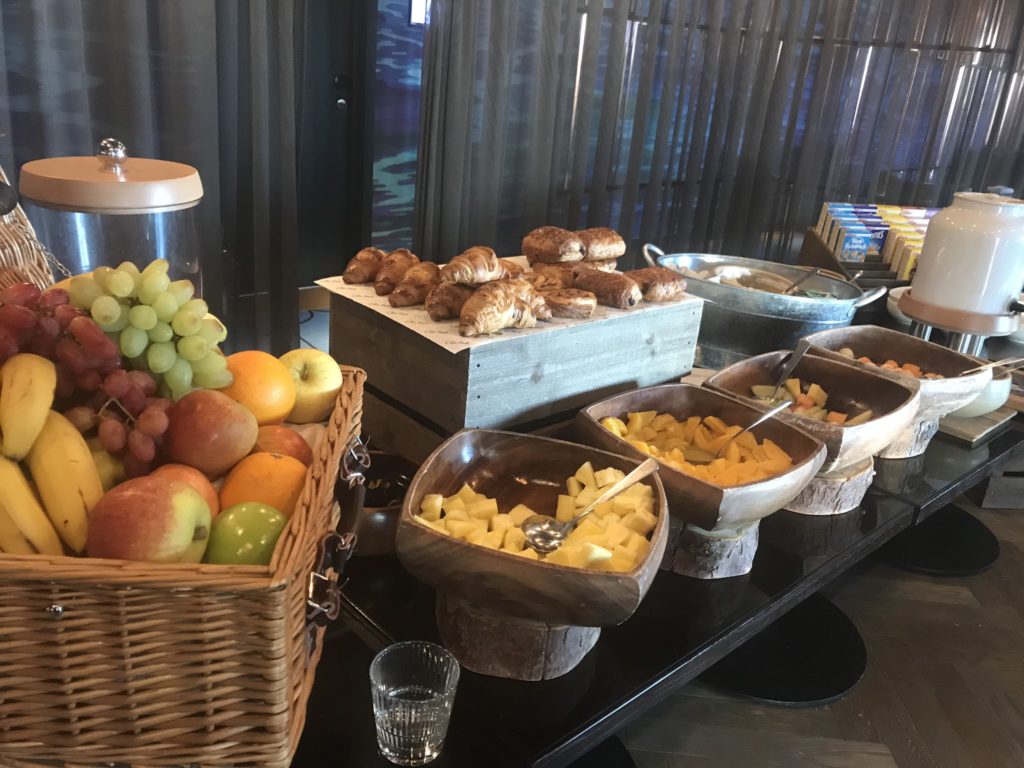 Service at breakfast was very good with our cheerful waitress. We had continental breakfast included but we could have the cooked a la carte option for just a couple of pounds more so we decided to go for that option since there were some nice choices.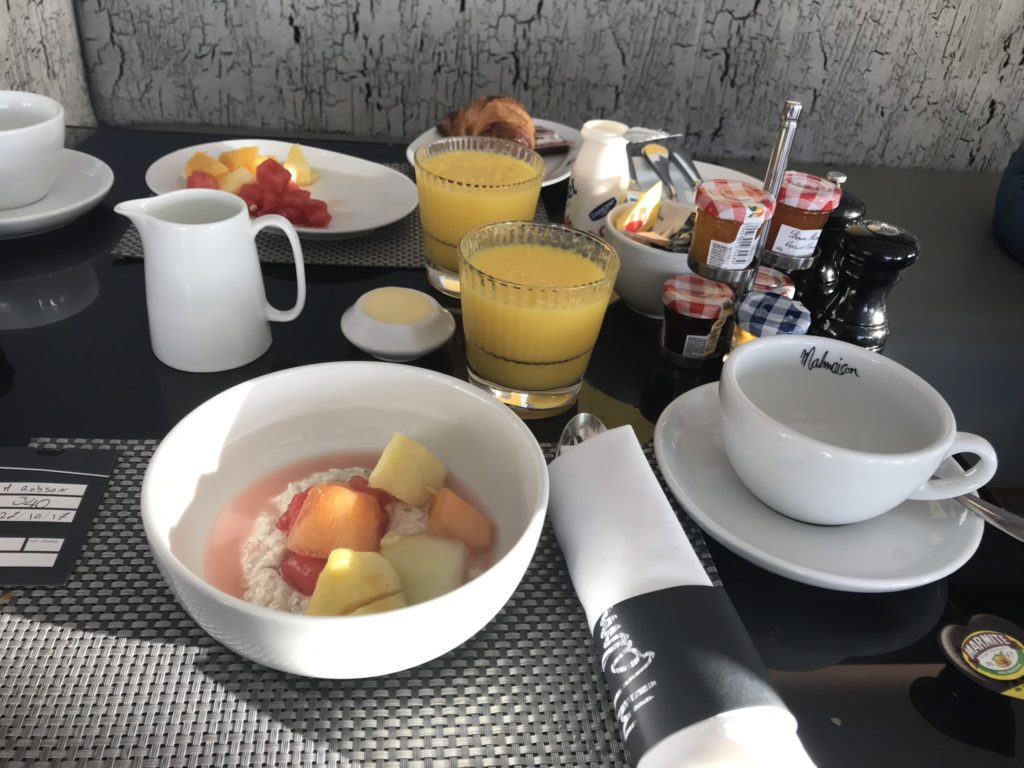 I had the egg royale which was tasty if a little undercooked which I find happens about 80% of the time everywhere annoyingly. Is it just me?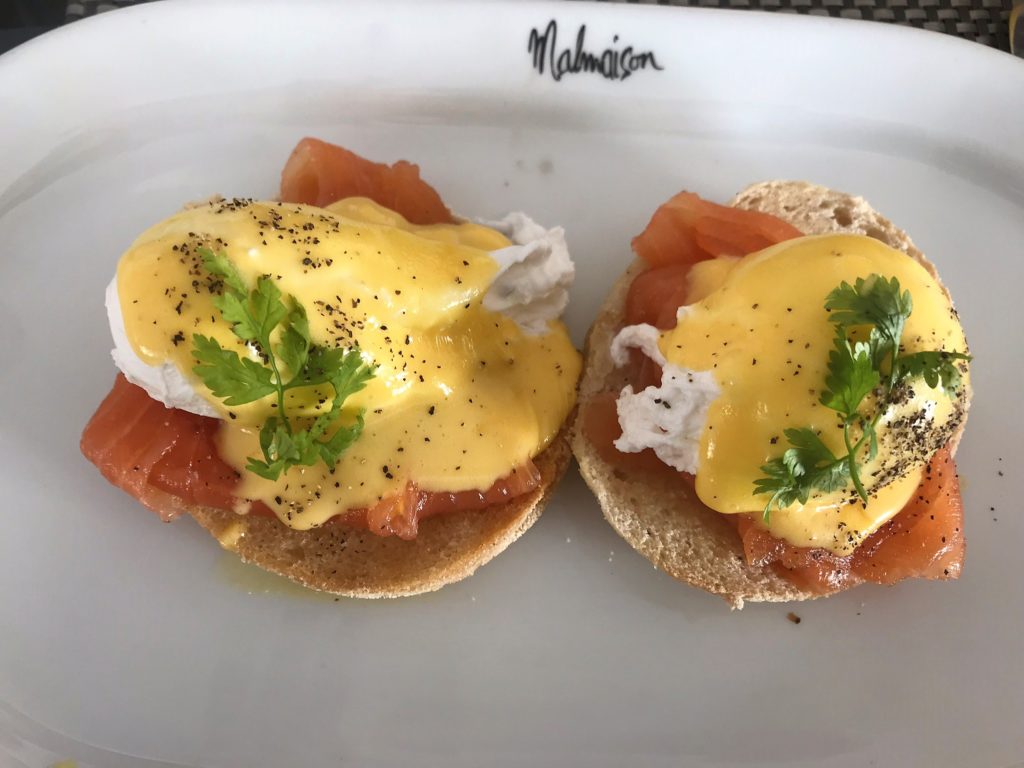 Roving Reporter liked his eggs and smoked salmon. Having them on side in a little dish was a good idea so the salmon didn't get overcooked on the way from the kitchen.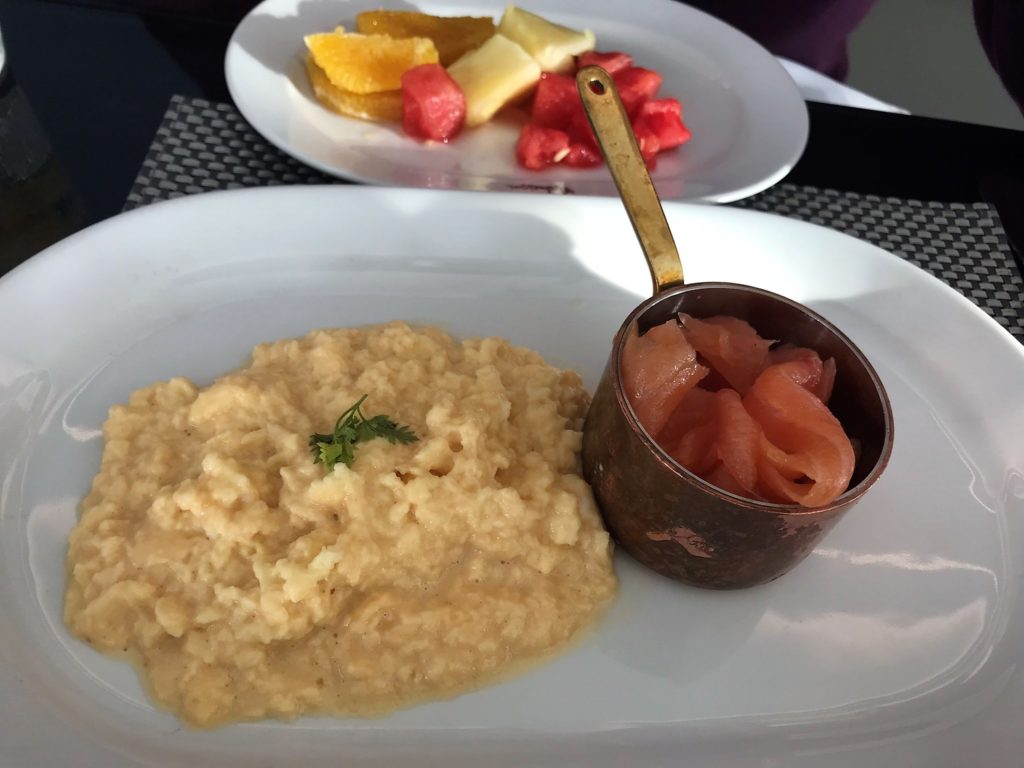 Conclusion and offers
For what we paid the hotel was perfectly OK. The reception service definitely needs improvement though as it took far too long to check out as well. If you like modern decor with a quirky touch and want to stay somewhere reasonably priced then Malmaison is a reliable choice.
There are regular offers with Malmaison some of which are a steal! The best current offers are:
Friday nights – stay from £50 when you spend £50 on food and drink in the restaurant
Sunday night – stay from £25 when you spend £75 on food and drink in the restaurant
Stay hot offer from £89 with a 2 course dinner and bottle of house wine included.