I wrote about my outbound flight from Gatwick to Mauritius last week. As the return was a daylight flight on a leisure route which are notorious for running out of food and drink, I thought it was worth a separate review. You can read my review of our Mauritius hotel, the Ravenala Attitude here.
Check-in and lounge
There was no queue for British Airways business class check-in as we arrived pretty early for the flight. The check-in agent was helpful and friendly, explaining how to find the lounge and security. There was a premium queue for security and immigration and we were through in a few minutes.
The flight left early morning from Mauritius so we headed to the ATOL lounge which BA use for some breakfast. I hadn't been expecting much as many 3rd party lounges in holidays destinations are disappointing. We were pleasantly surprised though.
Mauritius airport's terminal building is fairly new and the lounge was modern and airy. There was plenty of room and even though the lounge was quite busy, there were plenty of places to sit. If you wanted to eat before you got on board there was a good selection with scrambled eggs, baked beans, sandwiches, pastries and fruit. There were staff available to make coffee from a proper machine although they were a bit slow and some of the coffee was a bit watery.
The lounge also has showers, magazines and papers (limited) and wi-fi.
If you needed a nap there was a quiet area with loungers.
Once on board the usual drinks and wash bags were given out.
Seats
We had the same seats as the outbound flight, 11A for me and 11B, 10A and 10B for my friends. These are the about the best seats for the B777-200 with 3 classes. 11A has aisle access and isn't close to the toilets or galley plus it is in a mini cabin. The drawback is that it is by the bassinet position which was occupied. I was surprised by how many babies and toddlers there were on such a long flight both ways, so I would always assume it will be occupied. The aircraft seemed a bit cleaner than the one on my outward journey but it was still one of the old B777s which are looking rather worn.
I find BA's lack of storage around the seat really annoying on the B777 in particular. On the B747 & A380 upper decks, you get side bins which can be used as a shelf as well as storage. Here all you got was the small drawer. There is nowhere to pout a bottle of water or a drink whilst you are sleeping which is rather impractical.
The seat was perfectly comfortable, however, and I managed to get a few hours sleep.
Service
We were served by the Cabin Service Manager again who was really excellent and obviously very experienced. The other staff were OK but not great, particularly their attitude which was not always very friendly.
Food and drink
Shortly after take off we were served breakfast. They were very quick was this meal service which was good as we had been up since 4am and were keen to get back to sleep.
The menu was:
I had already had some food in the lounge so I just had the continental breakfast. It was OK but nothing special. My friends had the frittata which was also OK.
I then settled down for a few hours sleep.
Club Kitchen
All flights have a Club Kitchen in the galley for you to help yourself to. The contents vary according to the length of the flight. On a long flight, these usually include in the fridge: ice cream, yoghurts, fresh fruit, pasta salad, cakes, sandwiches and a hummus snack pack. Outside the fridge salted caramel popcorn (my favourite), crisps, chocolate, fruit, drinks and wine.
When I woke up about 2 hours later I popped to the toilet and had a look at the Club Kitchen on the way out. I assumed that perhaps they were still setting it up as there did not seem to be much out but people were already helping themselves to wine and crisps. It turns out it had been out for a while and a lot had already gone. Having such an experienced CSM was an advantage as the crew paced the stock putting a little out at a time so it didn't run out. I did find it astonishing how much people had already raided it given they had just had a biggish breakfast 2 hours ago. I guess that some of it is boredom and some of it may be that people have just spent 2 weeks at all-inclusive hotel so are used to food and drink on tap.
Having just grabbed a soft drink first time round, I did return to the Club Kitchen later in the flight to get a snack. There was still plenty left although a smaller selection than usual. The crew did get me something that wasn't on display when I asked, although rather begrudgingly I thought. (I don't think asking for a diet drink it that bad!)
At no point did I feel hungry or thirsty and not be able to get anything, as it was well managed – though I hear this doesn't always happen.
Dinner
The next meal was served very early around 4 hours before landing. I rarely do long daylight flights so I was surprised by this but I guess it stops people complaining about being hungry.
The menu was:
I had the ubiquitous tomato and mozzarella starter which was tasty with the pesto and fresh basil, although the mozzarella was a little rubbery. Next, I had the chicken which I really enjoyed and wasn't too dried out. The herb crust gave it some interest and the onion jus had a rich flavour.
I decided to break with tradition and have dessert instead of cheese even though I am not a huge chocolate dessert fan. The dessert was beautifully presented to restaurant standards. The chocolate mousse was a little dense but it had a rich, deep chocolate flavour with the zesty orange cutting through the richness nicely. It also wasn't too sweet which I appreciated.
The wine menu was exactly the same as the way out. This time I decided to try the Viognier (retail about £11) which I enjoyed with its peachy notes.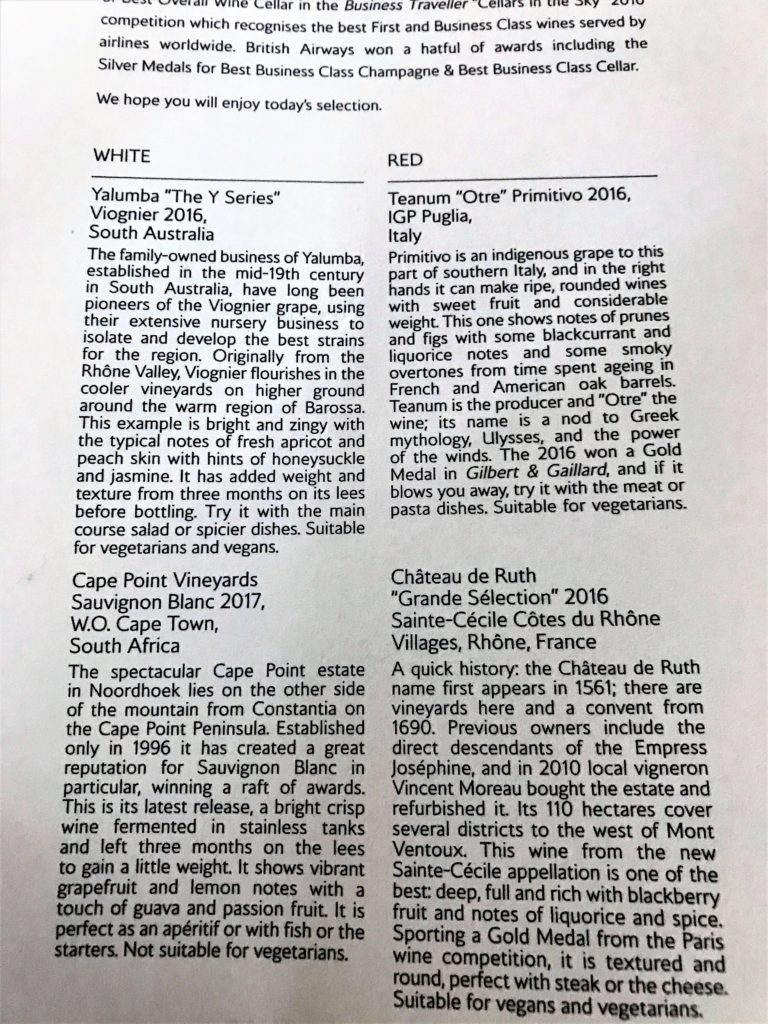 Entertainment & technology
I did actually watch the entertainment this time as there was a film I wanted to watch. It was the same selection as the way out but there was plenty of new and older films plus TV programs too. The screen quality was awful as it is on BA's older aircraft but fortunately, they are refurbishing and replacing these aircraft at long last.
You get noise cancelling headphones but I always bring my own as I don't find the BA ones very comfortable. The power socket was again a US/EU only one.
Conclusion
If I look at the return journey as a whole it was OK but nothing more than that. The CSMs serving us were both very good which helped and the food and drink was acceptable. However, these are currently old aircraft with outdated entertainment, no UK or USB sockets and no direct aisle access for most seats. A lot would depend on price for me as to whether I chose British Airways. I probably wouldn't pay a huge amount more to fly on another carrier as the Avios and tier points are also a factor for me but if prices were similar I would certainly consider Air Mauritius with their new A350 from London. If you are willing to fly indirect then it opens up many different options.