Today's review comes from Roving Reporter for another Glasgow hotel (he is a regular visitor).
Over the last six months, I have stayed at Malmaison London, Brighton and Edinburgh. I decided to try the Glasgow Malmaison out to compare.
Location
The hotel consists of a converted Greek Orthodox Church and a modern addition. It is well located in Glasgow being about a 5-10 minute stroll from Buchanan Street.
Check-In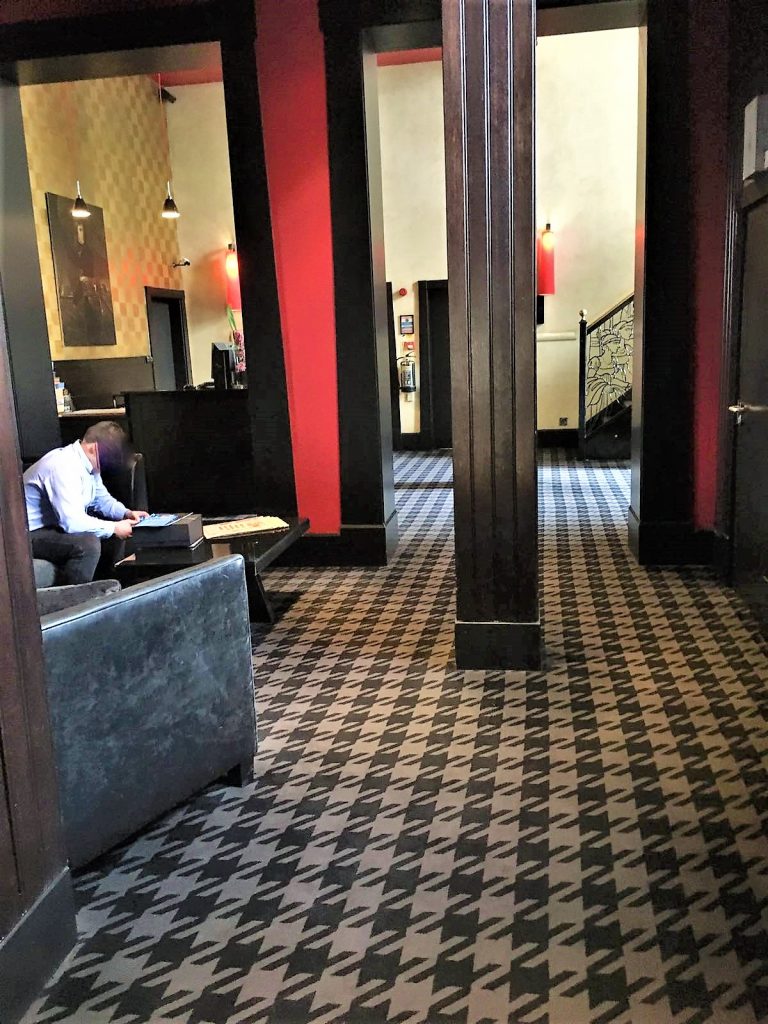 I arrived at about 1pm to a harassed receptionist who was dealing with a large group of Austrians checking out. Once they had departed, she took a breath and calm was restored. She was very friendly and managed to check me in and allocate a room for me two hours early and confirmed my booking details (a cocktail, 3 course dinner and room for 2). Breakfast was not included but they were running a 'Tequila Sunrise' offer for an evening cocktail and breakfast for £16 (compared to continental for £13.95 or full for 15.95).
The entrance is very imposing and the view to the bar below is lovely. The corridors are quite gloomy though.
Room

I have been pleasantly surprised by the size of the entry level standard rooms across the various Malmaison hotels I have recently stayed at. This was furnished in the same grey tones with crisp white bedding and numerous 'pop art' prints. The desk and shelving structure are also standard across all the Malmaison hotels.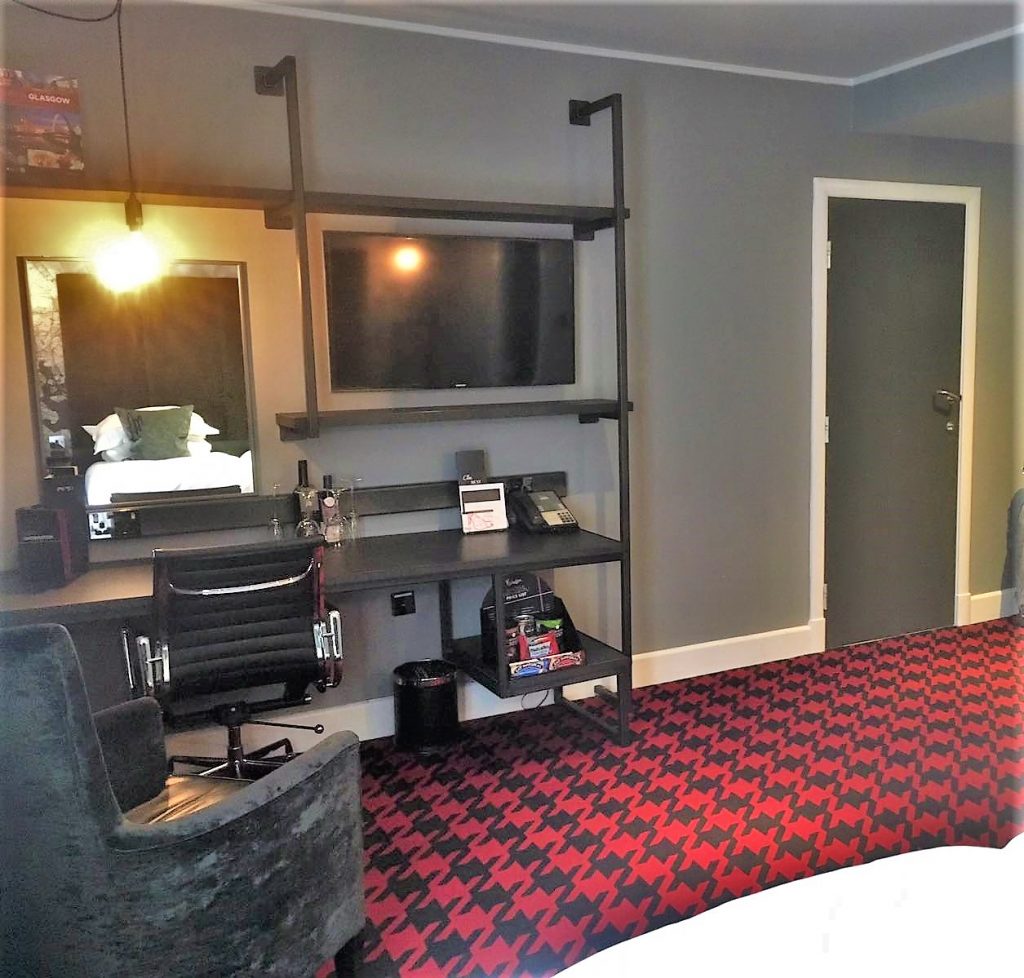 The room has a gloomy lighting arrangement (due to the exposed trendy vintage lightbulb lamps) but as I was only sleeping in there it was fine.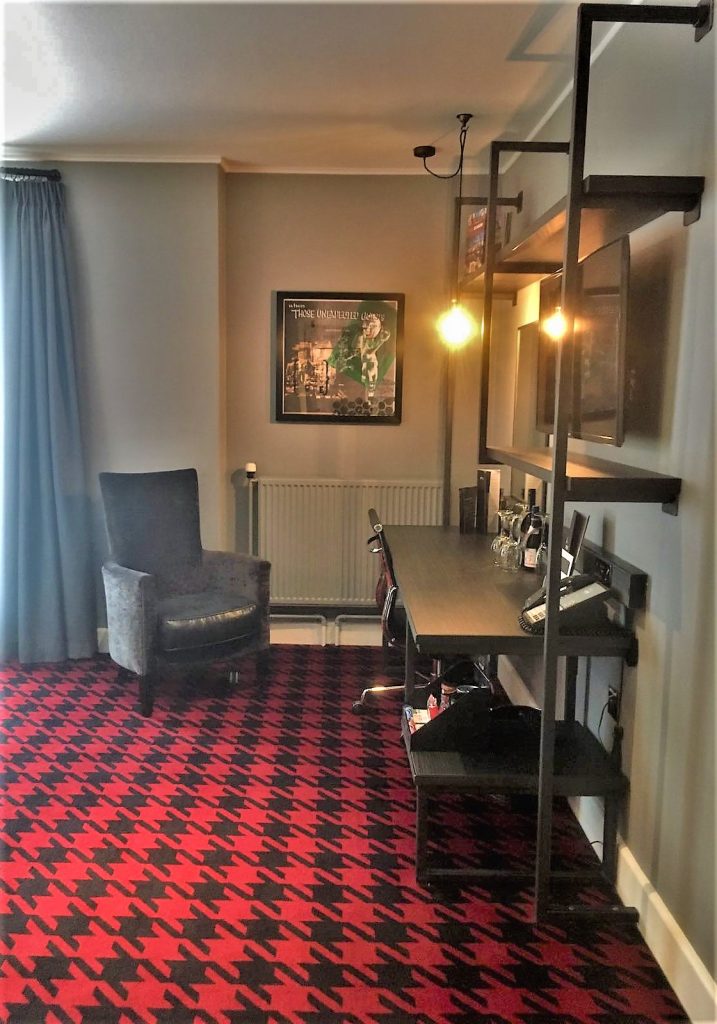 I did find the bathroom a bit disappointing (I felt this too at the Edinburgh and Brighton Malmaisons too). It looked a little tired. Beware the well warranted warning about hot water from the taps. It is stupidly hot! The toiletries were the standard oversized Mal Shampoo and Shower Gel. Nothing to get excited about there.
The bed was very comfortable though I didn't have a great nights sleep (no, I don't think it was the effects of all the drinks – see below!). There was some considerable noise from the corridors (especially from housekeeping the next am) and some street noise too. I don't know if all the rooms are liked this but it was not a quiet room.
Chez Mal Brasserie
I met my oldest school friend for an early supper here. We arrived at 6:15 to a near empty restaurant and were greeted by a truly delightful kiwi waitress called Julia. We had a wonderful dining experience here and I would recommend eating here if you are in Glasgow. We were allocated a £24.95 amount off the a la carte menu or we could choose from the Spring Fixed Price menu with our room rate. We chose from the latter and the food was lovely. The wine selection was also good. We had a lovely Austrian Gruner Veltliner. By the time we left at 9:30 there were only a handful of tables occupied which surprised me given the standard of the food and reasonable prices.
We retreated to the bar to take advantage of yet another offer: spring cocktails for £6! We enjoyed a 'wrong negroni' and an 'espresso martini' each for £24. Astonishing given the quality of the drinks. I then used my 'voucher' from the Breakfast offer to take an 'espresso martini' back to my room. (Editor's note – I think we now know why RR didn't sleep – too much espresso in his cocktails – Michele)
Breakfast
You can have a continental hamper delivered for £13.95 but I couldn't have that with the Tequila Sunrise offer so I went down to the Brasserie for breakfast. There was a small buffet (fruit, yoghurt, berries, mini pastries and juice) and I ordered smoked salmon and scrambled eggs from the hot menu. The eggs were overdone for my taste but there was a lot of salmon on the plate. I also had a couple of flat white coffees.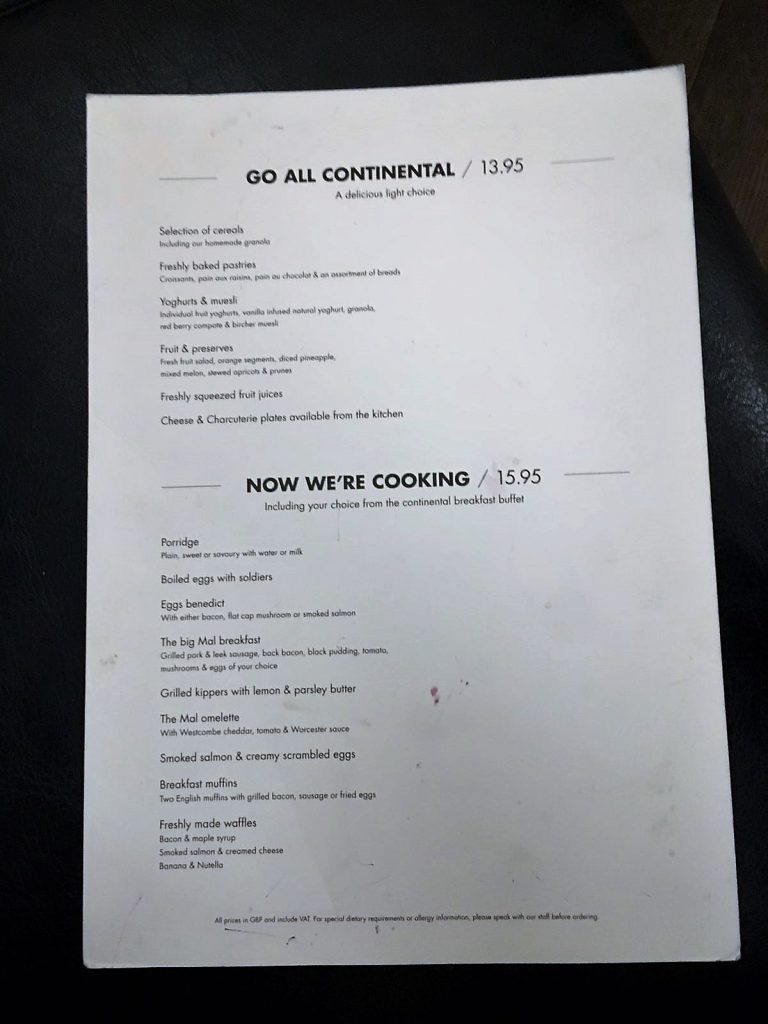 Check out was slightly confusing as my room bill came to a lot less than I expected. I had prepaid £115 for the cocktail, dinner and room so only had to pay for drinks with dinner, at the bar and breakfast. I explained what I had but the receptionist couldn't find the charge slips for the matching amounts so I left paying much less than I thought I owed. I have now subsequently been charged the difference so I assume someone found the missing receipts!
Conclusion and how to stay there for less
£115 for a room, dinner and cocktails for 2! I think this was incredible value for money. Malmaison always seems to have offers galore so it is worthwhile looking through all of them before you book online. The hotels are pretty consistent across the board and I would highly recommend the Malmaison hotel for a short stay in Glasgow.
Malmaison offers range from the ridiculously cheap Sunday night for £25 when you spend £75 in the brasserie to a more lavish suite for two, a bottle of Champagne, chocolate and a full cooked breakfast from £199. You can find all of Malmaison's offers here.