This review of Mango House LXR Hotel is part 2 in the series of reviews from regular reader contributor Ben. You can read details of his bargain flight to the Seychelles in Qatar's business class here.
Given the miserable weather and the fact that on Valentine's Day you may be contemplating a romantic getaway, this seemed the perfect time to post this tropical paradise review which has romance written all over it as well as being family-friendly.
Location
If you are looking for a shorter break or less travel time, then Mango House is a good option as it's on the same island as the Seychelles International Airport on Mahe. There is also more to do on the main island if you like to visit local restaurants or drive around.
It's around a 30-minute transfer from the airport which after a long journey is perfect. The hotel opened in July 2021.
Arrival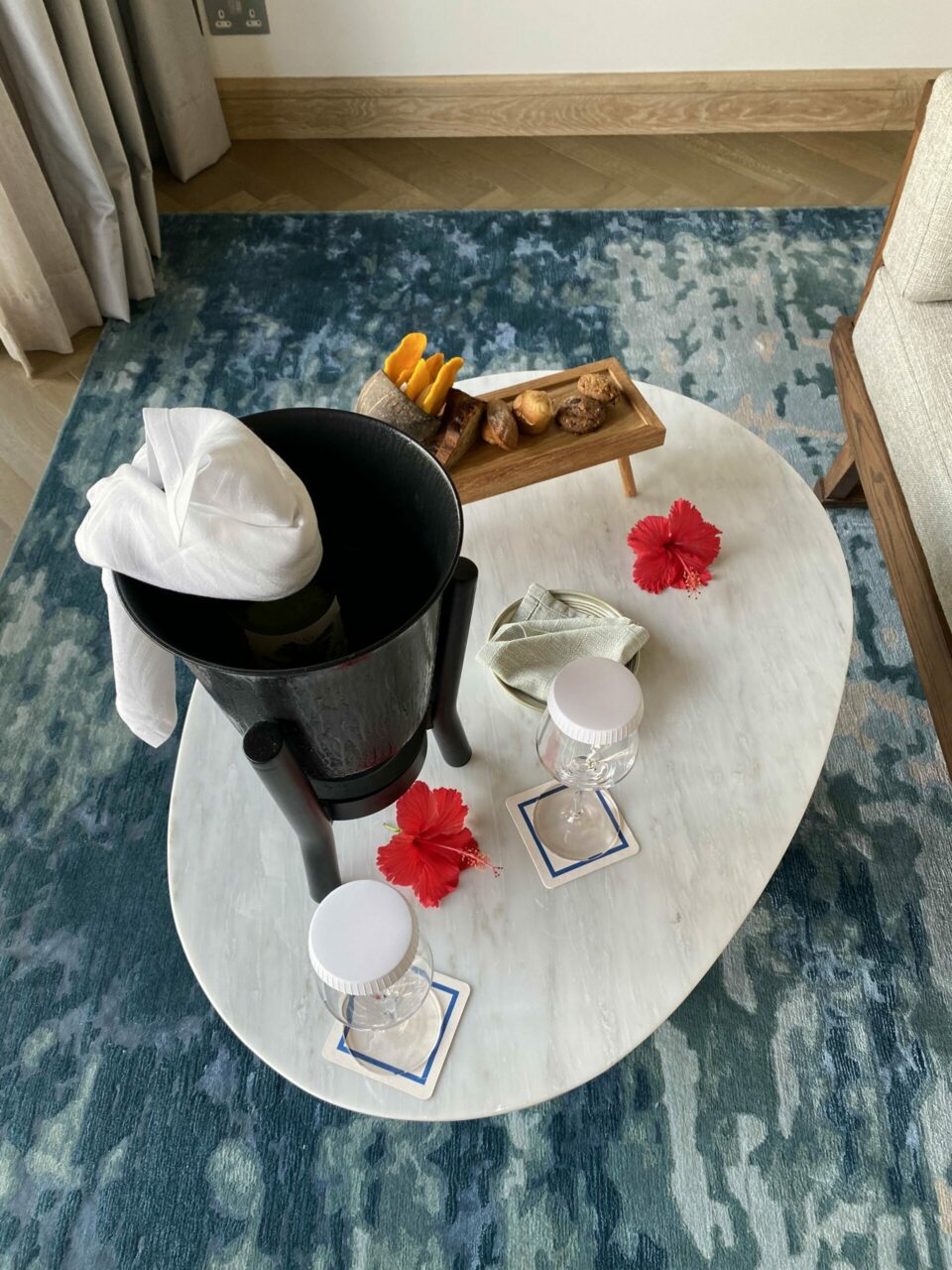 The hotel had contacted me in advance to check on my flight details, remind me about a few Covid policies and share details on the property.
Despite arriving at the hotel about 08:30, my room was ready for me and I was provided early check-in.
I was upgraded to a Premium Ocean View Room. They also gave me a late check-out of 17:30 as well which is the time they recommended given my departure time. This is pretty generous compared to Hilton's usual 2pm late check-out which as a Hilton Diamond I can request if it's available.
I was picked up from check-in and then taken on a buggy to my room. The person driving offered to wait whilst I showered for breakfast so they could run me back which was excellent service. However, I said I'd be fine given a short walk back!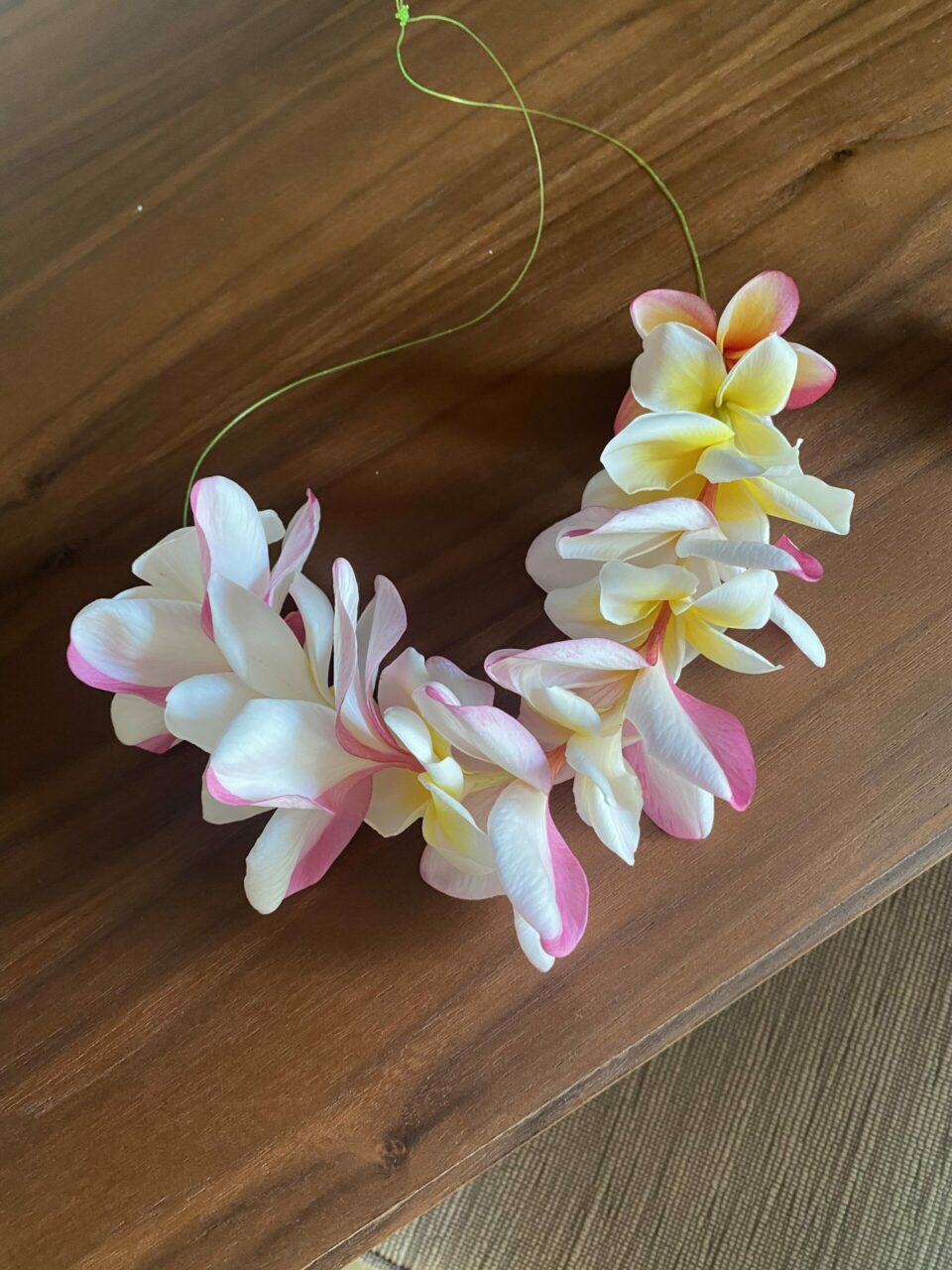 There was also a welcome gift in my room of some chilled white wine, biscuits and cakes and a flower garland. Their own brand of bottled water was also provided in the room.
The room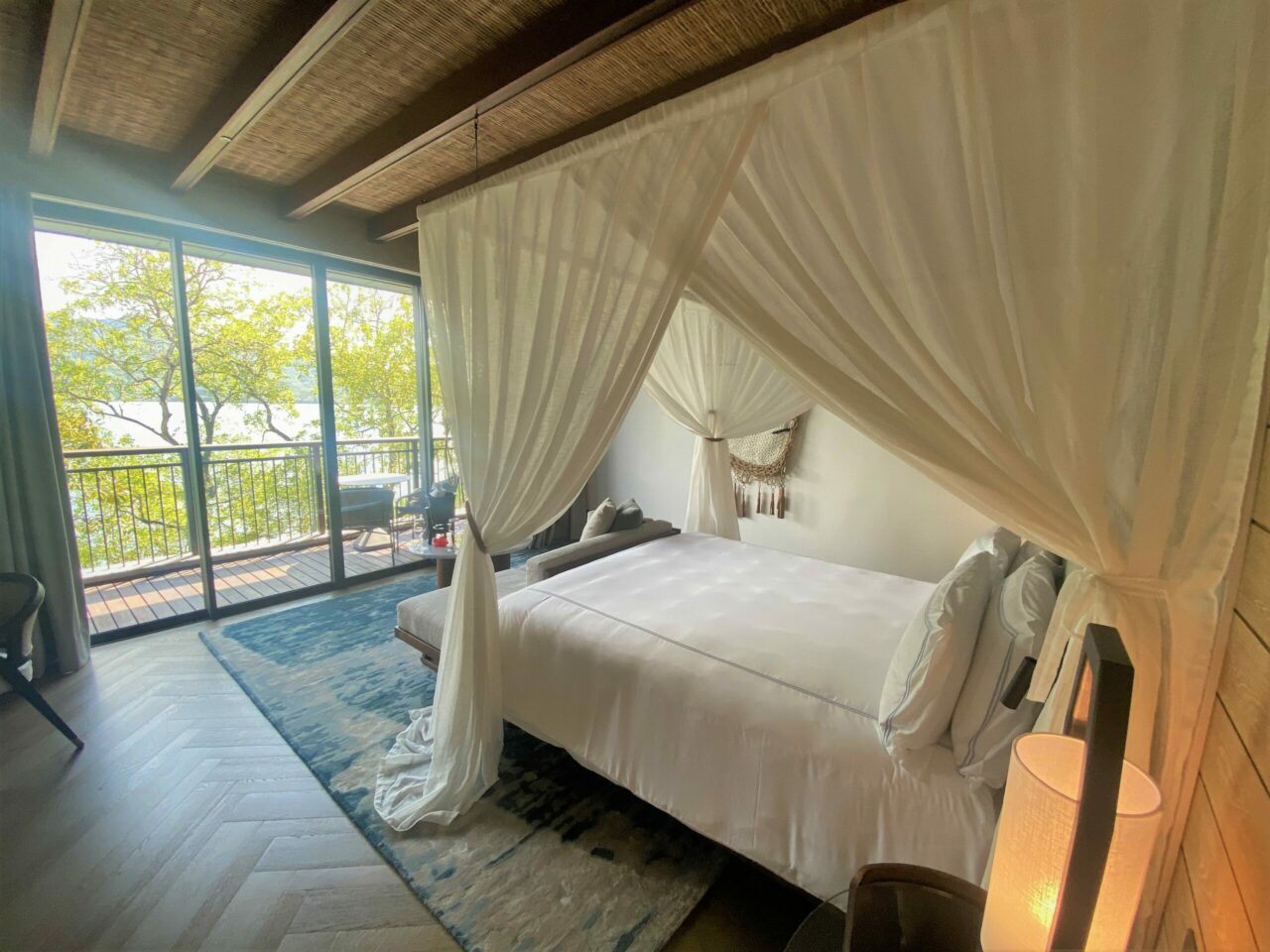 The property has 41 rooms and was originally built as a family house by well-known Italian photographer Gian Paolo Barbieri. It definitely retains that "house" boutique feel. It was not fully booked when I was there, which created an even more calm experience.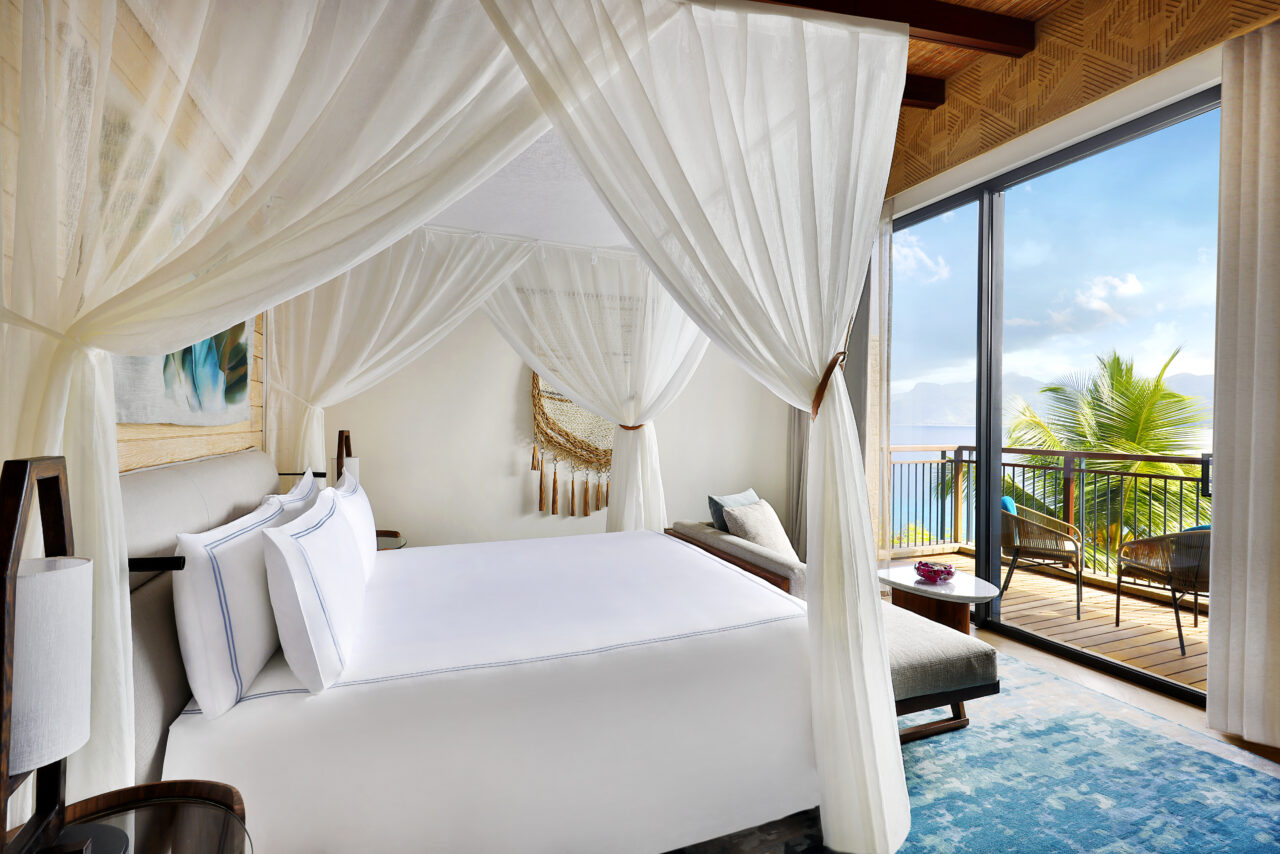 All rooms have unobstructed views of Anse Aux Poules Bleues as well as balconies, so the entry-level room would be good enough for most people.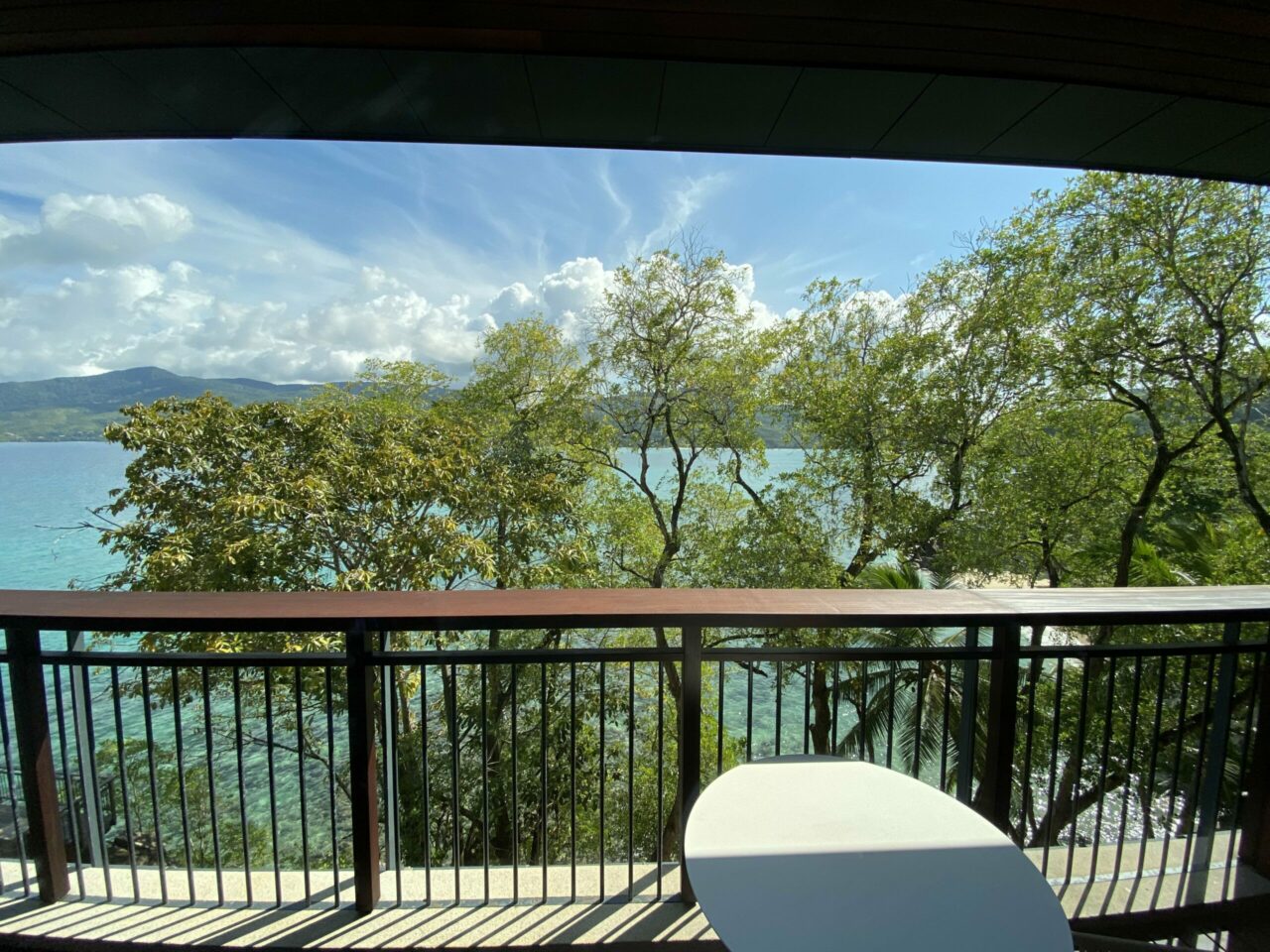 However, if you are travelling with family or a group they also have the amazing three-bedroom Bay House with Plunge Pool.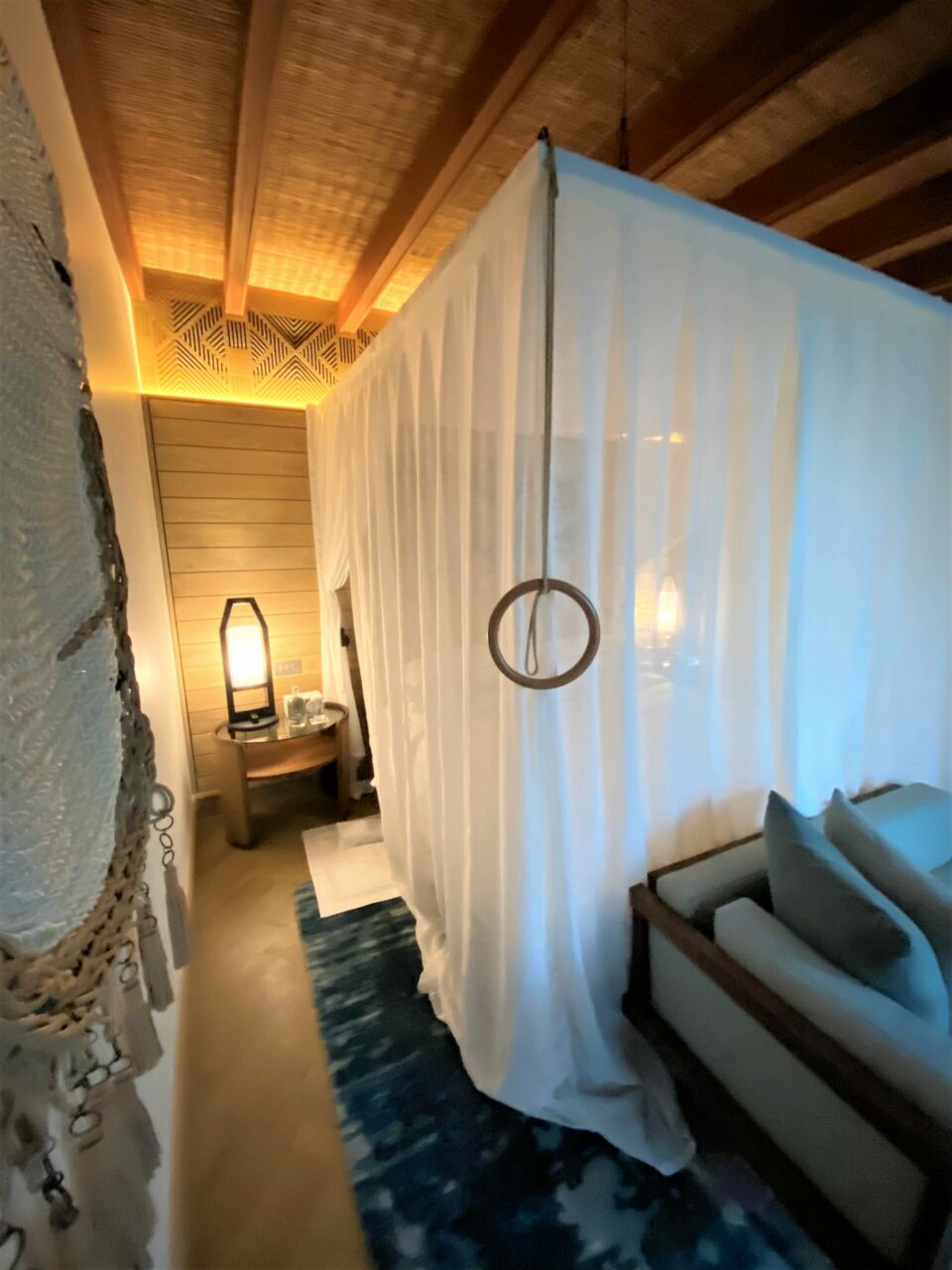 The Premier King ocean view room is 45 sq. m, so a reasonable size with floor-to-ceiling windows and a balcony with ocean views. The bed is a four-poster with netting which can be pulled down at night to enclose the bed. This was done at turndown along with water being out by the bedside.
There was also nice touches like a beach bag and straw hat to use and colourful lightweight bathrobes.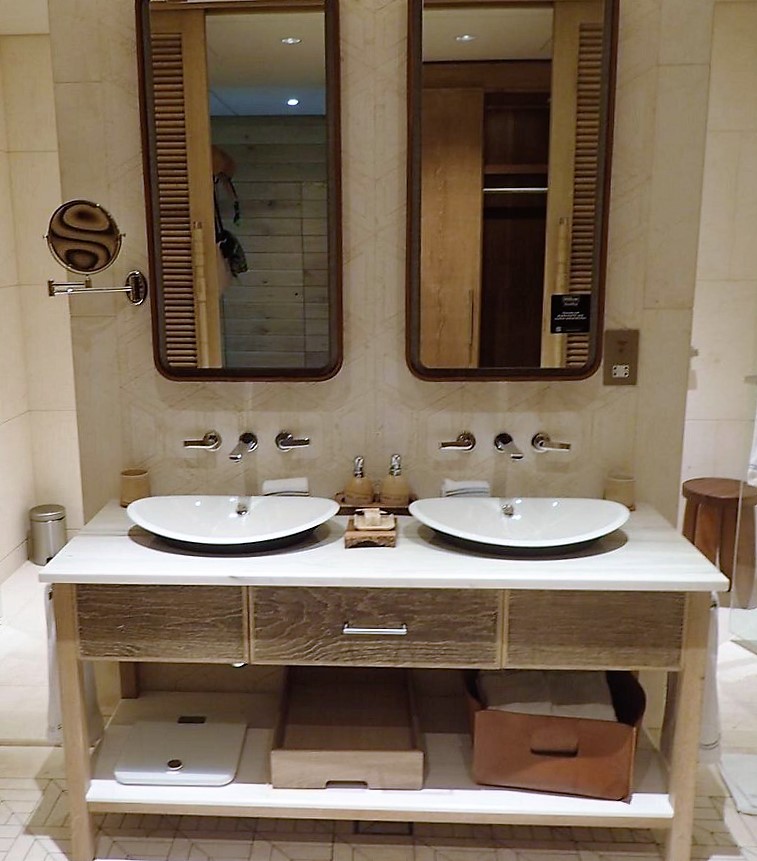 There's only a walk-in shower in this category of rooms but that didn't bother me. Some other categories do have a bath. The toiletries are from the local brand Belliche which only uses natural products from the Seychelles and are used in the spa.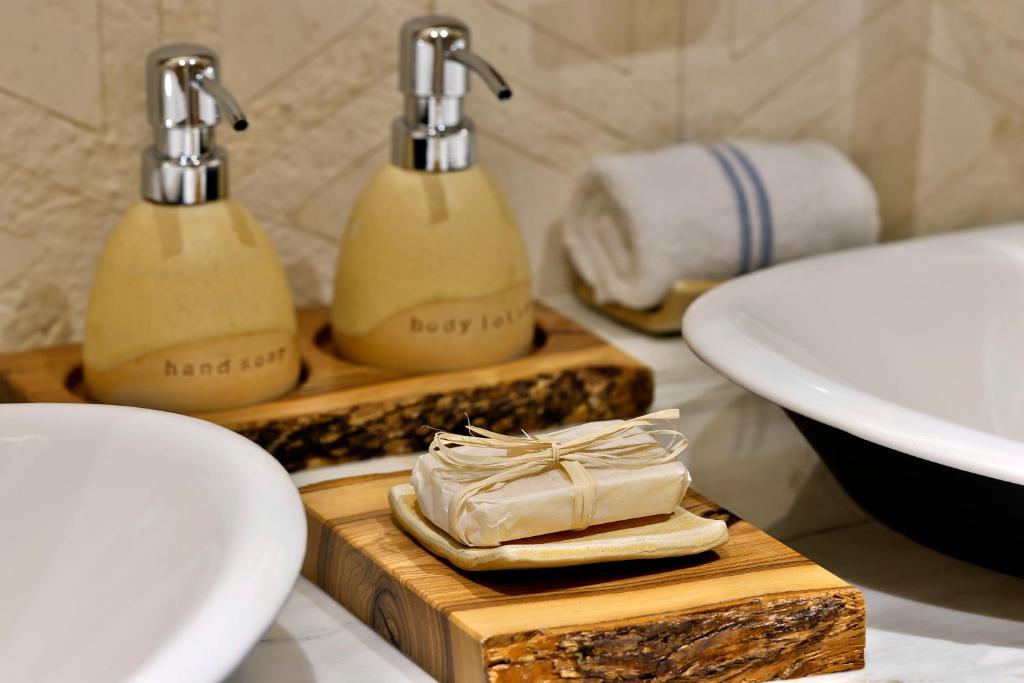 Food and drink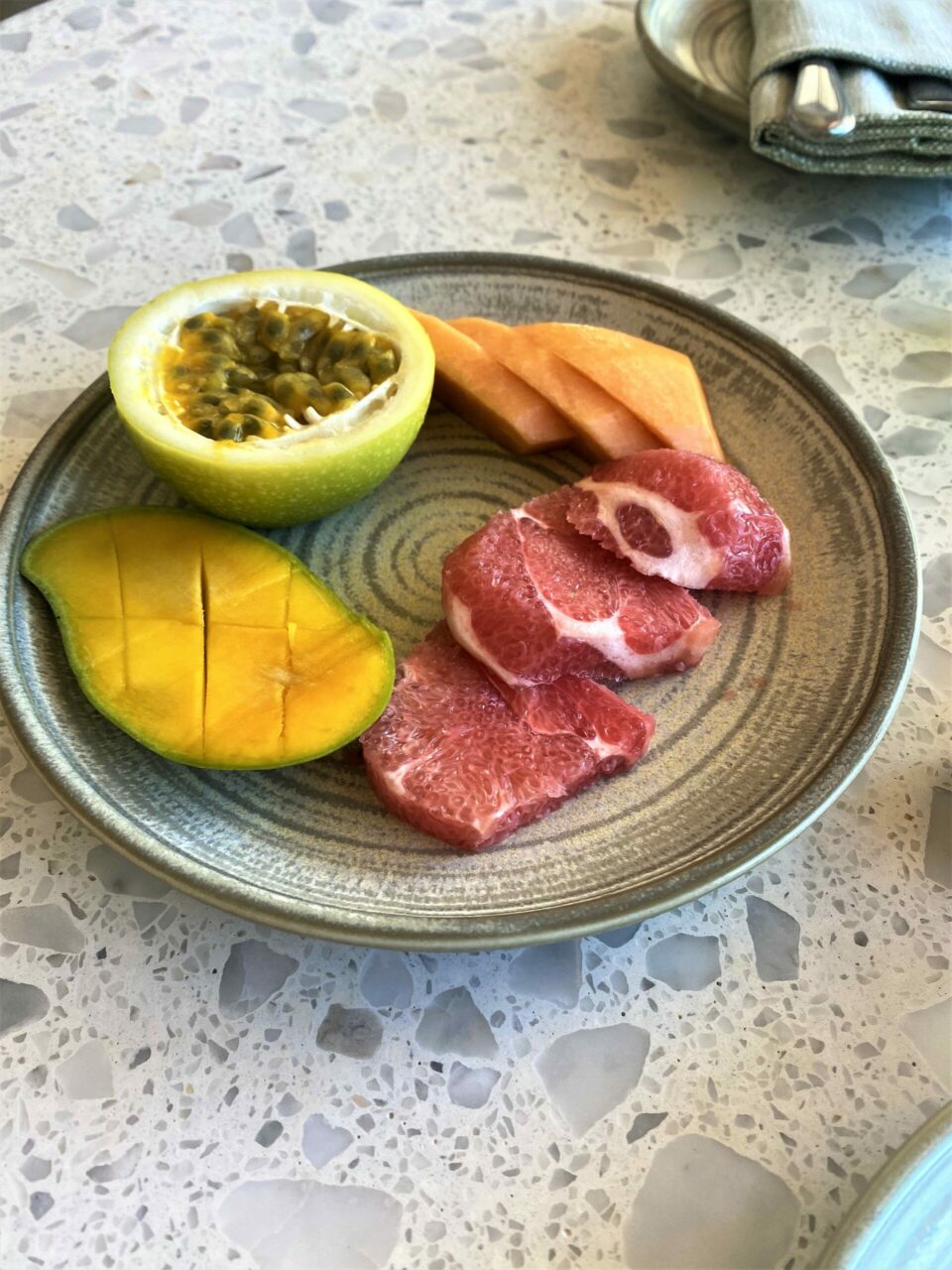 Breakfast was included which was down to my status and it really was exceptional – I don't normally eat breakfast, but I did at this property. The staff were proud to be working at the property and about the service and products they delivered. The menu had interesting takes on many breakfast classics with a local flavour.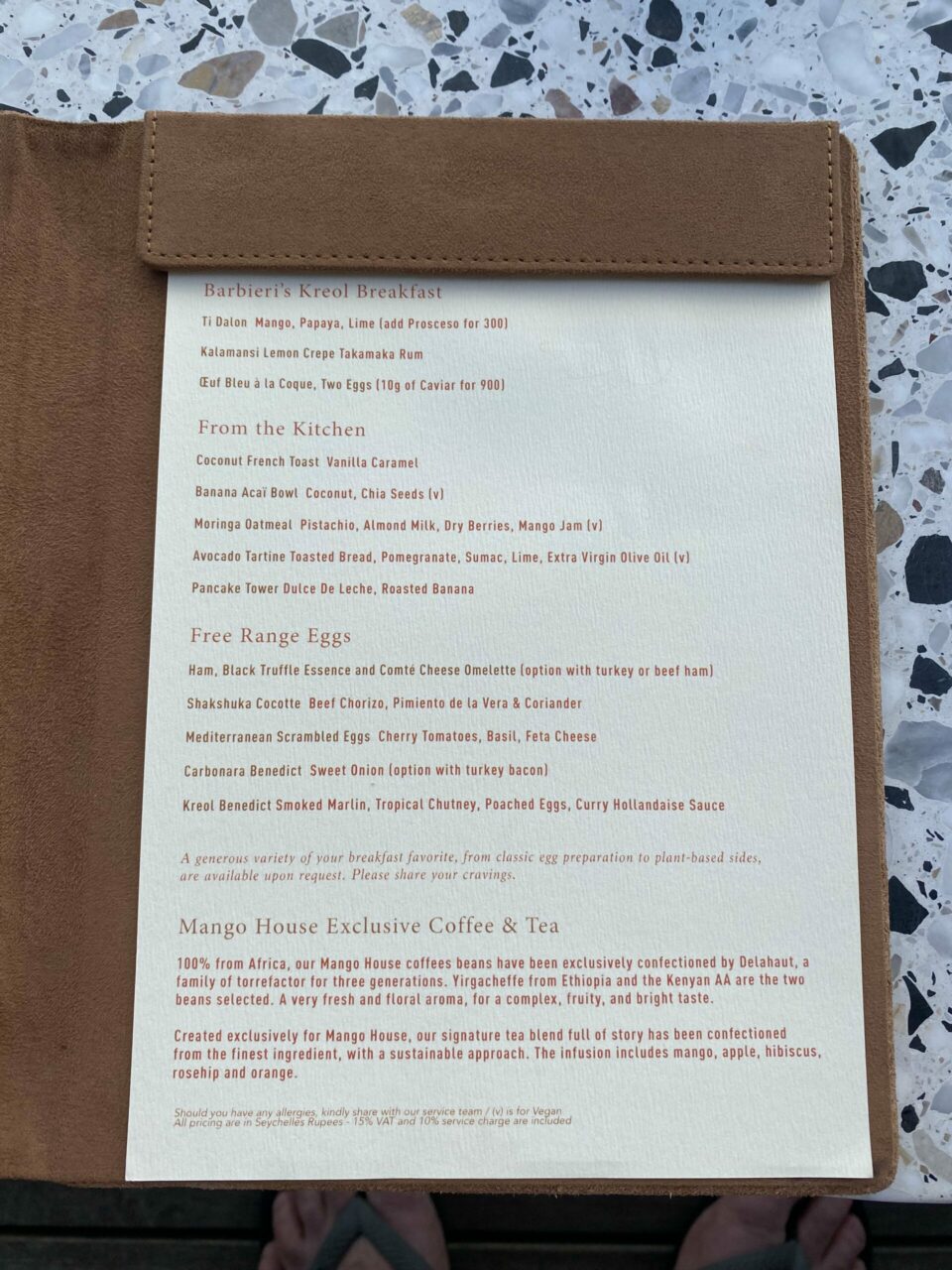 The staff would actively recommend additional breakfast items they personally liked which meant I had a feast every day!
When you sit down at breakfast you get served a choice of bread and pastries as well as some fruit. Then you can peruse the menu and order something more substantial.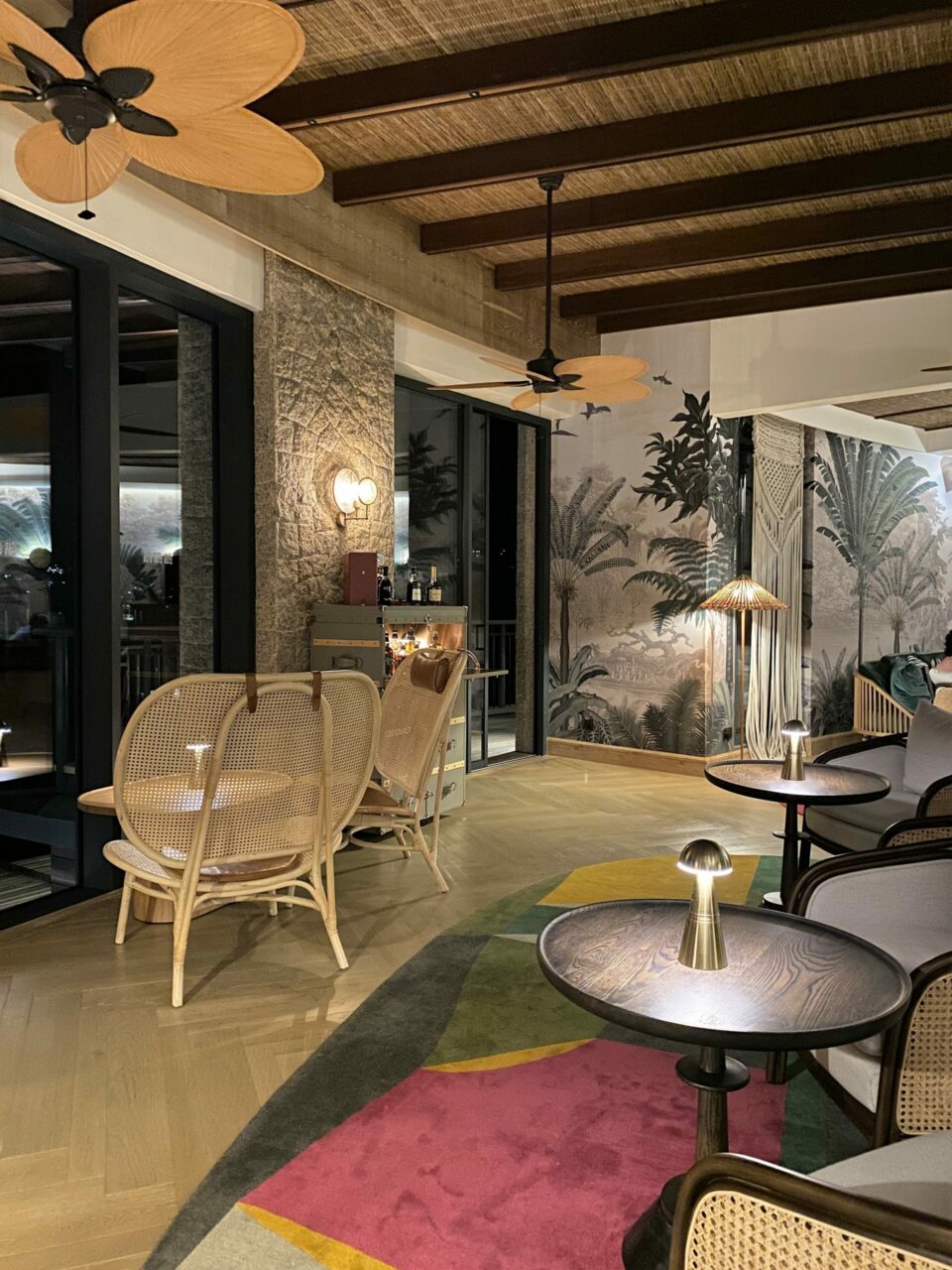 There's also a great cocktail bar and three restaurants, all with fantastic food.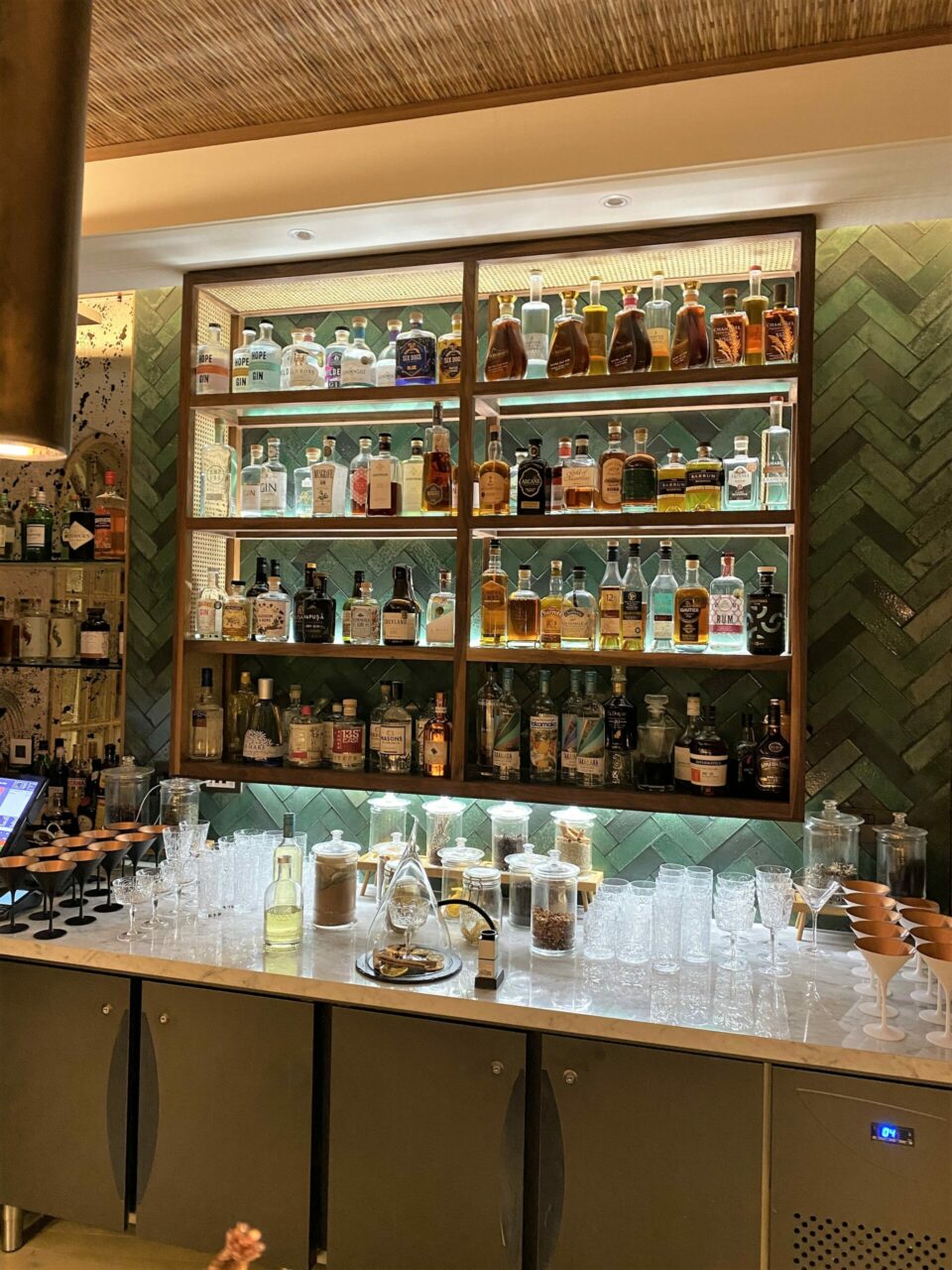 The Kokoye Bar specialises in infused gin and rum. I tried a few of the cocktails and there were all great. I loved the presentation too.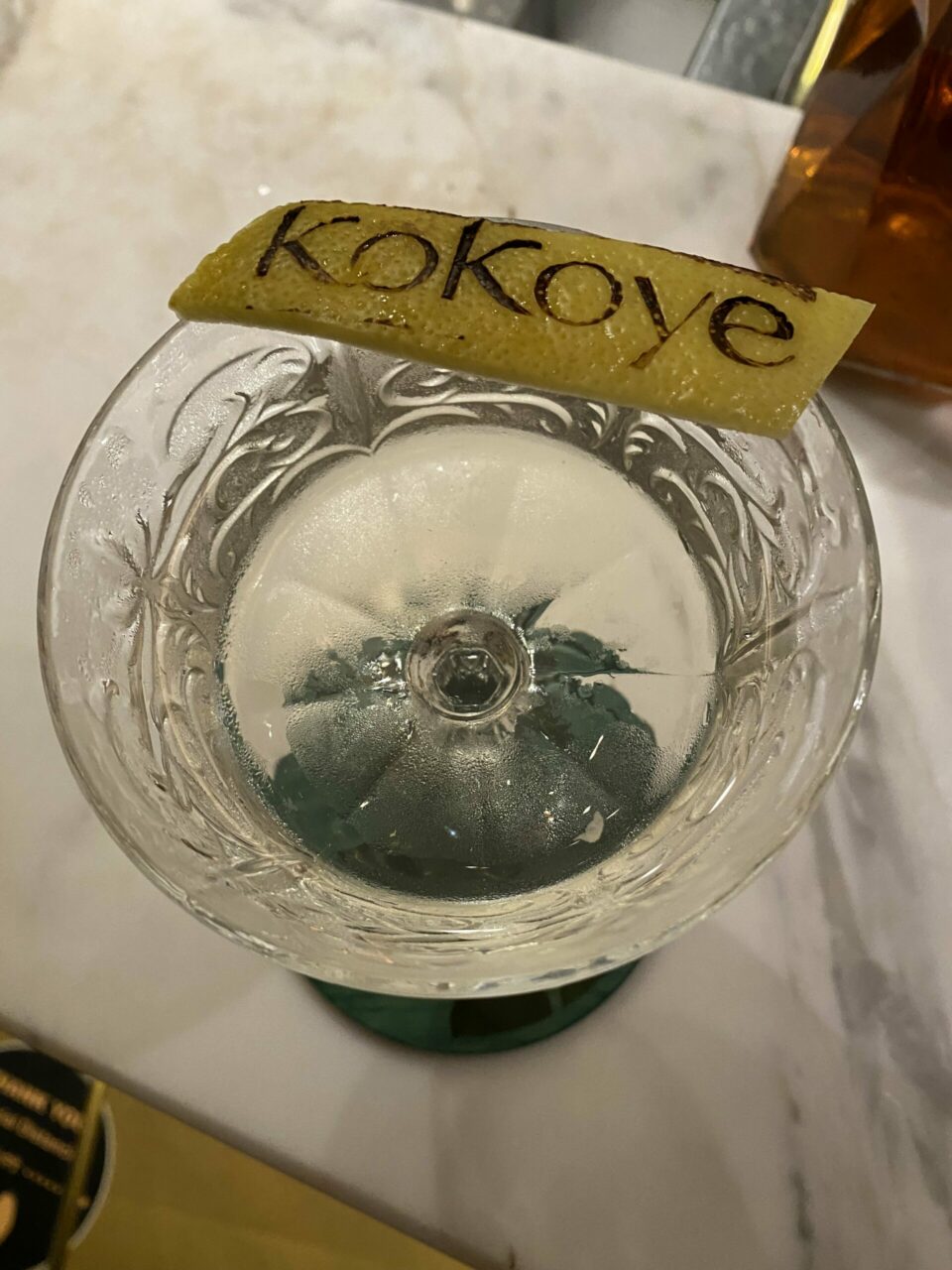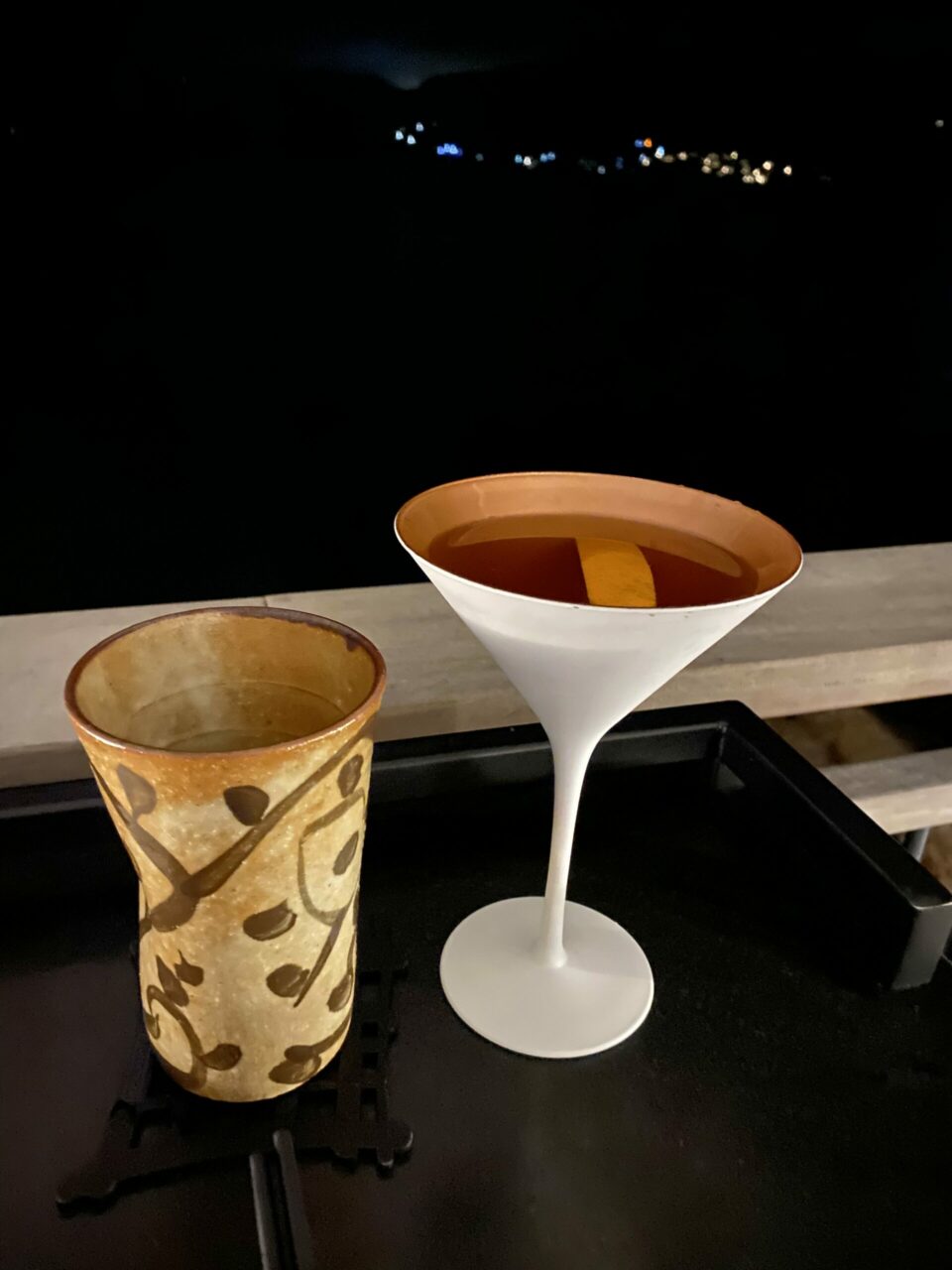 I also tried the Japanese restaurant Azido for some great fresh sushi and robatayaki.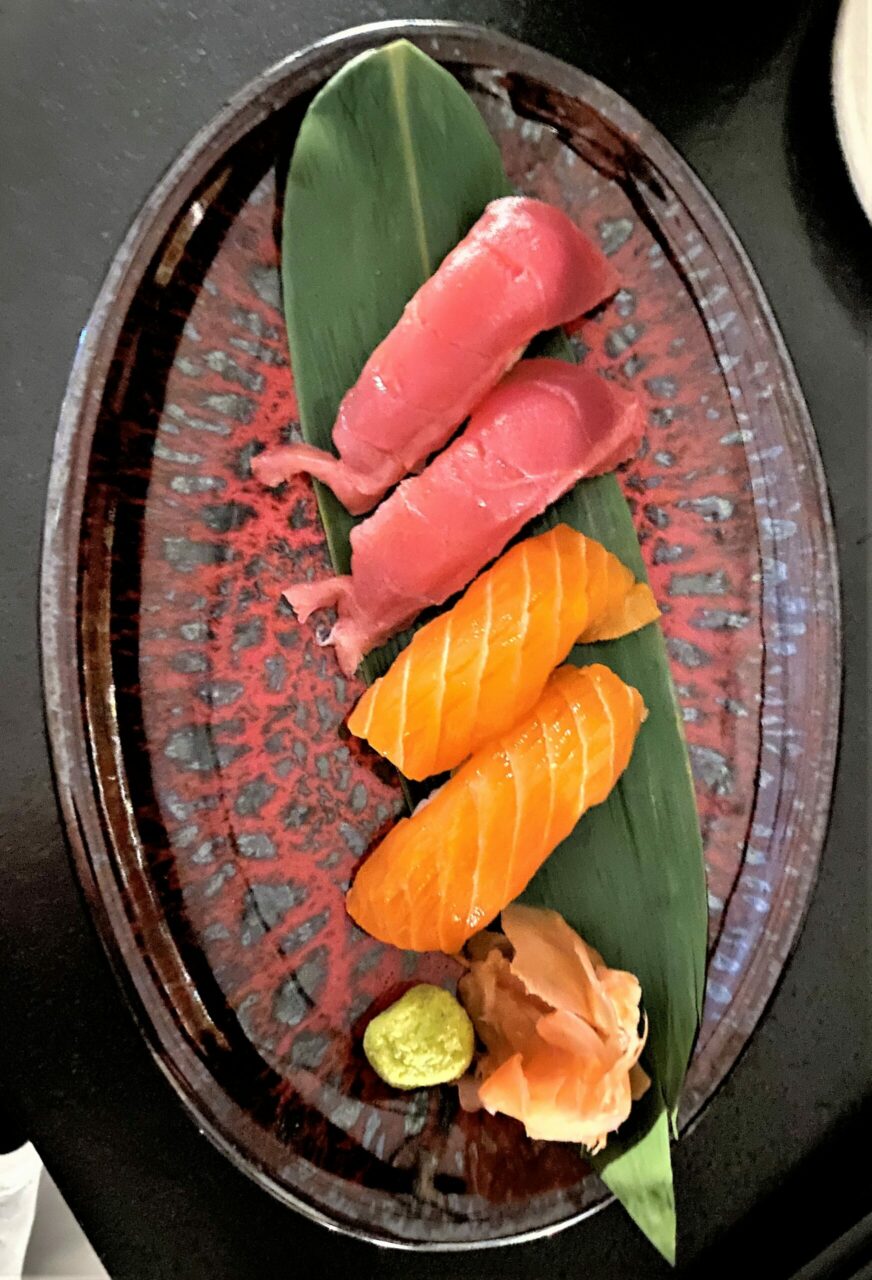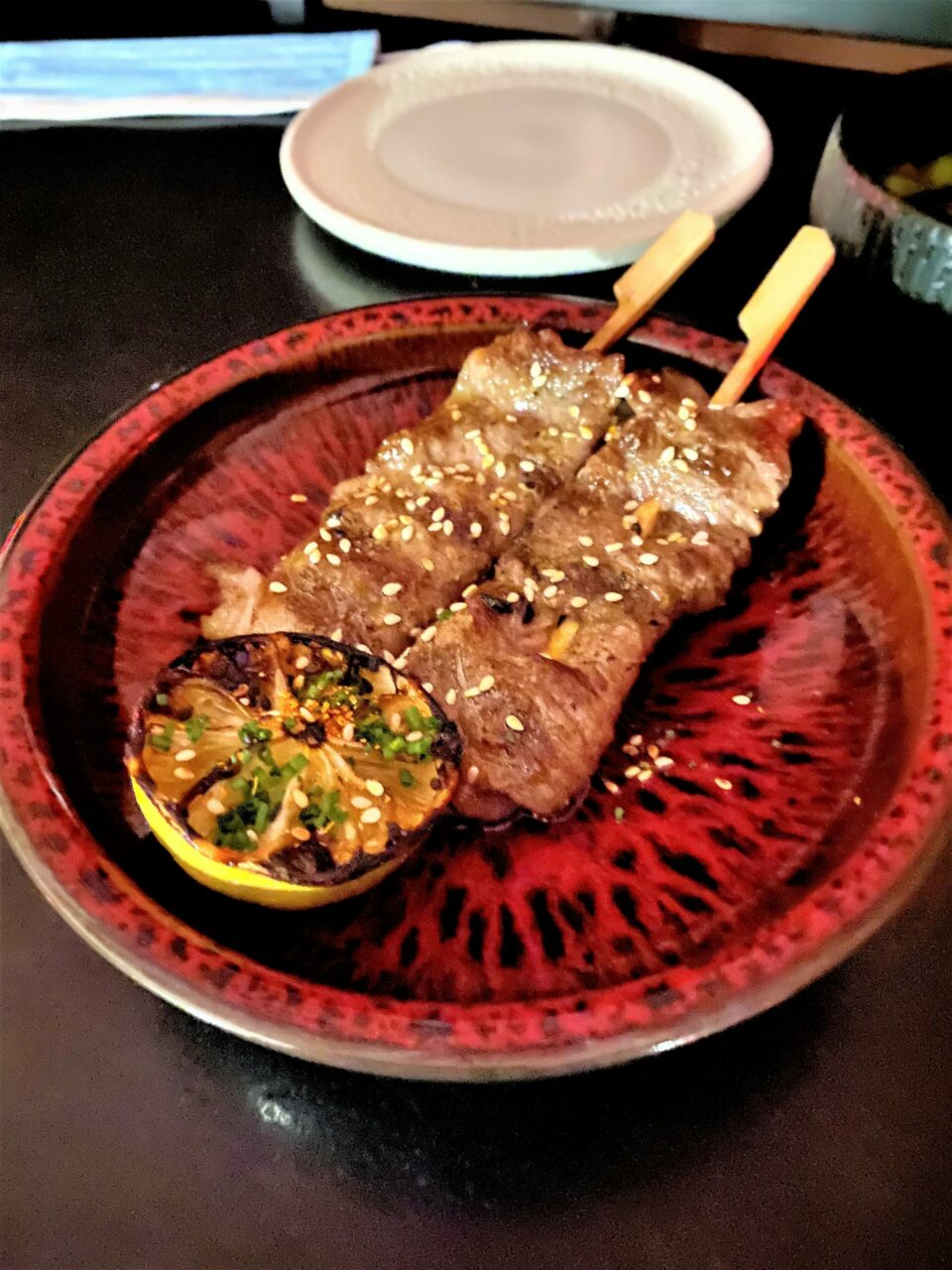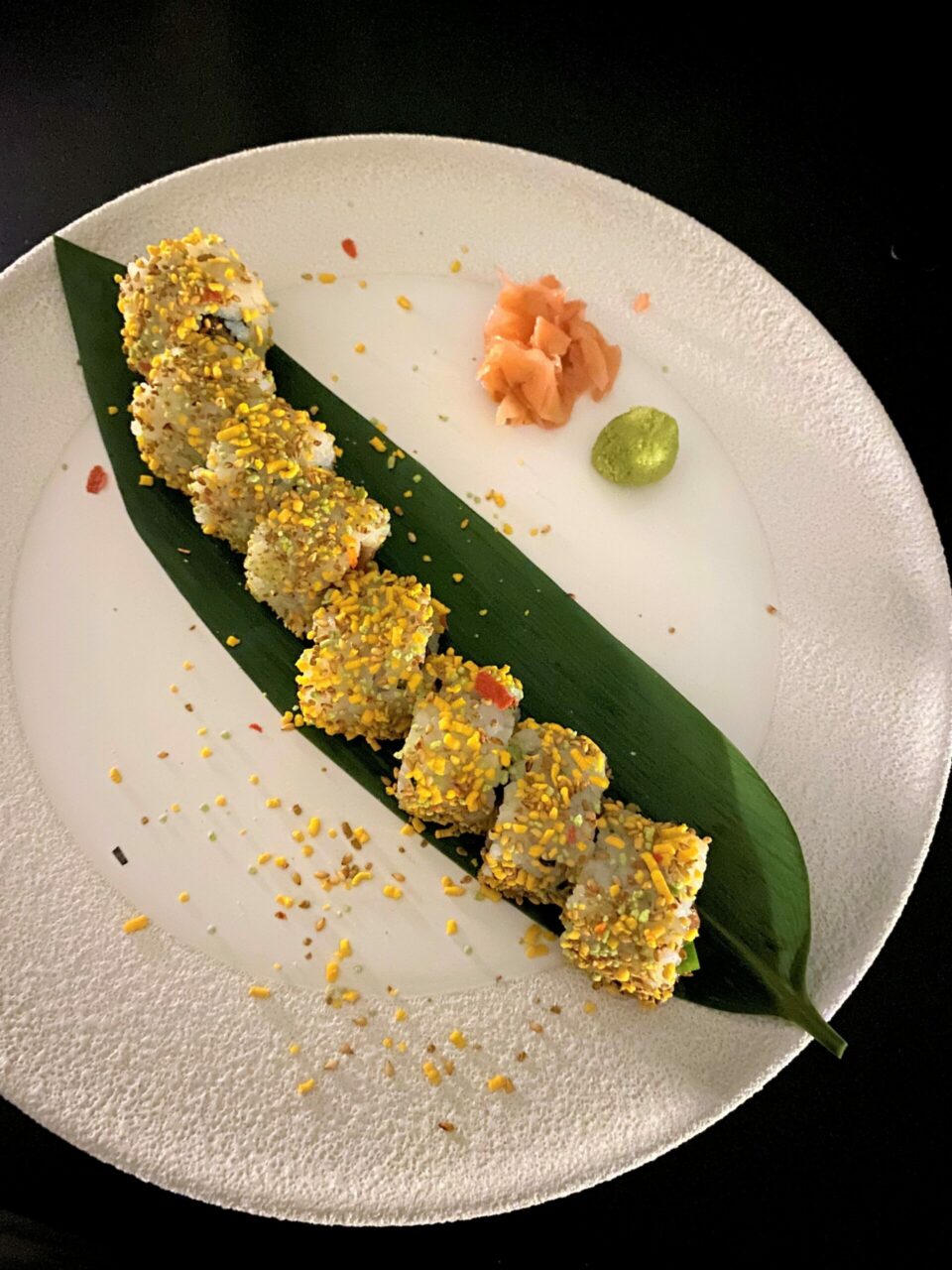 Moutya is a Creole grill restaurant with a BBQ over coconut shell charcoal for a casual beach restaurant.
Muse is the Creole and Italian restaurant where I sampled the delicious pasta. The poolside pizza were also authentic and tasty.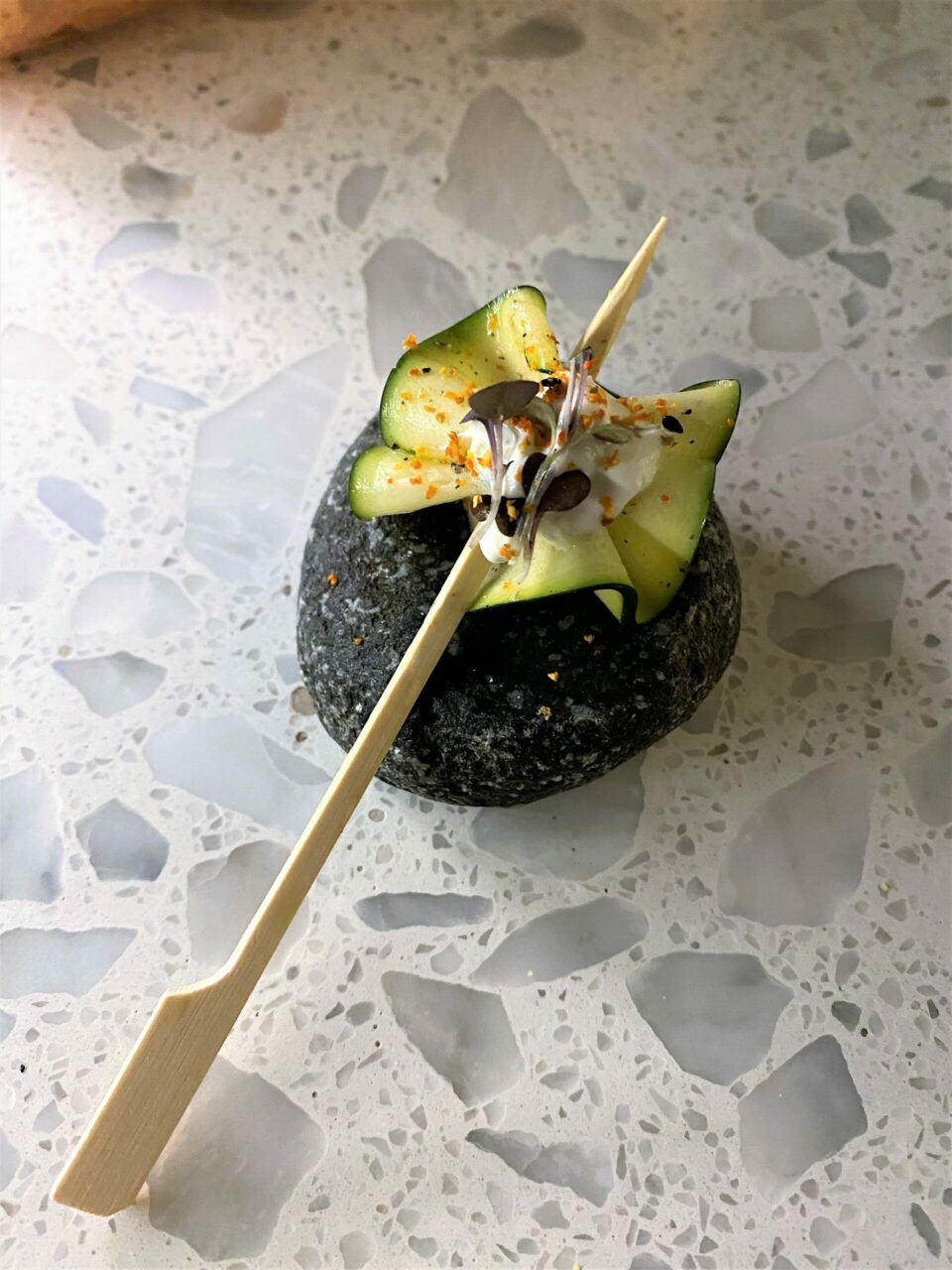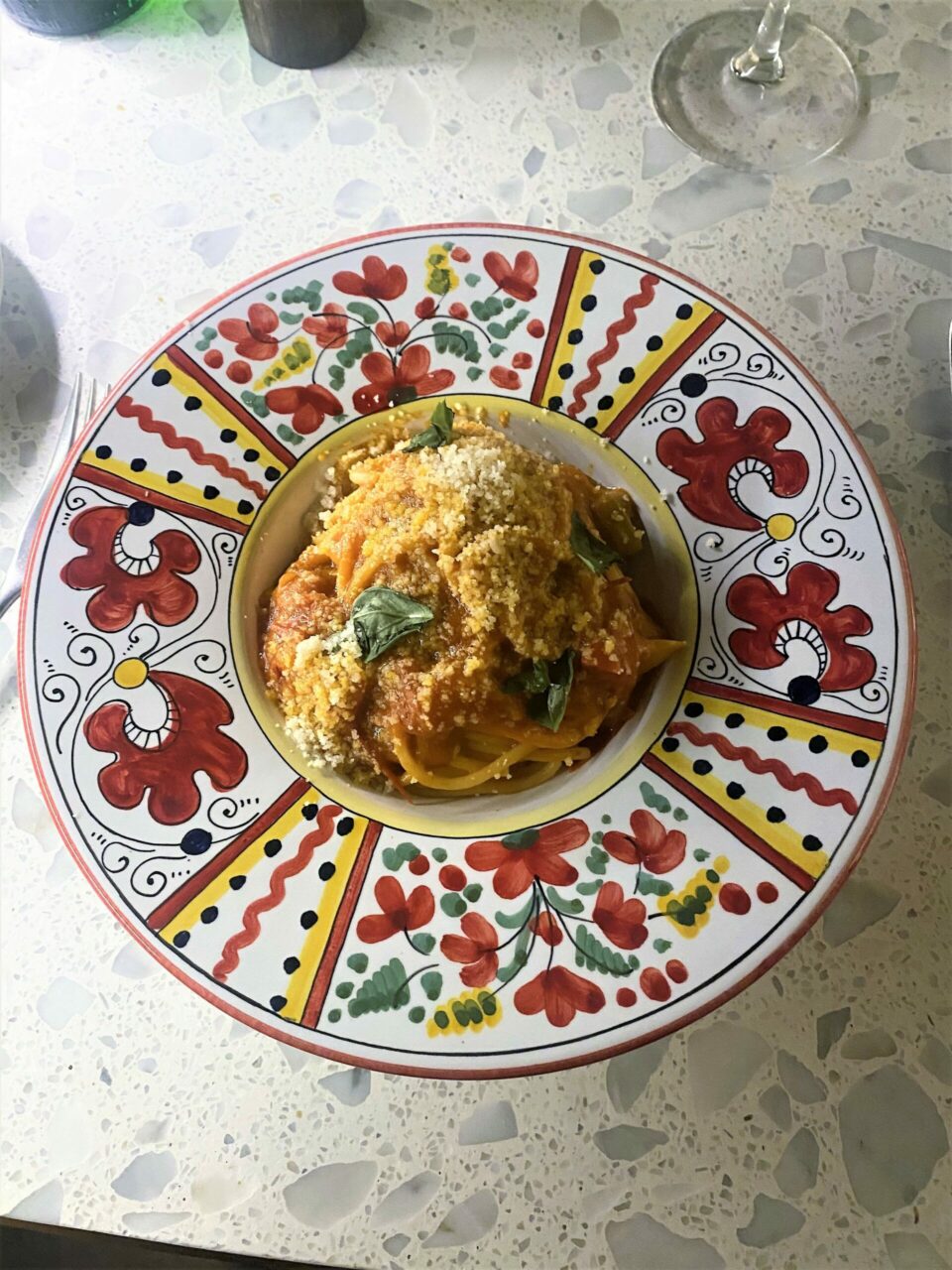 There's also 24-hour room service.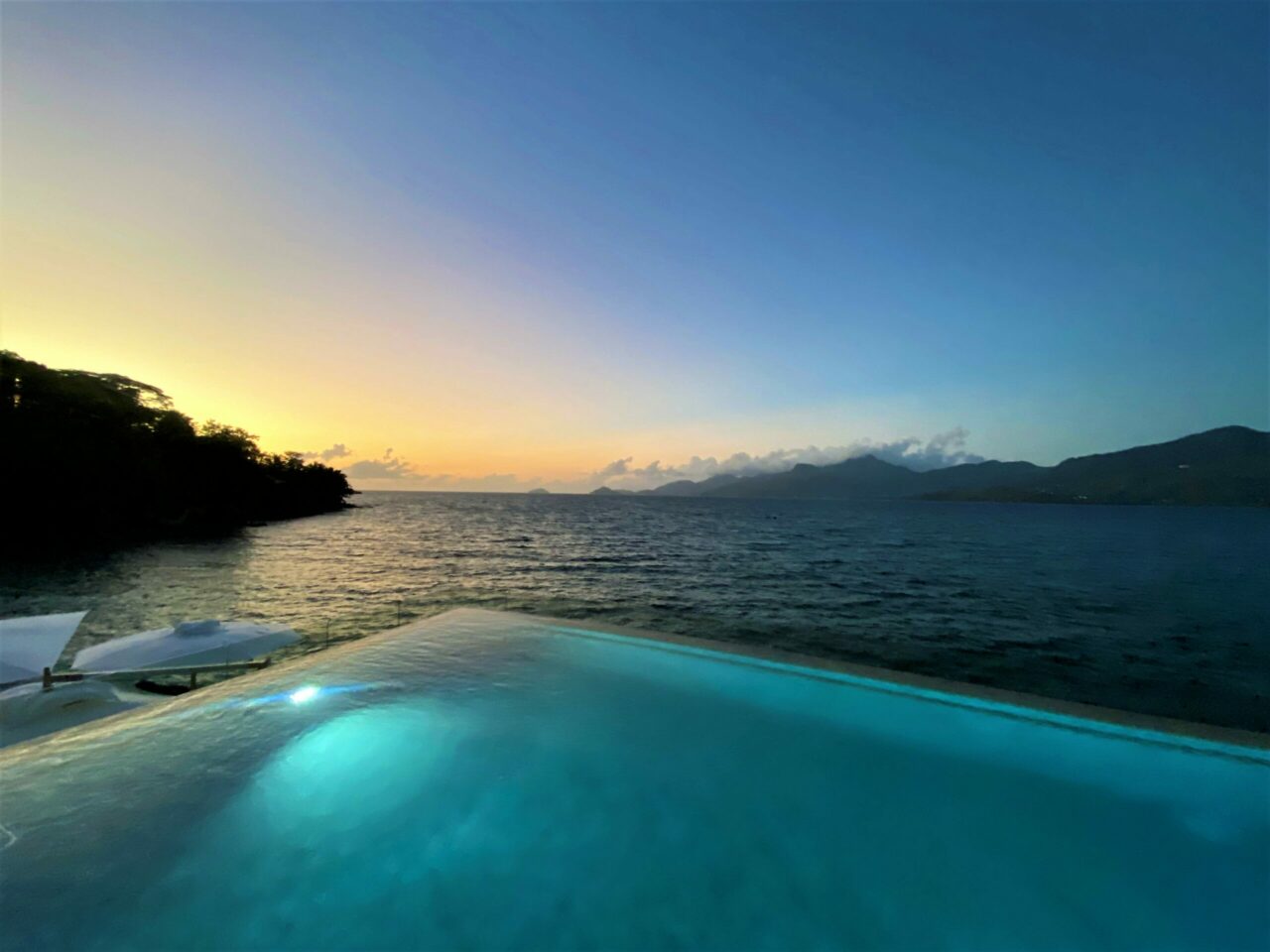 The resort is beautiful at night after some great sunset views.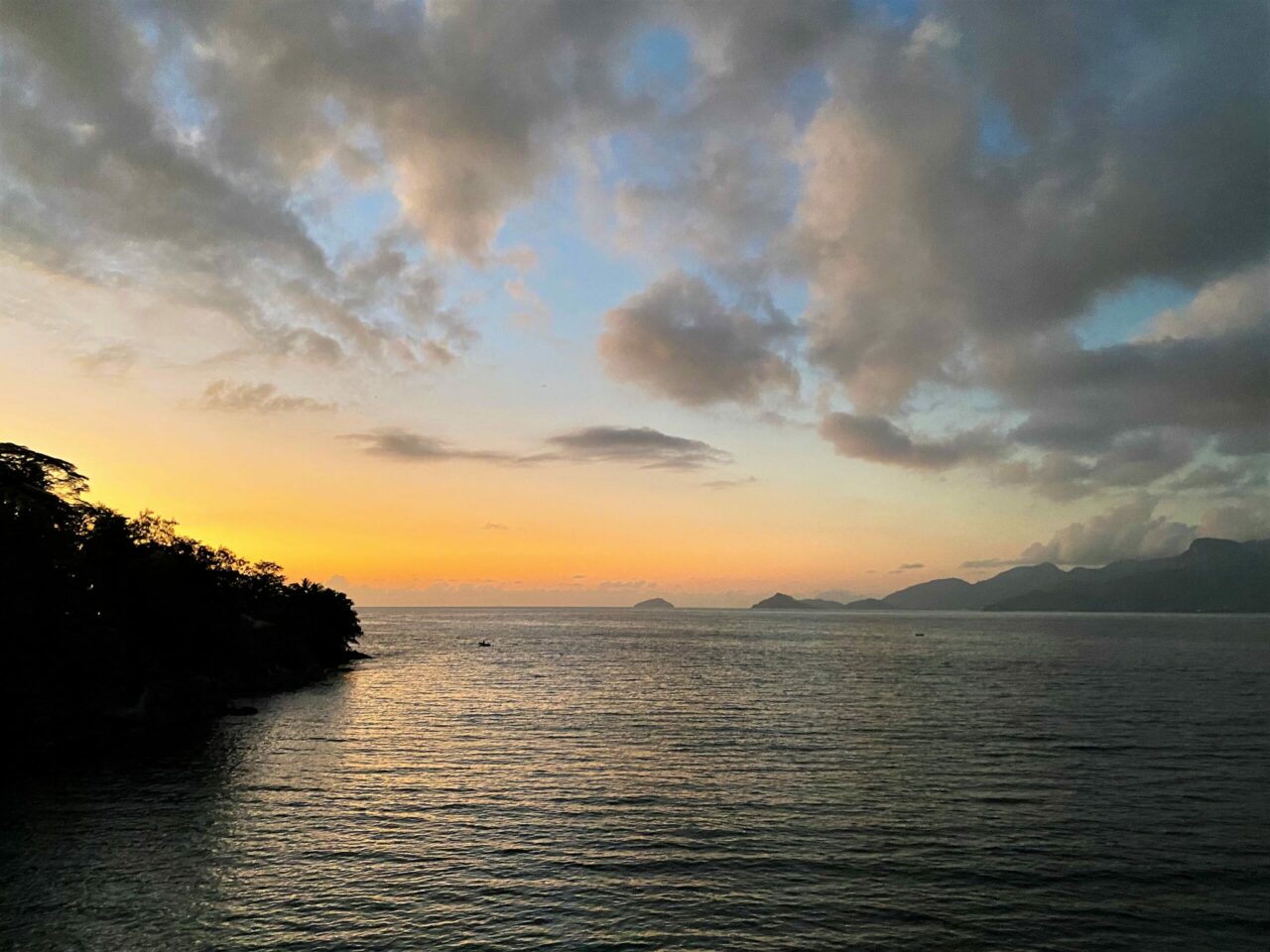 Everything closed at around 23:00, which was fine for my timings on a trip like this and could have been linked to island curfew.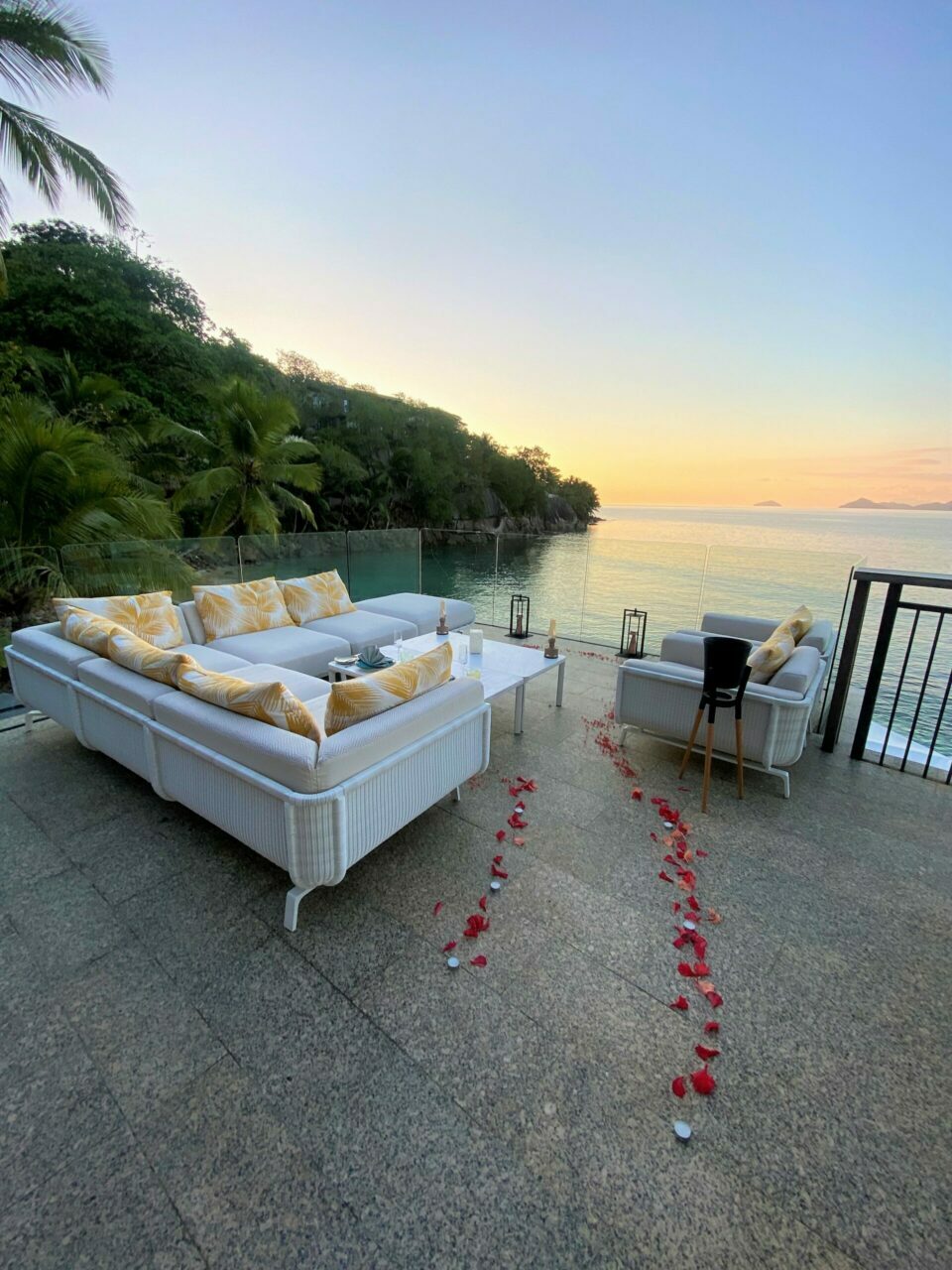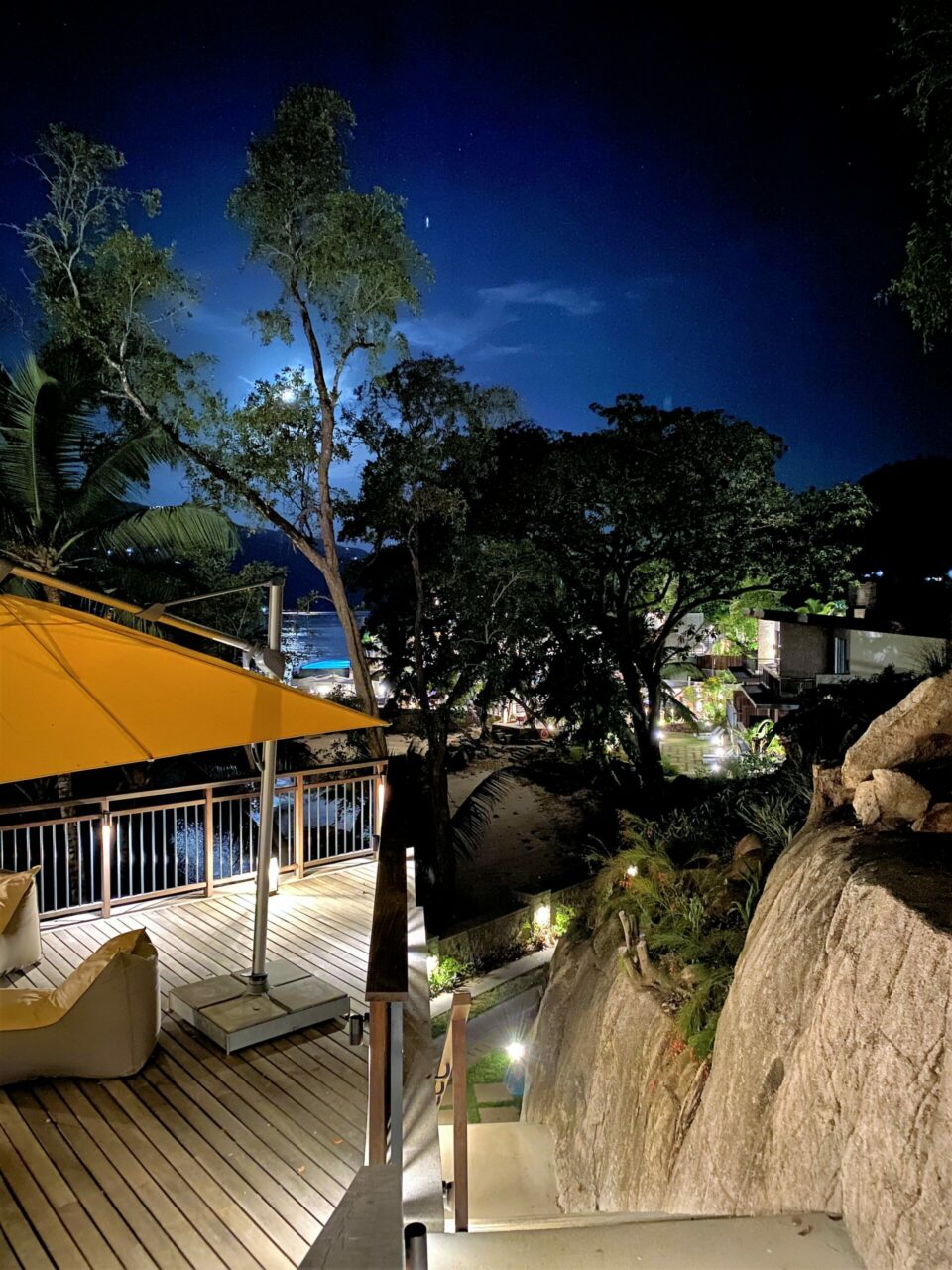 Facilities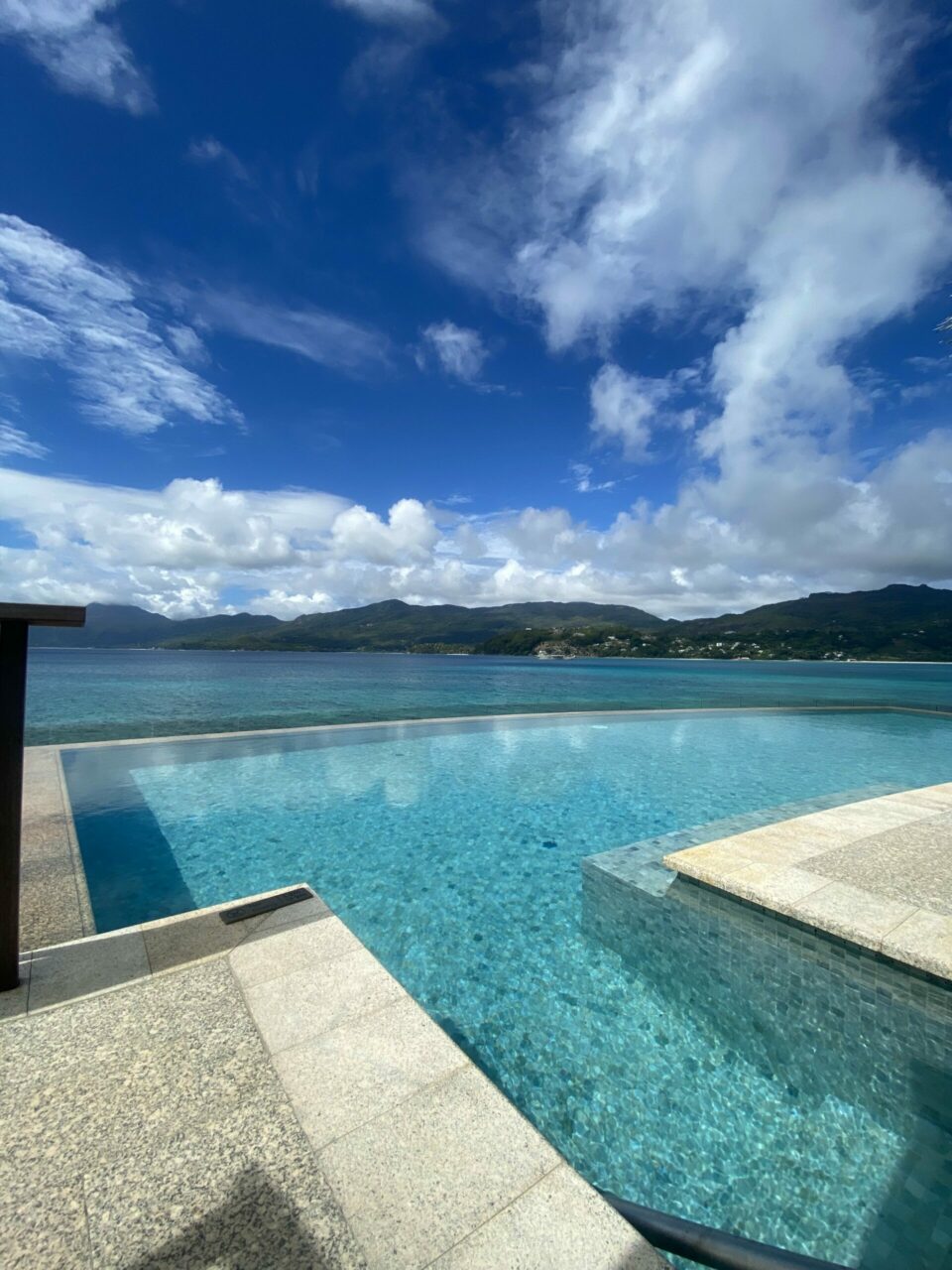 There are three pools on-site, all equally great but different.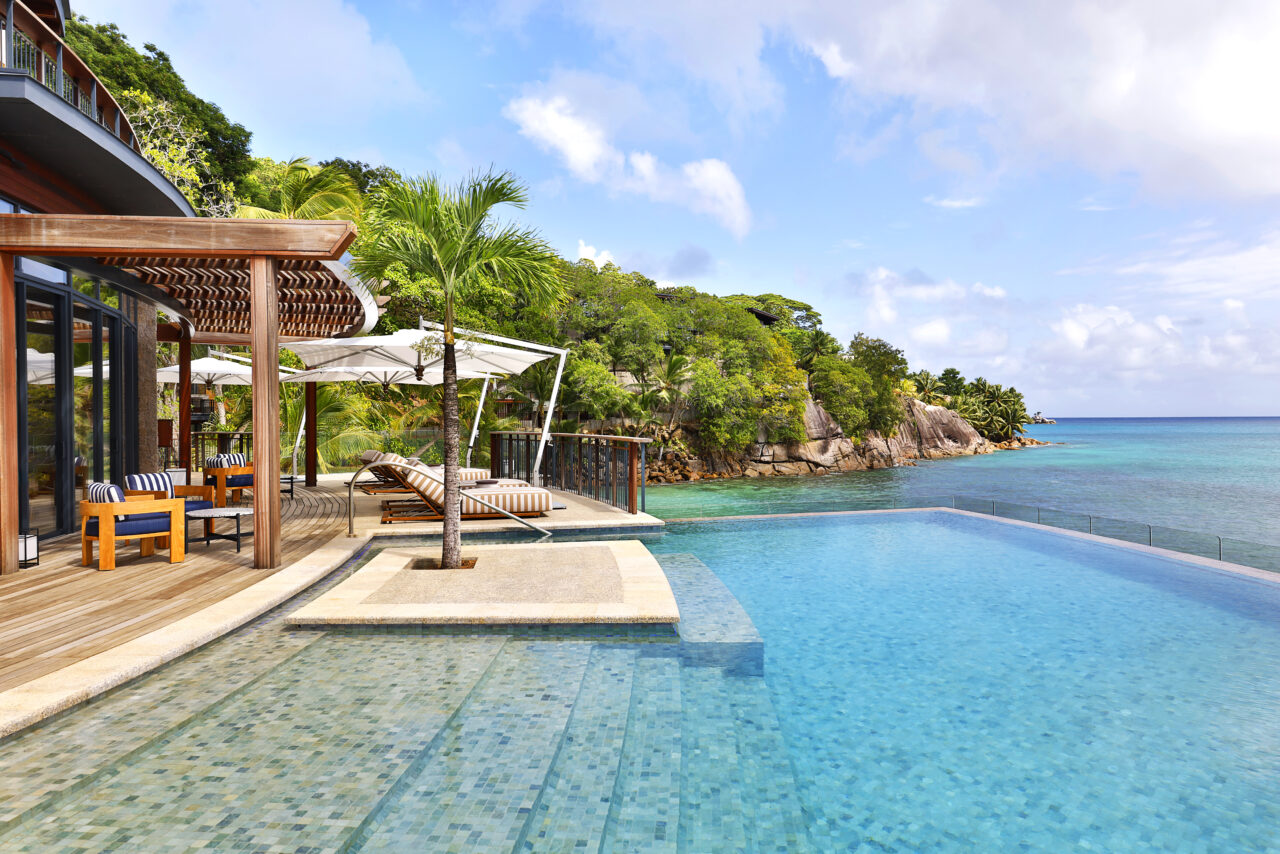 At the main pool water, cold towels were provided and topped up as needed. You received a cool bag which had cold towels and water.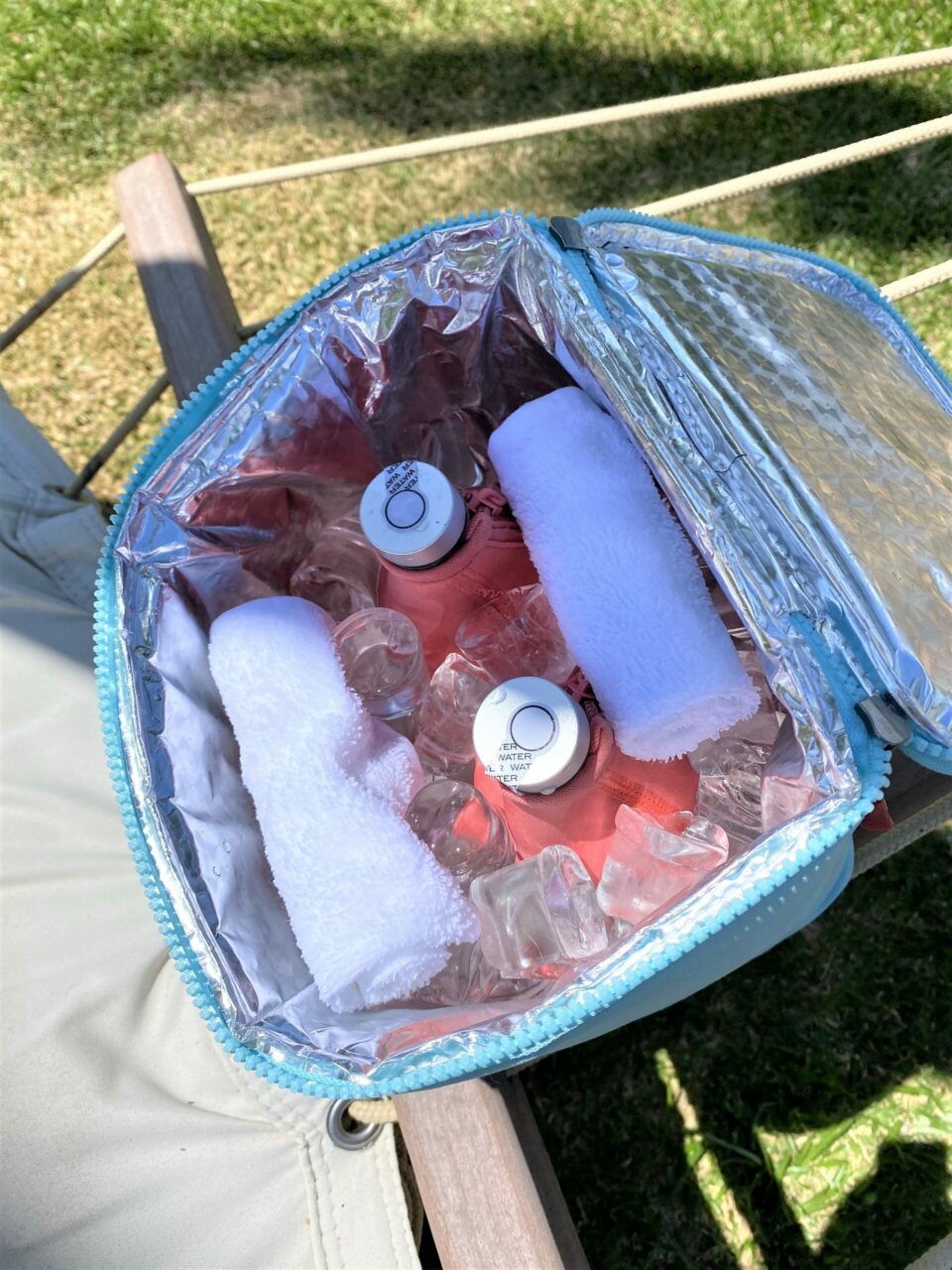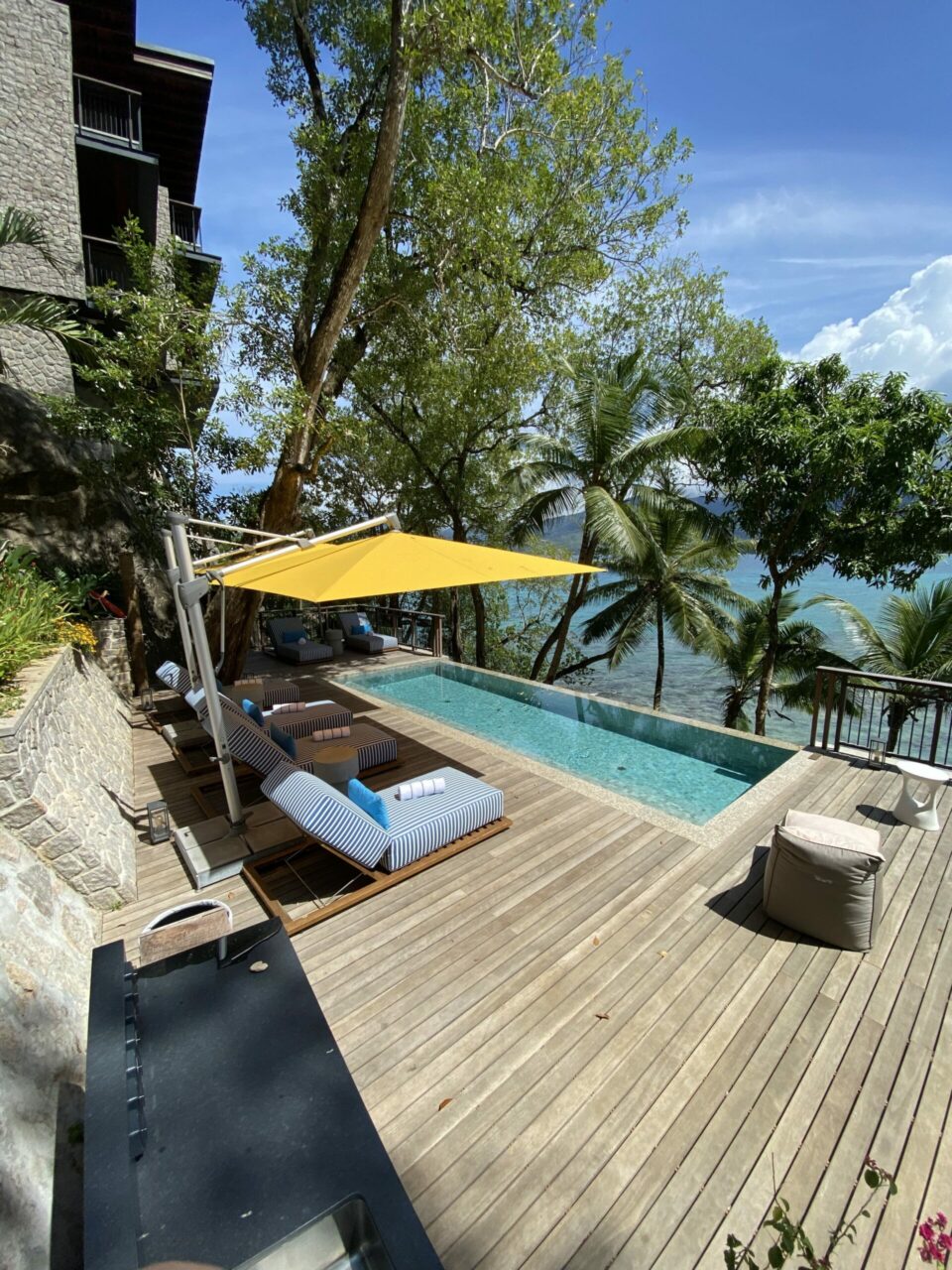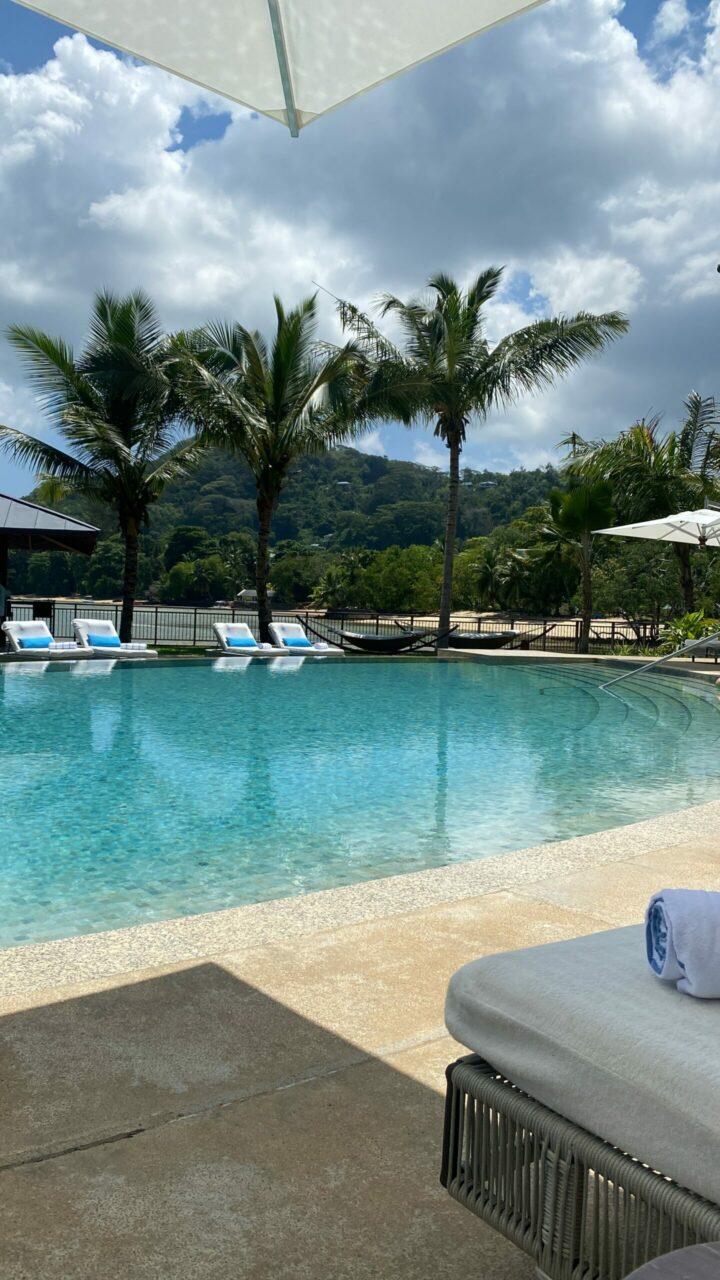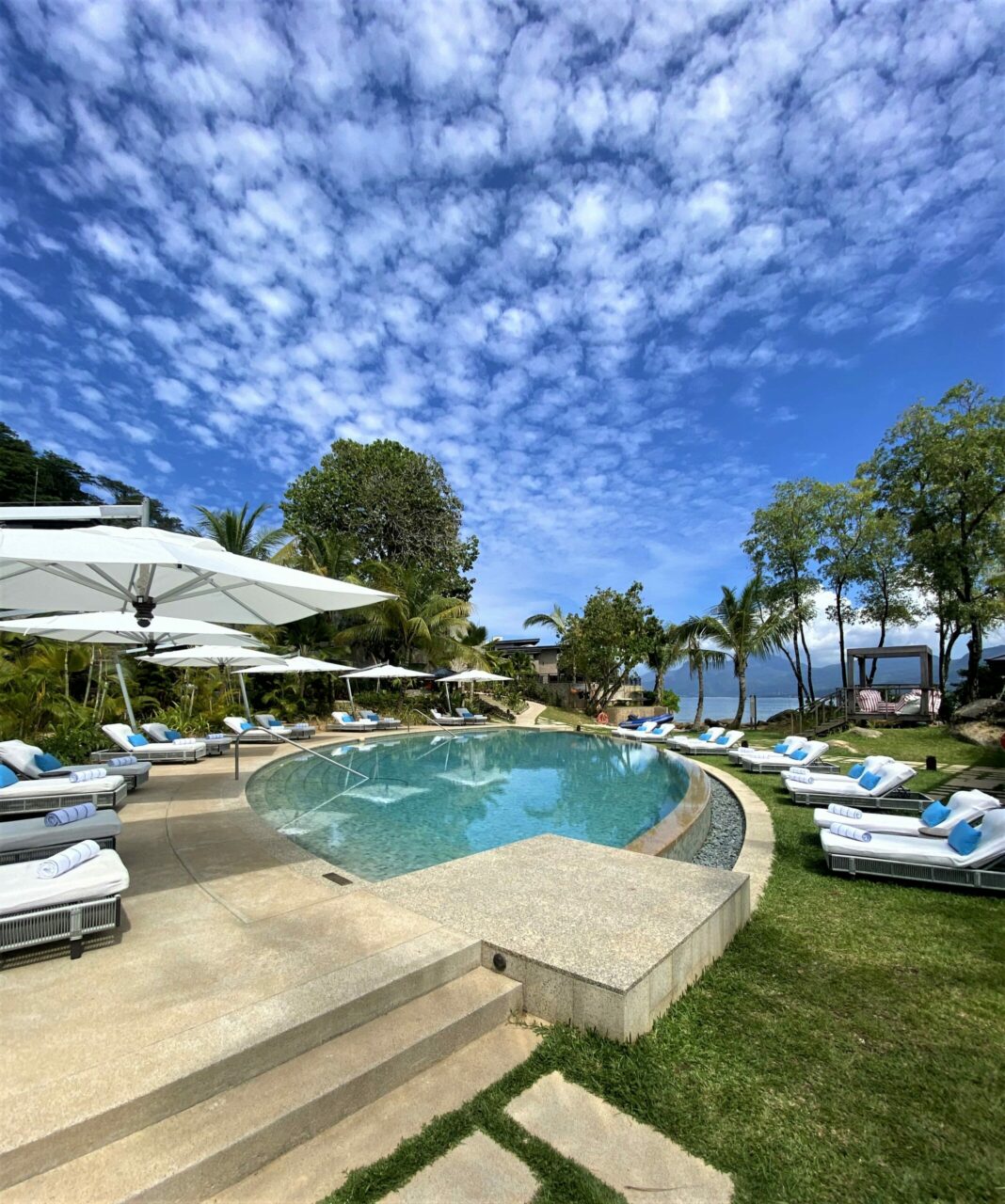 For snacks and drinks, there is poolside service or the casual Soley Snack bar.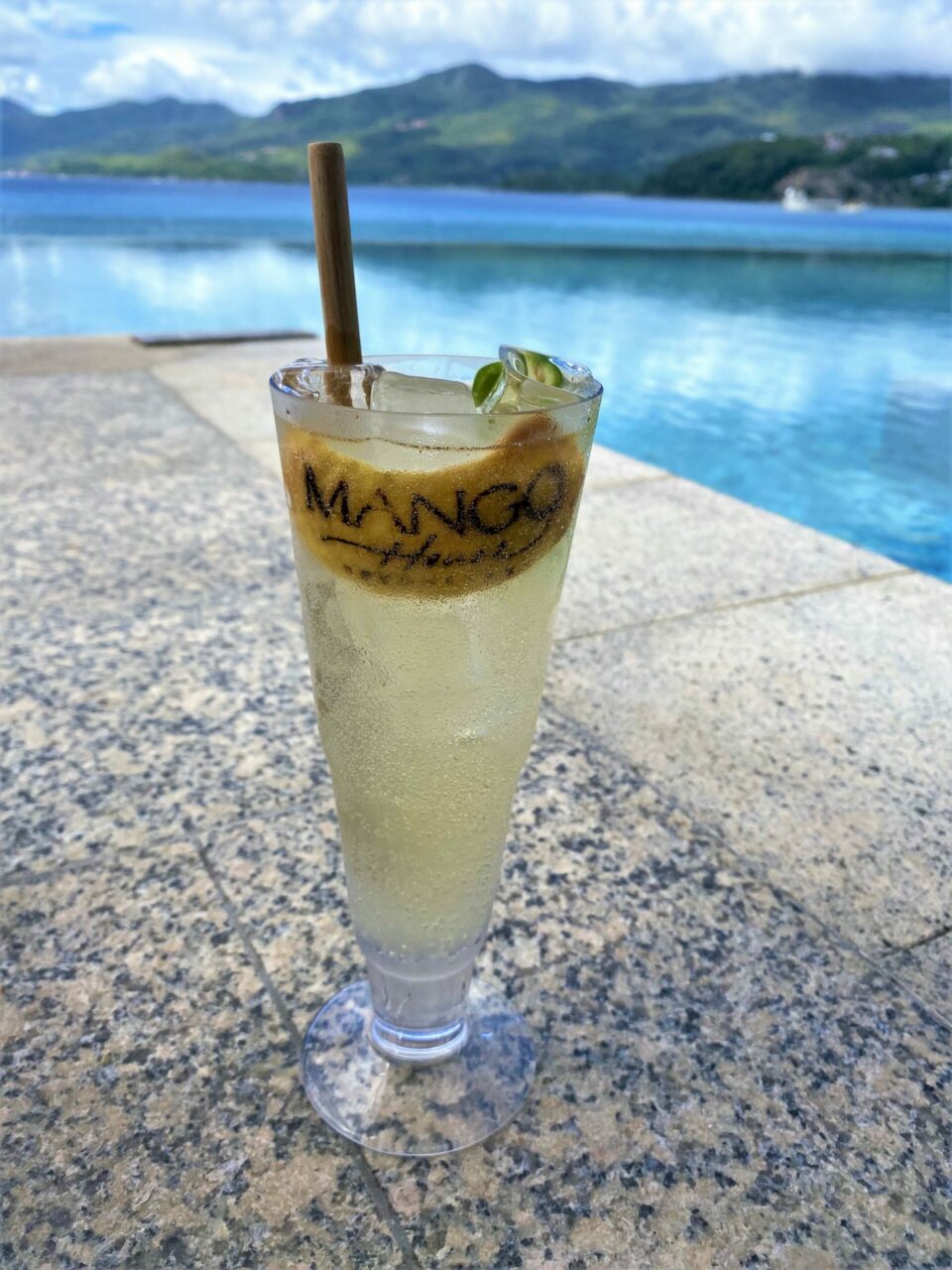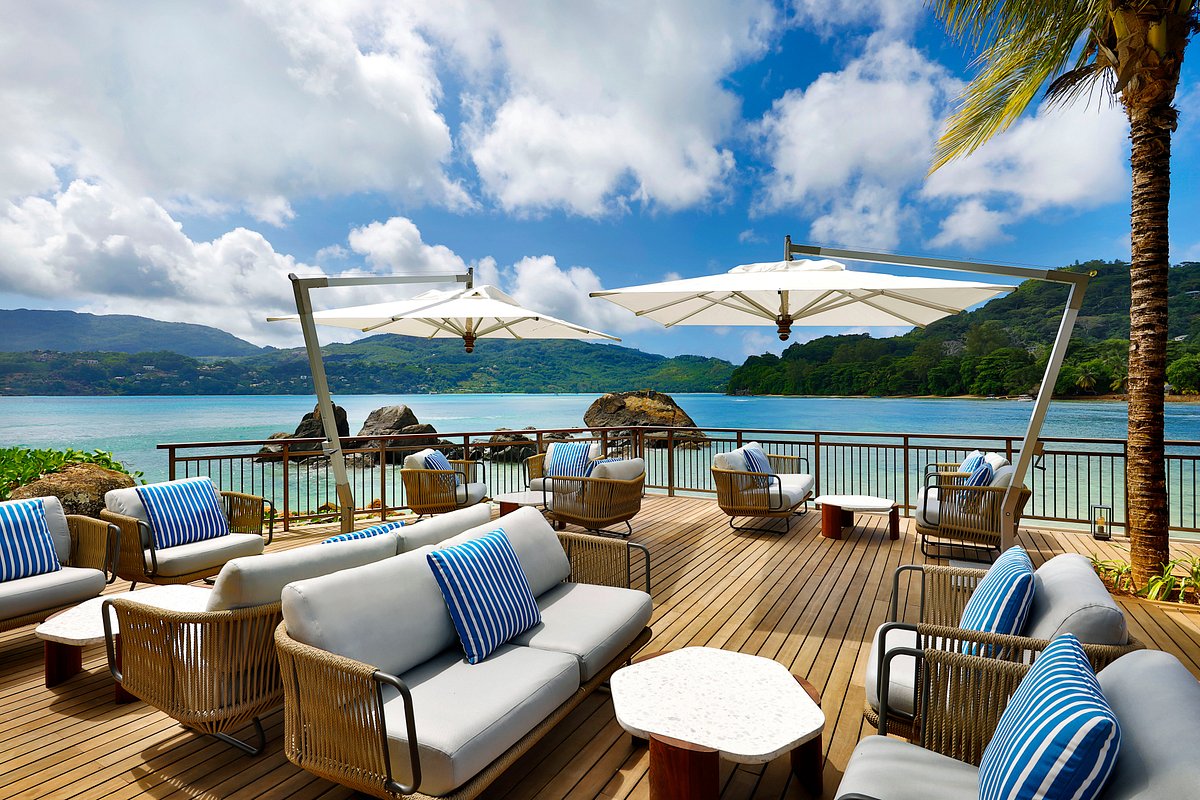 There are also two beaches with sea access and some beautiful views. It sits on Anse Aux Poules Bleues – the Aquarium of Wonders so there's plenty of marine life to explore.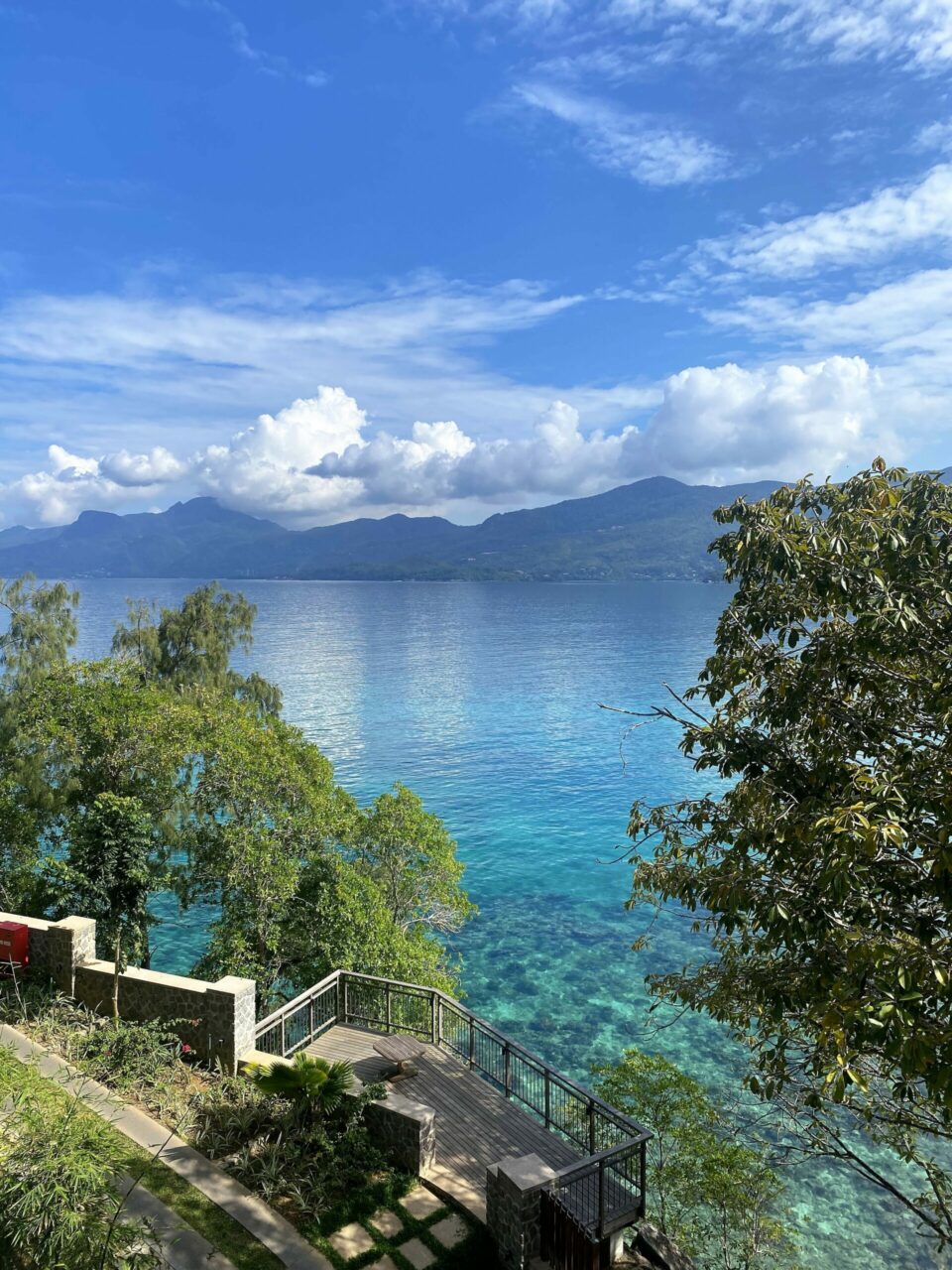 There's a small beach mainly used for beach activities such as the non-motorised water sport activities, including kayaking and snorkelling that are available. Then there's also a picture postcard and palm-fringed bay.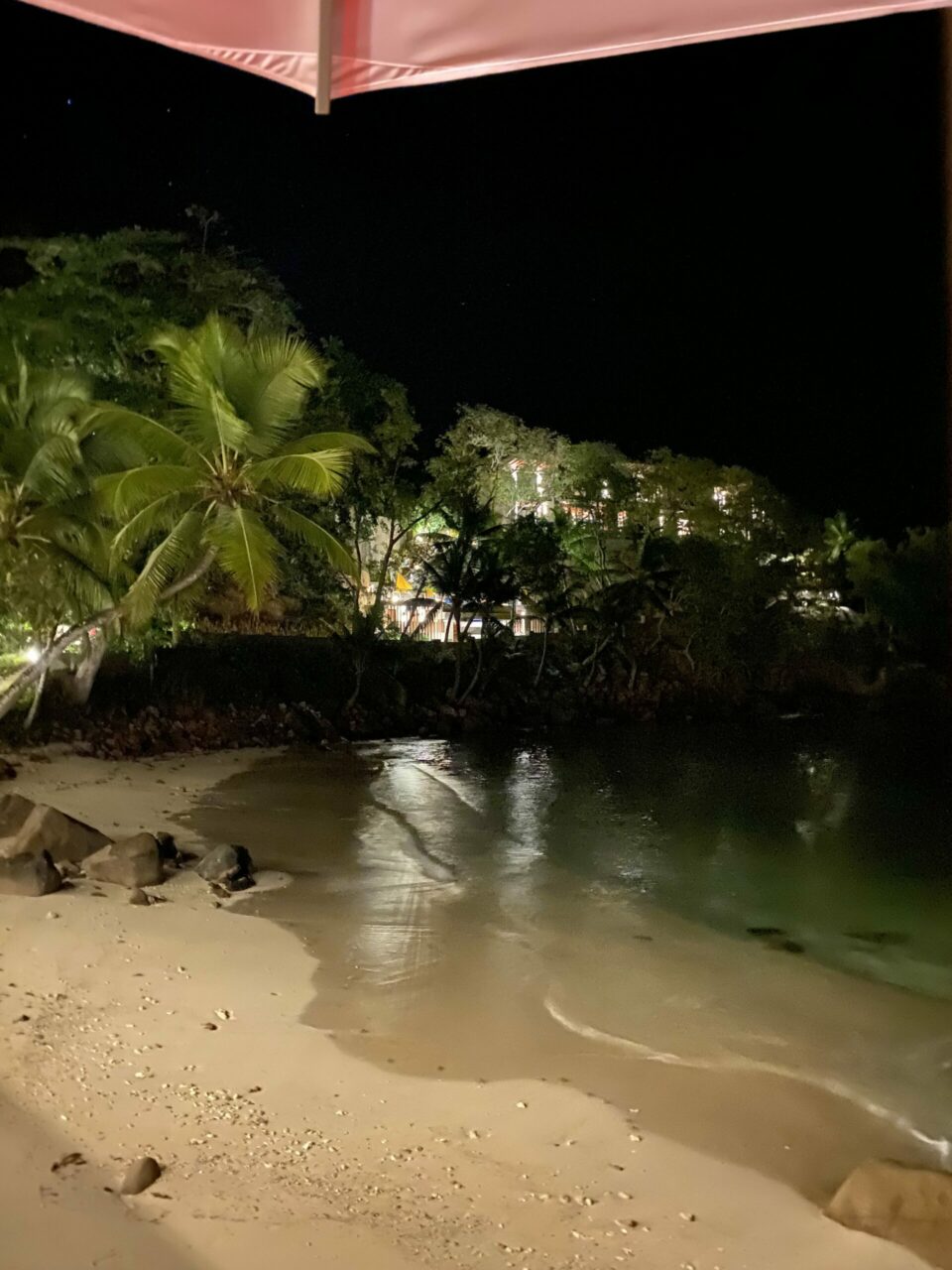 If you are taking children's there's a kids club and a local artist who comes along three times a week for arranging group or private activities like painting or storytelling sessions.
A lot of excursions and activities are on offer but given my status gave me access to the courtesy car for one day, I drove around the island for the morning. The car was free other than insurance excess (150 Seychelles rupees, fair in my opinion) and electric – also good in my opinion!
As well as the spa previously mentioned, there is also a well-equipped gym.
Leaving
I booked a hotel car back to the airport for ease and left at 18:00 for a 20:00 flight (at the hotel's recommendation). Arrived at the airport about 18:30, so no issues. The staff had noticed that I wear colourful shirts and made these cookies as a leaving gift which I thought was a lovely personalised thing to do.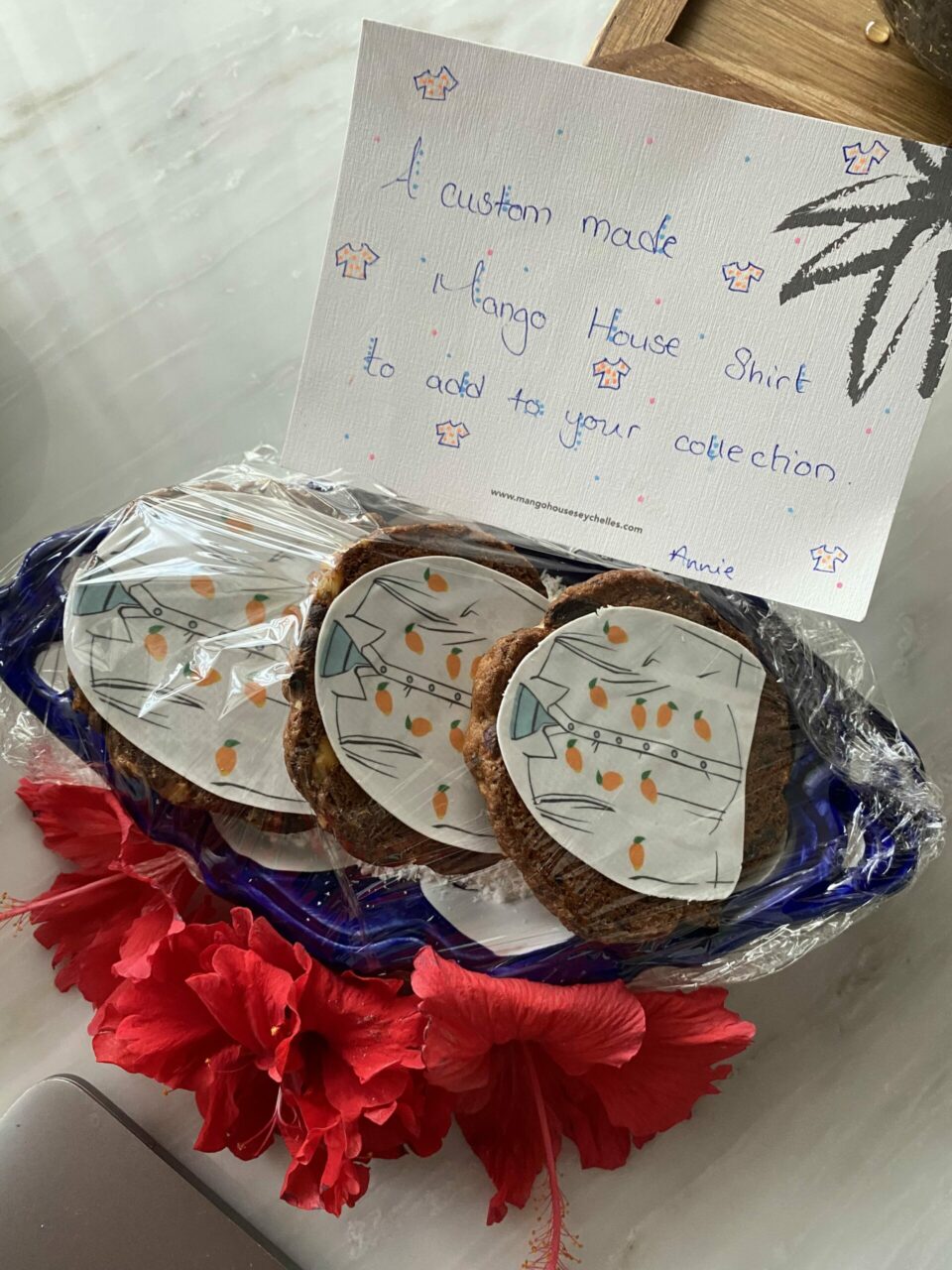 Offers and booking
If you were to pay cash, prices start at around £500. On points, rooms start from 95,000 points, so it's a good value redemption and one that could be worth purchasing points for at expensive times.
You can find more details and search for Hilton points redemptions here.
If you book through our luxury agents, GTC, then you would also get either the Virtuoso perks:
Upgrade to next available room category on arrival, subject to availability
Daily A la Carte Breakfast for two guests per bedroom
$100 USD equivalent Resort or Hotel credit, to be utilized during stay. Applicable towards our Food & Beverage outlets and towards Spa treatments. (not combinable, not valid on room rate, no cash value if not redeemed in full)
Complimentary one-way private transfer, either on arrival or departure
A bottle of champagne upon arrival with the compliments of the management & an arrival Food & Beverage amenity of delights
Early Check-In / Late Check out
Or if you have Hilton status you may want to use the Hilton Impressario rate through GTC:
Complimentary Breakfast for 2 people
$100 USD hotel credit per stay, or local currency equivalent
Next category upgrade, subject to availability
Double Hilton Honors points
You can request a quote from GTC for the Mango House hotel here.
Conclusion
The hotel really was exceptional in all angles. I would go back and it has made me want to explore other LXR properties. Newly opened, it felt fresh and staff were super friendly, everywhere. There was a great choice of different types of restaurants and the bar had some interesting cocktails as well as the classics. I also liked the relaxed atmosphere.