Yesterday I reviewed the Montage Kapalua's rooms and pools in this article. Today I will look at the other facilities and what is nearby.
The Spa at Montage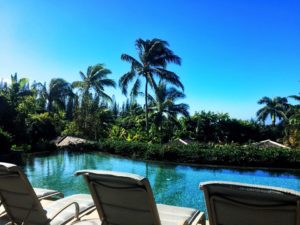 The Spa at the Montage can be used by hotel guests, even if you had not having a treatment. There are separate men and women's facilities as well as a shared infinity pool with loungers. When we arrived we were taken for a tour around the facilities.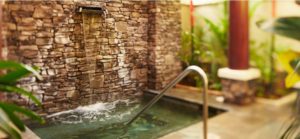 Both times I visited it was very quiet. In the women's side there is a wonderful hot jacuzzi with a hot waterfall. After that you can cool off in the refreshing bamboo rainforest. They also have a dry sauna and a eucalyptus steam room which are clothing optional. This was a wonderful way to relax and as it is adults only, a nice pool to sit by if you wanted a bit of peace and quiet.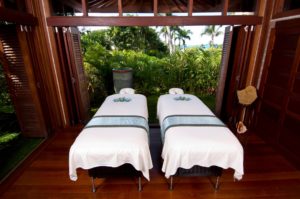 Eating and drinking
One of the things I liked most about the Montage was the ease of access to other restaurants and bars in the vicinity as well as the option to self cater. There is a great Wholefoods supermarket not far from the airport as well as a Safeway close to the Montage. The Montage will run you to very nearby hotels and restaurants in a golf cart, for the slightly further away there is a free shuttle than runs round the resorts which can be called to pick you up.
Canoe at the Montage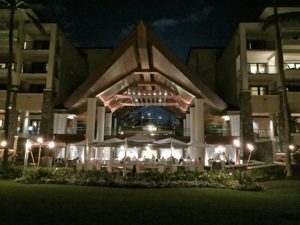 This is the fine dining restaurant at the resort which I only sampled on the first visit. We found the food to be variable. The ingredients used were all high quality and well cooked but the two dishes I sampled were not particularly exciting. To start I had the poke which is a Hawaiian speciality of marinated raw fish. The flavour was overwhelmingly sesame oil which I am not that keen on. My second course was local fish with green curry sauce. Although the sauce needed to not be too strong so as not to overpower the fish, this was just too bland for me. The fish, however was delicious and well cooked.
I believe they now have a new chef so the food may well have improved. My dining companion had scallops and lamb which he really enjoyed so I may well have just been unlucky in my choices. The service was outstanding as the friendly waitress couldn't do enough for us.
Nearby restaurants and bars
Merrimans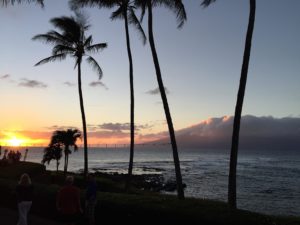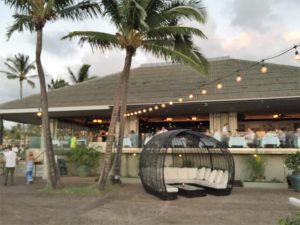 Merrimans is something of an institution in Hawaii but this one in Maui is the original one. The restaurant serves Hawaii Regional Cuisine and is a pioneer in the "Farm to Table" concept. The chef serves only the freshest products, at least 90% of which are locally grown or caught, using sustainable methods.
If you fancy visiting for dinner reservations are essential, particularly if you go around sunset time. It can be very busy at this time so on my second visit I chose to watch the sunset with a cocktail in their bar. We then had dinner later when things had calmed down a bit. One of the unique things that I loved was the fact that you can choose to have 2 half portions of the main courses if you can't make your mind up. They have daily fish specials and also a sharing menu for $75 a head for 4 courses. This was probably the best meal I had in Hawaii so it was worth the expense.
Napili Kai Resort Sea House bar
The Napili Kai resort is a great place for a sunset drink at the Sea House. I have not eaten in the restaurant but this a great casual place to watch the sun go down with a Mai tai or two and some pupu (Hawaiian appetisers). They do a happy hour from 2-4.30pm with cocktails at $8 and pupus starting at $6. It is a just a short stroll from the Montage.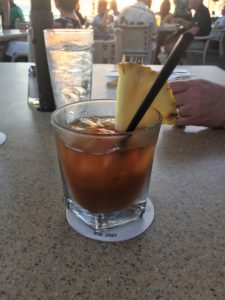 Ritz Carlton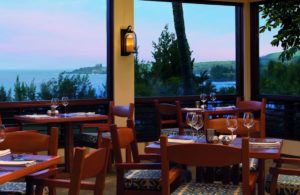 The Ritz Carlton is a short free shuttle ride away. We spent a very enjoyable evening at their Banyan tree restaurant. The restaurant features ocean views and specialises in fresh fish. The evening was made particularly by Robert our French waiter who kept us entertained all evening. Apparently he has been there since 1982! Also memorable were the crispy 5-spice duck buns with hoisin- raspberry sauce which I had to start.
Things to do
The Montage offers a range of daily activities including tide pool exploring, star gazing, yoga, ukele lessons and lei making. There are also many other things to do nearby such as the 2 nearby golf courses.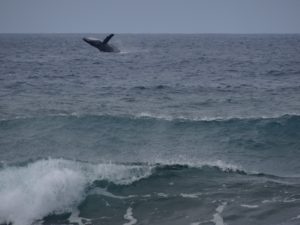 Whale watching
Humpback whales visit Hawaii each year from November to May with the peak of the season being from January to March. We took a boat tour from nearby Lahaina with Trilogy boat company who I would recommend. We saw lots of whales and it was an incredible experience to see these enormous creatures in the wild.
Lahaina
Lahaina is about 20 minutes from the Montage and worth a visit. It has over a thousand years of history, and was the capital of the Kingdom of Hawaii from 1820 to 1845. Lahaina's Front Street has been ranked one of the "Top Ten Greatest Streets" by the American Planning Association. We picked up our whale watching boat from here and then enjoyed lunch at Koa's grill on the top deck overlooking the ocean. You can also visit Fleetwood's on Front Street restaurant nearby which is owned by Mick Fleetwood of Fleetwood Mac fame.
Sunset cruise
Snorkelling
I covered this in yesterday's post which you can read here.
Luau
A luau is a traditional Hawaiian party or feast that is usually accompanied by entertainment. It usually feature a whole roast pig and a buffet along with entertainment such as traditional Hawaiian music and hula dancing. There is a nearby Luau in Lahaina called the Old Lahaina Luau. The night includes food, an open bar and entertainment. It is set on Front Street in Lahaina and you can watch the sunset over the ocean. Tickets cost $110 plus tax per person.
Saving money
I managed to save $1200 on the original price of my 4 night booking through mainly patience and a lot of checking prices on-line. When I originally booked it was high season and the prices were ridiculous. However, I decided to book on a refundable rate and see what happened as it was still some time before we were due to go.
As the time approached it was clear that people had been put off by the high prices and the prices started to drop. I cancelled my original reservation and rebooked at tghe lower price. Then about 1 month before we were due to go the price dropped again and also coincided with an offer from Venere.com (now part of Hotels.com). This was not only a 10% off voucher but you could use it in conjunction with the Top cashback which was 13%.
If a price seems high it may be worth booking on a refundable rate and seeing what happens.