You may have seen in the news that Uber is currently facing losing its license to operate in London. The license was rejected on the basis that the company is not a "fit and proper" private car hire operator and has not addressed safety concerns. Uber can now appeal and continue to operate during the appeal. In this article, I will look at what each app offers as an alternative to Uber.
In this previous article, I looked at Uber versus Gett Taxi. I have now been using Gett for a while now, including overseas and trying Freenow too. If you have an Amex card, check for offers as they often have special discounts on all the services below.
One thing to bear in mind with the black cab apps is that although they usually cost a bit more they are generally quicker than Uber or ride-sharing apps. This is both in terms of getting one and the journey. They can use bus lanes which can often help make a journey quicker in traffic.
Freenow black cab app

Freenow was formerly known as Hailo and then Mytaxi which you may have used. Freenow works in a very similar way to Gett in that it uses licensed black taxis in London, but it doesn't do fixed fares. The app is available for iOS and Android in the UK.
Like Uber and Gett you can see your cab's progress on a live map, see the registration and you can also call your driver.
Favourite Driver: You can favourite a driver at the end of your journey which makes it more likely they will pick you up again in the future.
Prebook: You can now pre-book your trip with as little as 15 minutes notice or up to 4 days in advance
Pay by app: By credit or debit card. Google and Apple pay are coming soon
Preferences: You can select multi-seat taxi, wheelchair accessible, Eco or put a message for the driver
I tried have Freenow a lot in the last couple of months and apart from the lack of fixed fares, had a better experience than with Gett. You can still get an estimate of the fare with the app and I didn't experience the same issues as with Gett when trying to get a taxi during busy periods. The drivers were all very pleasant and professional. The other good thing about Freenow as well as the additional features is that vouchers last much longer, unlike Gett where they usually expire in 2 weeks. With Freenow, the sign-up credit below lasts for 3 months, great if you are only an occasional London taxi user. Whilst Gett sign-ups are often more, you have to use them in a short time.
£5 sign up credit
If you want to try Freenow you can get £5 credit if you sign up using code michele.rob1
You find more about Freenow here or download the app.
Gett Taxi – black cab app
Gett is an app (Android and iPhone) just like Uber, although it does have much more limited coverage than Uber. It is currently available in 25 UK cities including the cities:
Birmingham
Coventry
Edinburgh
Glasgow
Leeds
Liverpool
London
Manchester
Newcastle
It is also available in New York, Russia and Israel.
How does it work?
There are variations in how the app works in different locations so this review will focus on London.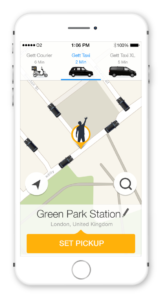 The app works in a very similar way to Uber other than you have the option to pay the driver or pay via the app. If you choose to pay via the app you simply add your credit card details to the app and then chose how much tip you want to add by % with the option to leave it at 0%. The advantage compared to Uber is that you can choose to pay a fixed price or pay the meter fare. I usually choose to have a fixed price and only rarely does the meter come to less than the fixed fare.
Using the app is as simple as Uber. The app generally knows your location and enters it automatically but you can change it if you wish. You then can enter your destination and the type of taxi you want with a choice of a normal or XL. You can see a map of where all the Gett drivers are and request a taxi just the same as Uber. Like Uber, you will get the registration number of the taxi in advance and can track the taxi. Drivers are all licensed taxi drivers, unlike Uber's private drivers.
I have often found it quicker than Uber at off-peak times with wait time no more than 2-3 minutes, several times there was a taxi actually in the rank nearby that responded. However, there is one big drawback I have found. At peak times such as when it rains or morning and evening, it is impossible to get a Gett for a shortish distance. Even though you can see lots of taxis on the map, none will pick up your fare.
You can prebook for London airports up to 4 weeks in advance which is useful though.
Other features
Gett also offers XL taxis in London which accommodate up t0 6 people. Splitting fares is available via the app as well as a delivery and courier service within London.
You can also rate your driver and in return they rate you, like Uber. This is a welcome addition as one of the reasons I stopped using taxis was some of the unpleasant characters I came across in London. Yes, I could have complained but who is actually going to bother to do that unless you are overcharged?
You can get a discount on your first ride by quoting code GTLWFOX when you sign up.
You can download the app or find more about Gett Taxi here.
Bolt

Bolt is a fairly new player and works in almost an identical way to Uber. It claims to be the fastest-growing ride-hailing platform in the world. Currently, they have a service in more than 150+ cities including many in Europe, Africa and a few in Asia and the Americas.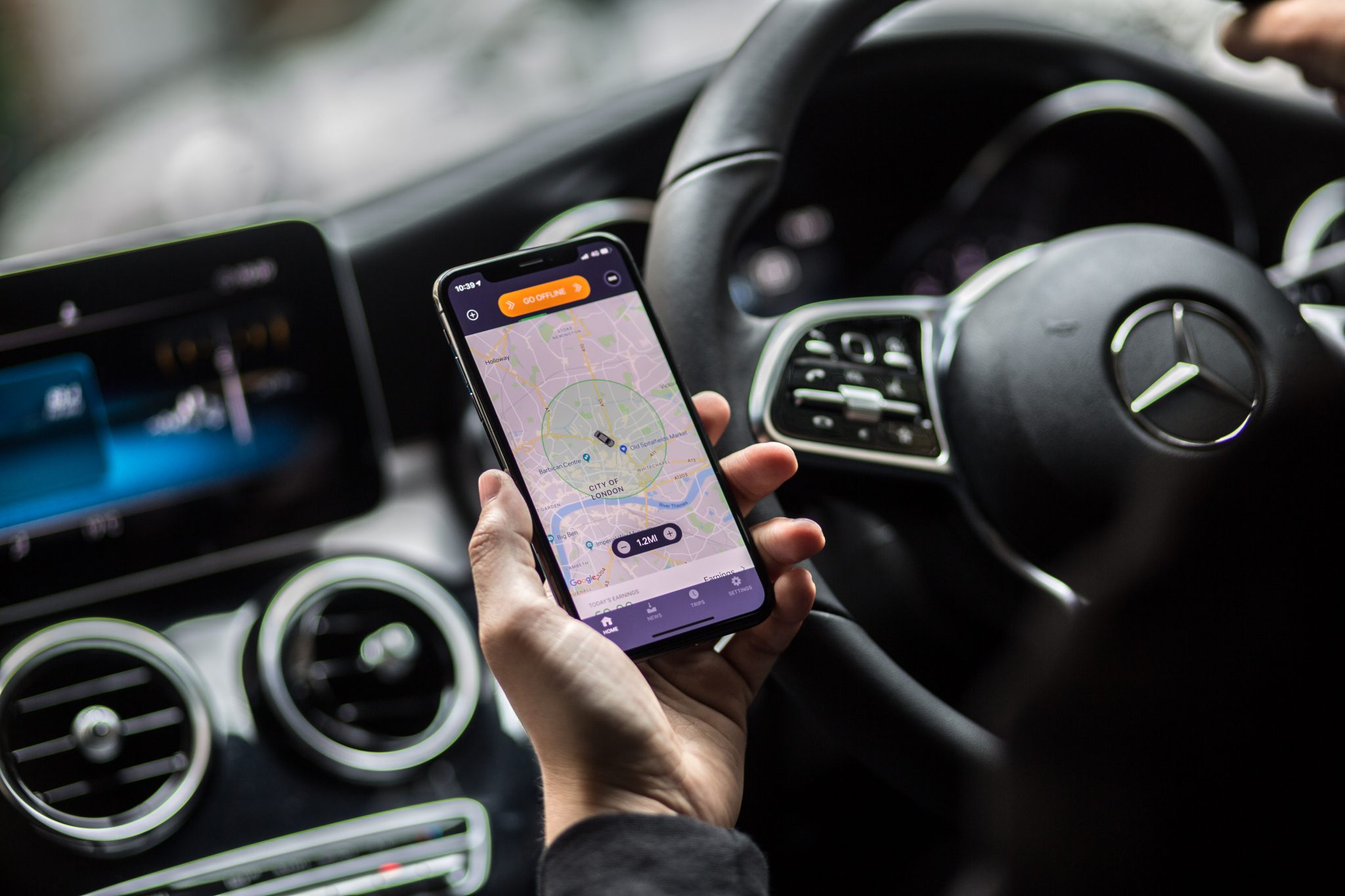 Last night we tested Uber vs Bolt vs Kapten and Bolt was the quickest response time to our location. All Bolt rides in Europe are 100% carbon-neutral. They also claim to be the cheapest ride due to taking a lower commission from drivers. There is also the same choice of cars as Uber with XL and Executive options.
The ride was just the same as Uber and the driver pleasant and professional. We would use them again.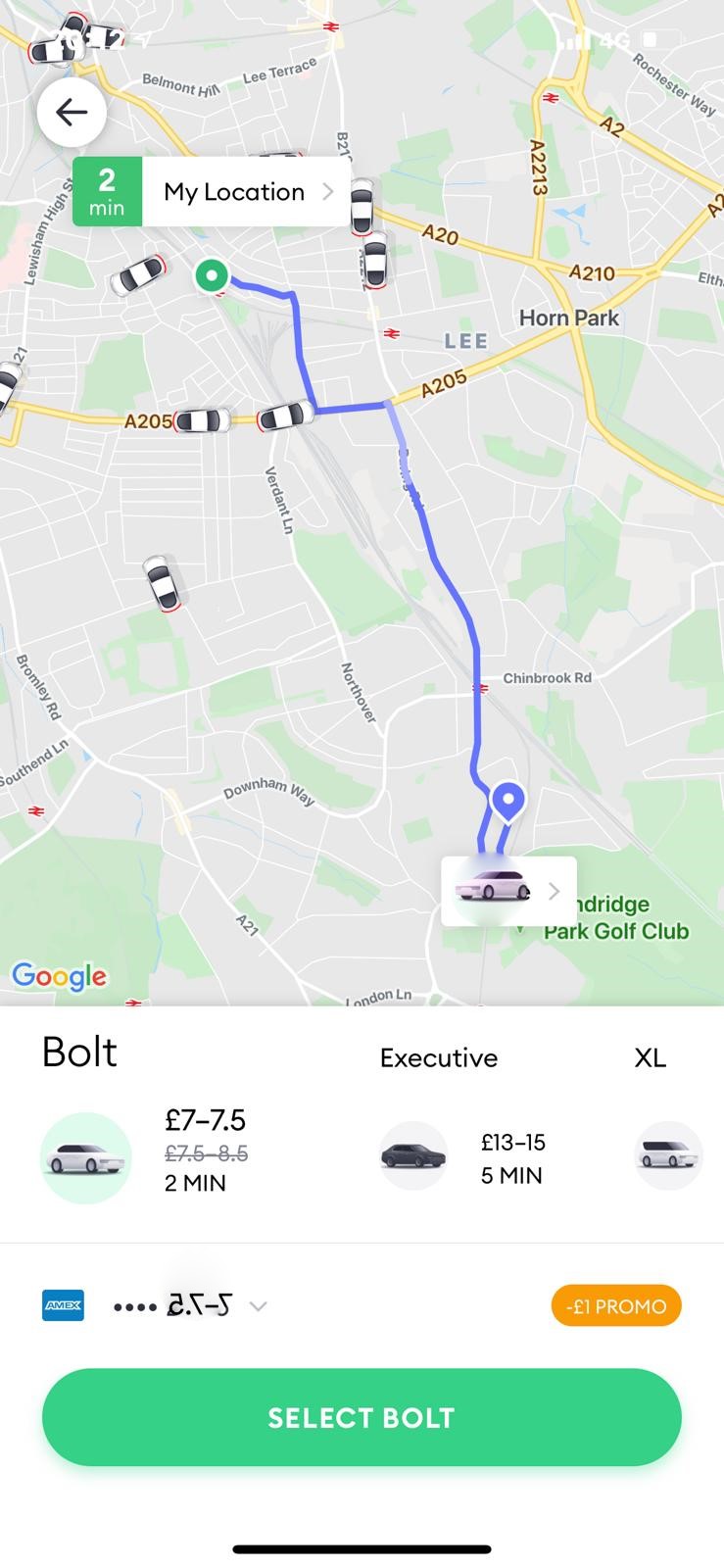 You can get £8 credit when you use the reference FRTMKD for your first ride. You can find more information about Bolt here or download the app.
Kapten
Kapten is a similar service to Uber and Bolt but with a loyalty scheme (Uber operate loyalty schemes in the US which is due to expand). The company do sadly also have surge pricing like Uber. They aim to get a car to you within 5 minutes anywhere in London. They do offer a guaranteed fixed price for your ride, no matter your route. Kapten have a choice of standard or electric cars. As well as London they operate in Paris, Lyon, Nice, Cannes, London, Lisbon and Porto.
You either use Apple pay when you book or a pre-registered credit or debit card.
Their loyalty scheme operates as follows: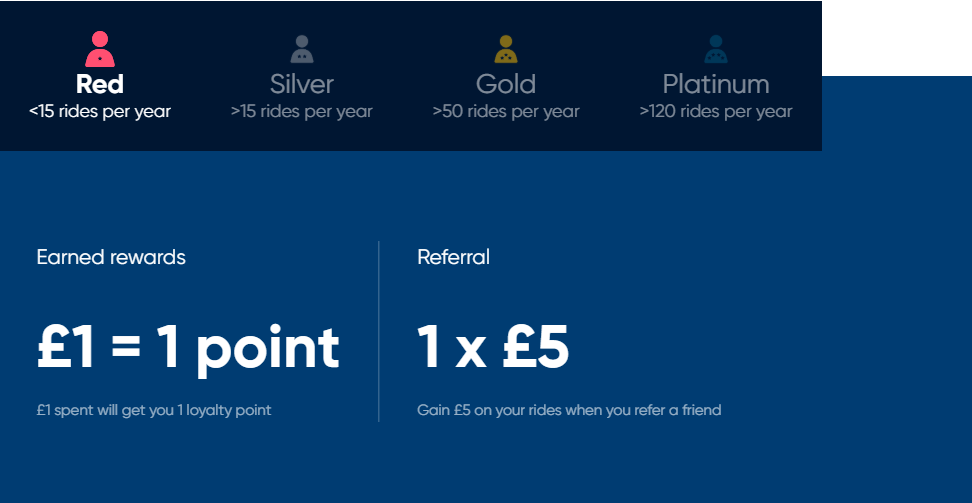 Silver = 2 points per £1 spent and £10 referral
Gold = 4 points per £1 spent and £15 referral
Platinum = 5 points per £1 spent and £20 referral
When we tried to get a Kapten it offered one within 3 minutes, even though we were well outside central London.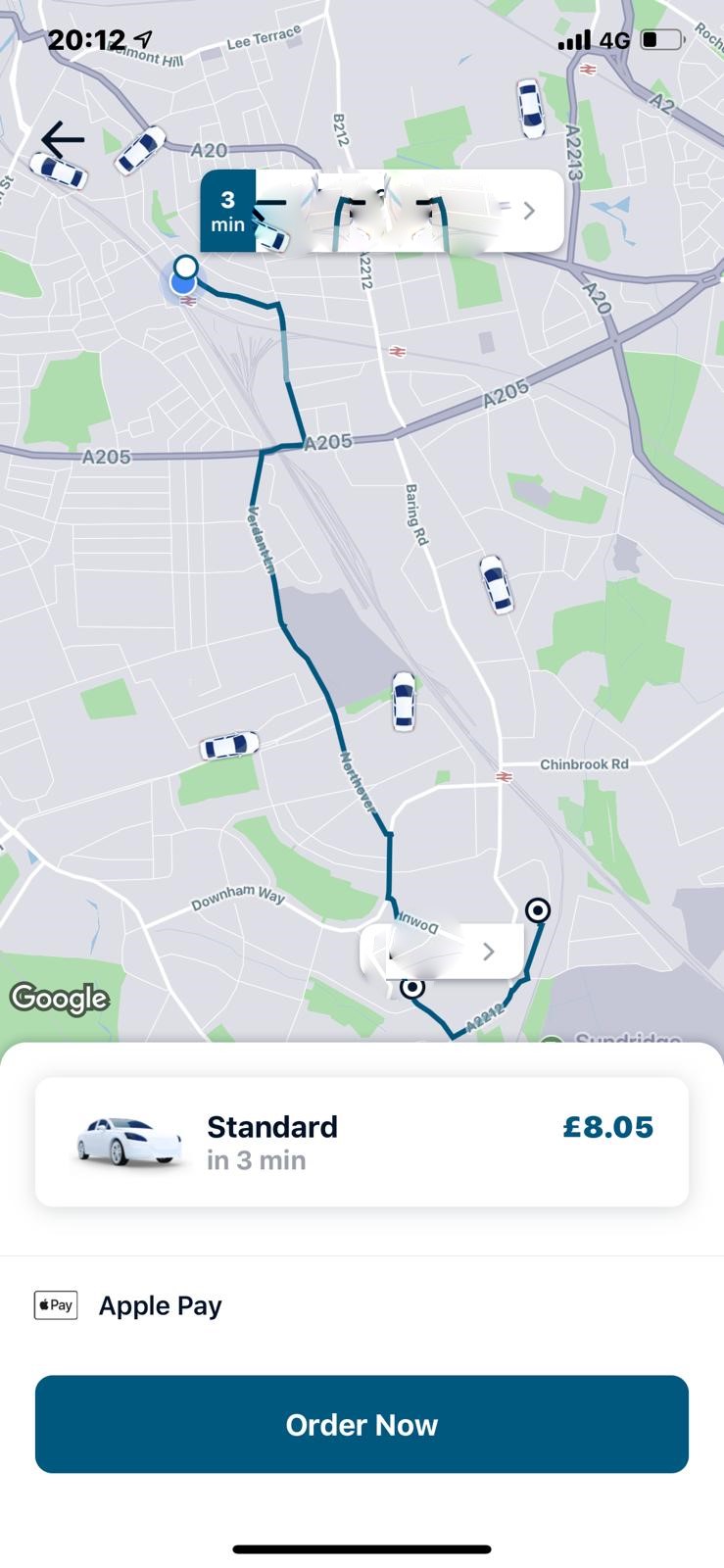 You can get a free first ride with Kapten by entering the code MICROB73. You can find out more about Kapten here or download the app.