US could allow vaccinated not to quarantine?
In a move that is likely to annoy younger readers who face a long wait for a vaccine, the US has updated its CDC guidance on quarantining for those vaccinated. President Biden recently said that he was going to put in place measures to quarantine travellers, even though it is very difficult to do this at a federal level.
There may be some signs that the US could allow travellers to skip quarantine although nothing has been formally announced yet. The CDC which sets quarantine regulations has published that if those that are fully vaccinated come into contact with someone who is known to be infected, they do not need to quarantine providing they remain symptom-free. This could also pave the way for vaccinated travellers to not have to quarantine or to be able to enter the country since they are acknowledging there is reduced risk. I suspect that testing will still remain.
The official announcement says
Updated quarantine recommendations for vaccinated persons. Fully vaccinated persons who meet the criteria will no longer be required to quarantine following exposure to someone with COVID-19. Additional considerations for patients and residents in healthcare settings are provided.
Hotel quarantine details revealed – website crashes
Yesterday, the government unveiled the details and booking website of their new hotel quarantine for English international arrivals and guess what? – it crashed and was taken offline to be sorted out. I managed to get on for a brief time and you basically just select your dates and are told it will be £1750. There were no rooms available for the 15th and 16th so what they expect people flying in to do on those dates I have no idea.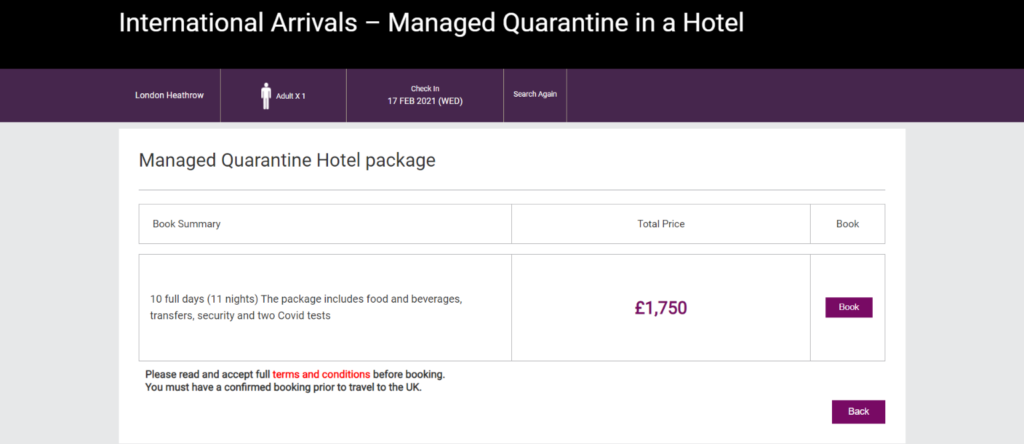 You have to pay in full at the time of booking
If you need to cancel your reservation you need to do it 48 hours before arrival or a charge of £200 will be applicable. The remaining amount paid will be refunded to you. If you need to change your booking, they will try to help you is all it says.
It costs £1750 for a single person and then £650 per extra 1 adult (or child over 12) or for a child aged 5–12 it's £325.
The rate includes accommodation, breakfast, lunch, evening meal and hot and cold drinks, 2 Covid tests and transfer from the port of arrival to and from the hotel at the end of your quarantine.
Which hotels are they using?
Details of hotels are also emerging and if the government's reason for doing this is partly to put people off travelling, when you see some of the hotels they have got, it should do the trick! The list below is what has been identified so far in the media.
Ibis Styles London Heathrow East
The Thistle Heathrow (according to Roving Reporter one of the worst hotels he has stayed in)
The Renaissance Heathrow – this actually a decent hotel.
Novotel Terminals 2 and 3 – its not a bad hotel being pretty new but the rooms are very small to be stuck in for 10 days.
The Renaissance at Heathrow is one of the hotels which would be great if you are a plane spotter and got a runway view room. But the rooms can be noisy with aircraft noise and there is no outdoor space. I think 10 days of that would drive you mad.
Ten days in the Thistle would be enough to break me I think. Apparently, Roving Reporter is not alone in his thoughts. One reviewer on TripAdvisor wrote "Yes, the bed was comfortable but the furniture in the room had seen better days and then there was the bathroom! As you can see in the photos, this was not a bathroom that you would want to take a shower in….. disgusting to say the least!" as he left 1 out of 5. The overall score is a poor 3.5 out of 5.
The Ibis is at least modern and gets a decent 4.5 out of 5 on TripAdvisor. But of course, you can't choose which one you get.
Given that rooms at these hotels sell for around £60 a night or £600 for 10 nights, I'd like to know where the other £1150 is going. Food, security, tests and transfers do not cost this much unless they are assigning one guard per person! And you'd hope the government would also get a group booking discount. If you look at the price for an extra adult who gets everything but presumably is not charged for the room, it is £650 making a total of £1250 if you add both the usual cost of the room and the extras. The second adult is in effect paying for such as food, transport, and tests. £650 seems expensive unless they are serving 3-course meals for lunch and dinner.
Which are the 33 countries on the red list?
Angola
Argentina
Bolivia
Botswana
Brazil
Burundi
Cape Verde
Chile
Colombia
Democratic Republic of Congo
Ecuador
Eswatini
French Guiana
Guyana
Lesotho
Malawi
Mauritius
Mozambique
Namibia
Panama
Paraguay
Peru
Portugal (including Madeira and the Azores)
Rwanda
Seychelles
South Africa
Suriname
Tanzania
Uruguay
UAE
Venezuela
Zambia
Zimbabwe
How often will they review the list and add more countries?
With travel corridors, the announcements were usually made 24 hours or longer in advance, every Thursday. The government has said that countries could be added to the red list with only a few hours notice. However, obviously if they did this and a large number of passengers were flying back they would have to find hotels rooms for them. They are due to review the scheme every week but could add new countries at any time.
How long will the scheme last?
There are some rumours that the hotel quarantine scheme will end at the end of March but I find it hard to believe that they will go to all this trouble for 6 weeks. They are due to review the situation on a weekly basis.
I think it is more likely that general restrictions on leisure travel will be lifted by end of April, with another version of travel corridors by May. This seems to be the rough view of most of the travel companies, that holidays will start by May or June.
The government website is here.