Abu Dhabi will end quarantine requirements for all international visitors, starting from July 1
Authorities in Abu Dhabi have announced that they will be ending quarantine for all international arrivals starting from July 1st. It has been revealed that the system will be closely modelled on the system currently used in Dubai.
According to executive director of Tourism and Marketing, DCT Abu Dhabi Al Shaiba:
"It will be similar to the Dubai system – the PCR protocol will be different from high-risk to low- risk destinations. Quarantine will not be an option".
Currently, the country required travellers to quarantine for a minimum of 10 days, unless they are from a 'green-listed' country.
"We are announcing an extended green list – this green list will cover a majority of the markets that we are tapping into. Hopefully, by the first of July, everybody will be allowed to travel to Abu Dhabi."
Al Shaiba also said that Abu Dhabi is monitoring new markets, to see where new opportunity may lie – after losing the visitors from larger markets such as the UK, India and Germany, which are still suffering significantly from the COVID-19 pandemic.
"We're monitoring and analysing these markets on a weekly basis, to find out where are the opportunities (and) which markets we can tap into, to cover the loss that we might have in other markets" he said.
Abu Dhabi has also said it will be enhancing its border with Dubai, in order to make movement between the two nations easier both for residents and visitors. According to Al Shaiba, they are 'working with the government on a plan for that border to make it more tourist friendly'.
"We can have specific procedures for tourists, so their pass through the border will be much easier, more convenient and seamless as well."
US airline JetBlue take delivery of an A321LR with Airspace interior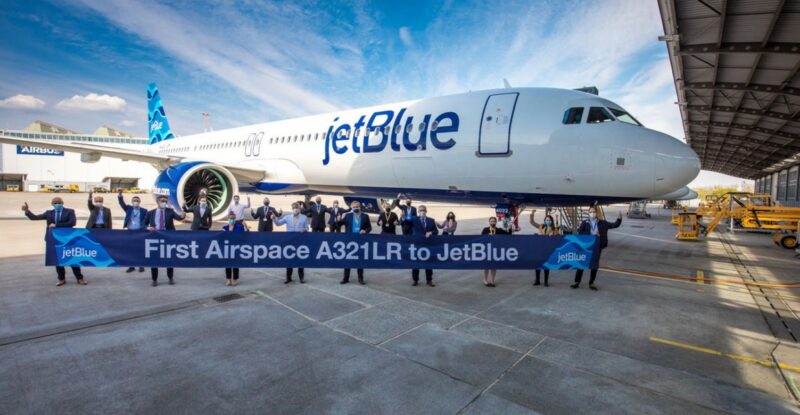 The U.S.-based JetBlue Airways has announced the arrival of the first of the thirteen A321LR aircraft, featuring Airbus' new 'Airspace' interior.
These new A321LRs are all part of JetBlue's plan to extend their services, with the airline taking on the transatlantic market starting with direct flights to London later in 2021.
In addition, a further 57 Airbus aircraft have been orders, including other A321neo variants, which will also feature Airspace cabins. By bringing the Airspace interiors to a single-aisle format, JetBlue's A321 cabins will be the first in the world to feature the much anticipated new Airbus interiors, which have won awards.
Notable upgrades include cabin design-language and passenger-pleasing cabin features.
Robin Hayes, CEO of JetBlue Airways Corp. said:
"At JetBlue we are eagerly looking forward to introducing the Airbus A321 Long Range single-aisle aircraft with Airbus' Airspace interior for our new transatlantic services. These aircraft will allow us to offer our customers attentive, boutique-style service, while also ensuring ample personal space, larger overhead bins, customized lighting and a design that gives the cabin a wide-body feel."
Passenger-friendly highlights include (according to the website): unique welcome and customisable hero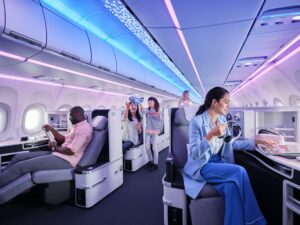 lighting (which helps reduce jet lag); new slimmer sidewall panels for extra personal space at shoulder level; better views through the windows with their redesigned bezels and completely integrated window shades; the latest full LED lighting technologies; the largest overhead bin in class; and new lavatories with hygienic touchless features and antimicrobial surfaces.
In addition, the wide cabin cross-section of the A320's also enables more comfort – in every class. 24 full-flat adaptive-mattress seats can be found in the airline's 'Mint' premium-class private suites, and economy passengers will appreciate the 18.4inch seats, engineered seats that provide extra comfort and leg room. Most economy seats will offer a full 32inch pitch, while four rows on each aircraft will be designed to offer "Even More Space" seating, with around an extra five inches (making it the most legroom in any transatlantic economy class seat).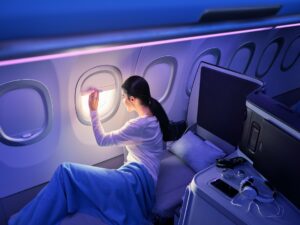 Passengers can also expect to remain fully connected on board, with unlimited, free high-speed Wi-Fi, and stay entertained with an extensive library of seatback entertainment available to everyone. In-seat power will allow travellers to stay charged up, and new integration using the seatback systems will allow passengers to choose their own meals, drinks and snacks, via their screens.
Christian Scherer, Airbus Chief Commercial Officer, said the aircraft was a great choice for long-haul flights.
"We are thrilled to have JetBlue set yet another trend and introduce Airbus' new Airspace cabin on its long range service. For sure the outstanding comfort and in-flight transatlantic experience on board these aircraft will be a winner – for JetBlue, its valued passengers and crew alike!"
JetBlue was unveiled as the launching customer for Airbus' Airspace cabin for the A320 Family at the APEX Expo in Long Beach in 2017. The partnership between Airbus and JetBlue began in 1999 when JetBlue was launched and took delivery of its first A320.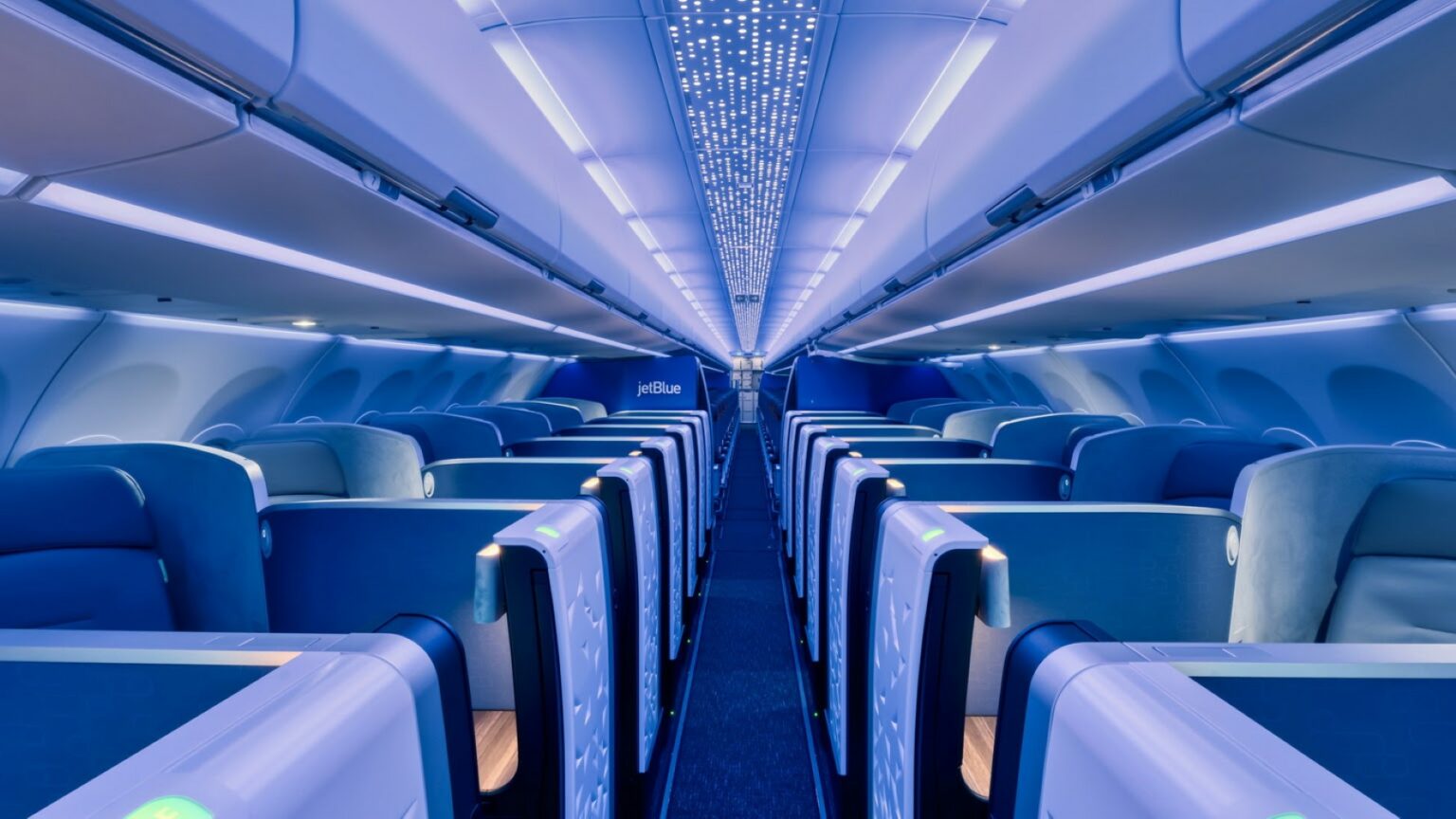 The A321LR, a member of the A320neo Family, delivers 30 percent fuel savings and nearly 50 percent reduction in noise footprint compared to previous generations of aircraft.
ANA install world's first hands-free toilet doors on 21 planes

ANA have announced that they will be installing touch-free bathroom doors as part of the ANA Care Promise initiative.
It is believed that the doors will help reduce physical contact with touchpoints onboard aircraft, which will in turn limit the potential spread of pathogens.
ANA, who have received a 5-star rating for the last eight years, are Japan's largest airline. They have partnered with JAMCO Corporation in order to develop the technology, which ensures easy access to lavatories without needing to use hands or come into contact with popular touchpoints.
The doors are just one aspect developed as part of the ANA Care Promiseblank initiative, which is designed to ensure the safe future of airline travel. The first hands-free doors will be introduced to domestic flights starting May 1.
Shinichi Inoue, Senior Executive Vice President, Customer Experience Management & Planning said that the doors are just one of many changes to come.
"Guided by the principles of ANA Care Promise, we have continued to invest in the development and implementation of innovative technologies because the health and safety of passengers and our staff is the top priority. The hands-free lavatory door is the latest example of us putting this principle into practice as we look for ways to make the travel experience safer and more convenient."
In order to ensure everyone knows how to use the new toilet doors and locks, new signage has also been installed nearby with instructions. The new doors are now equipped with large 'inner' door locking knobs, plus an additional handle, which means passengers can open the door with their elbows.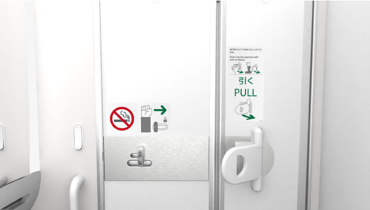 The ANA Care Promise program has been recently initiated in response to the COVID-19 pandemic, and aims to 'go above and beyond the recommendations from public health officials in order to keep passengers and employees healthy'.
ANA is the first airline in Asia and only the fourth in the world to receive the SKYTRAX Airline Safety 5-Star rating which confirms the effectiveness of ANA Care Promise.
Putting aside Covid, toilet door handles have always had the ability to be a germ fest when people don't wash their hands. Hopefully this design will be included on more aircraft in the future.