Another way to get to New Zealand on Avios with American Airlines
American Airlines have announced they will launch the only nonstop service from Los Angeles International Airport (LAX) to Christchurch, New Zealand (CHC), next October. The airline is also adding the only direct service between Dallas Fort Worth International Airport (DFW) and Auckland, New Zealand (AKL), which will increase Avios redemption opportunities for getting to New Zealand. The other airlines currently available on Avios to New Zealand are Qantas, Malaysia, Cathay and JAL. You fly BA to several destinations in Asia as well as Sydney and then connect on to another carrier. This would be a good example of using a BA Multi Partner redemption to save Avios by using 2 non BA oneworld partners. You could fly around the world with multiple stops as the miles calculated are based on distance flown, not individual flights. You can read more about it here.
These routes are a direct result of the recently approved joint business with Qantas, which delivers new customer benefits like enhanced codeshare opportunities and increased frequent flyer benefits for American and Qantas customers.
American will fly to CHC three times per week from October 2020 through March 2021 on a Boeing 787-8. The 787-8 features 20 Flagship Business seats and 28 Premium Economy seats, providing additional comfort for the 13-hour flight.
LAX to CHC creates unique one-stop connections to the South Island not previously available by any other carrier. Qantas and Jetstar will connect passengers from CHC on to Wellington and Melbourne — some of the most popular destinations in the Pacific.
Benefits of the Qantas Joint Business
American and Qantas recently received final approval to form a joint business. Qantas will increase from six weekly flights between Sydney, Australia (SYD), and DFW to daily service by mid-2020. Additionally, Qantas announced new service from San Francisco International Airport (SFO) and Chicago O'Hare International Airport (ORD) to Brisbane, Australia (BNE), which will launch in February and April respectively. Qantas will have its code on American's new flights to New Zealand, giving Qantas frequent flyers more opportunities to earn and redeem Qantas points and status credits on American. Next year, American and Qantas will provide the most service to Australia and New Zealand from the United States.
Los Angeles–Auckland flights beginning in October 2020 will be available for purchase starting 9 Nov. New Los Angeles to Christchurch and Dallas to Auckland will be available for purchase starting 30 November.
Origin
Destination
Departure Time*
Arrival Time*
Season
DFW
AKL
10:30 p.m.
7:40 a.m./8:40 a.m.
(+2 days)
Oct. 25, 2020–March 25, 2021
3 x weekly through Nov. 29
Daily starting Dec. 1
AKL
DFW
11:15 a.m./12:15 p.m.
7:10 a.m.
Oct. 27, 2020–March 27, 2021
3 x weekly through Nov. 29
Daily starting Dec. 3
LAX
CHC
11:30 p.m.
9:25 a.m./10:25 a.m.
Oct. 25, 2020–March 24, 2021
3 x weekly
CHC
LAX
1:10 p.m./2:10 p.m.
6 a.m.
Oct. 27, 2020–March 26, 2021
3x weekly
Qatar tasting menu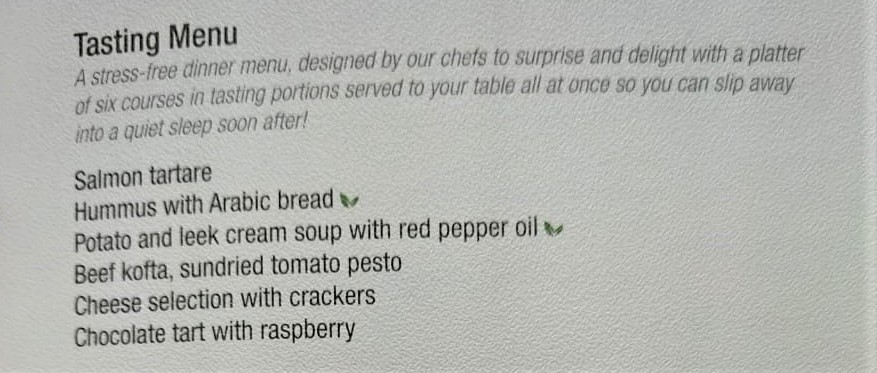 I have just completed 4 flights with Qatar and was pleasantly surprised by a new tasting menu option for short late-night flights. It is not a tasting menu quite as you might expect if you ever did BA's A380 First tasting menu. Instead, it is more like a complete meal of lots of small elements served together. I really liked this idea as it meant not only was the meal served in a much shorter space of time than usual, but if you weren't eating there was less disturbance. As the elements are all delivered together the cabin crew make far less trips up the aisle.
Here was my meal: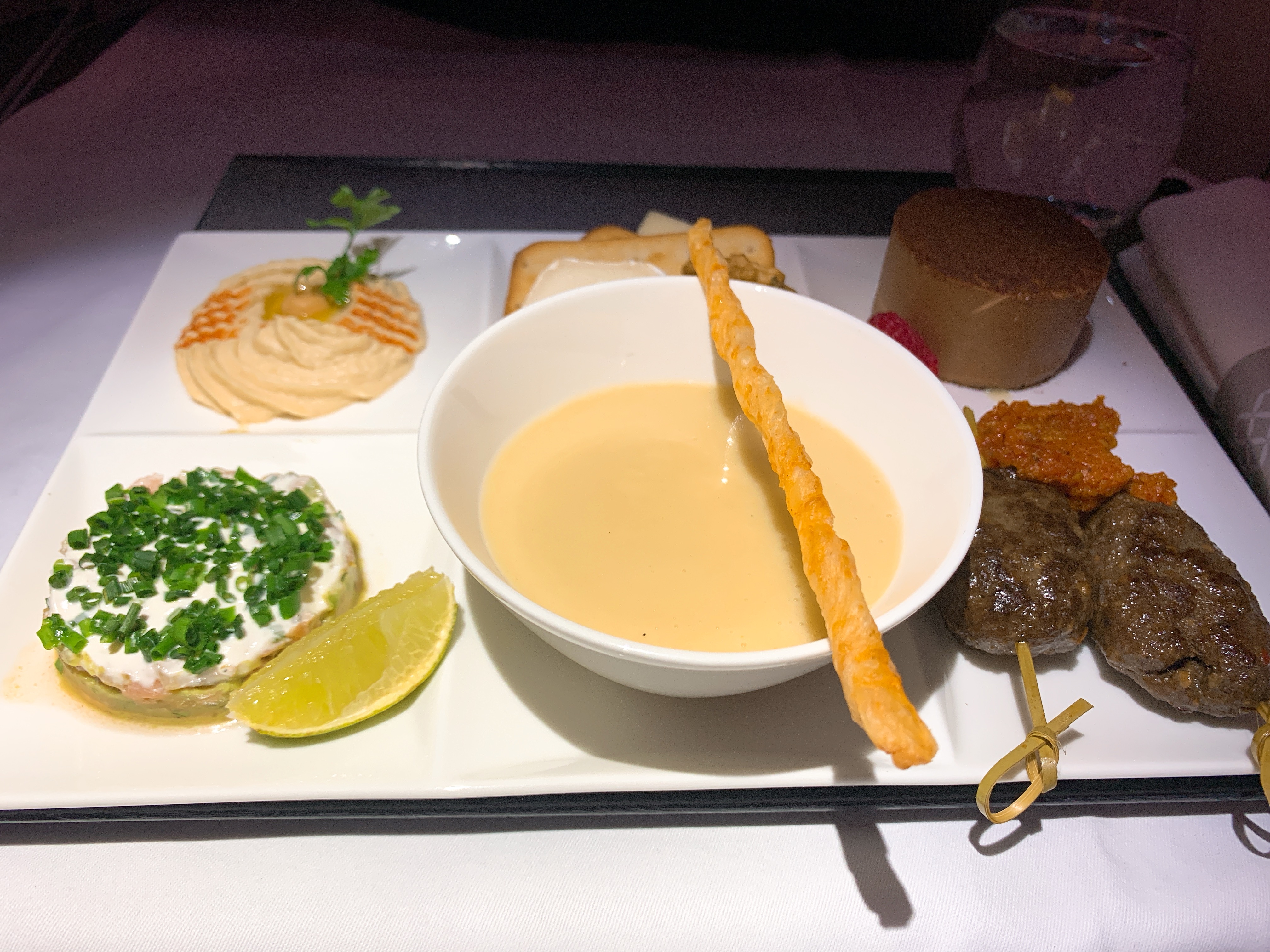 Not only was it presented well, but it tasted delicious too. It was just the right amount of food too.
I only had a couple of minor complaints – I would have liked some bread to go with the hummus and the crackers for the cheese were a bit soggy, probably from being stored next to the cheese. All in all, another great idea from Qatar.