Battle of the A350s
The last few weeks have seen both BA and Virgin take delivery of their first A350s. We have been able to have a good look at the BA Club Suite and enjoy a short flight on the new aircraft. Virgin's new Upper Class we have only seen in a mock-up cabin so far. Paul will be on the press flight to New York in September to check it all out for you and then I will be travelling as a normal commercial customer to give you the full low down. Paul will also be checking out BA's A350 on a long haul flight in early October.
British Airways
In the meantime, BA have been preparing their A350 for its first commercial long haul flight to Dubai. The aircraft is being put through its paces with extensive service trials ahead of it starting long-haul flying to Dubai on September 2.
The airline took delivery of its newest aircraft featuring its latest generation business class seat, Club Suite, on July 29. Not only is the aircraft quieter than some of its predecessors, there are also environmental benefits to flying on the state-of the-art A350 as 25 per cent lower fuel burn significantly reduces CO2 emissions.
Since its arrival, the A350 has flown over 15,400 miles between Heathrow and Madrid completing over 40 take-offs and landings to further familiarise the airline's crew with the service they will deliver on the new aircraft.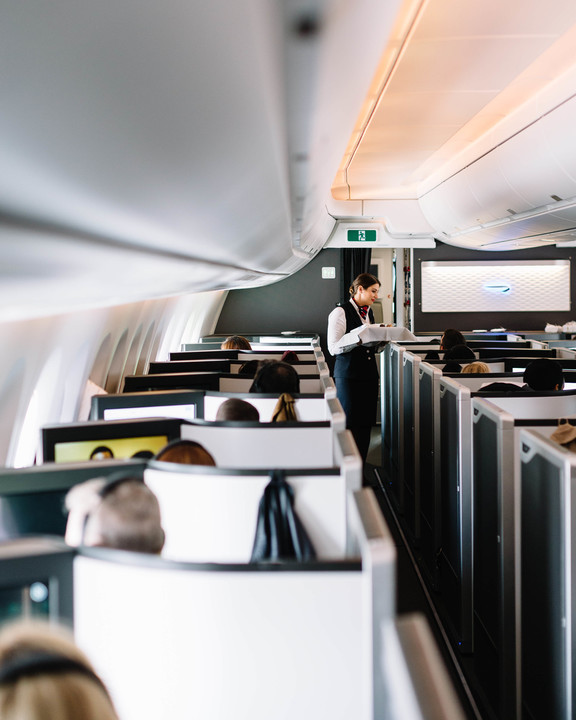 As well the short haul flying to put the aircraft through its paces to technically test all aspects of its performance, while finessing the service, the airline has also simulated a long haul flight on the ground at Heathrow. This week, 331 volunteers took part in a trial, giving cabin crew and the inflight entertainment and catering teams the chance to deliver and analyse every aspect of the in-flight service and make any tweaks required ahead of carrying customers from September.
Virgin have announced further flights that will have the A350
Los Angeles will also be the second Virgin Atlantic destination to receive the airline's new A350, from next year. We don't know the exact dates yet. In the meantime, Virgin have added two more A350s to the New York schedule.
From 5 November

VS3 departs 08.50 from Heathrow
VS4 departs 18.30 from JFK

From 9 December

VS45 departs 14.35 from Heathrow
VS46 departs 20.00 from JFK
The JFK flights are now bookable on Virgin Flying Club Miles if you fancy trying it out!
The existing flights are:
From 10 – 24 September 2019:

VS153 London to New York departing 1:30 PM arriving 4:25 PM
VS138 New York to London departing 7:00 PM arriving 7:20 AM (+1 day)

Starting 25 September 2019, it will be:

VS137 London to New York departing 11:50 AM arriving 2:50 PM
VS138 New York to London departing 7:00 PM arriving 7:20 AM (+1 day)

Until October 26 the aircraft will not operate on Thursdays, and between 27 October and 28 March 28, 2020, it will not operate on Tuesdays.
You can read all about the new Upper Class Suite and Premium Economy in this article.
Virgin Atlantic and Delta reveal new schedule between UK & US
Virgin Atlantic and Delta Air Lines are boosting flights between the U.K and U.S. from next summer, which sees Delta join Virgin Atlantic serving Gatwick Airport together for the first time. It means that between the two airlines, capacity across the Atlantic has increased by nearly 10,000 seats per week over the last year.
Gatwick
Flights begin on 22 May 2020 from Gatwick to Boston. One day before, Virgin Atlantic will launch a daily flight to New York-JFK from Gatwick. Together the airlines will offer up to four daily flights to three U.S. cities next summer.
"We're excited to return to London Gatwick, which is where we launched our first U.K. destination over 40 years ago as well as Manchester, and continue to grow our international network from Boston," said Roberto Ioriatti, Delta's vice president Transatlantic. "Together with Virgin Atlantic, we are strengthening our presence in the northeast U.S. and in London, offering customers a greater choice of destinations combined with the excellent service they can expect from our airlines."
Heathrow
Beginning 29 March 2020, Delta and Virgin Atlantic will increase capacity between New York-JFK and London Heathrow by 15 %. Delta will increase its services to three daily frequencies, with Virgin Atlantic operating five. This includes a daytime slot from JFK-Heathrow for the first time, operated by Delta, complementing the daytime Boston-Heathrow and JFK-Heathrow service currently offered by Virgin Atlantic. (which I will be reviewing in November)
Starting this winter, all of Delta's Heathrow-JFK and Boston flights will operate on its newly retrofitted Boeing 767-400 aircraft, featuring a modern interior and all four branded seat products – including a more private Delta One experience, Delta Premium Select, Delta Comfort+ and Main Cabin – to give customers greater choice when they travel.
The B767-400 Delta One suites are not as good as the A350 Suites with a door, but they are a huge step up from the current product from the UK. I will be trying to use some miles to try them out soon.
It is the first time Delta will bring its premium economy cabin to the U.K., while the aircraft has a new self-service area for Delta One customers to enjoy snacks and beverages at their leisure throughout the flight. The aircraft also includes the new wireless IFE system developed by Delta Flight Products with seat-back entertainment screens in every cabin and thoughtful touches such as full-spectrum LED ambient lighting and memory foam cushions for added comfort. There are 33 Delta One seats in a 1-2-1 configuration, 20 Delta Premium Select seats in a 2-2-2 configuration, 28 seats in Delta Comfort+ and 156 seats in Main Cabin.
Virgin Atlantic is also set to increase flights to important west coast hubs, as it ups frequencies from Heathrow to Seattle from seven to 11 per week, representing a 57% growth in seat capacity since Delta originally launched the route in 2014. Los Angeles will also see services rise from 14 to 17 flights per week, with up to three services per day operating in the busy summer months.
Juha Jarvinen, EVP Commercial at Virgin Atlantic, commented: "Our announcement today marks another phase of growth, both for our transatlantic network and for our partnership with Delta. I'm delighted that between us, we're increasing our presence across our hub airports of Heathrow, Gatwick and Manchester, reaffirming our commitment to provide our customers with more choice, convenient schedules and an unrivalled customer experience across the Atlantic. Our increased services to Los Angeles and Seattle further cement our commitment to our west coast flights, which follow the introduction of our exceptionally popular Manchester – Los Angeles route that launched earlier this year."
More for Manchester
Delta will return to Manchester, with a new peak-summer service to Boston effective 21 May 2020 taking over Virgin Atlantic's current operation. Flights will increase from the current three per week to a daily service, offering an extra 45% capacity versus last year.
Manchester will become the eighth Transatlantic destination served nonstop by Delta from Boston, while flights to Atlanta, New York-JFK, Las Vegas, Los Angeles and Orlando will continue to be operated by Virgin Atlantic. Together the airlines will offer a schedule of up to six daily flights to Manchester from six U.S. cities next summer.