British Airways suspends all Gatwick operations
BA had suspended all short-haul operations at Gatwick until 9 November and then until the start of summer timetables at the end of March. With the announcement of lockdown and most international leisure travel restricted, BA will be cancelling all Gatwick flights until at least the end of lockdown, effectively shutting their operation at Gatwick. It is not totally clear when this takes effect as some flight from Gatwick are not suspended until later in the month (see below).
Obviously what happens next will depend on two things. Firstly if the international travel ban continues, which is unlikely if the government sticks to their word and returns to local tier levels at the end of lockdown (but let's face it, many of us don't trust a word they say at the moment). Secondly, if lockdown ends, whether they then bring in a reduced quarantine period of 7 days with testing. If this is the case I believe it will encourage more travel, but with sudden announcements like the lockdown, many people will be reluctant to book anything. The Gatwick flights were mainly Caribbean routes that allowed entry with a PCR test and some of which did not require quarantine on return. I can see these flights continuing after lockdown, but the question is whether they will reopen Gatwick again if they think there could be another lockdown. With the furlough scheme extended to March, they may decide not to return if they do not need to fly from Gatwick for slot purposes.
The official BA line is that Gatwick flights are only suspended until December but whether they return those flights to Gatwick immediately after lockdown remains to be seen.
British Airways initial list of cancelled flights for lockdown
If you are due to travel during the lockdown period and your flight has been cancelled you will shortly receive an email saying that the route had been suspended due to the government's restrictions. You should be able to request a cash refund or change your dates free of charge.
BA has now released the initial list of route cancellations. There are a few surprises such as Frankfurt which you would expect to be a heavily business-orientated route. Madrid is also a surprise as it is usually a heavy cargo route. As you can see there are still some routes to be decided and they could further reduce frequencies on other routes or even cancel them if demand reduces even further. There also appear to be other routes that have been removed from sale, not on this list, so it's best not to assume that your flight is safe if it's not on the list. You can check your booking on Manage My Booking or try to make a dummy booking for that day.
Here is the initial list of suspended routes: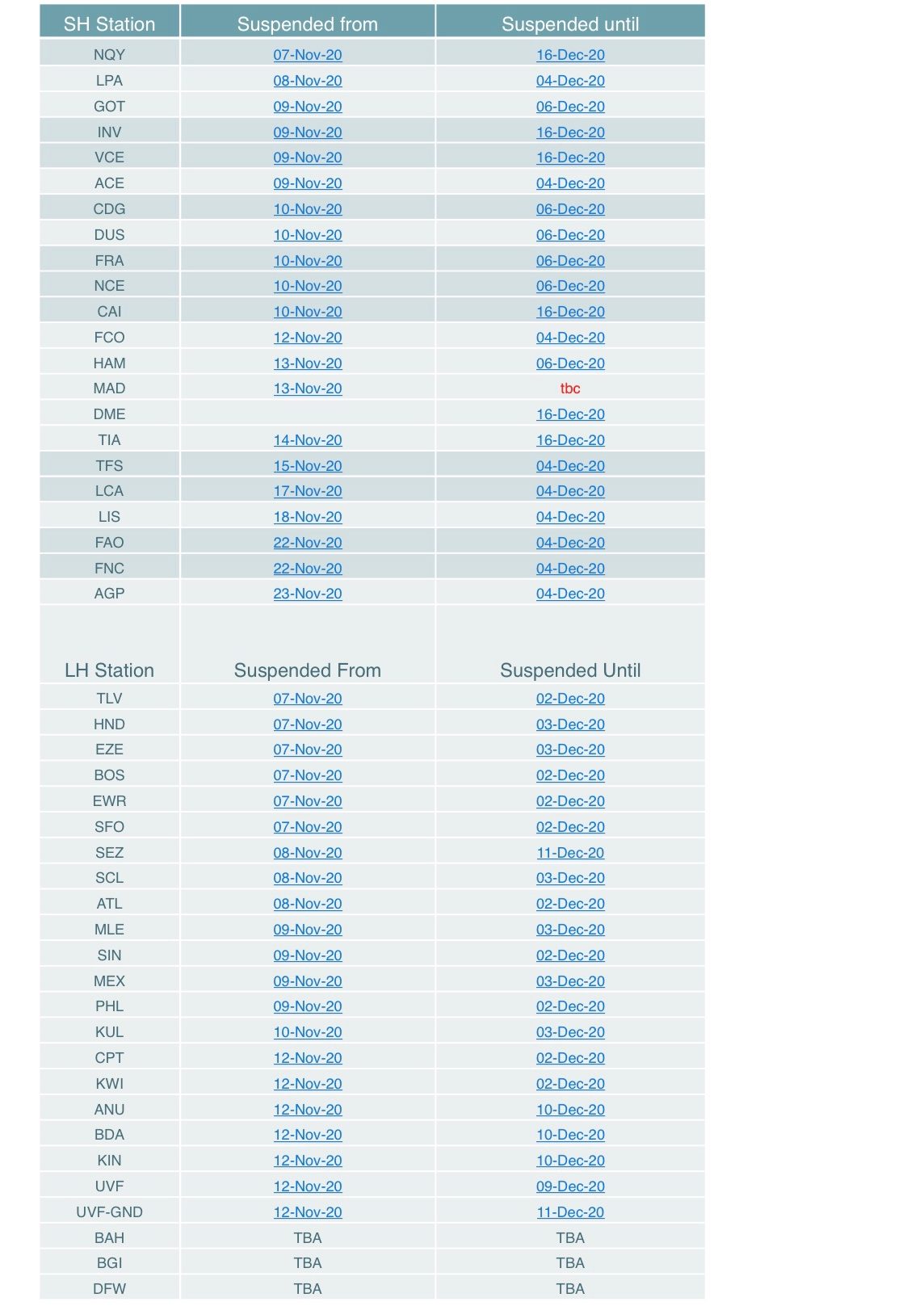 If you are not sure what the airport codes mean you can look them up here.
British Airways closes lounges in the UK and no access to Gibraltar lounge
British Airways has announced that it will close its airport lounges at London Heathrow. The Galleries South Club and First lounges at Heathrow Terminal 5 will be closed from today 5 November. The North lounge had already closed again after reopening briefly in the summer.
In statements, they have said that this is due to the government's new restrictions. This is not quite the full story as legally airside outlets are exempt. However, looking at the list of cancellations it would not be commercially viable to keep the lounge open for the very small number of flights left.
BA also before lockdown stopped allowing passengers access to the third party lounge in Gibraltar. If you are a silver or gold member or traveling in Club, the only way to access the lounge now is to pay the £12 entry fee or use a lounge pass membership. This is purely a business decision as admitted by BA.