New countries removed from travel corridors
Denmark was removed from the travel corridor list yesterday. This was in addition to the Thursday usual announcement with Germany and Sweden being removed. Now the only countries you can travel to in Europe without quarantine (assuming you can legally travel in the first place) ae:
Estonia
Finland
Gibraltar
Greece
Ireland
Madeira
Canary Islands
Norway
Some of these countries have lockdoens in themselves, but if you are willing to go long haul there are still countries that have no lockdown, a travel corridor and sunshine with low rates of COBID. I will be writing about my trip to Barbados that has all of those over the next couple of weeks.
ALL flights banned from Denmark and anyone who has returned in last 14 days must quarantine

For once, Grant Shapps has actually not only acted quickly, but introduced a travel ban I agree with! Passengers arriving into the UK from Denmark from 4am on Friday 6 November 2020 (today) will need to self-isolate for 14 days by law before following domestic restrictions now in force.
Health authorities in Denmark have reported widespread outbreaks of coronavirus (COVID-19) in mink farms, with a different strain of the virus spreading to some local communities. This new strain if it got outside Denmark, could be resistant to vaccines or even some treatments. Most mutations of COVID have not been as significantly different but there is concern that the mink strain could cause issues if it became widespread.
The government are so concerned they have banned all arrivals from Denmark and anyone who has returned from Denmark must quarantine for 14 days, even those that are normally exempt such as airline crew. This includes members of their household too, including children.
Virgin's lockdown flight schedule and refund/change options

Virgin have announced their lockdown schedule to the travel trade and the cuts are a lot less drastic that BA, probably due to the fact that they had a very cautious schedule anyway with quite a few business routes versus leisure. Here is the schedule: (view online here)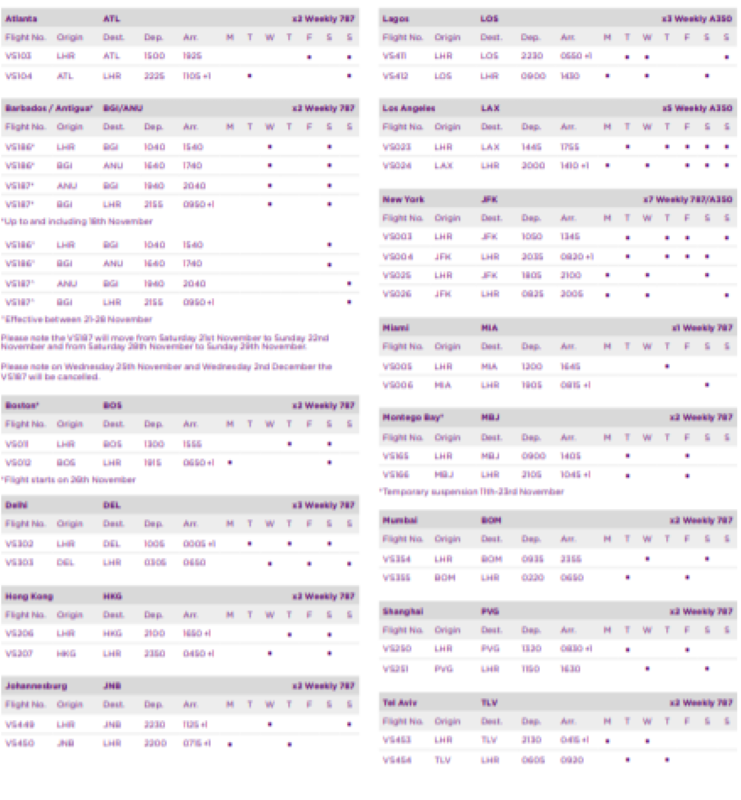 If Virgin cancel your flight, you will receive communication from them with the option to rebook or request a refund. To simplify the options for customers, Virgin are automatically providing a customer credit equal to the value of the trip. This credit can be used to rebook on alternative dates, allowing for two date changes, a destination change and name change, for travel all the way until 30 December 2022. However, you do not need to accept this – you are entitled to a full cash refund if your flights is cancelled.
If your flight is still scheduled to operate, customers booked up until 31 August 2021 have the option to rebook, with a name change and two date change fees waived, for a new travel date up until 30 December 2022. This process gives you the flexibility and time to decide your future travel plans with Virgin Atlantic when you are ready to do so.
If you've booked via a third party or travel agent, you need to speak to the agent directly about your options.
If you're a Virgin Holidays customer, visit Manage My Booking on www.virginholidays.co.uk. All holidays have now been cancelled until 2 December 2020 and this date extended to 9 December for Florida holidays, including Walt Disney World.
For holidays customers whose trips will no longer be going ahead, you have the option to accept an automatic digital voucher for the value of the trip, redeemable up until 31 March 2021, which you can use to rebook a holiday, departing any time before 31 December 2022; or request a refund. Customers can amend the booking via 'Manage My Booking' on the Virgin Holidays website using the digital voucher, or the customer centre team is also available via the SMS messaging system and WhatsApp service via the website.