Doha Airport's expansion almost complete with new lounges and hotel
Just in time for the World Cup, Doha's Hamad Airport revealed the new Orchard development as part of its expansion. The airport will be able to handle 58 million passengers annually.
Anyone that visited the lounges recently or prior to Covid will know how busy they have become. When I visited last week, the airport was a complete zoo at 5am around the central bear statue. So it's great news that the expansion with huge new lounges and a new transit area is complete.
The ORCHARD
Hmm, now, what does this area remind me of? Anyone who has been to Singapore's Jewel, may find this looks scarily familiar. However, nonetheless, it is a great-looking area. Sadly it wasn't open on my way through recently.
ORCHARD is a tropical garden located at the centre of the terminal expansion. It has a beautiful water feature and includes over 300 trees and over 25,000 plants sourced from sustainable forests from around the world.
The unique design of the area allows trees and plants to easily adapt to the internal conditions and grow throughout the life of the airport – with natural light to create calming ambience and promote a sense of well-being. I always enjoy garden areas in an airport, particularly when transferring between two long flights, so I'm pleased to see this area.
New transit facilities
Doha Hamad consists of one expansive terminal with a number of groups of gates. The airport's expanded operations should greatly reduce waiting time, thanks to the new transfer hall on concourse C (Transfer Hall C). This is good news as it also should stop you from having to go all the way to the A gates area to transfer (by the bear) if you arrive and depart from the C Gates.
Food and Retail options
There are brand new F&B options at the HIA expansion including over 20 cafes and restaurants. The expansion features many world firsts and exclusives, including a Fendi Boutique with the first Fendi Café in an airport, and the first Ralph's Coffee Shop in an airport. The North node also houses the world's first Oreo Café in an airport.
There's also a large selection of luxury boutiques, including the first Dior Boutique at HIA, the only FIFA shop in the world, Thom Brown's only store in an airport, the largest Ray Ban store in an airport, and a lineup of prestigious brands such as flagship Louis Vuitton Boutique, Gucci, Burberry, Tiffany, and Co. Bvlgari, and many more world-class brands.
A second airport hotel and multiple new lounges
As part of the overall expansion, Hamad airport has launched the second airport hotel within its transfer area, the Oryx Garden Hotel. This is great news as the existing airport hotel, the Oryx Airport hotel can be a nightmare to get a booking at unless you book a long time in advance. This should greatly improve the situation. Located in the north plaza, the 100-room hotel focuses on sustainability, with rooms ranging from king to twin, as well as suites located moments away from the boarding gates.
Guests at the new hotel can use the passenger train to visit the near-by Oryx Airport Hotel in the south plaza should they want to use its Vitality Wellbeing Spa and Fitness Centre. The centre features a 25-metre swimming pool, gym, spa and squash court.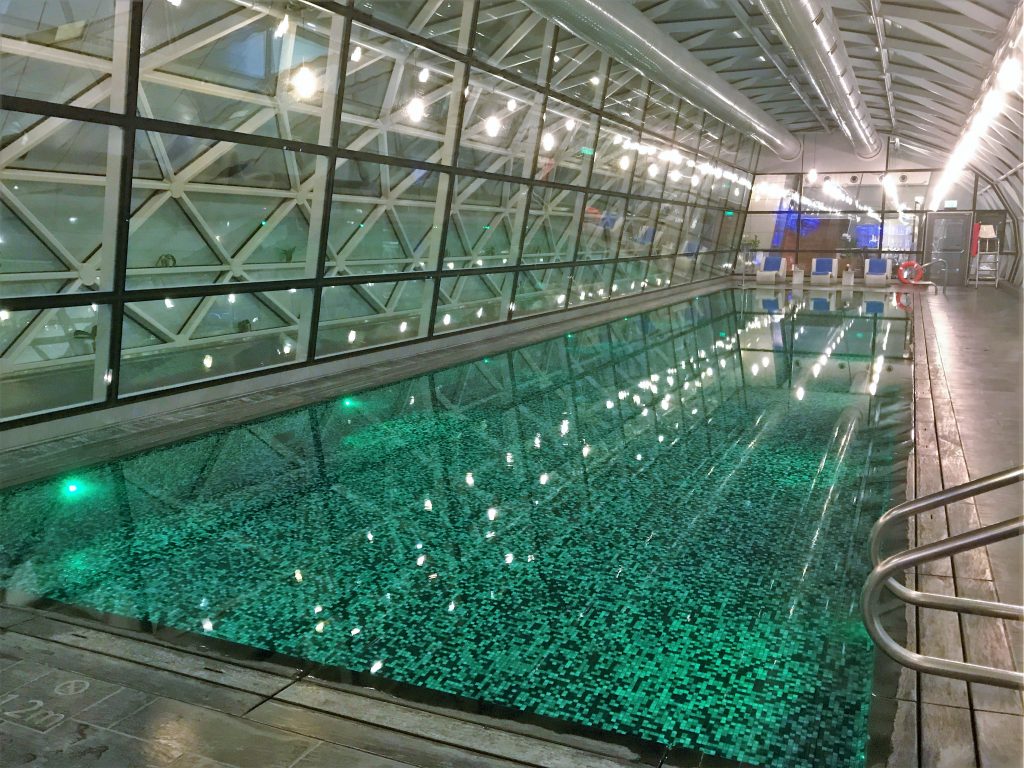 As part of the expansion project, HIA has four brand-new lounges for passengers to relax and unwind, namely the Al Mourjan Business Lounge – The Garden; Gold and Platinum lounge; Oryx Lounge and Al Maha Lounge. As yet, I have not seen any notification of these being open or any photos. However, there was a temporary Al Mourjan North lounge, so you may want to check it out if you are that part of the airport. The new Al Mourjan lounge is expected to be the world's largest airport lounge.
Phase B of the expansion – set to commence in early 2023 – will further increase the capacity of the airport to well over 70 million passengers and construct two new concourses within the existing terminal.
New Qatar model aircraft at Heathrow

Next time you head to Heathrow's T4 by car, you may spot something new.
Qatar Airways has unveiled a new 3D advert at London Heathrow Terminal 4 roundabout
. The branding features a 9-metre long Boeing 777-9 scaled model aircraft, placed above a 12-metre LED screen to highlight Qatar Airways' products, services, destinations, and marketing campaigns. It also showcases the FIFA World Cup Qatar 2022 logo to promote the airline's official partnership with FIFA.
Qatar Airways recently added a new Frequent Flyer Lounge exclusively for Privilege Club members and oneworld alliance partners. The lounge has modern interiors overlooking the apron area, and customers a menu comprising of a hot and cold buffet selection and a range of beverages.