Two new Premium Economy products
For those that like to fly Premium Economy, two new products have been announced in the last few weeks, which I'll take a quick look at. Also with flight prices already high and the rising rate of oil, Premium Economy could be the new business class!
Finnair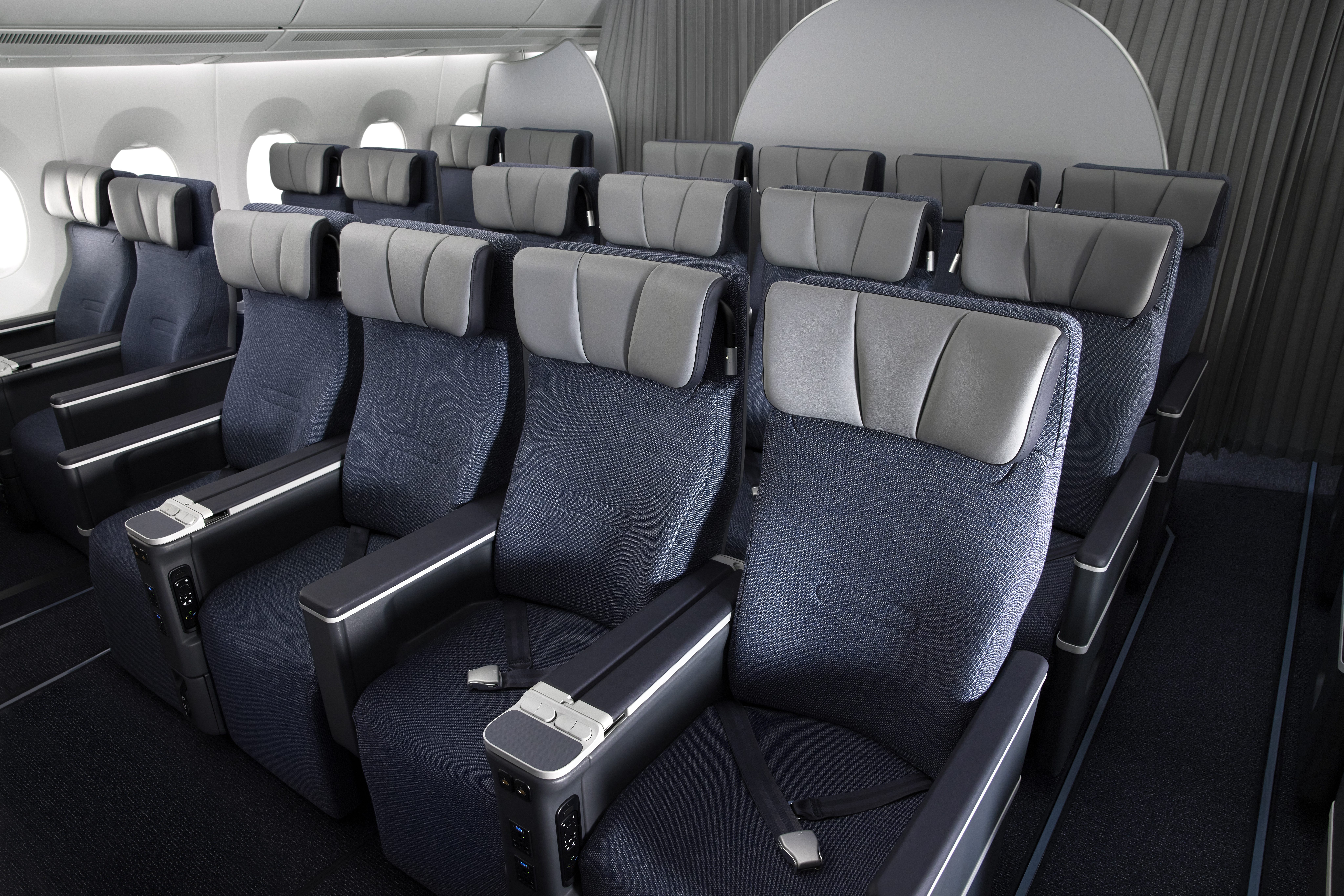 Sadly Finnair is being badly affected by having to avoid Russian airspace, but they still offer good value fares to South East Asia at the moment. They have also just relaunched flights to Tokyo. In the meantime they have announced plans to refurbish their aircraft.
The complete cabin renewal covers all Finnair Airbus A350 and A330 long-haul aircraft, with new cabins to be fitted over the next two years, featuring an entirely new Business Class, a brand-new Premium Economy cabin, and a refreshed Economy Class.
The full experience, complete with renewed service concepts, will be available in spring 2022 on selected routes across Finnair's long-haul network.
Finnair's new Premium Economy looks very stylish with its navy blue colour scheme. It provides approximately 50% more space than Economy Class. The new cabin class is situated in its own dedicated cabin with a maximum of just 26 passengers per aircraft.
The new Premium Economy seat features memory foam cushions, a deep 8" recline, waterfall leg rest and 6-way headrest. Dedicated stowage for laptops and small personal items is incorporated into the design so that you can have everything they need at their fingertips throughout their flight.
The seat also features a large and sturdy single-leaf meal tray for work and dining, as well as individual reading lights. You can keep devices charged with universal PC power and USB-A ports. Each seat features a redesigned in-flight entertainment system with 13" wide screens which is a pretty decent size when you think of the old BA Club World screens!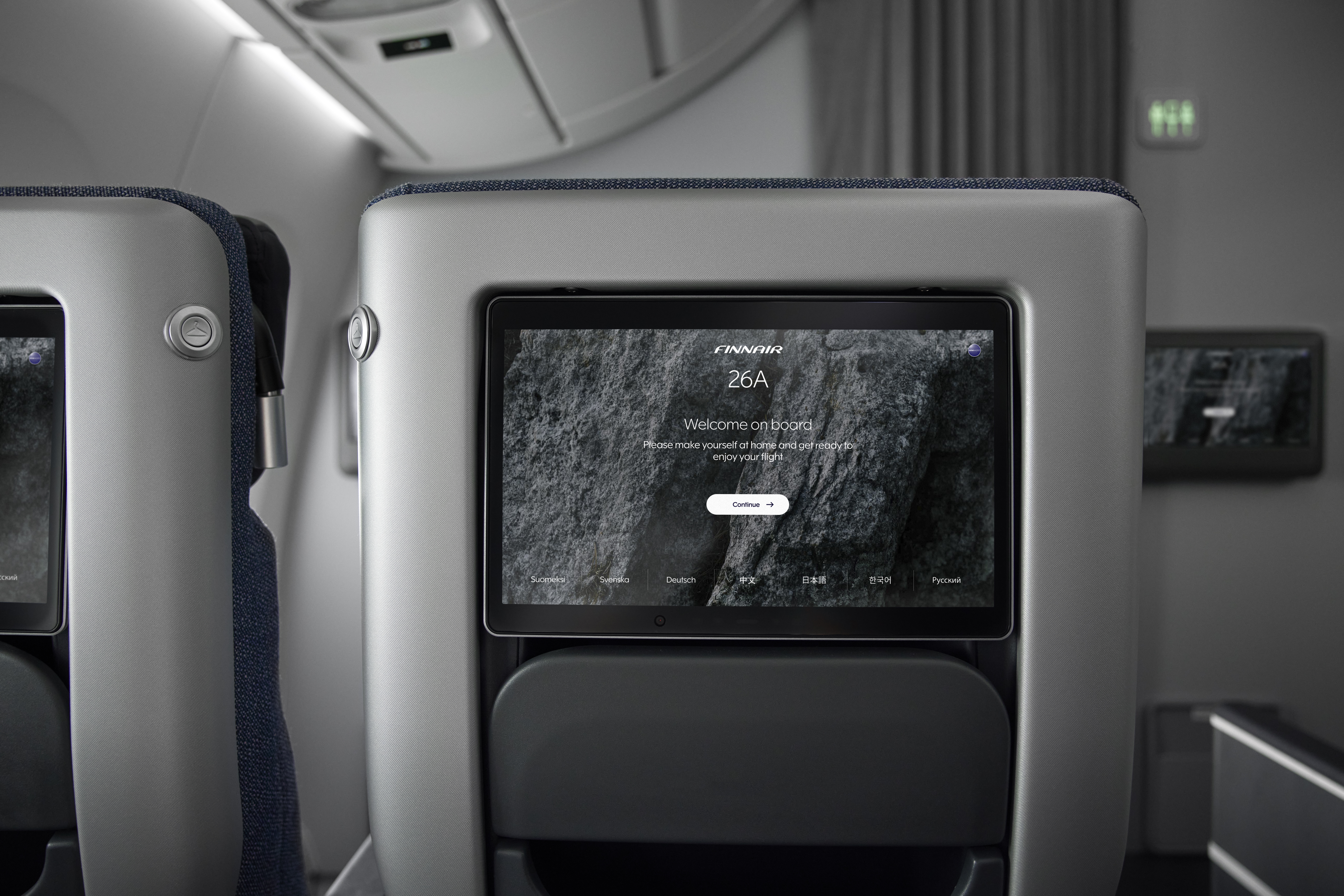 Finnair is the launch customer of the "Vector™ Premium" seat, which is manufactured by HAECO, who also provide heavy maintenance services and are performing the cabin refits for Finnair. The seat has been heavily customised to Finnair's exacting specifications and designed in partnership with London based design agency Tangerine.
Premium Economy customers get two meal services as well as a selection of drinks throughout the flight. A three-course meal will be served on new chinaware designed exclusively for Finnair by top Finnish designer Harri Koskinen and Finnish design icon, Iittala. There is also a light meal service just before landing.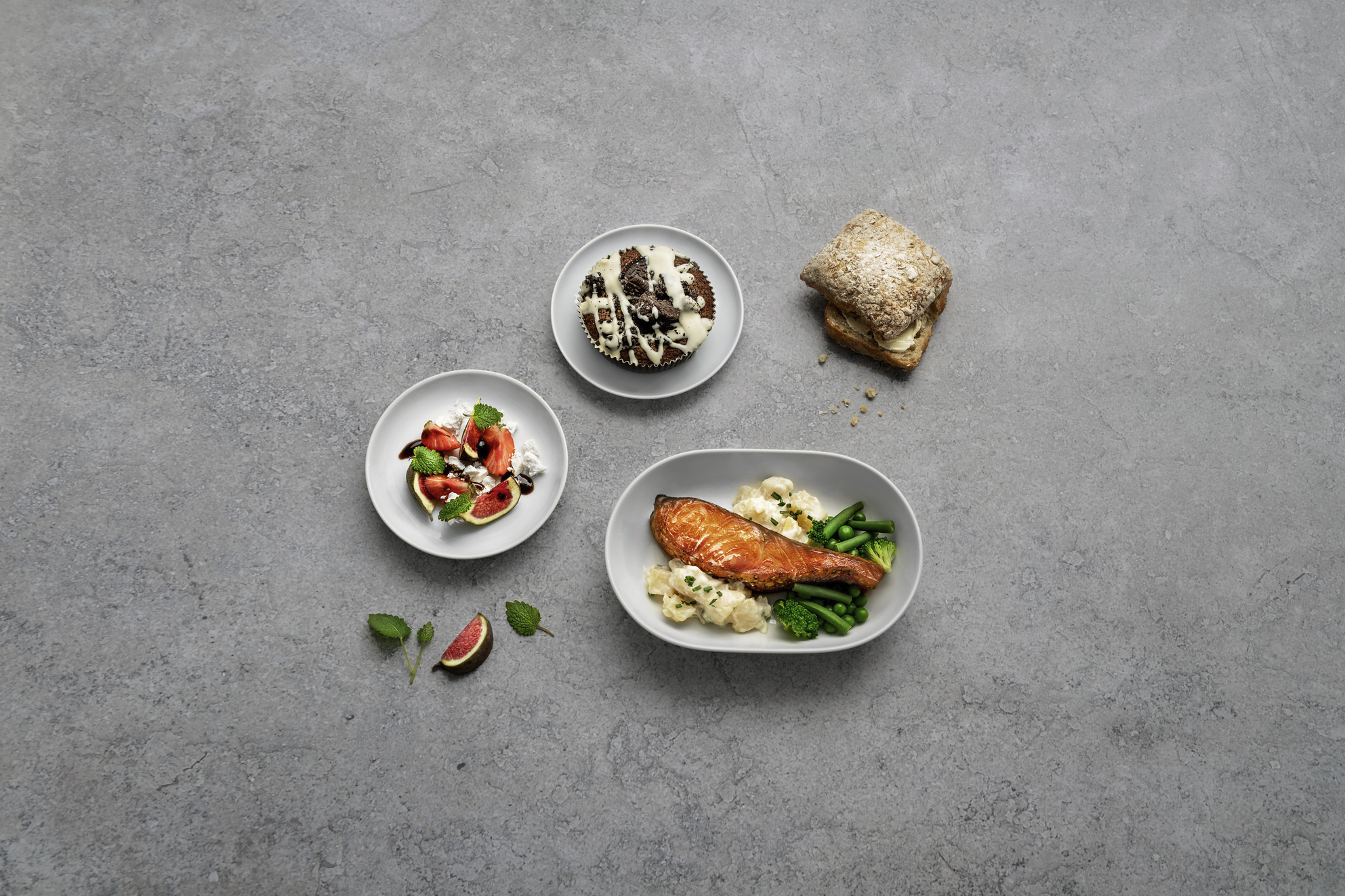 Finnair has teamed up with renowned Finnish design house Marimekko to bring unique textiles for Premium Economy with a neck pillow and woven blanket designed specifically for the new Premium Economy seat.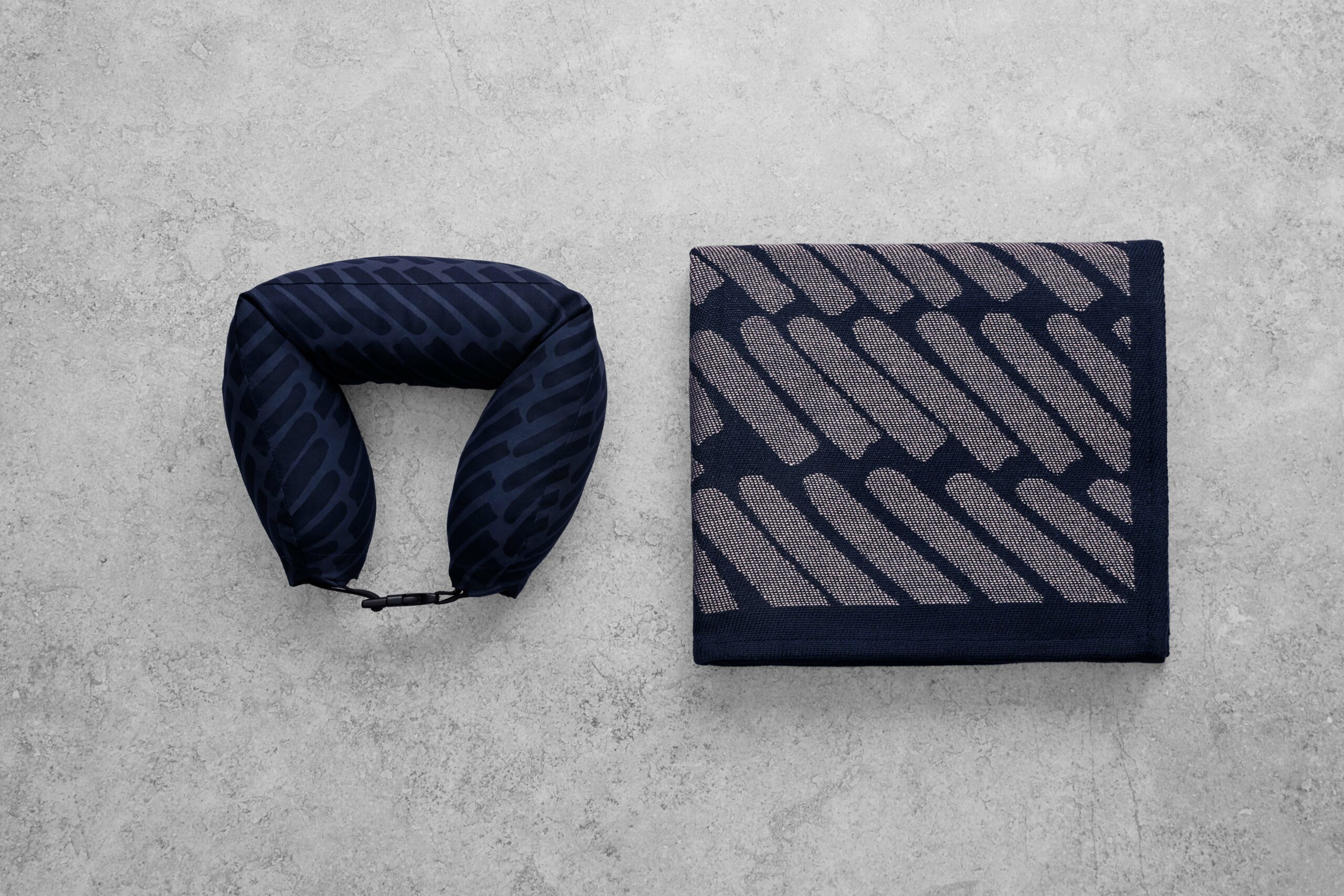 Swiss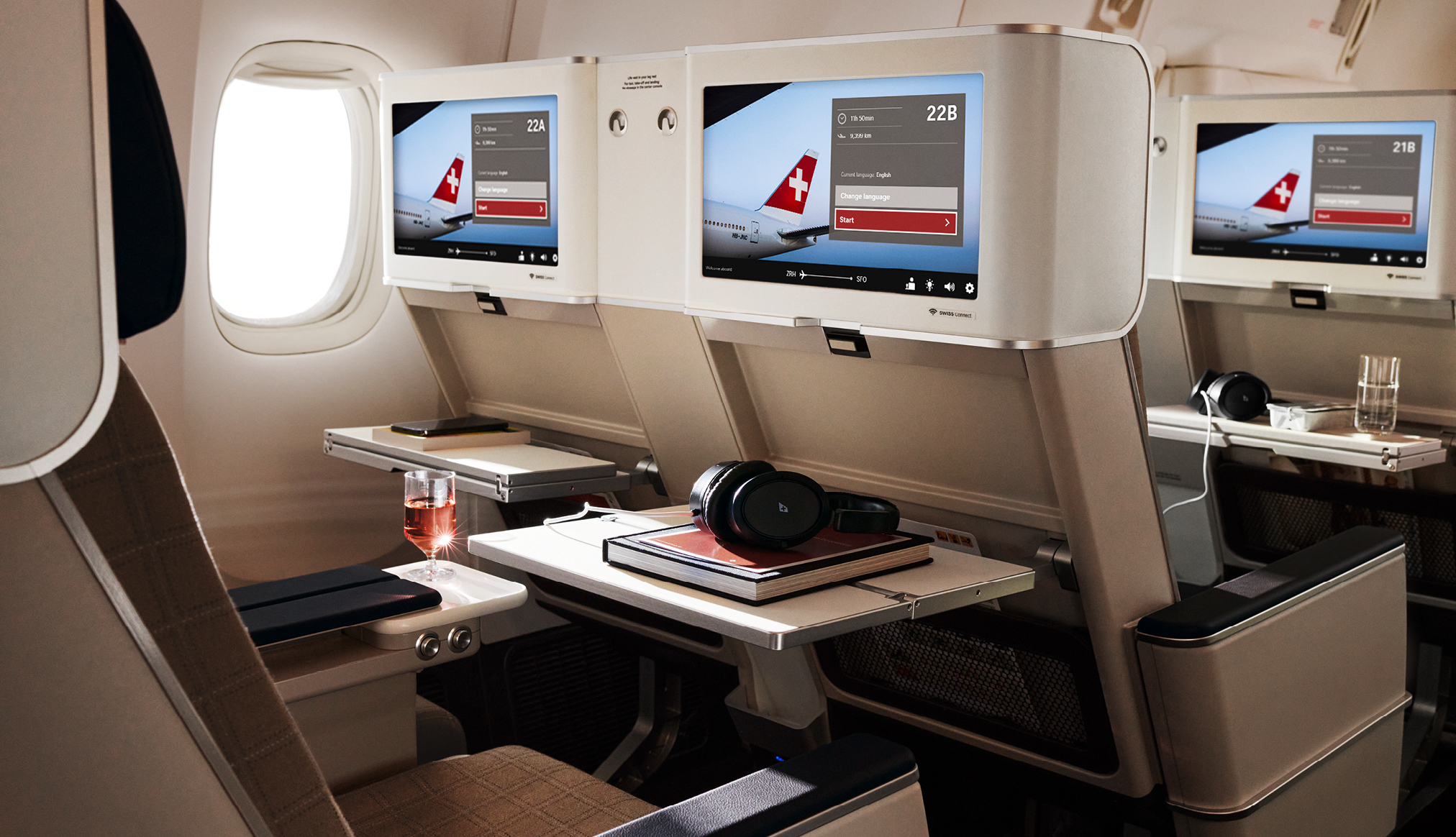 Last week SWISS presented its first aircraft equipped with its new Premium Economy Class at Zurich Airport
The new class will be gradually installed on all 12 of the airline's Boeing 777-300ER long-haul aircraft, and is already bookable. The aircraft first equipped with Premium Economy, registration HB-JNH, will be deployed on SWISS's Zurich-Miami services from the beginning of March onwards.
"Our SWISS Premium Economy Class is a top-quality standout product against our international competitors," says SWISS Chief Commercial Officer (CCO) Tamur Goudarzi Pour. "And I am delighted that we can now offer our customers this new best-in-class air travel experience. Our Premium Economy Class should be especially appealing to travellers who have flown Economy Class to date and would like to enhance their inflight comfort and convenience. So it also helps us strengthen our premium-carrier positioning in the growing leisure travel market."
After Miami, the next SWISS destinations to be served with SWISS Premium Economy-equipped aircraft will be San Francisco on the US West Coast from mid-April and São Paulo in Brazil from the end of April. Premium Economy will be available on all of SWISS's Boeing 777-300ER routes from the end of May 2022 onwards.
During the introductory phase for the new class of travel, customers will be offered for-a-fee upgrades to SWISS Premium Economy if it is available on their flight, either when they check-in or at the departure gate.
SWISS Premium Economy Class will offer 24 latest-generation seats from manufacturer ZIM. The seats feature a hardshell design that enables them to be easily reclined at no inconvenience to the passenger behind. This is impressive as many Premium products recline into the person behind, drastically reducing the space available and making it harder to work and eat. The seats have a pitch of 39″ in a 2-4-2 layout. This is similar to BA and other premium economy products. There is a fold-out leg rest for added comfort which looks like it goes to a decent angle around 45° unlike some which seemed to do very little.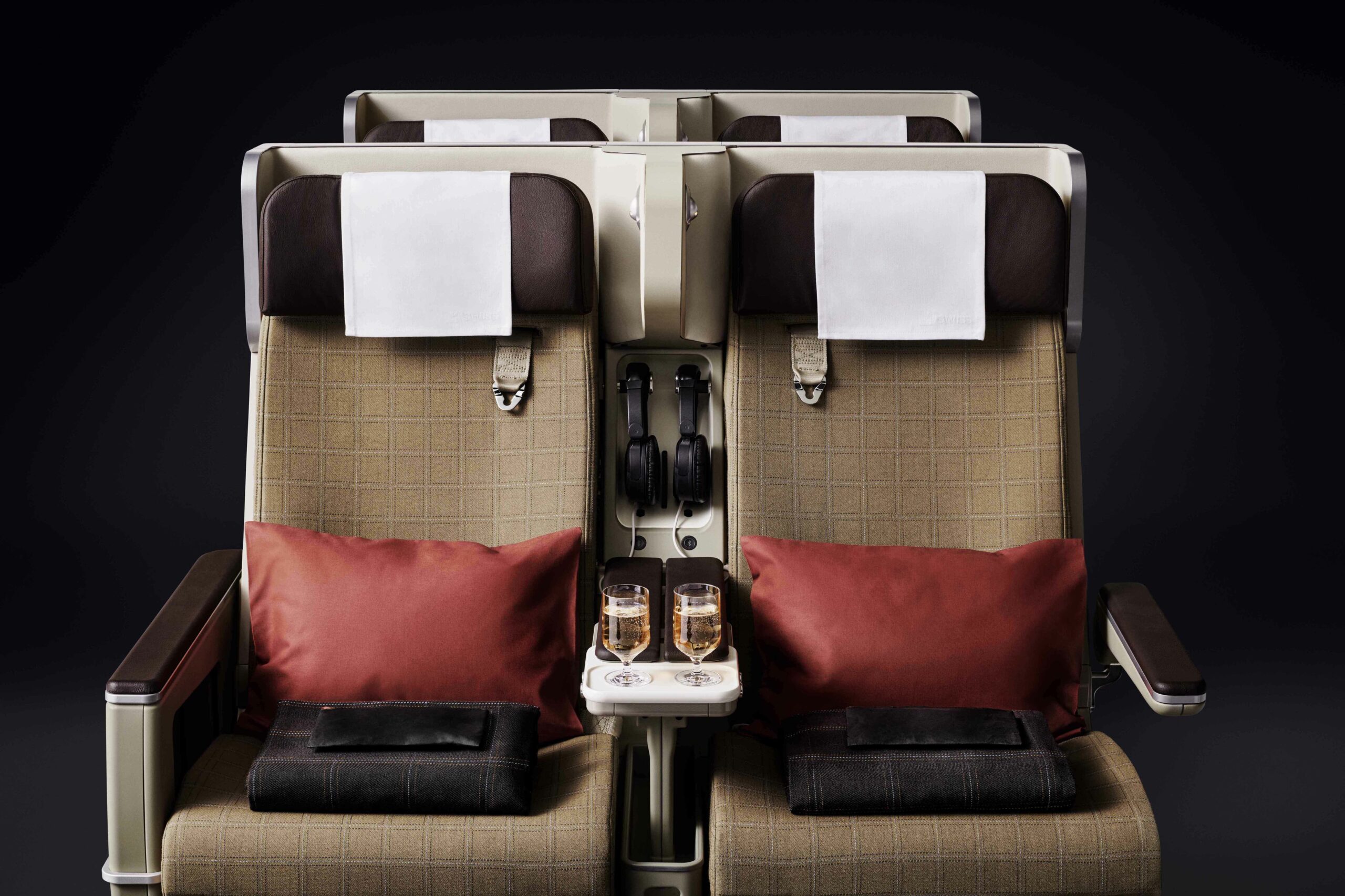 The new SWISS Premium Economy Class can also be experienced live and full-size as a virtual 3D model via Augmented Reality (AR) on your mobile here.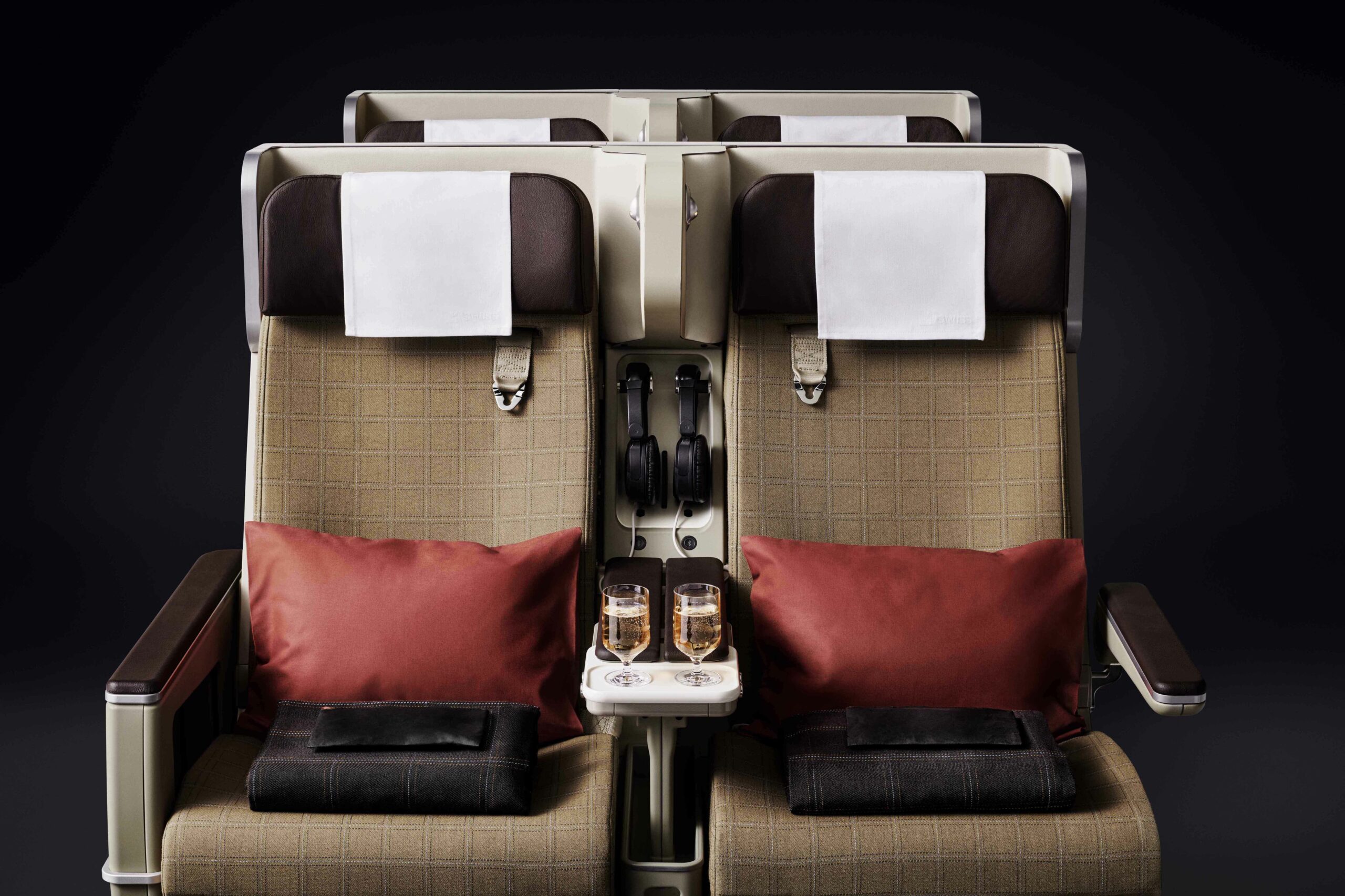 SWISS Premium Economy Class travellers are given a complimentary amenity kit which makes innovative use of kraft paper and paper pulp in its contents to minimize plastics use. SWISS Premium Economy Class travellers are also provided with quality noise-reducing headphones that will further enhance their experience of the inflight audio and video entertainment available on their 15.6-inch at-seat screen. Again, these are things that you normally associate with business class in terms of the screen size and having noise cancelling headphones.
SWISS Premium Economy guests receive a welcome drink and a choice of three hot meals.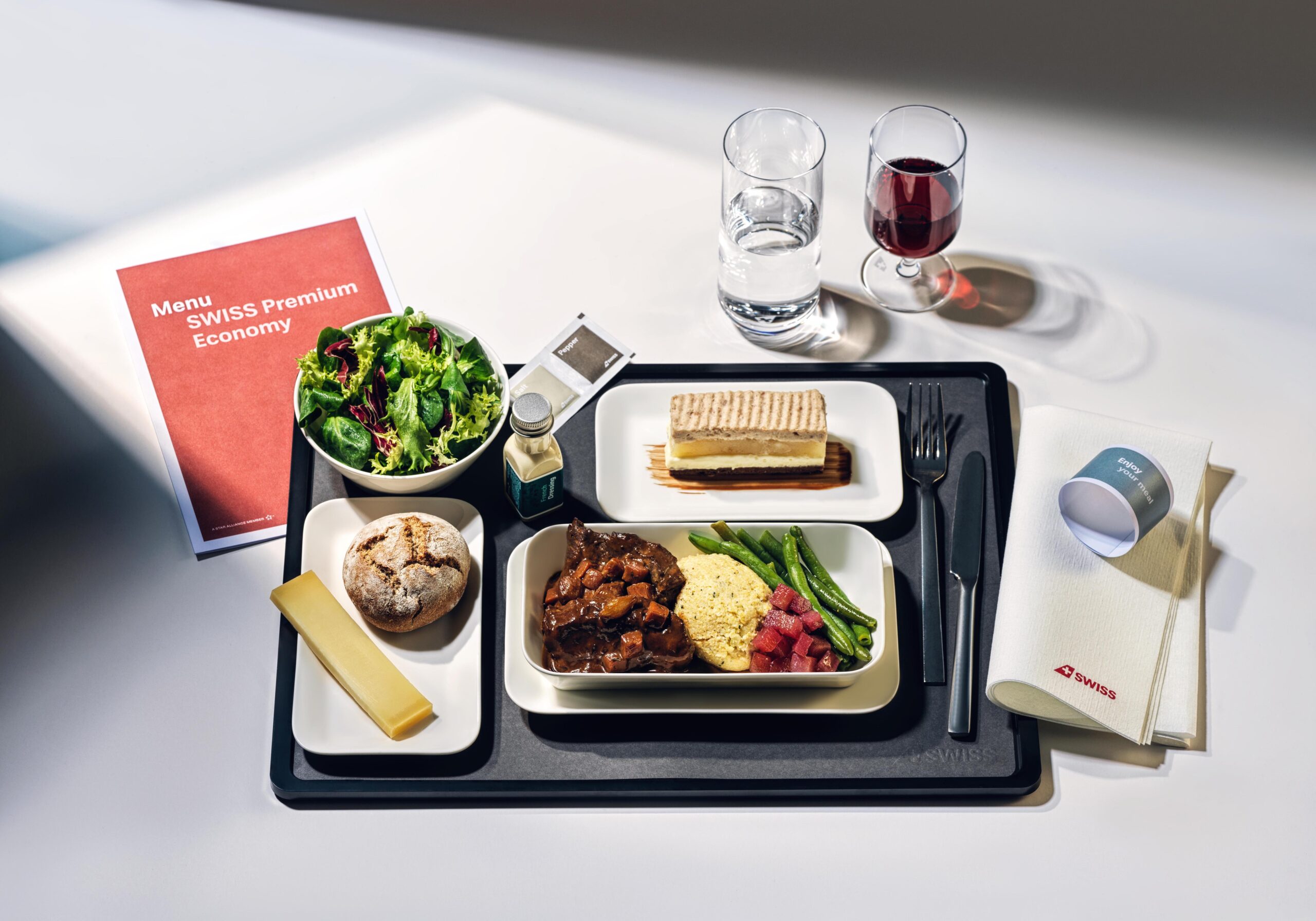 SWISS Premium Economy travellers can also check in two pieces of baggage of up to 23 kilos each – twice the registered baggage allowance for regular Economy Class travel. They also enjoy discounted access to the SWISS Business Lounges at Zurich and Geneva airports and to Zurich Airport's SWISS Arrival Lounge.