The City of London has become something of a hotspot for new hotel openings with the Westin London City also opening recently and the Hyatt Place which I will be reviewing soon. This is a review of Canopy by Hilton London City.
Canopy by Hilton
I'm guessing that many readers may not be that familiar with Canopy by Hilton. To be fair, prior to this I wasn't too sure either! According to Hilton, Canopy by Hilton is Hilton's "upper-upscale lifestyle hotel brand, located in the most dynamic neighborhoods across the globe, every Canopy hotel becomes a natural extension of the community in which it calls home and provides an energizing atmosphere with thoughtfully local touches." Any clearer?
One thing that is more simple to understand is the standards across every Canopy hotel:
Signature mattress designed just for Canopy by Hilton, outfitted with the right amount of support and temperature control.
Nespresso machine to start your day,
Uncloseted storage,
A large bathroom with a large walk-in shower.
Every bed is topped with a canopy inspired by the neighborhood.
Canopy Central – a central space for guests day to night.
Location
The hotel has a good location for public transport with Aldgate tube station only being 2 minutes walk away. With that and Aldgate East tube station, you can catch the Circle, Metropolitan, Hammersmith & City, and District lines. It's not the nicest of streets it is situated on but there is a good Thai restaurant, Thai Square, if you didn't want to eat in the hotel.
It's also not great for access as there is a double yellow line outside so if you have a lot of luggage you may have to lug it across the road. It seems definitely designed for short-stay customers.
Check-in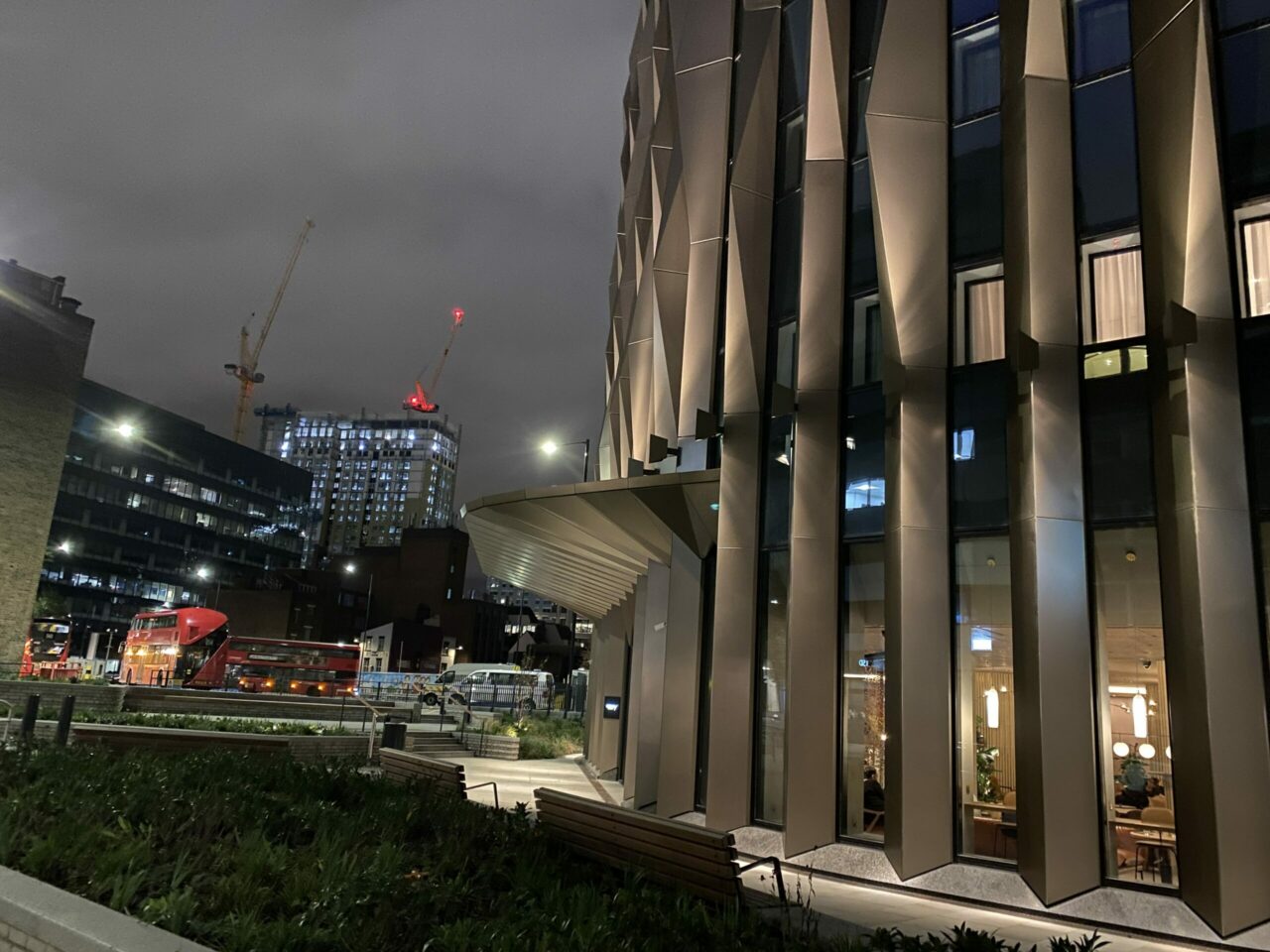 The outside of the building is very modern and it has a rather random display of what look like stuffed birds (bit hopefully are fake) in the window.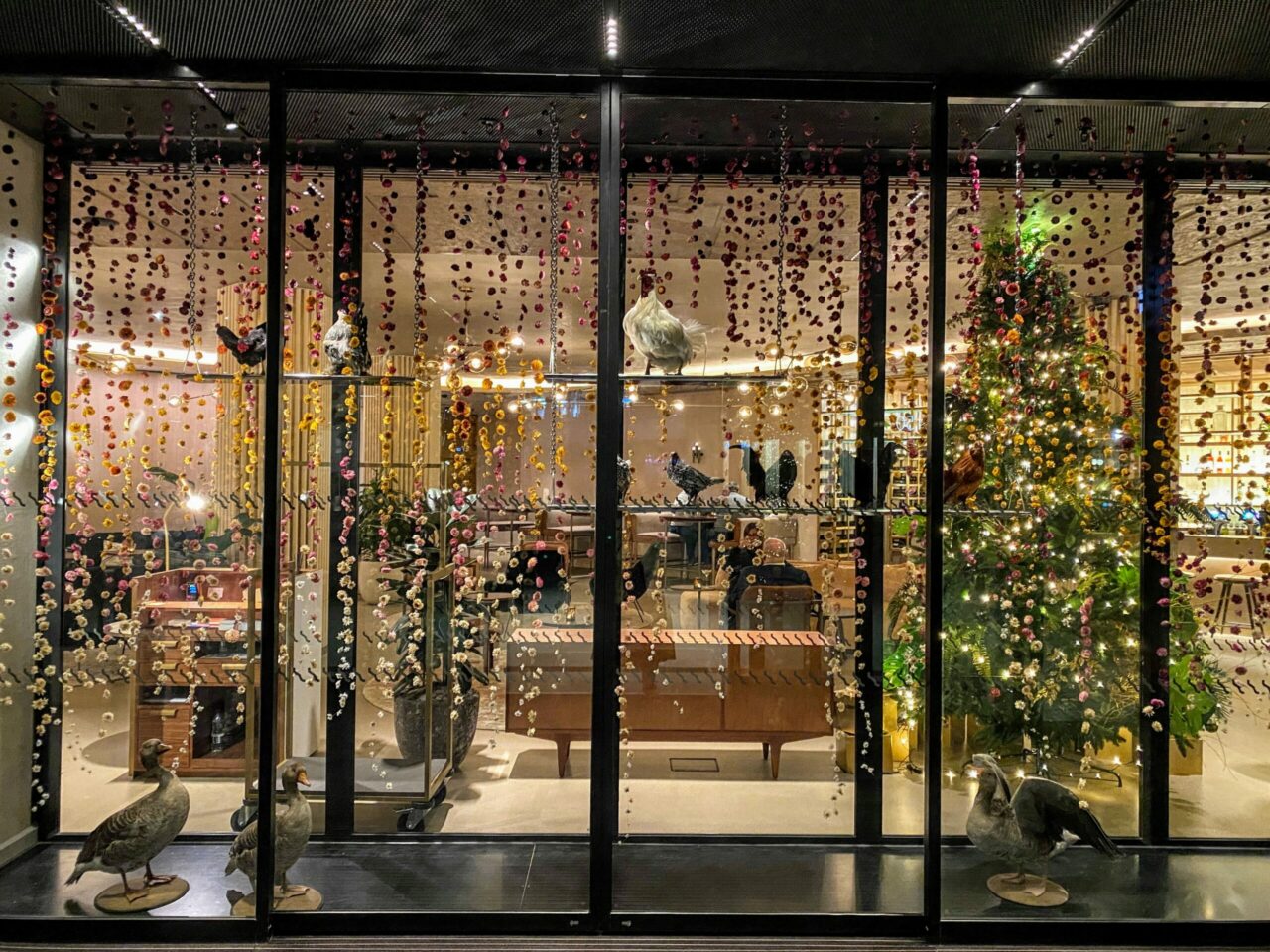 In my head, I was expecting a super modern, slightly minimalist reception, but I was pleasantly surprised by the luxury feel of the reception area. The reception area is a large open-plan space with lots of seating and a bar at one end.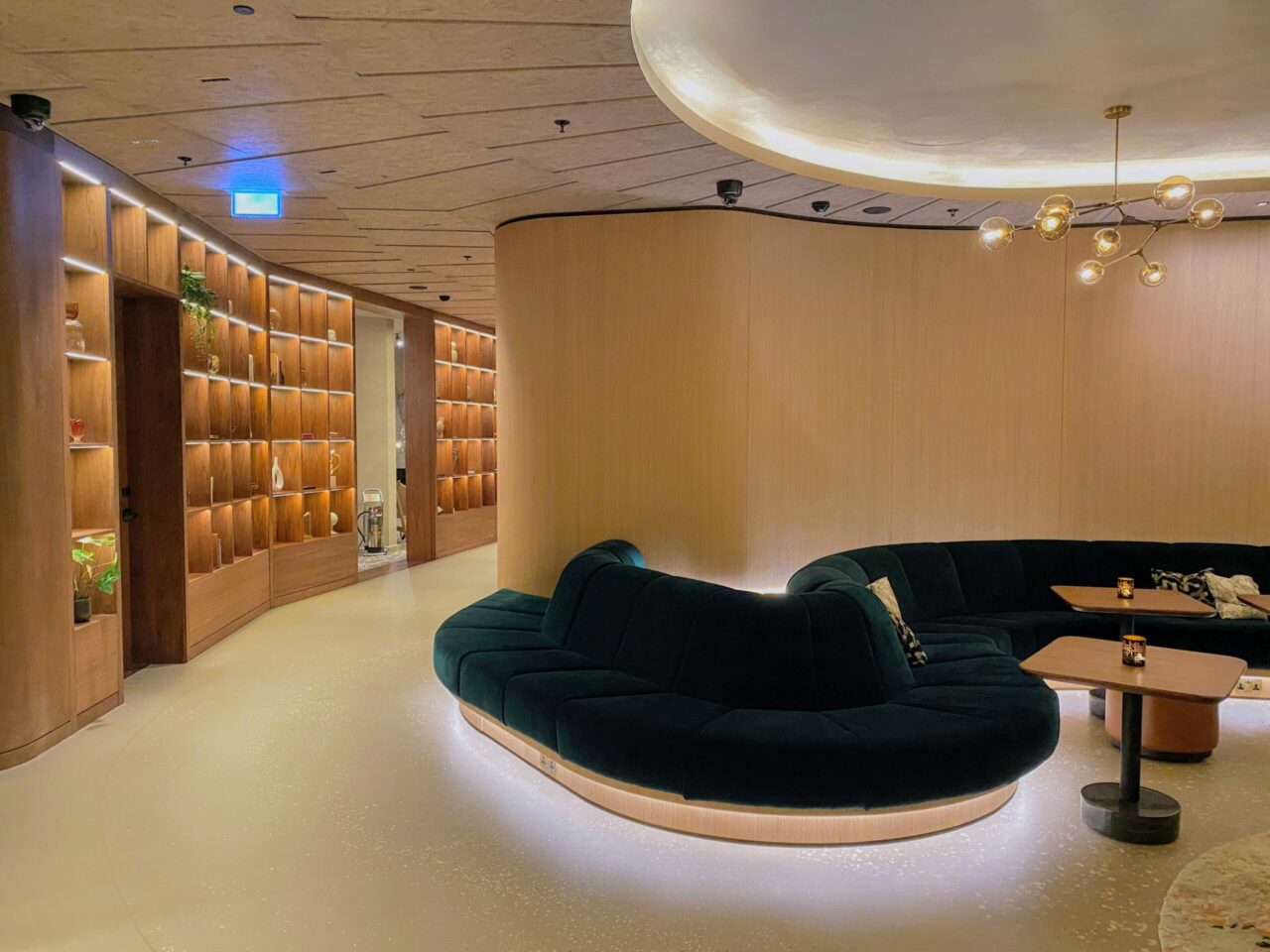 There is also a seating area off to one side.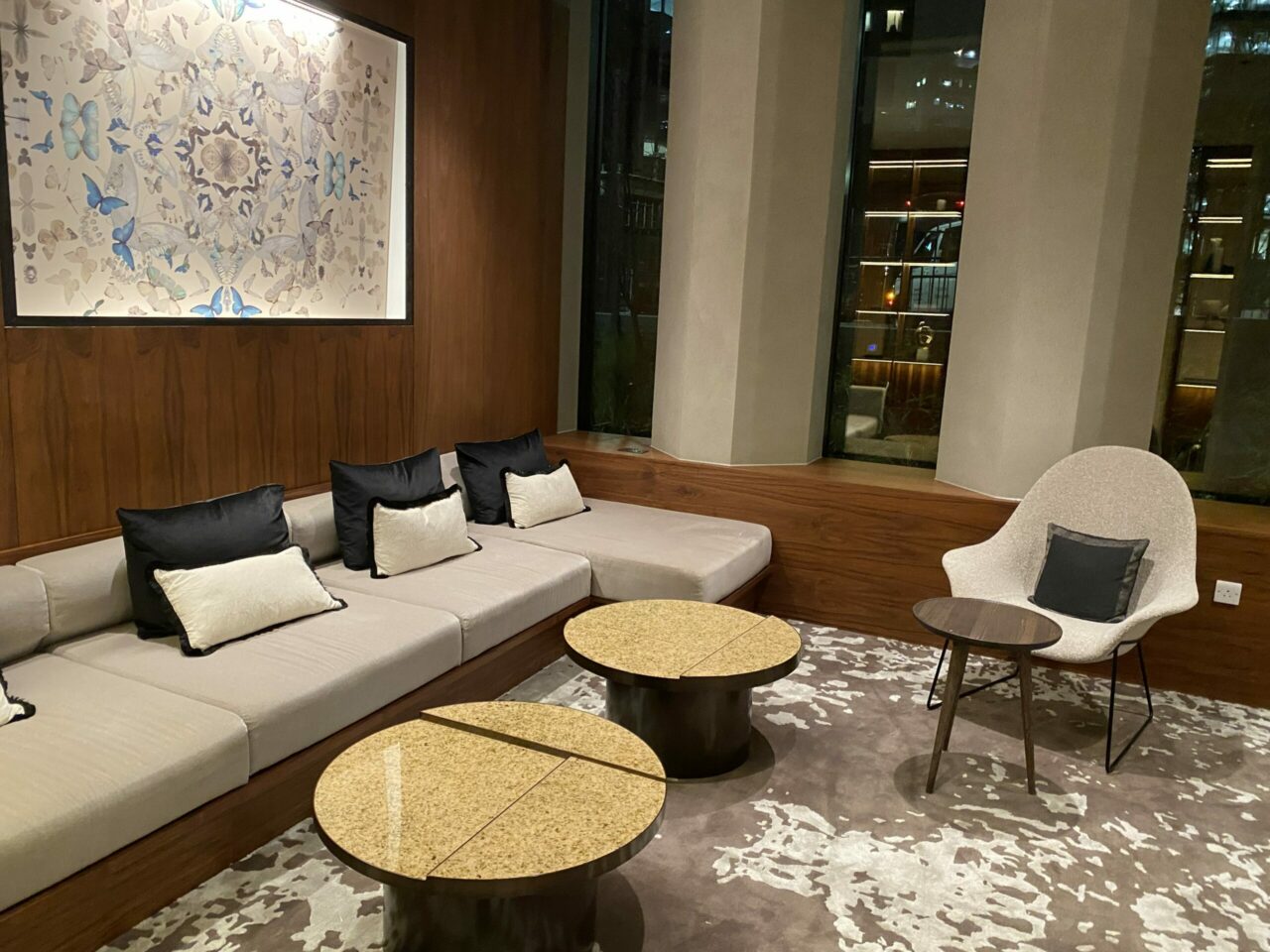 I found all the staff at the hotel super friendly and helpful. On checking in I was given some drink vouchers which I assume was due to my status as a Hilton Diamond member. I was also upgraded to a Junior Suite.
The room
The room was a little more in line with what I was expecting in terms of being modern and simple. It felt very spacious and had a good view of the Gherkin and the City of London.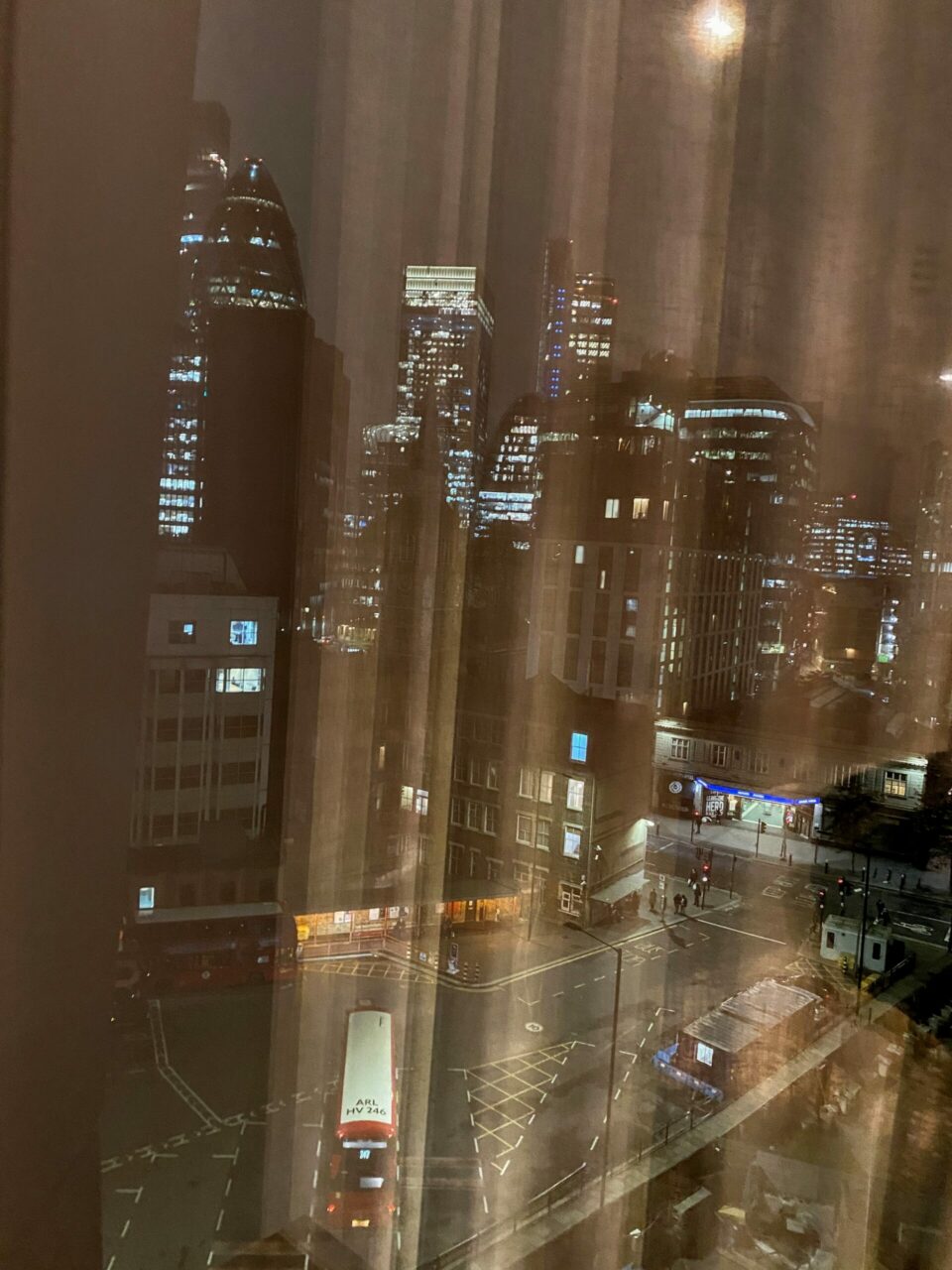 There was a lovely note and some snacks in the room to welcome me.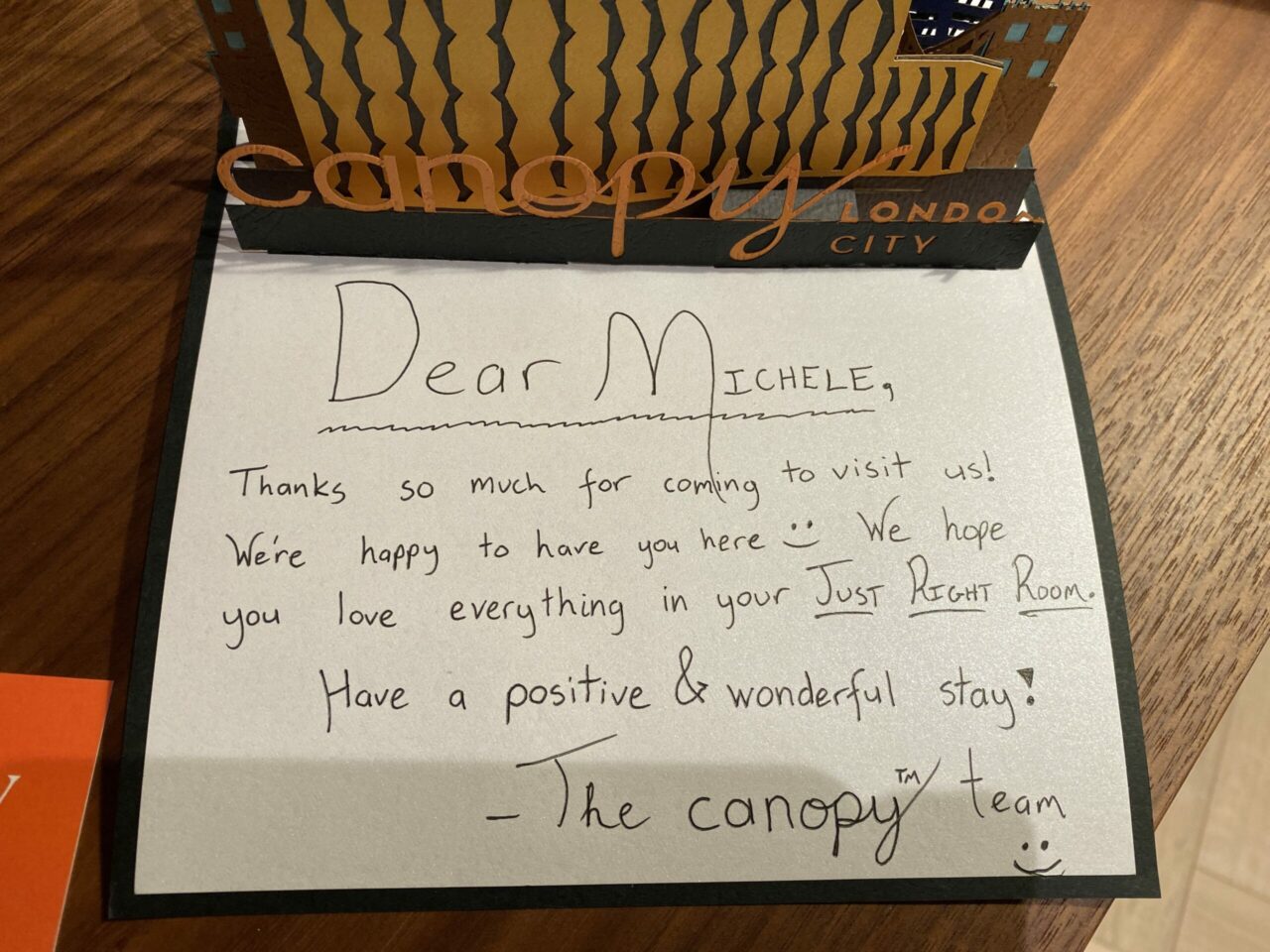 It did of course have the signature Canopy above the bed. I liked the fur throw on the sofa (which is a sofa bed) in case you were chilly while watching TV! Talking of TVs, this one was large at 55 inches and had the usual Smart TV features.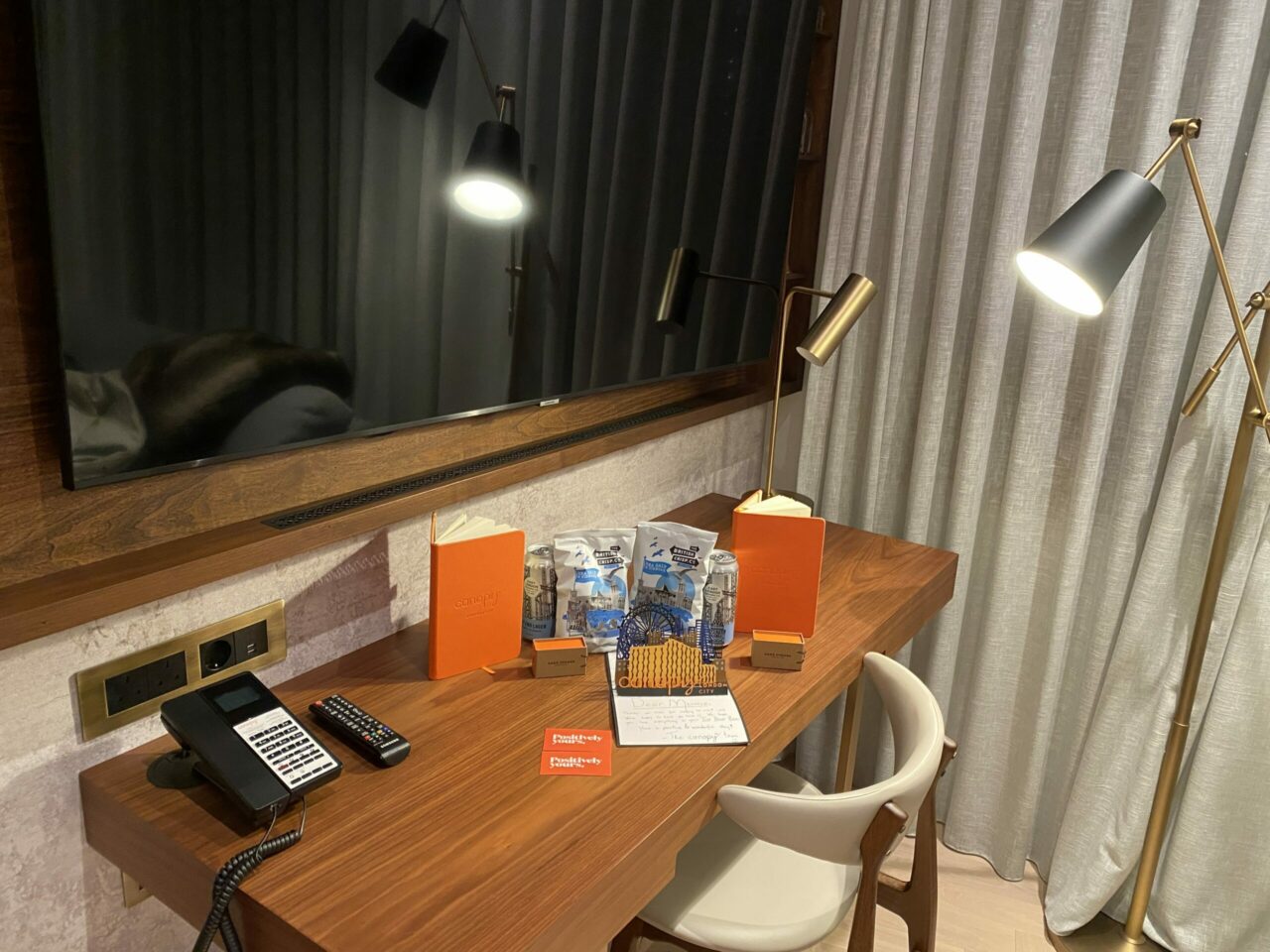 I thought the room was particularly well equipped. It had a bathrobe and slippers which were in the open wardrobe. I liked the large area that you could lie your suitcase down on in the wardrobe. Much better than the annoying racks that can't cope with a double-sided suitcase.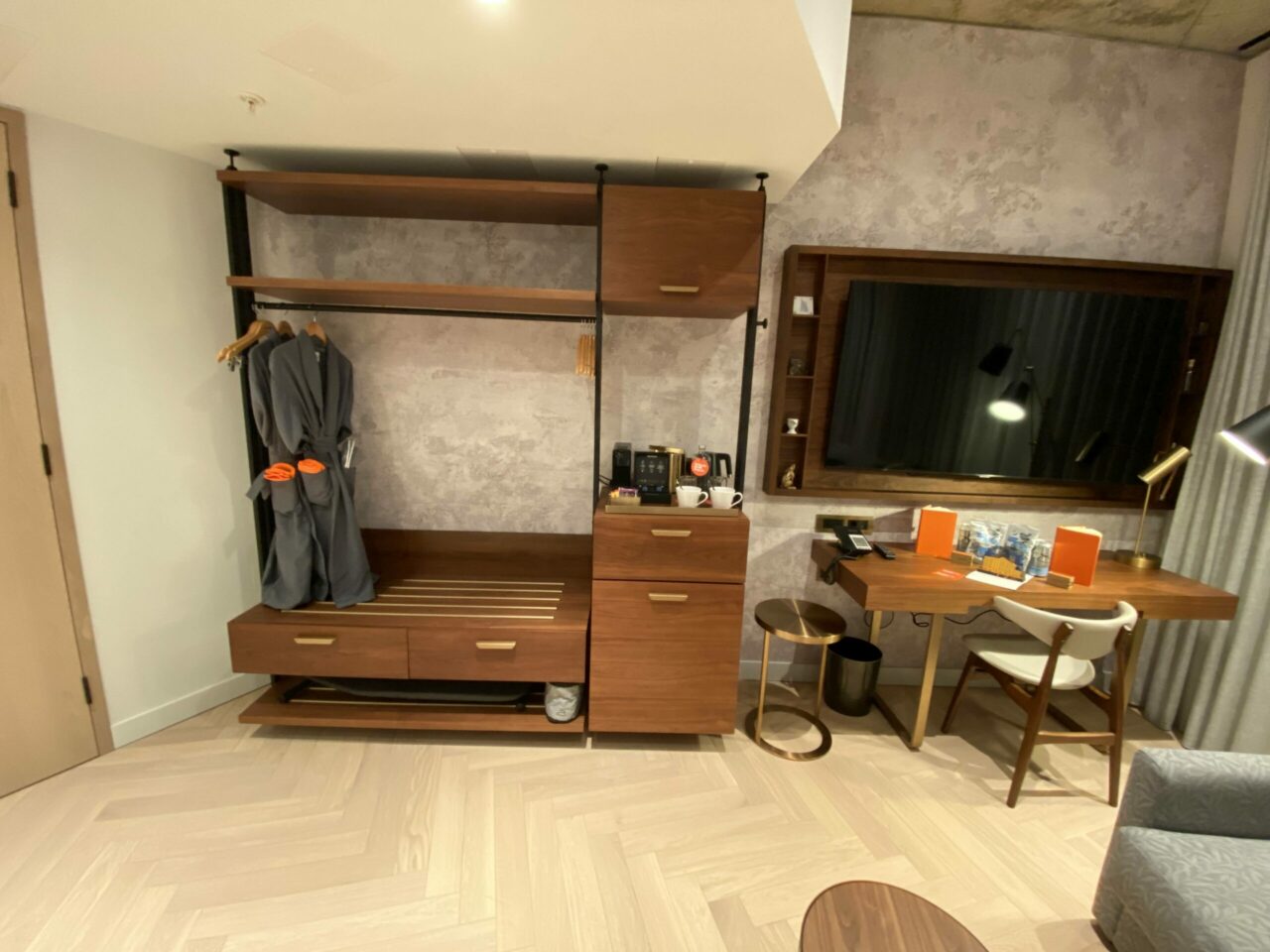 There was also a Nepresso machine, a kettle and I loved the large water bottle you could refill.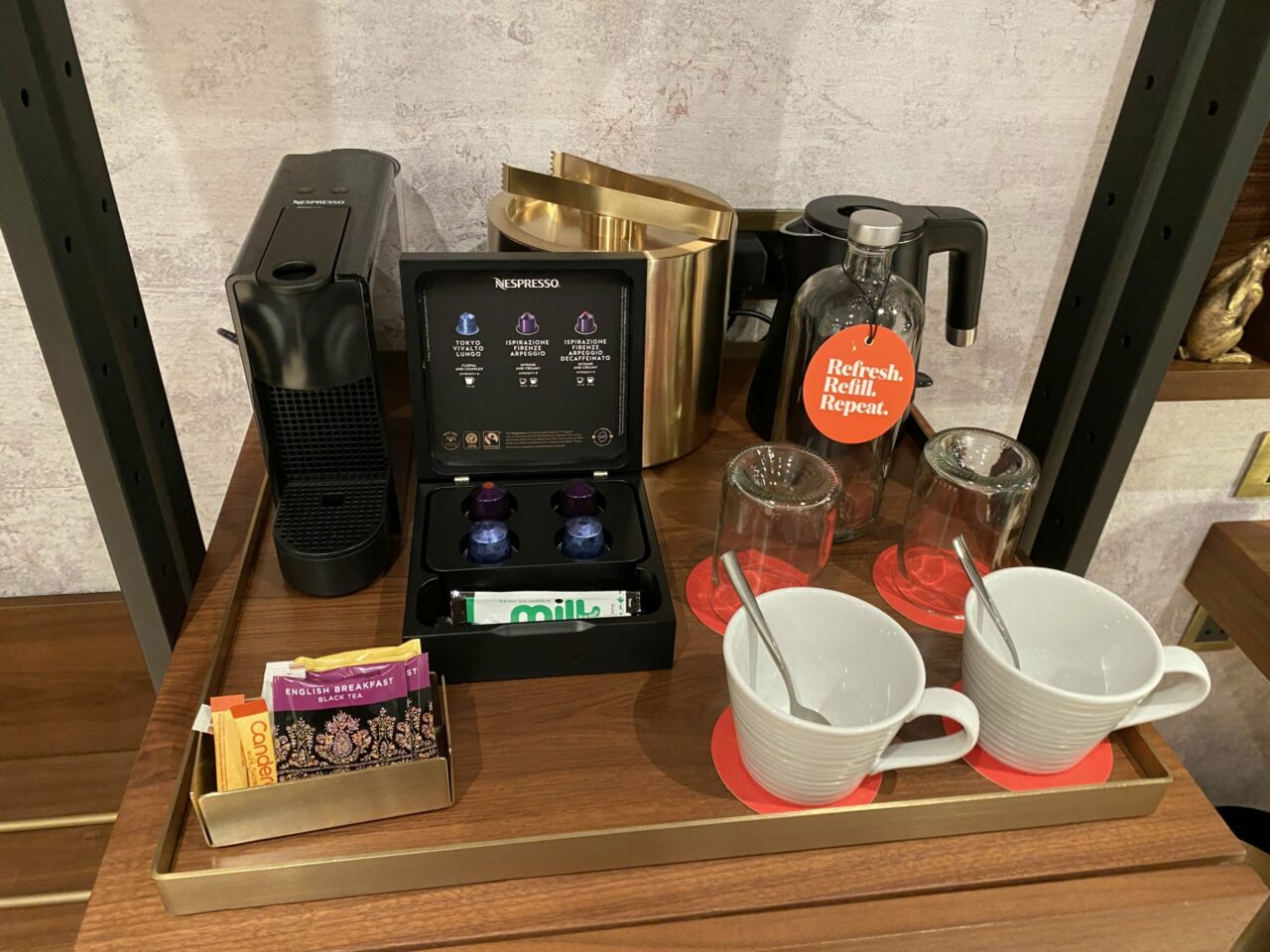 As you would expect there was a safe but it was large and well-hidden. So many safes it is a struggle to fit a laptop in, but this had plenty of space.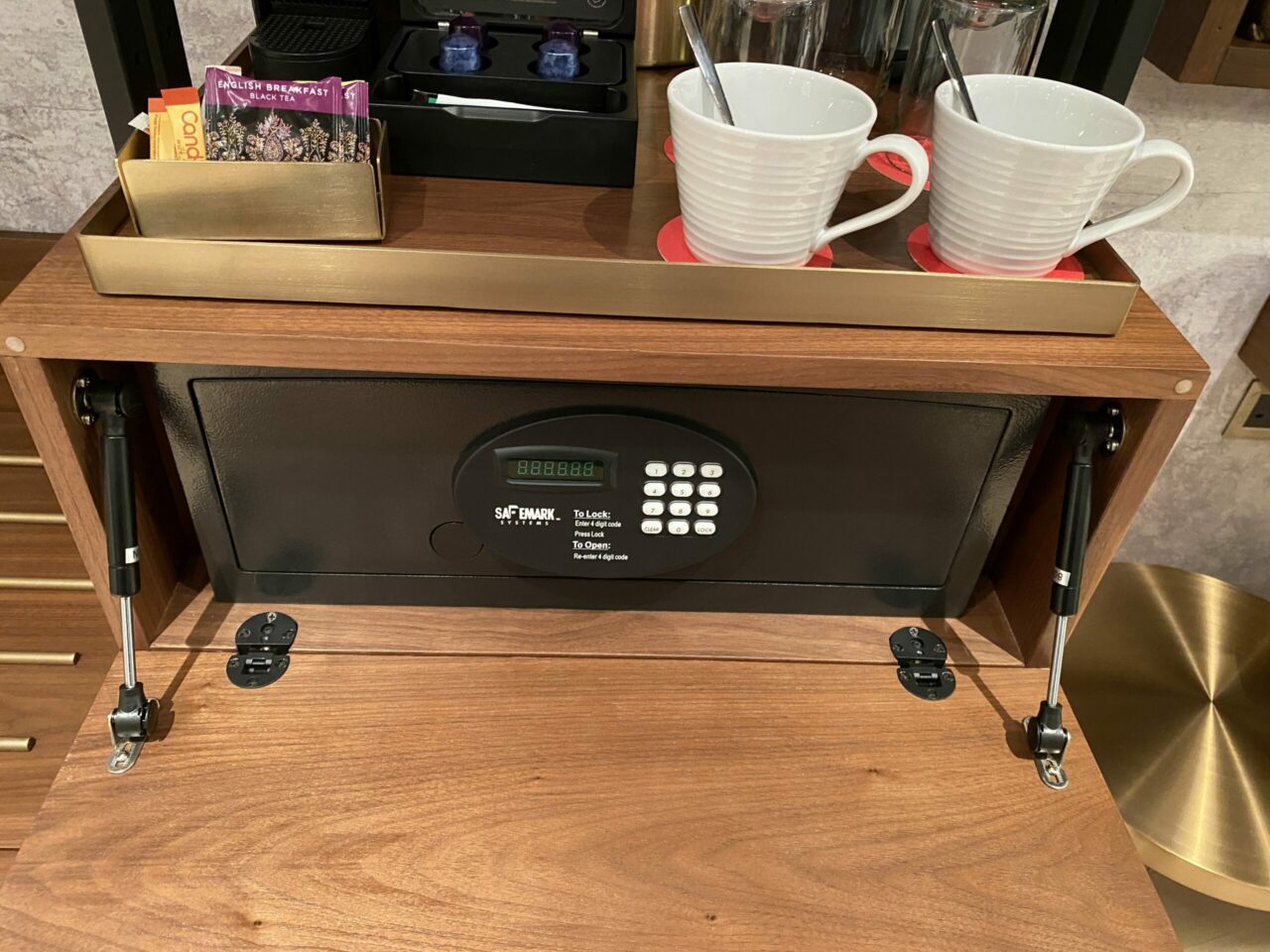 Finally, there was a fridge which was empty except for some fresh milk which was also something I would only expect to see in a really top end hotel.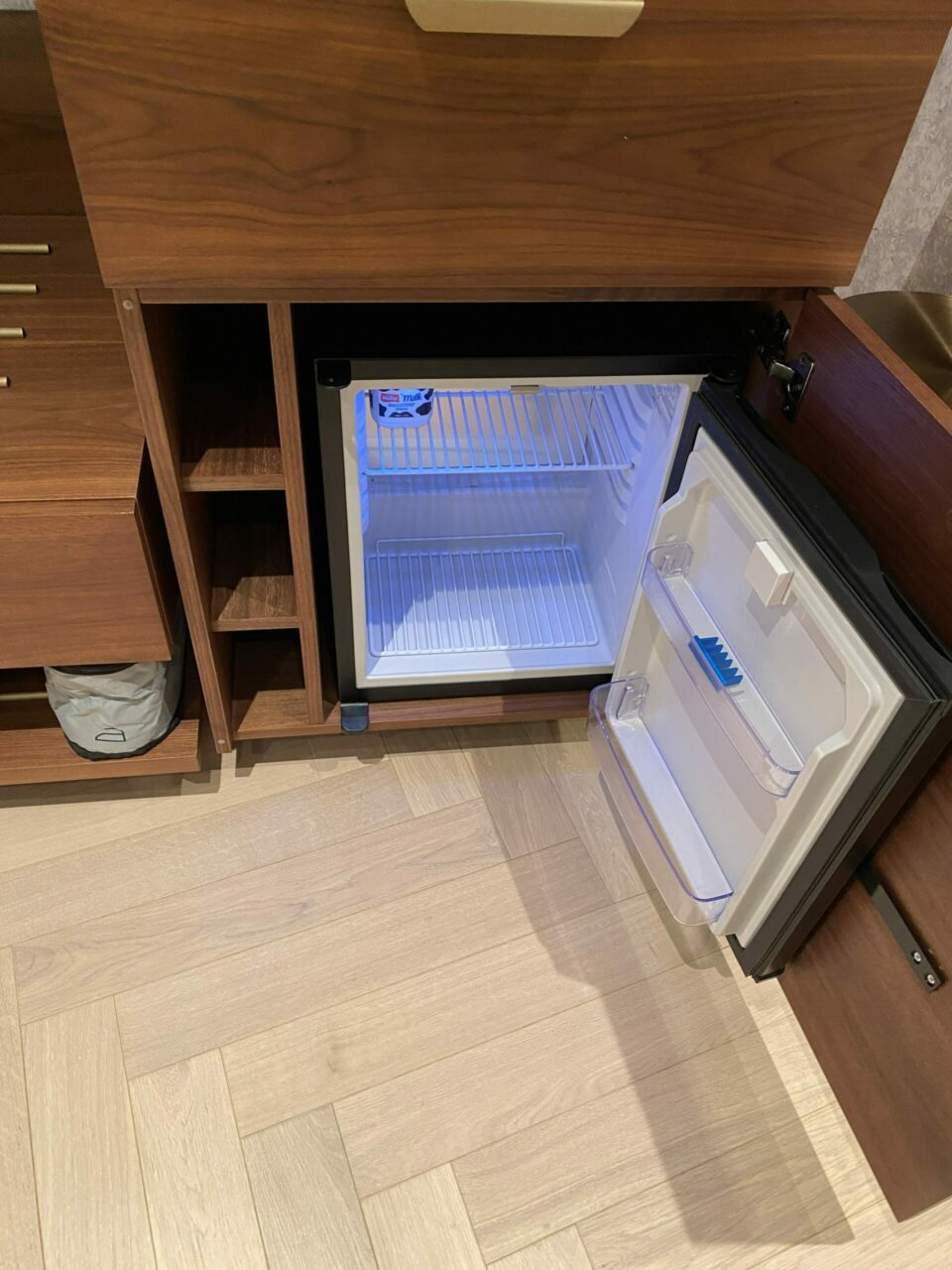 I loved the little extras in the room with an eye mask and some slipper socks in bright orange (a little bit on the easyJet orange for me!)
The bathroom was also a good size and well designed. It had everything I would expect from a luxury bathroom – large rainhead shower, magnifying mirror, and plenty of soft white towels and face cloths.
Toiletries were by Aptiva in Mountain Honey and had a mild unisex fragrance.
The bed was pretty comfortable and the room was super quiet. I could not hear any noise from the street below, although I was on one of teh higher floors. It is not a particularly busy street for traffic anyway.
Food and drink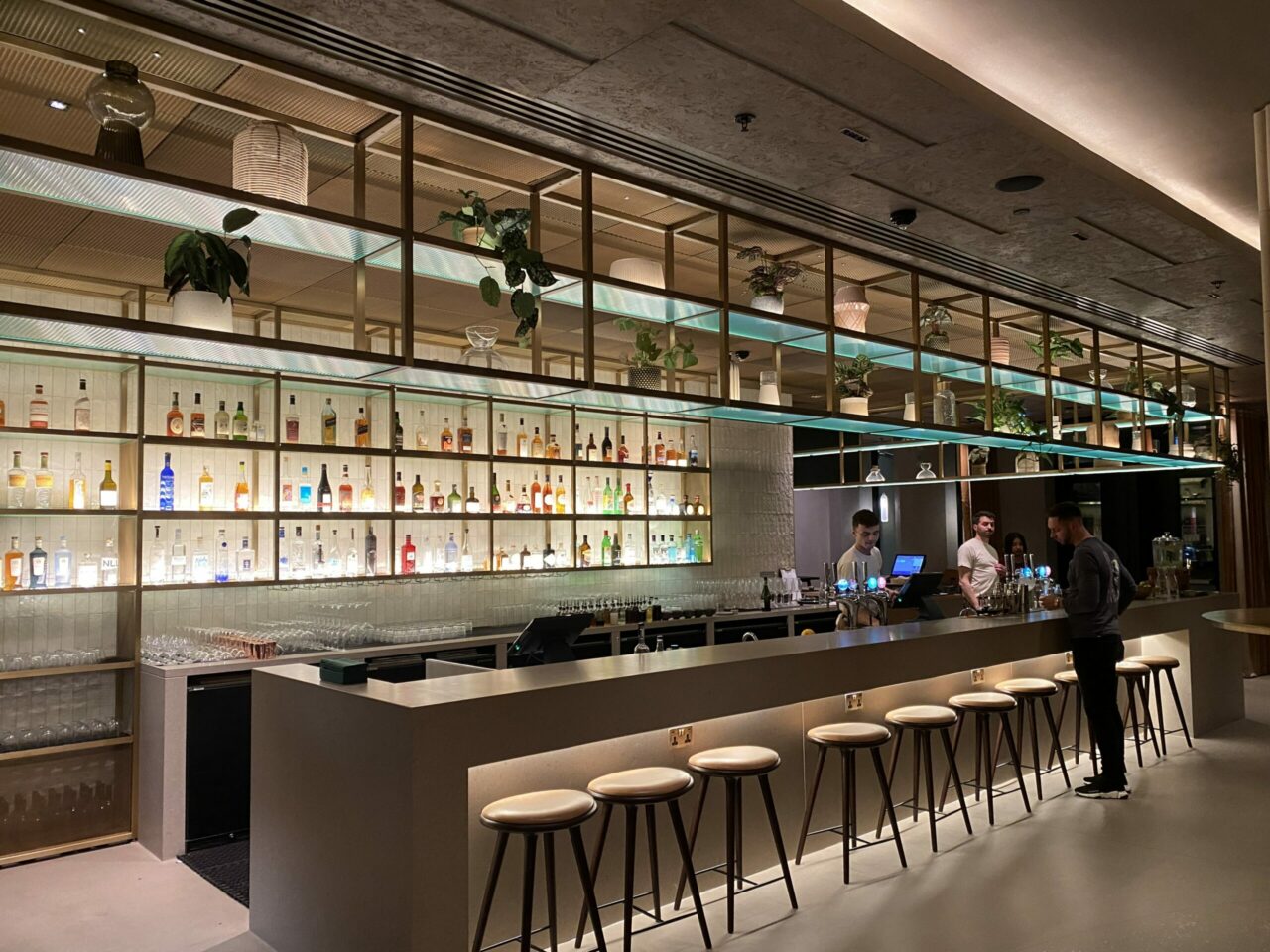 The hotel currently has the Freedom Café in the lobby and the Penny Squares for breakfast. Florattica Rooftop bar is due to open soon.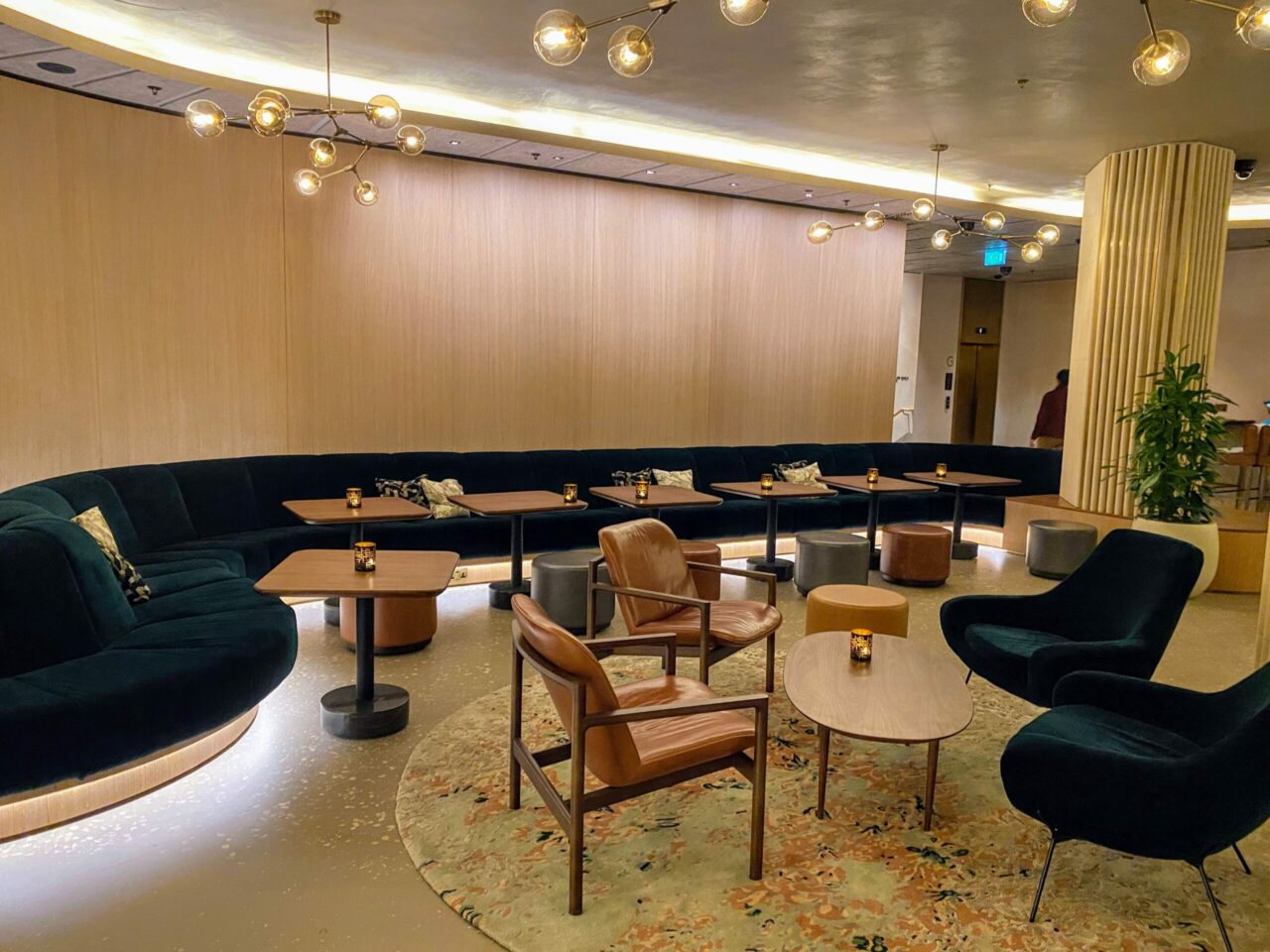 Freedom cafe is for coffee, snacks, lunch, and an area to work in the day and then a bar at night with small plates. It has a great gin list with plenty of local options as well as some great cocktails.
Breakfast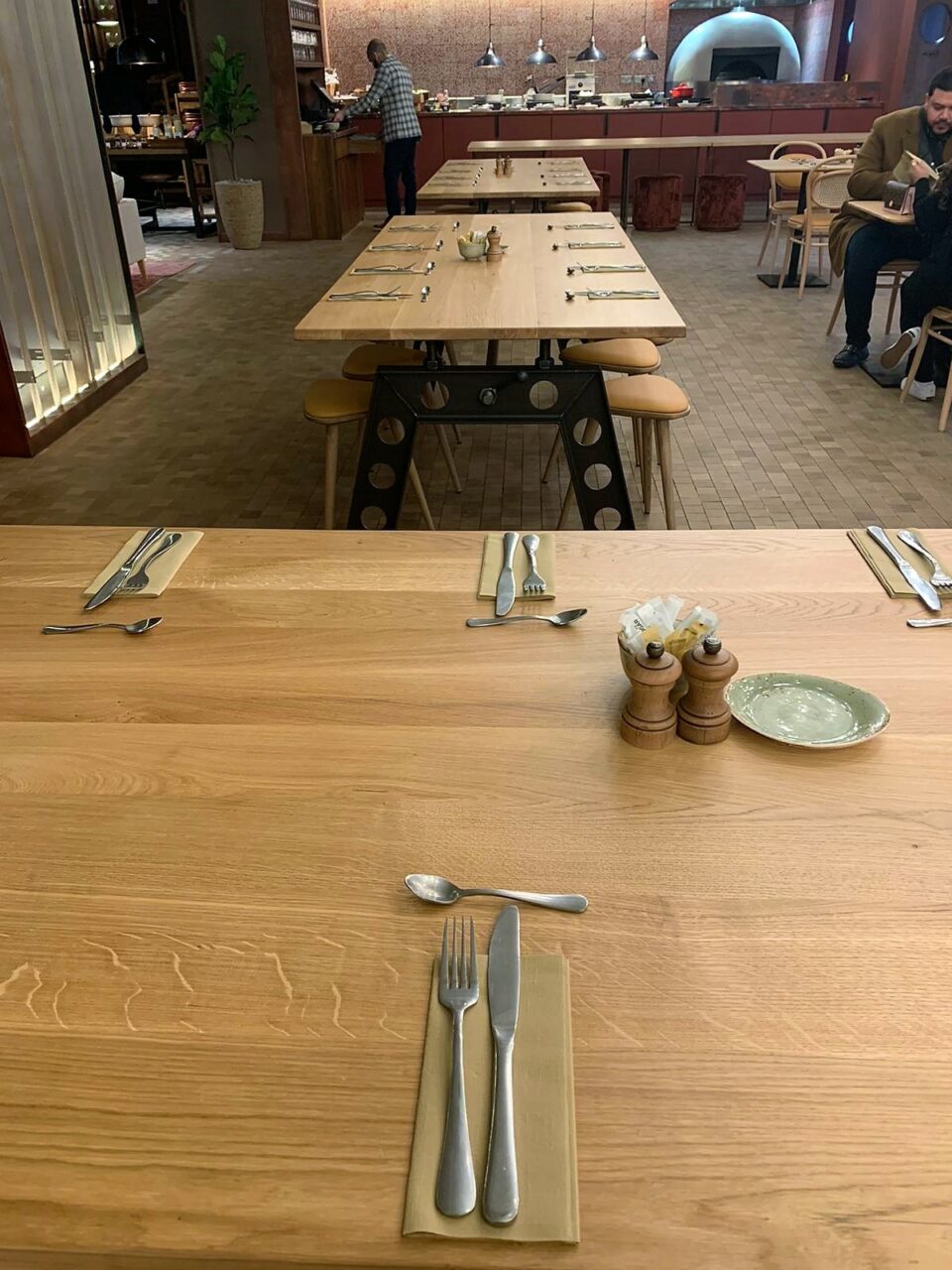 Breakfast was also a pleasant surprise. The restaurant has a lot of large communal tables which I probably would not be a fan of if its busy. However, it was pretty quiet when we were there.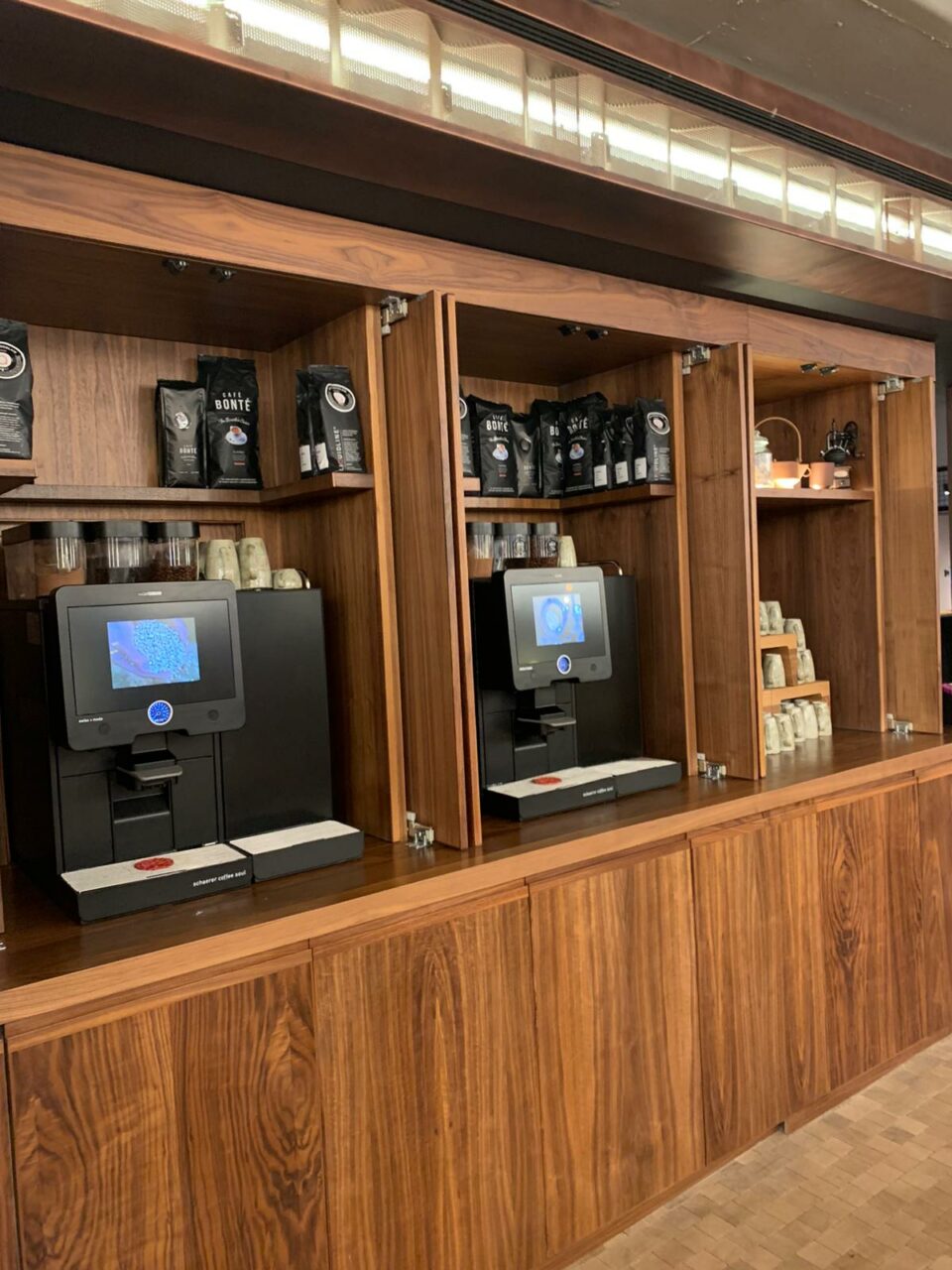 There were no real complaints about breakfast apart from having to use a machine for coffee but it was at least a good bean to cup one. There was certainly a large enough selection of food to choose from.
The cold selection had salad, meats, cheese, yoghurt, cereal and some lovely fresh fruit such as berries. The bakery selection was also great with slice your own artisan bread and some good flaky croissants.
There was a full hot selection which also had a version of shakshuka, one of my favourites.
Everything seemed good quality and the dishes were topped up regularly.
Facilities
There's a large well-equipped gym and a concierge service.
Booking and pricing
I paid cash for the hotel and prices can be very reasonable if booked in advance. Prices start from around £150 a night or 56,000 Hilton Honors points.
You can search for prices and availability here.
Conclusion
Overall I was impressed with the Canopy hotel. It was stylish with friendly staff and a good bar. The room had lots of extras and was comfortable and quiet. I also felt like my status was recognised which is always nice. Considering the price of the hotel it does make a good value option for a fairly luxurious hotel that is close to public transport.