Hyatt free nights, discounts and points bonus
Points bonus
Hyatt has a couple of promotions going currently. Hyatt is not normally a chain of choice for those living in the UK as the options used to be quite limited. However, with the link to SLH, it makes them a much more viable option. If you get to the top tiers it is definitely one of the best hotel programs for perks with plenty of suite upgrades. You can find more about the World of Hyatt scheme in this article.
There is also a good offer to get status much more easily at the moment which you can read about here.
From February 23 through May 15, 2021, all World of Hyatt members can register to earn 2,000 Bonus Points every two qualifying nights from March 1 through June 15, 2021. Nights do not have to be consecutive and can include stays across 1,000+ locations worldwide, including:
Plus, all members can earn up to one Free Night award at a Category 1-4 Hyatt hotel after their first ten qualifying nights during the Promotion Period (valid up to 180 days after issuance).
I would not be so worried about getting the 1-4 category award as they are generally at the low end of the market since 1-4 are the lowest category for rewards hotels.
There is no maximum number of points members can earn during the Promotion Period, and members must register before their stay to qualify toward earning points and a free night. Bonus Journeys can also be combined with other Hyatt offers and experiences.
You can find the Bonus promotion page here.
There will be time to enjoy this promotion if you are in the UK, providing the roadmap dates don't slip. In the UK, hotels will open on 17 May, although whether they will all reopen then remains to be seen. However, there are plenty of Hyatt and SLH hotels in the UK. SLH has around 35 luxury hotels from Cornwall to Scotland including several in London. In London itself there is the brand new Hyatt Scotland Yard hotel, the Hyatt Churchill (review coming soon) and the Andaz Liverpool Street plus quite a few SLH hotels. Between the TLFL team we have stayed in all the 3 London Hyatt hotels and think they are all worth a stay depending on where you want to be based and what sort of style of hotel you are looking for.
Up to 25% discount on stays or a free night
There is also a good offer for 10-25% off or a free night: The percentage off depends on the hotel as does the free night offer.
The options for free nights are:
Complimentary 3rd night with 2 consecutive paid nights
Complimentary 4th night with 3 consecutive paid nights
Complimentary 5th night with 4 consecutive paid nights
World of Hyatt members can save even more, so it's worth joining if you are thinking about the offer.
You need to book by April 2021 for stays with a check-in date by 12 September 2021. The offer is not valid at Hyatt Ziva, Hyatt Zilara, Hyatt Residence Club, Miraval, MGM, UrCove and Small Luxury Hotels of the World locations. However, you should be able to use it worldwide depending on hotels that are participating.
If you are looking for some options in Europe, there is a Hyatt Regency in Barcelona or in Madrid, a very modern Hyatt Centric which Paul stayed at.
The Hyatt Centric in Murano, Venice also looks gorgeous.
You can find the Hyatt "Choose your adventure" offer page here.
US to reopen by 1 July?

One of the most eagerly anticipated countries to reopen will be the US. The Biden administration is said to be actively pro-travel but also very cautious with the pandemic. However, it is now being reported that the US is hoping to before 4 July, Independence Day in the US. It was announced this week that the US plan to offer a vaccine to all eligible Americans by the end of May. This would certainly seem to allow for a reopening by July. Currently, the US is the fourth most vaccinated country in the world based on vaccines by the percentage of adult population.
A recent tweet by travel expert, Paul Charles said this,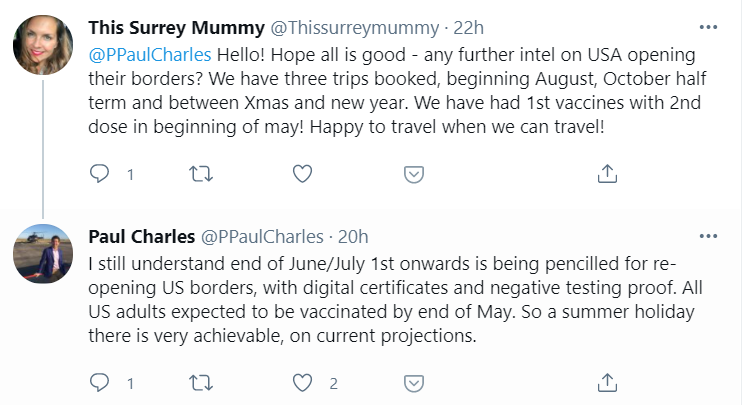 There is also a chance that the US could trial a corridor with the UK earlier given our vaccination rates and that we are no longer part of the EU. The UK government has been discussing the potential for a travel corridor trial with the US for many months.
Flights more expensive in 2022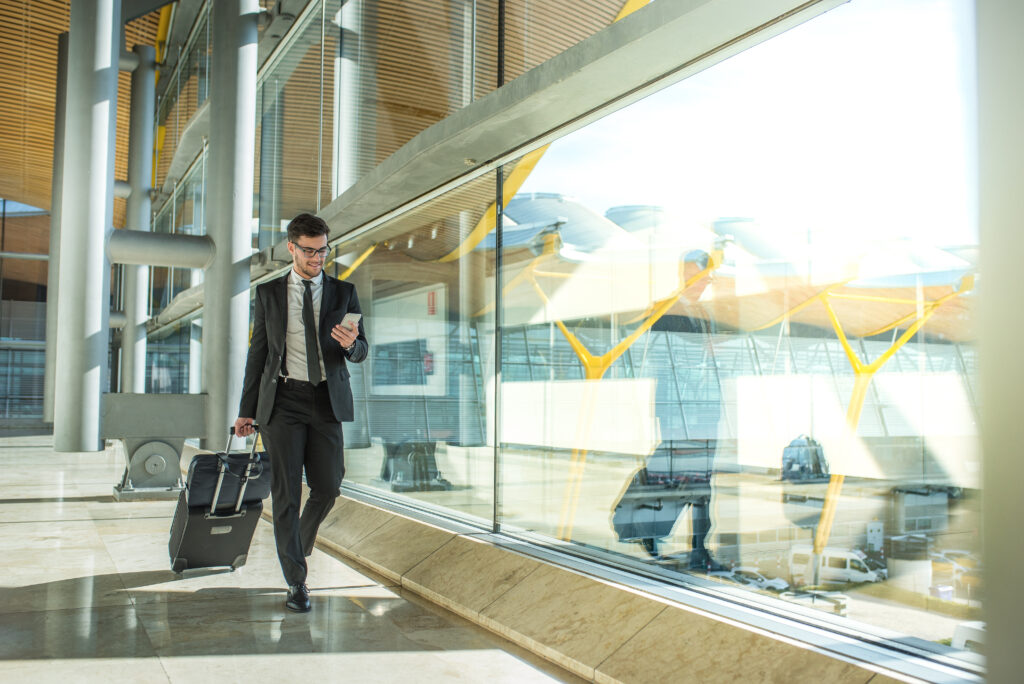 The budget was not popular with the travel industry this year. As well as not having any specific help for the sector which is likely to come out as the worst-hit sector in the long term by the pandemic, the government have actually decided that now is the time to increase APD further!
In April 2021 there will already be a rise in APD:
Then in the budget on Wednesday a further hike was announced for long haul flights from April 2022:
Long haul economy APD will increase from £82 to £84
Long haul premium economy, business class, and first class APD will increase from £180 to £185
The only good news is that short haul APD won't be raised so it will stay at £13 in economy and £26 in business class. While these are relatively small amounts, the airlines were hoping that the Chancellor could get rid of the tax until aviation returns to any sense of normality. At times it does seem like the government is actively trying to undermine the travel industry rather than supporting it like other country's governments are.
Responding to the Budget, Heathrow CEO John Holland-Kaye said:

"The Chancellor talks about protecting jobs and livelihoods, fixing the public finances and laying the foundations for the future economy, and yet he continues to ignore the UK's aviation sector. He clearly doesn't understand that all three depend on a strong aviation sector delivering the trade, tourism and investment that power vast parts of the British economy. Failing to even mention aviation, let alone provide full business rates relief for airports in today's Budget, is a missed opportunity to ensure the sector can play a key role in the country's economic recovery. The absence of any meaningful support from the Government in the face of tough restrictions which have ground travel to a halt will weaken the sector and limit UK growth at the time it is needed most."