Last night we finally had what would be great news for those that are vaccinated. Both the Daily Mail and The Sun reported that the government were planning to ditch PCR tests for those fully vaccinated returning to England. Obviously, this isn't confirmed but when presented like this it normally means the government plan to do it and has deliberately leaked it ahead of time to make sure there is no public backlash before they commit to it officially.
There has been a lot of controversies recently with government-approved testing companies and the fact that only around 4% of the PCR tests are actually being sequenced which was the government's reason for doing them in the first place to detect variants.
This would mean that the test that you do abroad (PCR or lateral flow) before returning to England would not be required from those that are fully vaccinated. Instead, you would have to do a test when you get back to the UK, but only a lateral flow test. This would apply to amber and green but it is also rumoured that the amber list could also disappear and restrictions would be based on your vaccination status for green countries. The red list would remain as it is now according to reports.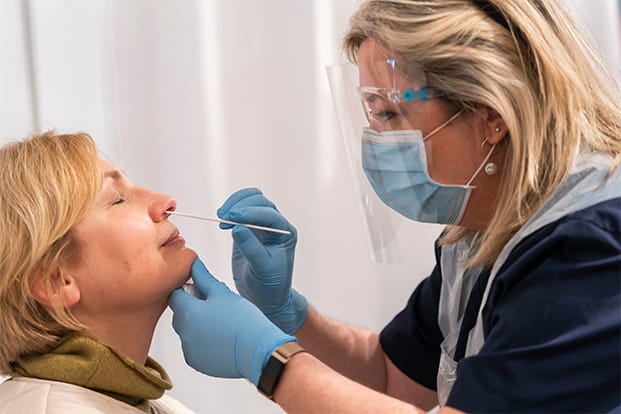 Currently, those returning from an amber list country who are vaccinated have to have a lateral flow or PCR to get back into the UK, followed by a day 2 PCR test. Those unvaccinated also have to have a second PCR test on day 8. So far there is no word on what would happen to those unvaccinated. I would expect them to have to continue with the same set of rules. According to government statistics on Thursday 89% of the adult population have had at least one dose.
The review of the current system is expected to be announced by the end of the month as it has to be done by 1 October.
There are several bits that are not clear including what requirements children would have for testing when travelling with fully vaccinated adults. It's also unclear whether you could use an NHS lateral flow test or one that you have to buy. Finally, most in the travel industry have been calling for lateral flow tests on arrival for those vaccinated with a PCR test only required if you were positive. Obviously, in that situation, you'd hope that an NHS PCR test would be acceptable too.
There has been little said about whether Scotland and Wales would follow.
Overall it's great news for the travel industry. Personally, I would have rather dropped the second test and just had the pre-departure test since they only cost me £26 and the self-administered ones are very simple. That way you'd have some peace of mind the person you were sat next to had been tested. But either way, it's high time the government reduced the amount of testing for those vaccinated to be in line with most other countries. Very few countries require two tests other than the Caribbean and some of the Far East.
A spokesperson from the Department for Transport said: "Our international travel policy is guided by one overwhelming priority – protecting public health.

"Decisions on our traffic light system are kept under regular review and are informed by the latest risk assessment from the Joint Biosecurity Centre and wider public health factors.

"The next formal checkpoint review will take place by 1 October 2021."