JetBlue's Transatlantic Suites
Jet Blue has certainly chosen quite the time to launch a new transatlantic service this year! The airline struggled to get slots at Heathrow even with the fact that most airlines aren't using theirs and probably won't fully use them for several years to come. Instead, they got 14 weekly slots at Gatwick and 28 weekly slots at Stansted. They had asked for 42 slots per week at Heathrow. I think they need to take a long look at slot allocation and even look at whether they could award them on a temporary basis. It seems crazy we could have slots being unused for several years and yet an airline that wants to operate is being denied.
I have always been keen to try JetBlue. They are a young, innovative customer experience focussed airline. Anything that shakes up the transatlantic market is generally going to be good news for consumers. Today JetBlue unveiled a new version of its popular Mint experience, which first disrupted the market with a fresh take on premium travel at an "unpremium" price in 2014. Mint is currently sold as Domestic First in the US and operates on the transcontinental routes.
JetBlue's business class Mint features 24 private suites with a sliding door for every Mint customer, a custom-designed seat cushion by Tuft & Needle, and countless other clever touches. It will also feature the Mint Studio, which is a step above this on transatlantic flights.
"Mint was an idea to make premium travel across the U.S. less stuffy and more affordable, and its performance has exceeded even our most optimistic expectations of going beyond New York, Los Angeles and San Francisco," said Joanna Geraghty, president and chief operating officer, JetBlue. "It's remarkable how Mint's thoughtful design has resonated with customers as we successfully grew it to more than 30 routes. We put our heart into this redesign of Mint and were inspired by our original vision of offering customers an exceptional experience at a lower fare – which is what JetBlue is all about."
The first major design overhaul of Mint – designed in partnership with Acumen Design Associates – will launch on JetBlue's highly anticipated London flights this summer, and a 16-seat layout will debut on a limited number of flights between New York and Los Angeles in 2021.
The New Mint Experience

Every seat is a suite: Inspired by the popularity of the four private suites in its current Mint configuration, JetBlue's transatlantic Mint will offer more privacy with 24 individual suites. Every inch of space anticipates customer needs, with features including a tilting 17-inch Thales AVANT seatback screen, wireless charging capabilities, an integrated phone ledge for multitasking, and easy-to-reach in-seat power, as well as laptop, shoe and handbag stowage.

JetBlue is the first carrier to outfit its aircraft with Thompson Aero Seating's VantageSOLO seat, the company's revolutionary single aisle seating solution with a herringbone configuration developed and designed specifically for narrow-body aircraft and further customized for JetBlue.
Mint Studio for extra space and privacy: The all-new Mint Studio – is JetBlue's latest game-changing innovation, offering the most space in a premium experience from any U.S. airline. Each aircraft will have two Mint Studios in the first row, providing ample room for working or relaxing, and featuring a 22-inch tilting Thales AVANT seatback screen, an extra side table for added productivity, and a guest seat that can accommodate an additional Mint customer during flight at cruising altitude. When reclined, customers can kick back and relax on the largest lie-flat bed of any U.S. carrier.
JetBlue's proprietary seat design is truly a bed in the sky: JetBlue's bed design is quite unlike any bed design I have seen before in business class. JetBlue worked with Tuft & Needle, the innovative mattress company that pioneered the bed-in-a-box trend, to shape the entire Mint sleep experience onboard. Engineered for comfort, every Mint seat is layered with Tuft & Needle's proprietary T&N Adaptive® foam and a breathable cover to create a cool and comfortable sleep experience unlike anything in the sky. The seat complements additional sleep amenities developed in partnership with the brand, including a convertible blanket with a built-in foot pocket, a memory foam lined pillow with a pillowcase, and a snooze kit with a matching eye mask and earplugs.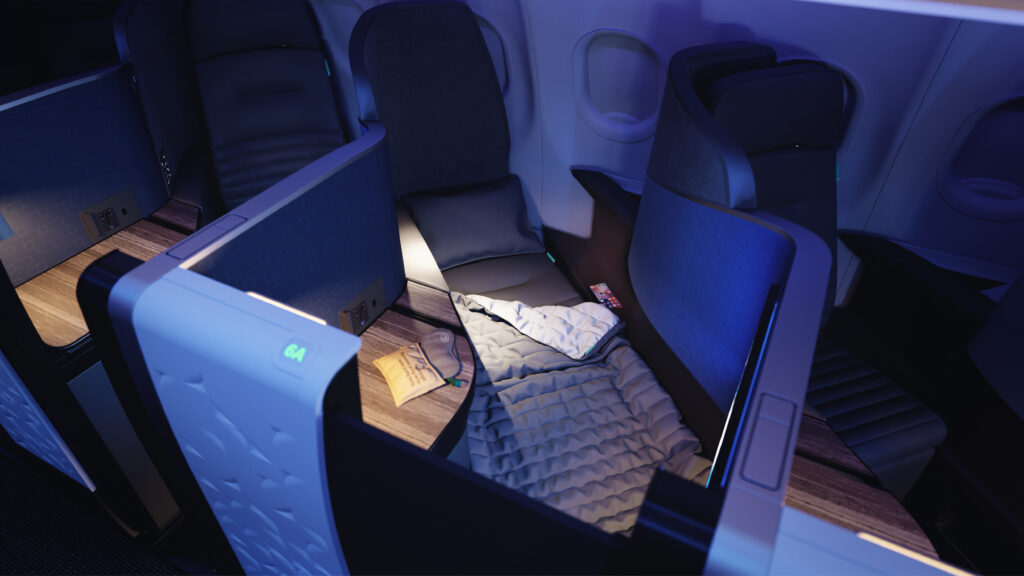 One design flaw that many people will not be happy about is the fact that the seats are angled away from the window which is a shame. However, given that prices are likely to be cheaper than other airlines when they launch, I will definitely be keen to give this a go. My friend Michale from Vegas and casino blog Travelzork, flew JetBlue transcontinental in the US recently. The food looked great and very different to normal airline food. I would be very happy to receive this on a 5-hour breakfast flight. Hopefully this will encourage other airlines to up their game as well.
What do you think about JetBlue's new business class suite? Would you fly them to the US if they were cheaper than BA or Virgin? Let us know in the comments below.