BA introduces new luggage drop off points
Pre-covid Airportr was a great service for picking up luggage or delivering it to your home or hotel and checking it in with the airline for you. They work with a number of airlines including BA and AA. I have used it a couple of times and found it very useful, although you do have to allow a little extra time should something go wrong, especially in the age of track and trace now!
British Airways has now teamed up with AirPortr to create new more convenient fast bag drop areas before heading to the departures concourse at Terminal 5 at Heathrow airport. I always used to like the drop-off counters at the train station in Hong Kong which made travelling so much less hard work with luggage. Now BA are trying to replicate the same to stop congestion and queues in the terminal. With many destinations, if you submit all your paperwork online you would get an online boarding pass and be able to bypass check-in after using the bag drop.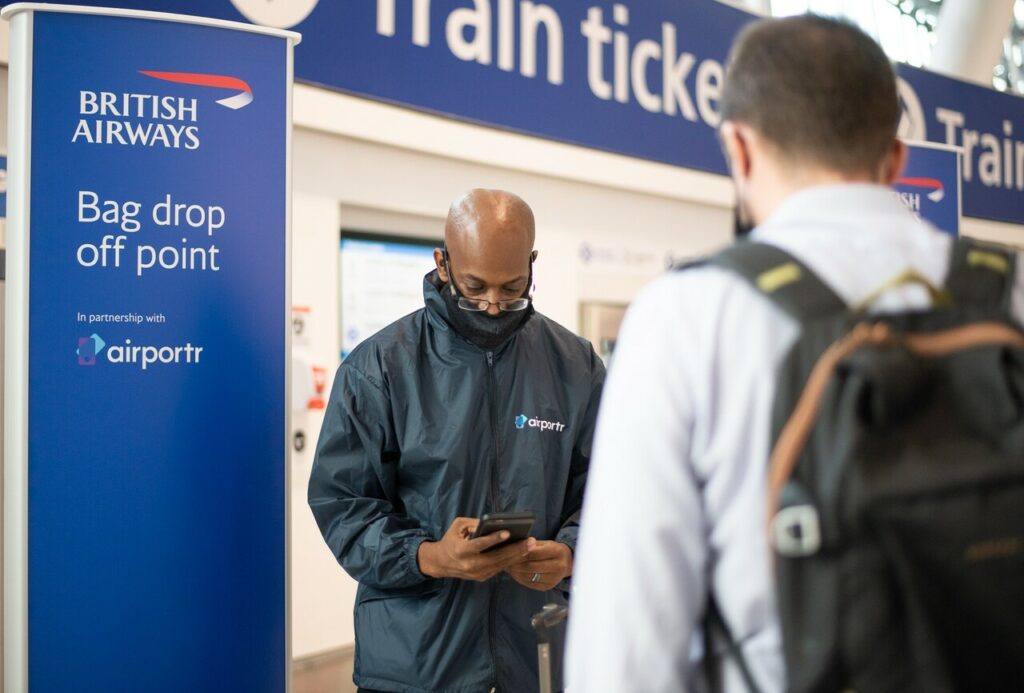 With the first drop-off point planned at the Heathrow Express train platforms, customers will be able to quickly drop-off their luggage at peak times between 5-10am, before travelling bag-free straight through to security. AirPortr's team seal, secure, and check-in bags for customers' flights, before being collected as usual from the baggage reclaim at their destination.
You can also choose to book luggage collections from their home address, from £19 as they did before. Bags can be collected from any address within AirPortr's Service Area. You can check the map to see if your postcode is included. Bookings can be made online from £19. This allows you to check in your bags from home, via delivery driver. AirPortr ensures that once collected, bags are sealed and monitored throughout the delivery process. Bookings must be made for bags to be collected at an agreed time, within 24 hours of departure. Changes and cancellations are free up to 3 hours before collection which is crucial in the current situation.
If you want peace of mind you can track your luggage online from the moment it leaves your doorstep, or at the T5 key access areas, right up to the bag being loaded onto the aircraft. Customers using the services also receive digital bag tag receipts which saves having to keep a paper one just in case.
Tom Stevens, British Airways' Director of Customer Experience said: "Ahead of July 19, we have been busy investigating and trialling ways to ensure that we can offer our customers the smoothest journey through the airport possible.
We believe this contactless initiative with AirPortr allows our customers to avoid baggage check-in queues and move through the airport without the hassle of carrying luggage, as well as offering the reassurance that we are doing everything we can to ensure the safe delivery of their bags from doorstep to destination."

Randel Darby, CEO and Founder of AirPortr Technologies said: "We're proud to be able to play our part in helping British Airways and its customers with the restart of international travel this summer. Seamless, contact-free journeys through the airport are in everyone's best interests and removing bags from the equation makes this possible for many more people. As the specialist in this space, we're excited to be working with British Airways once again to lead development of innovative new baggage solutions, for the benefit of customers travelling in a post-pandemic world."
In case you have forgotten, British Airways also offers a special twilight baggage drop service the night before travel from Heathrow Terminal 5, when customers are able to deliver their bags to the airport terminal between 4 and 9pm the day before they travel. Given the chaos caused this week by mass staff isolation at short notice, this could be well worth trying if you are staying at Heathrow the night before. I have used the service at Gatwick many times and love being able to travel luggage-free on the day.
BA is also trialling new intelligent queuing technology from Qmatic, that enables customers to virtually queue at check-in by pre-booking their slot time in advance of arriving at the airport. Obviously, this is aimed more at economy customers, but there's no reason why you couldn't try it for other classes.
Singapore Airlines to Phuket business class deal for 2022
With the current situation, ex EU deals are tricky and generally something I am avoiding. However, this deal is available until the end of March 2022 making it worth a punt. Since Phuket is already open for fully vaccinated and Singapore look likely to take a pragmatic approach to those fully vaccinated, then I think it is less risky than some other scenarios. Singapore also currently allow transfers from the UK on Singapore Airlines on a single ticket.
Singapore Airlines usually have great customer service. The flights are mainly on an A350 which I have flown on several times and are great with some of the widest beds in the air. Not everyone likes this style of bed so if you are tall you may want to read my review here.
Price: £1324
Departs from: Paris
Book by: 22 July 2021
Travel: by 31 March 2o22
Minimum stay: 7 nights
Maximum stay: 12 months
Transfers: Unlimited
Stopovers: 4 free stopovers permitted on the pricing unit – 2 in each direction in Asia
Refundable: No
Changeable: make unlimited changes to your booking on or before 30 September 2021; and make one additional change after 30 September 2021. All change fees will be waived if your ticket is eligible for complimentary rebooking. All you have to do is pay the fare difference, if any.
There is also a similar fare with Qatar for £1400 from Paris.
You can book direct with Qatar Airways here, Singapore Airlines here or find the cheapest online travel agent price with Skyscanner.