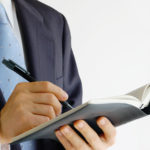 In January this year, Roving Reporter (RR) and I set off on rather an epic journey to reach Auckland. We paid around £2100 to fly from Stockholm with Singapore Airlines. This meant routing via Moscow and then Singapore before a stop off at my favourite hotel, The Sanchaya (review coming soon) and finally on to Auckland. Singapore have always had a great reputation but it was a few years since I had last flown then and I was keen to try their A350.
Although you can get Qatar from Scandinavia to New Zealand for under £2000 it doesn't present the same opportunities for a stopover as Singapore does, hence why we paid slightly more to fly with them. It also helped me keep my Virgin Atlantic Gold status too!
Check-in
Check-in at Stockholm was fine when you reached the desk but getting to it was another matter. It appeared that most of the population of Stockholm were going on a ski holiday and there was queue snaking most of the check-in area of people laden with ski equipment and bags. Once I had fought my way through the check-in staff were very friendly and explained where the lounge was.
Lounge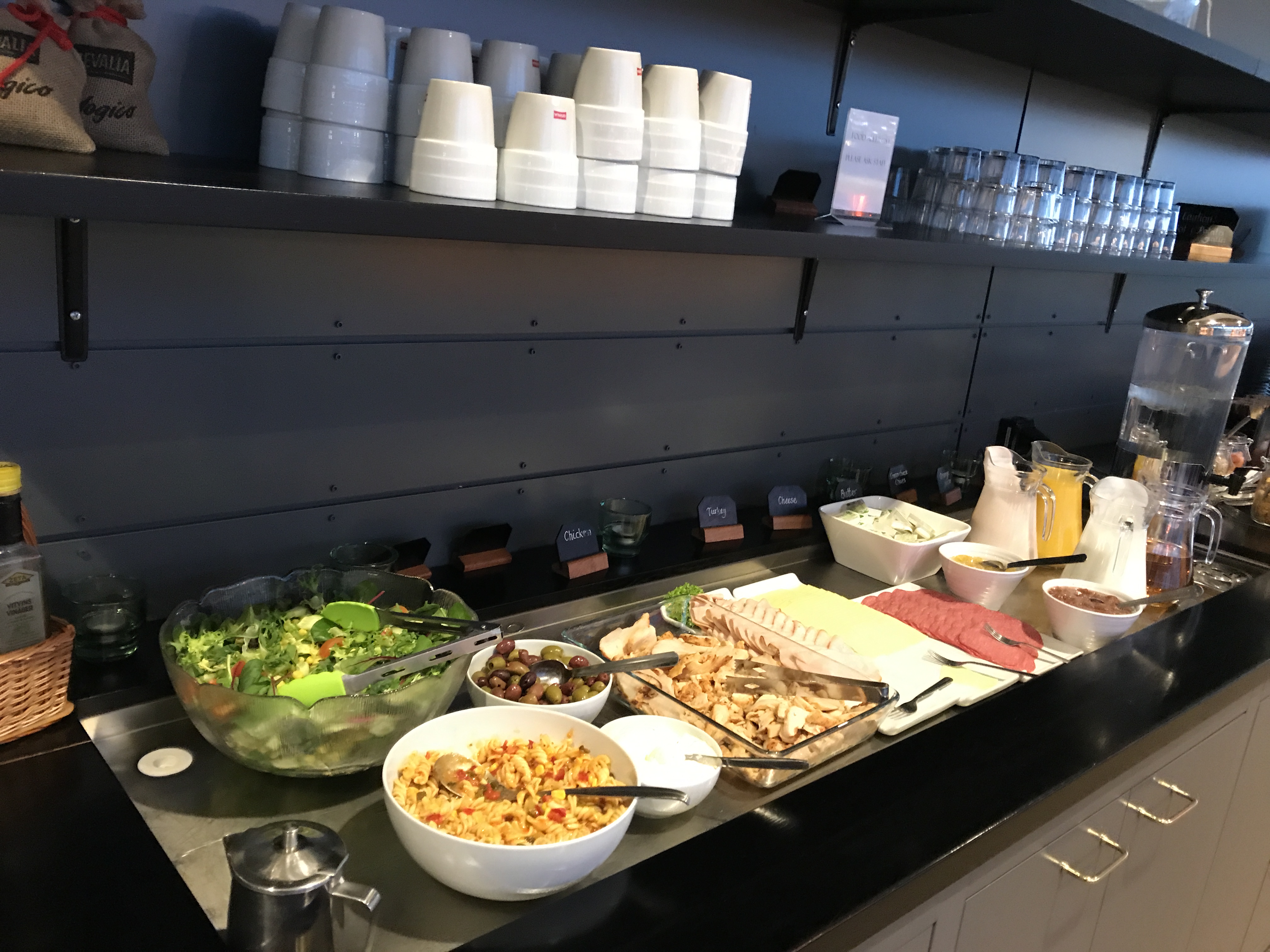 One of the disadvantages of flying on less popular routes is that you don't get the airline's own lounge, instead here it was the third-party Arlanda lounge.
As lounges go it was fairly average. The room was modern and light with plenty of seating and a small breakfast selection. Some of the choices for breakfast were a little bizarre bearing in mind that this was about 8am. There was salad, chicken, meat, cheese, crackers, biscuits and olives. They had one white and one red wine and Charles de Fevre blanc de blanc champagne which was fairly dire. It made an OK bucks fizz though!
Boarding
As I wanted to take some photos of the seats with my 360° camera, I asked to get on early and had to explain why. After this point, I appeared to get superior service to Roving Reporter and was bestowed with attention and gifts such as the Singapore Airlines teddies (available for free onboard if you ask for them).  It didn't really matter as the crew were due to change in Moscow and RR filled me in on his experience too.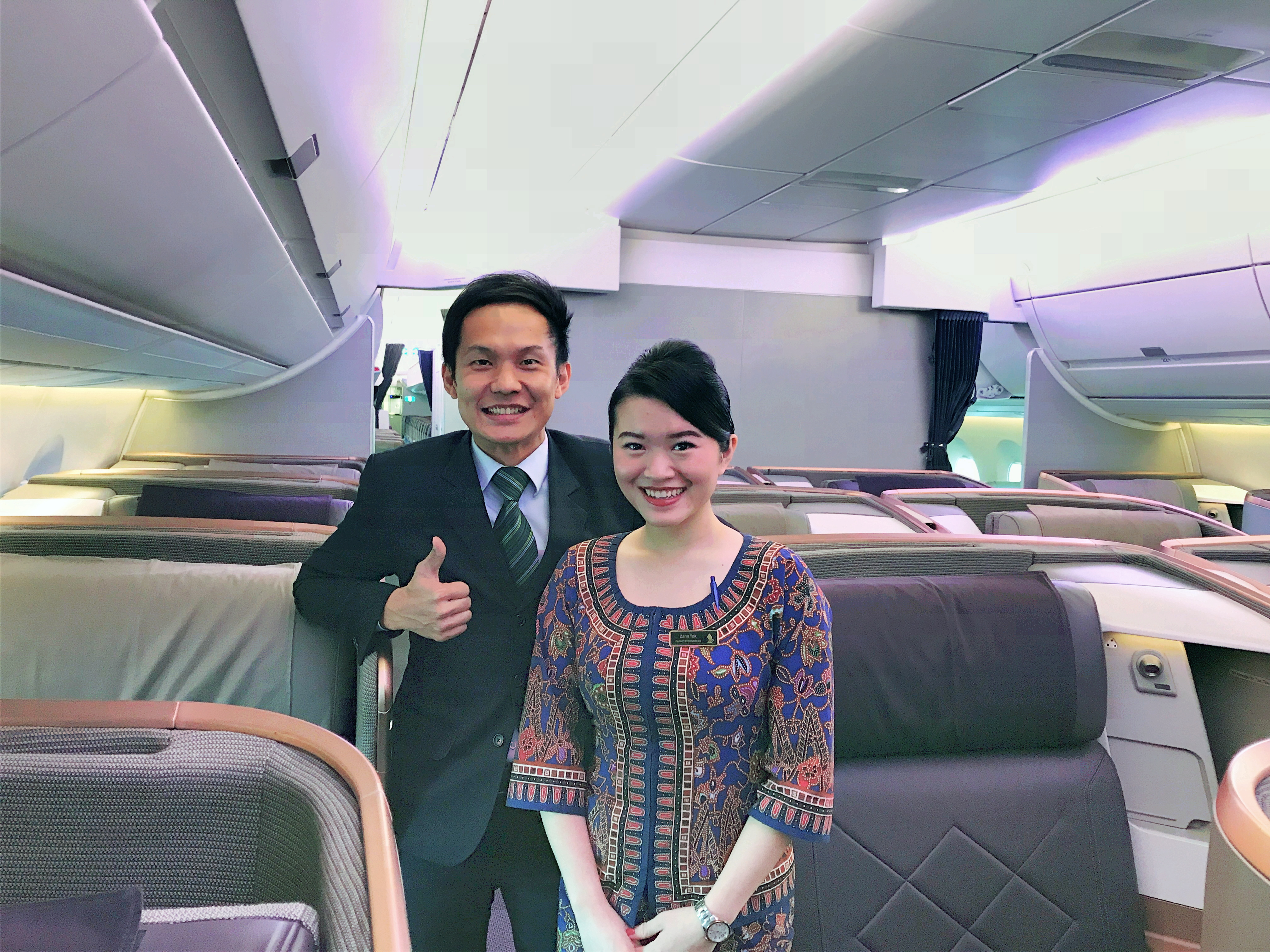 Prior to departure, I was offered a glass of Charles Heidsieck champagne. This does not appear to be normal on the first short flight to Moscow as poor old RR didn't get any but we were both offered it on the next sector.
I generally find most business class champagnes disappointing but I really enjoyed this elegant number. It had a lovely biscuity note to it and a long finish. It retails at around £40 a bottle.
I was then presented with the menu and offered a magazine or newspaper from a wide selection on the trolley.
The seats and cabin
Here is a 360° view of the seat – you can zoom in or out and move the picture in all directions to explore the seat.
Post from RICOH THETA. #theta360 #theta360uk – Spherical Image – RICOH THETA

On the A350 the seats are laid out as 1-2-1. There are 2 cabins starting at the nose of the aircraft with the forward one being the larger of the two. We choose the smaller rear cabin which has just 16 seats.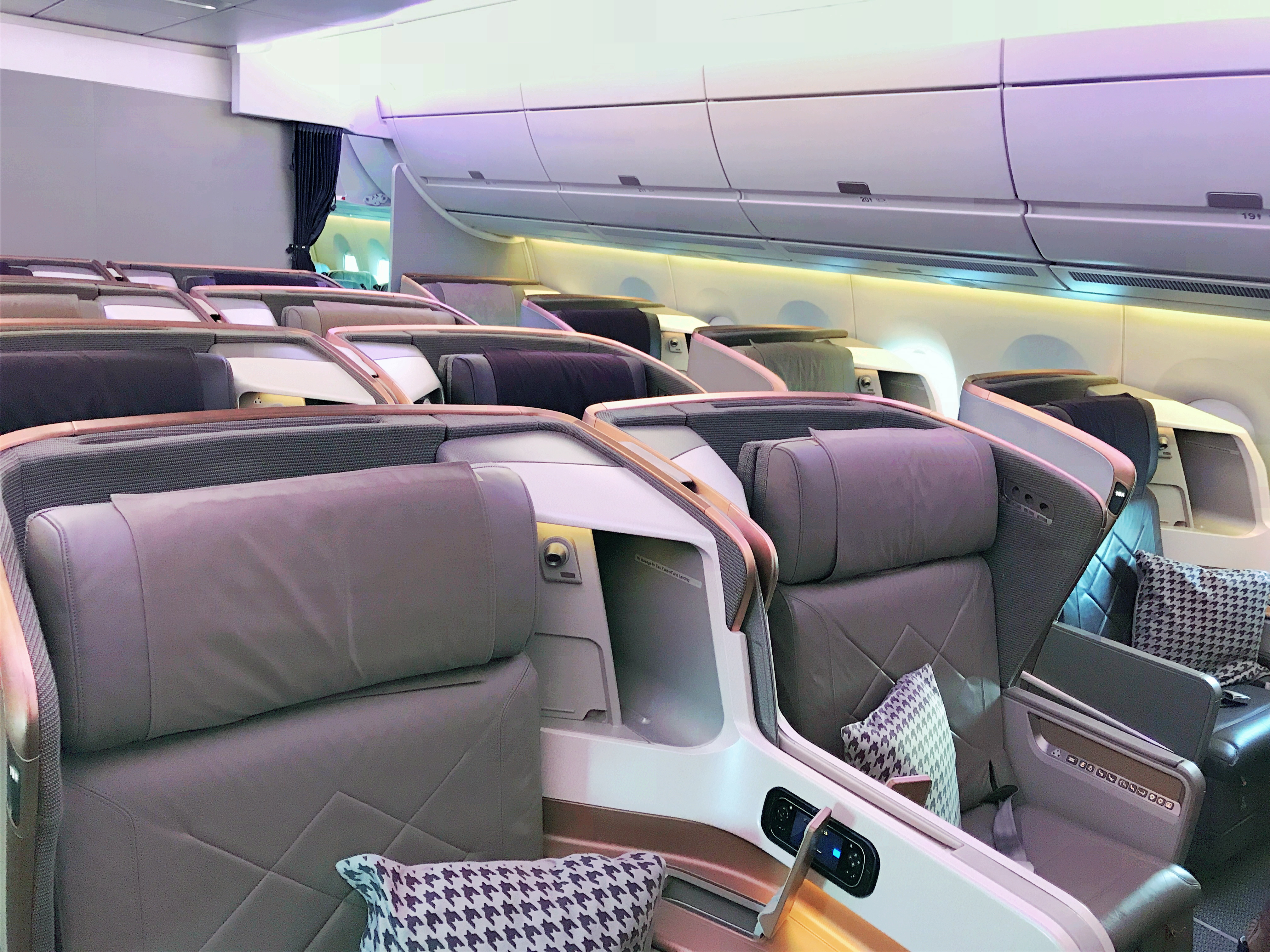 Singapore's seats vary quite a bit depending on where you are sitting. The front row has considerably more space as it has a full-length footrest bench versus a cubby hole in the other rows. The best seats are the middle two in rows 11 (front cabin) or row 19. We had booked the window seats, 19 A and K. All this row are actually bassinet seats which means that if you are concerned with a crying baby you would be better off with row 11 and row 19 is also blocked for booking seats until the last minute. However, by booking on Expedia it meant we were able to select these seats for some reason. That is a tip worth trying if you are planning to fly on the A350 but be aware you could get shifted.
The other seats are quite different in layout with a small box to put your shoes in underneath the footwell, a smaller footwell and a drinks tray by the TV. This means when you are lying down your feet have to go into the small footwell and you have to lie diagonally across the seat.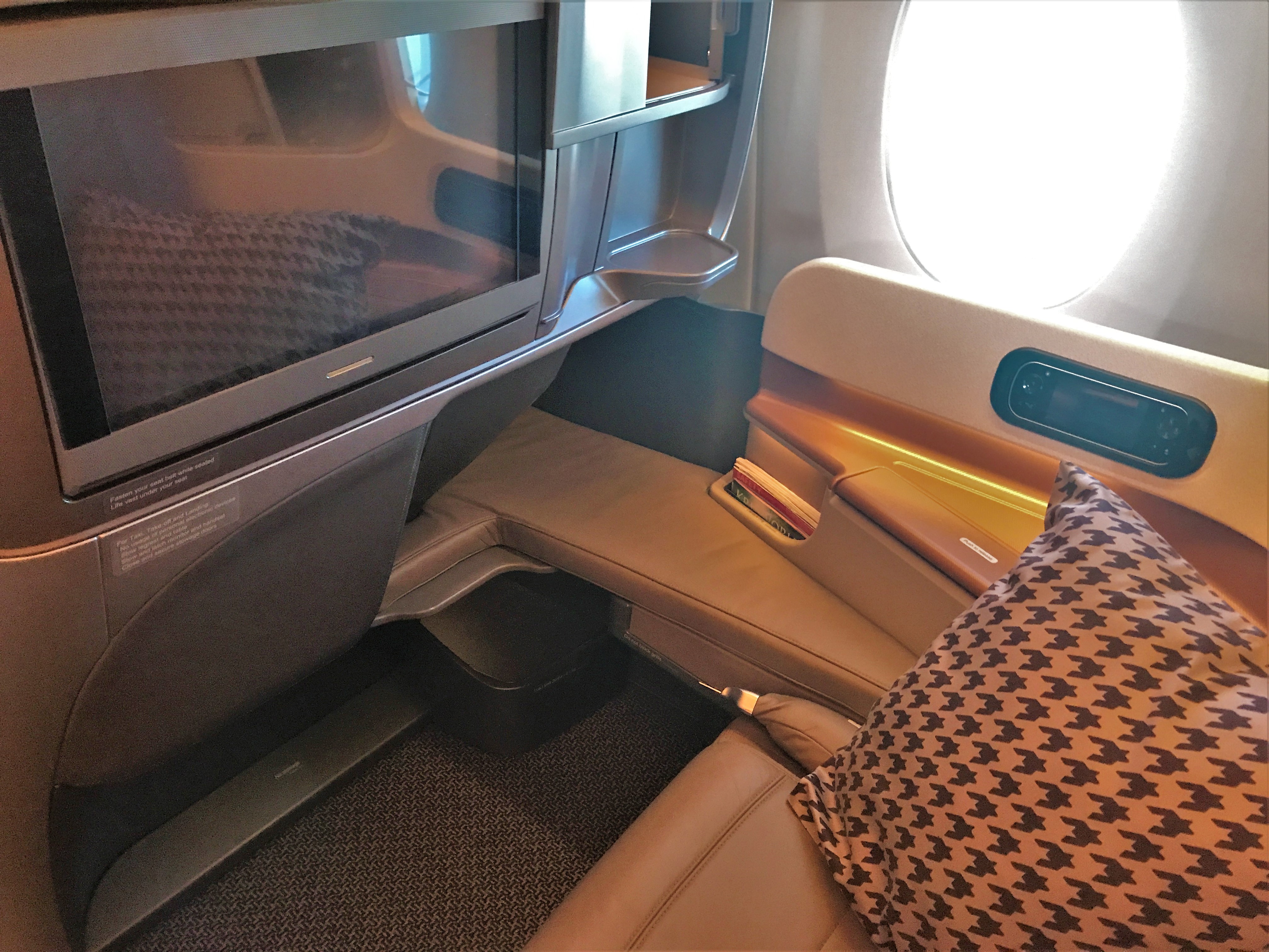 The window seats are better for solo travellers but there is a decent size divider if you ended up with a middle seat.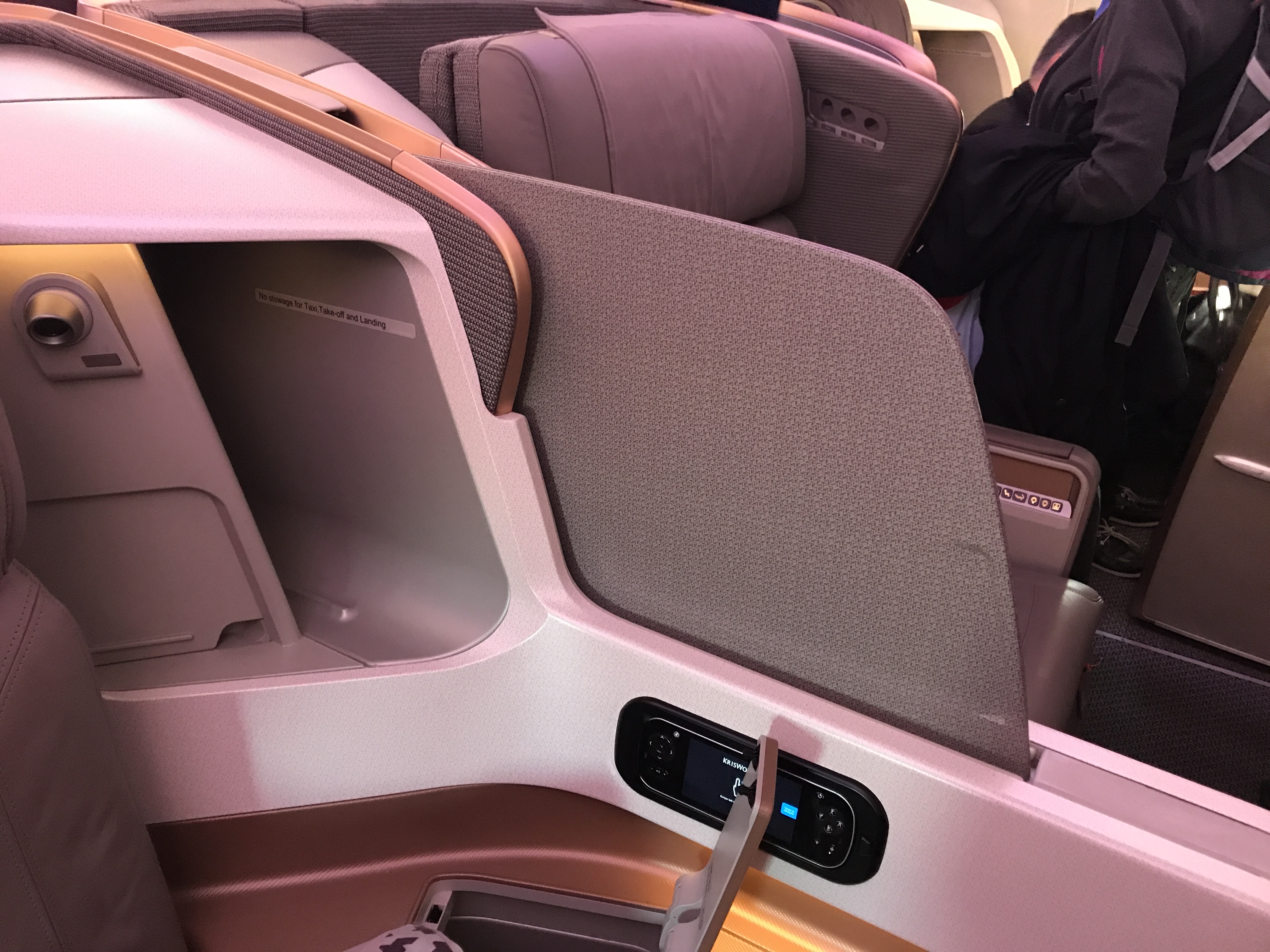 The bulkhead seats are also near the galley or toilets but I was not disturbed in my seat. The seat itself is probably the largest business class seat I have ever sat in at 28″ wide. There was a small amount of storage at the seat with a cubby hole for headphones and another open area at the side. There was also a handy lit mirror built-in so you can check that you are not about to scare the cabin crew when you wake up!
The flaw for me with the seats was the sitting position. You could raise the leg-rest to a fully raised position but the seat back only reclined a short distance so it wasn't great for relaxing. We both found the footrest quite hard and had to put a pillow underneath our feet to get comfortable.
Roving Reporter moved into 19D for the second part of the flight since there was no one sitting there and it had even more foot space.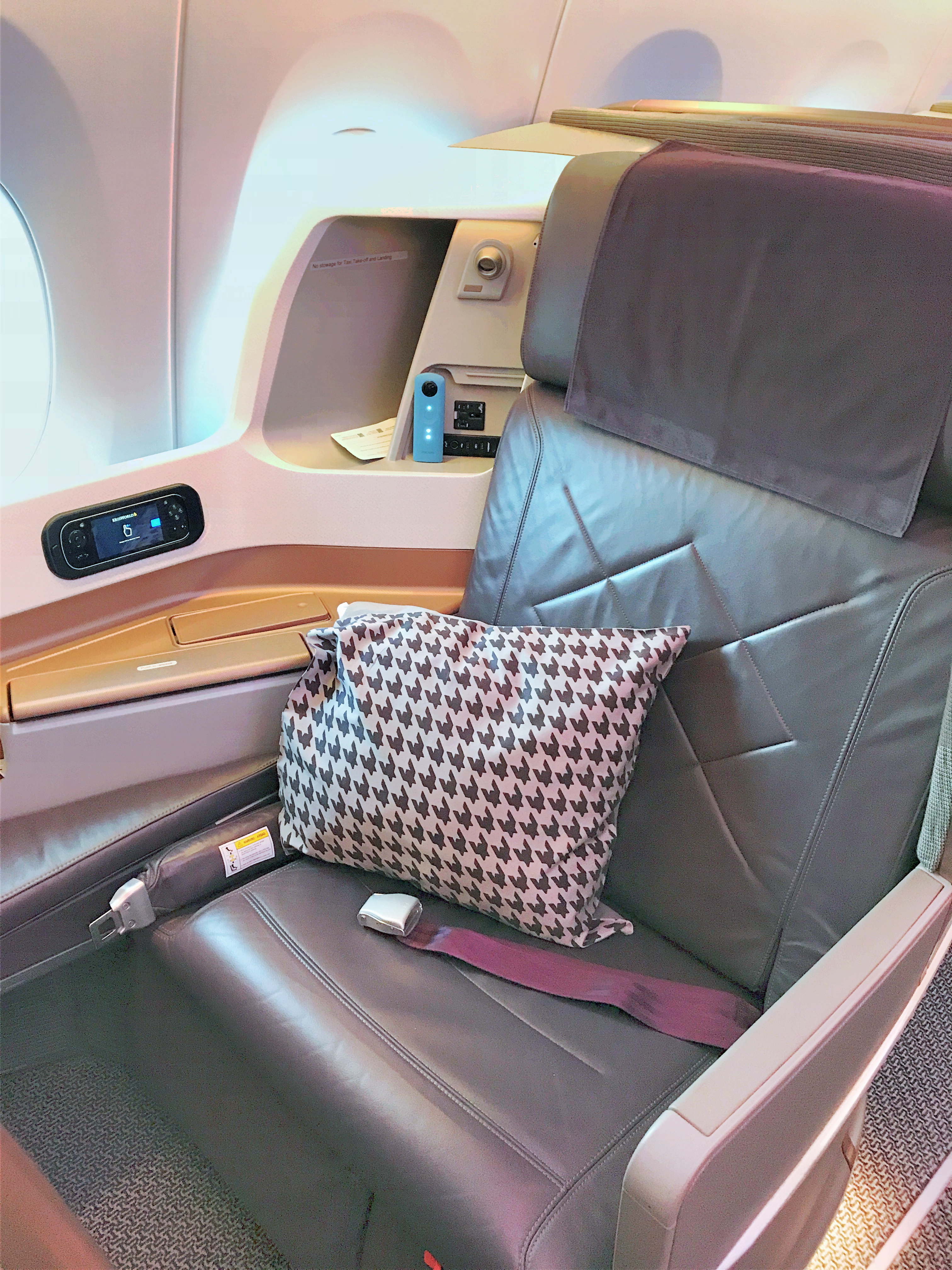 Once you wanted to sleep it was a different matter though. Although I have read some complaints about setting up the bed it is very easy and the crew also offer to do it for you if you wish. You simply lift a catch at the back of the seat and it folds over to reveal a bed with a good size pillow, mattress topper already in position and a cotton-covered duvet in a bag. The bedding felt the most high quality and 'bed-like' of any airline's business class I have tried. In the bed position, it felt enormous and is definitely the best business class bed for sleeping in terms of room and feeling like a real bed. (see photo at top) However, it is not as good if you are in the seats with the footwell (we flew in one of these seats on a later flight).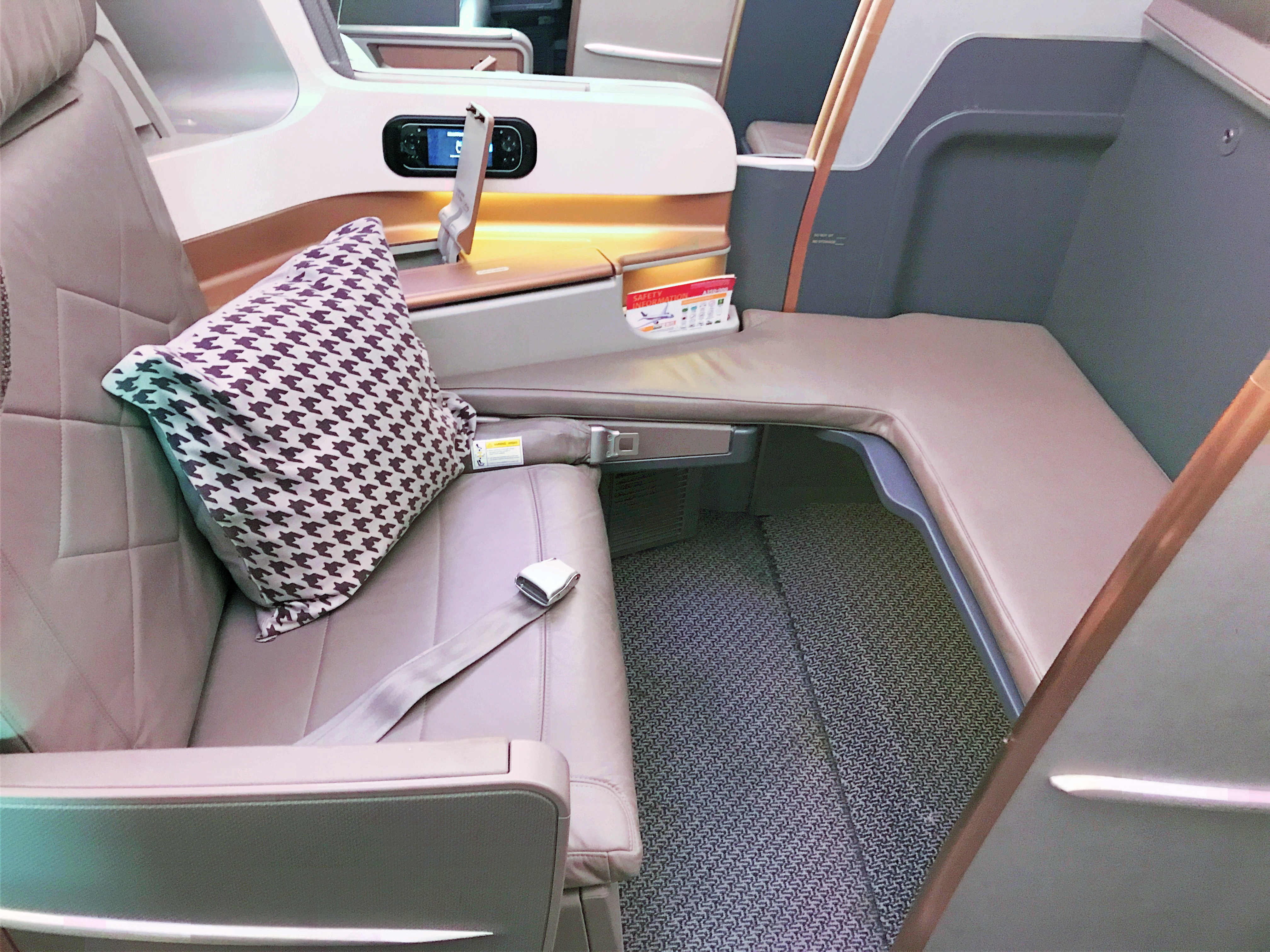 The other position that was comfortable is what they call in the trade, the sunbed position. This is when your upper half is propped up but you are lying down. With the bed down there was a portion of the back that was sloped for leaning against or you could just use the cushion and pillow to prop yourself up. We found this was perfectly comfortable for eating breakfast although the crew thought we were rather strange doing this (they may have thought that anyway!).
Stockholm to Moscow
On the way to Moscow, we were served a small snack with a choice of: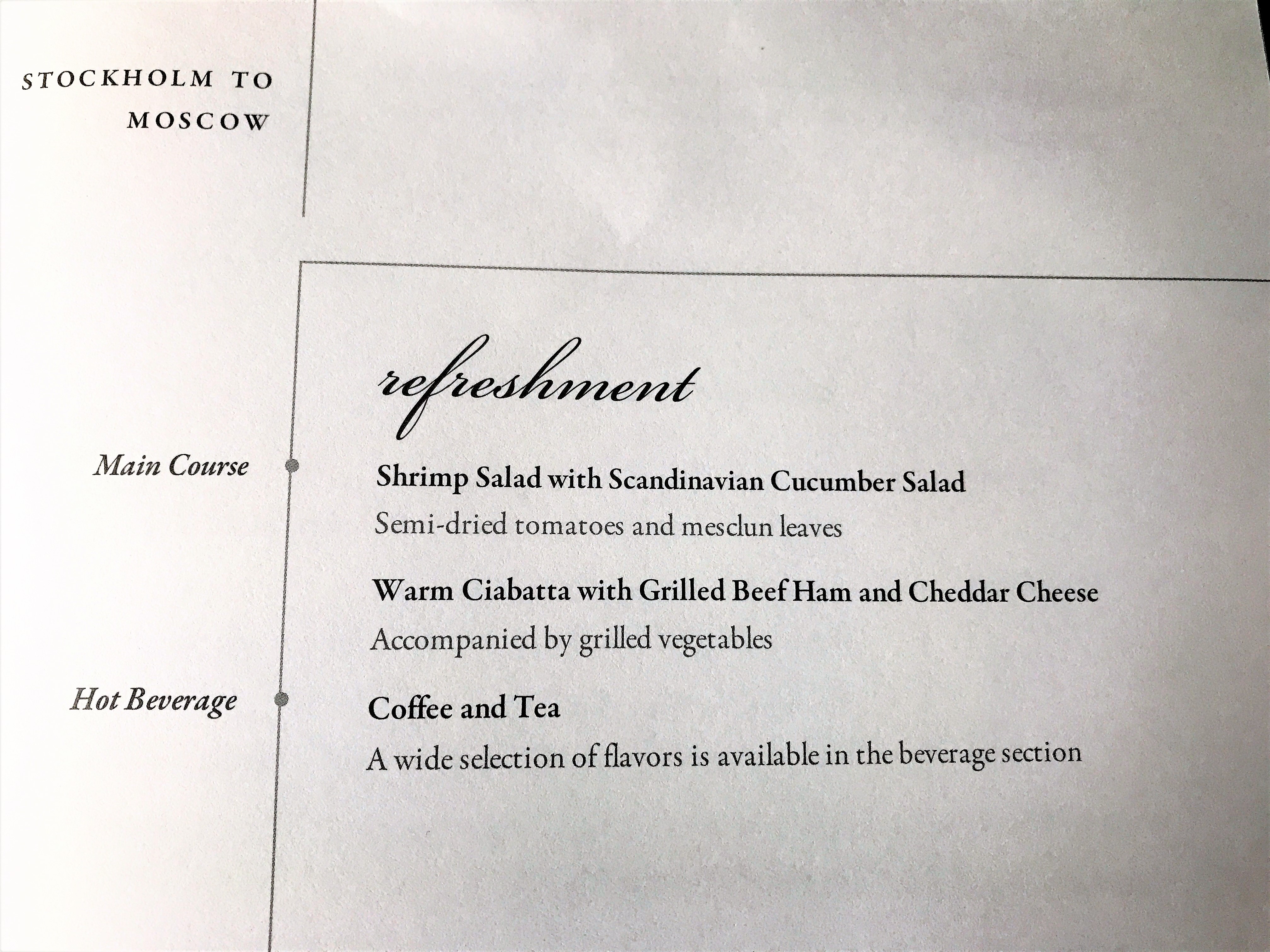 We tried one of each. My prawns were rather paltry not helped by the fact I hadn't really had any breakfast. RR's ciabatta was more substantial and tasty.
This is a rather unusual flight in that it stops for around an hour in Moscow on the way to and from Singapore and you all have to get off taking everything with you. I was pleasantly surprised by the process but this may have been helped by the fact that we were among the first off. It was a short walk to the transfer area where we were checked and triple checked with lots of stamping of bits of paper. We also passed through security again. I would say it took around 10 minutes before we were seated in the lounge.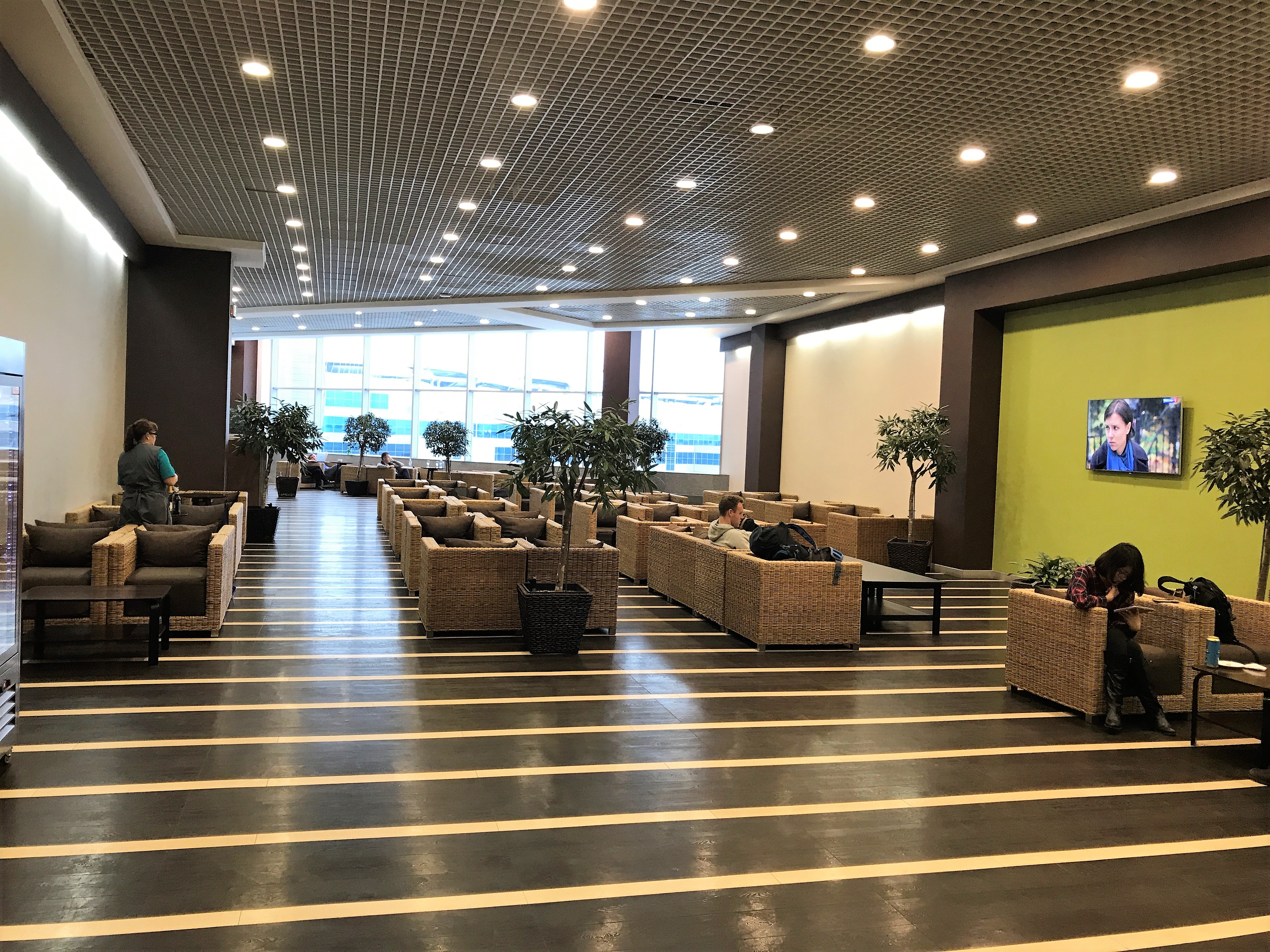 The lounge at Moscow is fine. It is a large lounge with a reasonable variety of hot and cold food. The drinks selection was another matter. The wine looked so terrible I could not even bring myself to try it. Nothing says 'drink me' like a litre bottle of generic 'dry ' red and room temperature white wine!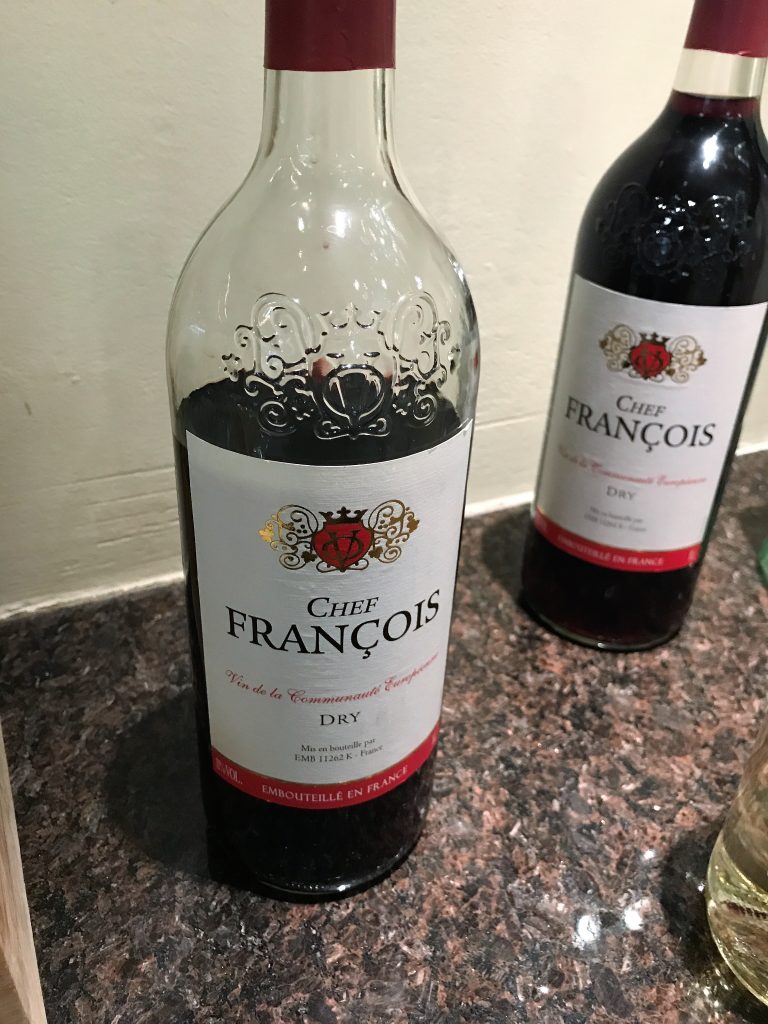 Food and drink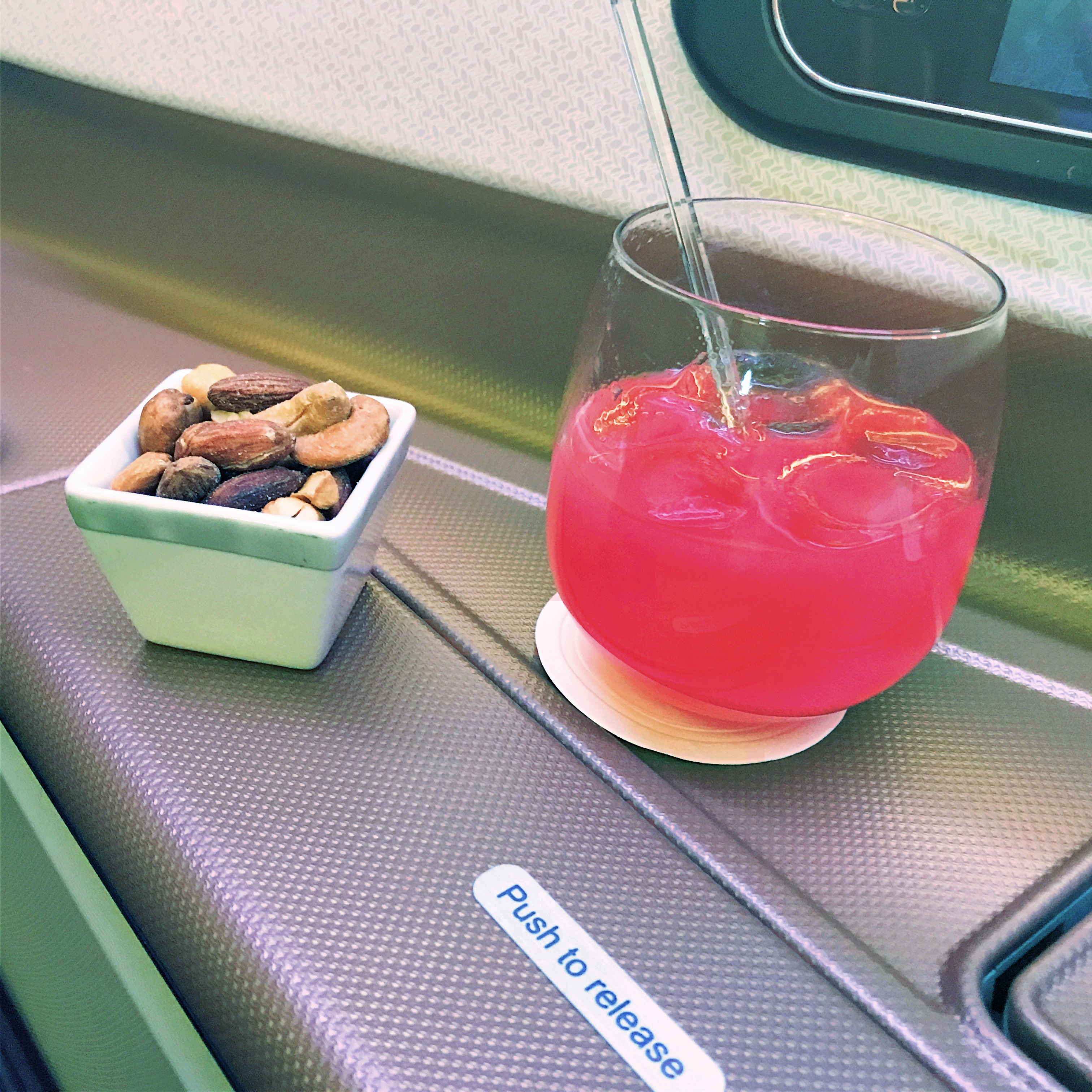 Once back on board the full meal service for the flight began. We were asked for our drink choice for after take off. I had to try a Singapore Sling, of course! There was a fairly long list of cocktails but most of these didn't sound that inspiring. The Singapore Sling was certainly a lurid pink colour but it tasted good even if it was a little light on the alcohol for my liking.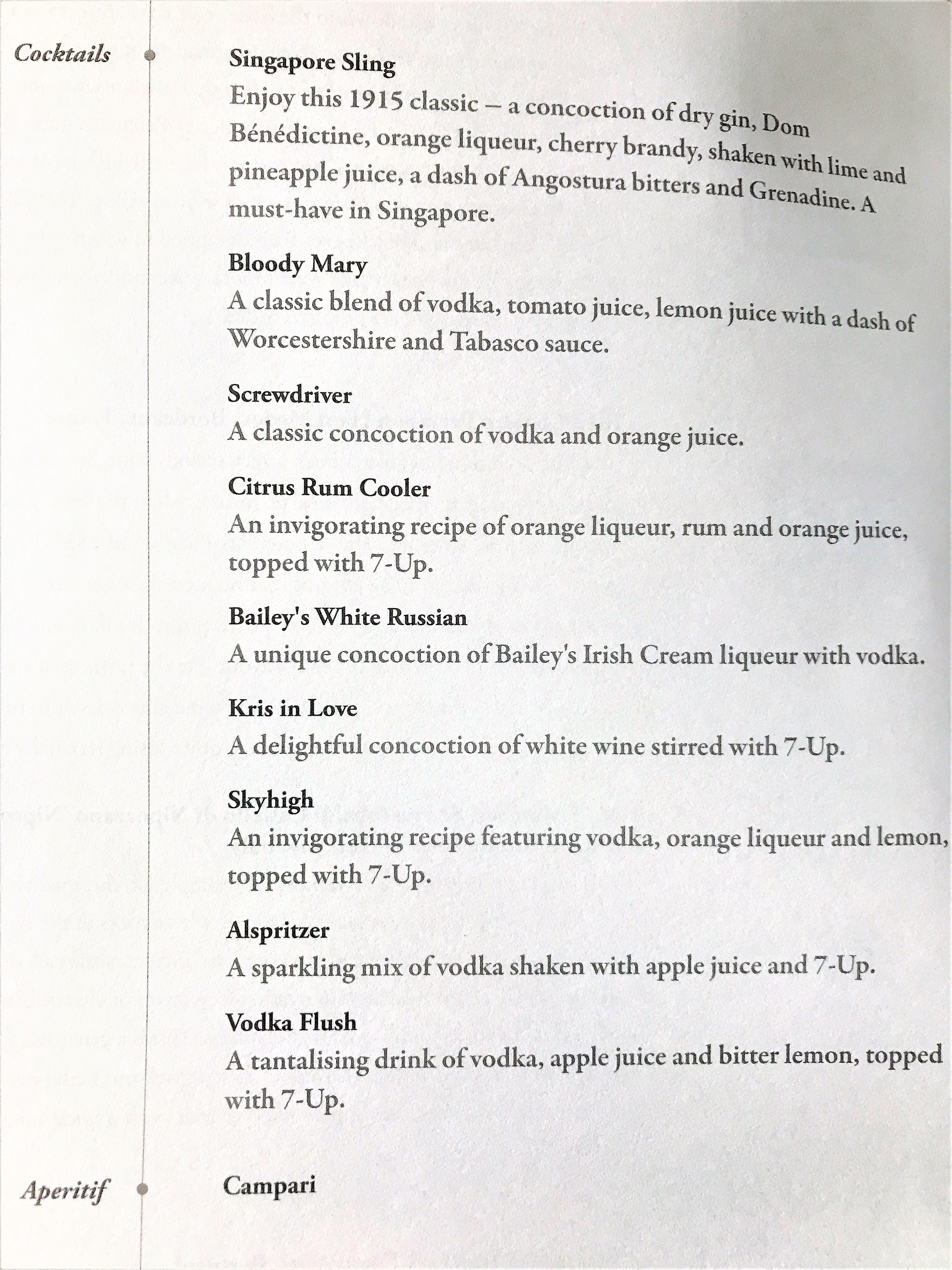 As well as the cocktails, there was an impressively long list of other drinks and wine. Here is the full selection:
In terms of tea and coffee, it was one of the most comprehensive selections I have seen in business class. We both tried the coffee and found the coffee it to be high quality but my cappuccino wasn't quite as successful in terms of froth, which was a bit feeble.
The menu had a main meal section which was not 'dine on demand' but served at the start of the flight. There was a snack section which you could have whenever you fancied it.
Here is the menu:
It was a bit odd that there was no choice of starter. However, I enjoyed the starter and liked that the chimichurri sauce was served at your table. It was quite a generous portion. I had the Macon Chardonnay with the starter. Although I enjoyed it, I felt it was lacking in a bit of depth.
Throughout the meal the service was excellent. The staff were friendly and not as robotic as I remember them being before. The only thing I could criticise is that they were sometimes a little slow on the top ups. The whole experience was close to restaurant quality both in food and service.
The bread basket had my favourite warm garlic bread which was very moreish and not too garlicky, so I had to have 2 slices of it!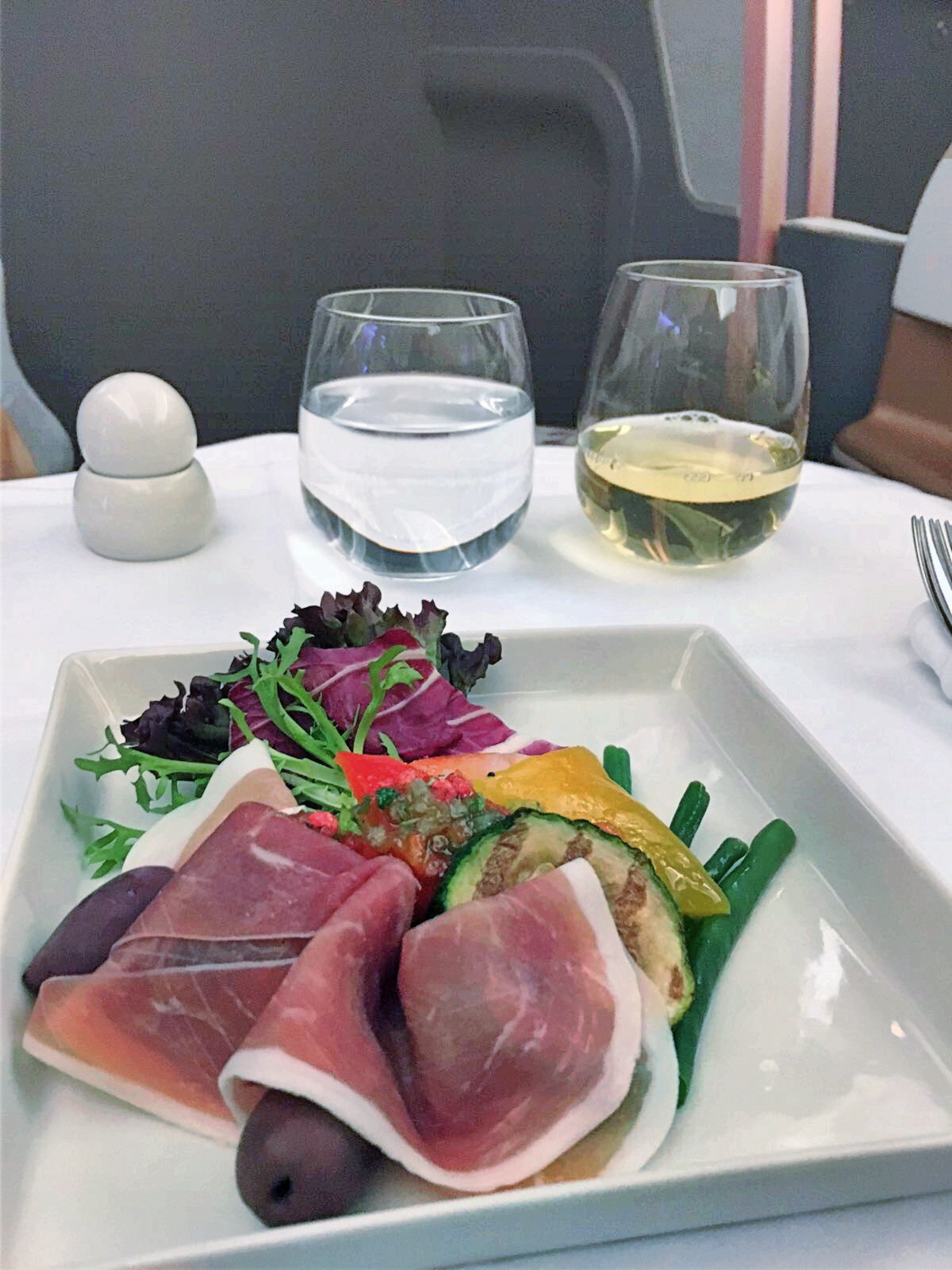 For the main course, I had been asked before RR what I wanted and chose the braised beef short rib. Unfortunately by the time they took his order they had run out which was poor as the flight wasn't anywhere near full. RR decided to try the chicken instead. My beef was rich and melt-in-the-mouth soft. It was probably one of the best beef dishes I have had on a plane but I didn't dare mention that to RR! Fortunately, he still enjoyed his chicken. I was even offered a choice of mustards with my beef which was then presented in a china dish. A whole different league to the plastic sachets on BA! I also noticed that like Qatar, each dish was dressed with fresh herbs.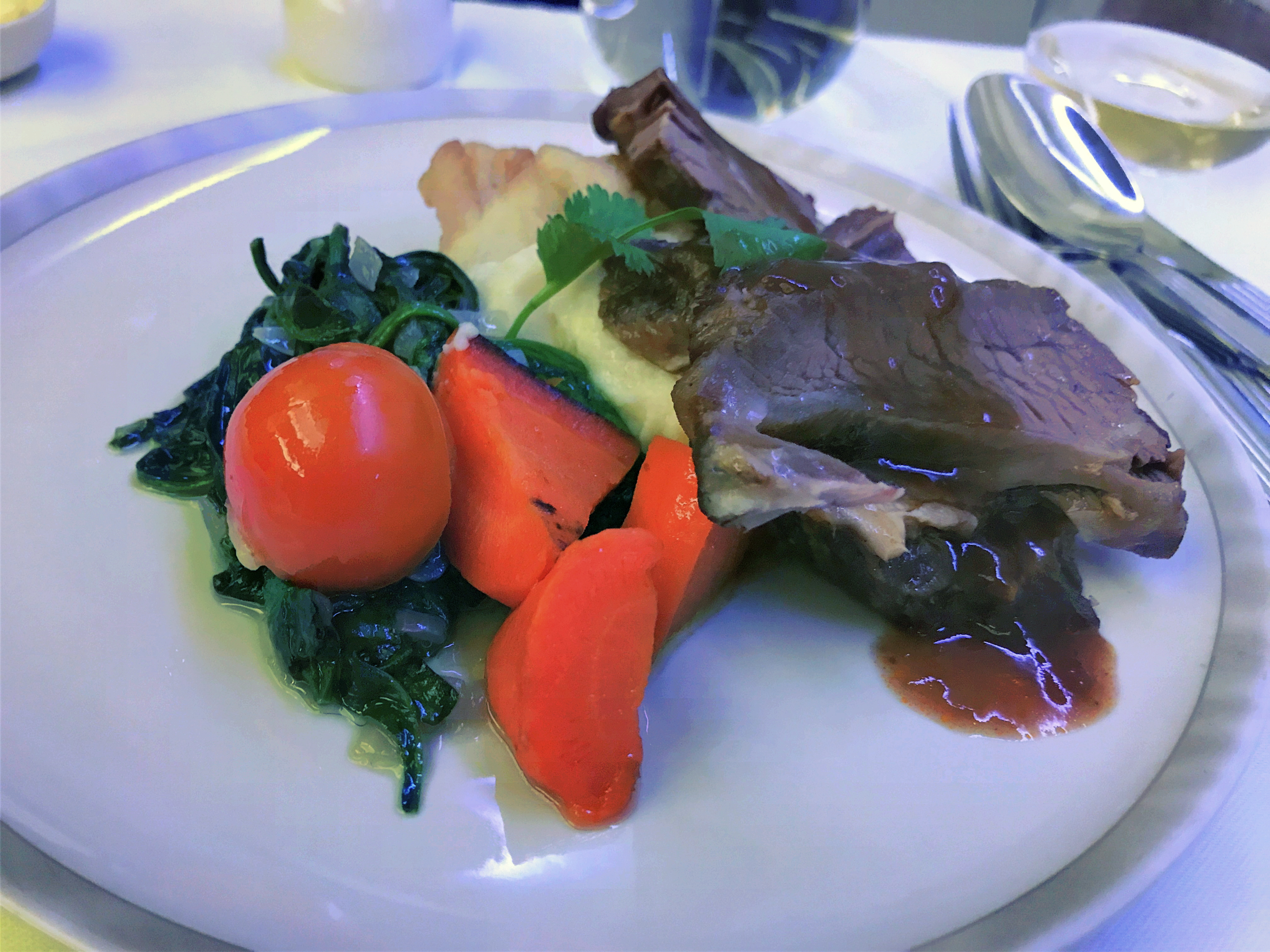 We both sampled the Chateau Sierac Pomerol which had beautiful dark berry flavours and a light oakiness. All the wines were good on our flights, though none were spectacular. They were good solid choices for business class.
For dessert, there were 2 choices on every flight we did, cake or ice cream. I went with the ice cream since it was Tiramisu which is one of my favourites.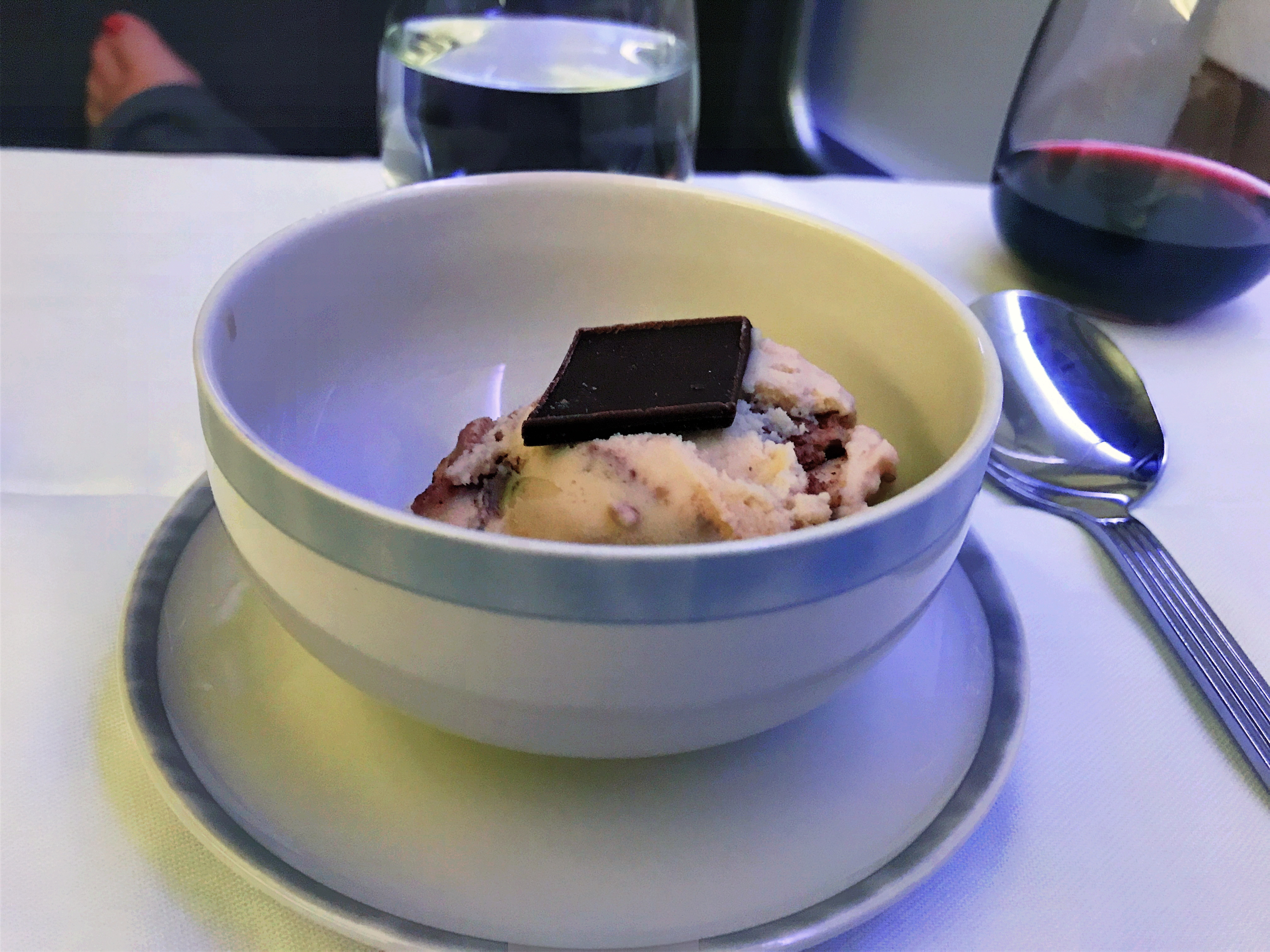 Next came my favourite part of a meal, the cheese trolley. As well as cheese there was a fruit basket with a few exotic choices such as longans alongside the regular stuff.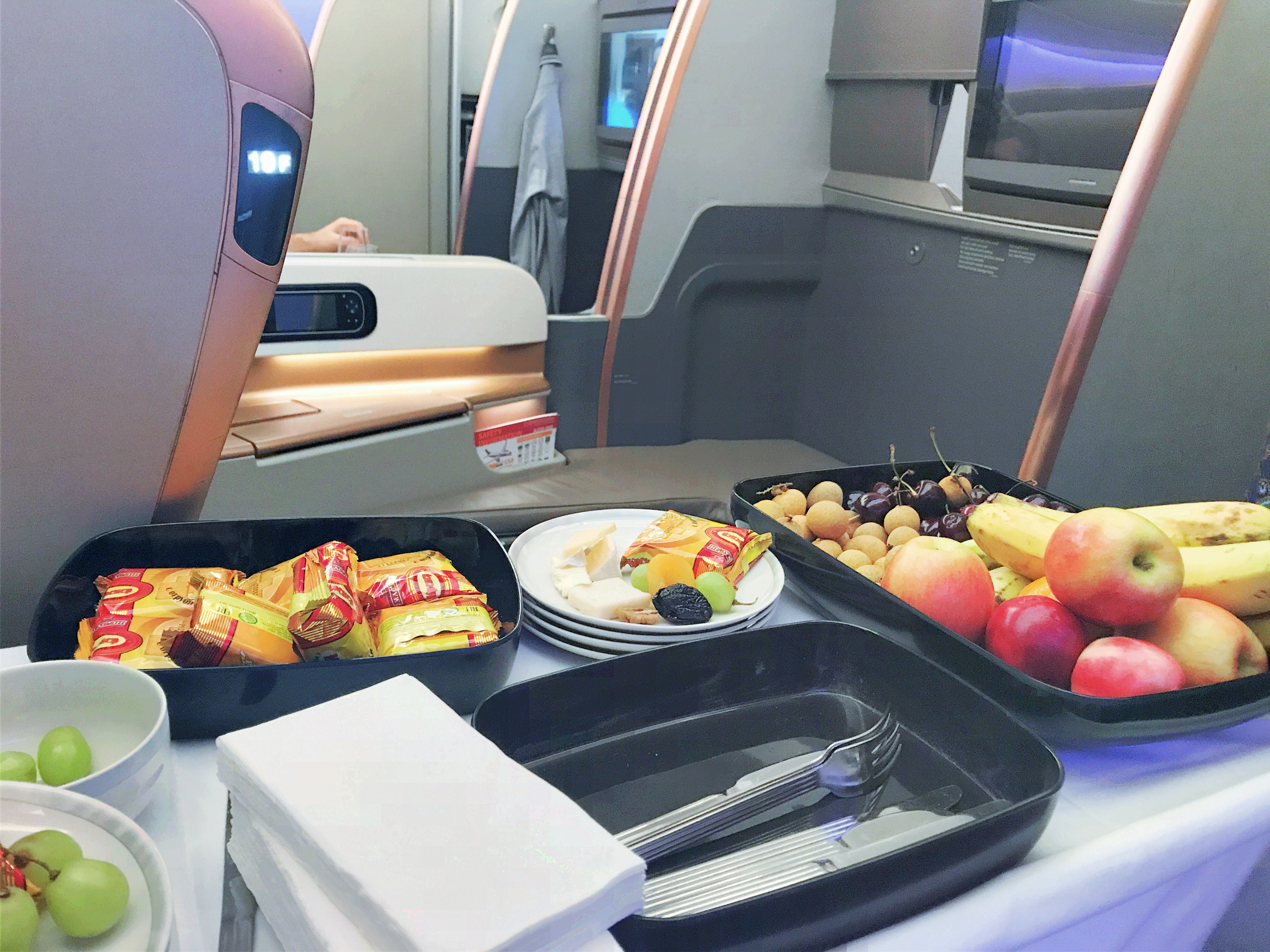 The cheese came already presented with the selection on the plate whereas on some of our flights you could choose which you wanted.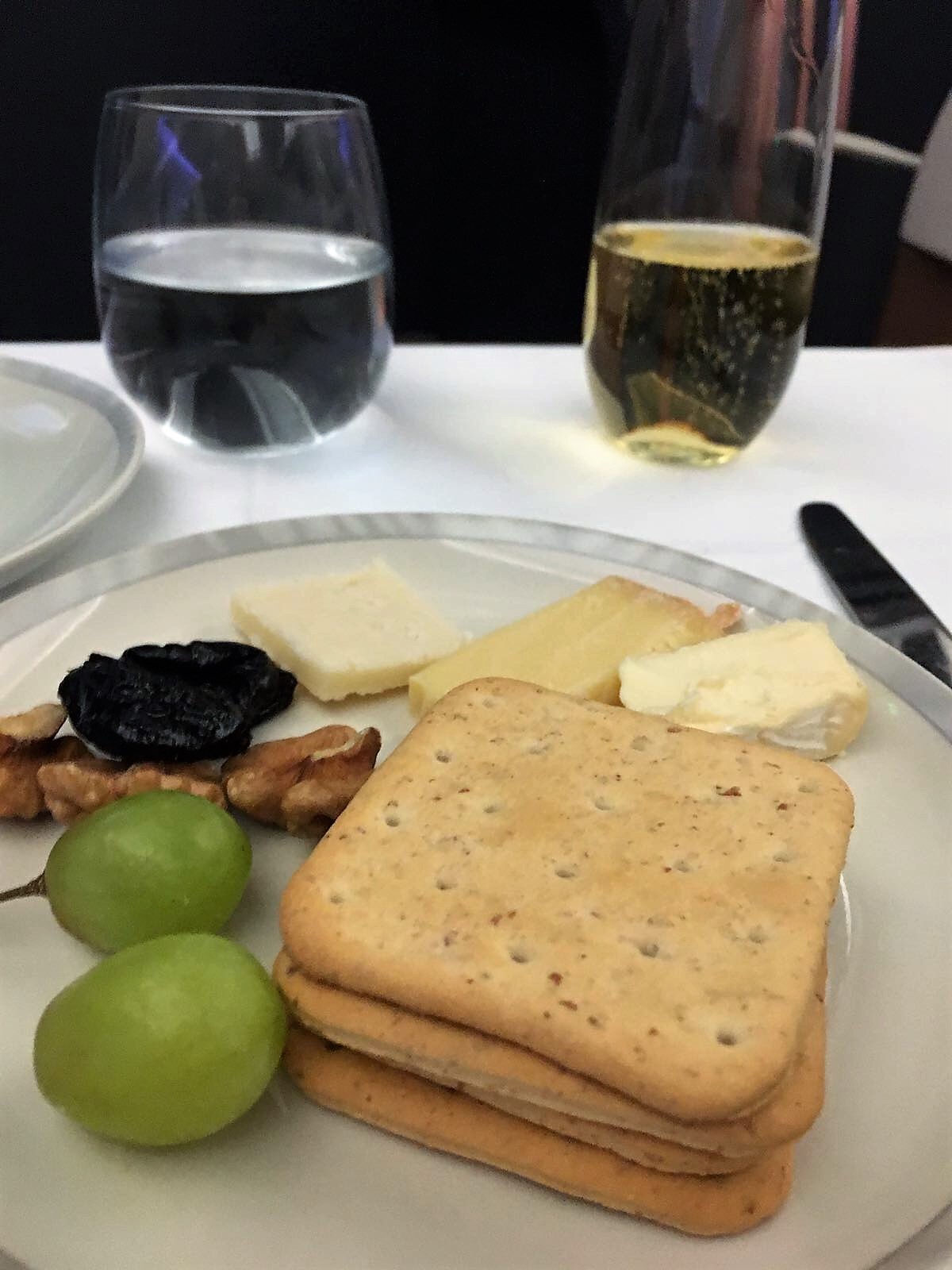 I finished off with an enormous Courvoisier XO Cognac which retails for around £80-90 a bottle, so I wasn't complaining. By the end of our New Zealand trip, I had even managed to convince RR about the deliciousness of Cognac who before wouldn't touch a drop of it. It turns out he just only likes the XO Cognac not the cheap VSOP! Quelle surprise!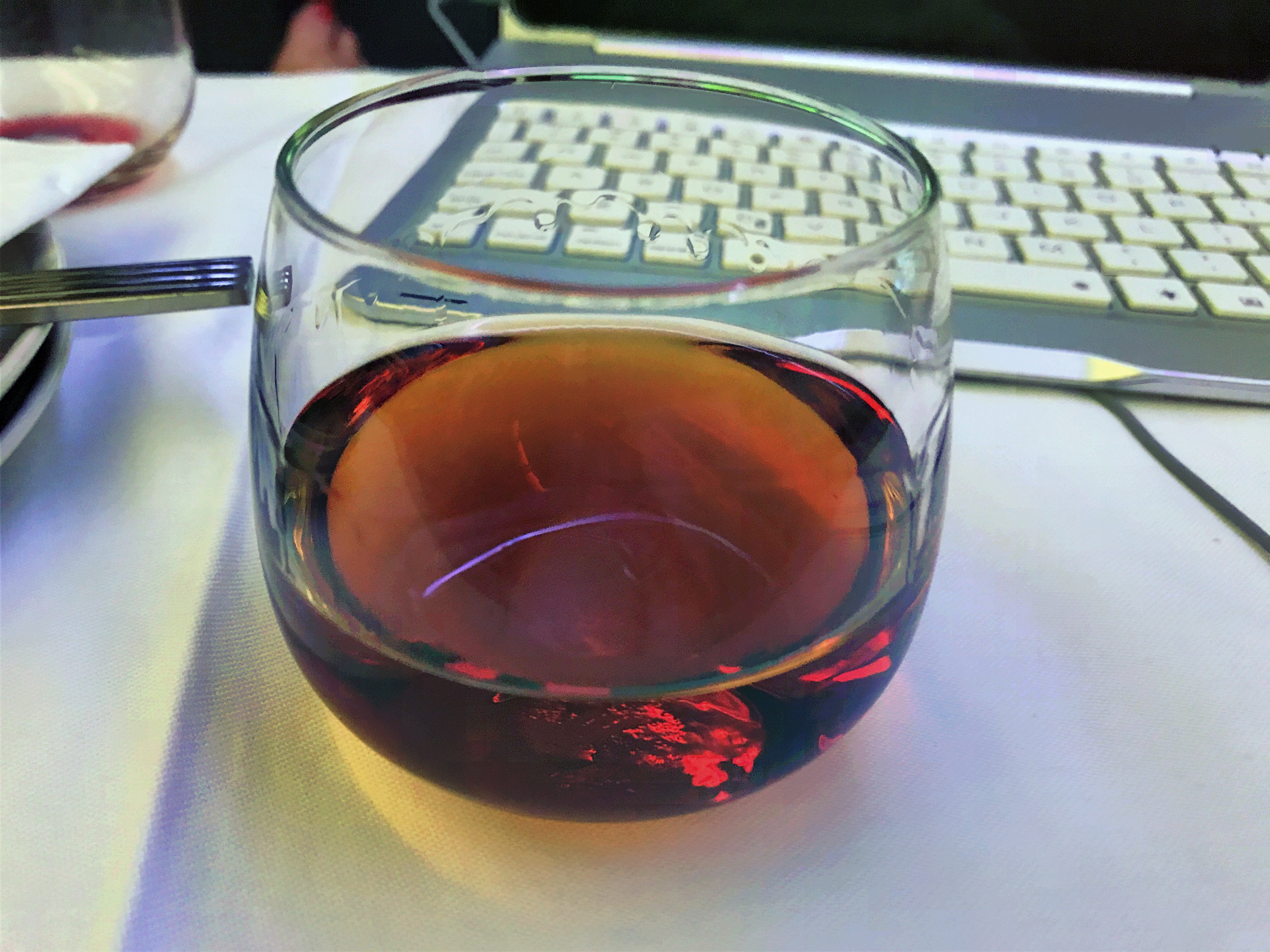 I then tried to get a few hours sleep as we were due to be travelling to the island of Bintan on arrival in Singapore. The beds were generally very comfortable if a little harder than I would have liked. RR came up with the solution of using a spare duvet as an extra mattress topper which I tried on my other flights and worked well.
Breakfast was then served very early at 2.5 hours from landing or you could have continental 1.5 hours from landing. The staff were very attentive at noticing when you were awake. Even though I didn't surface until about 1.5 hours before, I was still offered the full choice. After such a large dinner I went with a lighter option and had the fruit and granola. RR went for the blinis.
Amenities
Singapore Airlines do not provide any sort of amenity kits. On nighttime flights you normally have slippers, earplugs and an eye mask at your seat. On the daytime flights, you can request them. In the washrooms, they do have toothbrush and toothpaste, razors and basics toiletries for you to help yourself to but I find it a bit odd given the attention to detail everywhere else. It has been this way as long as I can remember though.
Entertainment and connectivity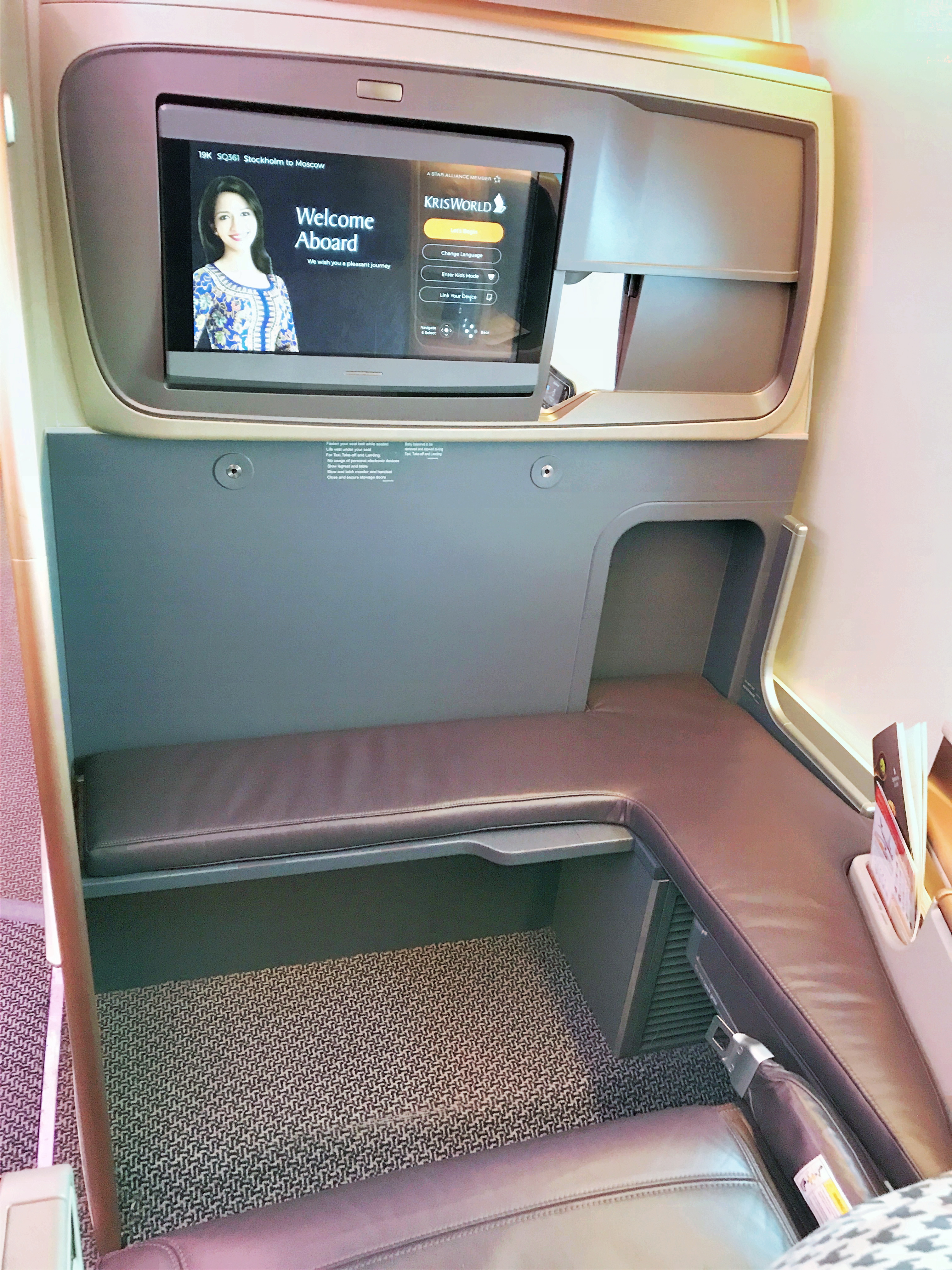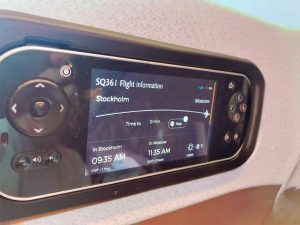 The TV screen was pretty large at 18″ but actually felt smaller as you were sitting quite a distance away from it compared to other business class seats. The TV was operated by a fairly easy to use touchscreen remote or you could pair your phone with it over the Wi-Fi and use the Singapore app to control it.
I couldn't get this or the Wi-Fi to work on this flight but it did on a subsequent one. Business class passengers are now entitled to one session of 30MB free on each flight. If you are flying with Singapore it is well worth downloading the app as it also gives you access to a selection of magazines that you can download.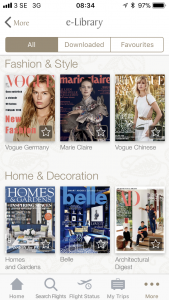 The noise cancelling headphones provided were great quality and comfortable too. There was a wide selection of movies, TV programmes and music chose from. There was nothing I really fancied out of the films so I watched a few reruns of Sex and the City since they had a whole series. They also had some TV shows that were not yet on in the UK such as Young Sheldon which I really recommend and has just started in the UK now.
If you wanted to use your own device to watch on the TV there was an HDMI socket + iPod connection and plenty of options for charging with 2 USBs and a multi-country socket.
Conclusion
Although I received slightly over the top service on the first flight, it soon settled back to normal on the second one. The normal level of services was excellent on this flight but we did still find it varied on our other flights with them. The standard and choice of food and drink was extremely high and well on a par with Qatar. The seat was great for sleeping but wouldn't be so great on a long daytime flight if you didn't want to lie down. It is one of the largest personal areas and seats for business class I have seen and overall I would fly with them again. It was nice to be able to stopover in Singapore on the way to Auckland rather than the only stop being the Middle East if you chose one of the Middle East carriers.
You can see more about Singapore Airlines' A350 here. If you would like to read my other business and first class reviews, please visit my Flight Reviews section.
Have you flown on Singapore Airlines recently? What did you think? Let me know in the comments below or on my social media.