British Airways news
British Airways has suspended its flights to Calgary for this winter from Saturday 27 October 2018. Flights will start again on 31 March 2019. If you are booked on one of the affected flights you can either have a full refund or be rebooked onto another flight in the US/Canada (getting to Calgary after that will be at your own expense) or rebook for when flights start again. BA should contact you if you have a booking so I would wait until you receive that in case any further changes are made to the offers. I am slightly surprised by the cancellation over the winter seeing as Calgary is a gateway for many of the Rockies ski destinations.
Fiji codeshare
On a warmer note, after the announcement of Fiji Airways being the first airlines to join a new oneworld lite scheme called oneworld connect, BA announced a new partnership with Fiji Airways yesterday. British Airways are now selling flights between Singapore, Los Angeles and San Francisco and the main gateway for Fiji, Nadi, direct on ba.com.  You can now earn Avios points on the Fiji Airways sectors as well as British Airways services and can choose to cut the cost of the flights by using Avios in part payment.
Heathrow Spa
As if it wasn't hard enough to get an appointment already, 2 of BA's Heathrow spas are currently operating on reduced hours:
Terminal 5B: 08:00 – 18:00 (between 29 May and 24 June 2018)
Terminal 3: 08:00 – 17:00 (between 28 May and 10 June 2018)
Disruption management
At Heathrow BA have been trialling disruption management for premium passengers with the recent weather cancellations. Instead of passengers having to go and join a long queue for rebooking or holding on the phone for hours, BA have been allowing passengers to stay in the lounge and be paged when BA are ready to help them rebook. As well as this there is also sometimes an option on the app to rebook cancelled flights depending on the situation.
New aircraft
IAG has also been looking at new aircraft orders and had indicated that they may be leaning more towards Boeing after the delays they have experienced with their new BA A320neo aircraft. BA have now stopped negotiations with Airbus for a further 9 A380s in a move which could just be a negotiation tactic to get a better price. BA currently have around 70 new aircraft on order including the A350, B787, B777-300 for long haul and the A320/321Neo for short haul.
25% off Jumeirah hotels
There is currently 25% off the Best Available Rate at Jumeirah Carlton Tower in Knightsbridge and up to 20% off the Best Available Rate at Jumeirah Lowndes Hotel in Belgravia. To get the discount you need to book before 14 June 2018.  The offer is valid on stays from 20 April 2018 until 8 September 2018. Bookings must be pre-paid and cannot be cancelled. They are, however, changeable.
Jumeirah Carlton Tower is a five-star hotel in London. It is a few minutes walk from Harrods and is situated on Sloane Street, close to Knightsbridge tube as well. I have stayed at this hotel many times and would definitely recommend it. It is not quite in the same league as the Corinthia for example, but the rooms are luxurious and recently refurbished. The hotel also has a light and airy stainless steel swimming pool and Jacuzzi as well as a spa.
Jumeirah Lowndes Hotel
Jumeirah Lowndes Hotel is much smaller and just round the corner from the Carlton Tower. I have stayed here once but would not really recommend it. The building is rather strange and looks like it was converted from apartments. It did not have the same luxurious feel as the Carlton which explains why it is normally cheaper than the Carlton. There is no pool or spa but you are allowed to use the Carlton Tower ones.
Conrad Maldives offer
Secret Escapes are running a good offer for the Conrad Maldives. The downside is that if you are collecting Hilton Honors points you are unlikely to receive your benefits as you will have booked through a third party. However, the discount is substantial enough that it may still be worth considering.
Secret Escapes is a members only website with hand-picked hotels, holidays and exclusive offers. They guarantee to offer the best rates online during a sale. Every week they run up to 140 short 'flash sales' lasting around ten days each. It is free to join and if you use this link to sign up you will receive £15 credit off your first booking.
The offer for the water villa includes:
Accommodation in a Water villa
Minimum four-night stay required
Half-board plus basis
Welcome bottle of wine served with fruit and chocolates
Pre-selected cocktail at Ithaa Undersea restaurant
Daily cocktail hour at The Quiet Zone
Beverage selection at dinner
Two 60-minute massages per person
Lucky Dolphin tour
Transfers are not included
Prices start from £472 per villa per night for the beach villa. I looked at some random dates in September for comparison. The rate for Secret Escapes worked out at £593 per night for the Water Villa. On booking.com the price was £689 for bed and breakfast only. Given that prices for food and drink are not cheap in the Maldives this represents a good saving when you add in the extras such as alcohol with dinner and a cocktail each every night.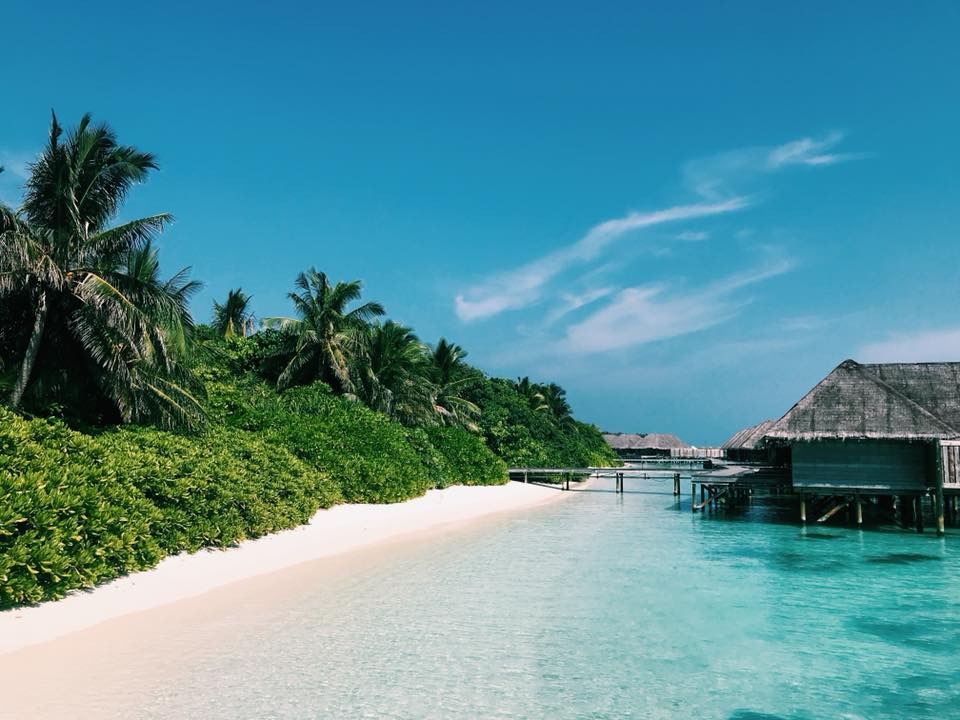 There is also still a Hilton sale featuring the Conrad Rangali Island. Hilton's sale offers up to 30% off and must be booked by 8am GMT, 8 June 2018 for stays between 23 May 2018 and 31 December 2018. You do also have to make your booking 7 to 21 days in advance. The discount is for up to 25% off the Flexible or Bed and Breakfast Rate plus Hilton Honors members will receive an additional 5% off. You can find the Hilton sale page here.