Qatar reveal new seats, oneworld issues and new destinations
We don't usually cover economy seats on TLFL, but I thought since I currently sitting in the Qatar press conference I would give them a quick mention alongside more relevant news.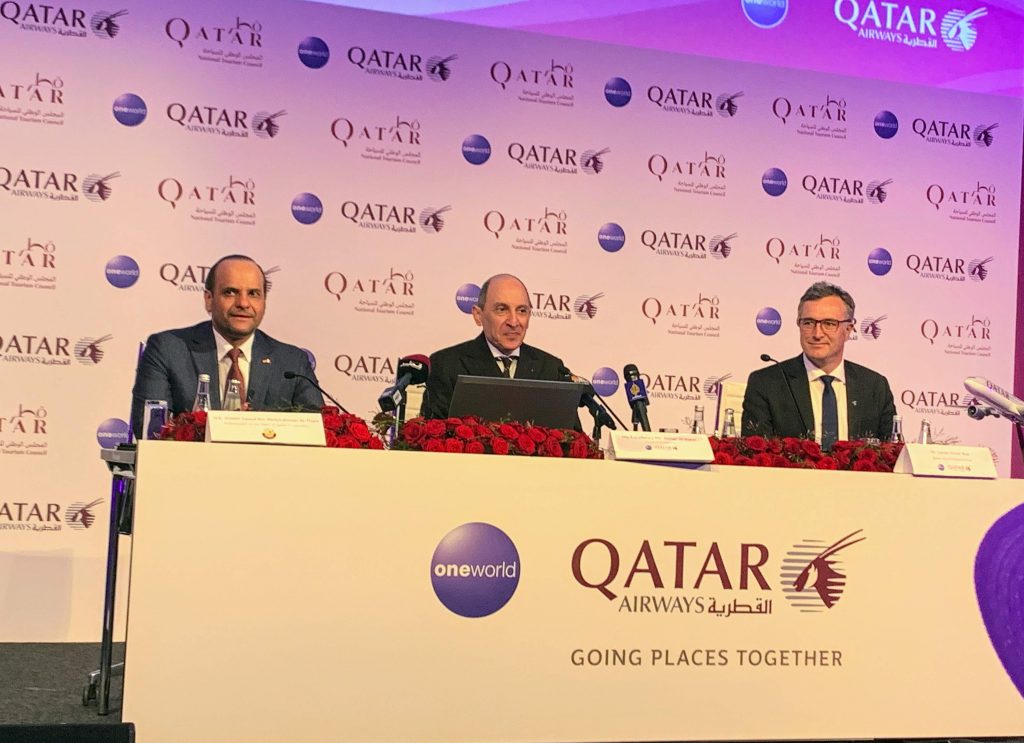 New economy seat and service
The new economy seats were revealed yesterday at ITB Berlin, the worlds' largest travel exhibition and conference. In a press conference held by Qatar CEO Akbar Al Baker, he revealed some impressive new features of the seats that should help to make economy a less uncomfortable experience.
The new Economy Class features a seat made by Italian company Optimares with an innovative 19-degree recline system, additional legroom, dual trays, 13.3-inch 4 K widescreens and type 'C' fast charging USB port. The seat reclines within a semi fixed shell meaning you no longer have to feel like you are eating your dinner off the top of someone's head when they recline into you!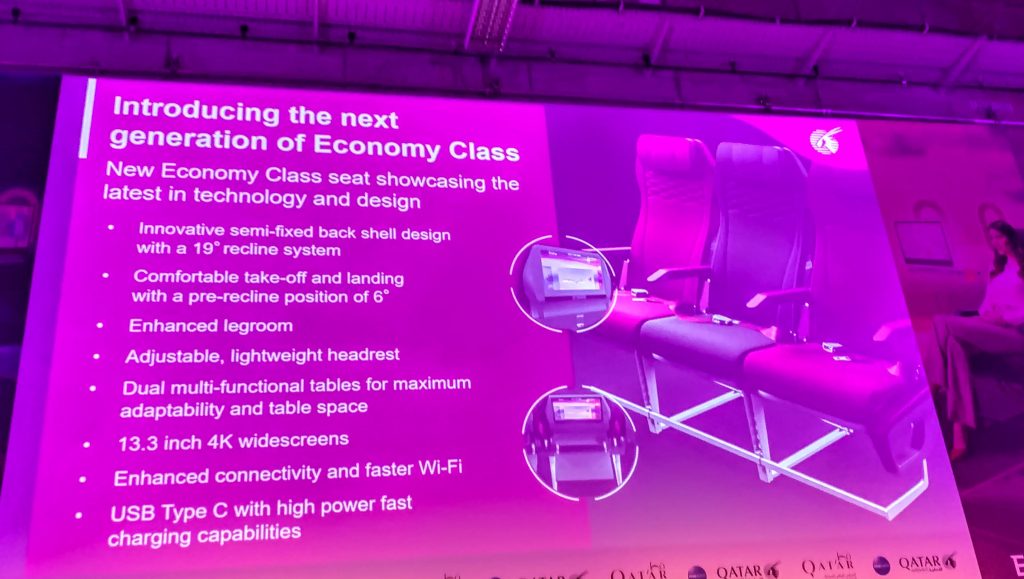 The airline's new in-flight dining experience 'Quisine' redefines Economy Class service, with all new retail-style tableware, a menu offering more choices, 25 per cent larger main courses, 20 per cent larger appetisers, and 50 per cent larger desserts.
What's new about our Economy class experiences? Learn the facts and figures behind it. pic.twitter.com/WBrhXNNyit

— Qatar Airways (@qatarairways) March 6, 2019
Economy Class passengers will also be able to enjoy improved connectivity, including up to 10 times faster broadband, as well as more than 4,000 entertainment options on Qatar Airways' Oryx One in-flight entertainment system. The rollout of the soft product will start from April 2019 and be complete by the end of the year for the whole network. The new seats will first be seen on their A320neos and gradually rolled out over the entire fleet.
QSuite
17 destinations already have the Qsuite on 40+ aircraft, but in 2019 it will launch on new destinations including:
Adelaide
Auckland
Montreal
Philadelphia
Zurich
It will be great to see it on the Auckland route. Fares are often found from Scandinavia for around £2000 which will be even more of a bargain if you can get the Qsuites for the very long Doha-Auckland segment. There will be an increase in frequency to many destinations but of particular interest to TLFL readers will be Danang increasing to double daily and Gothenburg going to daily flights soon.
New routes
Qatar also announced new cities for 2019 with another 7 to be announced for the 2nd half of 2019. They currently have a shortage of aircraft and how fast they can get deliveries will influence when further routes are advertised or frequencies increased.  The new routes include:
Izmir from 23 May 3 x a week then daily
Rabat from 29 May 3 weekly then daily
Malta daily from 4 June
Davo in the Philippines from 18 June once a week B787
Lisbon from 24 June on a B787 plus two more Portuguese destinations later in the year
Langkawi from October 2019
The A380 will start on the Frankfurt route which can offer some good ex EU fares to South Africa in the Qatar sales.
Oneworld
Mr Al Baker was asked to expand on the current situation with Qatar threatening to leave the oneworld alliance. Mt Baker said "we have given them breathing space to get their act together" He compared oneworld to inviting someone to your house and then saying that they have to drink from the tap and have bread and water, not proper food.
He stated "Qatar is not a Mickey Mouse airline" If we leave oneworld we will create a big hole in their entire connectivity. We are not going to be bullied by some individual that thinks the worlds belongs to them. We will demand respect. We will not submit to anyone that is trying to bully us."
The comments are likely to be directed at Qantas and American Airlines who have both been trying to restrict Qatar's growth in their home markets.
Al Baker went on to say that in a month or two Qatar will announce if they will stay or withdraw but it was looking more likely that they would withdraw at the moment.
British Airways introduces new First soft products ahead of time
We have previously reported that from May BA would be introducing their new onboard First service with a brand new First seat to follow based on the current B787 First cabin.
BA have managed to speed up the introduction and yesterday announced that the new First service would be introduced on 31 March with the rollout complete by 7 April. This fits in very nicely with the first of my BA GGL tier point runs to Asia in First with Deputy Editor Paul. We should be able to bring you a review in mid-April of what the product is like in reality!
The new look and feel will include new bedding, amenities and menus that are meant to equal that you would find in a five-star British hotel. First customers will be offered super-soft, new male and female loungewear designed exclusively by British fashion brand Temperley, London. The loungewear will be coupled with bespoke British Airways amenity bags, featuring Temperley's "Star" design.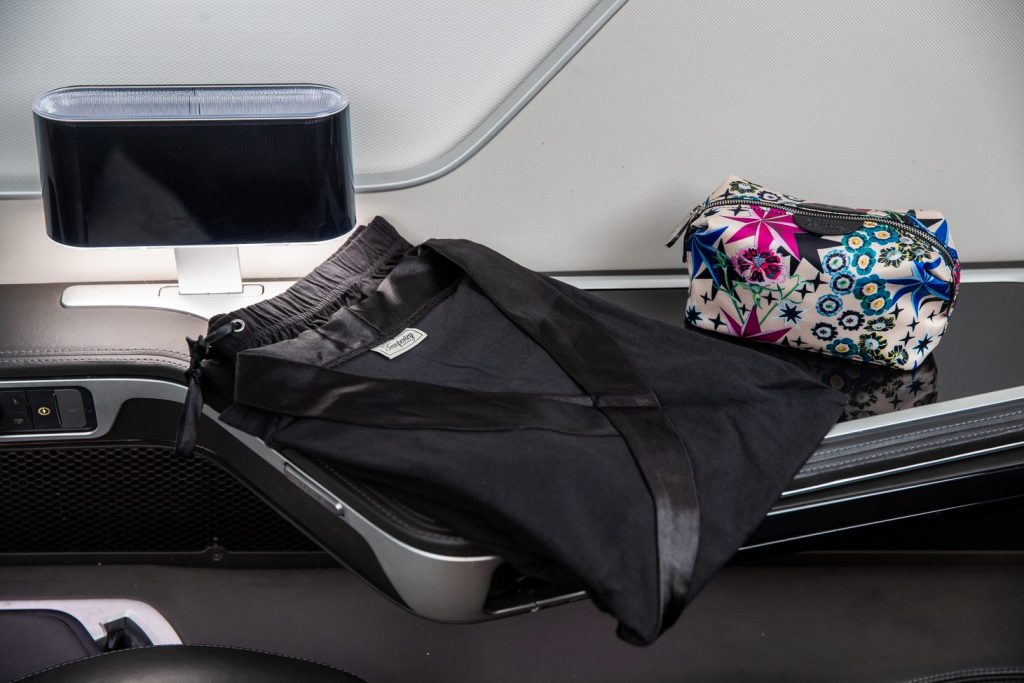 The bags will be filled with products from British skincare brand, Elemis. I am slightly disappointed by this as I am a fan of the Aromatherapy Associates products. Elemis may feel a little like a downward step given that it was previously in Club World. However, it does feature the very premium Elemis range Ultra Smart Pro Collagen range which has prices to rival Creme de La Mer!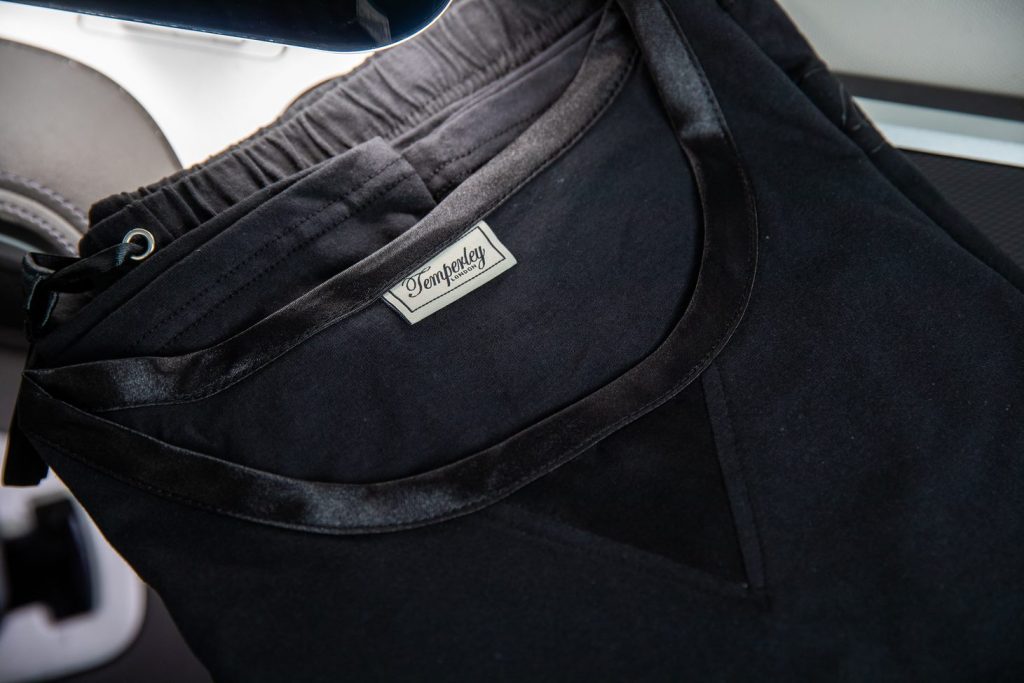 ULTRA SMART PRO-COLLAGEN is a new bespoke range of skincare that adapts to individual needs to preserve and promote younger looking, luminous skin.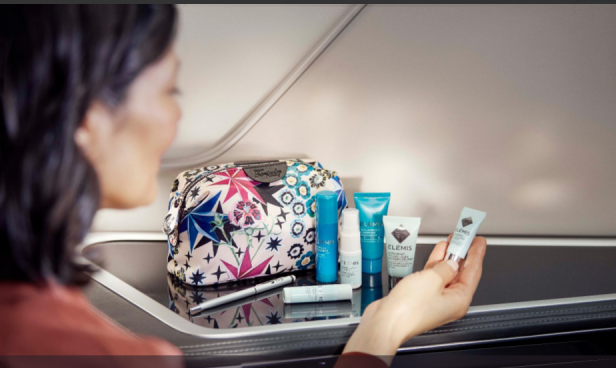 Female amenity bags contain:
Cleansing micellar facial wipe
Soothing apricot facial wipe
Pro-collagen rose mist
Ultra smart pro-collagen matrix moisturiser
Ultra smart pro-collagen eye cream
Hydra-nourish lip balm
Sea lavender and samphire hand cream
Fortitude deodorant
Male amenity bags contain:
Ultra smart pro-collagen eye cream
Ultra smart pro-collagen matrix moisturiser
Cleansing micellar facial wipe
Skin soothe shave gel
Fortitude deodorant
Hydra-nourish lip balm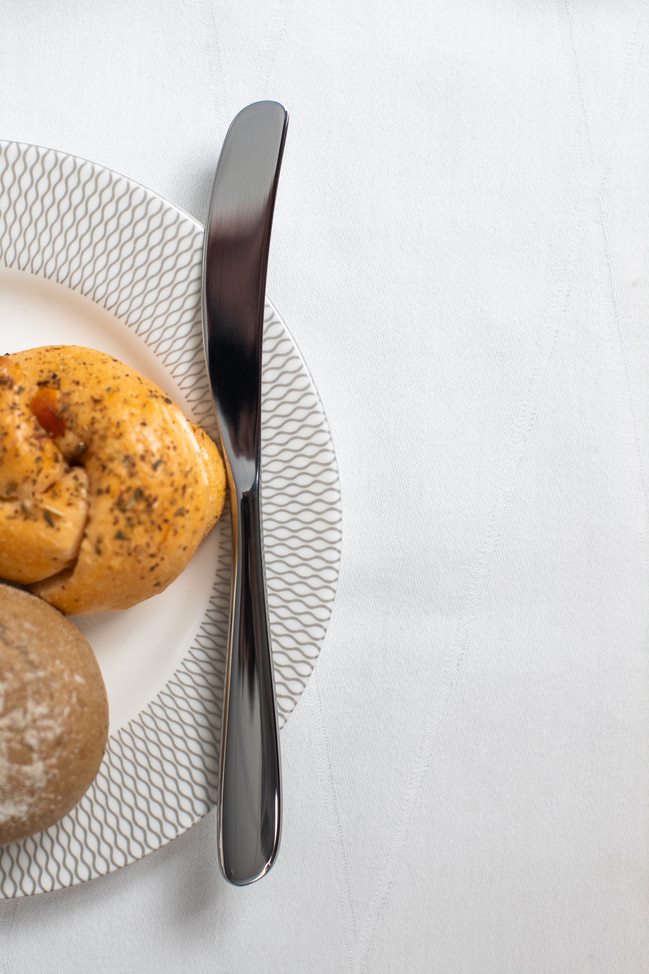 There are new A La Carte menus that focus on fresh seasonal ingredients of British provenance. It appears that the new menus will include canapes instead of the amuse bouche, an extra choice of starter and the removal of the salad main course. There is also rumoured to be a return to the bistro menu which looks to be true as BA have announced a range of 'lighter options'. Dine on demand remains the same. Here is an example menu for the new service:
This slideshow requires JavaScript.
Thanks to Haroon for supplying the menus – look out for Haroon's reviews coming to TLFL soon.
The new menus will be served on elegant bone china crockery, designed exclusively for the airline by high-end British tableware designer William Edwards. The new tableware will be accompanied by contemporary cutlery from Studio William.
The airline will also be introducing a new signature afternoon tea service, showcasing the great British tradition of high tea. The menu will include a selection sandwiches, delicate pastries and scones, as well as a wide range of tea infusions.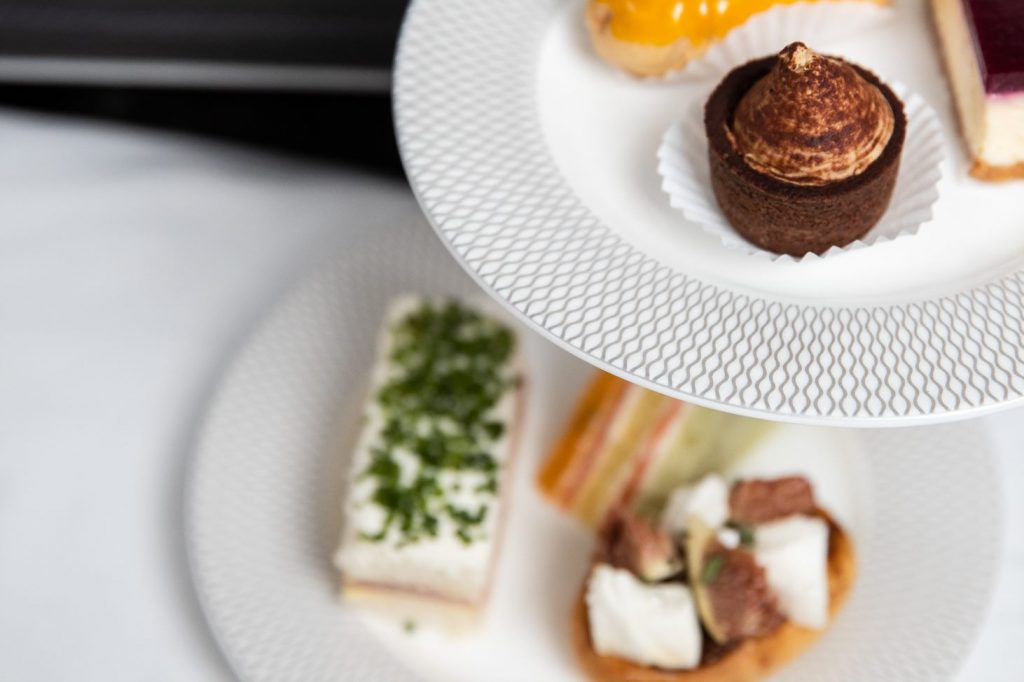 As part of the changes, British Airways is also investing in new Dartington glassware. Travellers will now be able to enjoy the airline's fine wines and champagnes from sophisticated stemware, while soft drinks and spirits will be served from elegant cut-glass tumblers.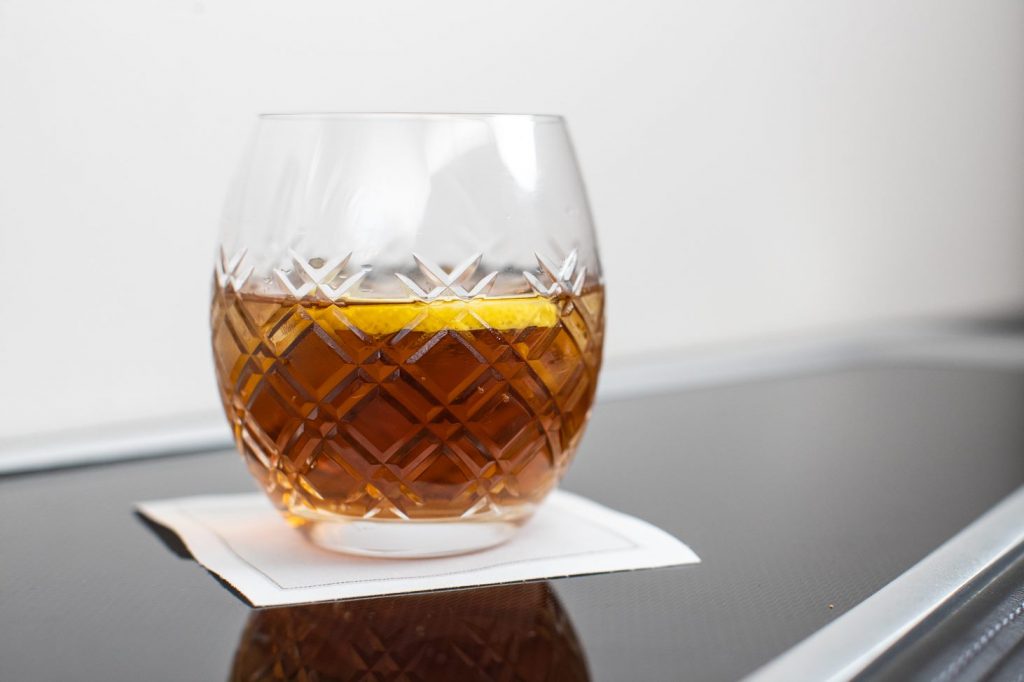 Carolina Martinoli, British Airways' Director of Brand and Customer Experience, said: "As part of our £6.5bn investment in customers, we're changing parts of the travel experience in our First cabin. Our teams of designers, chefs and customer service experts have carefully thought through the details we know matter most to our customers.
"In this, our centenary year, we've sought out some of the best British designers and manufacturers to work with to ensure travelling in First with British Airways is an unforgettable experience."
First customers will benefit from an improved turndown service, thanks to new luxurious 400 thread count bedding, accompanied by a foam fibre mattress topper. Having experienced Emirates memory foam mattress topper recently that was the most comfortable bed in the sky, I'm keen to see if BA can have something of a similar standard. Customers will also receive a stylish new day blanket and bolster cushion.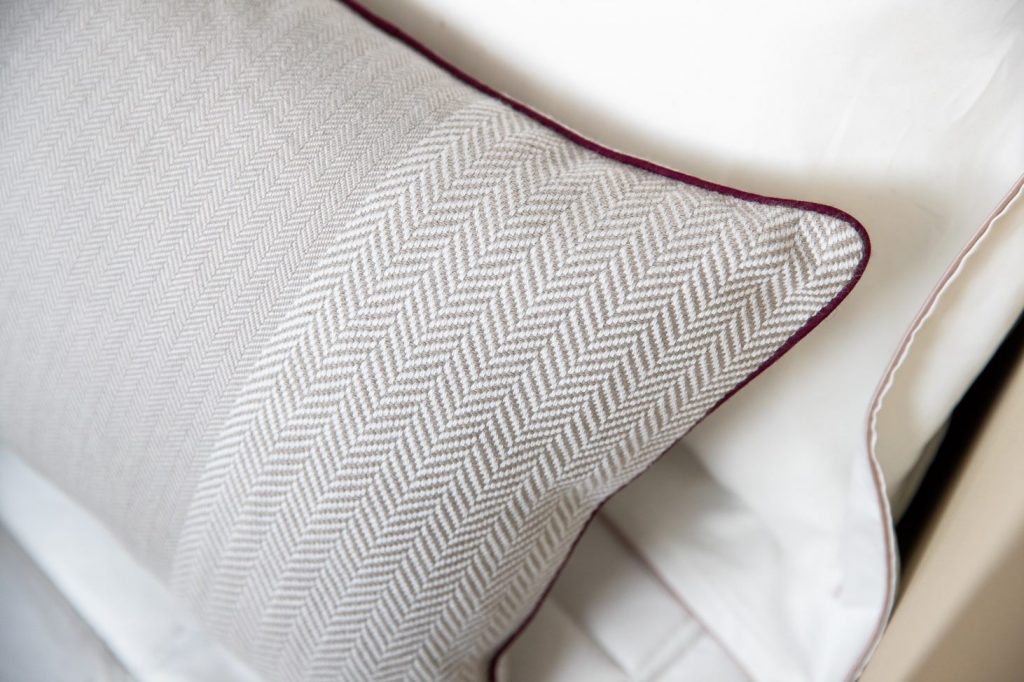 New high-performance headphones will be supplied crafted by Meridian, the British Pioneers ofHigh-Resolution audio.