Dubai business class return from £1057 with great seats
Last year I got a bargain flight from Paris to Dubai with Oman Air. Whilst they are not part of any alliance, I think they have a fantastic business class product and at these prices, it is well worth giving them a try. I would say they are not far off Qatar's standards for onboard service and comfort, although they don't have suites as such. However, the window seats with the privacy screen up, almost feel like a suite. You can read my full review of Oman Business class here.
Oman Air are now doing a similar offer from Paris for £1057. The rules are:
Book by: Tickets must be issued on/before 14 Jul 19.
Travel: Valid for travel commencing on/before 30 Apr 20.
Minimum stay: 3 nights
Maximum stay: 3 months
Transfers: Unlimited
Stopovers: 2 permitted free
Refundable: Yes for a fee
Changeable: Yes for a fee
You can book direct with Oman Air here or try Skyscanner to see if you can get it any cheaper through an online agent.
Put the name of your choice on a plane…

During the month of July, American Airlines are offering a very unique opportunity to have the name of someone special who has been affected by cancer on an AA aircraft. The idea is to raise money for Stand up to Cancer. When you donate $25 or more to Stand Up To Cancer have the opportunity to honour a loved one by adding their name onto the American Airlines official Stand Up To Cancer plane.
The final plane design (to be revealed later this year) will incorporate names included with these donations, signifying that together, we can soar above cancer. The special aircraft will be an American Airlines Airbus A321. The plane, which will begin flying this autumn, will be wrapped with a special SU2C design that includes the names submitted. I have submitted one in honour of my Dad who passed away from a brain tumour.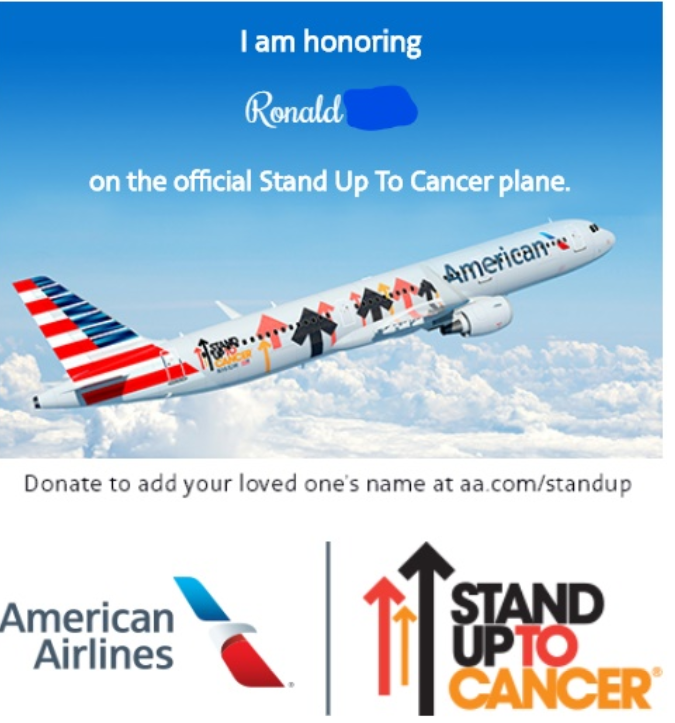 100% of your donation received by SU2C will support Stand Up To Cancer's collaborative cancer research programs.
You can find the donation page here.
Free night at Mandarin Oriental
Mandarin Oriental have some amazing hotels which is some places can not actually be that expensive like our stay in Shanghai. Mandarin Oriental now has a special One More Night offer at their hotels. From now until 2 September 2019, stay a minimum of three, four or five nights, depending on the property selected, and receive a complimentary night.
You may also want to join up to their special MO Fans program. It is not the same as most loyalty programs in that there are no points to collect or status to gain. MO describe it as a "customer recognition program". However, if you are planning a stay at a MO it is well worth joining for free. Every member gets free wi-if, a welcome amenity and special events and offers for members only. The most interesting benefit is the 2 additional privileges you can choose when you book your stay on mandarinoriental.com.
You can choose from:
Early Check-In
Room Upgrade
Late Check-Out
Streaming WiFi
Daily Breakfast
Celebratory Treat
Dining or Spa Credit
Pressing Services
You also get the chance to record your preferences for your stay in your profile. This only really appears to be what water you want for turndown at the moment and I think they could do a lot more with this section. You can join for free here.