I have been hearing good things about Oman Air for a while, so after seeing their business class seat at a show I was very keen to try Oman Air A330 business class. Couple that with some fantastic fares at around £1000-1200 business class to Dubai or Bangkok and it was pretty much a no-brainer. I flew from Paris as at the time of booking it was the cheapest place to fly from. I was flying to Dubai to get some sunshine and do a few hotel reviews – the first of which was the Park Hyatt Dubai.
The flights varied in service, seats and aircraft type so I will only be covering the two outbound flights in this review. I will cover the Muscat lounge in more detail in the next review as I hardly got to see it on this visit.
Check-in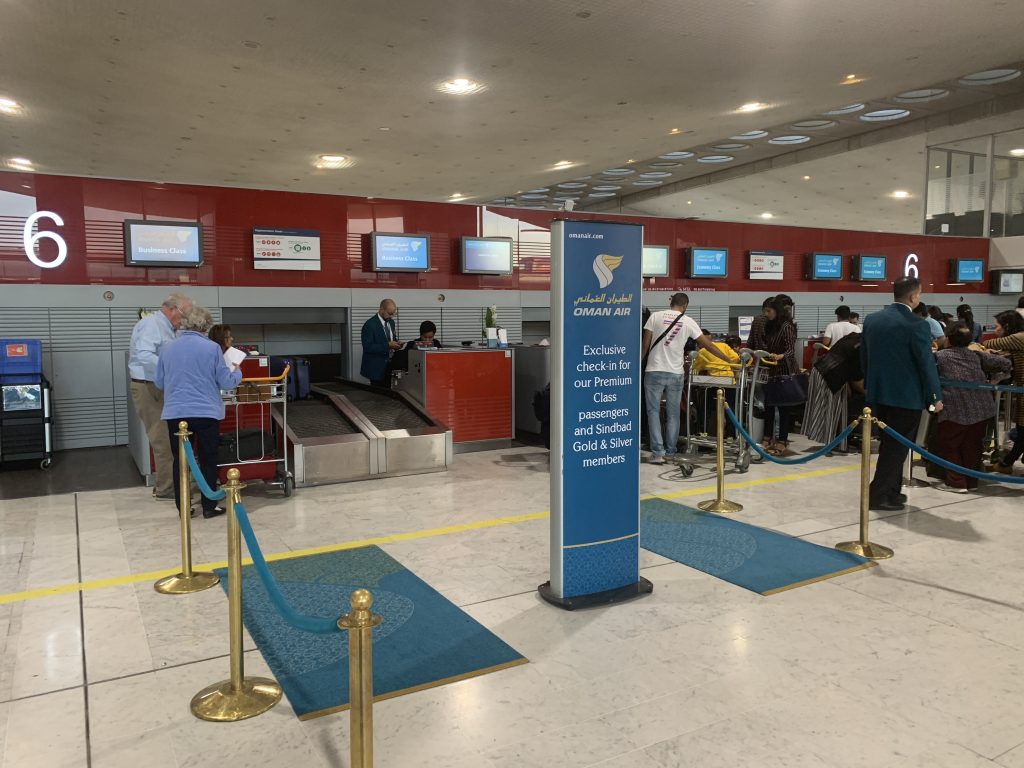 There was a nice carpeted and roped off section for check-in at Paris airport. The check-in agent spoke good English and was helpful, explaining where the lounge was. I was checked in very quickly since I had already done it online and soon in the lounge.
Lounge – Cathay Pacific lounge Charles de Gaulle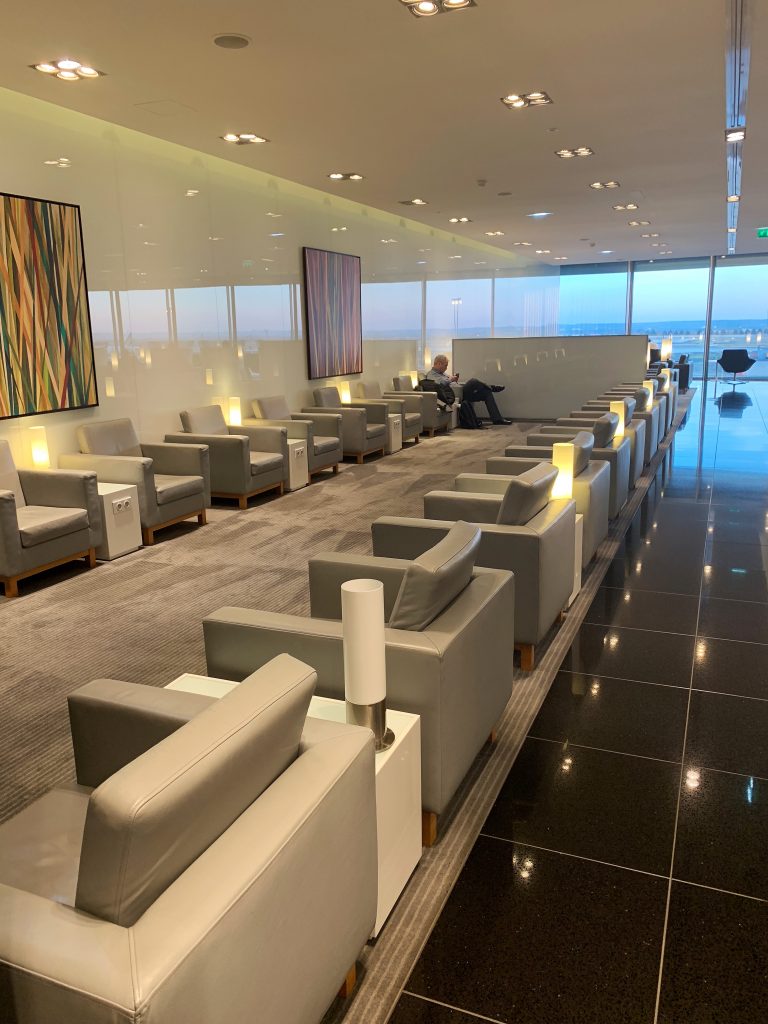 Oman Air use the Cathay lounge so I had made sure I allowed plenty of time to check out the lounge. I will do a more in-depth review of the Cathay lounge at a later date as it is of interest to anyone flying Club Europe or who has status in British Airways. as it is the lounge that BA use. I really liked this lounge and although not as good as the Heathrow first one, (Paris is a combined first and business class lounge) it is worth getting to the airport early to use.
There was Champagne which was not one I had heard of – Baron D'Avella. It was nothing special but drinkable.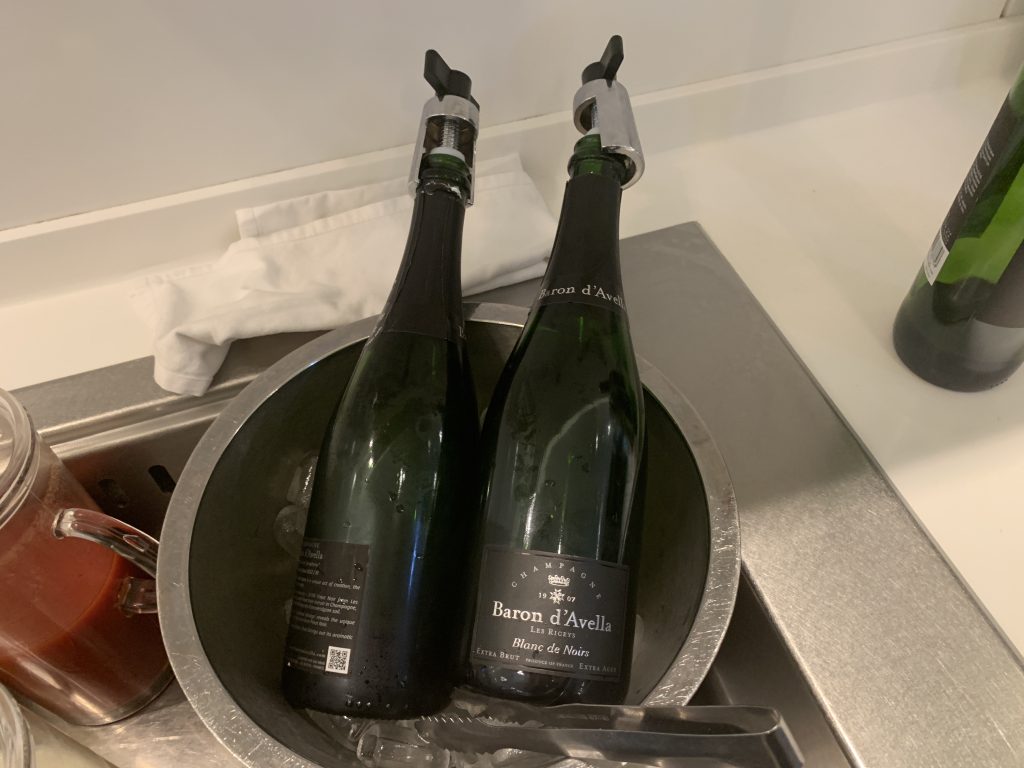 As well as the ubiquitous Cathay Noodle bar, there was a hot and cold buffet, wine, spirits and beer including TsingTao.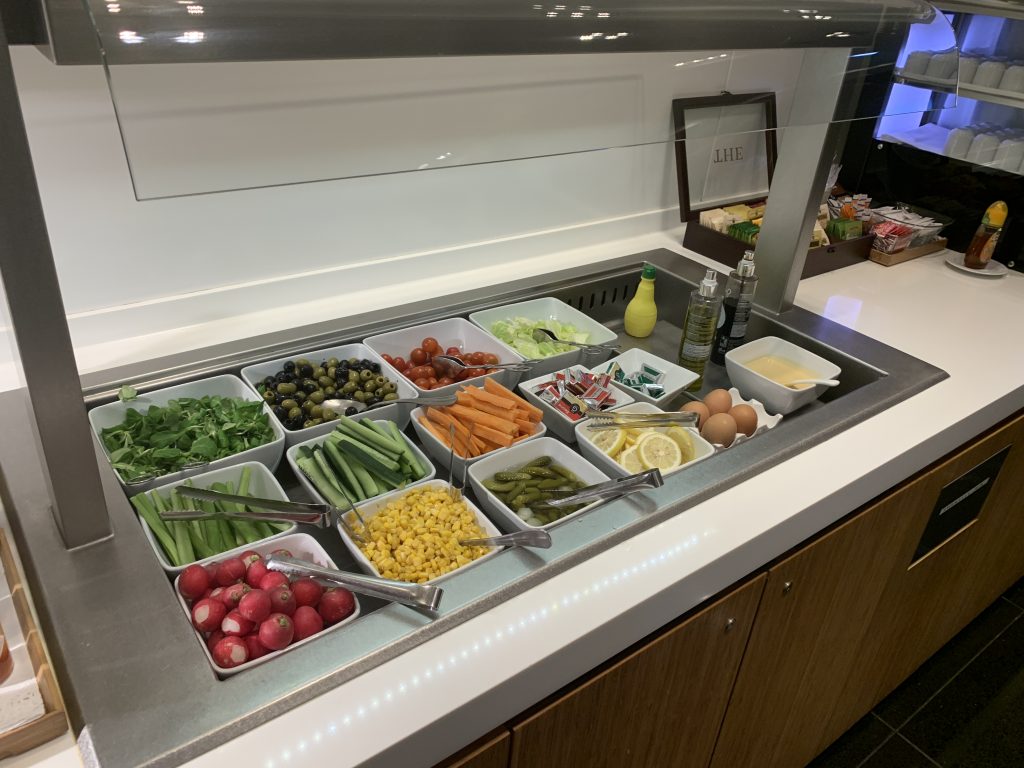 I found a great seat by the window and enjoyed my fizz watching the sunset over the tarmac.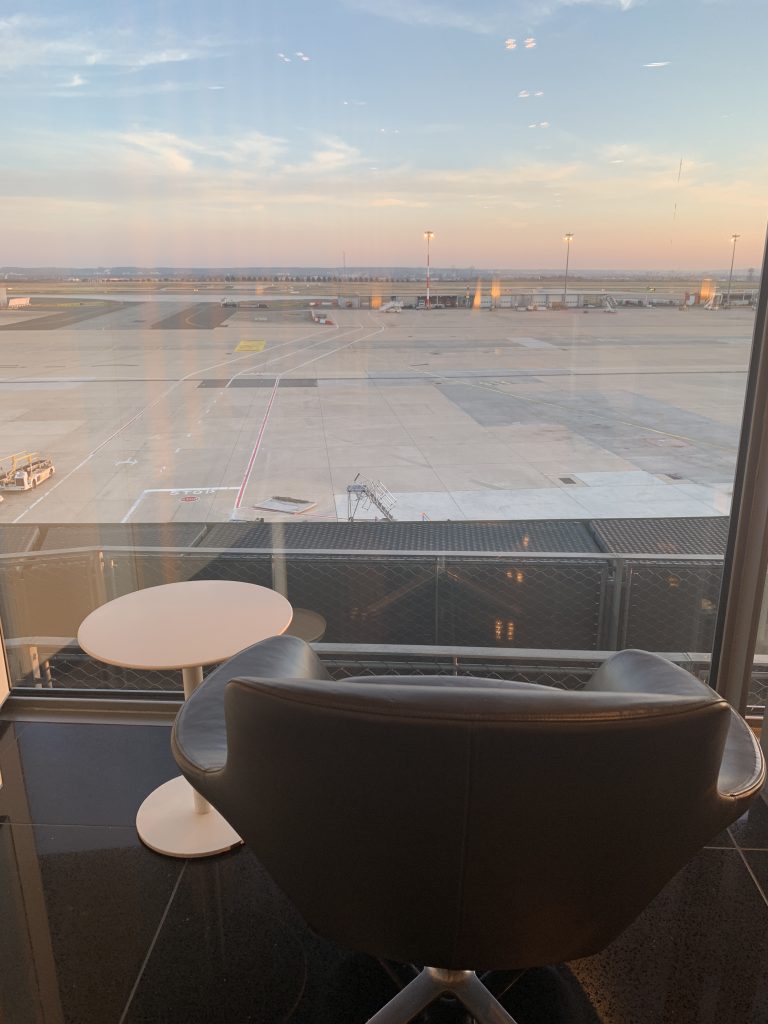 Boarding Oman Air A330 business class
I arrived at the gate a bit early as I wanted to get on first to take photos. Boarding was delayed for quite a while and I ended up standing at the gate for about 20 minutes which wasn't much fun as it was overcrowded. There were no announcements for ages and people were getting restless. Once it actually started they did at least board business class through a separate lane so it was fairly organised. Once at the aircraft door, I was greeted and directed to my seat.
The cabin crew were quick to come over and offer a hot towel and a choice of drinks including Champagne. The welcome on Oman Air is very comprehensive and created a great first impression – for me better than Qatar.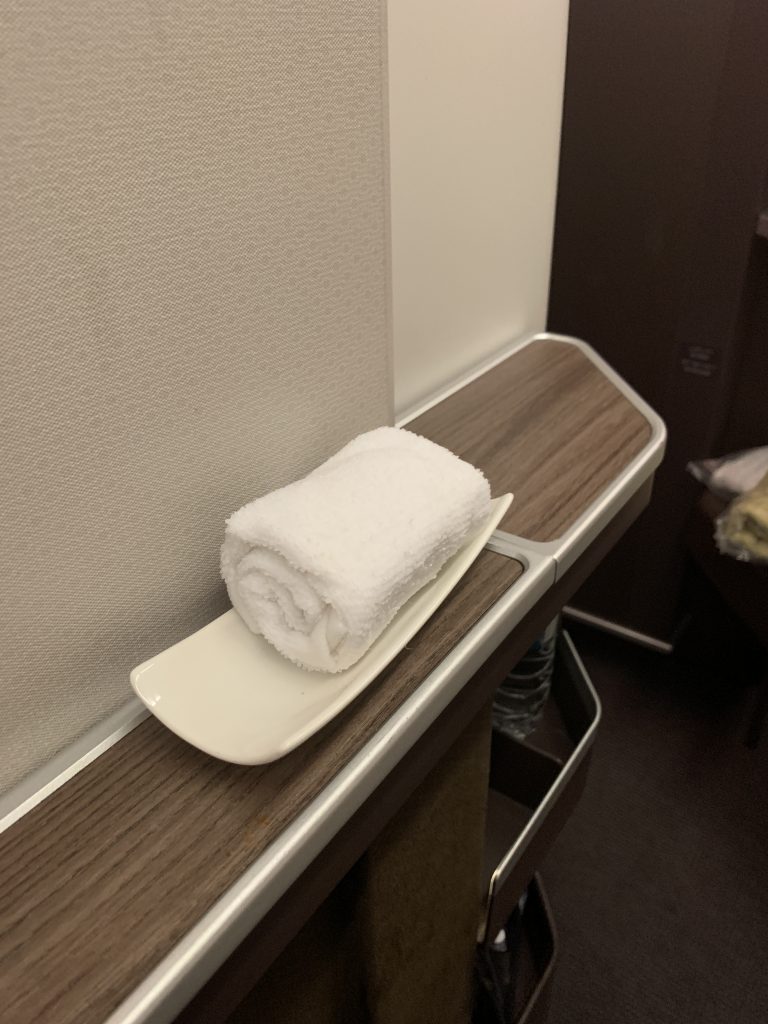 I loved the champagne flutes with their engraved pattern and the fact that the bottle was presented to me before pouring. It felt more like a first class service.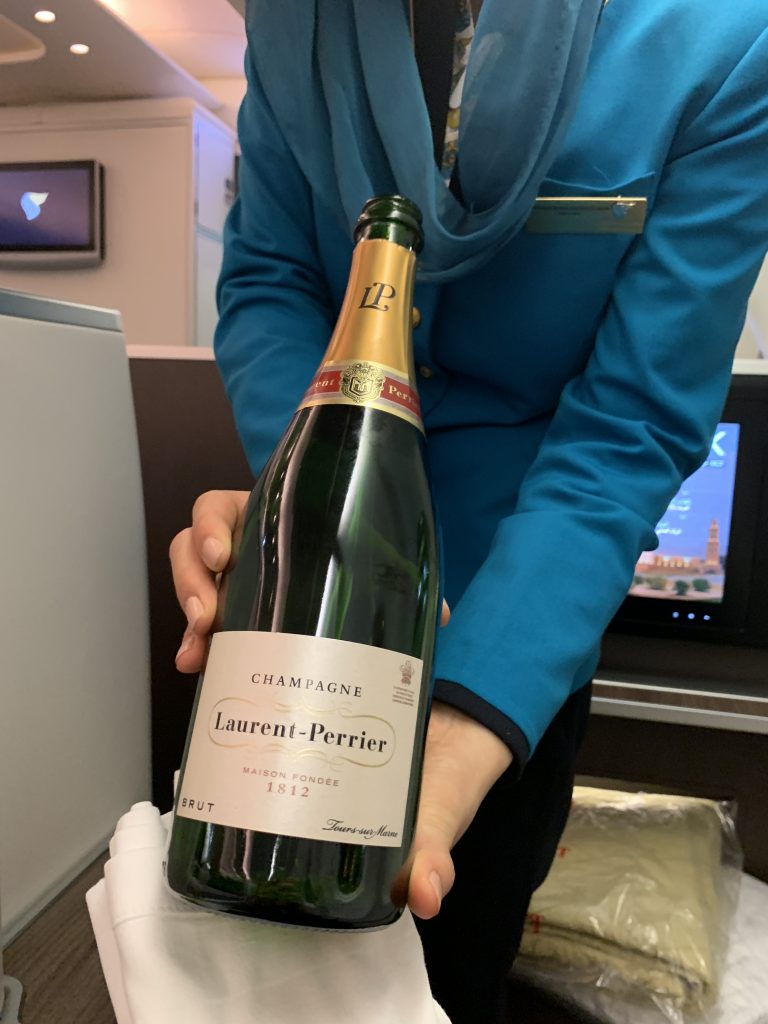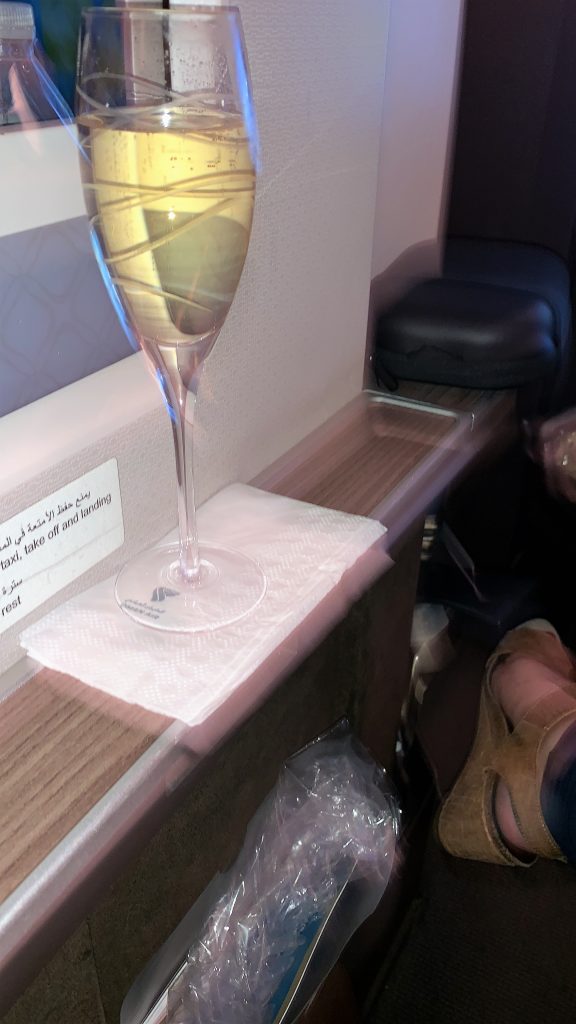 At the seat, there was already a blanket, pillow, water and headphones. The cabin crew then presented me with a classy looking menu, pyjamas and a unisex amenity kit. I thought the amenity kit looked good quality and the contents again were more like a first class kit. There was a dental kit, shaving kit, moisturiser, body lotion, lip balm, eyeshades, ear plugs socks and a hairbrush/comb.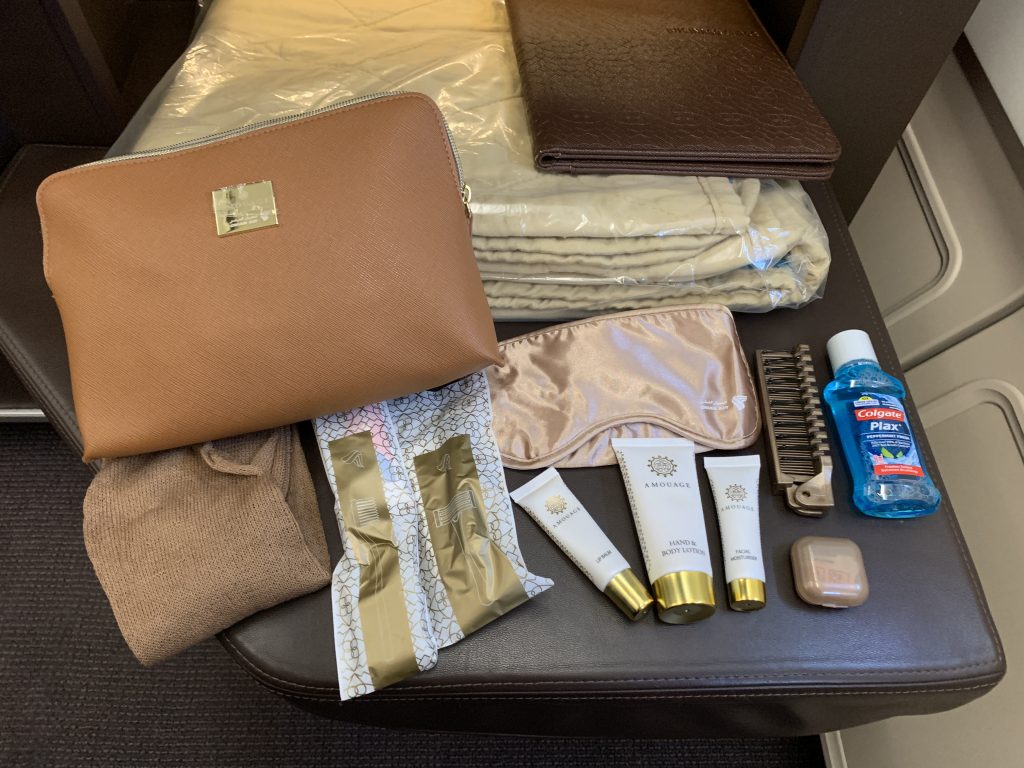 The welcome continued with being presented with a large box of dates to help myself to which were particularly delicious. This was followed by the traditional Omani coffee which is much the same as Arabic coffee – slightly weak but spiced.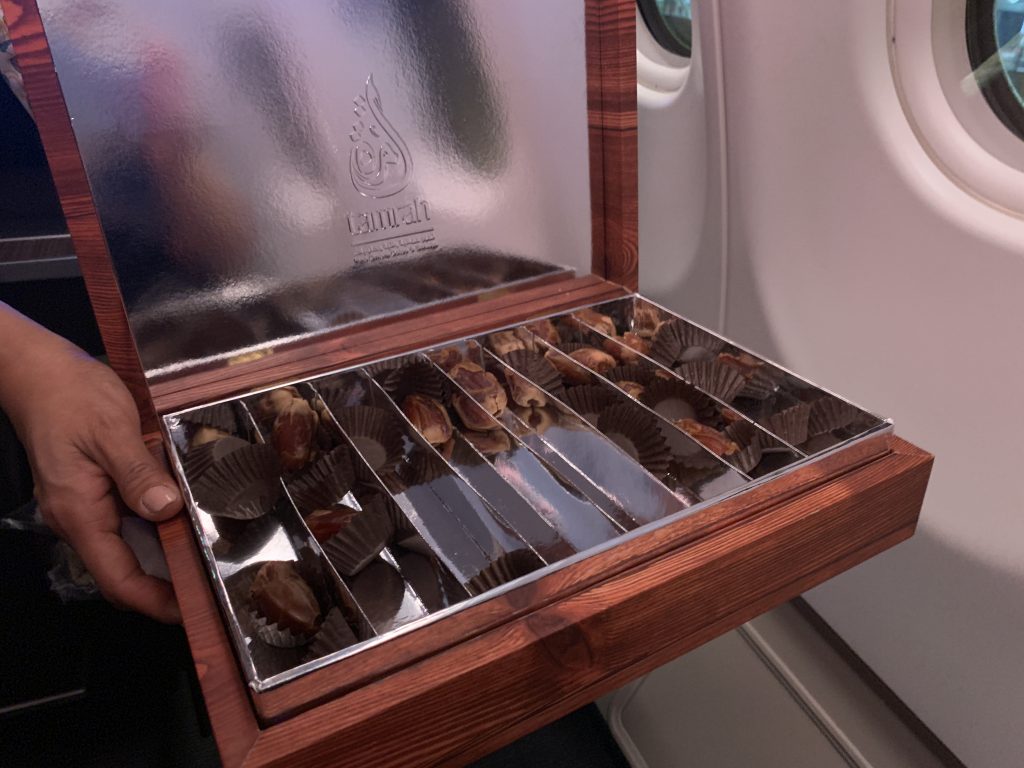 Oman Air A330 business class Seat and cabin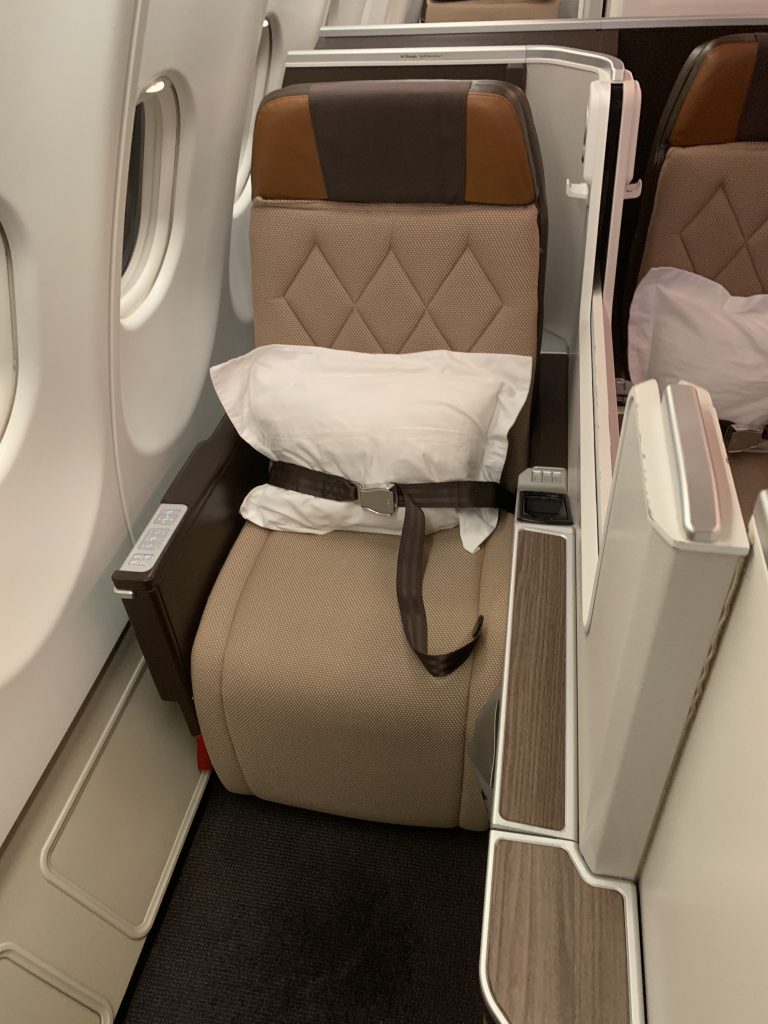 This was an A330-200 which consists of two small cabins for business class. I had gone for 11K as that was the seat further away from toilets and galleys on this night flight.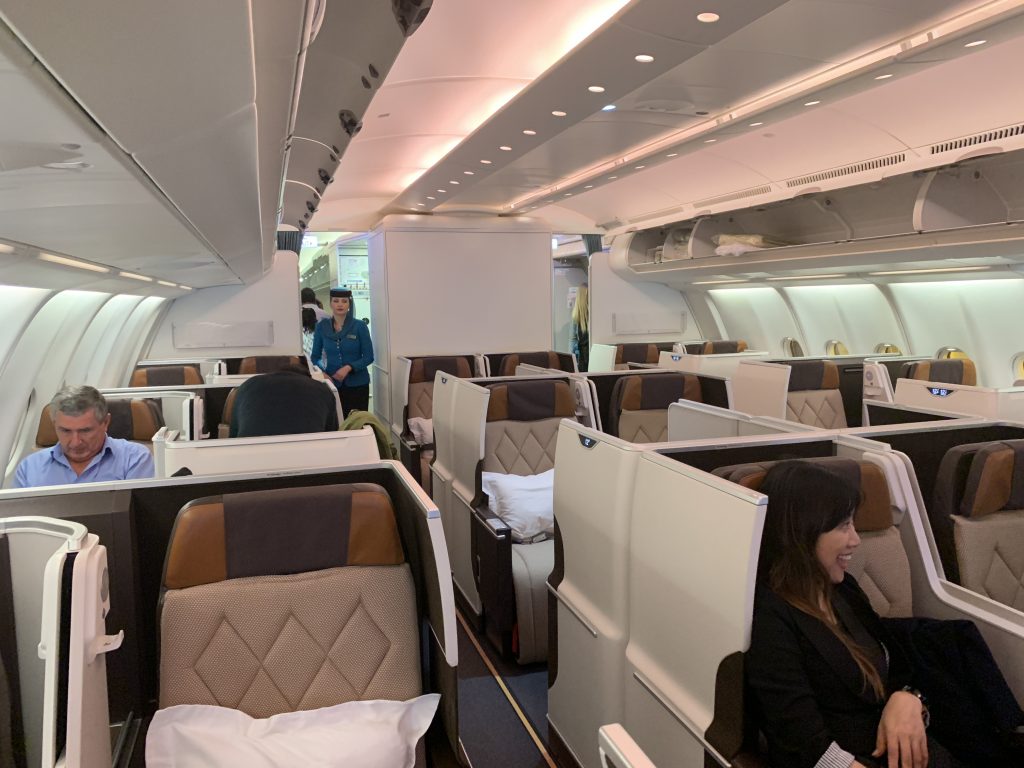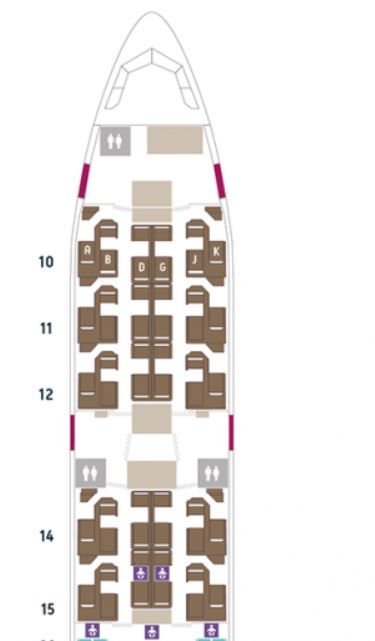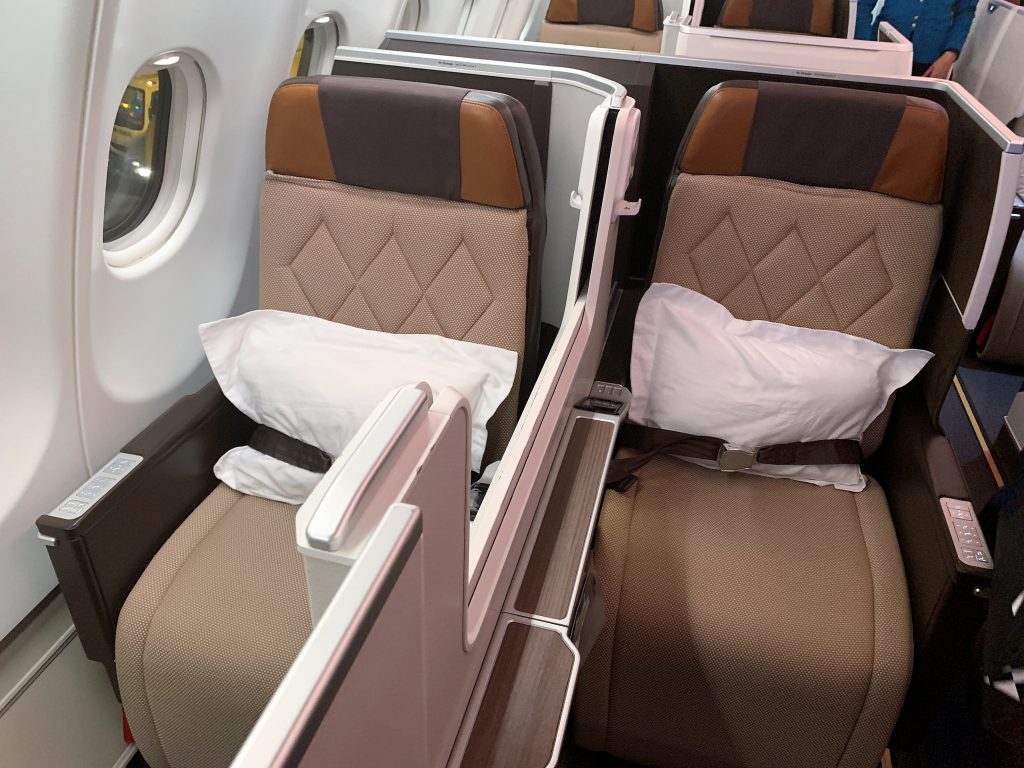 The seats on Oman Air are the same as used by Japan Air. All have aisle access and they are slightly staggered to give more privacy. I had a window seat which once the divider was up was very private. Even with it down due to the staggered nature of the seats it still felt fine as a solo traveller.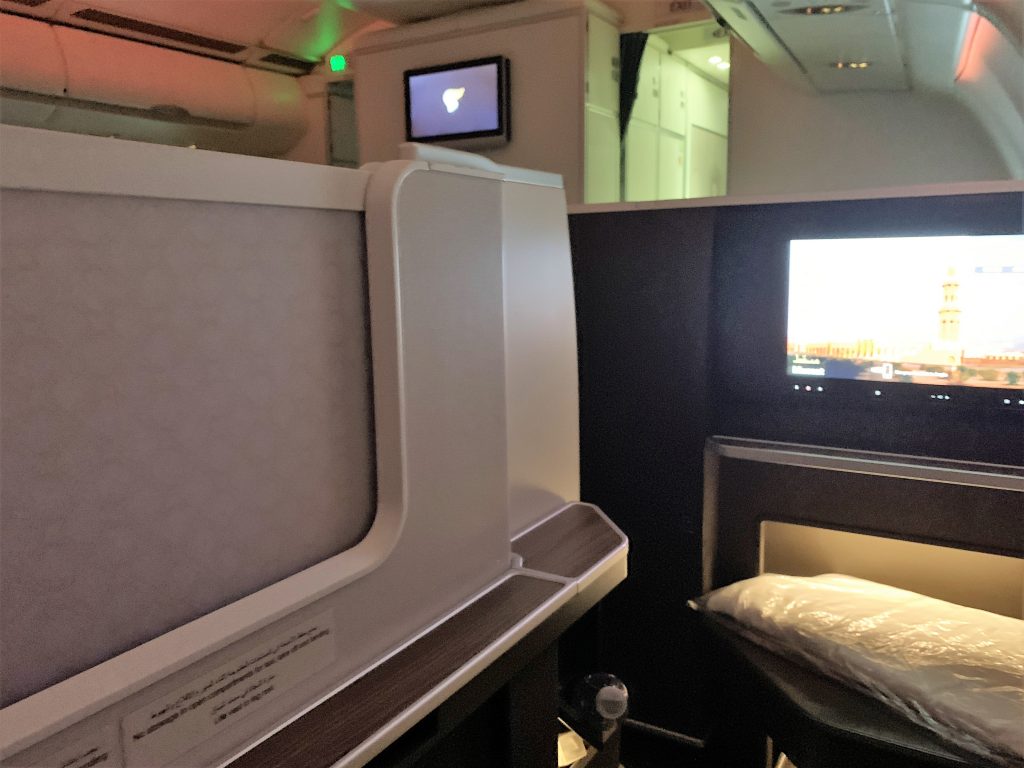 Although the seats look quite narrow, they didn't feel it and it felt like you had plenty of space around you. There were some handy shelves for the water bottle and you could put your own things in there too. The side shelf was small but ideal for putting a couple of drinks on without having to get a big table out.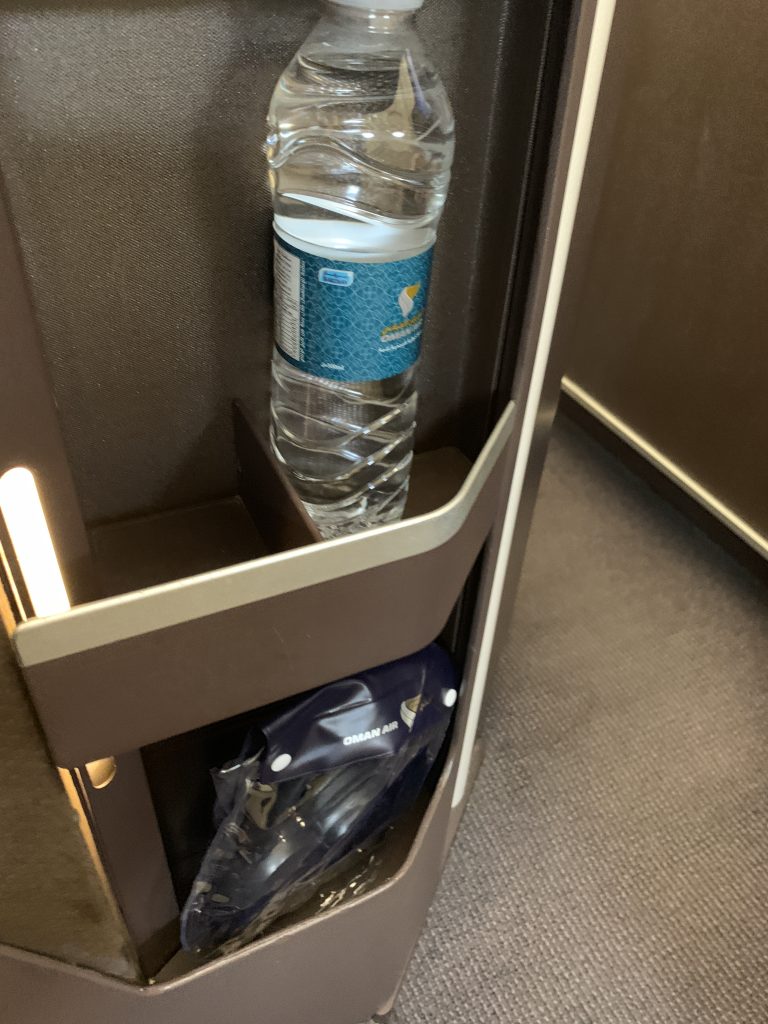 I found the seat pretty comfortable for working and sleeping. My only complaint was that I could not use the ottoman except when fully flat as it was too far away.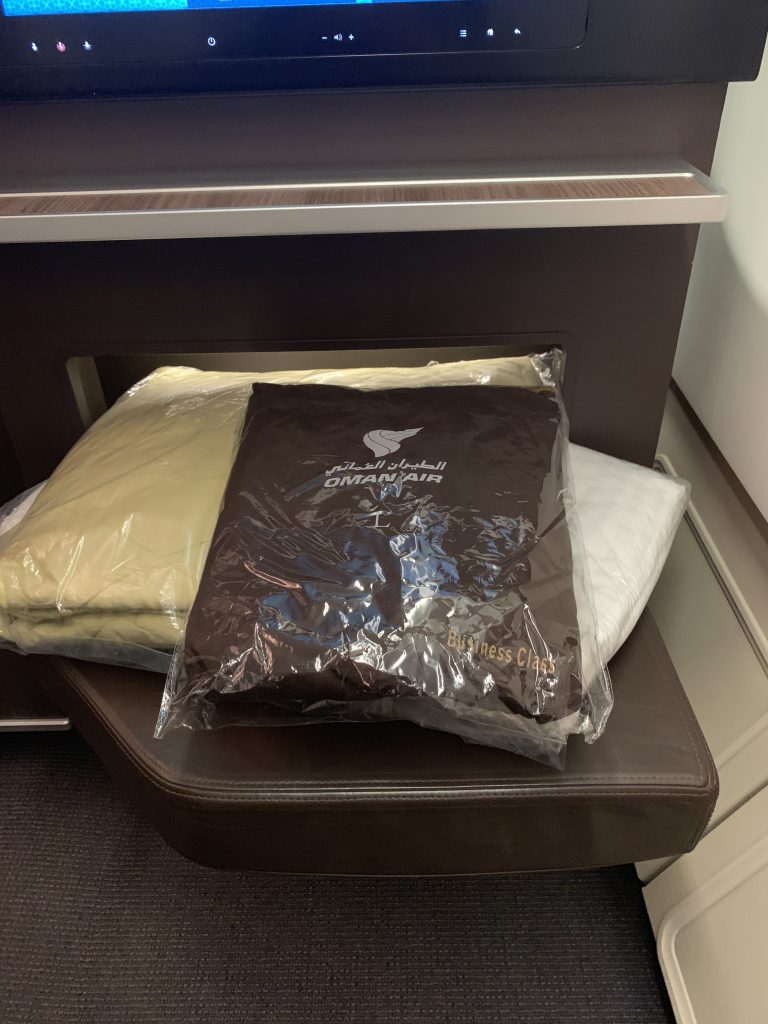 However, there was full leg support which meant that it wasn't too much of an issue. The seat had plenty of different options for controlling its position. Although it looked simple it did take quite a bit of adjusting to get it completely how I wanted as when you pressed one button it did then move other parts of the seat too!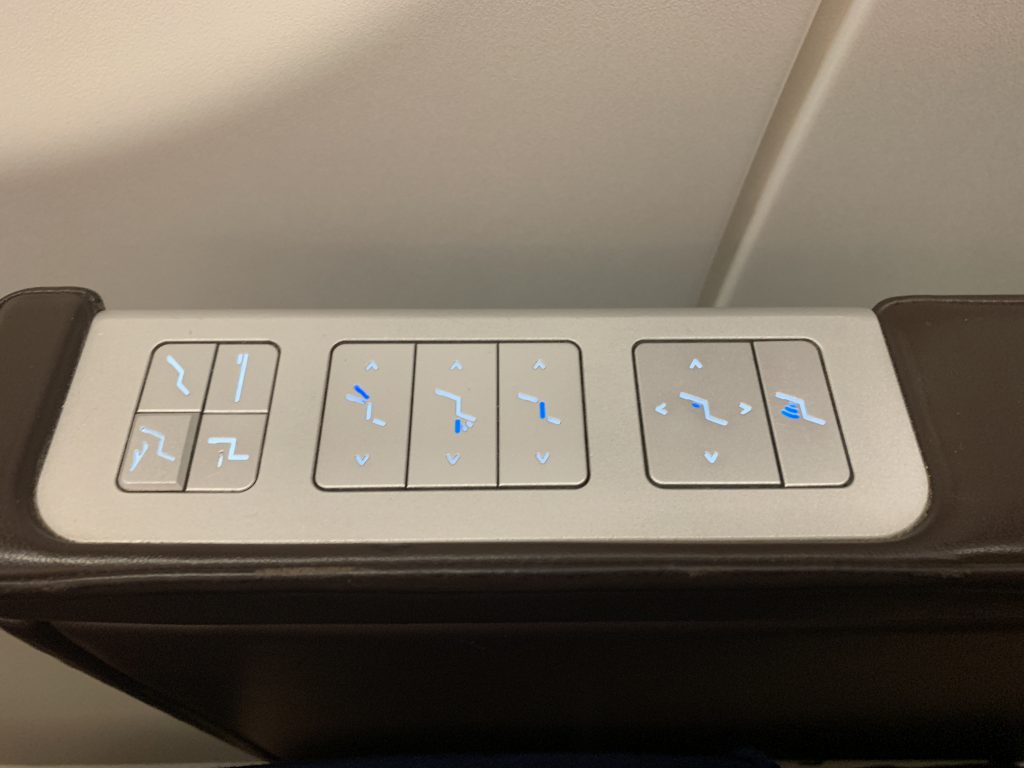 The seat reclined into a full bed which I found wide and comfortable. The ottoman was also very large and it was nice not to have my feet in a cubby hole. Other than Singapore's A350 this was probably my favourite business class seat for sleeping due to the size, softness and privacy of the seat. There was a decent size pillow with a cotton pillowcase and the blanket was also made of soft cotton and not too hot.
Oman Air A330 business class Food and drink
I liked the menu in its smart leather cover and the contents did not disappoint. Here is the food menu:
I was also really impressed with the choice of wines and cocktails. The wine list wasn't huge but there were good quality wines and enough variation to keep most people happy. I was surprised that there was no port but there was a good Sauternes instead if you wanted something to go with your cheese. Here is the wine list:
Before dinner, we were offered a drink so I decided to try a cocktail. I was slightly hesitant about ordering a Caipirinha as I imagined it wouldn't be great on a plane but decided to throw caution to the wind in the name of research. I was correct. It was pretty bad. There was no or hardly any sugar in it so the drink was very,very sour. No nuts or snacks were served with the drink.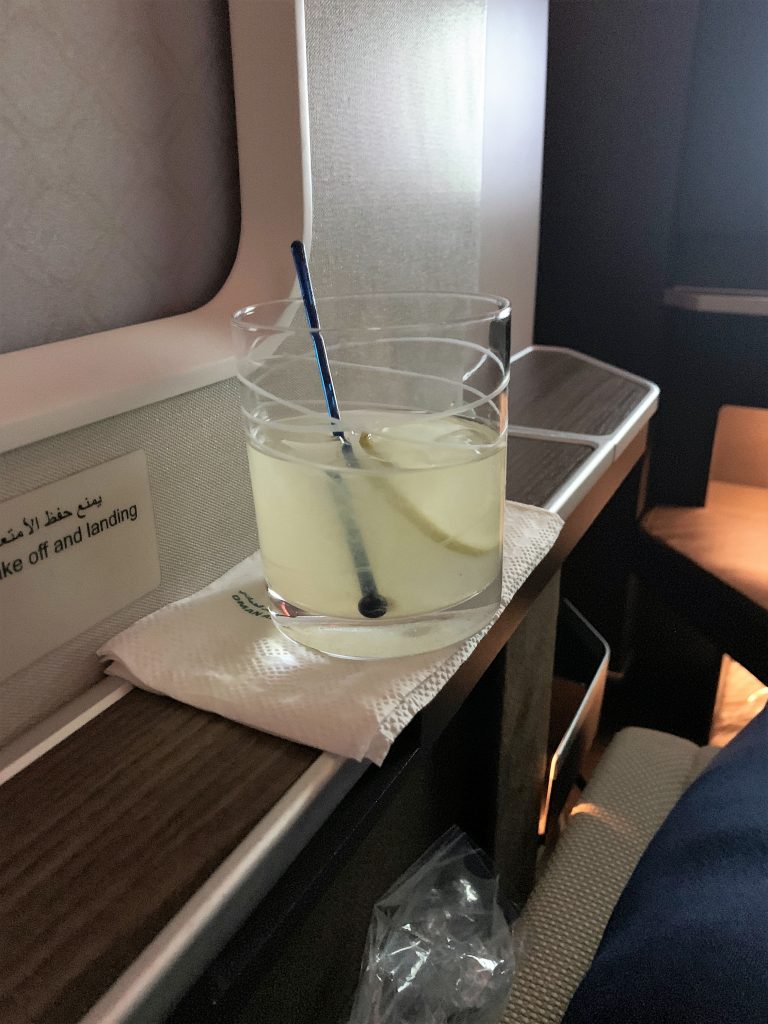 My table was laid with a nice white tablecloth and a heavy tumbler of still water poured. It would have been nice to be offered a choice of still or sparkling. The meal started with an amuse bouche which was nicely presented and very tasty. Surprisingly the raspberry vinaigrette did work with the fish as it was quite subtle and the salty fish roe helped season the dish to balance it out.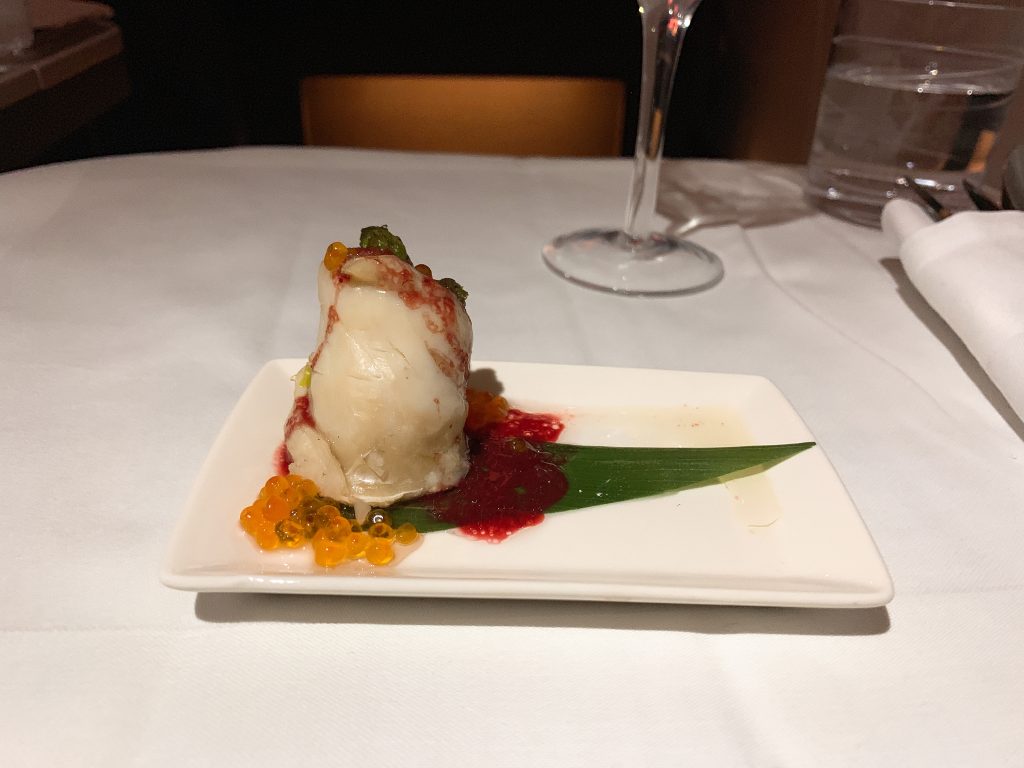 Then I was presented with a personal bowl of warm bread rolls, great quality butter, olive oil and balsamic plus a little dish for dipping. The table was getting a bit crowded at this point!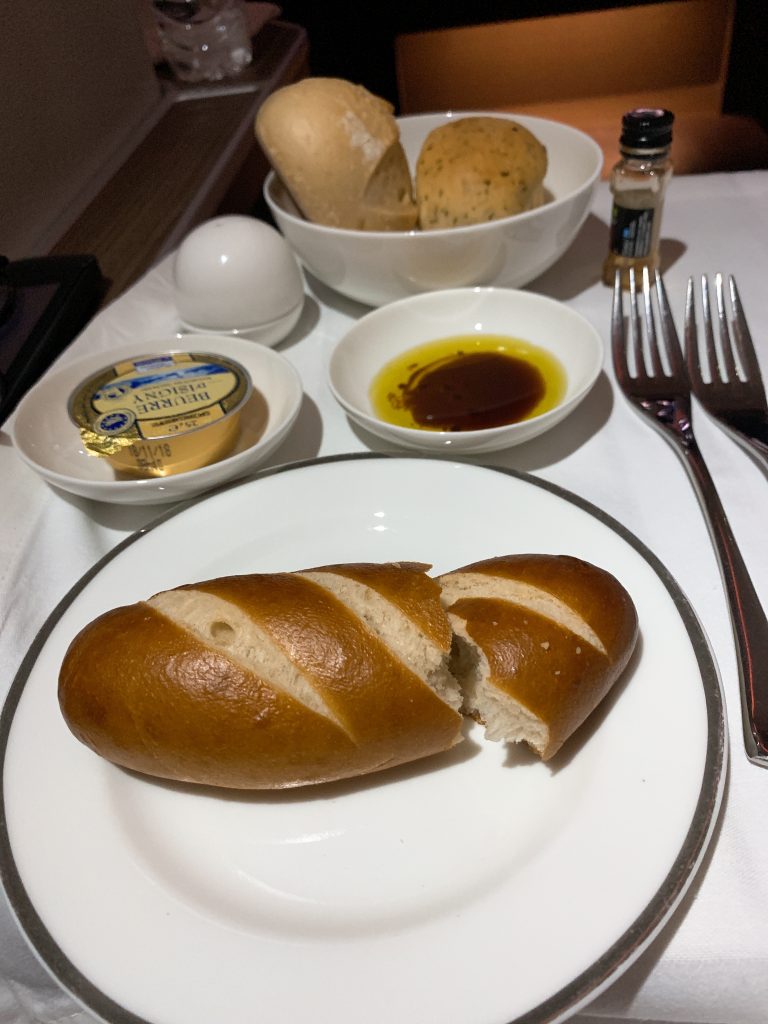 For my starter I was predictable I'm afraid and ordered my favourite mezze. So how did it compare with Qatar?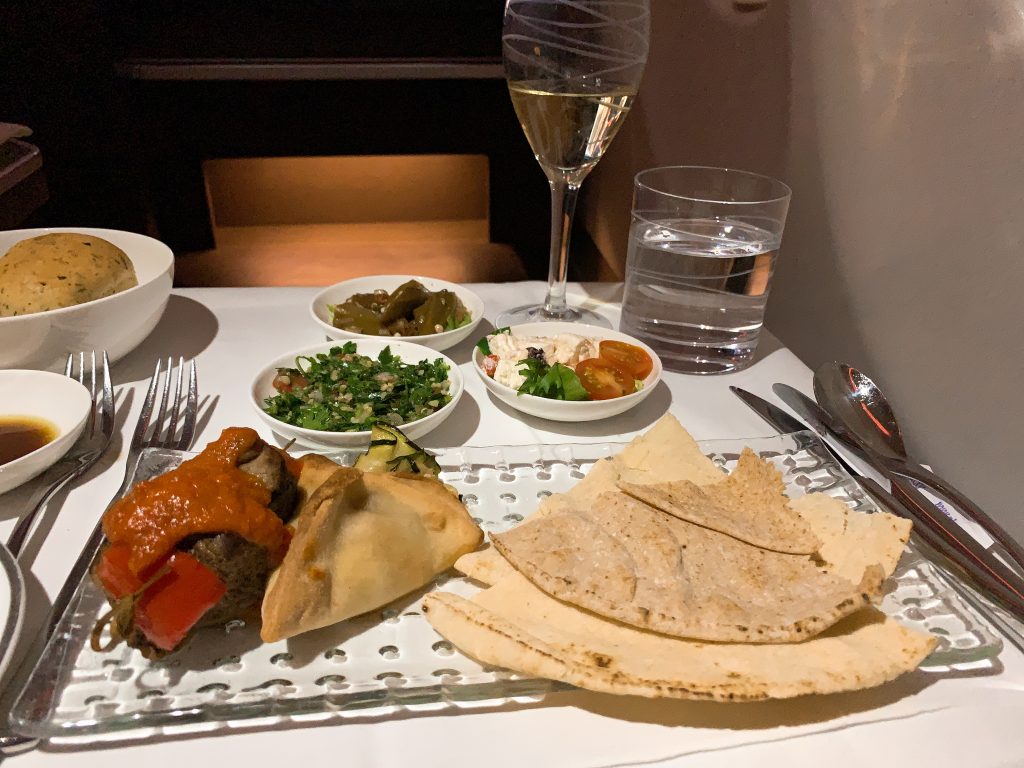 I always thought that Qatar's mezze was large but this was absolutely enormous! As well as three cold dishes there was a fatayer pastry and a warm lamb kebab with a red pepper sauce. It was all delicious and I liked having the hot items. My only criticism was that I would have liked one of the cold dishes to have been a dip rather than three salads.
With my starter, I had a glass of the Stag's Leap Chardonnay which I really enjoyed. Stag's Leap Wine Cellars is famous as the winery that beat Bordeaux's best wine in 1976's Judgement of Paris. The Karis Chardonnay retails at around £30 and is a quality wine. It had a lovely touch of vanilla creaminess offset with citrus notes. I was impressed with the quality of the wines in general for business class – they were definitely far more in the first class bracket in terms of quality and price.
For the main course, I opted for the roasted chicken with garlic yoghurt sauce. The chicken was a little dry being a chicken breast but the rice was delicious with all the spices, nuts and fruit in it. The portion was about the right size and although not what I would call fine dining, it was nice to try a local speciality. I had a glass of the Saint Emilion with the main course which also retails at around £30 a bottle. This too was a good wine, full bodied and plummy.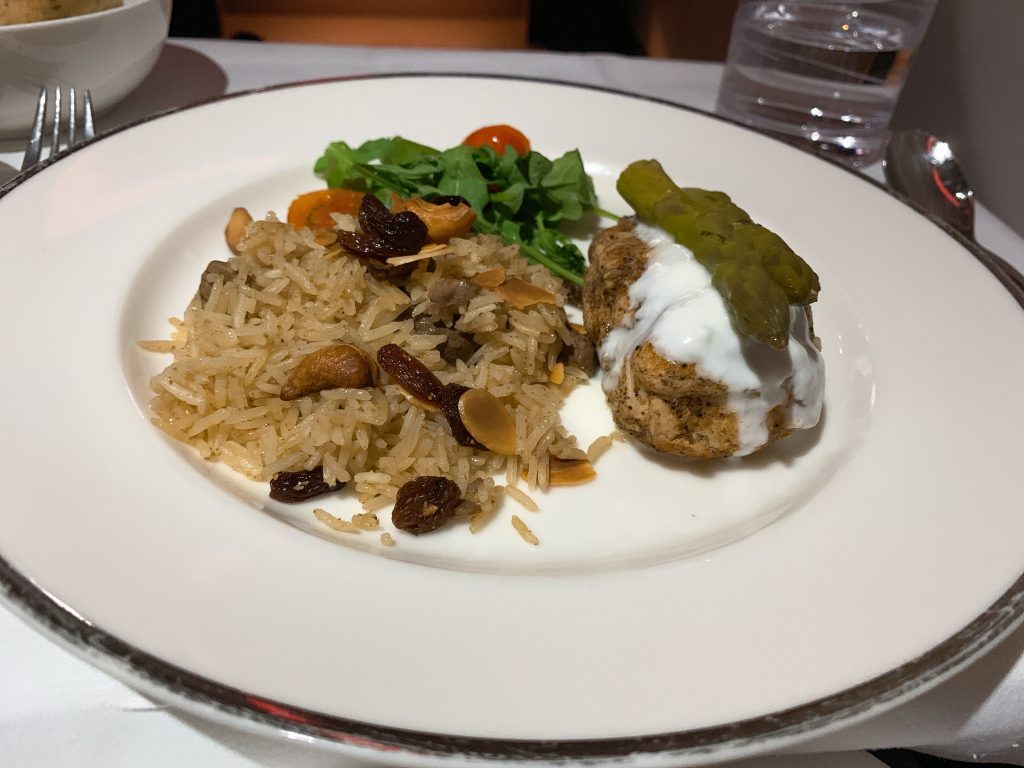 As I had eaten so much already I couldn't manage any more food and I did not bother with breakfast either. A hot towel was handed out shortly before landing. The approach was a little chaotic as they didn't give any notice before switching on the seat belt signs so everybody immediately stood up to put away their belongings!
Oman Air A330 business class Entertainment and WiFi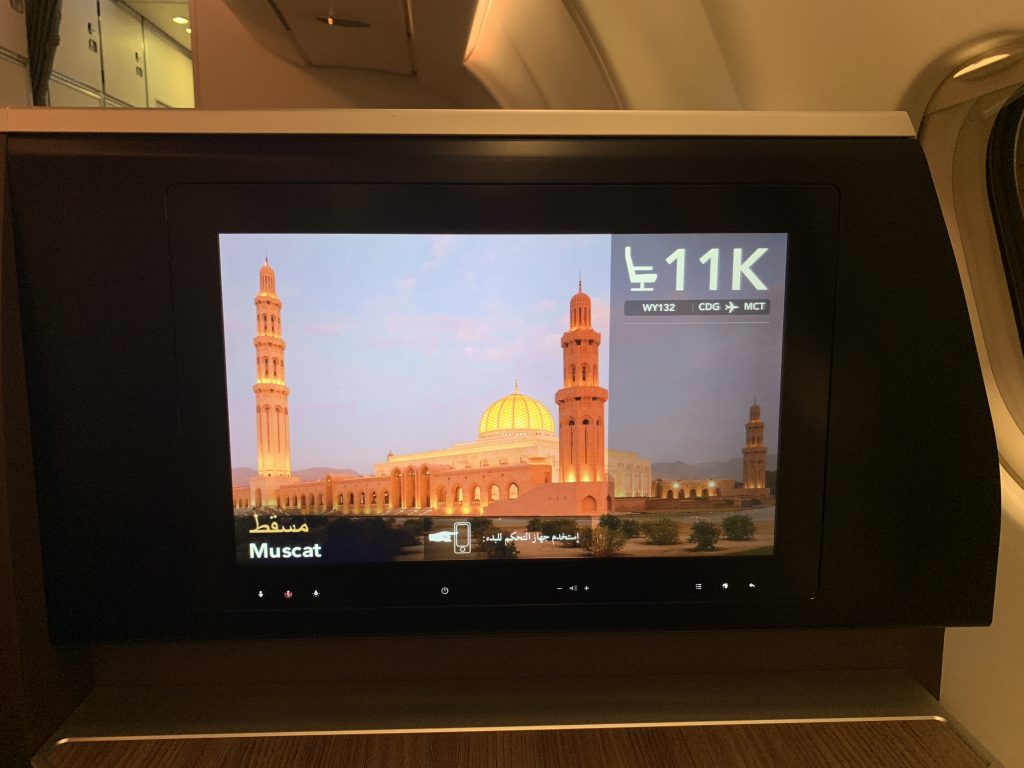 Oman Air do have Wifi although I didn't use it on this flight. The packages come in a number of hours which was annoying as there wasn't a package big enough for the whole flight as the biggest was 5 hours. There was also a limit on each package as to how much data you could use to make sure you didn't go mad.
The TV screen felt pretty big even though it was quite a distance away. The screen had good definition and I was impressed with the selection of films available. On my flights, they had the entire series of Ocean's films from the very original one right through to the recent Ocean's 8. As it was a night flight I didn't bother watching a film but watched a few episodes of TV and then my own laptop.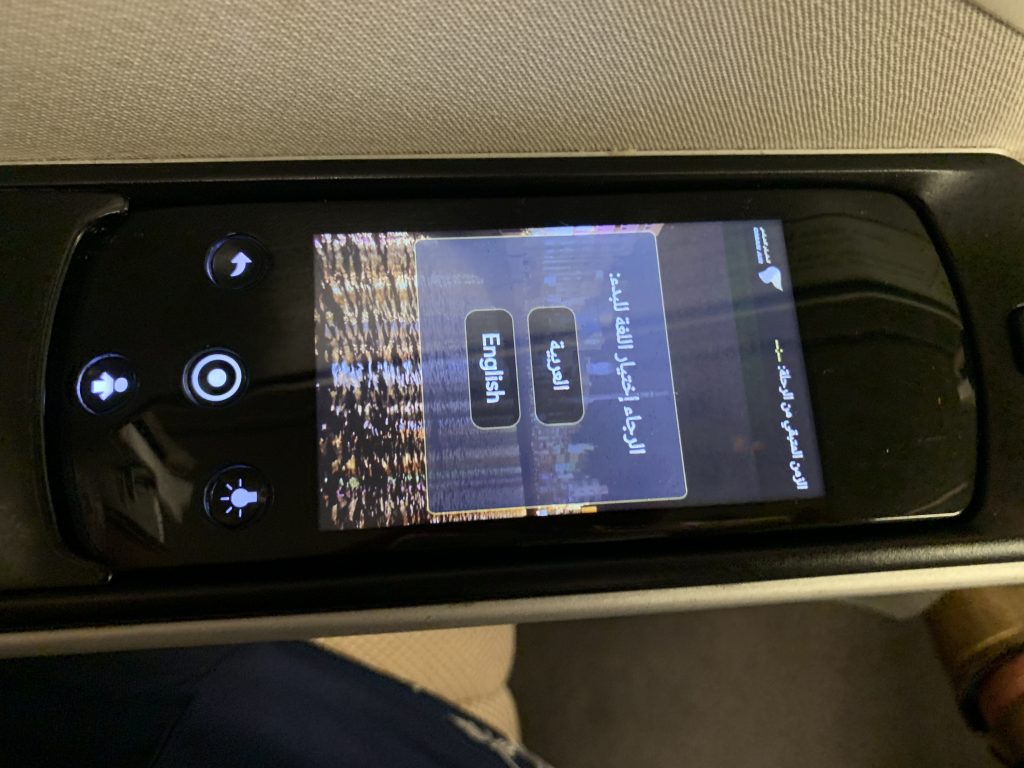 The TV was controlled with a hand-held controller that had a fairly modern touchscreen. It was simple to use but I found it a little sluggish and sometimes it was tricky to actually select the thing you wanted as the screen could have been more responsive.
The noise cancelling headphones that were supplied weren't particularly great – nowhere near the quaity of some airline such as the Bose ones on American Airlines but I just used my own Bose QC35 headphones.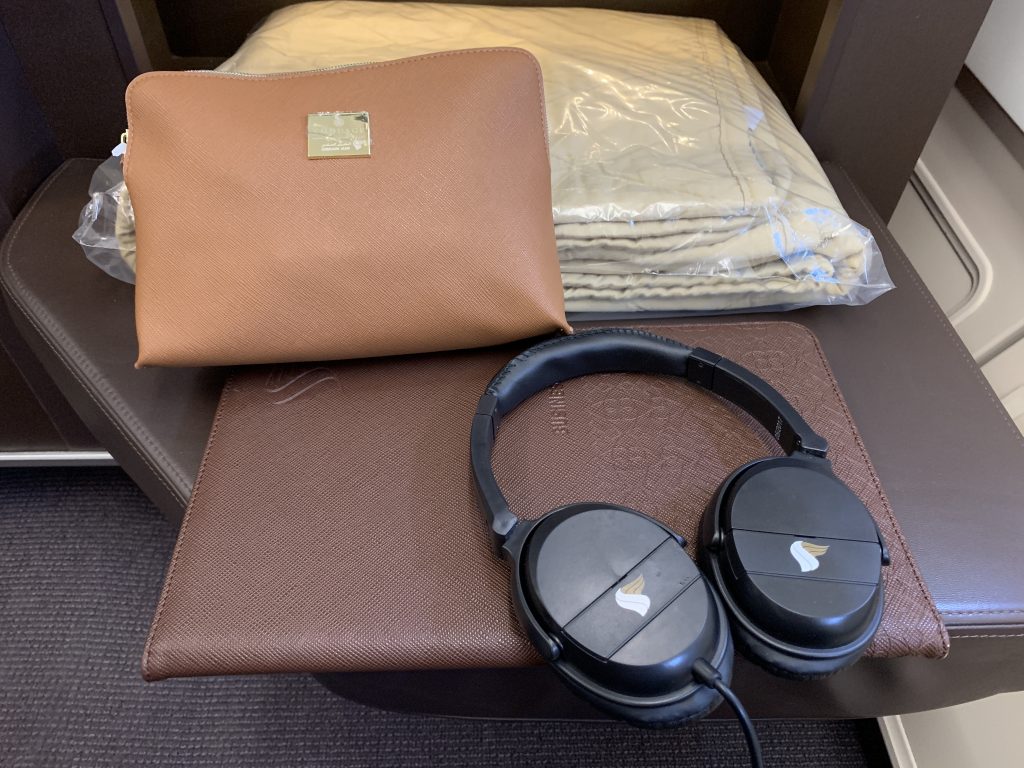 Muscat to Dubai
As we were very late arriving I only had a short time in the lounge to grab a quick drink. It was pretty busy at this time of the morning but there was a good breakfast selection of Arabic dishes, fruits, pastries and hot English breakfast too. I will cover the lounge in more detail when I write about the return trip. The new lounge did look very impressive though.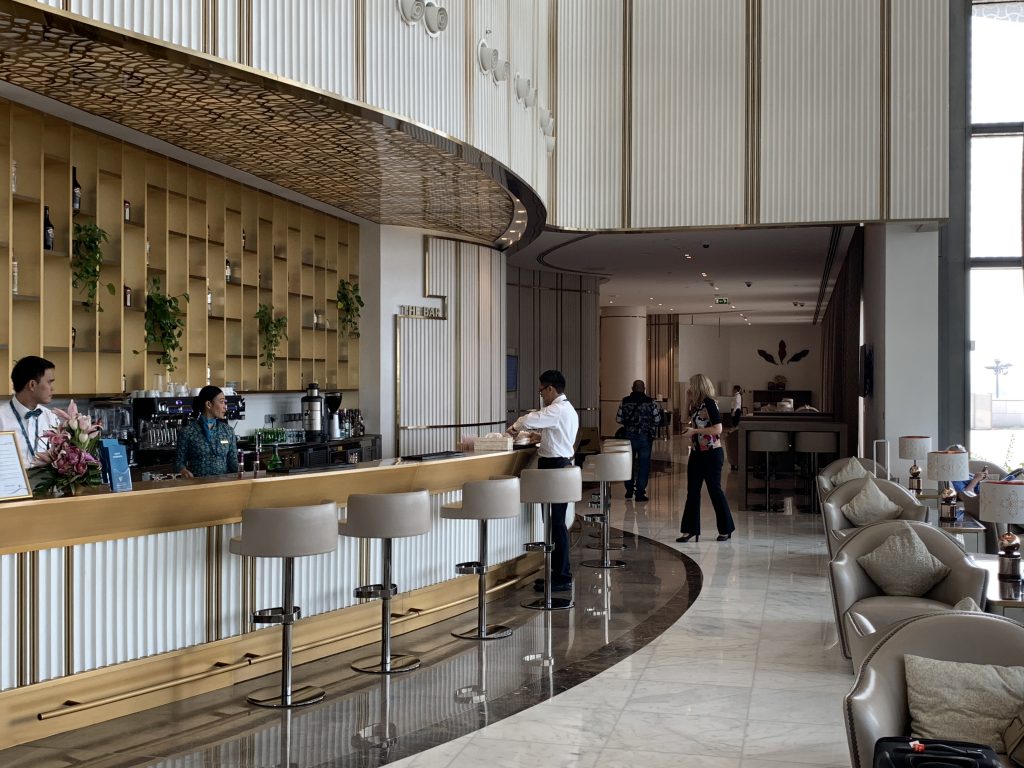 My next flight was also a A330 but a 300 series this time with the old business class seats. The flight was only around an hour and probably one of the most impressive business class experiences on a short haul flight.
Once on board, I was offered a hot or cold towel and a drink for which I chose the local lemon-mint drink which is very refreshing. There was already a bottle of water at the seat. Next, I was offered a newspaper and then dates and Arabic coffee. Oman Air definitely have the onboard welcome down to a T!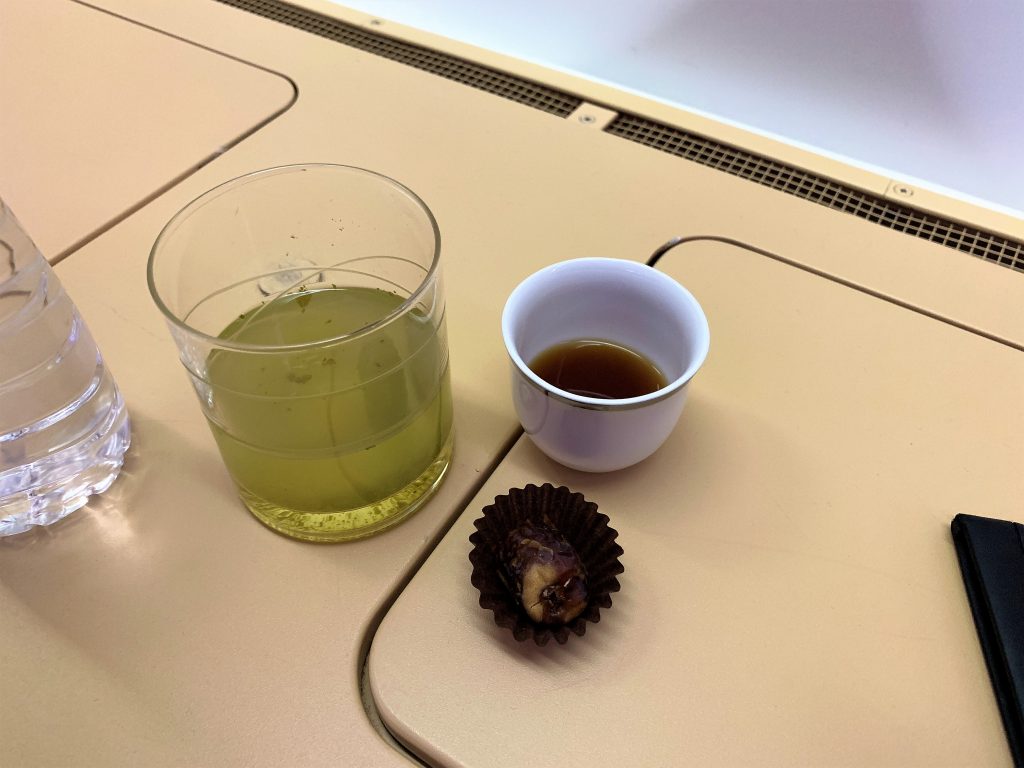 The seats were in a 1-2-1 configuration on this flight and although a bit old fashioned there was plenty of room. It was certainly a luxury on such a short flight.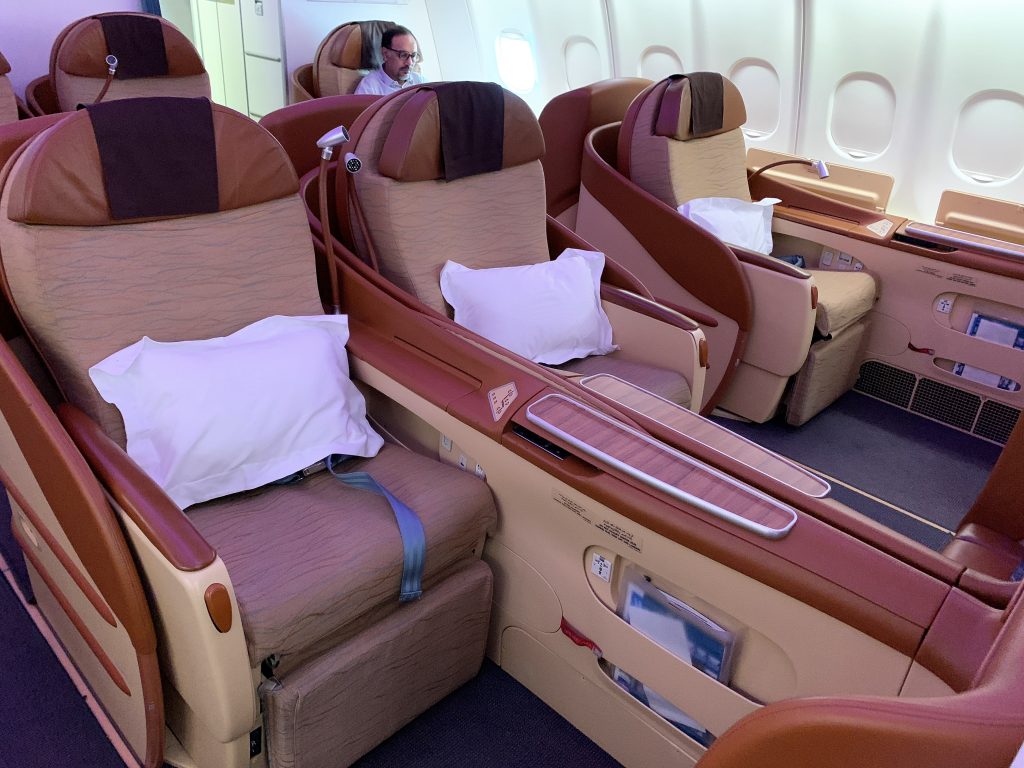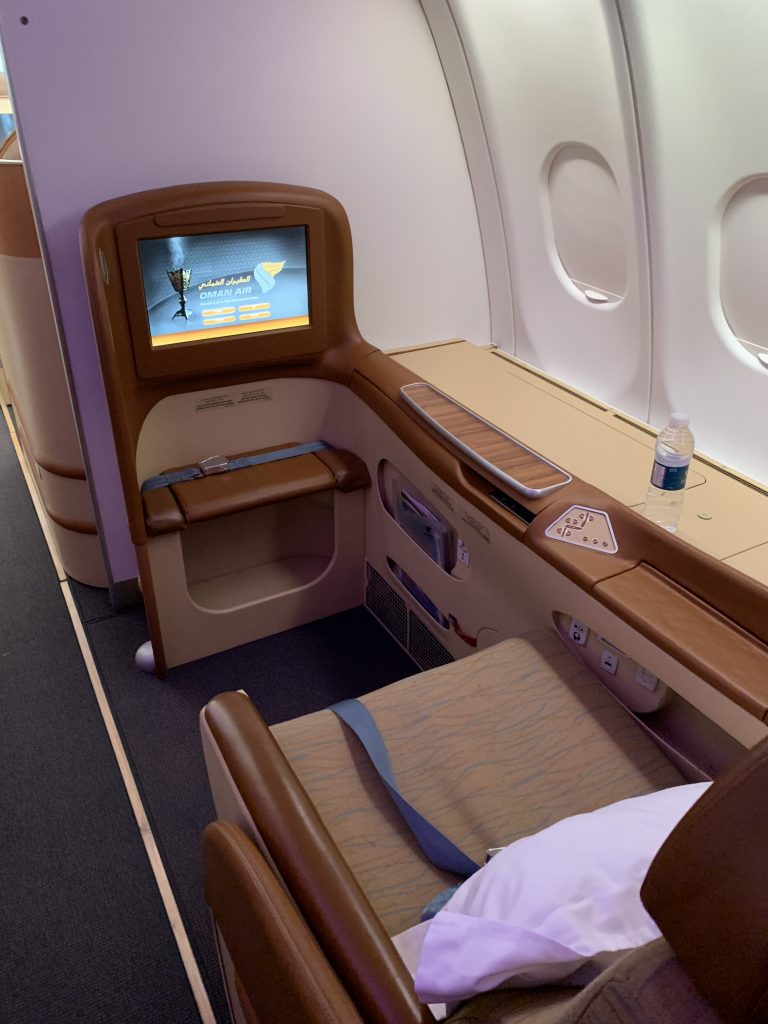 As I hadn't had any breakfast I decided to try what was on offer despite the short time of the flight. There was either cold sandwiches or a hot breakfast. The breakfast was very good with nicely creamy scrambled eggs with herbs and I enjoyed the accompanying yoghurt and fruit too.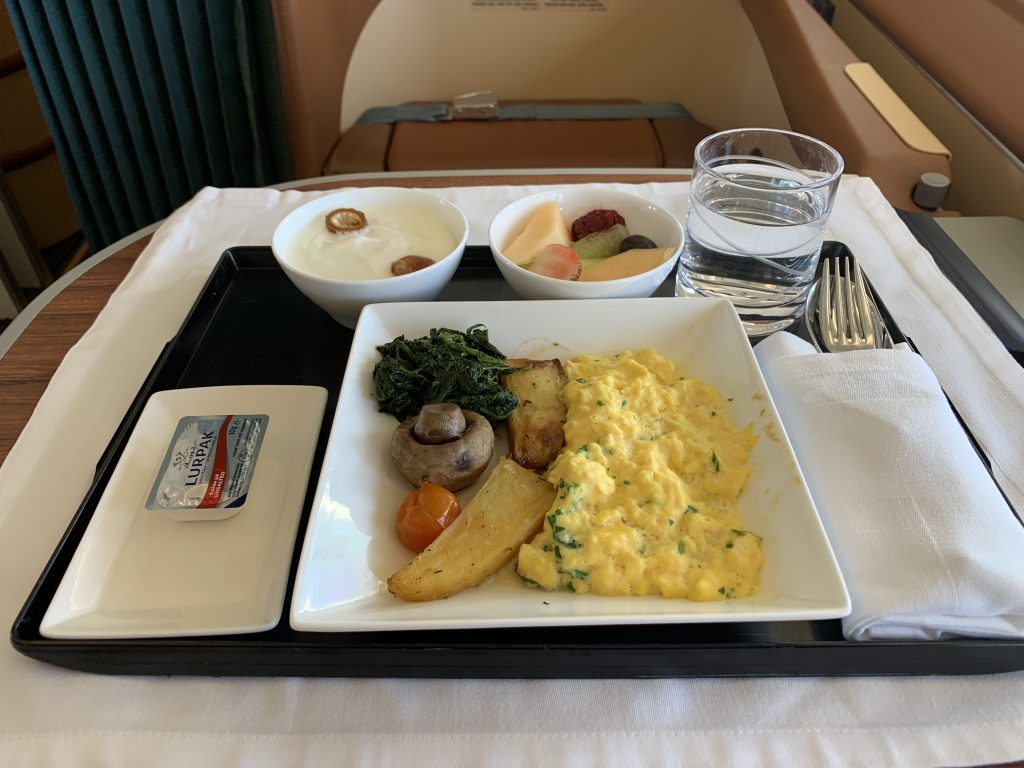 Conclusion
This was an extremely impressive business class experience that felt more like a first class one on some airlines. In terms of comparison to Qatar, I thought it was as good as Qatar in most aspects. The food was on par, the wine and champagne much better and the seat better than the B787/A350 herringbone due to the privacy and lack of footwell. Storage around the seat was not as good as some of Qatar's but that is a minor detail.
The cabin crew were perhaps slightly less attentive than Qatar but not in a way that it made any difference to my experience. If Oman Air were part of Oneworld I would probably choose them over Qatar on the routes that they served due to the better drinks selection, perhaps with the exception of the QSuite which is a special seat for business class.
This is an excellent business class product and at some of the sale prices an absolute bargain. You can credit your flights to Etihad Guest apparently though I am yet to discover how you can do that in advance of the flight! The only option that appeared for me was their own Sinbad scheme.
You can find more details and offers on the Oman Air website.
Like our Oman Air A330 business class review? You can read more flight reviews here.