Oman Air sale
Oman Air has a sale for the weekend Bank holiday that has some great prices from Paris and some reasonable ones from the UK too. Oman Air has some excellent business class seats and I booked with them to Bangkok on th previous offer so you can expect a review coming soon. You can see the seat above and all seats are aisle access too. From London, Oman Air are flying their B787 currently.
The rules are:
You must book by 28 August for travel until 30 April 2019. A free stopover is included in Oman in both directions if you wish.
Fares from Paris start from
Abu Dhabi £1320
Bangkok £1305
Dubai £1166
Kuala Lumpur £1486
Delhi £1239
Colombo, Sri Lanka £1508
Fares from the UK start from
Abu Dhabi £1531
Bangkok £1688
Dubai £1451
Kuala Lumpur £1863
Delhi £1618
Colombo, Sri Lanka £1883
You can book direct on Oman Air here.
American Airlines launches London-Phoenix
flights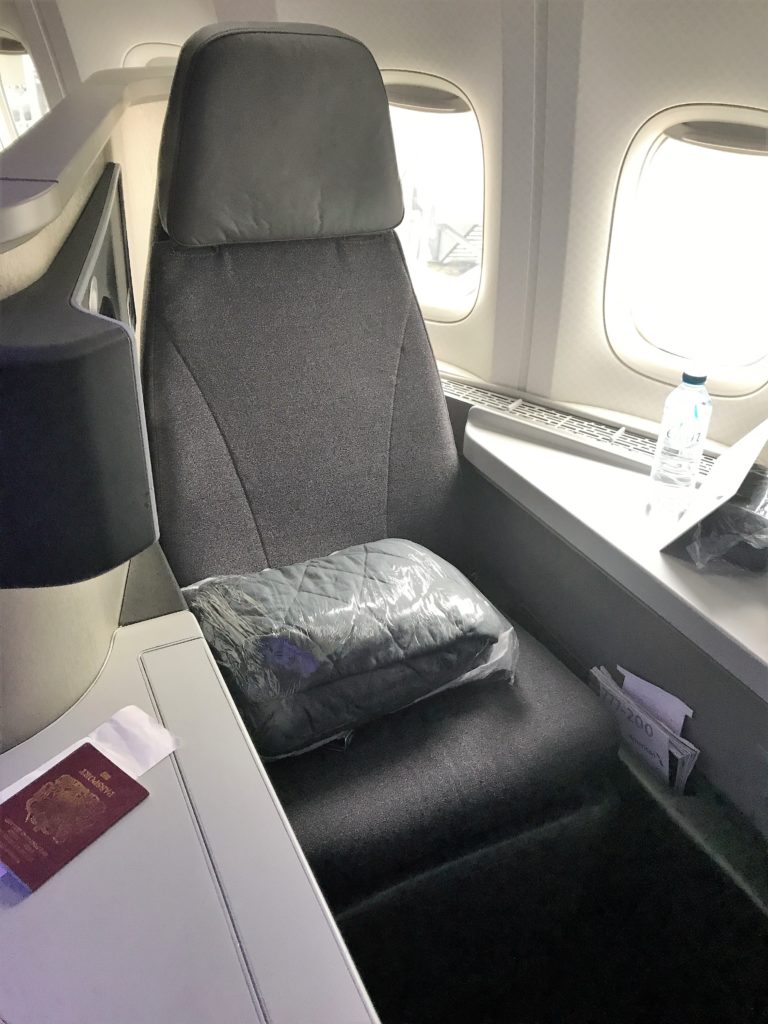 As regular readers may know, three of the Turning Left for Less team are currently on a
tier point run to Phoenix
. As well as offering some great fares currently, Phoenix and in particular Scottsdale, is a great place to visit. So it is good news to hear that from Sunday 31 March 2019 to Saturday 26 October 2019 AA will starting flying from Heathrow with a Boeing 777-200 aircraft to Phoenix.
This will complement BA's existing service from London Heathrow to Phoenix. However, it is not known whether BA will change its current summer frequency of 10 flights a week. BA has not yet announced any significant schedule changes for Summer 2019 apart from an increase London Heathrow – Seattle from 12 to 14 times a week.
Garuda ending London route?
Garuda Indonesia has been a source of some great fares from London in the last couple of years with First class to Australia being a particular highlight during previous Black Friday sales. Routes online has reported that as of now sales of flights for winter 2018 to Jakarta are suspended from the UK. We don't know any further information at present as to whether this is a permanent exit from the UK market or whether they will introduce something else instead.
Hilton Europe sale – travel until 28 April 2019
Hilton Honors has been running their traditional Summer Weekends Sale for stays in Europe, Middle East and Africa, although some hotels offer midweek availability too. The sale is about to come to an end and Hilton has extended the offer dates for stays until the end of April 2019 now. Discounts are up to 25% off for Hilton Honors members and up to 15% off for non-members.
You can find the Hilton sale page here.
British Airways – more B787 engine related cancellations
BA has just announced another raft of cancellations due to the ongoing B787 engine issues. They had been leasing a Qatar A330 to help to fill the gaps but this has not been extended. The cancellations are add hoc on the following routes:
London Heathrow – Mumbai
London Heathrow – Baltimore: BA229 / BA228
London Heathrow – Philadelphia: BA69 / BA68
London Heathrow – San Jose: BA279 / BA278
London Heathrow – Tokyo Narita: BA5 / BA6
Between certain dates the following flights are cancelled:
BA281 Heathrow to Los Angeles between 1 September and 16 September
BA280 Los Angeles to Heathrow between 2 September and 17 September
BA139 Heathrow to Mumbai between 1 September and 14 September
BA138 Mumbai to Heathrow between 2 September and 15 September
Flights from Heathrow to Doha between 1 September and 27 October
The Doha route is actually a blessing as it means you can experience the Qatar service and all access seats instead of the less glamorous Club World.
You can find the official BA announcement page here with advice on what to do if affected.