Virgin Atlantic sale
As well as the decent British Airways sale that has just launched, Virgin Atlantic has also launched a sale today which is on until 30th May 2023.
The fares are very good for Virgin Atlantic in current times, so it feels like we are finally seeing some downward movement from the sky-high prices of the last year. Like BA, the best bargains are for 2024. This may be driven by the current Jet Blue fare I wrote about for £1350 return in a business class suite.
You can read about the new Virgin Atlantic A330neo with the latest seats in this review.
Here are some of the sale fares:
Antigua (ANU) £2,363
Atlanta (ATL) £1,670
Austin (AUS) £1,662
Bangalore (BLR) £2,600
Barbados (BGI) £2,108
Boston (BOS) £1,494
Chennai (MAA) £2,590
Delhi (DEL) £1,681
Hyderabad (HYD) £2,600
Lagos (LOS) £2,188
Las Vegas (LAS) £2,037
Los Angeles (LAX) £1,814
New York (JFK) £1,335
Orlando (MCO) £1,885
San Francisco (SFO) £1,714
Seattle (SEA) £1,662
Tampa (TPA) £1,885
Tel Aviv (TLV) £1,129
You can find the sale page here.
Emirates starts to go paperless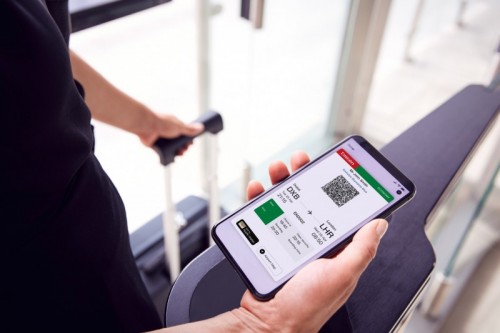 Another trend in the airline industry that is just kicking off is the trend for going completely paperless. Obviously, this is great for the environment. However, it personally makes me nervous not having a paper boarding card in case my phone failed as I have been subject to the screen of death a couple of times where you can't fix it without visiting an Apple store.
I also prefer to have paper boarding cards for claiming the miles/points back which I seem to have to do quite frequently on partners with BA. While obviously, you can store them in your Apple Wallet, again if there was an issue with your phone, it could make it tricky to retrieve them.
However, I do like the fact that they email you the baggage receipt. I would welcome this from every airline as it is easy to misplace them when they are stuck on passports or loose.
Emirates will require most passengers departing Dubai to use a mobile boarding pass instead of a printed paper version, from 15 May onwards.
Passengers checking in at Terminal 3 will receive their mobile boarding pass via email or SMS. Passengers who check in online can load their boarding pass into their Apple Wallet or Google Wallet, or retrieve their boarding pass on the Emirates App. The checked-in baggage receipt is also emailed directly to passengers, or available in the Emirates App.
The idea is to reduce paper waste significantly and to reduce the risk of lost or misplaced boarding passes.
Some passengers may still require a physical boarding pass to be printed – for instance, when travelling with infants, unaccompanied minors, passengers requiring special assistance, passengers with onward flights on other airlines, and all passengers travelling on flights to the US.
You can request a paper boarding pass at check-in counters for passengers who do not have a mobile device or if they are unable to access the information on their devices for reasons such as: running out of battery power, a system breakdown or glitch, message delivery delay, or inability to access WIFI, network or a data package. I'm glad to see this as few UK mobile phone companies offer coverage in the UAE included on their packages.
Biometric journeys in Dubai
Registered passengers can now use biometric machines or smart gates to go through various airport stations. UAE Residents can register to use the Smart Gates at Emirates Terminal 3 and speed through Immigration every time they return to Dubai. UAE citizens and residents can use their passport, boarding pass, or a valid UAE ID, while GCC nationals or visitors eligible for visa on arrival can pass through the Smart Gates with a biometric passport.
And finally…Finnair celebrates Eurovision with their own singers
Finnair has launched an exclusive new music video to celebrate its centenary later this year which is well timed for the Eurovision Song Contest final this weekend. The new song, performed by the Finnair Singers, brings the fun of flying as listeners can get set for take-off with the sights and sounds from a Finnair flight.
Inspired by the airline's long-haul experience, the Finnair Singers which is now an exclusively female choir, sing as they go about their jobs on their aircraft. You can also see Finnair's innovative new seats in the video. Filmed at the flag carrier's home hub in Helsinki, you get a behind-the-scenes look at Finnair's operation and the role of its employees.
Last month, the Nordic carrier also partnered with Finnish music producer and rising star Perttu to release a new and exclusive playlist, named "Journey", on Spotify.
Finnair's new centenary music video is available to stream on YouTube and across the airline's social channels.
You can watch it here:
To learn more about Finnair's centenary celebrations, visit finnair.com/finnair100