How to find your BA e-vouchers
You have always been able to find what British Airways Future Travel Vouchers you had by calling BA and asking them to search via email. But we all know that is a bit of a faff. Now my friend Toby has found a way to do this online, which is very useful.
You simply go to this page on ba.com and enter your email address. Almost instantly, you will get something back that looks like this with the number you need to use them online and the value.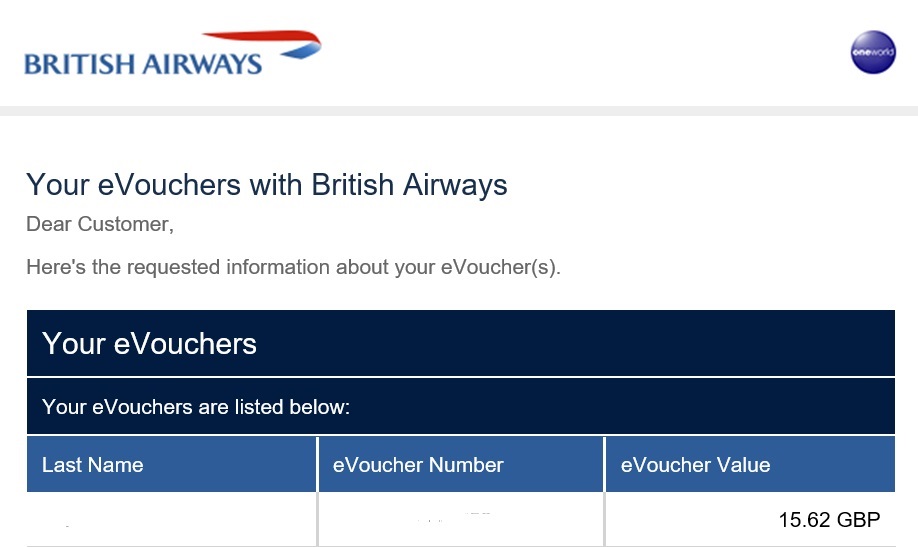 Thanks Toby!
50% off Lastminute.com gift cards

There is a good offer for 50% off Lastminute.com gift vouchers. I'd only advise buying these if you have a specific purchase in mind and plan to use them shortly. The downside is that it means you have to book travel through Lastminute.com. I usually advise booking direct, but I have used Lastminute for a few things, especially their top secret hotels, which can be great value.
With the code STILLSUMMER50 you are entitled to a 50% discount on the purchase of a "Flight + Hotel Gift voucher" product worth £100.
How to use the discount code:
1) go to https://travelgiftcard.lastminute.com/product/25/dp-gift-card-discount/;
2) select your preferred product and add it to your basket (gift vouchers cannot be combined and are valid on a single booking only);
3) enter the discount code in the dedicated field and click "Apply". The discount will be applied automatically;
4) provide all the requested information and confirm your purchase.
5) head to the "My vouchers" section of your account area on the site to activate your Gift voucher or give it to someone else by the expiry date indicated.
Important:
The discount code is valid on more than one purchase, and you can add more than one product covered by the offer to your basket.
The offer is valid until 11:59pm on 21st September 2022;
The discount code cannot be combined with other existing discounts or promotions.
You can find the offer page here.
Malaysia Airlines orders new A330neo to complete fleet update
Malaysia Airlines, who are part of Oneworld, today signed with Airbus, Rolls-Royce and Avolon to buy 20 new Airbus 330-900 (A330neo) aircraft powered by Rolls-Royce Trent 7000 engines.
The A330neo will replace the Group's existing A330-200 and -300 fleet and, upon delivery, will gradually operate in its existing network throughout Asia, Oceania, and the Middle East. The aircraft are scheduled to be delivered from the third quarter of 2024 through 2028. The A330 first entered service with Malaysia Airlines in 1995 so they are due an update.
Izham Ismail, Group Chief Executive Officer of MAG, said, "The acquisition of the A330neos is a natural transition from our current A330ceos fleet, but the A330neo will not only provide modernisation to our fleet and enhanced operational efficiency, but also meet environmental targets through reduced fuel-burn per seat while keeping passenger safety and comfort at its core. This is a significant milestone as the Group moves ahead towards the successful execution of our Long-Term Business Plan 2.0 to position itself as a leading aviation services Group within the region."
The airline currently owns a fleet size of 106 aircraft of which there are 24 A330s – six A330-200s,15 A330-300s.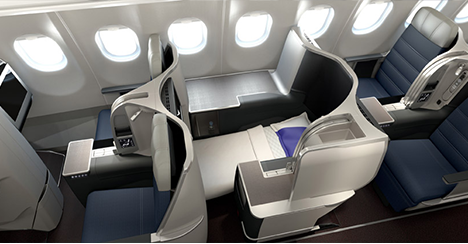 It's unclear if there will be a new business class seat for the two-class aircraft (economy and business). Their current design is pretty good so they could choose to stick with that or join the crowd with a suite. The Airbus statement was pretty ambiguous,
Christian Scherer, Chief Commercial Officer and Head of International at Airbus, "It's also the clear winner in terms of in-flight comfort and we are looking forward to working with MAG to define an exceptional cabin."
Either way let's hope we get back to some of the excellent business class pricing that Malaysia Airlines once used to offer!