Qatar Airways yesterday was the first airline to receive the new A350-1000 aircraft. This is the first of 37 A350-1000s ordered by them and the first Airbus aircraft fitted with the Qsuite seats and the first ever double bed in Business class. Qatar Airways announced that it will use the aircraft on London Heathrow route starting from 24 February on QR15 from Doha arriving at 20.25.
Compared to the A350-900, the A350-1000 features 44 extra seats, with 46 Qsuite Business Class seats in a 1-2-1 configuration, featuring 80-inch fully flat beds and 22-inch HD in-flight entertainment screens. The middle suites can to convert to six double beds, and six quad suites. It should also offer a great in-flight experience due to the lowest twin-engine noise level of any aircraft, advanced air conditioning technology and full LED mood lighting. Like the A350-900 it will also have higher levels of humidity and better cabin pressure than conventional aircraft. Here are some fact and figures about the A350-1000: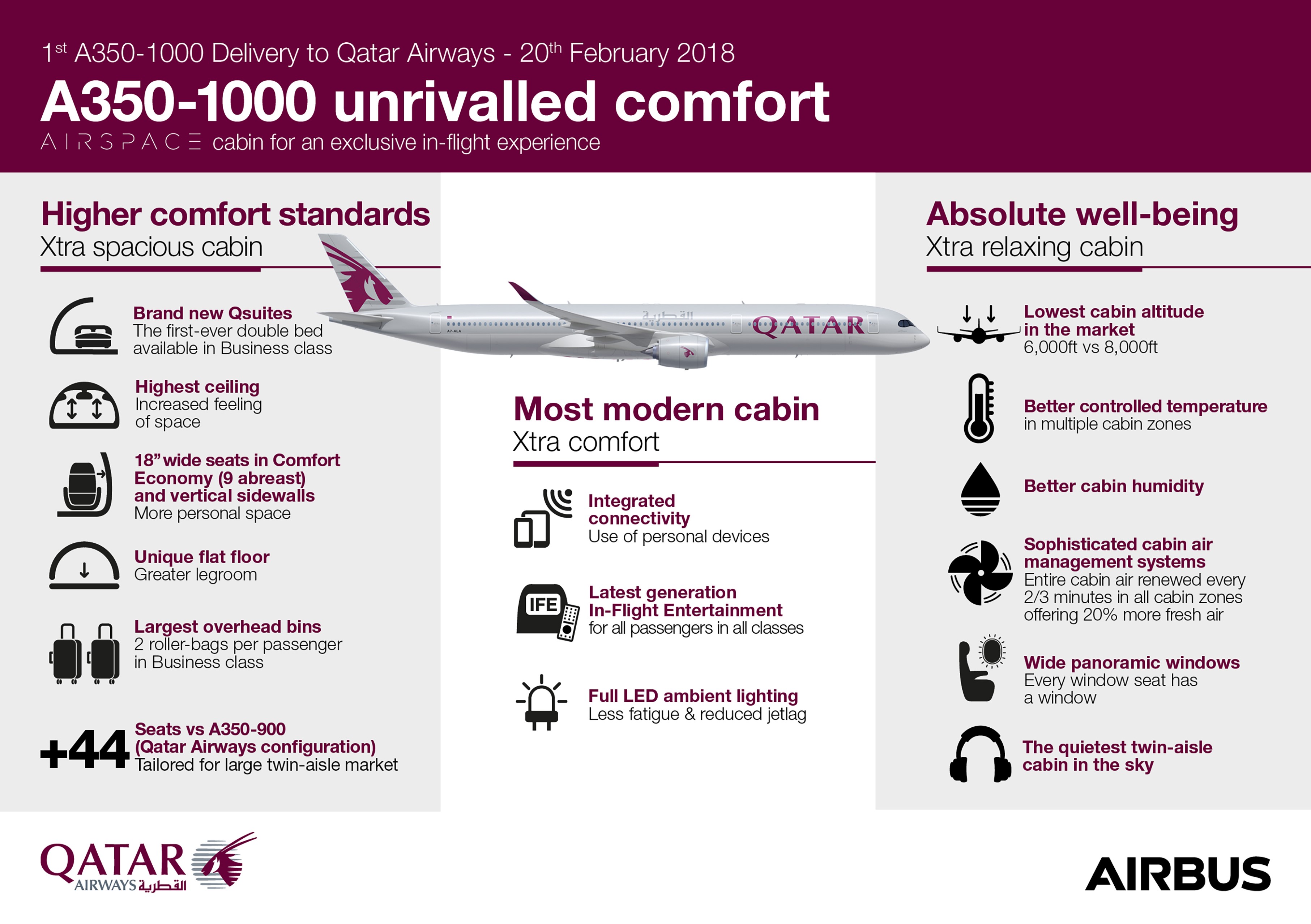 Qatar also revealed that the Qsuite will become the standard seat for Qatar business class. There are currently 15 aircraft fitted with QSuites in service with the A350-1000 being the 16th. They plan to retrofit the whole fleet including the relatively new A350-900s which already have a great business class seat. The B787s will not have double beds, however, as they are unable to fit seats in the backwards and forwards configuration needed for the QSuites.
Vegas casino & frequent flyer event May 2018 – Zorkfest Vegas

ZorkFest 2018 Las Vegas takes place at TI, Treasure Island, Las Vegas from May 25th to 27th, 2018 and is run by my good friend Michael Trager of TravelZork. Michael specialises in Vegas and casino loyalty on his blog as well as being frequent flyer miles expert too. I shall be speaking at ZorkFest along with my other good friend Gilbert from God Save the Points. To be honest I'm just going because it promises to be an amazing weekend of Vegas debauchery and it was a good excuse to go! Having seen the images and videos from the last Zorkfest, I'm getting my liver in training now!
The weekend starts with a cocktail reception on Friday evening May 25th. From Saturday onwards there will be conference sessions on miles & points and everything Las Vegas casino related. The full schedule will be announced in the coming weeks. This weekend is pretty much the biggest event for Vegas outside the big fight weekends as it is a major holiday weekend in the US.
If you interested in coming to this event here are the details:
Your ticket to ZorkFest includes:
-Friday cocktail reception
-Saturday conference sessions
-Saturday lunch during the conference
-Saturday evening Podcasters After Dark event Featuring Scott Roeben of Vital Vegas, Adam of Vegas Fanboy / Travel Fanboy, Mark Devol and Dr. Mike of You Can Bet on That. Eric Rosenthal is your host for the evening, and there will be a short introduction podcast by Shane and Julian of Vegas Confessions Podcast.
Your ticket to ZorkFest includes a reserved seat to Podcasters After Dark. There are options to also upgrade to VIP reserved seats, and VIP table packages with food & beverage. Seats are assigned based on when you purchase your ZorkFest ticket. Purchase early to get the best seats for the podcaster event.
Pricing for ZorkFest with Super Early discount is $200, use code zorkturning for an additional $10 OFF. To get this price you will need to buy your ticket before March 20th for the best price and ALSO the best seats at Podcasters After Dark.
You can find more information and buy tickets at www.zorkfest.com If you are interested in attending you can also book a room at Treasure Island with special rates using this link.
London Frequent Flyer event

Frequent Traveler University is the world's premier educational series of seminars devoted to teaching traveller's the best way to maximize their frequent flyer miles, hotel points and credit card rewards while learning about tips, tools, and loyalty program's finer points to help them travel cheaper and in more luxury. FTU is the largest non-profit traveller education organization teaching participants how to travel using frequent flyer miles, hotel points and credit card rewards. You may remember that I mentioned I was speaking at this conference – well now there is a really great deal for £100 off a ticket until 30 March which brings the price down to a very reasonable £149.
Collecting and redeeming miles is never as easy as you first imagine – there is sometimes no availability, you're not sure which is the best airline to redeem on or even which airline to credit them to in the first place. So many schemes have complicated rules it can seem like a full-time job trying to find out all the right information. FTU provides all the inside knowledge from experts and top bloggers on how to make the most out of your miles. You will learn how to earn more miles and how to then use those miles to your best advantage.As well as the speakers it is a great chance to mingle with like-minded travellers. There will be social events during the weekend for you to compare notes with your fellow travellers and relax.
Speakers at this year's event include:
How do I get tickets?
FTU London will take place Saturday and Sunday 12-13 May from 9am to 5pm. The conference includes:
Coffee and tea all day on Saturday and ‪Sunday.
Lunch buffet and catered breaks on Saturday and Sunday.
Internet in the conference rooms.
Two full days of learning sessions including earning and burning BA and Virgin miles, staying in luxury hotels on points and more
The event costs £249 but if you book before the end of March 2018 you can get £100 off by using the code UKFTU100.
You can also get a discounted room rate with breakfast at the Renaissance hotel as follows:
Deluxe Standard £109.00 per room per night based on solo occupancy
Deluxe Standard £119.00 per room per night based on double/twin occupancy
The offer is available when you book before 18 April 2018 for stays between 9-15 May 2018. To book your discounted room at the Renaissance you must use this link.
You can find more information about the FTU London event here.