TLFL Christmas Party
For the first time, TLFL will be holding a Christmas party in central London on Thursday 21 November 2019. The venue will be revealed closer to the time but I can confirm that Paul, Claudio and I will all be in attendance and we hope to have a few prizes for an early Christmas present!
Watch this space for more details in the coming weeks and we look forward to meeting you all in November.
What's your worst oneworld or BA lounge in the world?
After just writing the three parts of the best oneworld lounges, I thought it may be worth a look at some of the worst lounges you have visited. Let us know in the comments below your nominations for worst oneworld lounge in Europe/Middle East, N/S America, Asia or Australasia. If you want to be included in the article send your pictures of the lounges and a short description to [email protected] (you can choose to be anonymous too – let us know in the email).
Premier Inn goes posh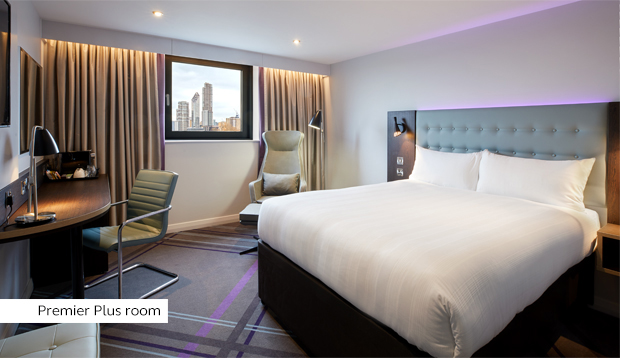 Despite being a luxury travel blogger, I do occasionally stay in a Premier Inn. The main thing I like about them is knowing pretty much what to expect – I know that the bed will be comfortable which is the most important thing.
Premier Inn are now going one step further to attract luxury travellers by offering premium rooms that will offer upgraded facilities. At the moment it is only a trial and is being offered at two hotels in London – Holborn and Islington. The rooms are known as Premium Plus.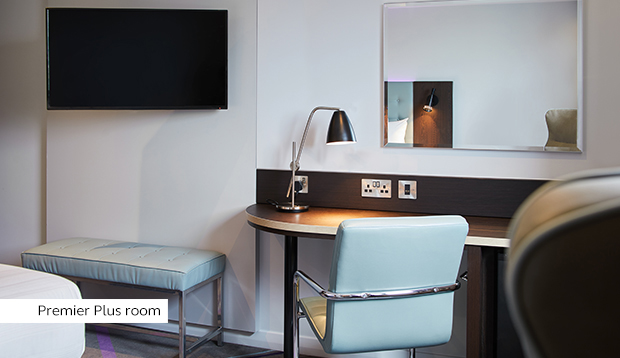 So what is the difference in what the premium rooms offer? The website states
More comfort

Improved workspace, comfy armchair, air conditioning, flat screen TV, and vanity area with a stool and hairdryer. Plus, a rainfall shower with luxury toiletries

More convenience

Dedicated hotel floor, mini-fridge with complimentary water, Nespresso machine with pods, tea bags, treats and an iron and ironing board

More connectivity

Ultimate Wi-Fi – speed up your download with a stronger connection than our Standard Wi-Fi (up to 3 devices). Plus, a handy USB port by the bed
Given that the rooms only cost on average £15-20 more per night than the normal ones they seem good value for money and I would certainly be tempted to try one out if I wasn't worried about collecting hotel points. The amenities offered are pretty much what I would expect in a good 4-star hotel minus the bathrobes.
Would this tempt you to stay at Premier Inn? Let us know in the comments below or on social media.
New Conrad hotel opens in New York

Finding a good luxury Hilton hotel in New York has been very limited. With the Waldorf Astoria currently closed for renovation, the only option was the Conrad Downtown? This hotel is OK with some great views across the river if you are lucky but we at TLFL have found it quite hit and miss with service on our visits. So it is good news that another option has opened in Manhattan – and it's another Conrad. The Conrad Midtown was formerly the London NYC and has been completely renovated. It has 54 floors and like the other Conrad, the 562 rooms are all suites. The hotel is located at 151 West 54th St., the former site of The London NYC.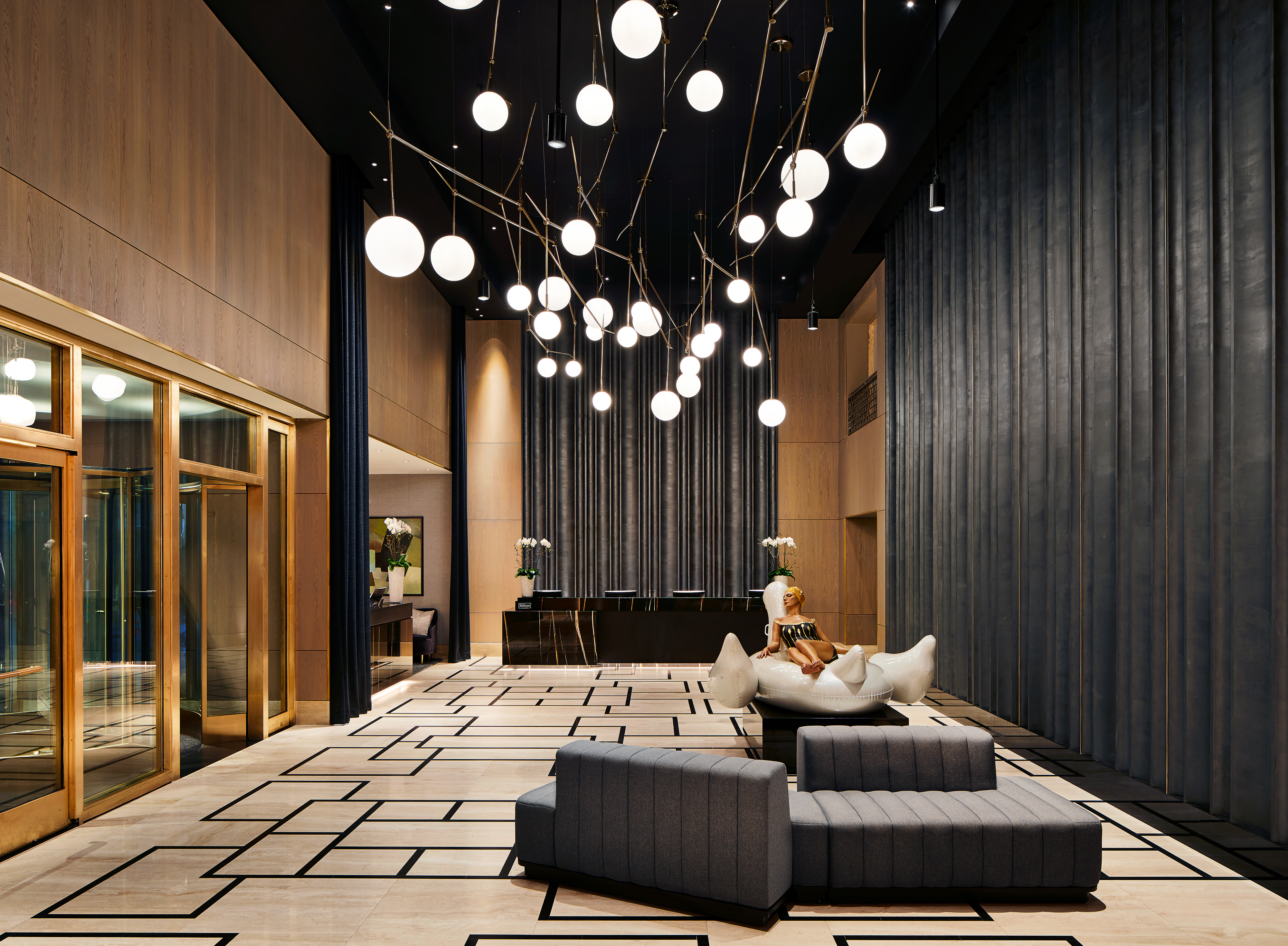 The suites are designed to feel more like a place to live rather than a hotel room. The rooms have herringbone wood floors, hand-tufted wool rugs and Carrera marble bathrooms with sizes ranging from 500-square-foot one-bedroom suites to a 3,000 square-foot, two-story penthouse. The location is a big draw for me, being only a few blocks from Central Park, Carnegie Hall, Broadway shows, Times Square and The Rockerfeller Centre.
There are also thirteen premium suites each with their own style:
Penthouse on 54 (3,000 square feet) is a two-story, two-bedroom suite. The first floor entertaining and living area has wrap-around views of Central Park and Manhattan; a fireplace; an original Eames chair; and a custom-designed bold red sofa inspired by nearby and soon-to-reopen Museum of Modern Art (MoMA). A floating staircase leads to two spacious master bedrooms with luxurious king beds, walk-in closets and marble-clad bathrooms with deep soaking tubs, all boasting views of the surrounding city.
The one-bedroom Atrium Suite (1,200 square feet) is perched 43 stories high with a portion of the living area housed within a greenhouse-like glass enclosure, revealing panoramic views of Manhattan. Pale pink, dark green, blue and grey-toned hues play upon the passing of seasons of Central Park visible below.
Five Apartment Suites (1,400-1,700 square feet) offer separate dining rooms, spacious living rooms and a study with artful books. One Apartment Suite offers a full kitchen.
Six Sky Suites (900 square feet) reside on the top floors of Conrad New York Midtown and are designed with open layouts that incorporate a study, dining and living rooms as well as king-size bedrooms.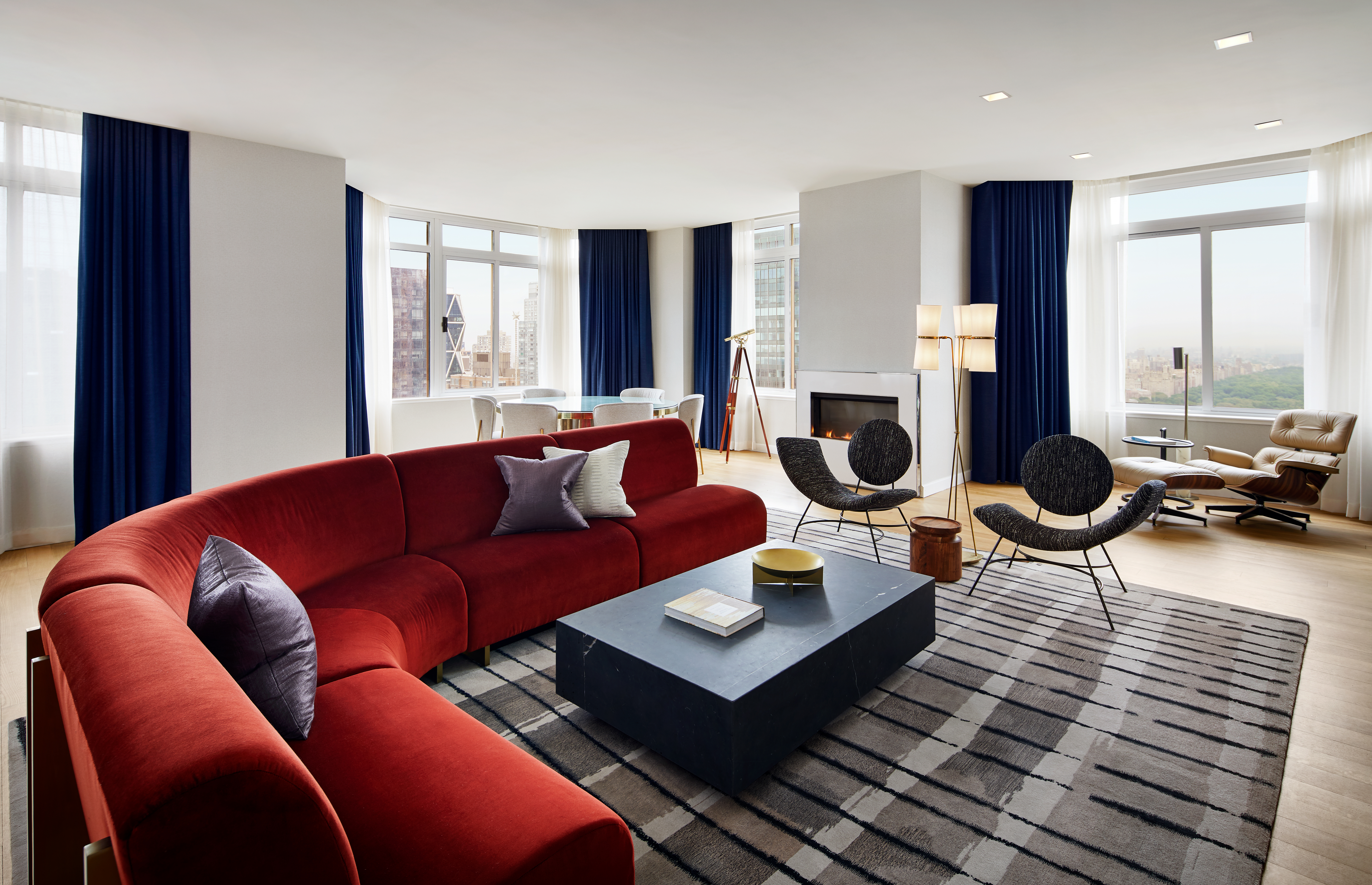 The hotel offers special treats for guests at nearby services and restaurants:
In partnership with Truman's Gentlemen's Groomers, the local premiere men's grooming lounge, guests enjoy exclusive treatment packages and reserve pours from the private bar. Penthouse guests receive a complimentary, in-room straight-razor shave.
The hotel offers Dyson Supersonic™ Hair Dryers standard for premium suites guests. All guests interested in experiencing Dyson hair care technology at the hands of Dyson stylists are invited to enjoy complimentary washes and blowouts at the nearby 5th Avenue flagship Dyson Demo Store, based upon availability.
Given the proximity to Carnegie Hall and Broadway, the hotel offers in-suite live entertainment, such as a private performance by a classically trained solo musician, that can be booked through the concierge. In the Penthouse on 54 guests can enjoy a complimentary 30-minute performance with their stay, be it a cellist performing during a dinner party or a harpist strumming a live lullaby.
The hotel's in-room dining options include luxe caviar tastings from nearby and globally famed caviar purveyor Petrossian. Guests receive exclusive luxuries at the restaurant and retail shop just a few blocks away, as well as complimentary Petrossian surprises from time to time.
Additional amenities include: use of the hotel's luxury house car; a choice between luxury bath amenities (Shanghai Tang, Temple Spa or Refinery); digital check-in, digital key and digital check-out through the Hilton Honors app; laundry services; pet amenities; 24/7 business centre access; and valet parking.
Food and drink
The main feature restaurant is called Dabble and offers shareable small plates and larger mains such as Hebaj's signature Long Island Duck with baby kale and plum compote and a Summer Vegetable Pot Pie with petite green salad.
I definitely fancy visiting Dabble's bar – it has expertly prepared cocktails, including classic staples and avant-garde craft offerings. There is a strong emphasis on presentation, including smoked cocktails, theatrical tableside preparations, molecular gastronomy, unconventional serving vessels and garnishes branded with the Conrad Hotels & Resorts seal.
Rooms prices are around $550 per night, so luxury does not come cheap! However, I have found it for around $379 plus tax on some days for Hilton Honors members. If you wanted to use points, a standard room starts at a rather pricey 95,000 points but given the current exchange rate and New York hotel prices, I would regard this as reasonable value. I am over in New York a few times in the next 6 weeks so I will try and factor in a stay there to do a review. You can find more details, prices and availability on the Conrad website here.