United supersonic aircraft
Boom, who plan to launch a new supersonic aircraft with United, revealed details of their Overture aircraft at the Farnborough Air Show last week. As someone who never got further on Concorde than being towed around Heathrow on it, I can't wait until we have another chance to fly supersonic.
Designed and built in the United States, the first Overture aircraft will be in production for commercial use in 2024, start flight tests in 2026 and begin carrying passengers in 2029. Overture's orders which include purchases and options from United Airlines and Japan Airlines, stands at 70 aircraft. United have purchased 15 aircraft with an option for a further 35.
"Aviation has not seen a giant leap in decades. Overture is revolutionary in its design, and it will fundamentally change how we think about distance," said Boom Founder and CEO Blake Scholl. "With more than 600 routes across the globe, Overture will make the world dramatically more accessible for tens of millions of passengers."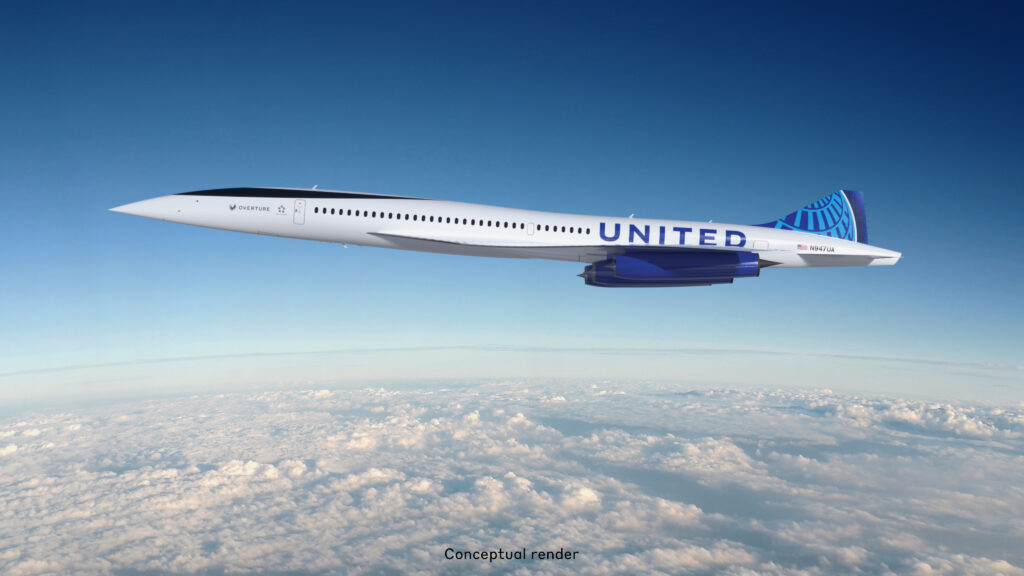 Key features include a four-engine design, contoured fuselage and gull wings. Overture should be the first airliner in a new era of sustainable, supersonic flight. Flying at twice the speed of today's passenger airlines by using four engines—as opposed to three— which results in lower thrust requirements for each. This means reduced aircraft noise levels and plus they are also employing the world's first automated noise reduction system. I still remember hearing Concorde flying over every day and trying to catch a glimpse of it.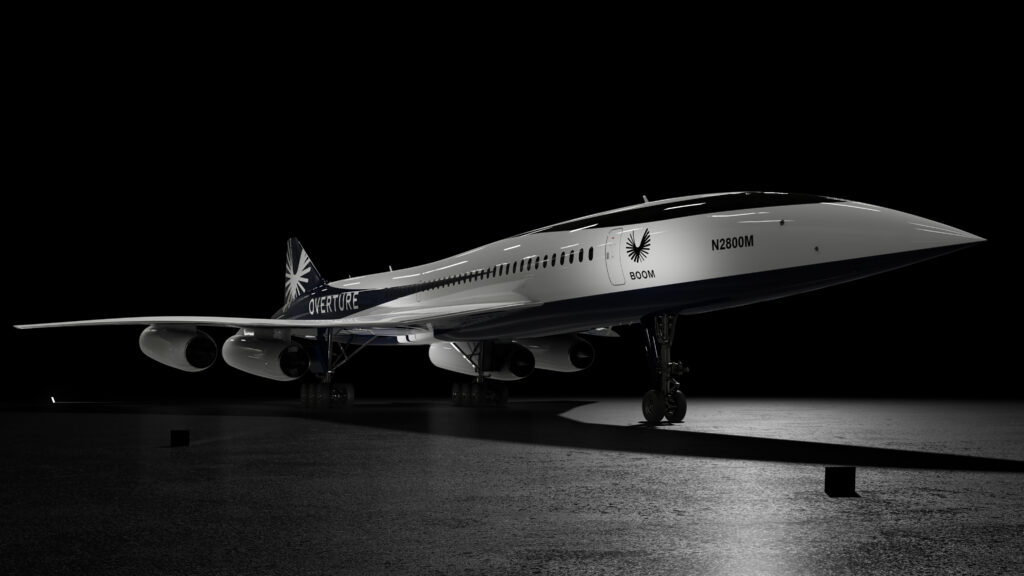 Overture will carry 65–80 passengers and run on 100% sustainable aviation fuel (SAF). It will fly Mach 1.7 over water with a range of 4,250 nautical miles. I think the design looks beautiful, definitely as iconic as Concorde was. Hopefully, it becomes a reality and is not priced out of most people's range.
Here are some facts and figures:
Cruise speed: Mach 1.7 supersonic, Mach 0.94 subsonic
Range: 4,250nm with full payload
Passengers: 65–80
Exterior Dimensions: Length – 201 feet, Wingspan – 106 feet, Height – 36 feet
Wing: Gull with digital leading and trailing edge flap control
Flight controls: 4x redundant digital fly-by-wire on 2 LRUs
Powerplant: 4x medium-bypass 100% SAF-compatible turbofan
Sustainability: Net zero carbon, flying on 100% SAF
Airport Community noise: ICAO Chapter 14 / FAA Stage 5
You can read more about Overture supersonic aircraft here.
Would you like to fly on the new supersonic aircraft? Let us know in the comments below.
Air France Michelin star business class food
While some airlines still use the #covidexcuse to deliver substandard pub food on a single tray, Air France will again relaunch its business and first class food with Michelin star chefs devising the menu.
From July to October 2022, Air France is unveiling new Michelin-starred menus created by French chefs Michel Roth and Anne-Sophie Pic in its long-haul La Première and Business cabins on departure from Paris. The menus will be based on carefully selected seasonal produce and vegetarian options as well as red and white meat and fish.
Michel Roth in the La Première cabin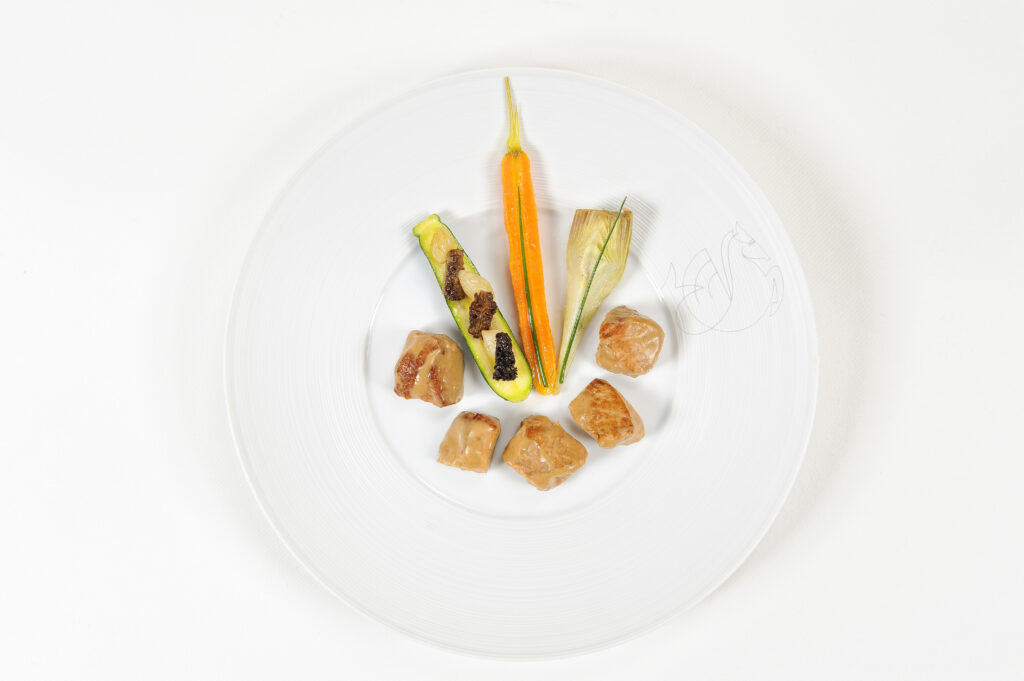 Michelin-starred chef Michel Roth, of Bocuse d'or and Meilleur Ouvrier de France, has created a new series of resolutely French, gourmet dishes for customers in the La Première cabin. The chef has created an appetizer, a starter and eight dishes that will gradually be unveiled on the menu of the airline's first class cabin. I have no idea what they taste like, but I'd say this is one of the best-sounding first menus I have seen! I think my issue would be which one to choose – even the chicken sounds delicious!
Caviar Sturia accompanied by a pancake with smoked fish cream (appetizer)
Lobster medallion, green asparagus and raspberry vinaigrette (starter)
Tender beef, pan-seared foie gras with a truffle sauce, stir-fried asparagus and porcini mushrooms;
Oven-cooked verbena veal, vegetable and morel mushrooms;
Chicken supreme with rosemary, fine sweet pepper tart and stuffed zucchini;
Chicken supreme with olives and black truffles, poivrade artichokes and macaroni gratin;
Quinoa with candied lemon, summer vegetables and basil creme;
Truffled polenta, green vegetables, mint pea coulis with carrot jus;
Fillet of brill in a shellfish jus accompanied by simmered green vegetables and mussels;
Shrimp in lobster sauce perfumed with tarragon, red rice and baby spinach.
The La Première cabin is available this summer on certain flights to Los Angeles, Miami, New York-JFK, San Francisco, Washington DC (United States), Mexico City (Mexico), Abidjan (Côte d'Ivoire), Johannesburg (South Africa), Dubai (United Arab Emirates) and Sao Paulo (Brazil).
Anne-Sophie Pic's menu in the Business cabin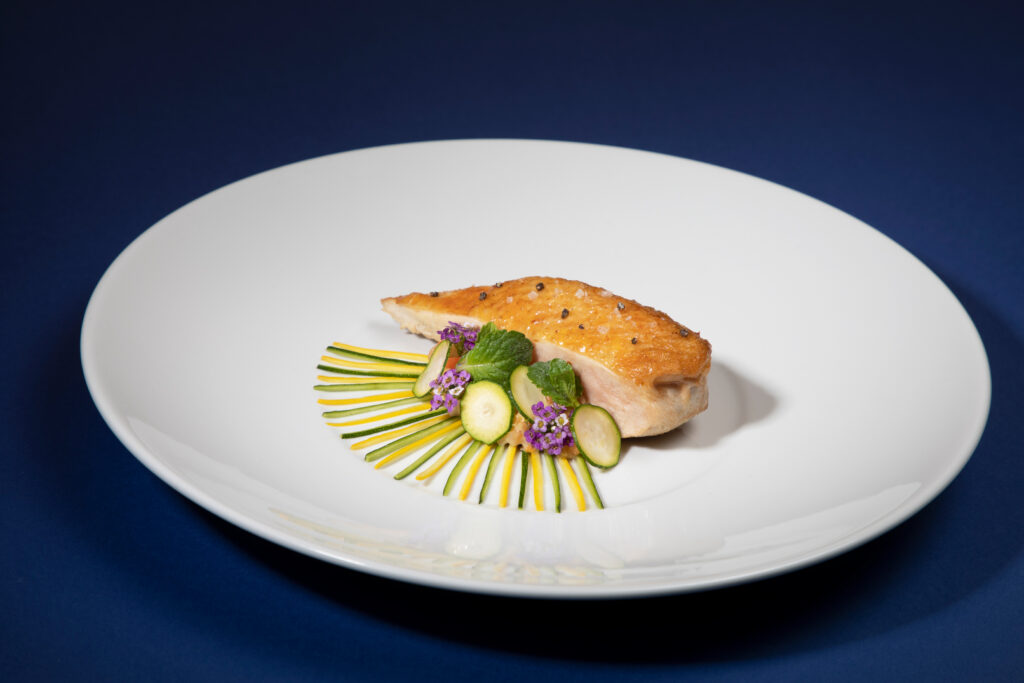 Air France is continuing its collaboration with triple Michelin-starred chef Anne-Sophie Pic, who is creating menus in the long-haul Business cabin this season. I was actually due to eat in Anne- Sophie's restaurant in 2020 but got scuppered by the pandemic. Hopefully, I will get back there next year (at Beau-Rivage Palace in Lausanne, Switzerland).
Having a chef with three Michelin stars create a business class menu is pretty impressive, and it is definitely a far cry from many airlines business class offerings even in normal times.
The chef has concocted eight tasty dishes for optimum enjoyment on board:
Braised beef, potato mousseline, plum chutney and tarragon breadcrumbs;
Roast chicken, spelt risotto, courgettes with green cardamom;
Saithe (coley fish) with seaweed, lovage sauce, Camargue red rice, spinach and fennel compote;
Artichoke barigoule, creamy polenta, smoked vanilla Burrata, tangy tomato coulis;
Poached saithe with curry and coconut milk sauce, black rice;
Beef stew with coffee and sweet onion consommé;
Chicken with tonka bean sauce and creamy polenta with mushrooms ;
Seashell pasta, chard and lemon coulis, lightly smoked goat cheese cream, roasted pumpkin seeds.
A more responsible catering offer
By the end of 2022, the airline is committed to offering 100% French meat, dairy products and eggs, as well as sustainably caught fish, on all its flights from Paris and in all cabins. A vegetarian dish will also be systematically offered, and all meals will be prepared entirely in France. The kids' and infants' menus will be made exclusively from organically grown produce.
As part of the fight against food waste, Air France is making it possible to pre-select a hot meal in Business class in advance this year. I really wish other airlines would bring back this option that was available before Covid. I can only assume that it is down to staff shortages as surely it means less waste and happy customers, so it's win-win for an airline.
Air France is also committed to recycling and eliminating 90% of single-use plastic on board its aircraft by early 2023. Finally, when certain items can no longer be used on board, they are donated to charity.
BA Club Suites to Australia and winter schedule changes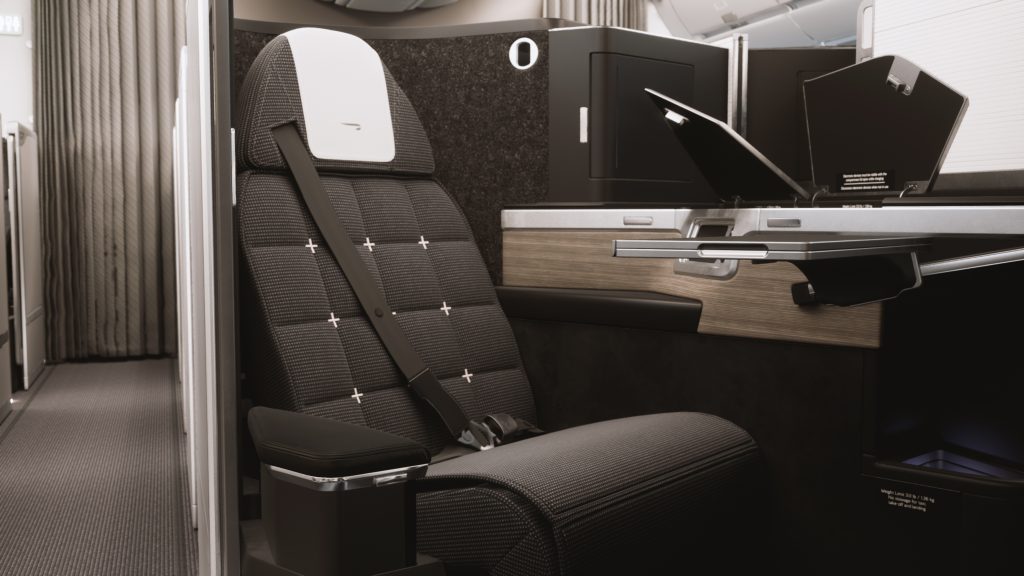 British Airways winter schedule is being firmed up, and with it comes some aircraft changes as well as route frequency changes. I previously wrote that BA has ditched the Bangkok route for the foreseeable future, so this may be why we will see the return of a second daily flight to Singapore from the start of winter schedules on 30 October.
It always seemed a rather odd decision not to put your most comfortable seats on your longest routes with Sydney having the old Club World seats until the end of summer 22. However, it was at least a B787 which has better humidity and cabin pressure. It's now scheduled to have the Club Suites from 30 October on a B777-300. This aircraft also has eight first suites and flies to Singapore first before continuing to Sydney. The extra daily Singapore flights on BA11/12 will have old Club World, so choose wisely if you are booking for Singapore. Johannesburg also loses the A380 for one rotation a day.
The main changes to the winter schedule are a scaling down of capacity. This means fares are likely to remain high for the foreseeable future unless demand dips. Routes affected include Hong Kong, Tokyo, Los Angeles, Seattle, New Orleans and Houston who have all reduced the number of flights for a least part of the winter period. Dubai flights were meant to increase for the peak season but will only have two flights a day until at least early December.
I would take all of these with a pinch of salt as I don't see airlines having a normal level of certainty about staffing until at least October. Heathrow seems to be forecasting staffing issues until at least the end of October. So the moral of the story is that if you are booking flights, assume that schedules and aircraft are likely to change. I'd allow extra time with connections or if you are headed to something which is time critical such as a cruise or special event.