US FAA clears the B737 Max to return to skies
The US FAA today signed an order that paves the way for the Boeing 737 MAX to return to commercial service. This followed a comprehensive and methodical safety review process (PDF) that took 20 months to complete. During that time, FAA employees worked to identify and address the safety issues that played a role in the tragic loss of 346 lives aboard Lion Air Flight 610 and Ethiopian Airlines Flight 302. Throughout the process, the FAA cooperated closely with their foreign counterparts on every aspect of the return to service. Additionally, one of their own staff, Administrator Dickson personally took the recommended pilot training and piloted the Boeing 737 MAX, so he could experience the handling of the aircraft firsthand.
In addition to rescinding the order that grounded the aircraft, the FAA today published an Airworthiness Directive specifying design changes that must be made before the aircraft returns to service, issued a Continued Airworthiness Notification to the International Community, and published the MAX training requirements. These actions do not allow the MAX to return immediately to the skies. The FAA must approve 737 MAX pilot training program revisions for each U.S. airline operating the MAX and will retain its authority to issue airworthiness certificates and export certificates of airworthiness for all new 737 MAX aircraft manufactured since the FAA issued the grounding order. Furthermore, airlines that have parked their MAX aircraft must take required maintenance steps to prepare them to fly again.
In Europe, EASA Europe's aviation safety regulator said they are likely to issue airworthiness documents as early as November to allow the Max to fly again in Europe. There will be a period of public consultation of 4 weeks after they are published.
British Airways and IAG took an option on 200 B737 MAX aircraft which were expected to be used at Gatwick. At present, it is not clear whether they will exercise that option.
Emirates adds extra A380 services to London on one of busiest routes in world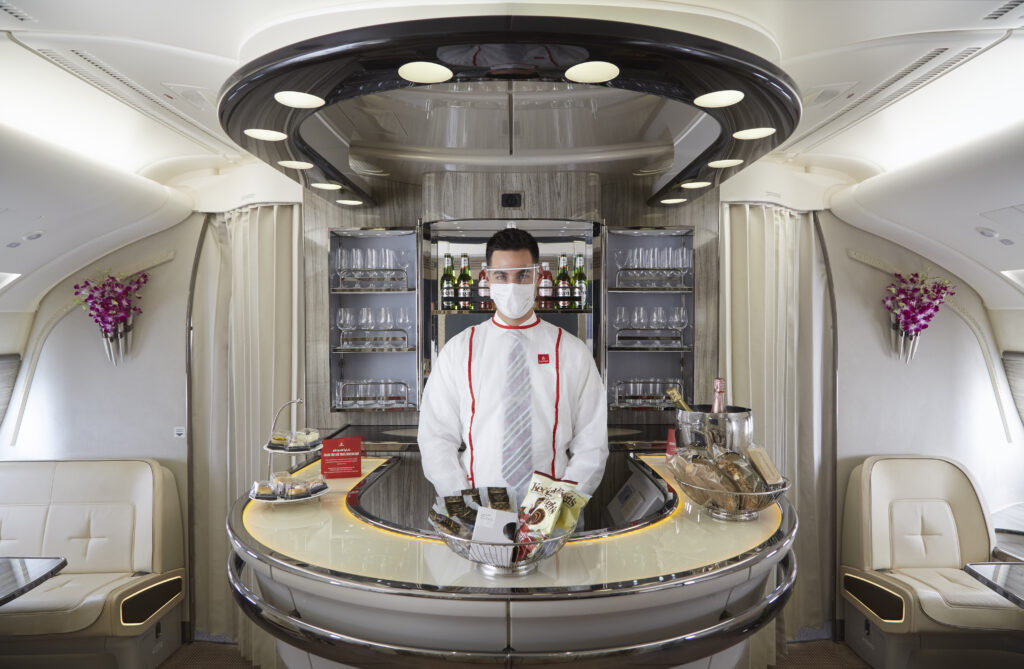 Emirates announced plans to operate its A380 aircraft four times a day to London Heathrow from 27 November and six times a week to Manchester from 2 December, and to deploy additional A380 services to Moscow from the current two-a-week, to a daily service from 25 November. TIn a recent study, London – Dubai was one of the busiest routes in the world despite the quarantine required on entry to the UK until last week. This is good news as Emirates business class on their other aircraft is poor but the A380 business class seat is a good product apart from the bling. Read my review here.
Emirates will also increase flights to Birmingham and Glasgow from the current four-a-week to daily services at both cities, from 27 November and 1 December respectively. Emirates' services to Manchester will increase from the current eight-a-week to 10 flights per week from 1 December, of which six will be served by an Emirates A380 and four with a Boeing 777-300ER. At London Heathrow, Emirates' current twice daily A380 and once daily Boeing 777 flights will become four daily A380 services from 27 November.
These represent a significant expansion of Emirates services to the UK, following the recent establishment of the UK-UAE air travel corridor which has led to increased demand. Under the air travel corridor, travellers entering the UK from the UAE will not longer be required to quarantine, which is a boon for travellers, and speaks to the UAE's rigorous and effective pandemic response. In the other direction, UK travellers heading to Dubai can opt to do their COVID-19 PCR tests 96 hours in advance of their flight, or to do the test on arrival in Dubai, adding to the ease of travel.
Dubai is open for international business and leisure visitors. From the UK you can either test on entry and then quarantine until the results or you can provide a negative test certificate on arrival. Dubai was one of the world's first cities to obtain Safe Travels stamp from the World Travel and Tourism Council (WTTC) – which endorses Dubai's comprehensive and effective measures to ensure guest health and safety.
Emirates' booking policies offer customers flexibility and confidence to plan their travel. Customers who purchase an Emirates ticket for travel on or before 31 March 2021, can enjoy generous rebooking terms and options, if they have to change their travel plans. Customers have options to change their travel dates or extend their ticket validity for 2 years. More information here.
Emirates has also committed to cover COVID-19 related medical expenses, free of cost, should they be diagnosed with COVID-19 during their travel while they are away from home. This cover is immediately effective for customers flying on Emirates until 31 December 2020, and is valid for 31 days from the moment they fly the first sector of their journey. This means Emirates customers can continue to benefit from the added assurance of this cover, even if they travel onwards to another city after arriving at their Emirates destination. For more details: www.emirates.com/COVID19assistance.