Upper Class meal service
Warning – if you are hungry, grab a snack before reading!! Gratuitous food porn pictures in article!
Throughout the pandemic, Virgin has definitely been setting the standard in terms of onboard service. While many airlines cut things down to the bare minimum, Virgin only made minor changes for safety reasons. I was very impressed when flew them back from Barbados last year. You can read my review here.
Virgin Atlantic is now evolving its onboard service again in Upper Class, providing even more choice for its customers. Following the restart of passenger flying in July 2020, the airline simplified its service onboard to minimise interaction between customers and crew. These latest changes see some of the most popular elements of Virgin Atlantic's Upper Class service return, with some added extras, whilst ensuring health and safety remains at the heart of the proposition.
Customers are now offered a welcome drink upon boarding. I can't believe how excited I am by the thought of a welcome glass of champagne when I board! It's the moment for me where you have got through the hassle of the airport and sorted yourself out with your belongings stowed away. You sit down and take that first sip of chilled champagne and settle back into your seat. How I have missed this experience!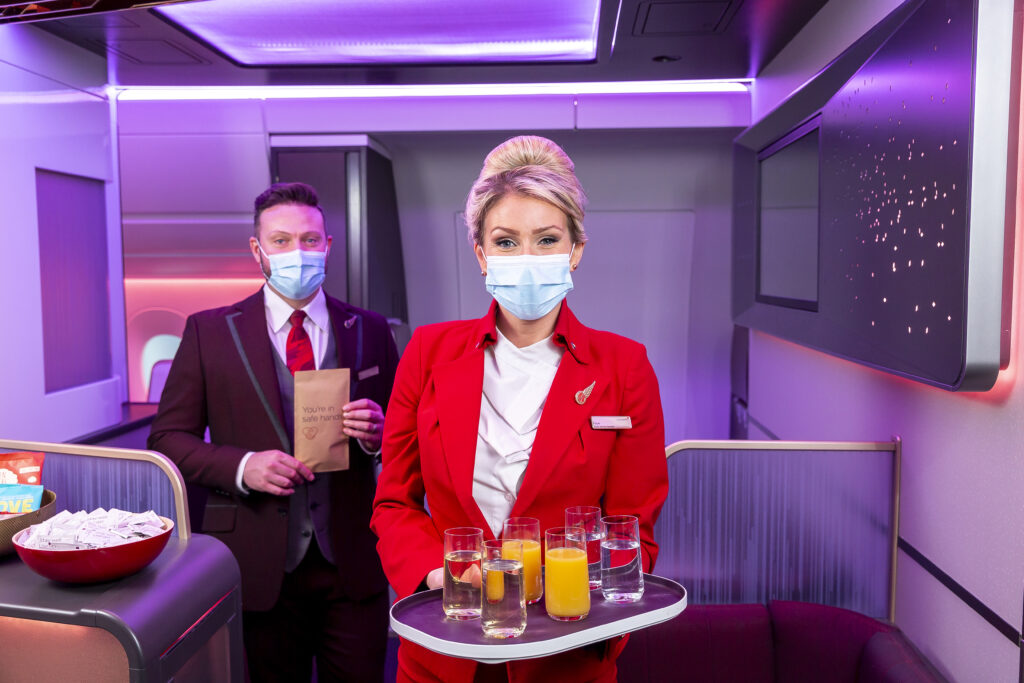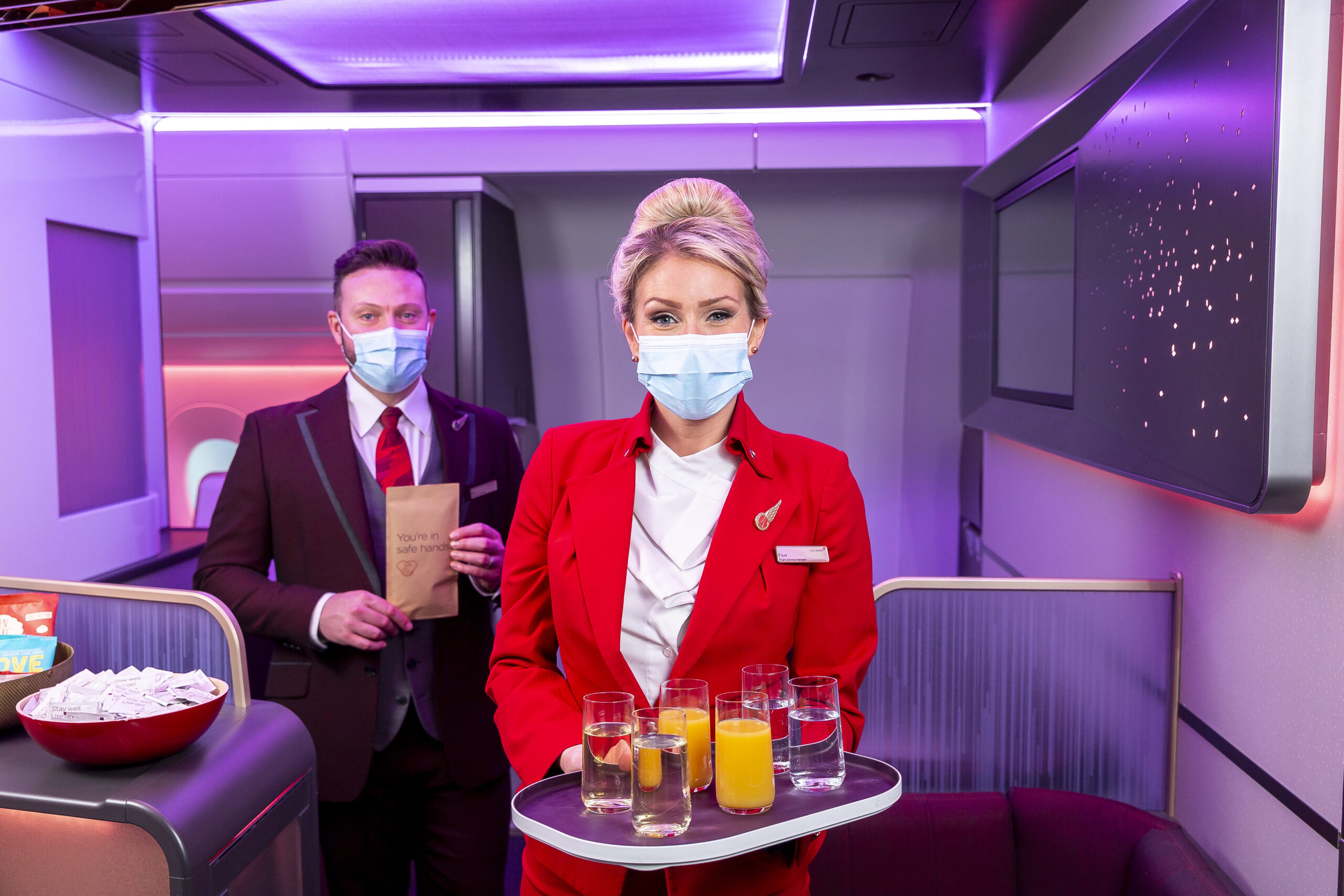 This will be followed by the choice of three individually plated hot meals as part of the main meal service. This is accompanied by a salad and a choice of three desserts including cheese and biscuits. When I flew with Virgin last year there was no choice of dessert, so this is a great improvement. Desserts are definitely something Virgin excel at, particularly the hot ones.
On day flights, customers are offered a second meal service including the signature Eric Lanlard Mile High Tea and can now opt for a deli dish or a lighter option if they prefer. For those travelling on night flights, there is a choice of three hot breakfasts as well as side dishes including fresh seasonal fruit, bircher muesli and pastries. All these options can be washed down with a selection of champagne, wine, liquors, soft drinks and teas and coffees.
Here is what you can expect:
The New Upper Class meal service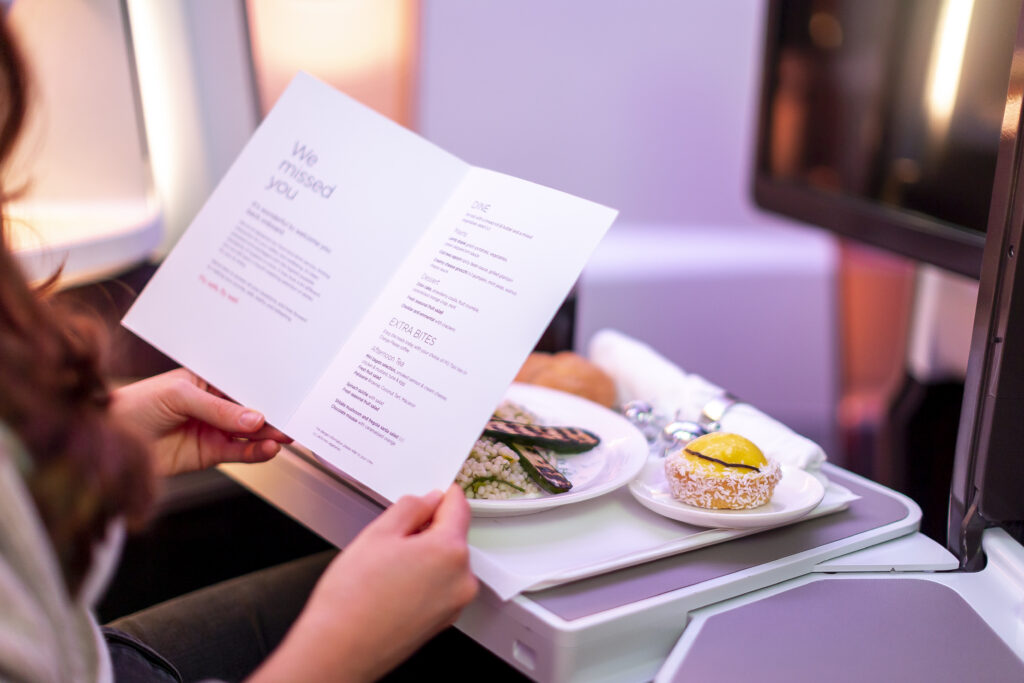 Firstly you will get welcome drinks upon boarding. This is followed by drinks and snacks (usually crisps) after takeoff.
Main Meal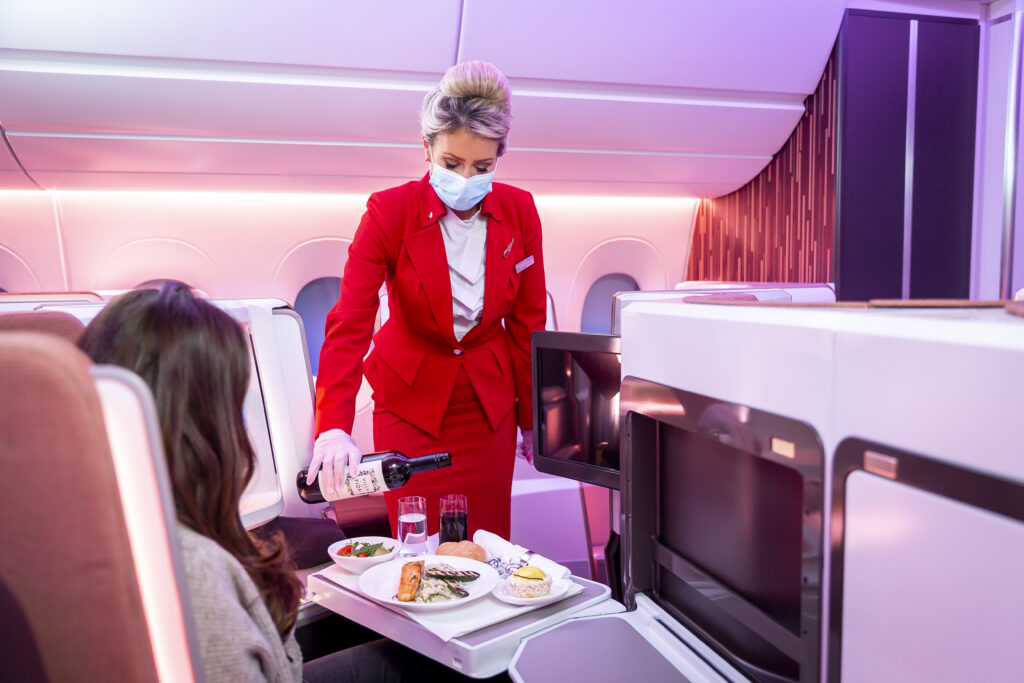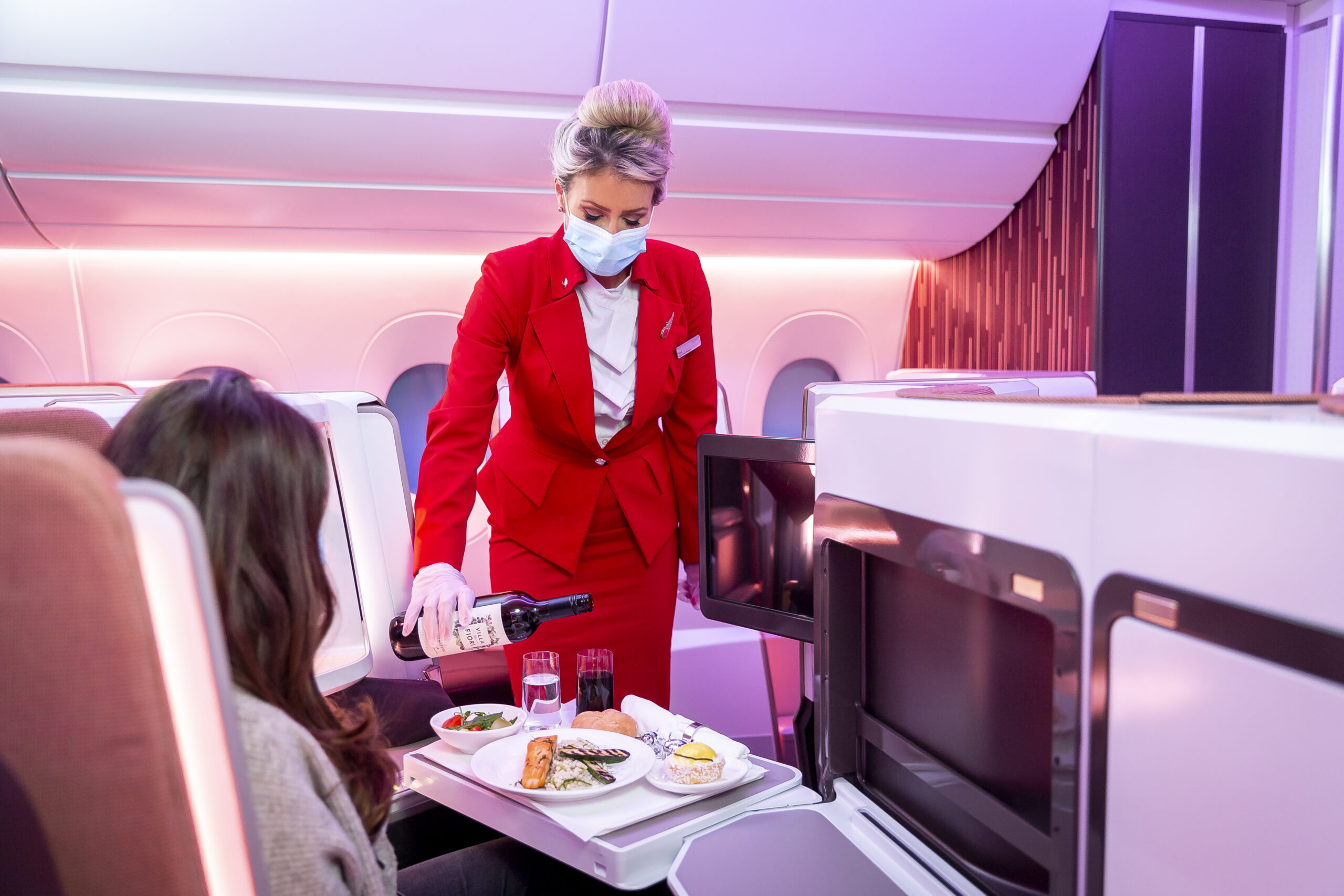 Starter
Mozzarella and tomato salad with micro basil and cress (v)
Ciabatta roll with butter
Main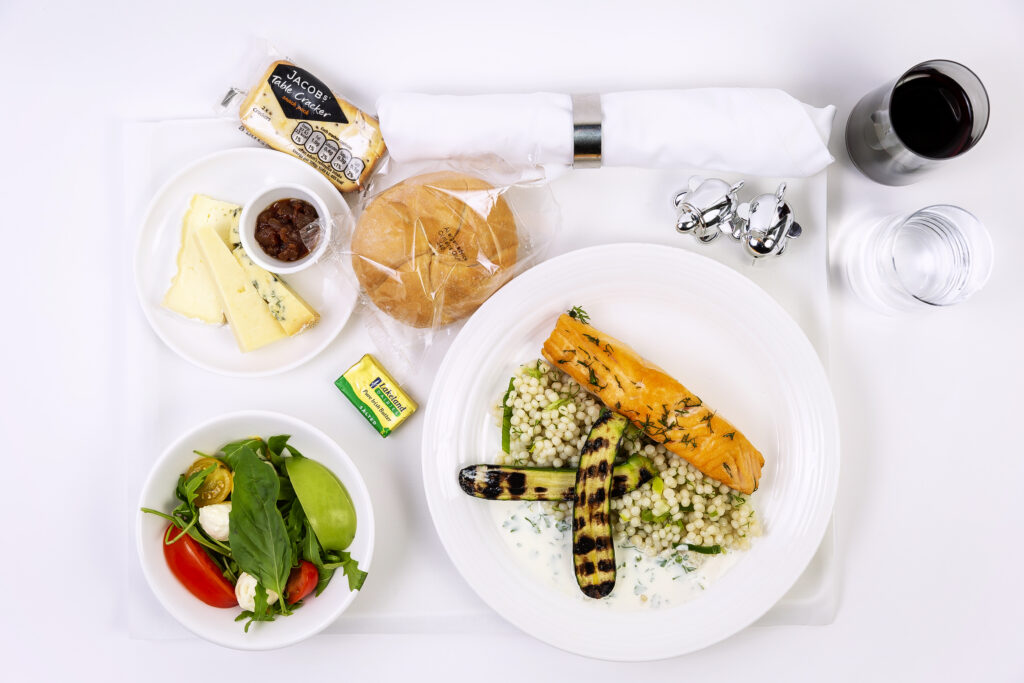 Roasted chicken breast, potato purée, sautéed spinach, girolles mushrooms, Bourguignon sauce
Artichoke tortellini (v) with wilted spinach, grilled artichokes and sage butter sauce
Roasted salmon fillet, lemon and spring onion giant couscous, grilled baby courgettes and chervil sauce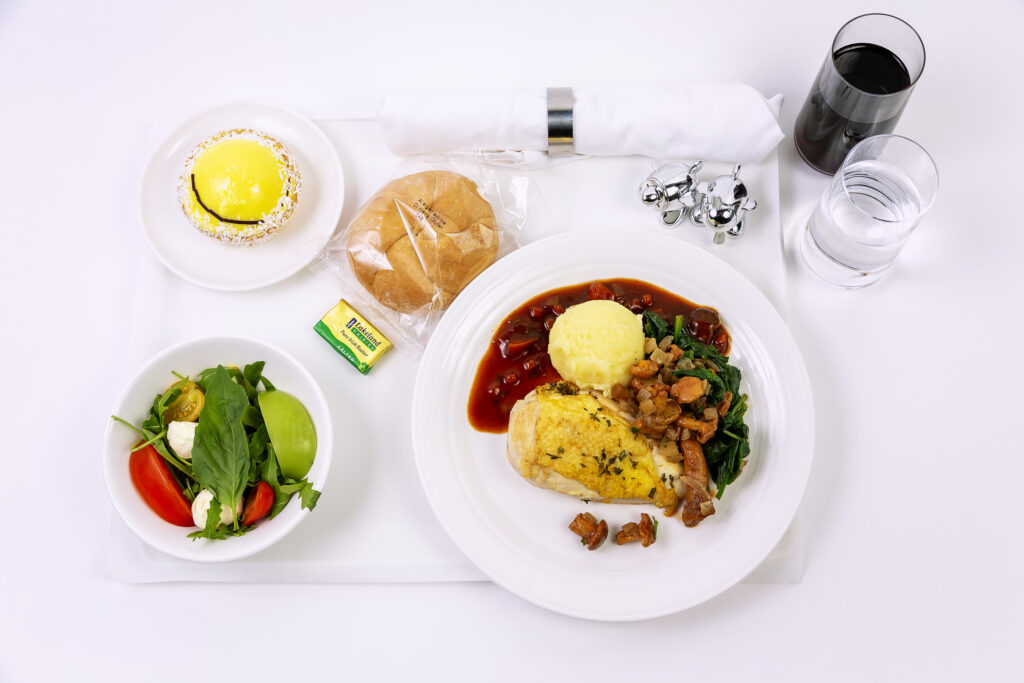 Dessert
Coconut lemon tartlet
Seasonal fresh fruit
Cheddar, Brie, and Stilton with crackers
Second meal service
Eric Lanlard Mile High Tea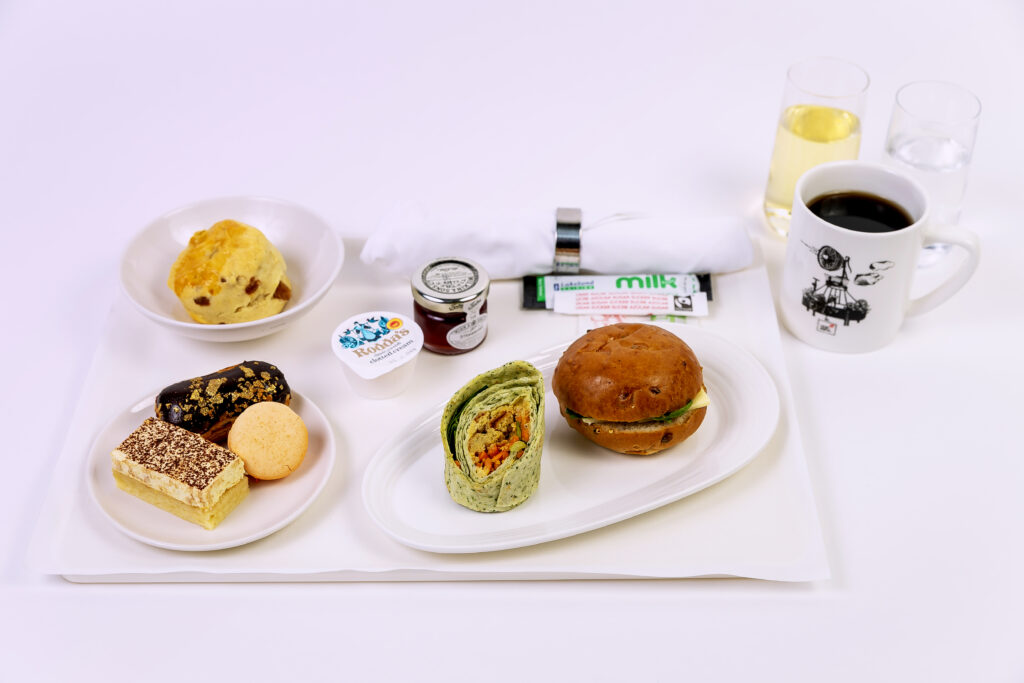 West country cheddar and carrot chutney on malted roll and Mediterranean falafel wrap
Scone with clotted cream and strawberry jam
Raspberry glazed éclair, salted caramel vanilla tart and cherry macaron
Deli dish
Chicken terrine, spiced cauliflower and braised pineapple
Chocolate gateau
Lighter option
Asian-style glass noodle salad, seaweed and charred pineapple
Fresh fruit salad
Breakfast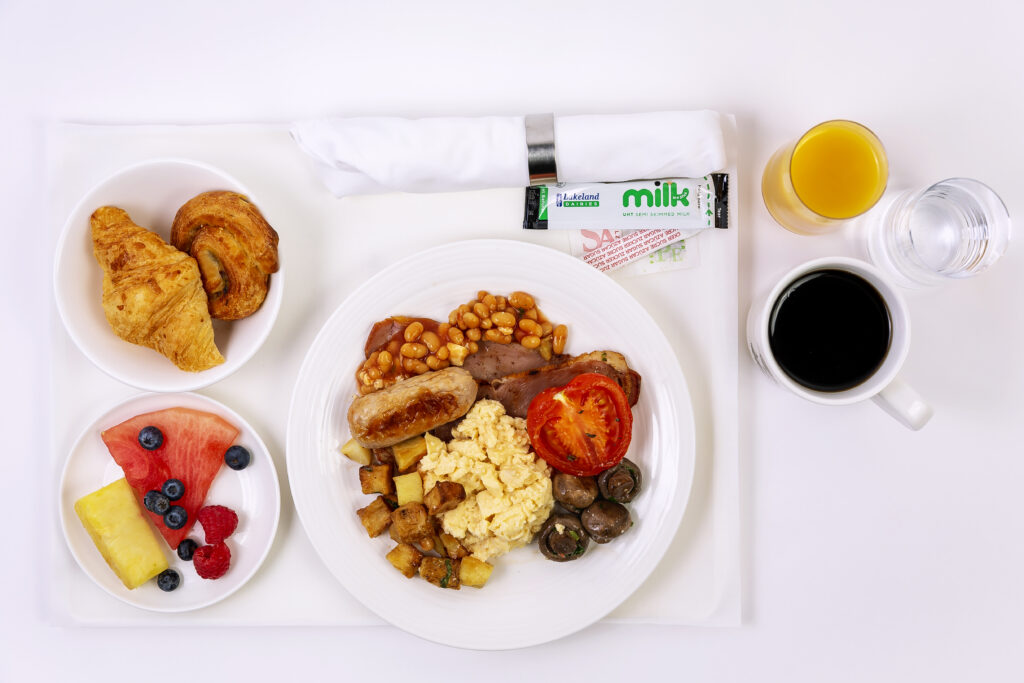 Full breakfast including chicken sausage, turkey rashers, scrambled eggs, baked beans, herb potatoes, roasted tomato and mushrooms
Vegetarian cooked Breakfast including cheddar cheese omelette, mushroom, hash brown and vine roasted cherry tomatoes
Mini apple pancakes with creme anglaise and apple cinnamon compote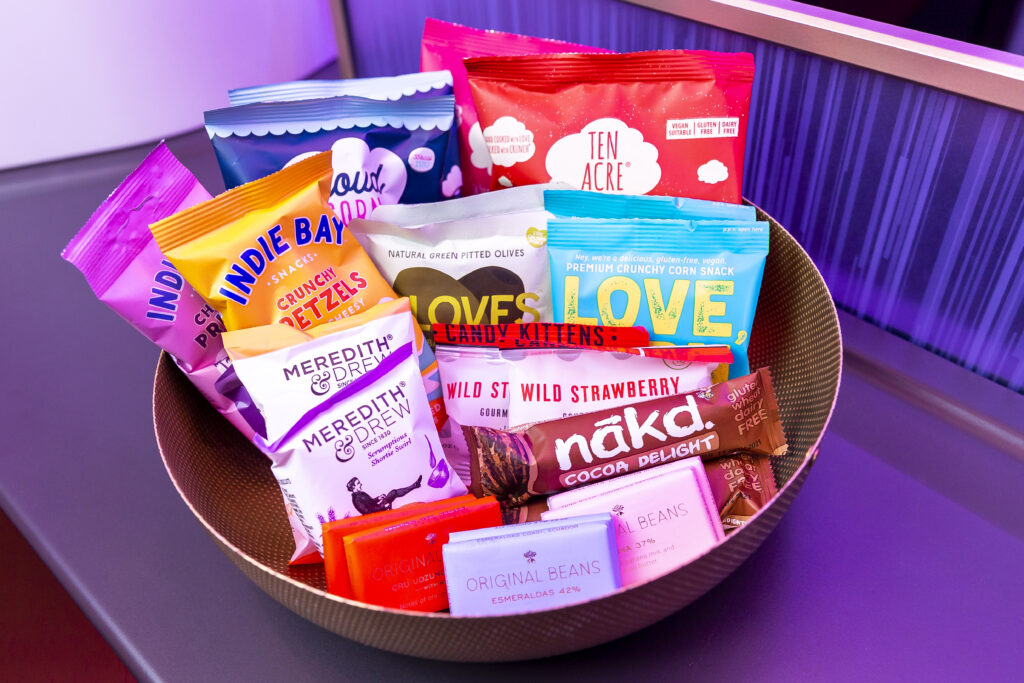 Premium Economy meals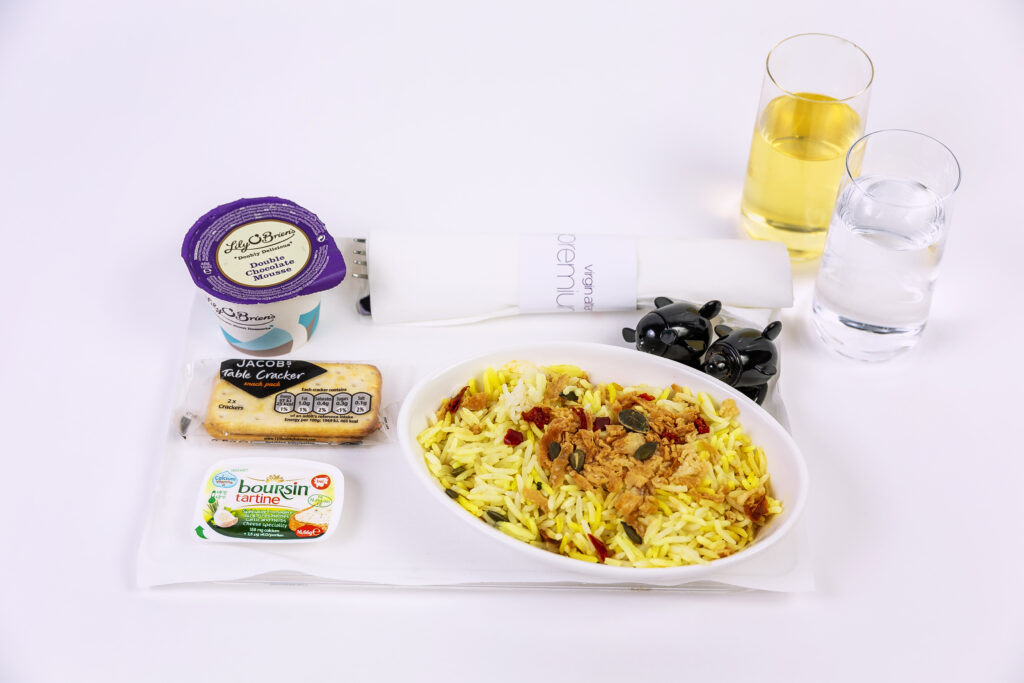 Customers travelling in Premium now receive a bespoke meal service including a choice of three hot meals, cheese and biscuits and a dessert, all served on a tray. For the second meal service, Premium customers receive the Eric Lanlard Mile High Tea with a choice of prosecco or hot drink or on night flights, a breakfast including a warm pastry, seasonal fruit and yoghurt served with PG Tips tea or Change Please coffee.
Economy meals
Customers in the Economy cabin can choose from two hot meals as part of the Fly Safe, Eat Well meal box, which also includes cheese and biscuits and a dessert. The second meal service includes the Eric Lanlard Mile High Tea on day flights or a breakfast consisting of a warm pastry, fruit and yoghurt on night flights. Customers in Premium and Economy can also choose from a selection of wines, beers, liquors and soft drinks throughout the flight.
Corneel Koster, Chief Customer and Operating Officer at Virgin Atlantic commented:

"We know our customers are missing that magical feeling you get when you step onboard an aircraft, ready to start your travels. Whilst customers may not be able to travel right now, we're bringing back those little touches, including welcome drinks, hand plated food and more choice of meals, so that first flight after lockdown feels even more special.

"All these additions have been made whilst continuing to uphold some of the most comprehensive health and safety measures in the industry. We were delighted to be awarded Diamond Status by APEX Health Safety powered by SimpliFlying, for our efforts in ensuring the highest standards of cleanliness and sanitisation. Making sure everyone flies safe and well is a non-negotiable and has been an absolute priority for us since the start of the pandemic. Our commitment is underpinned by robust cleaning measures both in the air and on the ground, our innovative customer experience, the introduction of Covid-19 insurance and the fact that we test our crews before every departure from the UK and our ground teams at least once a week."