Virgin Atlantic's Austin route confirmed
The rumours have been confirmed that Virgin Atlantic's new route will be Austin, the capital of Texas. This is the airline's first new route to the US since 2015.
The four times a week service will launch on 25th May 2022 and will operate on the airline's 787-9 with 31 Upper Class, 35 Premium and 192 Economy Delight, Classic and Light seats. You can read my recent review of the B787 Upper Class here. Economy fares start from £409 per person, Premium from £711 per person and Upper Class from £1,711 per person.The amount of points needed for required flights has not been announced yet. I'd expect it to go under US West which costs 135,000-155,000 points return in Upper Class.
Austin is the fourth most populated city in the state of Texas and is famously known as the "live music capital of the world", renowned for its art and foodie scene as well as a wide range of outdoors activities. To capitalise on the increased leisure tourism to the region, Virgin Atlantic Holidays will be launching a holiday portfolio in Austin and throughout Texas including hotels and fly-drive holidays.
Austin is also known as a growing tech hub with businesses such as Apple, Tesla, Facebook, IBM and Oracle all opening up bases, giving the city the nickname "Silicon Hills". This booming region is a key focus for Virgin Atlantic and its expanded joint venture partners, with Delta Air Lines offering connections from Austin to 10 US cities, Seattle, Los Angeles, Salt Lake City, Detroit, Minneapolis, Cincinnati, Atlanta, Raleigh Durham, JFK. KLM also is launching three-times weekly services from Amsterdam to Austin on 28th March.
Flight timings and flight number
Monday, Wednesday, Friday and Sunday
LHR – AUS – VS231 – 11.35 / 16:05
AUS – LHR – VS232 – 18:05 / 09:00 (next day arrival)
Juha Jarvinen, Chief Commercial Officer at Virgin Atlantic commented: "We are incredibly excited to launch this new service to Austin, Texas. With an impressive food, arts and music scene, we know it's a destination our customers will love to explore.

"The US has been our heartland for more than 37 years since our first flight to New York City in 1984. Since US borders opened to UK travellers on 8 November, it feels extra special to be launching new flying, especially to the fantastic city of Austin.

"There are so many synergies between Virgin Atlantic and the city of Austin. We love their philosophy and desire to celebrate local brands, businesses and communities and we cannot wait to welcome customers, both existing and new onboard, flying them safely to explore this fabulously quirky city."
Flights are on sale from Wednesday 12th January at www.virginatlantic.com with return Economy fares starting from £409 per person.
New Amex Platinum benefit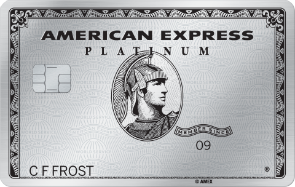 Launching today, American Express Platinum Cardmembers can receive £100 a year in statement credits when they spend at Harvey Nichols.
The Offer is due to run until December 2024*, meaning Cardmembers can receive up to £300 back. Cardmembers receive a statement credit covering the first £50 of purchases every six months (totalling up to £100 a year), with the Offer resetting on 1 January and 1 July each year.
There is no minimum spend required to earn the statement credits. In-store purchases made at any of Harvey Nichol's seven UK store are eligible, as are online purchases as well as purchases made at participating store restaurants. In effect, you get 100% back on eligible transactions at Harvey Nichols, with a maximum of £50 back every 6 months.
There are a couple of terms and conditions to be aware of:
Excludes purchases of gift cards and vouchers.
Benefit only valid for orders delivered to the UK.
Department store concessions are not included in the benefit – this one has caught me out before and I do wonder how they expect people to know what a "concession" is as it's not always clear what is or isn't.
Here are the restaurants you can use it at: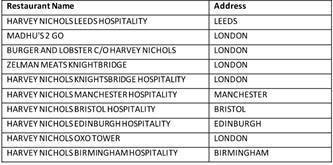 If it had been in-store only then maybe it wouldn't be such a great offer as there aren't many branches. But the fact you can use this for online shopping too, it's definitely a benefit worth having. You may think that Harvey Nicholls is just fashion but they sell beauty, home, food and drink as well. Plus of course the restaurants.
The Offer is available to current Platinum Cardmembers as well as those who take out the Card during the Offer period.
To benefit the Platinum Cardmember needs to save the Offer to their Card which can be done through the app or online.
There is more information on The Platinum Card is here.