2022 Update – Virgin Voayges Scarlet Lady in the Bahamas
If you watched The Apprentice last week, you will have seen Virgin Voyages Scarlet Lady on the screen. I visited the ship in early December in 2021 after previously staying for a night onboard in 2020 in the UK. Rather than write a completely new review, I thought it would be better to update this one since I was only on the ship for an afternoon this time. However, the previous visit was during a terrible storm which meant that I couldn't really see the outside. This time I was in the sunny Bahamas on a Virgin press trip.
One thing that struck me was that I was with a lot of travel journalists of all ages who mainly said they were not into cruising. Nearly all of the group said afterward privately that they would be tempted to go on a Virgin Voyages cruise after seeing the ship.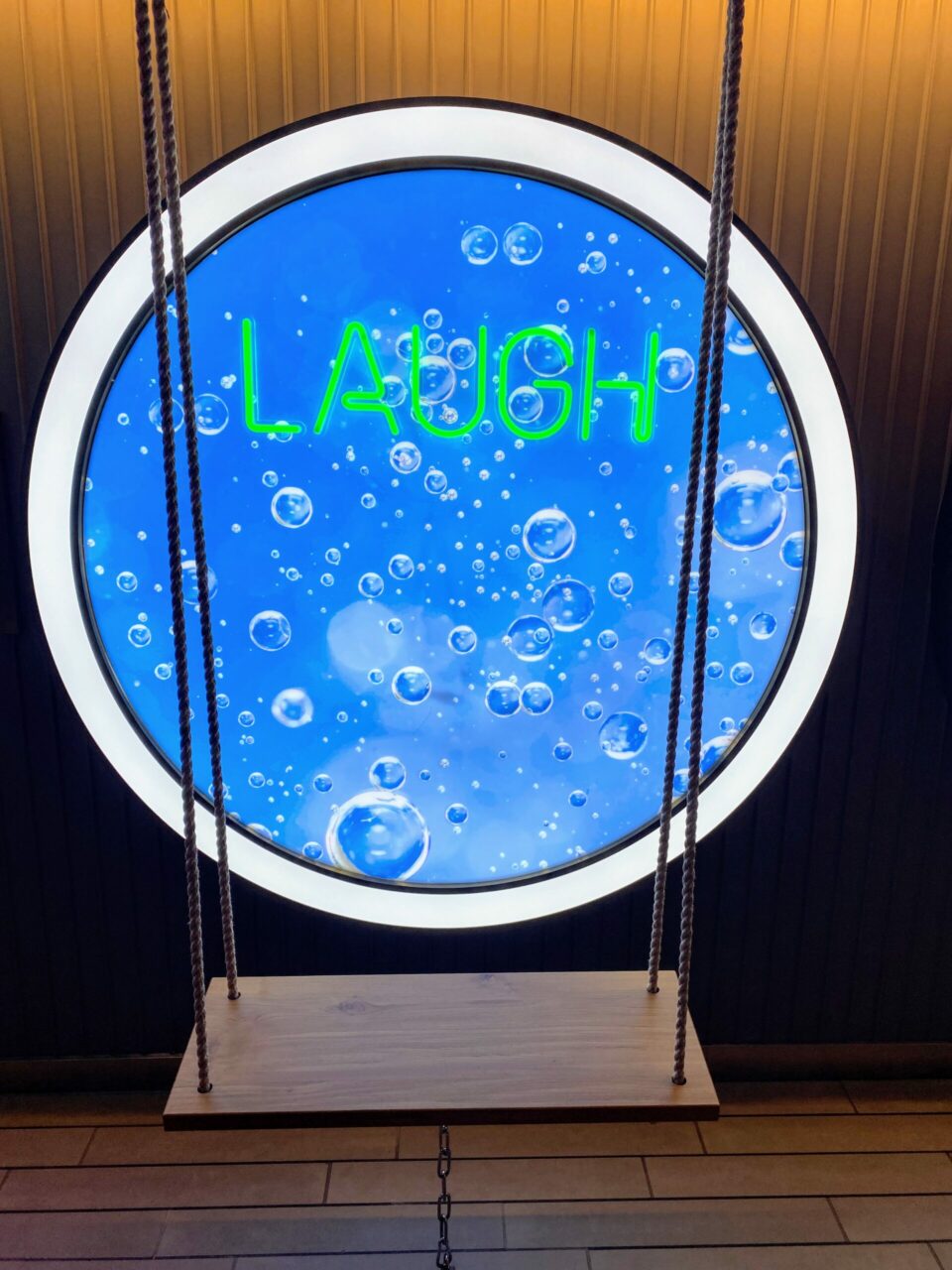 It's probably because Virgin is not like most other cruises, it's adults-only, all the food is included and most soft drinks too. There's no extra charges for other restaurants. There's no huge formal restaurant or formal attire needed. The ship is modern and stylish – it even has a tattoo parlour! Another thing people hate about cruises is tipping and Virgin even has a no-tipping policy.
Testing, Testing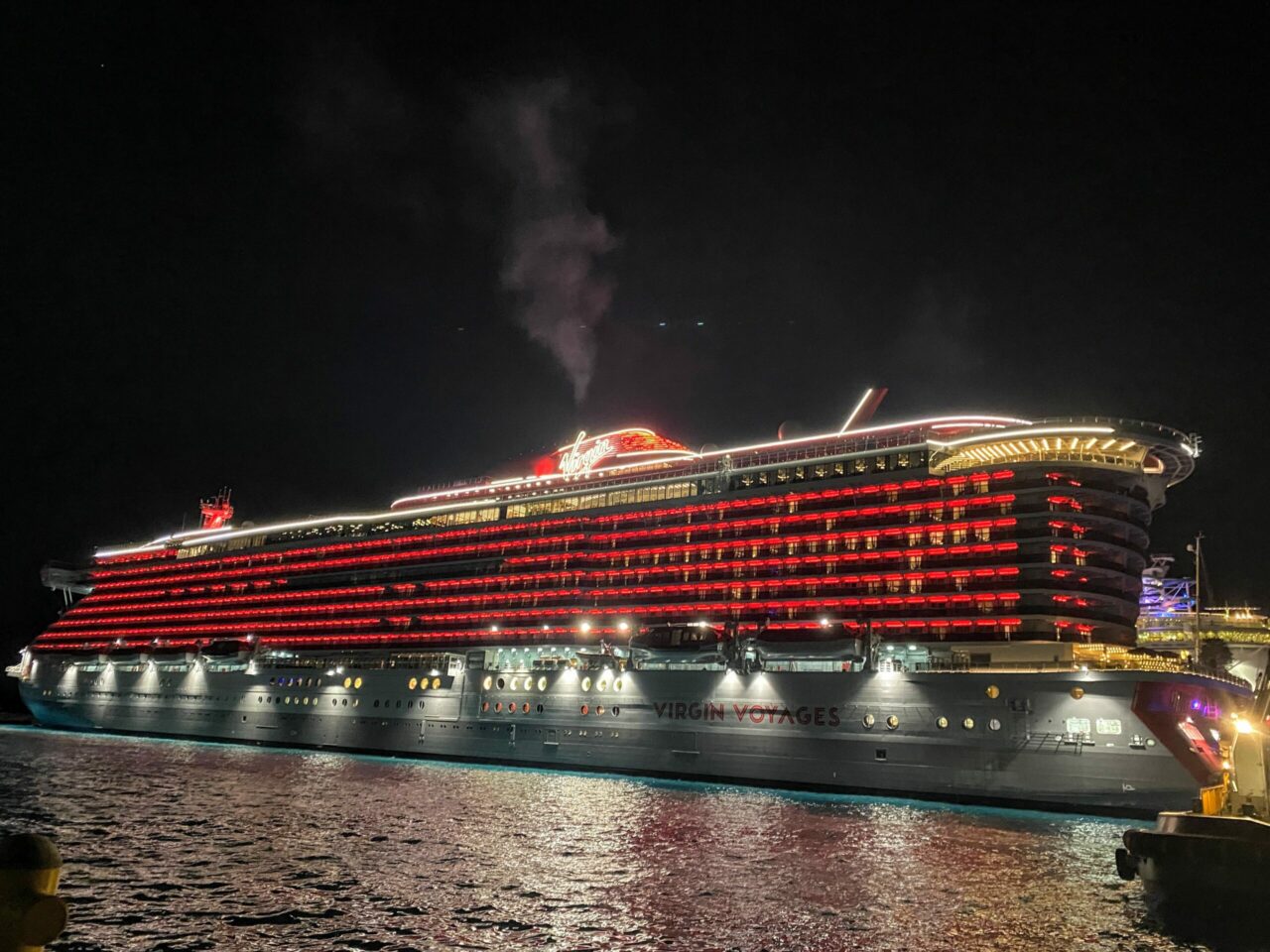 Even though we were all visiting the ship for the day and had only flown in the day before with negative tests, we still all had to be tested. It was well organised and the results came back within about 5 minutes so I am not sure what system they were using onboard. Passengers and crew need to be fully vaccinated but boosters are not required currently. Until January 31st, passengers have to wear masks indoors except while eating and drinking. After that date, Virgin plans to return to our usual no-mask-required policy.
Outside areas – pools and more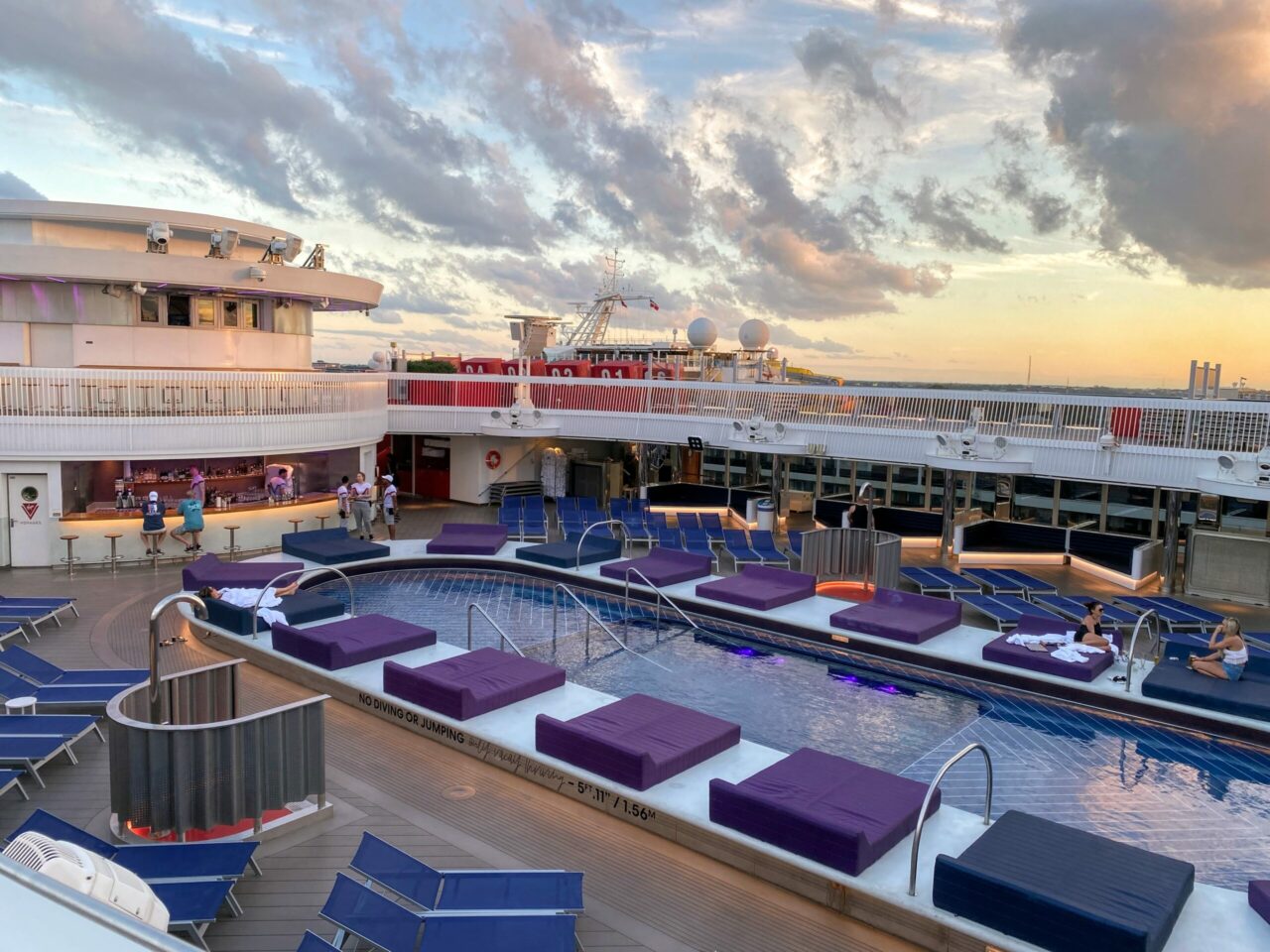 This time I got to fully explore the outside areas of the Virgin Voyages Scarlet Lady without battling a gale-force wind and rain!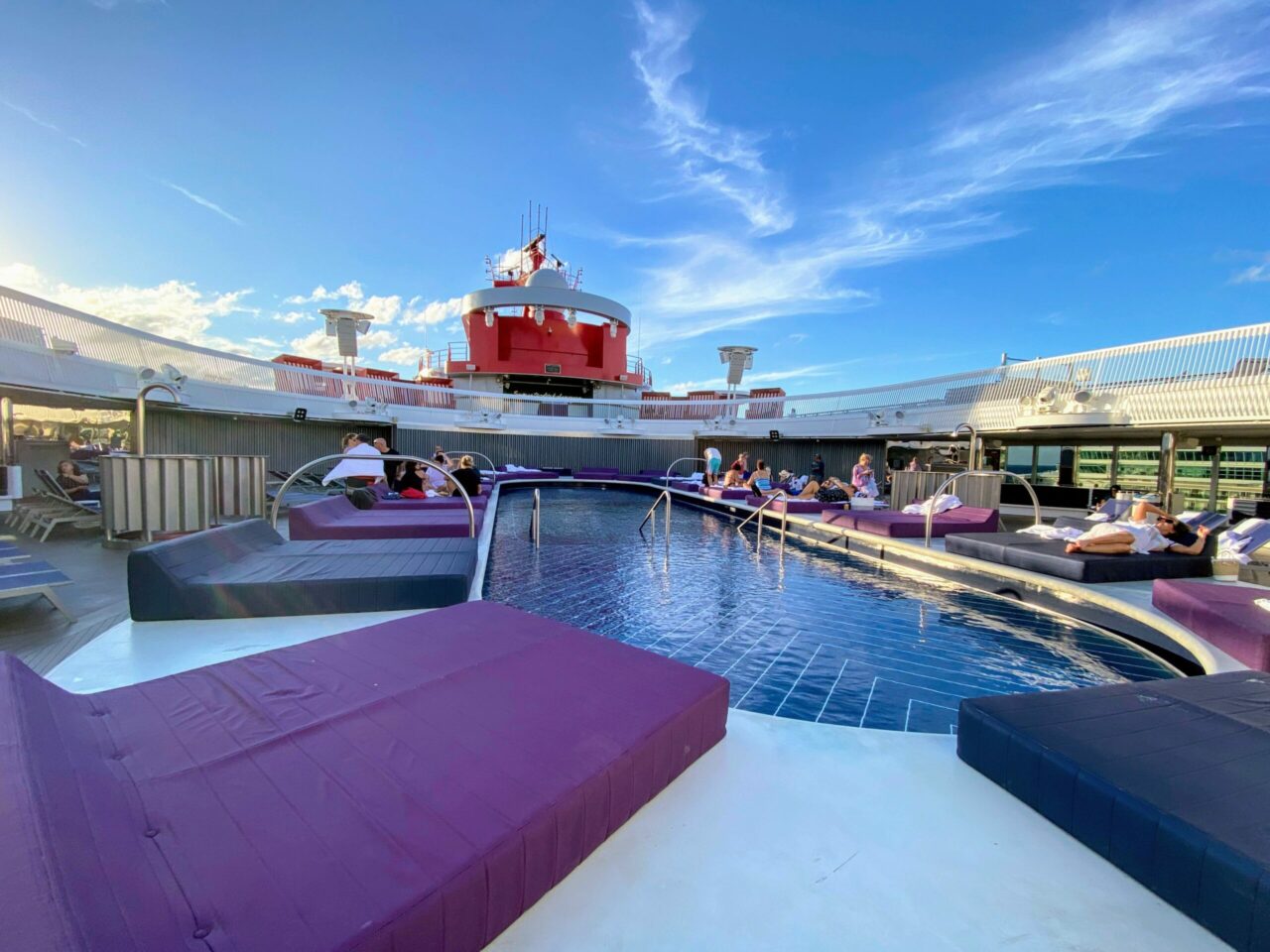 There's a smallish size pool within the Virgin Voyages Scarlet Lady but with a large shallow area for lounging in the water. As well as the usual loungers there are comfy day beds surrounding the pool itself. Other loungers are located on the deck above for more peace and quiet. Plus there are lots of day beds around the ship so you won't be fighting for a lounger!
There's also a wellness pool which is like a super-sized jacuzzi with hydrotherapy jets flanked by a couple of large hot tubs.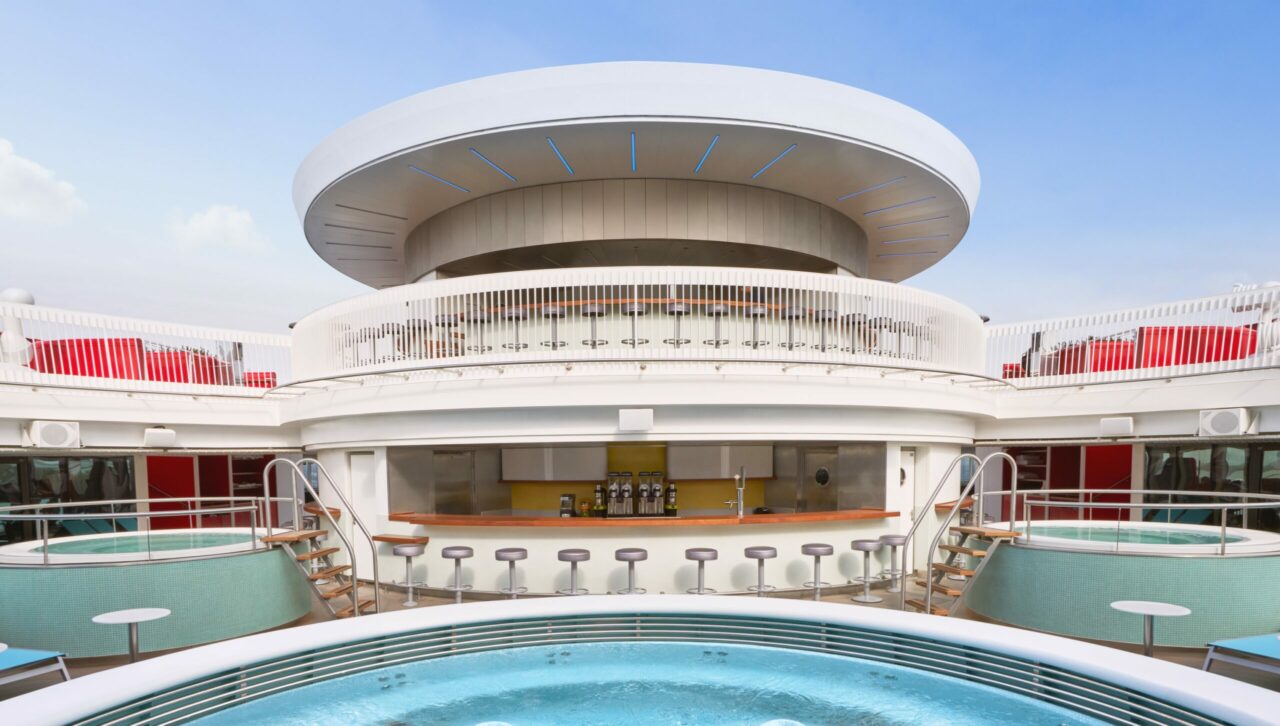 If you want to find a quiet corner to just read a book, there are plenty of those too which are sheltered with glass screens.
As well as a gym, basketball court and studios, there's a jogging track on the top deck as well as The Perch – which is for outdoor yoga at sunrise or just relaxing the rest of the day. Plus a boxing ring and a small outdoor workout area.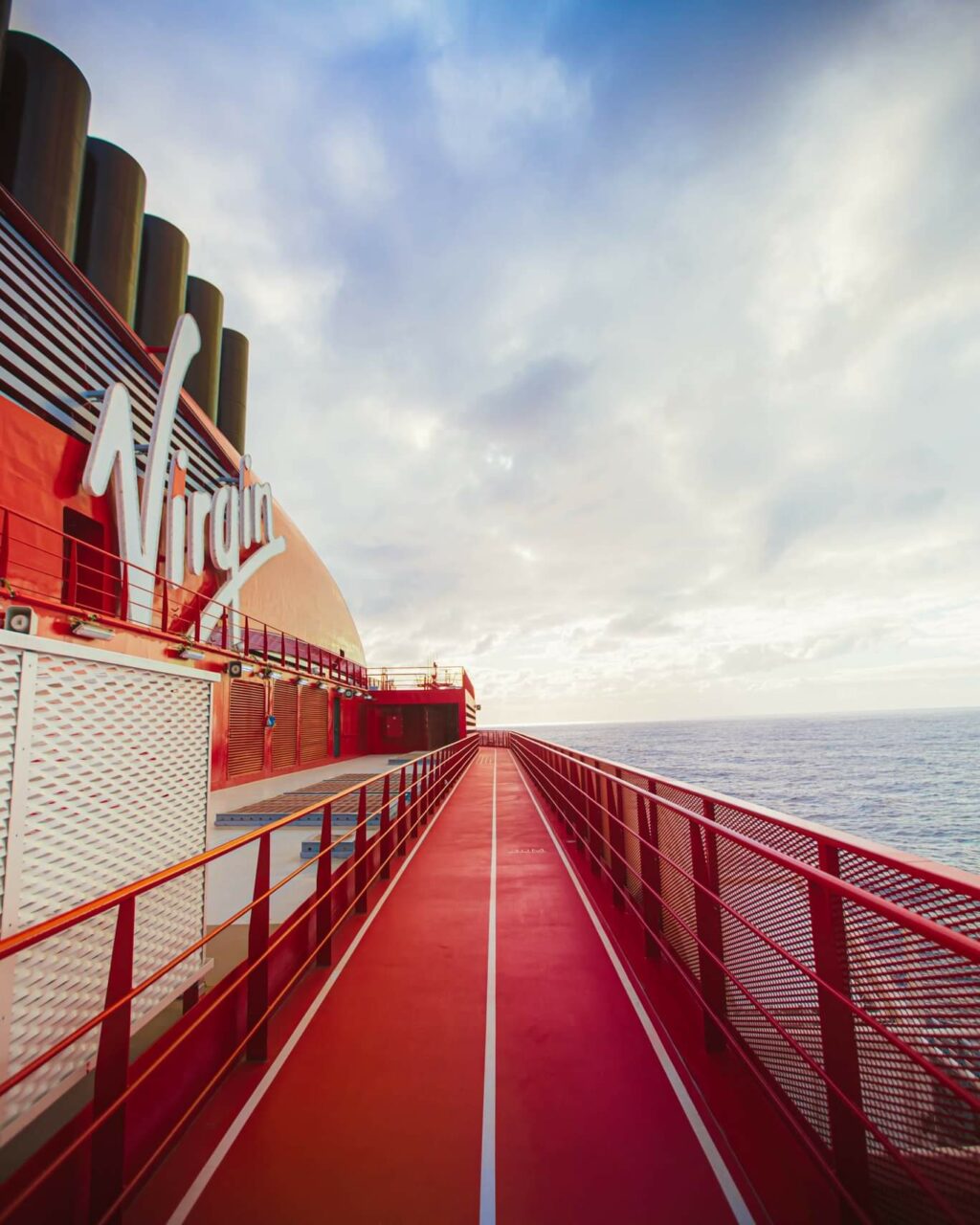 To visit the swanky VIP only Richard's Rooftop you'll have to be resident in Rock Star Quarters. It's like a floating Nikki beach with craft cocktails and a DJ.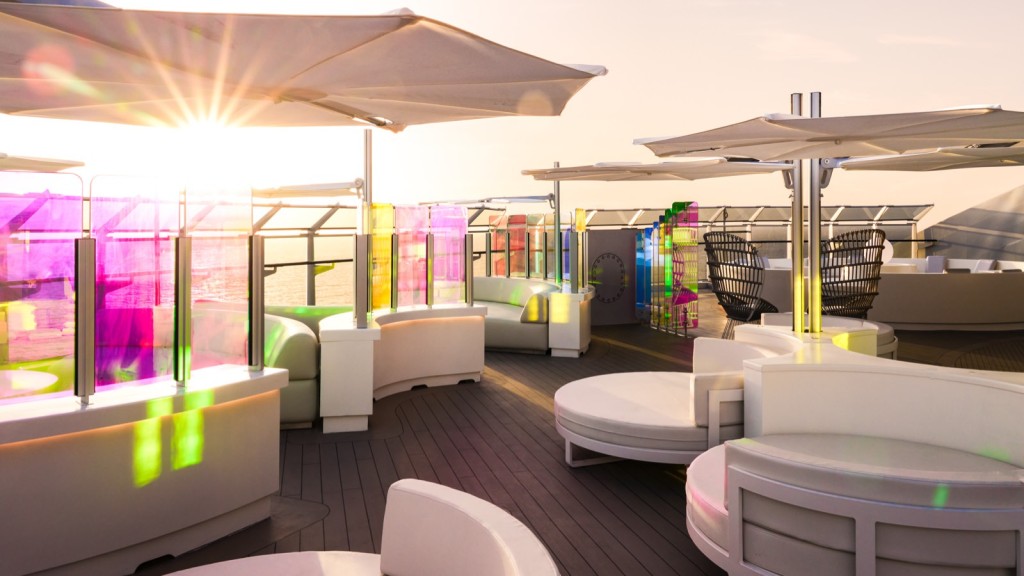 If you fancy the ultimate in privacy you can rent a private cabana with drinks service.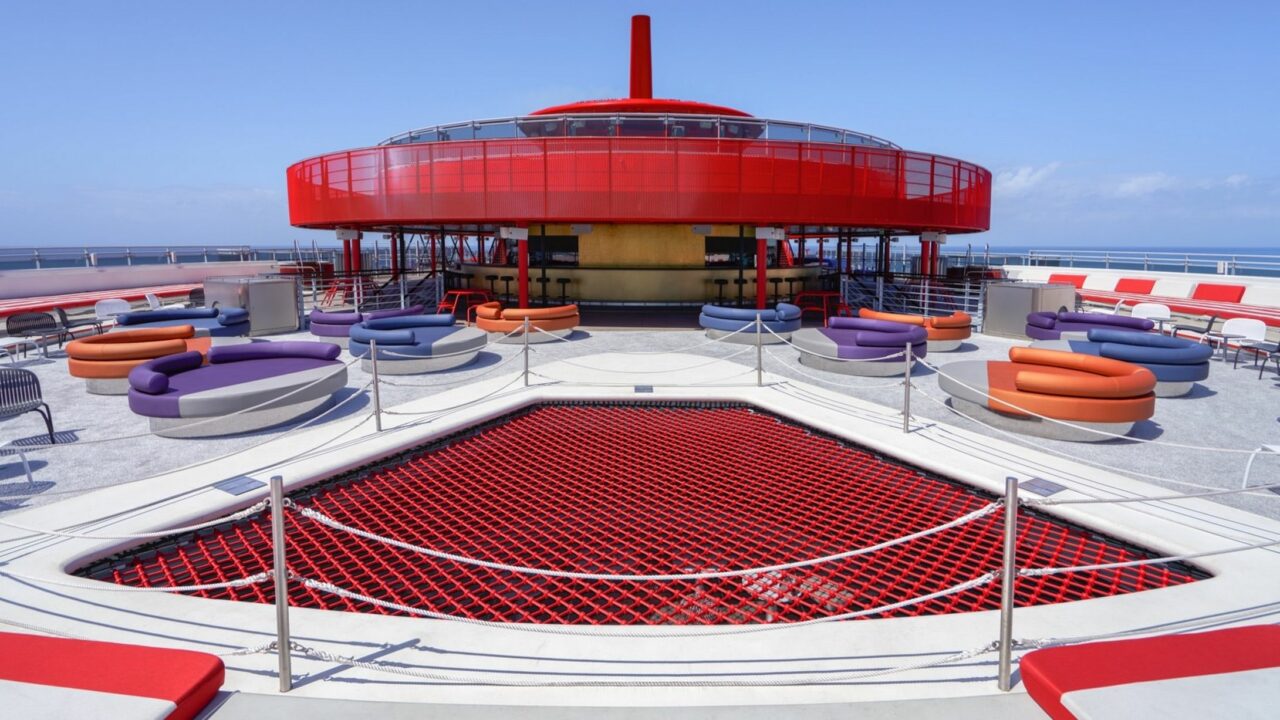 For those that like to live dangerously and don't have a fear of heights, take a trip to the Athletics Club where you'll find a bar for dutch courage and then you can try The Net. This is based on the nets you get on a catamaran that you can lounge on. Only this one looks straight down to the sea 16 stories below!
Food and drink update
All your food is included in the 20+ food outlets and bars. Unlike many cruise ships, there is no extra charge for any of the"specialty" restaurants. Virgin specialises in smaller restaurants with modern, differently-themed menus.
The Dock and Dock House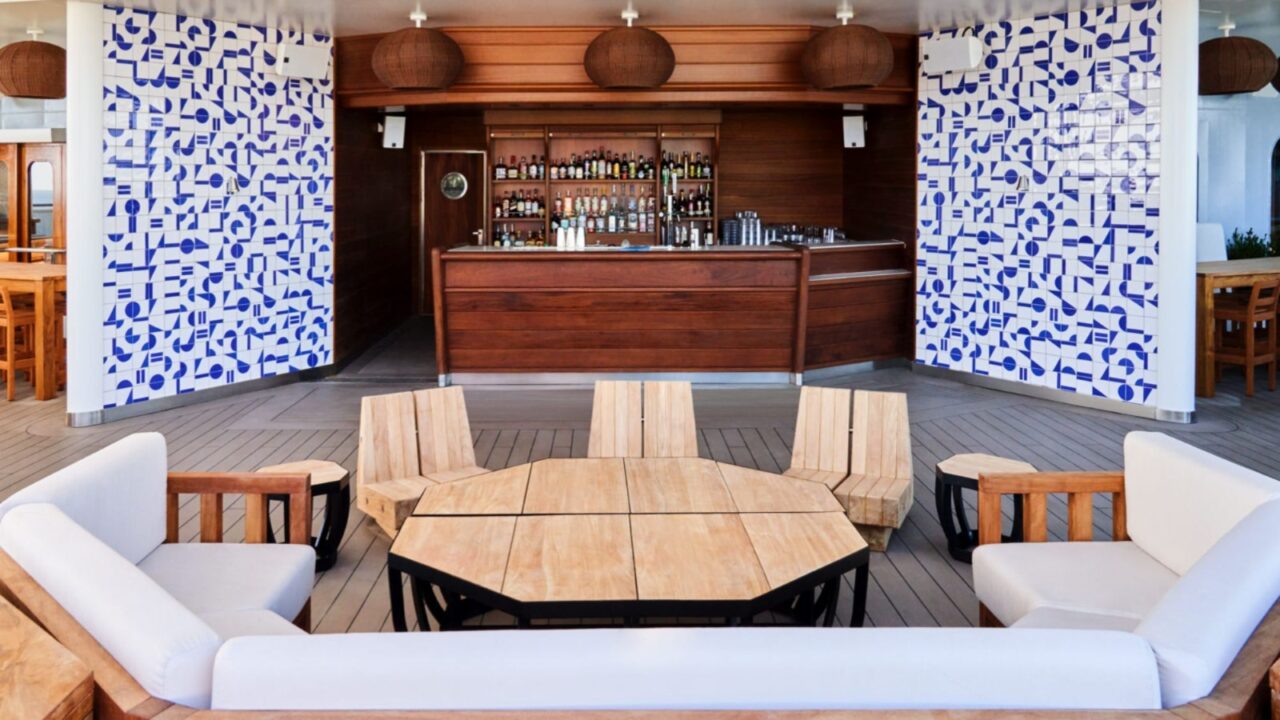 The Dock is one of my favourite areas on the ship both inside and out. It's a rustic beach club-inspired space with Mediterranean-inspired small plates, dips and mezzes plus fresh meat and seafood skewers flame-grilled to order.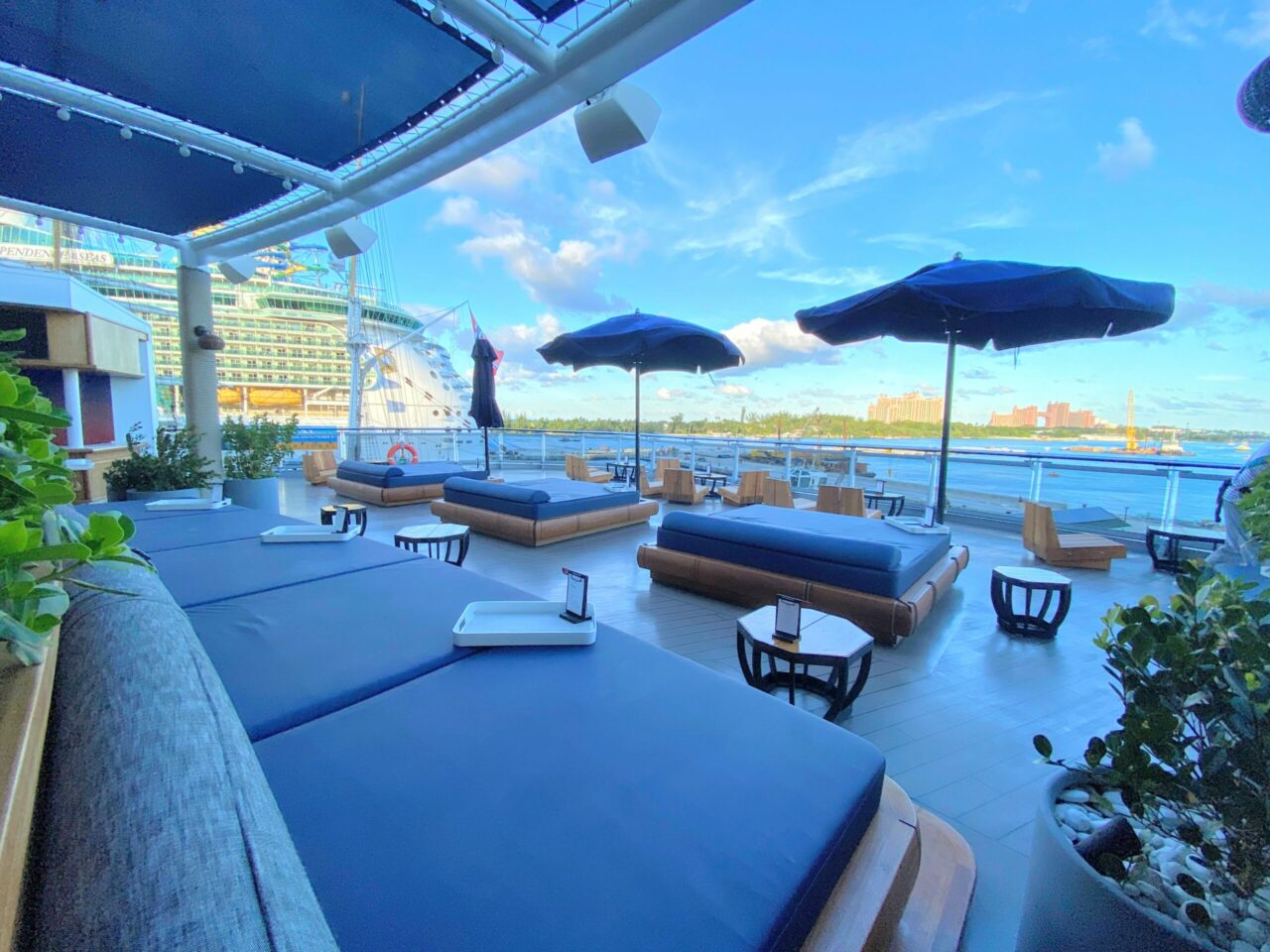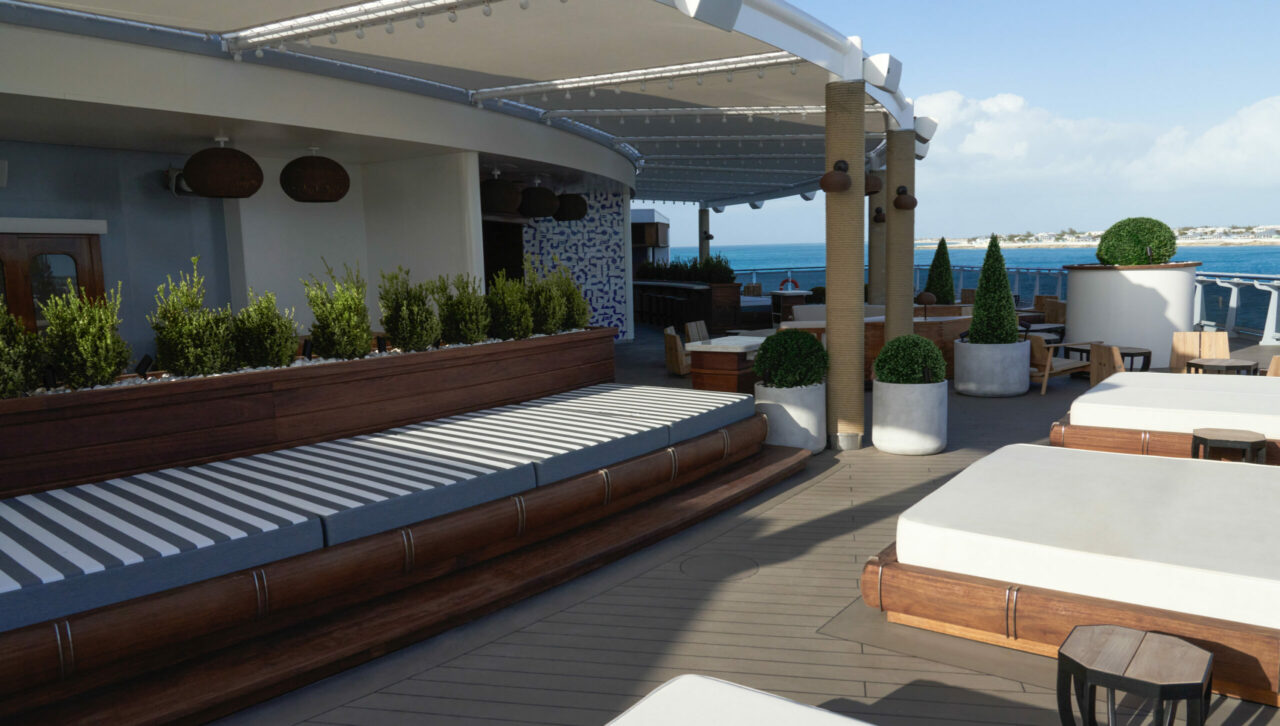 I particularly love the greenery and the two fully grown trees they have planted on the deck. The inside area has a very chilled vibe.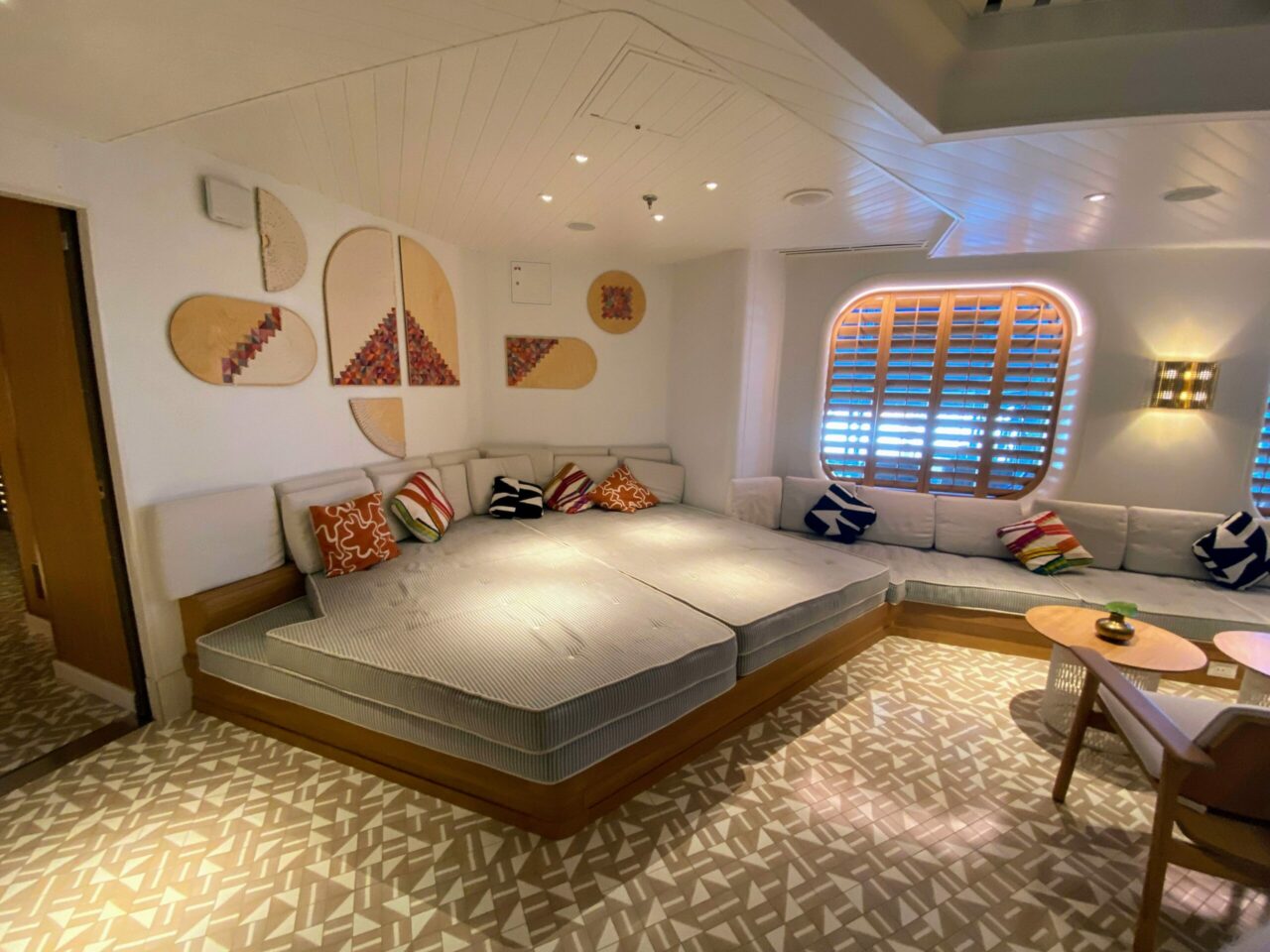 Sip Afternoon tea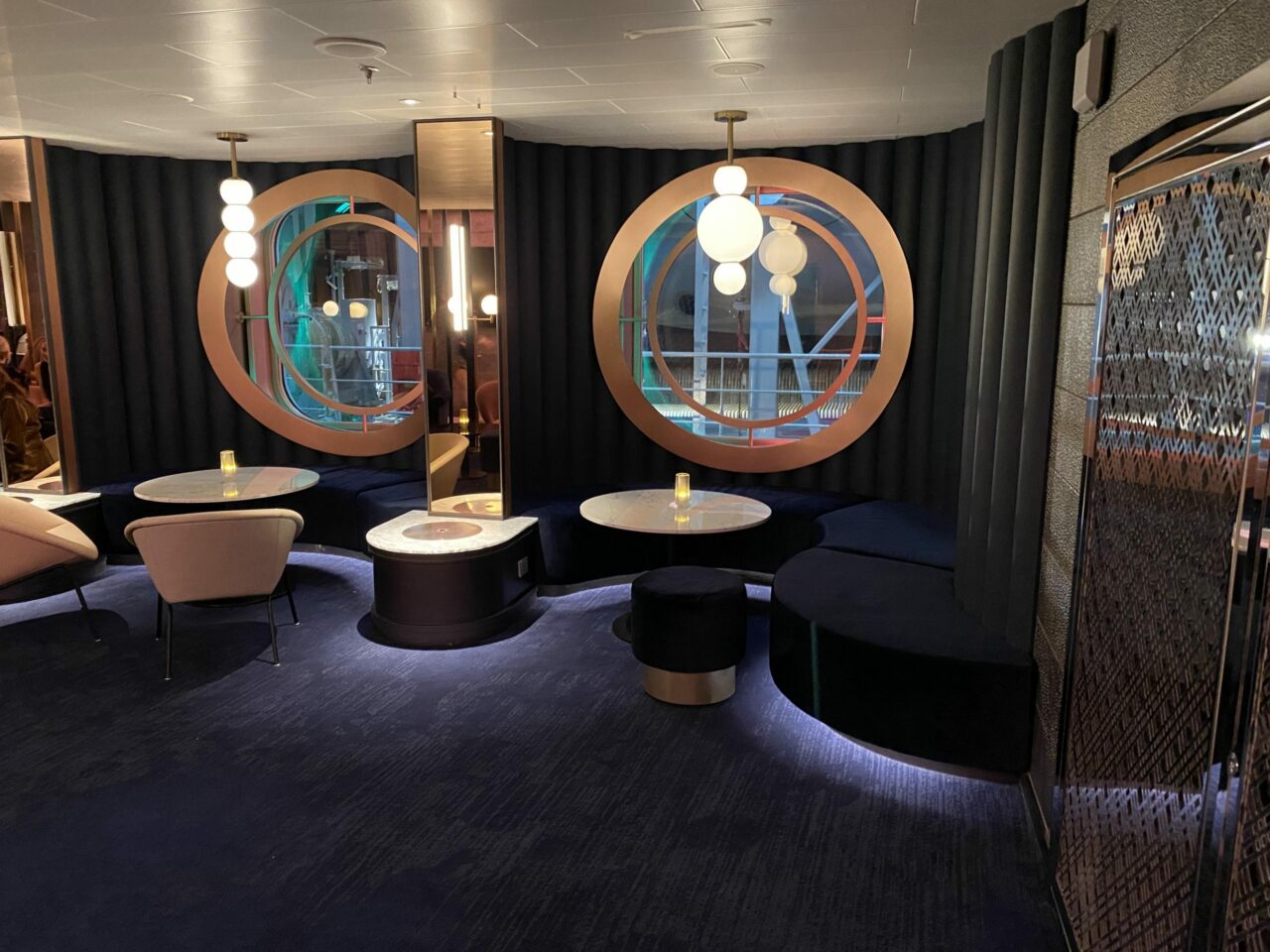 Sip is my favourite bar on the Virgin Voyages Scarlet Lady ship with its dark blue and gold hues and round portholes. Naturally it's a champagne bar so I checked out the afternoon tea with a glass or two of fizz. I thought that the afternoon tea was beautifully presented and the cakes were high quality. It was good to see some well-made biscuits as well as just cakes.

The only thing missing was clotted cream as they had whipped instead, but this seems to be an issue getting clotted cream outside the UK. Though they could actually make it onboard…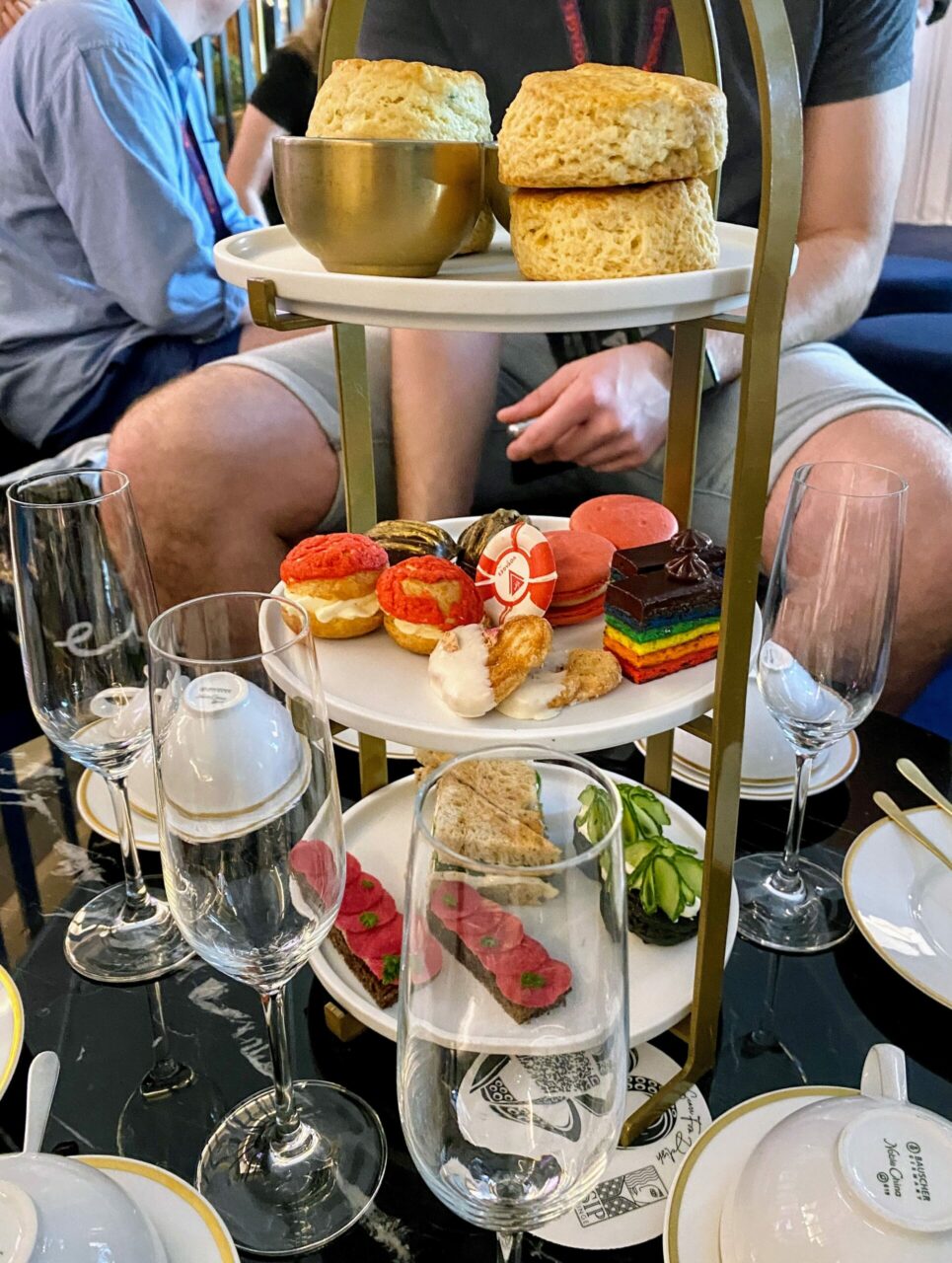 While we are talking about sweet stuff, there's also a great bakery selling pastries, cakes, treats and desserts.
Lick me till ice cream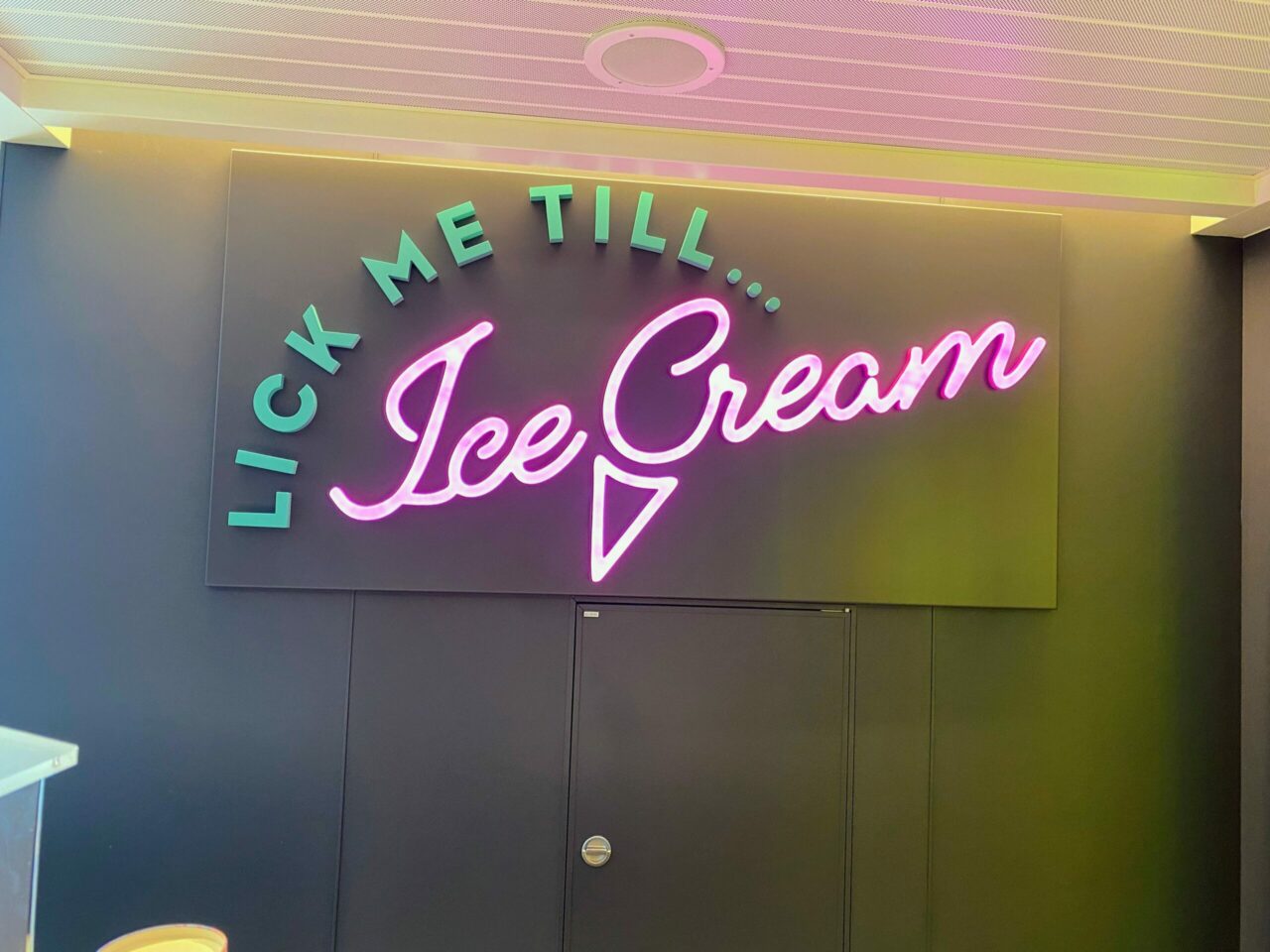 I loved the gelato shop of the Virgin Voyages Scarlet Lady which had so many innovative flavours to try – no boring vanilla or chocolate here. I tried a taste of the key lime and it was proper Italian gelat0 – slightly, soft, silky smooth and creamy!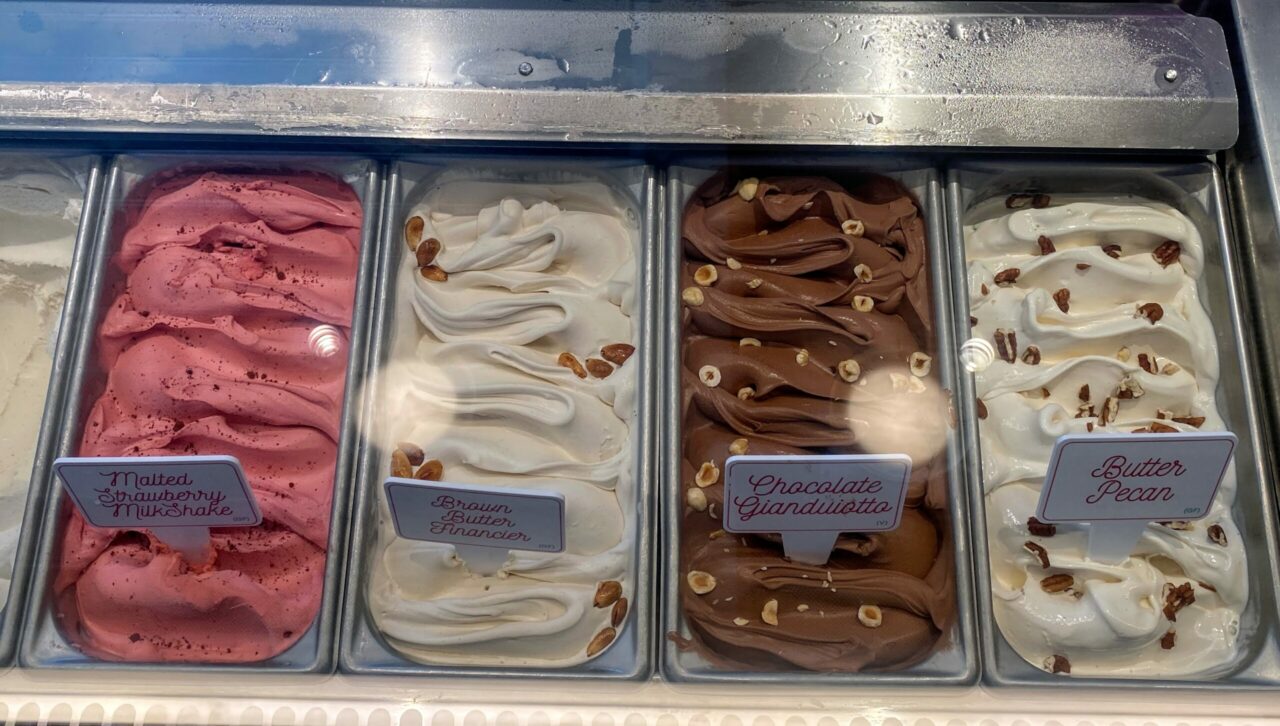 I also got to try some of the pizzas as including a truffle one. The Pizza Place is open until late and has a large outdoor area if you want to want to eat al fresco. I enjoyed the pizzas and there was a good choice of classic and more creative options.
The Sun Club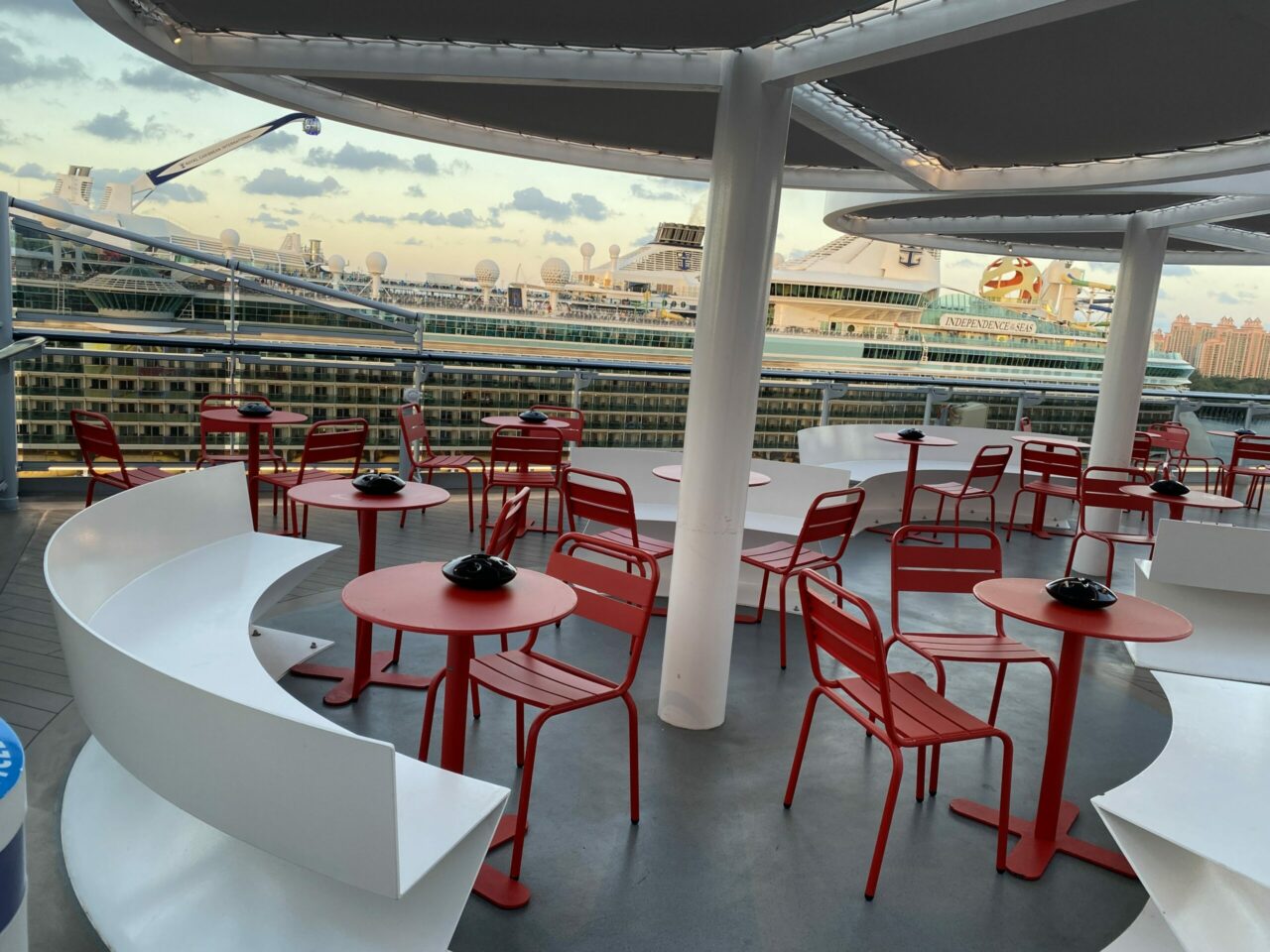 This outdoor space serves Hawaiian bowls with rice or greens.
Red night
In keeping with trying to do cruises in a more modern way, there is no formal night. Instead, there is Red Night where the ship is decorated and special events put on. Guest are invited to wear red, even if it's only your underpants!
The bridge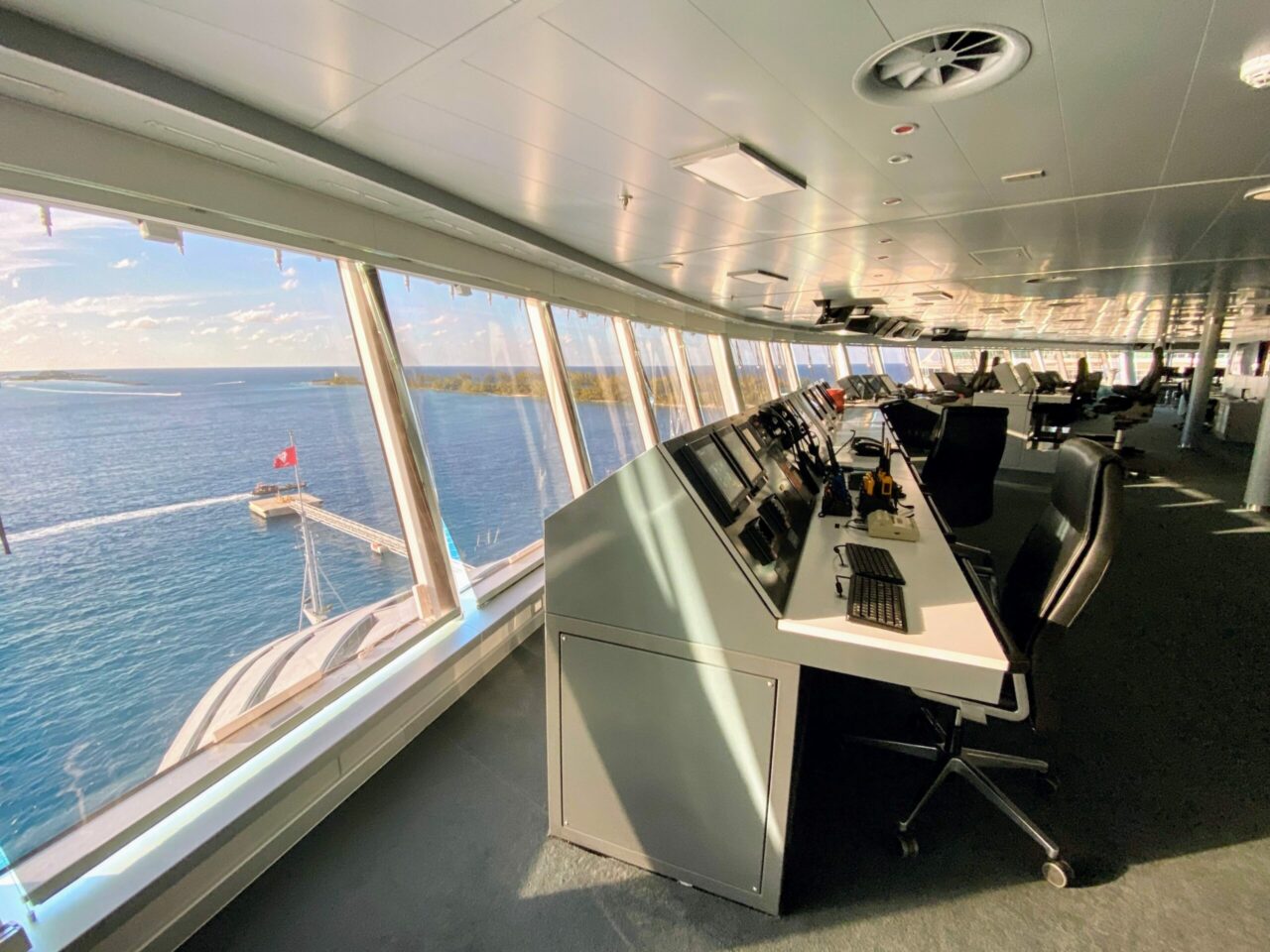 We were lucky enough to be given a tour and a talk by the charming Captain. I couldn't believe how huge the bridge was. It spanned the whole front of the ship and was very high-tech. No big wooden wheels at the helm to be seen here! Instead, it's all done with tiny joysticks – a bit like an Airbus! As they say, it's not the size of it, it's what you do with it that counts!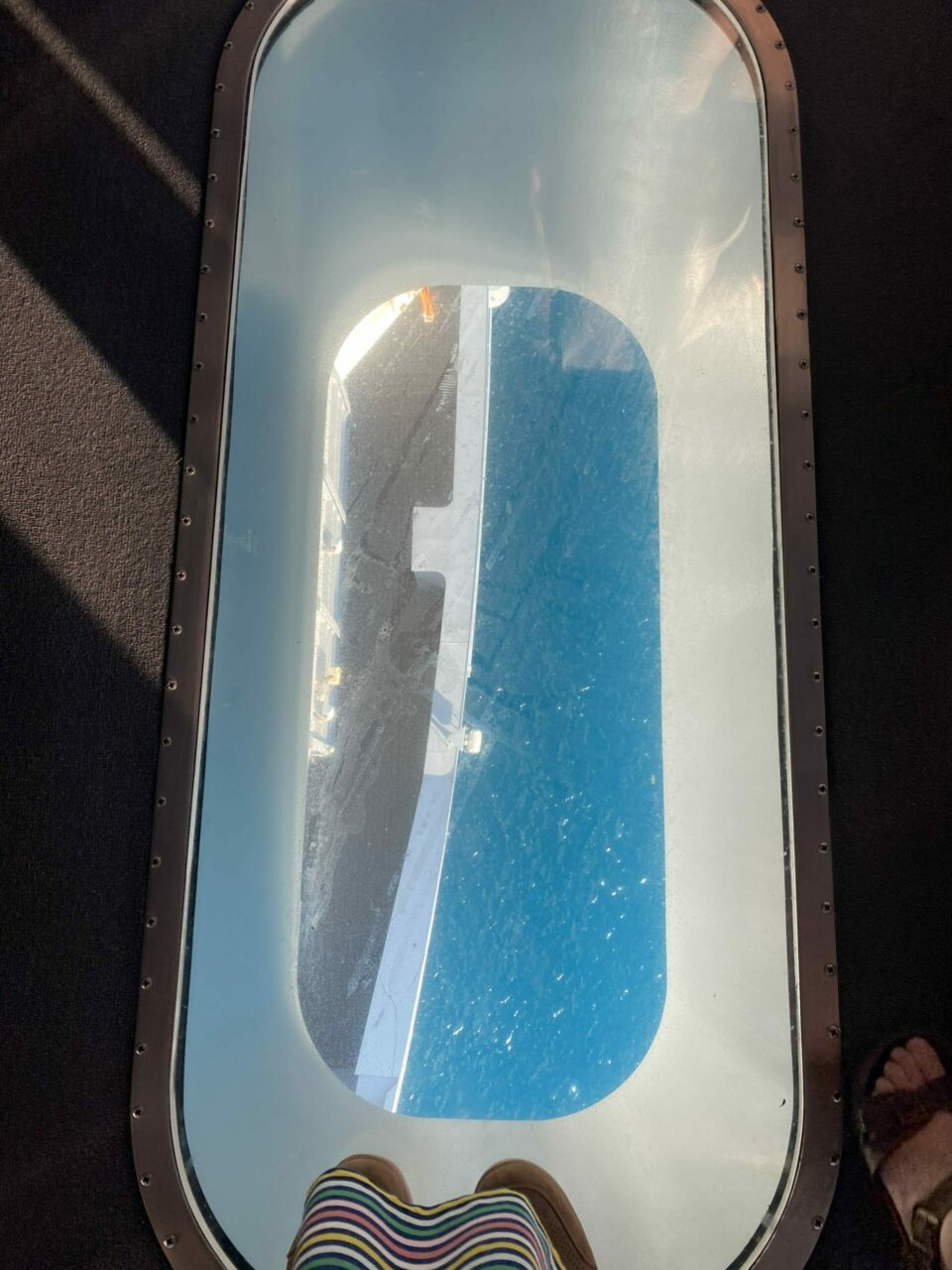 There was also a rather unique feature – a glass floor!
Conclusion 2022 and discounts
It was great to be back on Scarlet Lady again and this time in a more appropriate climate. This is definitely a cruise for those that don't do cruising. Most of the things that annoy people about cruising have gone and been replaced by a modern and luxurious adults-only floating resort.
I really wanted to go on the mini cruises from the UK last summer but couldn't fit it in with other trips. Seeing the ship's outdoor spaces and trying a few more of the more casual eateries was great. The second visit just cemented that I really want to go on a Virgin Voyage cruise, and it seems many of my fellow journalists felt the same!
If you are thinking of booking, there is a good offer currently book any voyage on any ship and get 20% off and $100 on your Bar Tab. Plus an extra 10% off if you book with the Pay in Full Discount program. If you have a no foreign currency charge credit card it's also cheaper in US Dollars than in British Pounds. Prices start around £600 per person sharing a cabin for 4 nights.
You can find more details about prices and booking here.
Inaugural Virgin Voyages Scarlet Lady one night visit 2020
As you will know as a regular reader I rarely write about cruises. There are so many other blogs specialised in this area, it doesn't seem worth it. But with Virgin Voyages having the tie-up with Virgin Atlantic and the possibility to earn miles in the future on cruises, it seemed worth it. I had also seen many pictures and press releases about it, and I'll be honest it sounded fantastic. 20 restaurants, bars with modern cocktails and an app to get champagne delivered anywhere on the ship – I'm in! Even better it's adults-only, so 18+. No screaming kids dive-bombing the pool!
Note: TLFL were guests of Virgin Voyages at the press event.
Boarding

This was a media trip with a slightly different boarding process to usual, so I won't go into too much detail.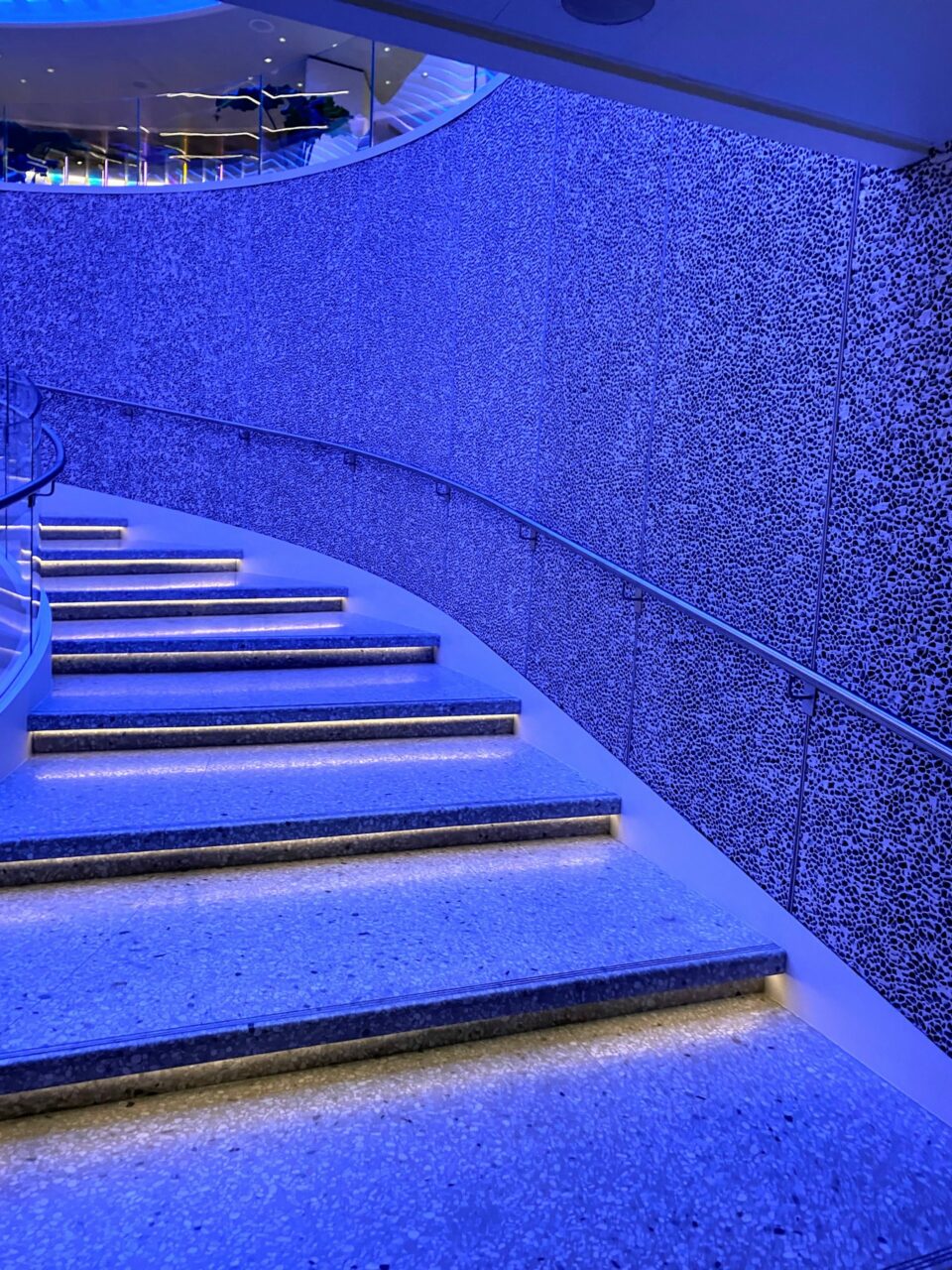 Usually, you will be given a very nice looking bracelet – nothing like a usual cruise or all-inclusive plastic bracelet. The Band is a sleek wearable technology bracelet made from recycled ocean plastic. You could almost wear this as jewellery.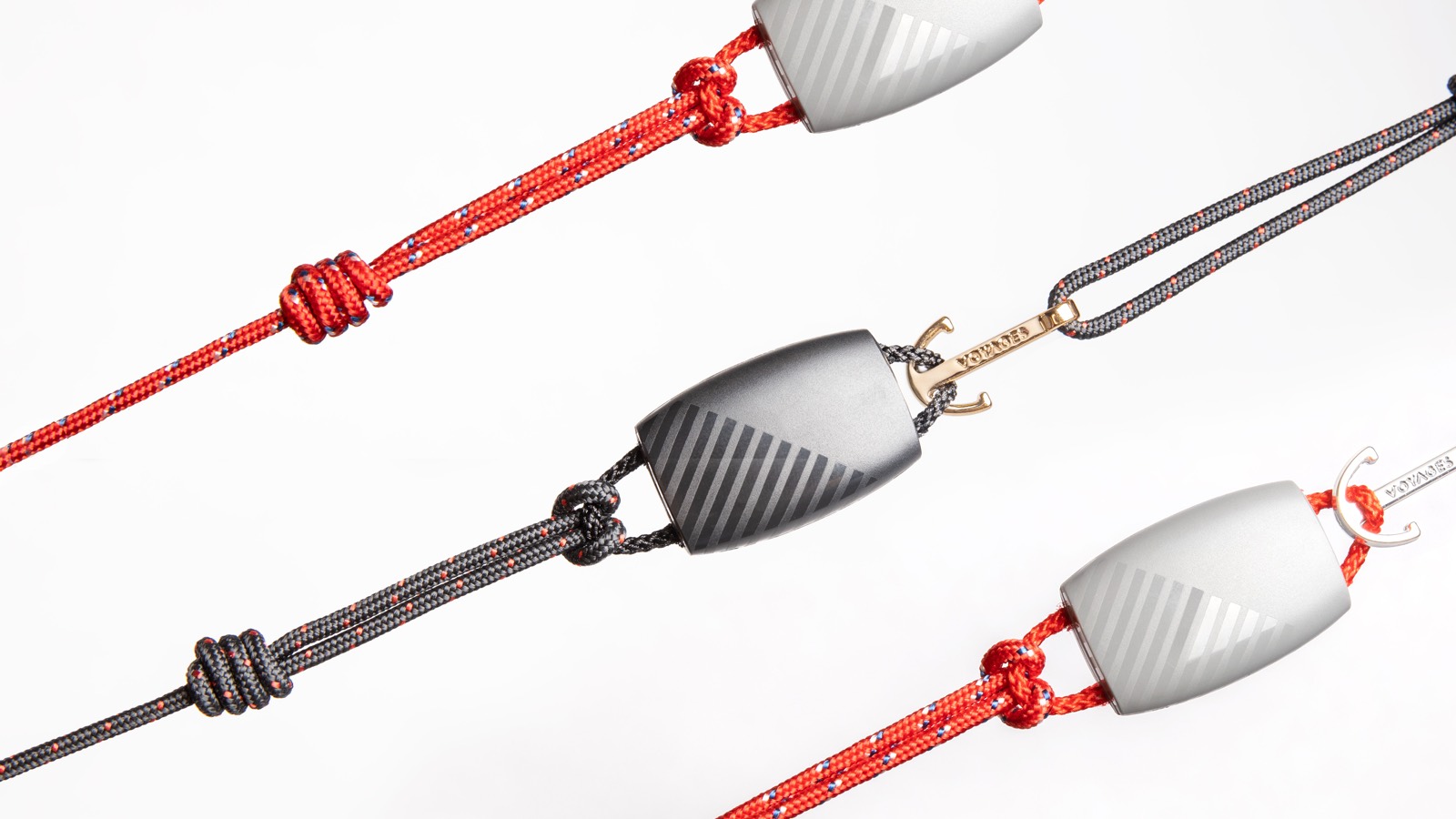 This allows you :
Access your cabins, serving as a room key
Board the ship
Pinpoint location for delivery of Shake for Champagne
Make onboard purchases and pay for the drinks tab
Game at the casino
VIP pass for Suite Sailors to enter Richard's Rooftop
Unlike many cruises, all dining experiences, group workout classes, basic beverages (soft drinks, coffee and water), gratuities and Wi-Fi are
included in the base cruise fare, regardless of room category.
I did not need a bracelet on this trip and collected my keys to my cabin before boarding. I took a quick look at the guest services area where you go to sort out bills and any issues. As expected it was modern, fun and with a lot of red.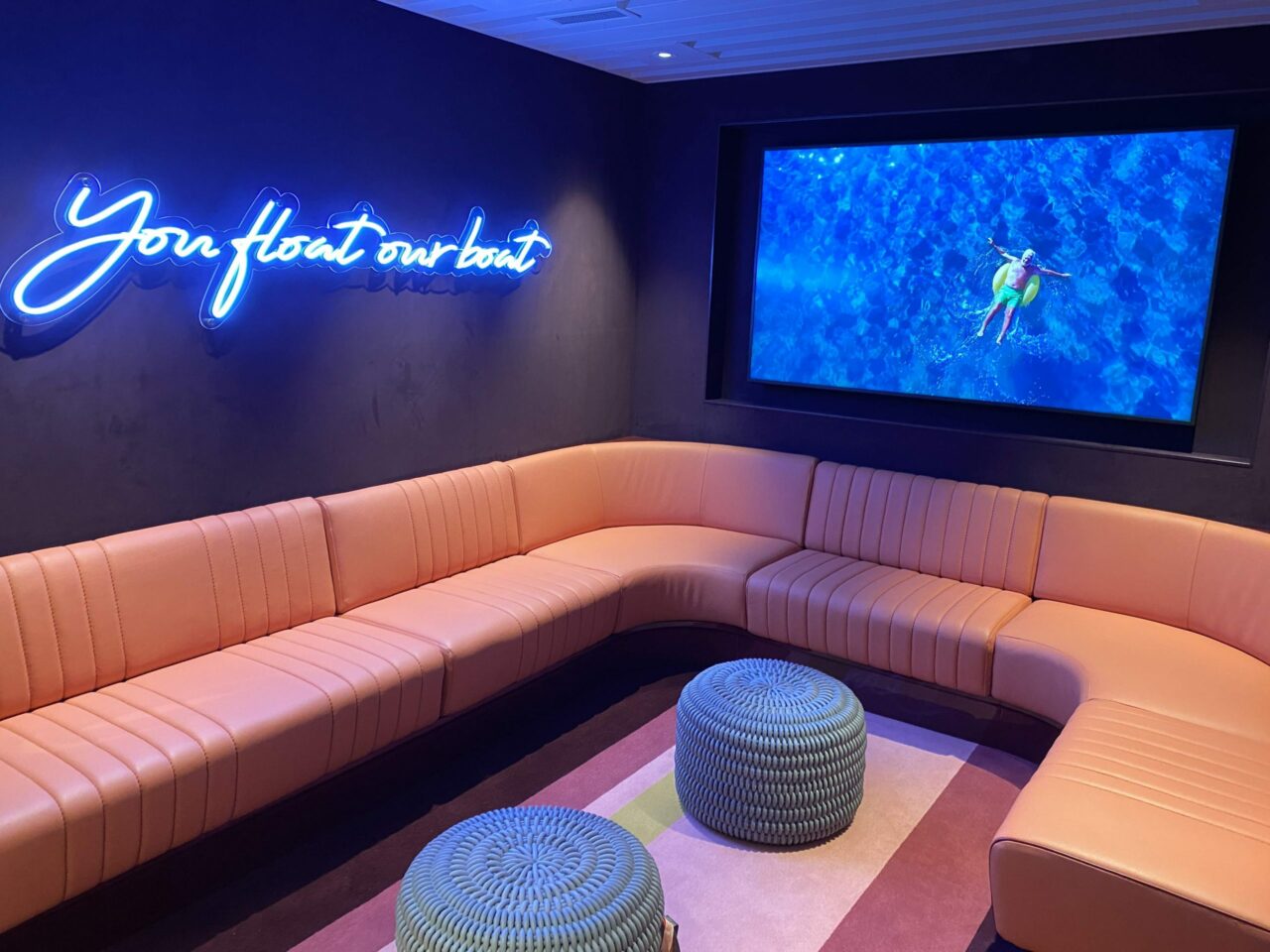 Cabin
I had a Central Sea Terrace category room. The room opened with a touch of the key just like a hotel room. The cabin was the only thing I could really criticise with the Scarlet Lady. For a basic outside cabin, it actually felt a decent size. Below this category is an outside room with a porthole and an inside room which are both smaller. As you walk in you will see the room seems to be missing something important – a bed! In typical Virgin innovation fashion, they have designed the cabins to be convertible. In the daytime, there is a large sofa area. Magically, when you return to your cabin at night you find it transformed into a bed.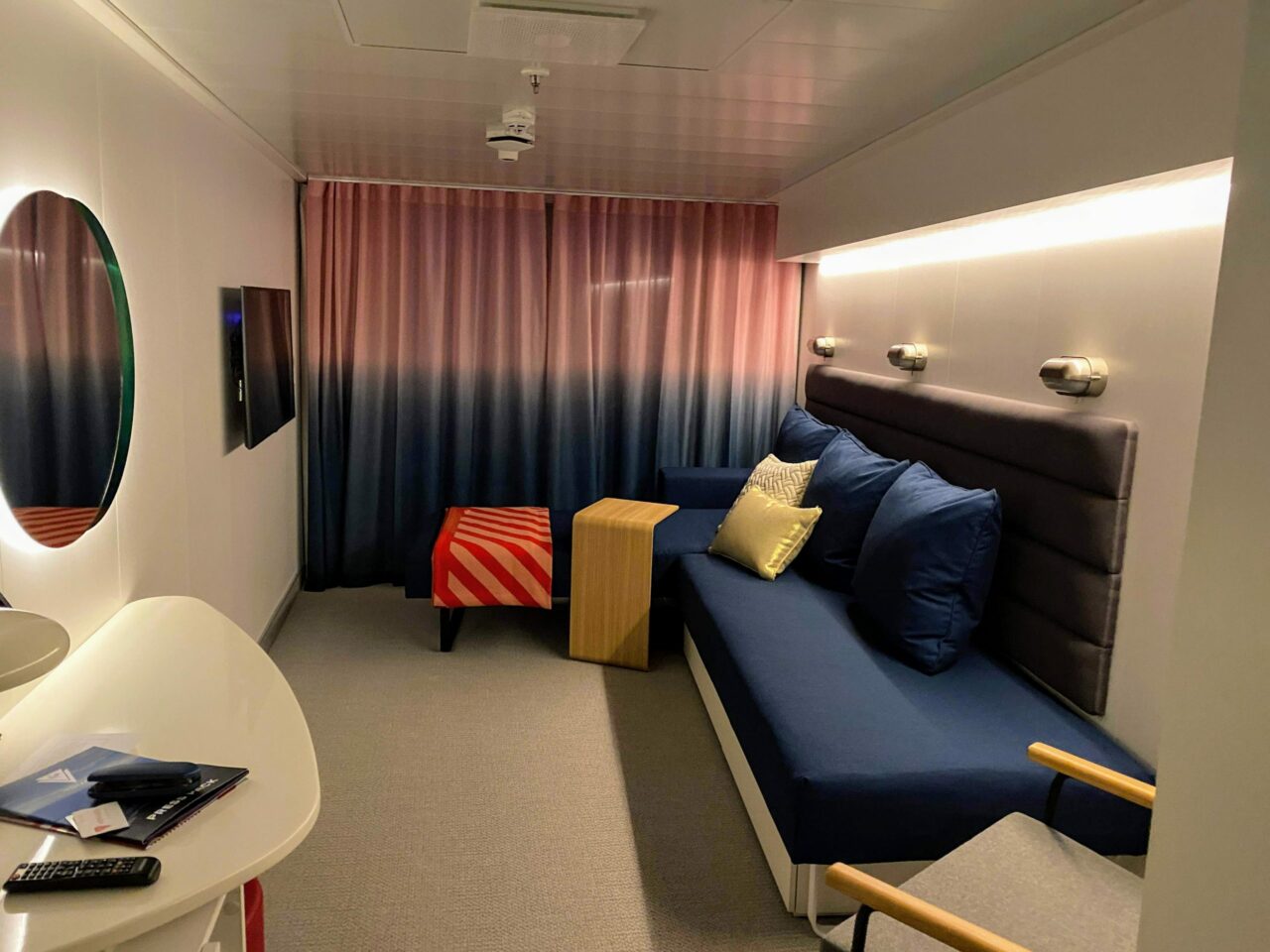 The decor was not to my personal taste and felt a bit 'Ikea' in the colour scheme and furniture. But as I always say, the most important thing is that it is quiet and comfortable. And it was. The bed was very comfortable and a good size for a cruise ship. With it being converted from a sofa, there was one side of the bed without a socket close by, although you may just be able to stretch your phone charger to within reaching distance. There were also no proper side tables, although there was an overbed table which would be OK for use in the morning.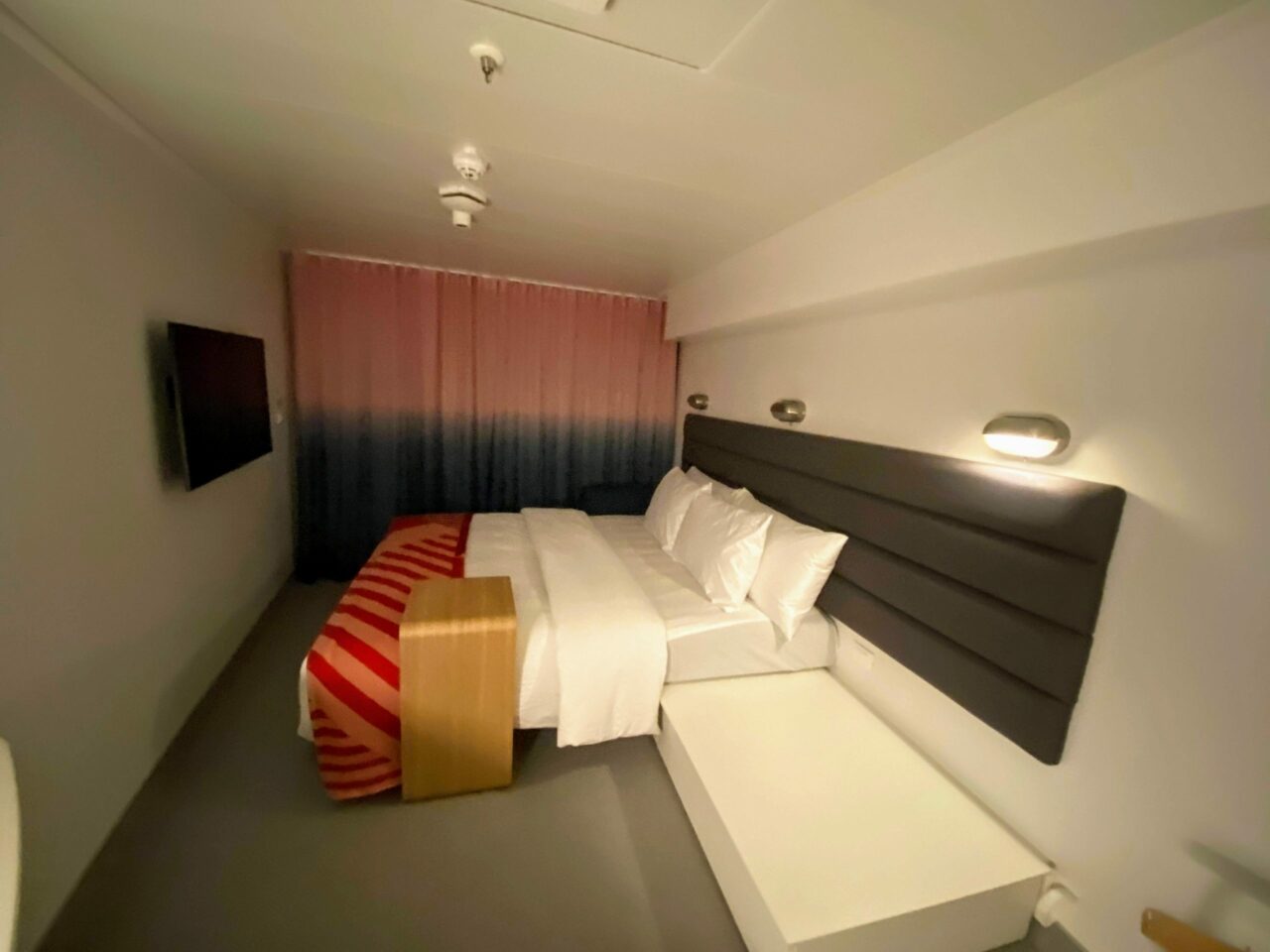 The cabin was well equipped with electronics as you could control your curtains from the bed. I love it when I can stay in bed and open the curtains to an ocean view! There was an iPad in the room that will eventually be able to access lots of different features such as temperature, curtains, casting movies to the TV and ordering room service etc, but it wasn't fully functional when I was on board.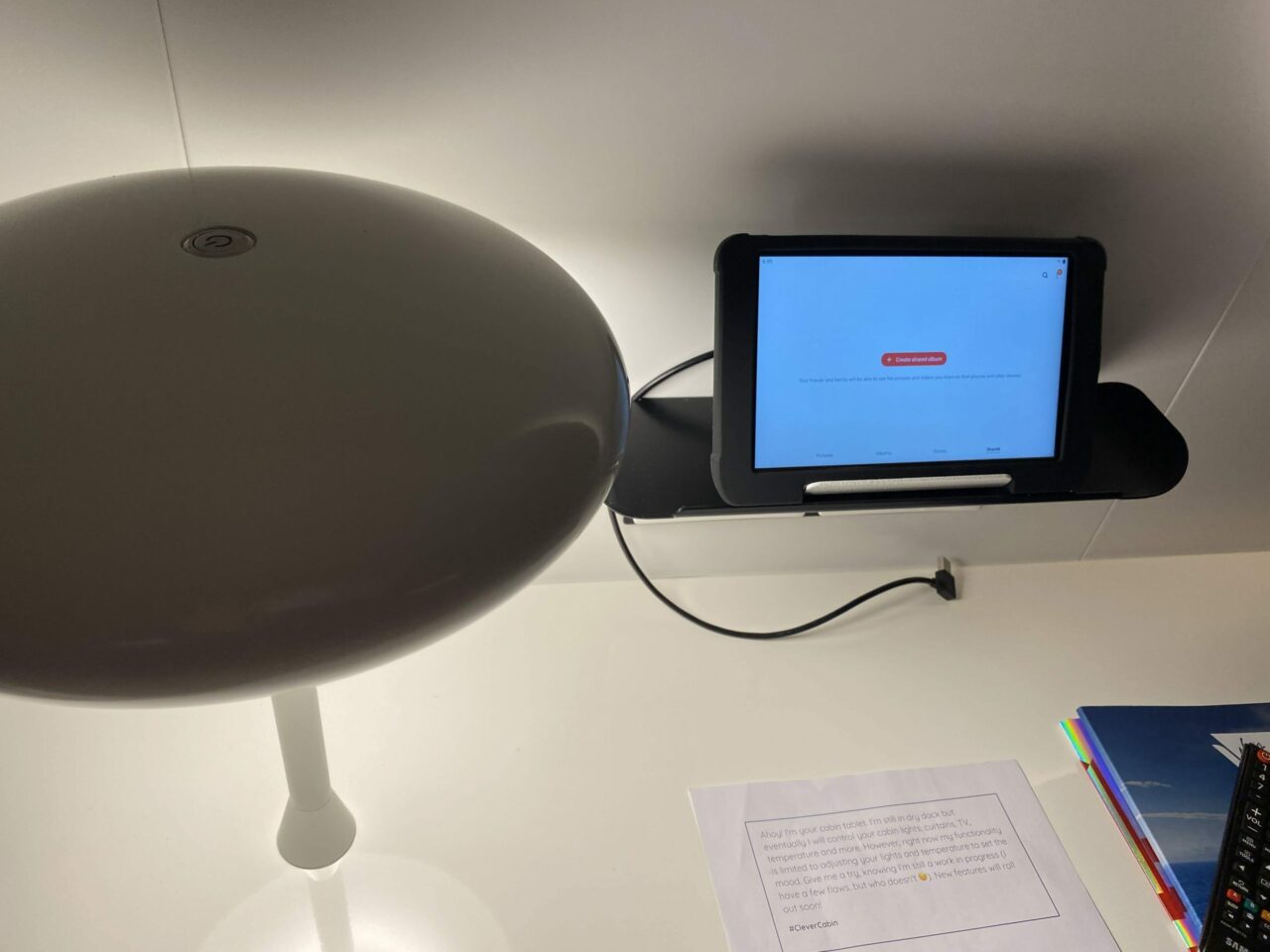 I didn't see any bathrobes but this may have been because it was only a media event rather than a proper cruise. There was a fridge and a safe but the open wardrobe looked a bit cheap to me and was a little on the small side for a week-long cruise.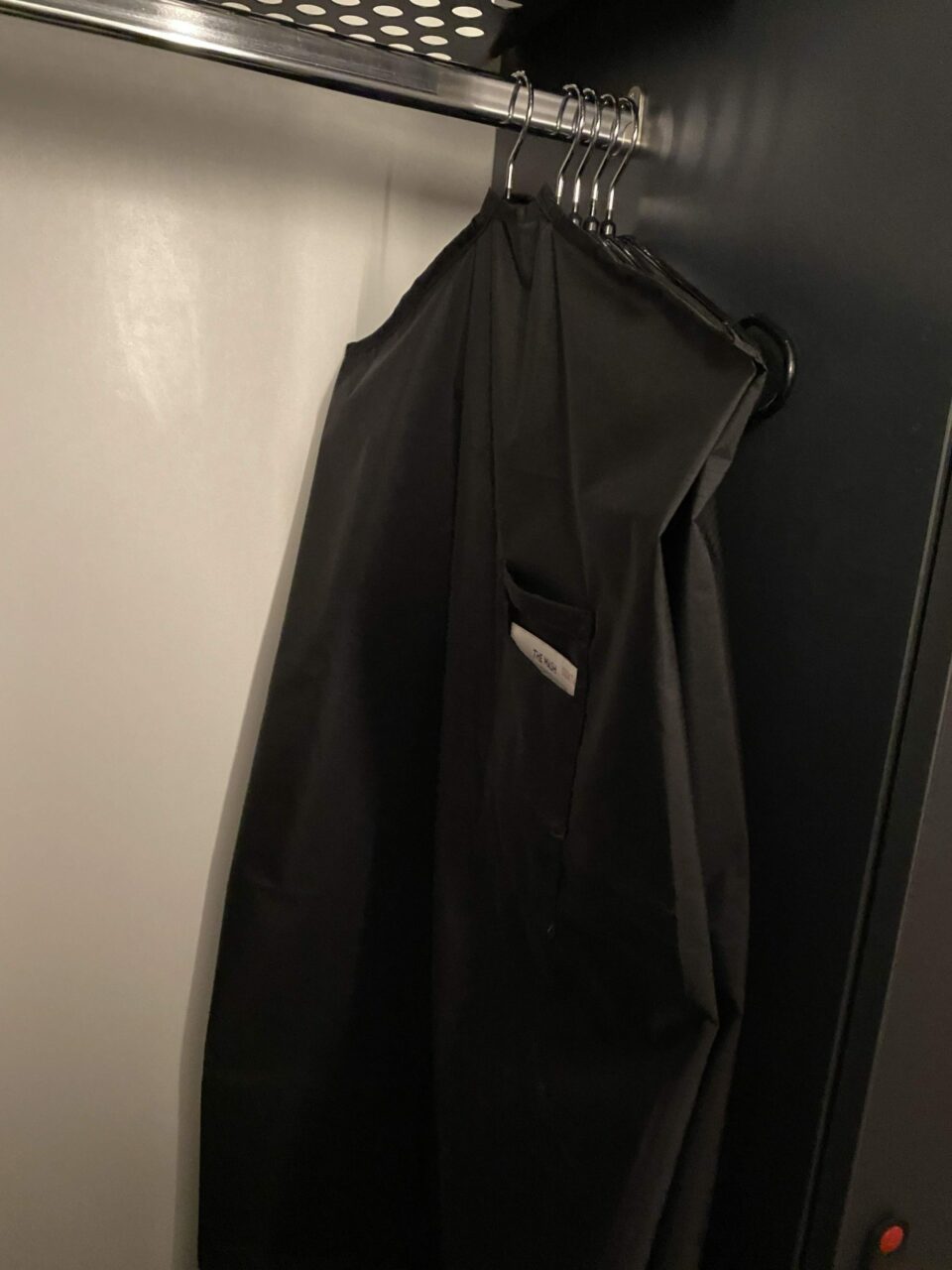 Outside was a table and chairs on the balcony but I loved the hammock chair. Though I could see it causing a few arguments about who gets to use it!
The bathroom was a bit on the compact side for me and I feel they could have used a bit of the room space to give you a larger area. However, with a decent size mirror and sockets by the desk, you could use this as your make-up and hair station rather than the bathroom.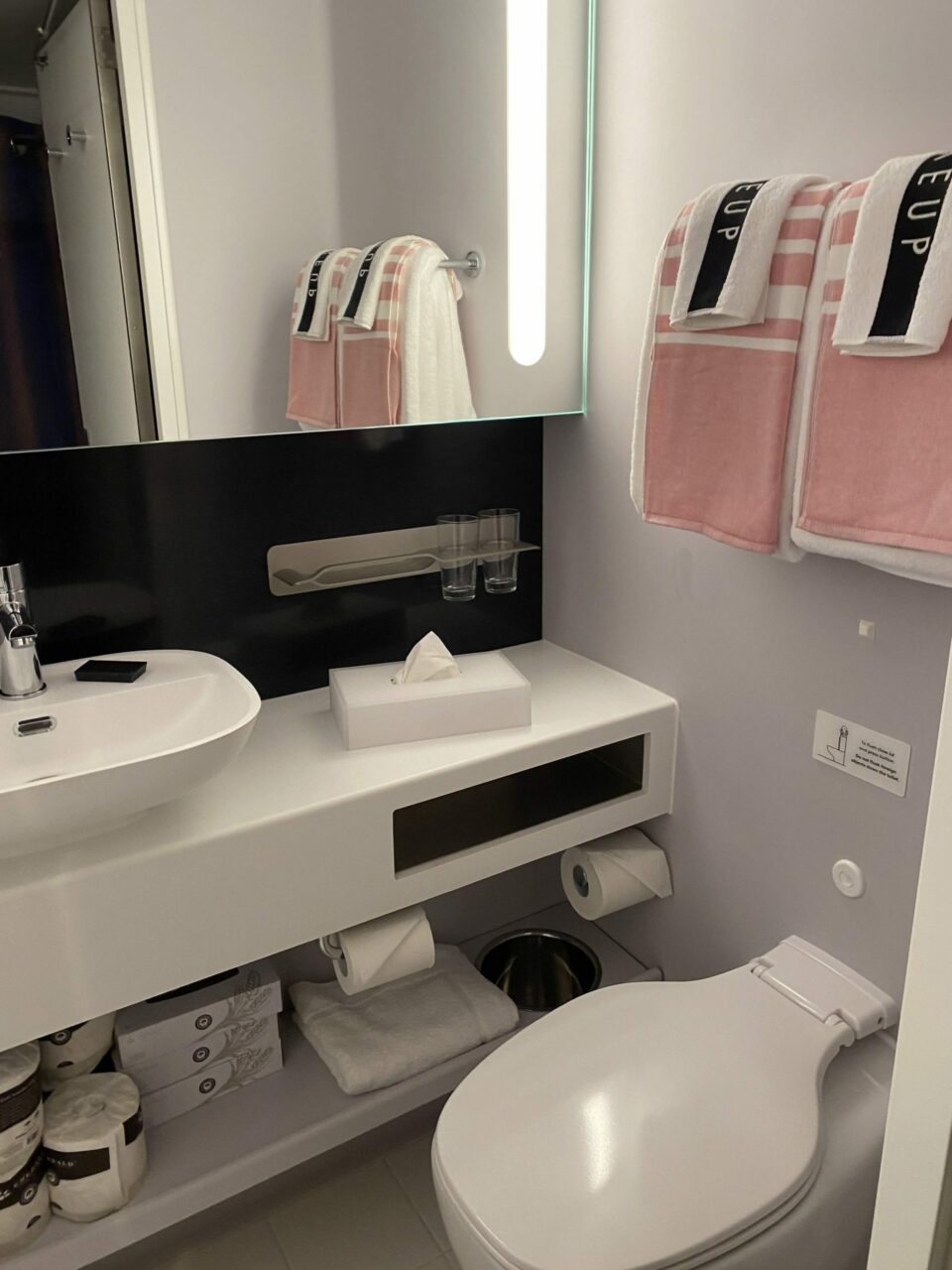 The shower was actually a decent size and was stocked with full size 'Red flower' toiletries rather than mini bottles. There was no body lotion to be seen but again, this could be due to the fact it was not a real voyage.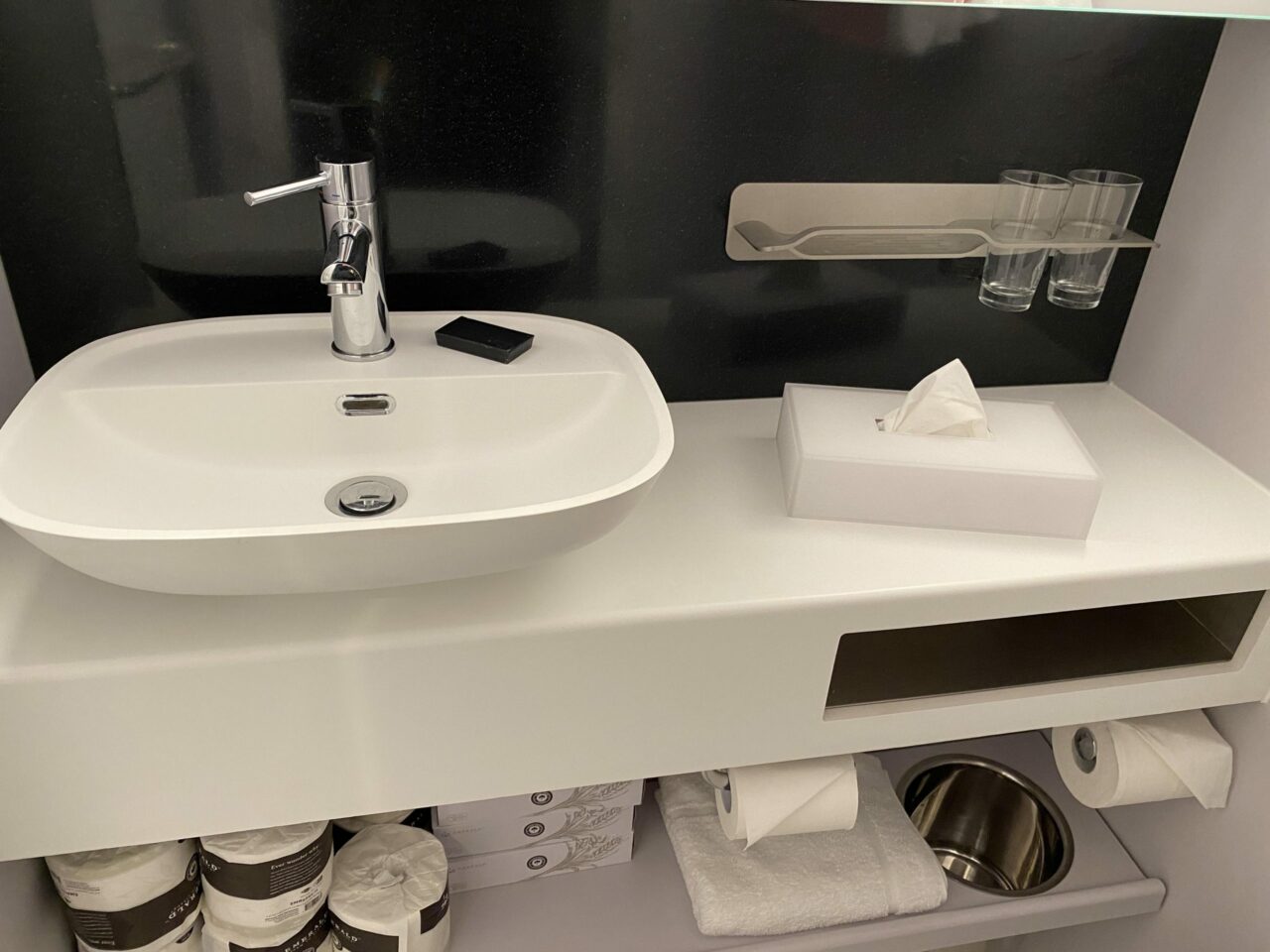 One thing they did well was the lighting in the bathroom which was very bright – although not so good the morning after! I do feel they could have added a built-in shaving mirror though. Even providing one on the desk would be handy.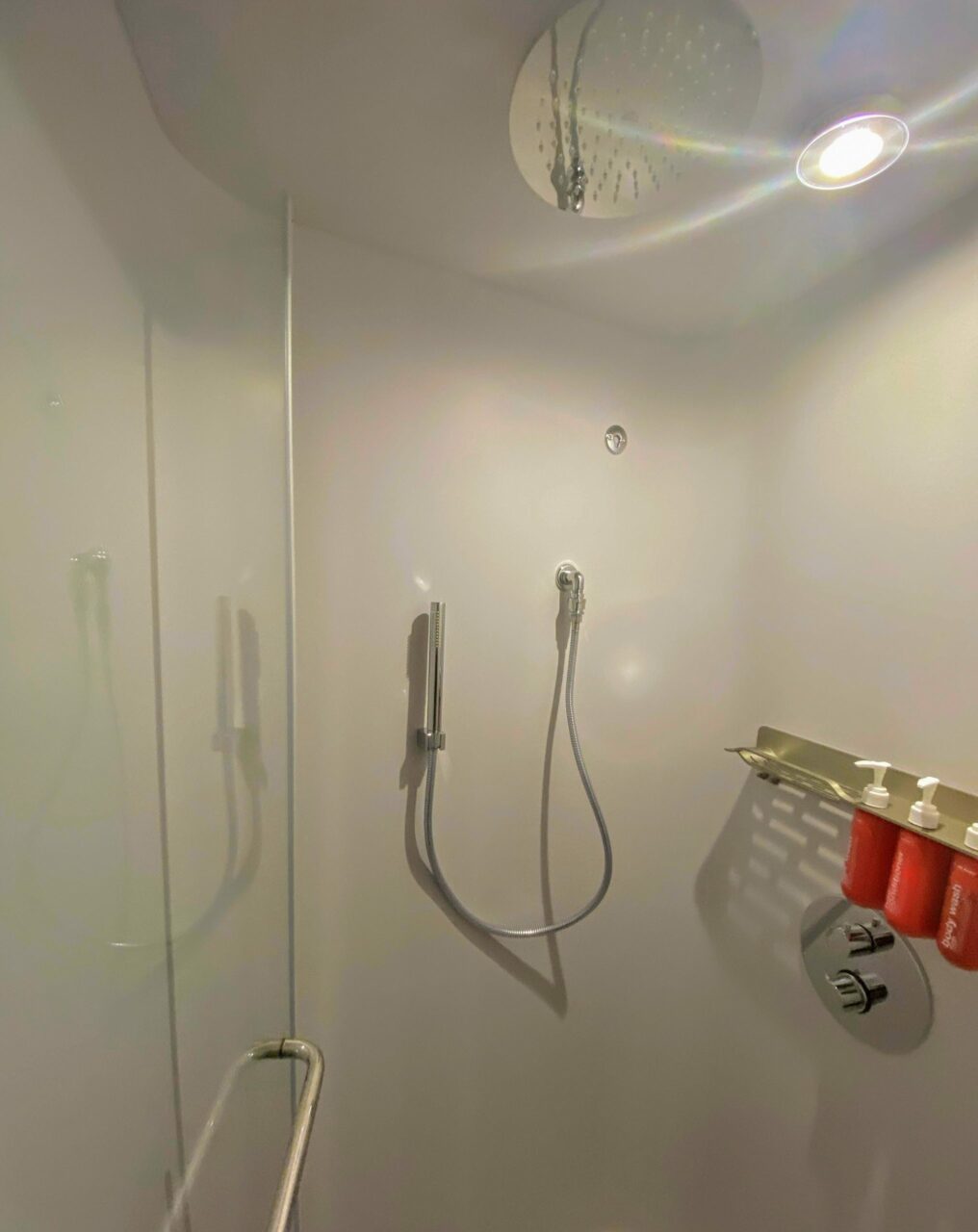 Mega Rock Star Suites

If you fancy splashing out on a suite, the Mega Rock Suites were truly impressive. I had a tour around the Massive Suite and was green with envy compared to my cabin! There was a peek-a-boo window into the shower (slighty pervy!) and a fantastic large soaking bath.
The marble bathroom felt very luxurious and spacious.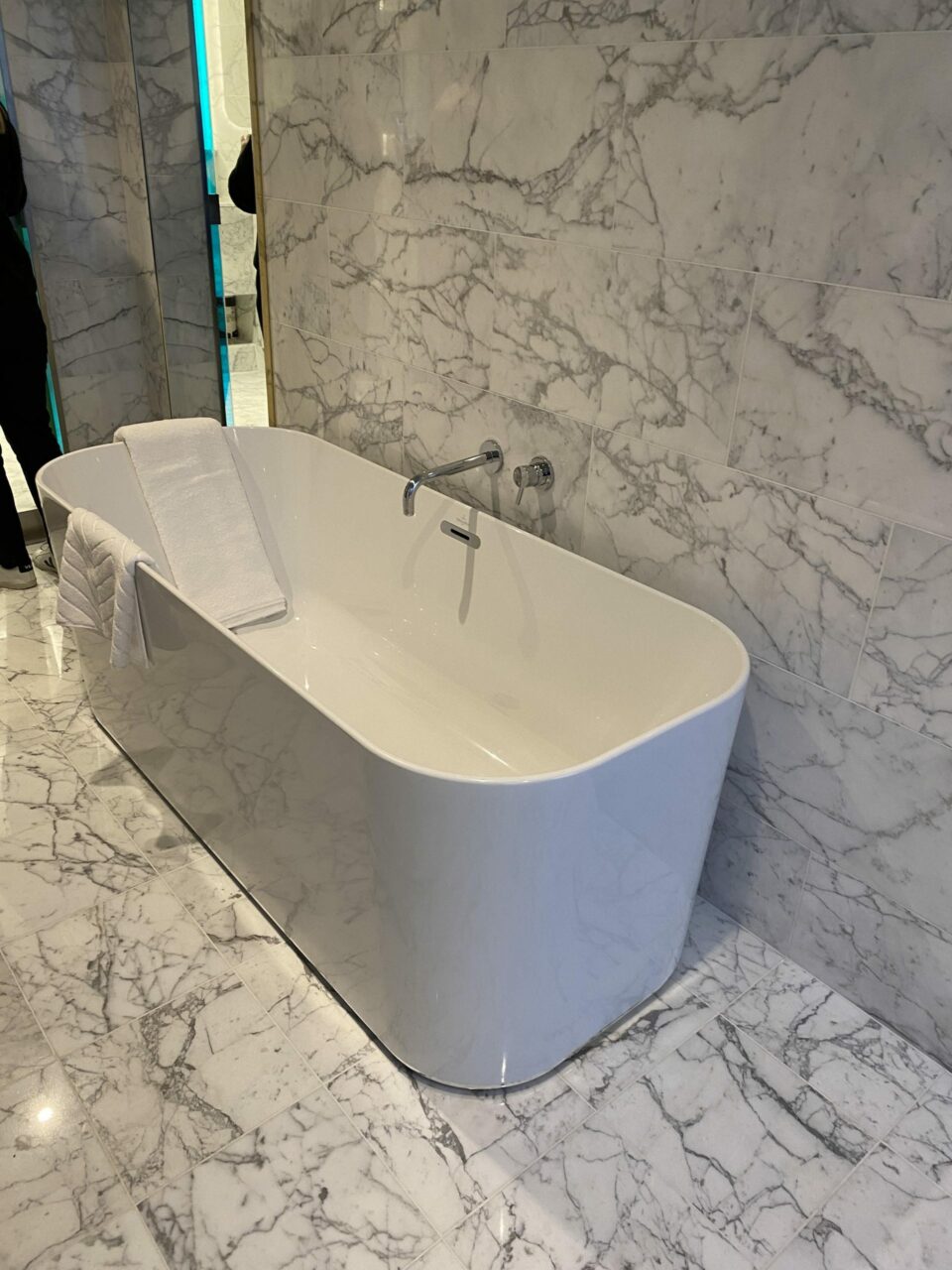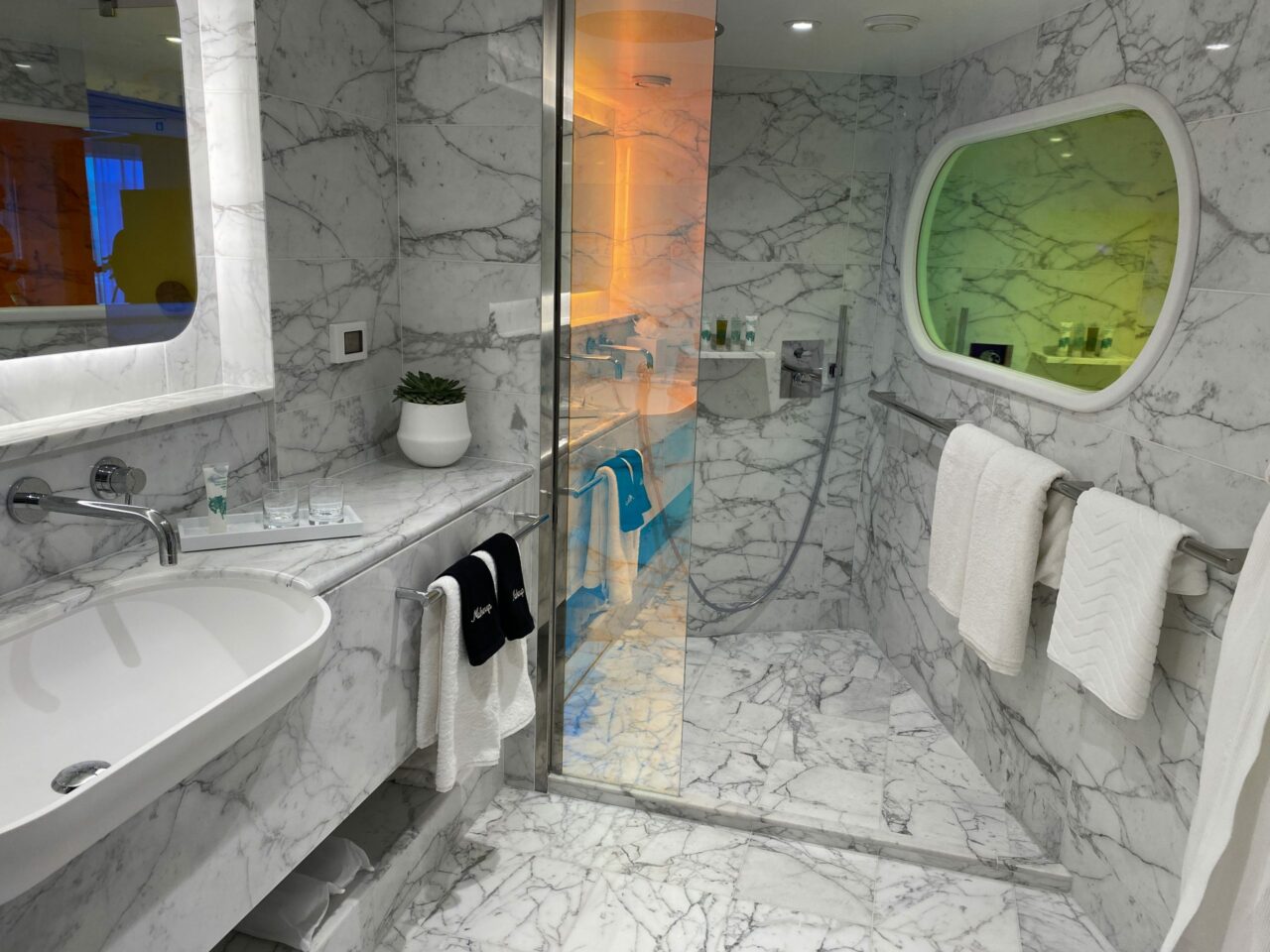 Outside was a private hot tub and an outdoor shower.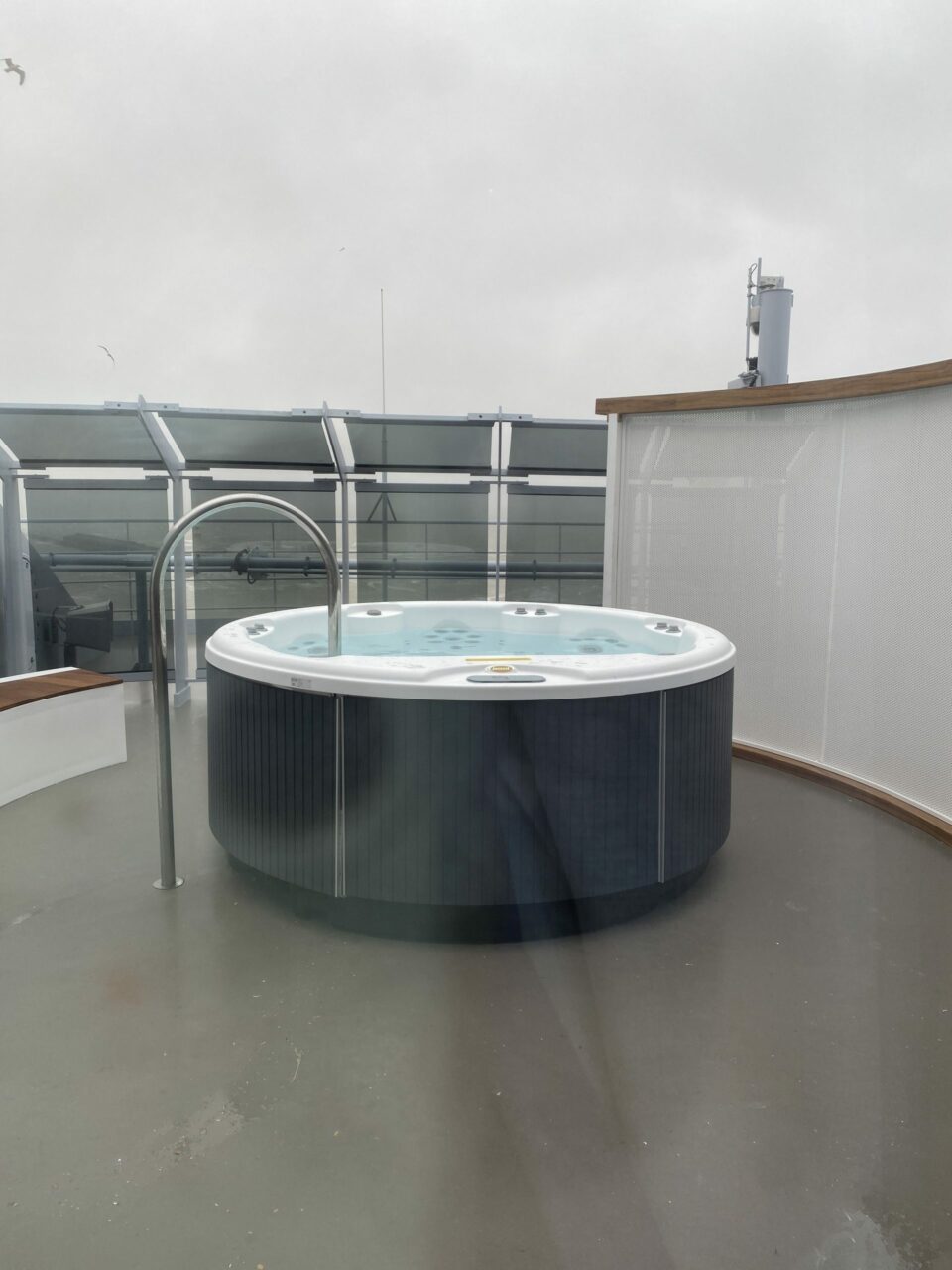 As well as the bedroom and lounge area, there was also a music room with electric guitars and an amplifier. This can double up as a second bedroom.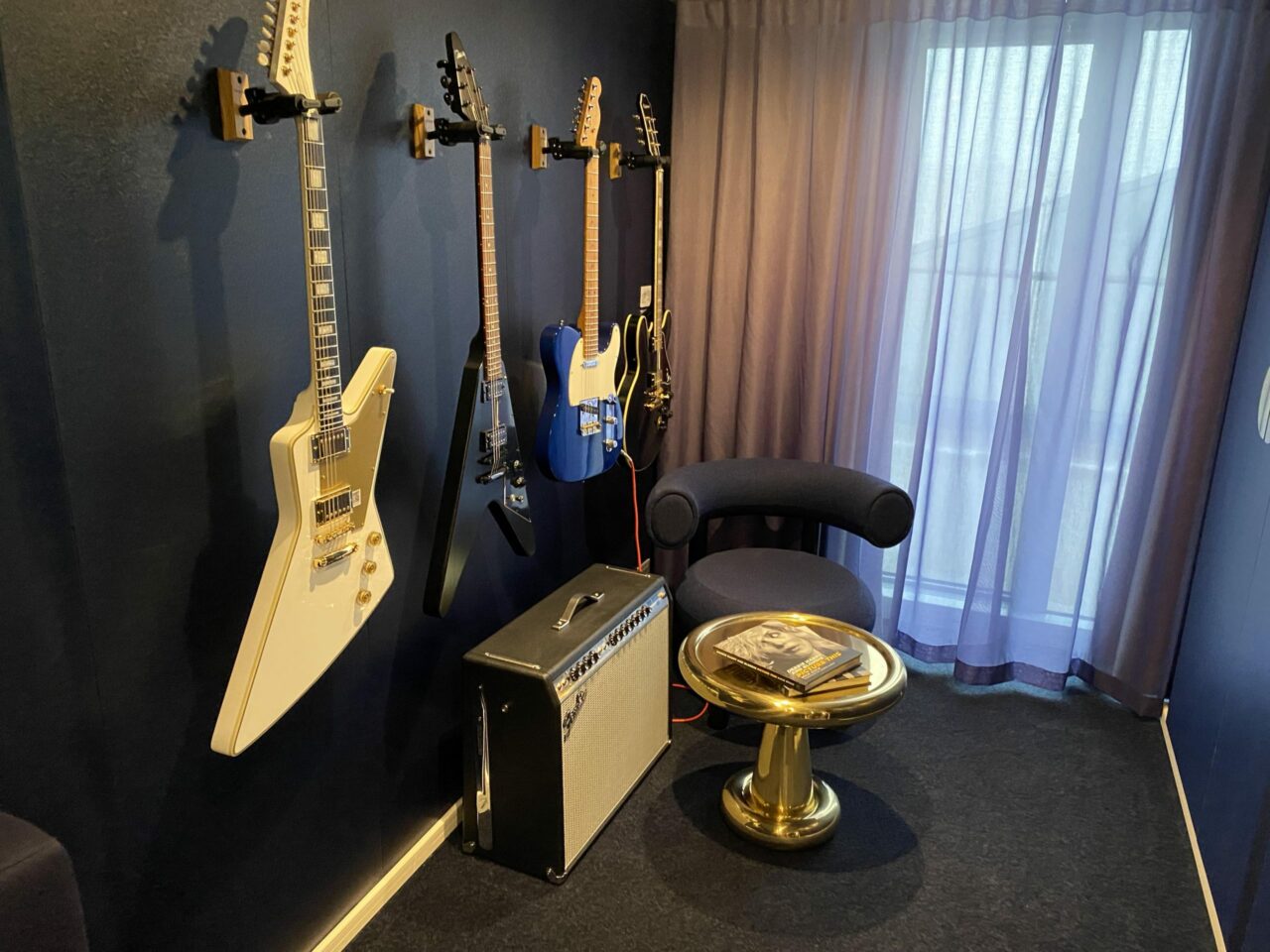 The suites come with quite a few extras such as
free drinks and bottles of wine
personalised bottomless bar in the suite
complimentary access to the spa daily
hair and make up squad
So if you can stretch to it, they are well worth splashing out on!
Restaurants
This is definitely an area Virgin Voyages excelled in. No formal seating in a massive restaurant, no buffets, no being stuck with people you don't like at the same table all cruise. I remember doing a 10 day Caribbean cruise once which shall we say, had a clientele of the more mature variety. At the table we were assigned it was like God's waiting room. There was one guy I was worried wouldn't make it through dinner, let alone the end of the cruise!
There is a focus on experiential dining, where you can choose from 20+ eateries, including vegetarian-forward cuisine (Razzle Dazzle), experiential creations (Test Kitchen) and concepts by world-class chefs like the Michelin Starred Brad Farmerie (of PUBLIC in NYC) and Sohui Kim (of Insa in Brooklyn.) Others include, Mexican, Vegetarian and a more romantic steak restaurant.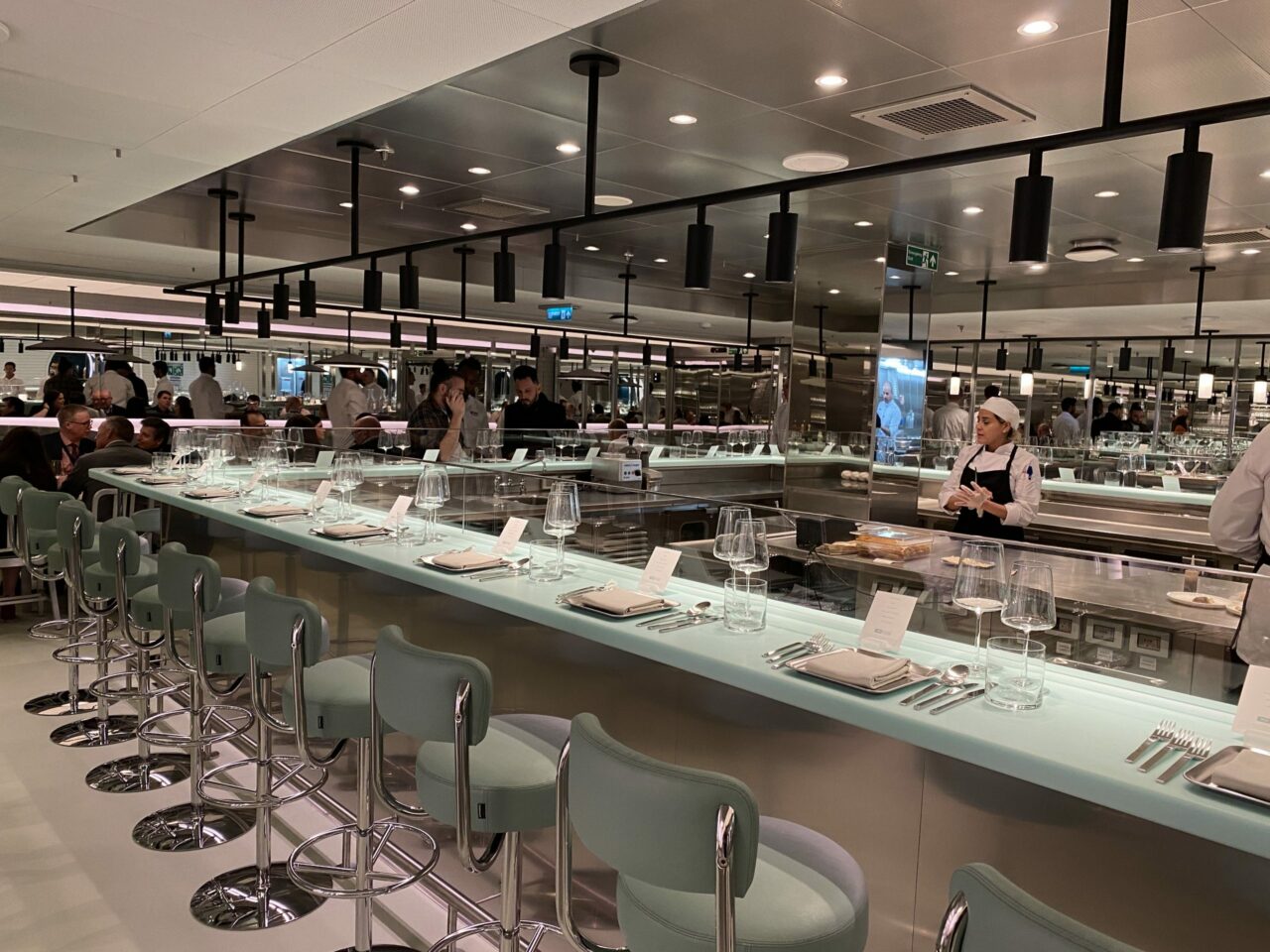 I ate in the Test Kitchen which sounds like it was one of the best onboard from chatting to others. This to me was a Michelin star type restaurant with a relaxed feel but a lovely setting. There's a choice of table or bar seating and it's all quite sociable if you want to be. I enjoyed the bar seating watching the chefs work.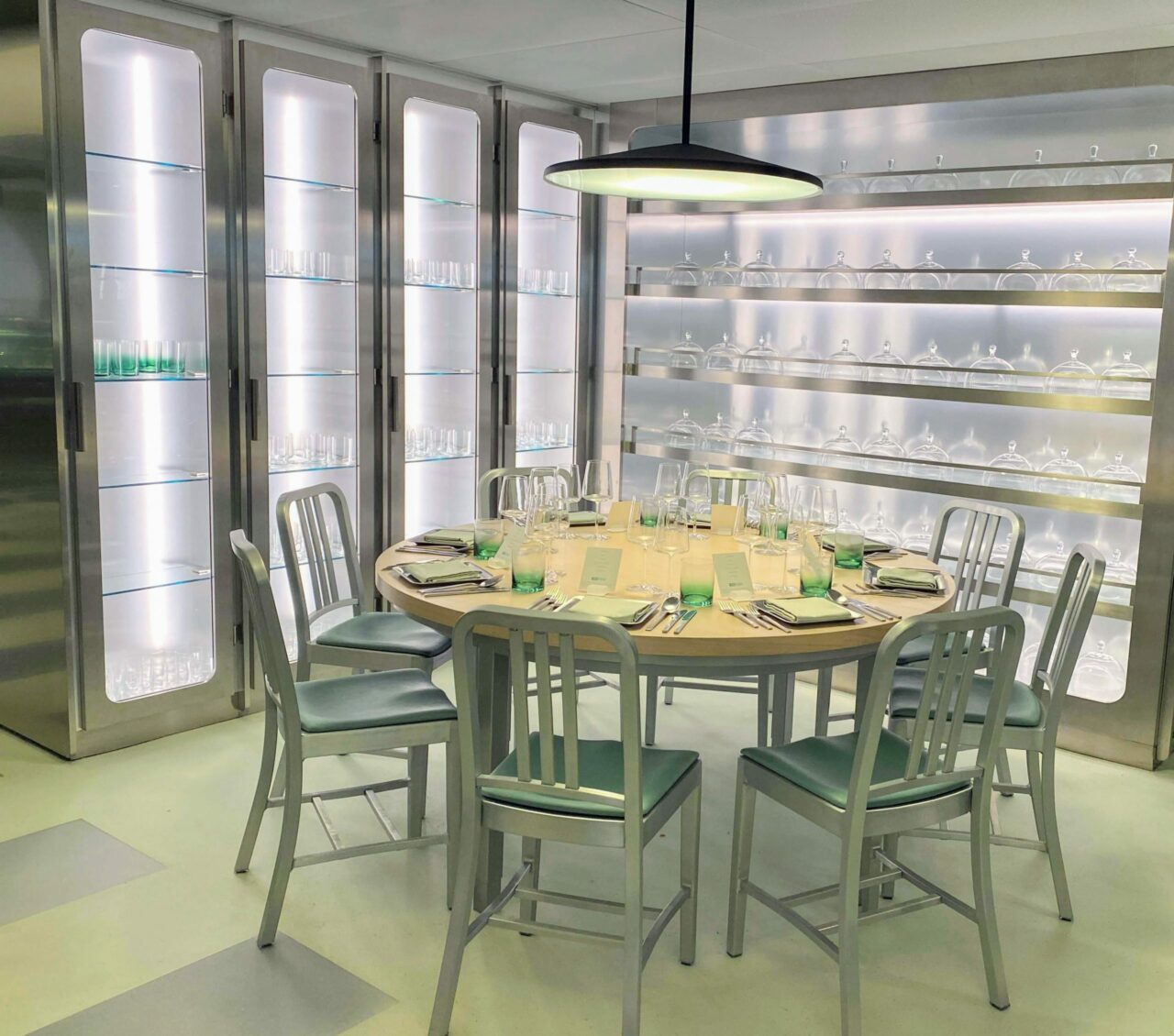 There was a set 5 course menu as follows: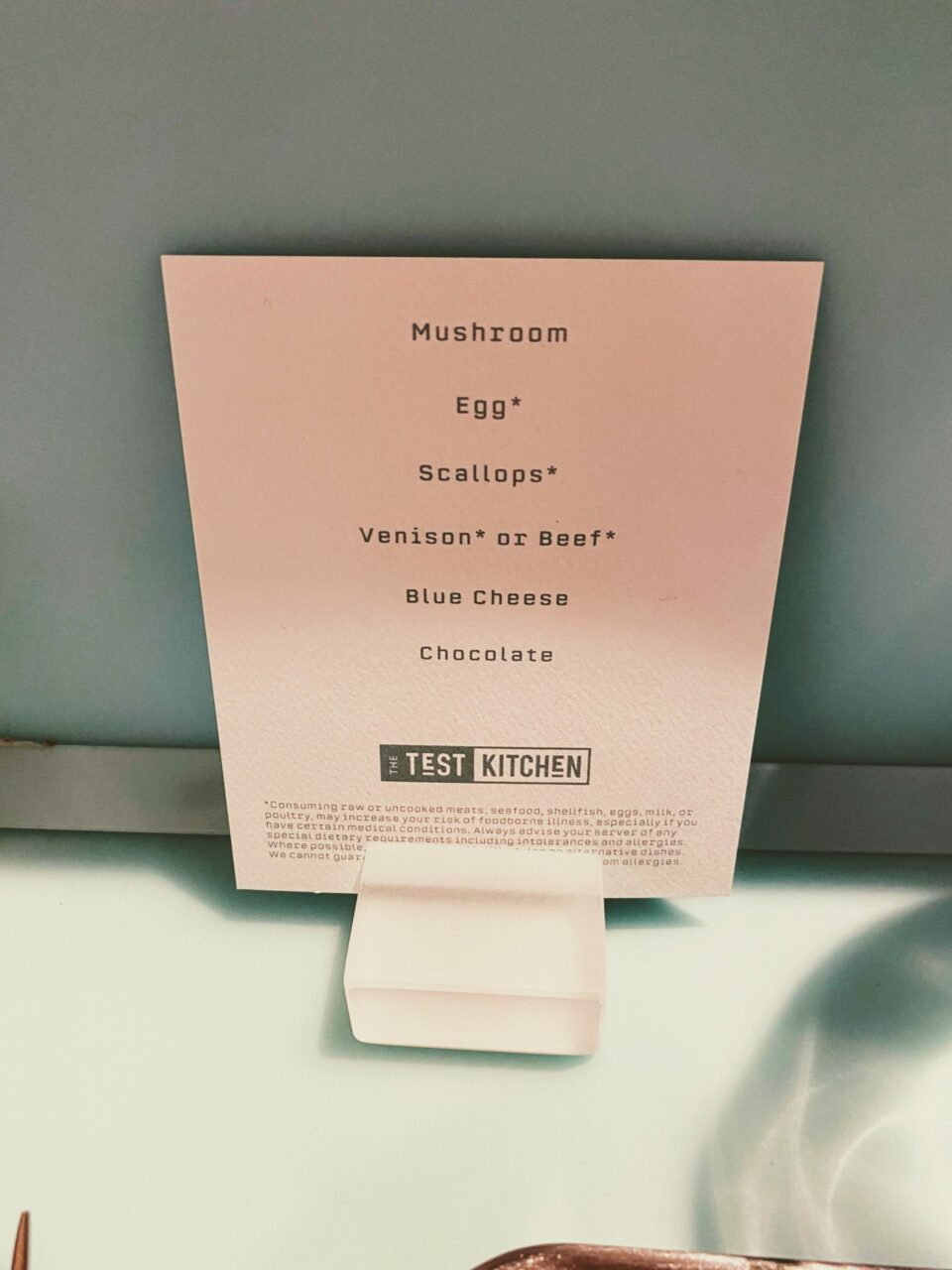 The first course set the tone well and was not something I had seen before. It was a paté designed to look like a mushroom. And it did! It had a lovely rich earthy flavour of mushroom and was as silky smooth as foie gras. The toast served with it gave it a nice crunch of texture.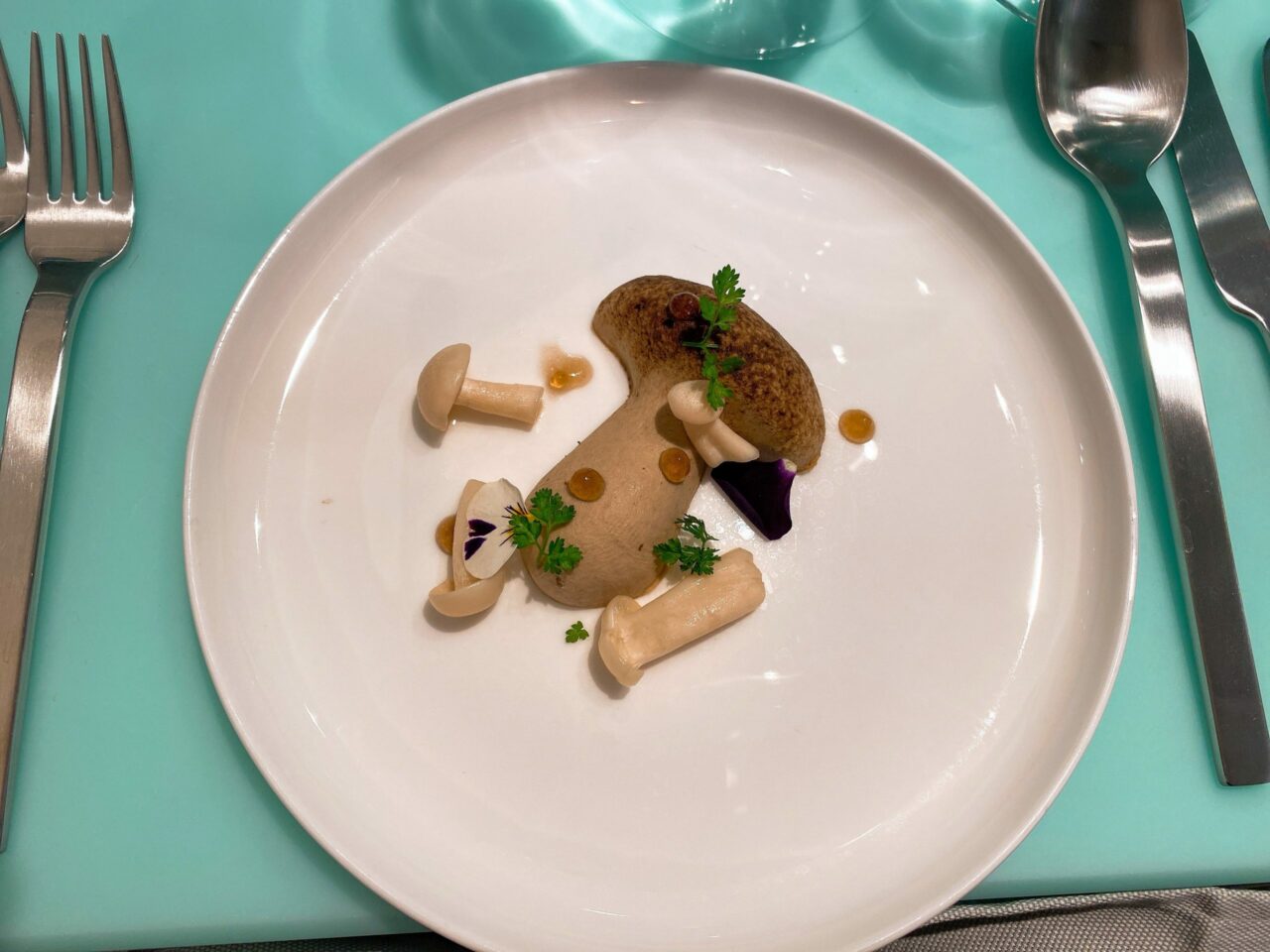 The next course was my least favourite but had potential. It had indulgent caviar and fresh peas with a sous-vide egg yolk, but sadly it was served rather cold instead of the luke warm it should be. Even then I am still not convinced, as for me runny egg yolk needs to be warm/hot but obviously this would not work with the caviar. Some crispy pancetta may have been a better alternative. It did look beautiful though.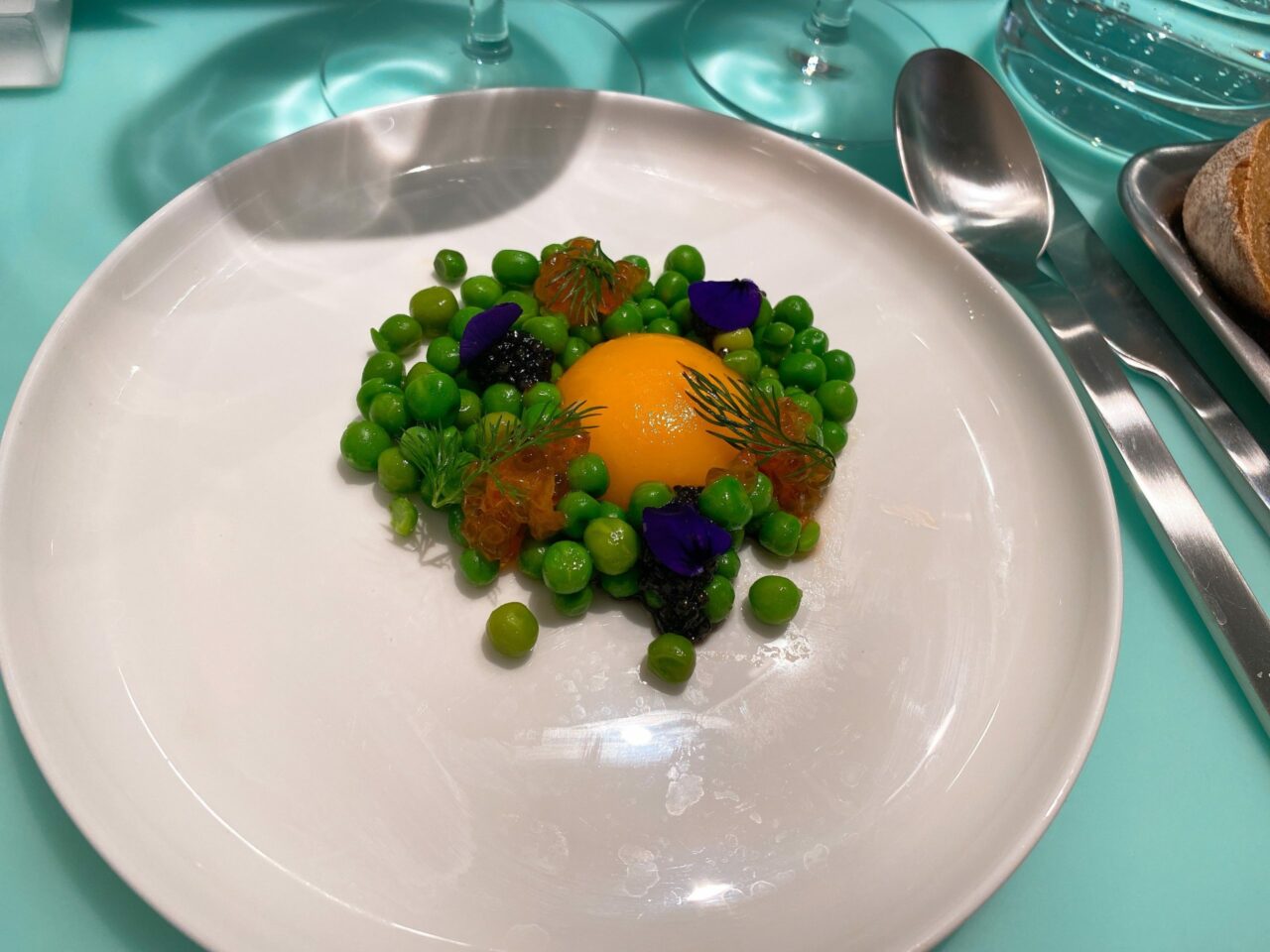 I loved the scallop course. They were perfectly cooked and the smoky pancetta worked well with their sweetness as well as adding texture. A light chicken broth was poured on at the table and gave a lightness to the dish.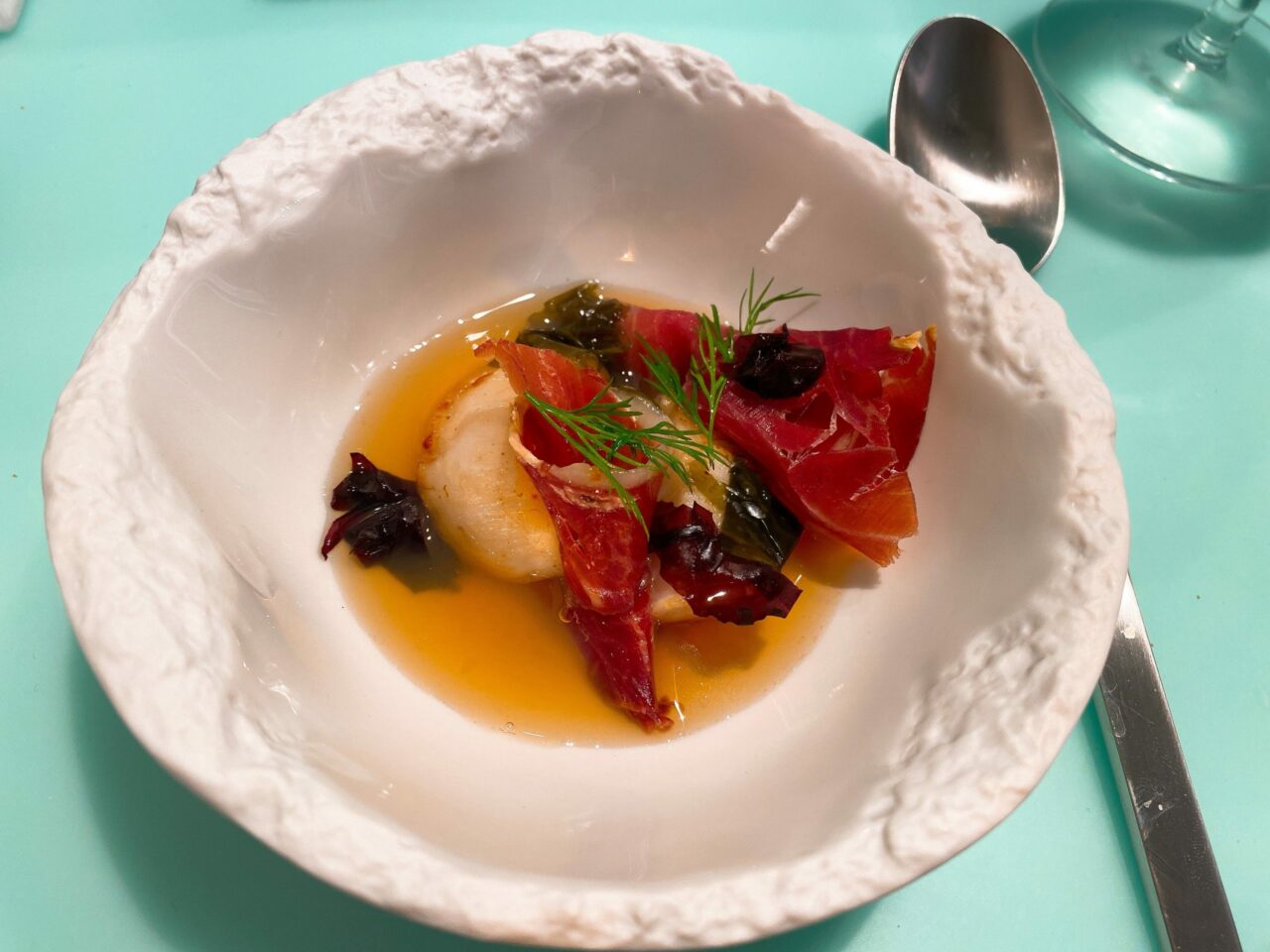 There was a choice of beef or venison for the main but both appeared to be the same dish. Given that it turned out to be a chocolate jus, I should have chosen the venison which is perfectly matched to this. The beef was still great though. The presentation was wonderful with a splash of the beetroot vibrant red across the plate like a Jackson Pollock painting. The beef fillet was perfectly cooked rare and very tender. This was not like any cruise ship food I have ever experienced!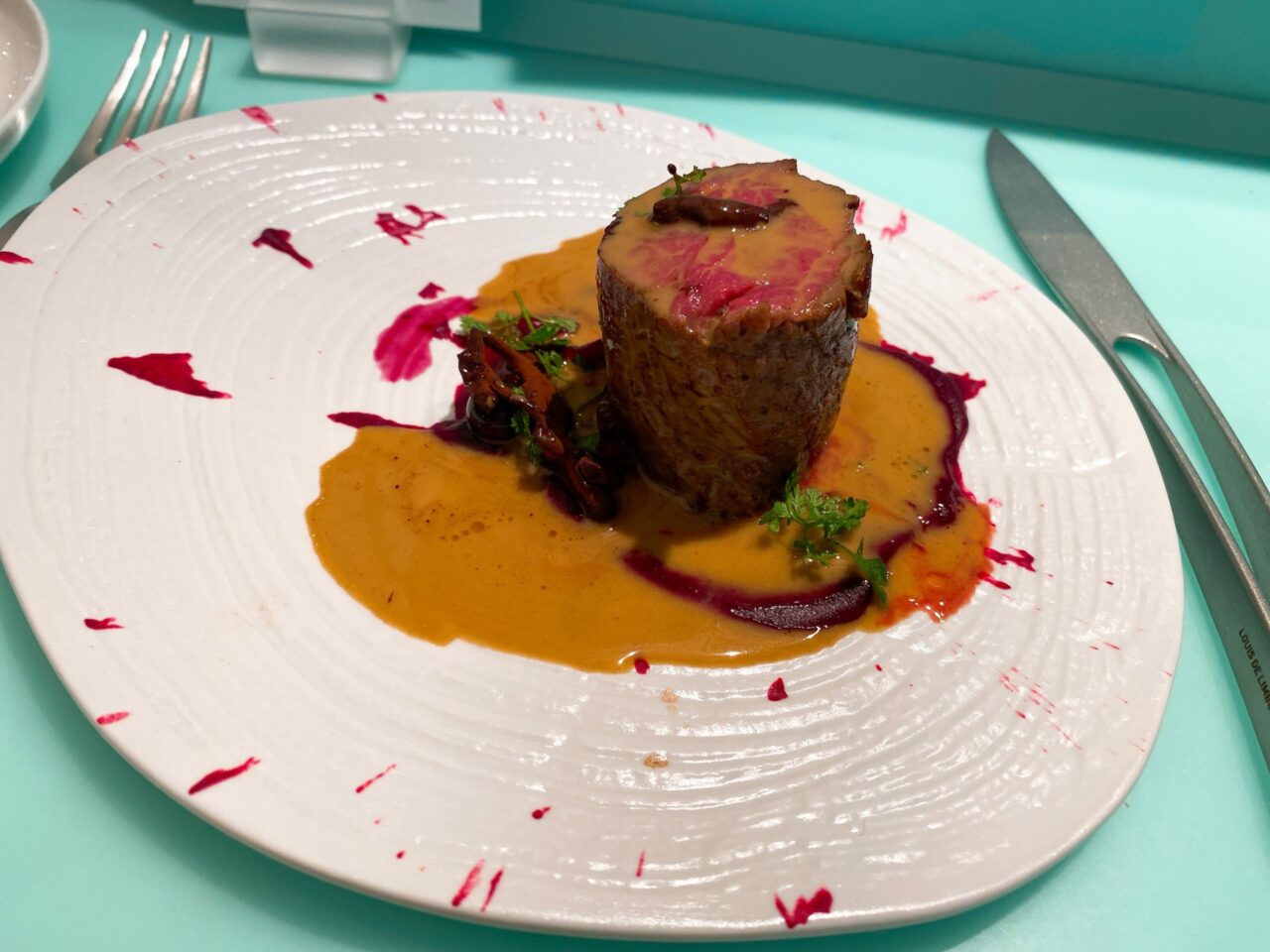 The next course was probably my favourite even though it sounded potentially a bit 'ick'. It was a blue cheese mousse with pecans, pears and rosemary. I thought the mousse would be very strong, savoury or grainy but it was a complete revelation! It was light, smooth and quiet sweet with just a hint of the cheese. With the caramelised crunch of the nuts and a little bit of the crisp sweet pear, it was utter bliss on a spoon. I could have eaten a lot, lot more as it was not particularly rich – more like a blancmange for those that remember them!
The final part of the meal was the chocolate dessert. I don't really have a sweet tooth and I'm not a fan of chocolate desserts so I am not the best judge. I enjoyed it but it didn't have the same wow factor as the rest of the meal and felt a little pedestrian.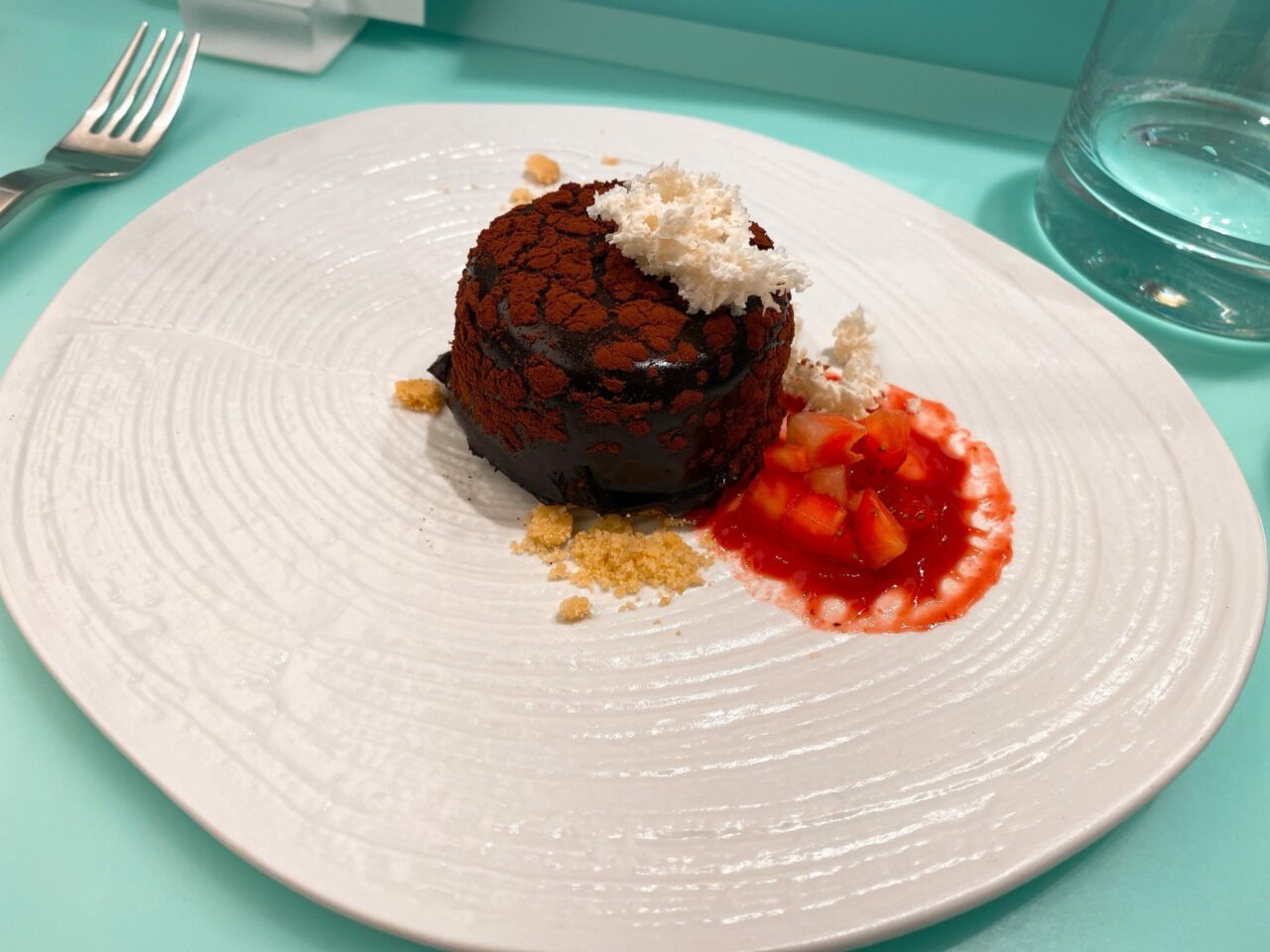 The restaurant also had mixologists to make signature cocktails – I had a red Martini. I'm not entirely sure of what was in there but it was a little bitter and also a bit of a hint of sherry. I wasn't a huge fan but there are lots of cocktails to choose from. I really liked the glassware too.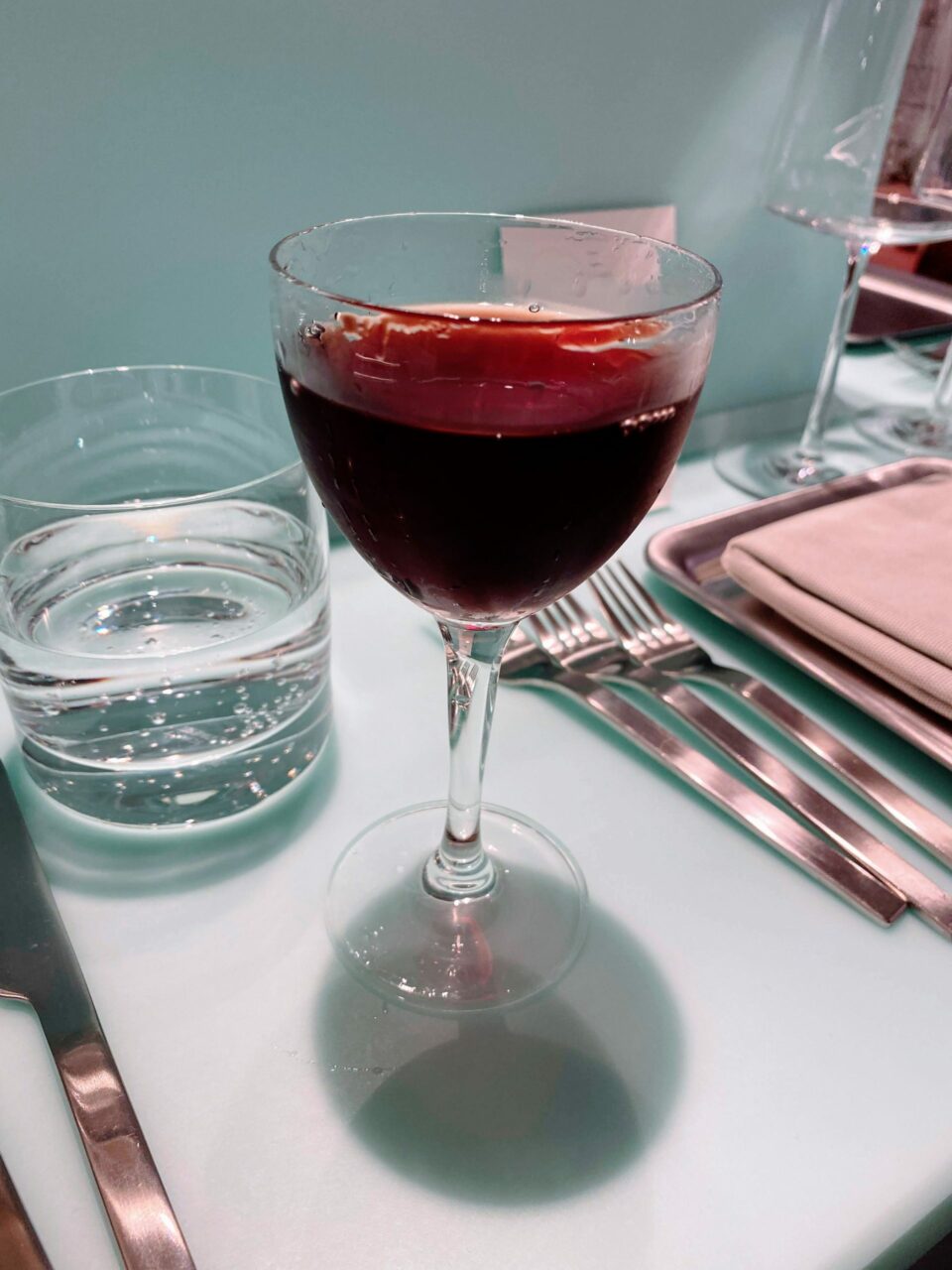 In summary, this was by far the best meal I have ever had on a cruise ship. It was up there with a one Michelin star meal I would say. The staff were all delightful – friendly and helpful as well as explaining each dish in detail. If you thought you knew cruise ship food you need to think again!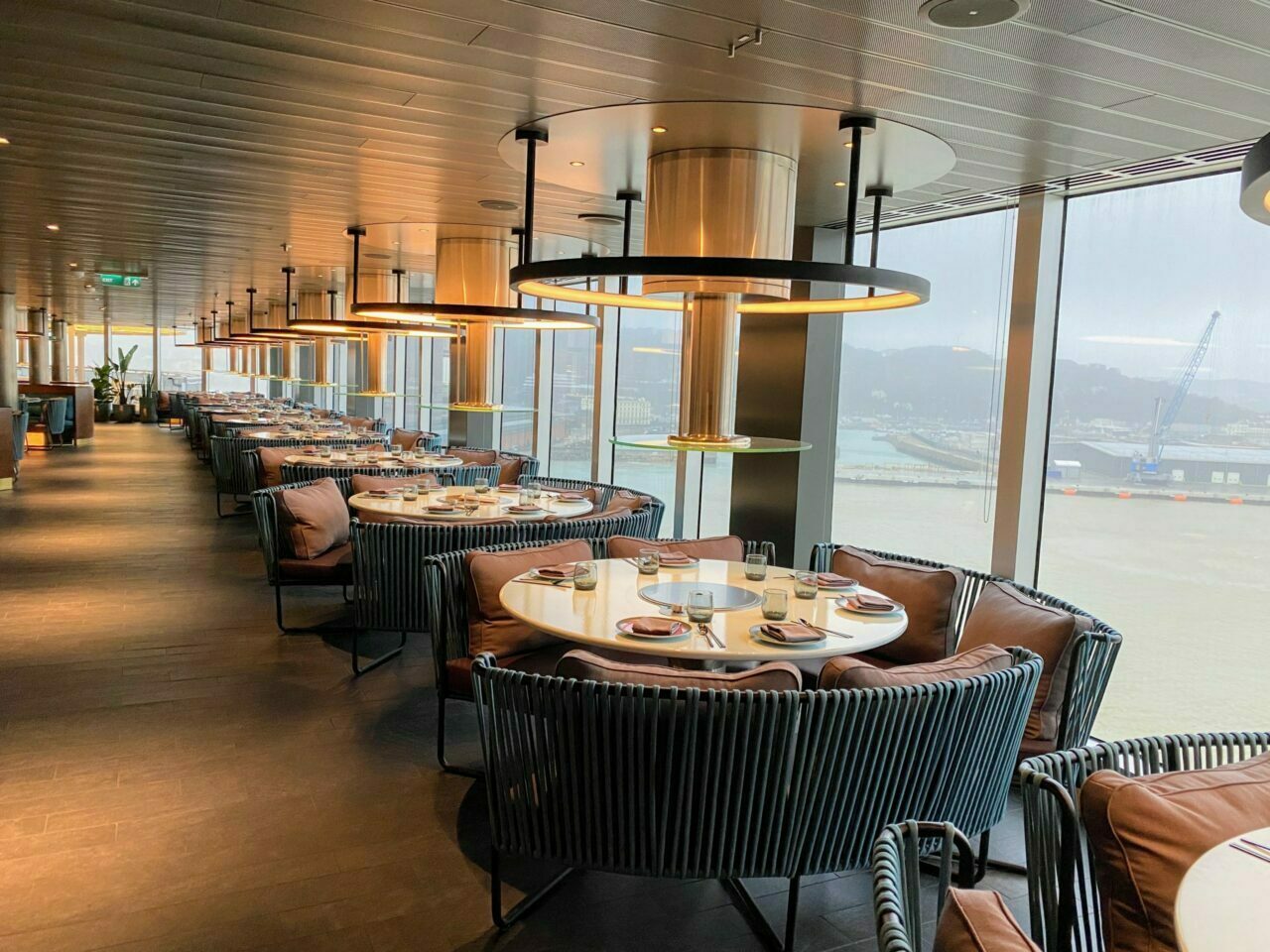 The Korean BBQ style restaurant, Gunbae, would probably be my next choice with the cooking stations at the table. They still managed to make the restaurant look high end and modern though.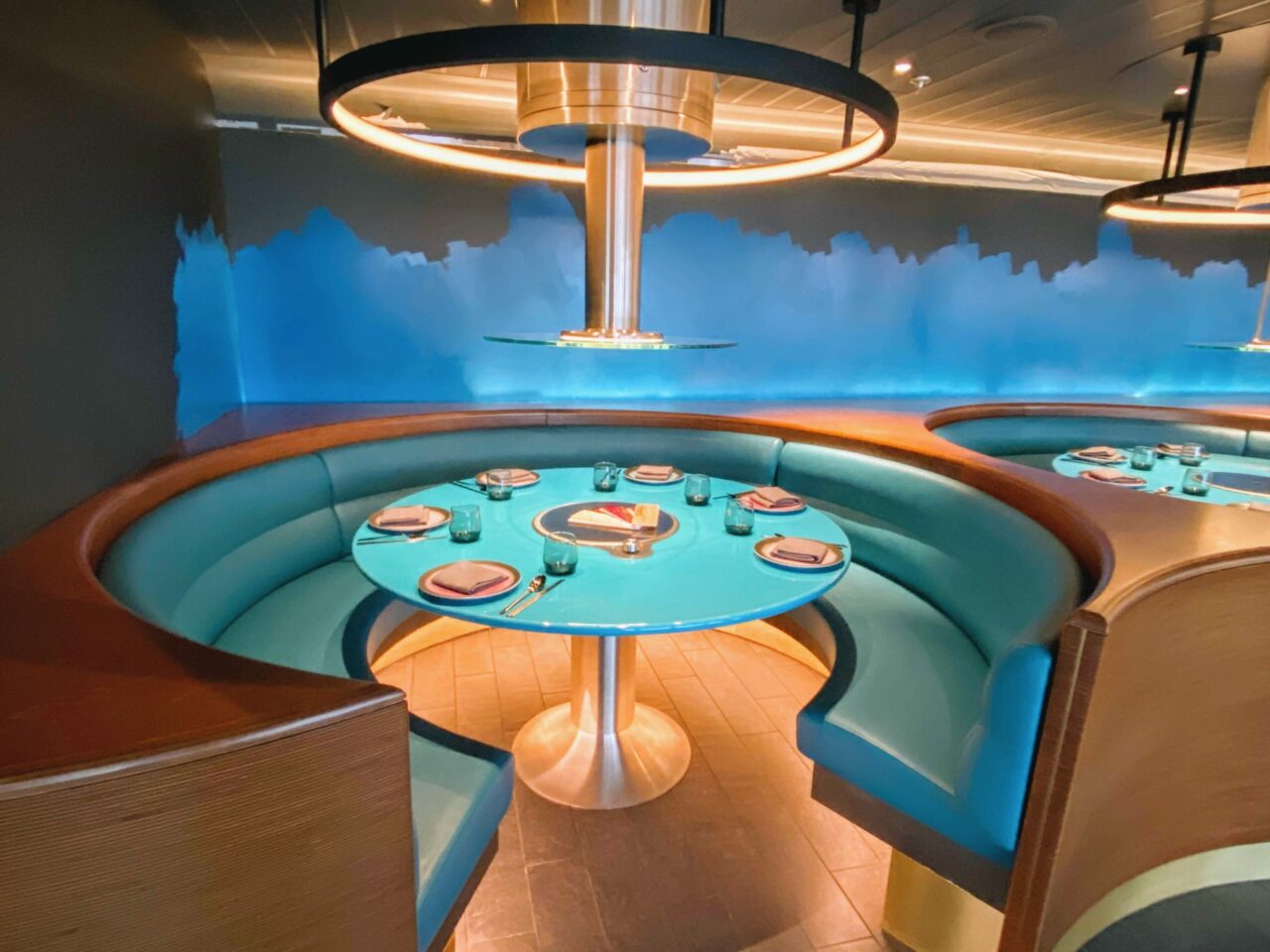 The Wake in Virgin Voyages Scarlet Lady Guitars is a mix of sophistication, nostalgia and cool — you enter The Wake down the grand staircase. The restaurant harks back to the old glamour of a steakhouse of the Mad Men era.
Pink Agave is the modern Mexican with a very funky entrance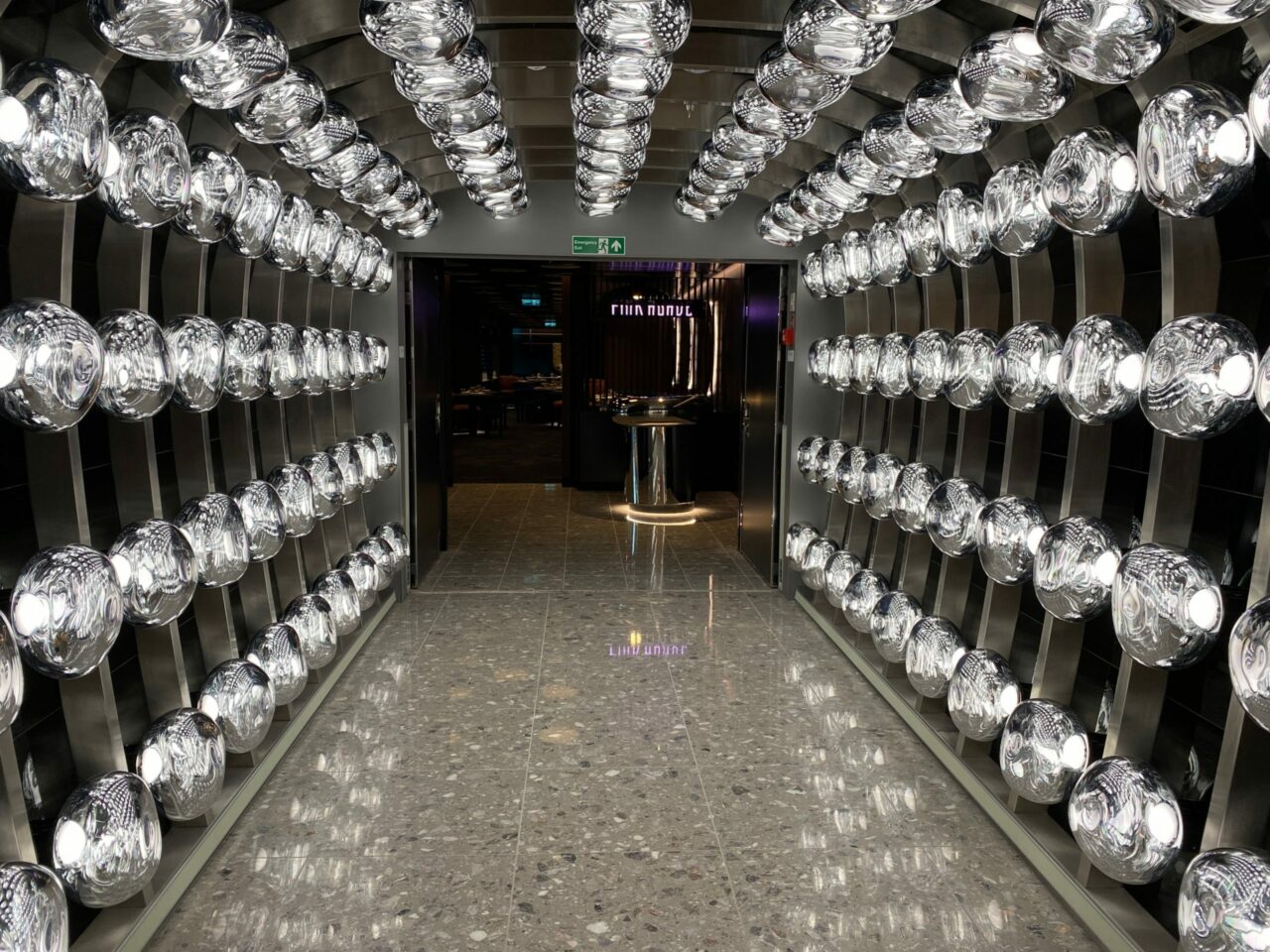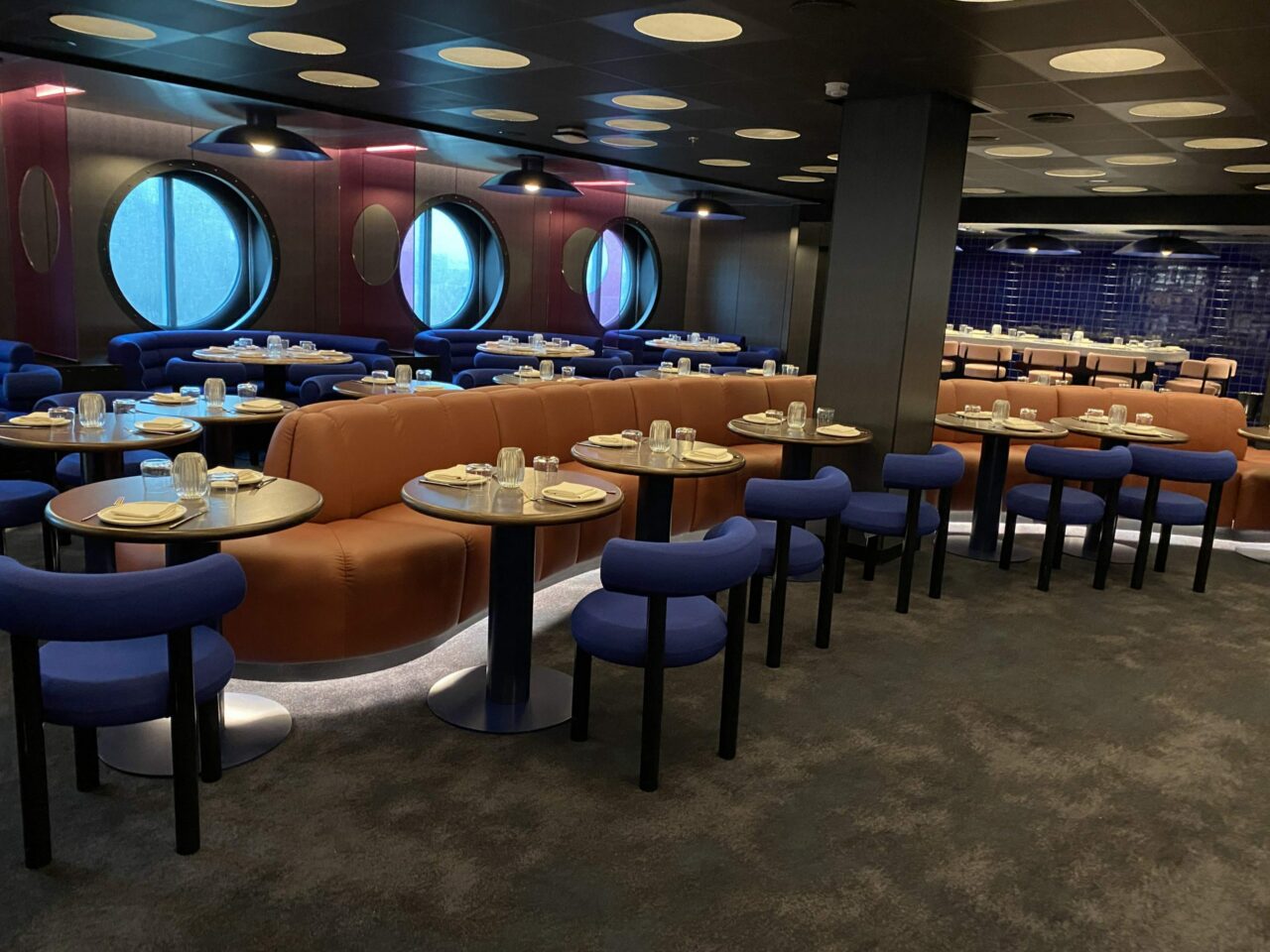 The galley is Virgin's answer to a buffet – more than 10 different international food stalls (all included). Food is made fresh to order with light bites such as burgers to noodles and tacos.
Bars and nightclub
Bars and drinks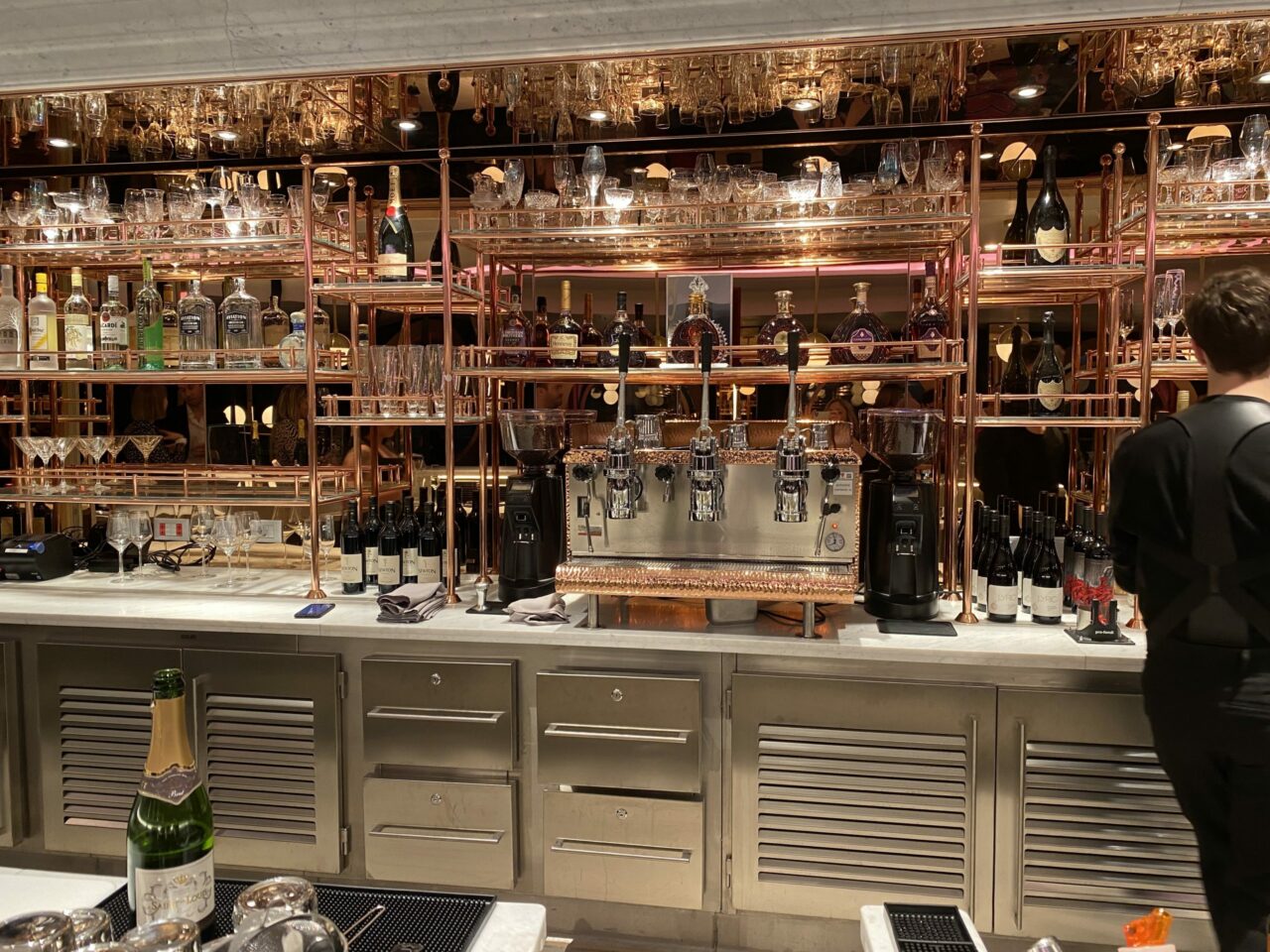 Virgin have partnered with some of the industry's best mixologists to create a great drinks program. These include the Bar Lab and the Cocktail Cartel, to global bartending phenomenons like Charles Joly and Julia Momose. Drink prices are very reasonable and you get filtered still and sparkling water, non-pressed juices, sodas, teas or drip coffee included.
Sample drink prices:
Beer – Heineken, Amstel Light, Kalik, Narragansett
$5-6 (Tip included)
Basic cocktail – Herradura Plata, Mount Gay, Tanqueray, Jack Daniels
$9 (Tip included)
Wine by the glass – 42% of the wines by the glass are under $10 (Tip included)
The bars were all more the type of thing you would see in a smart city location than the sprawling cruise ship lounges you usually see. They had different specialities such as beer, champagne or cocktails. I loved the staff in the bars – all very individual, tattoos galore and full of personality. No cookie-cutter cruise ship staff here! The Virgin philosophy of bringing your personality to work was very much in evidence. I had fun chatting to the staff whilst I was sitting in the bar.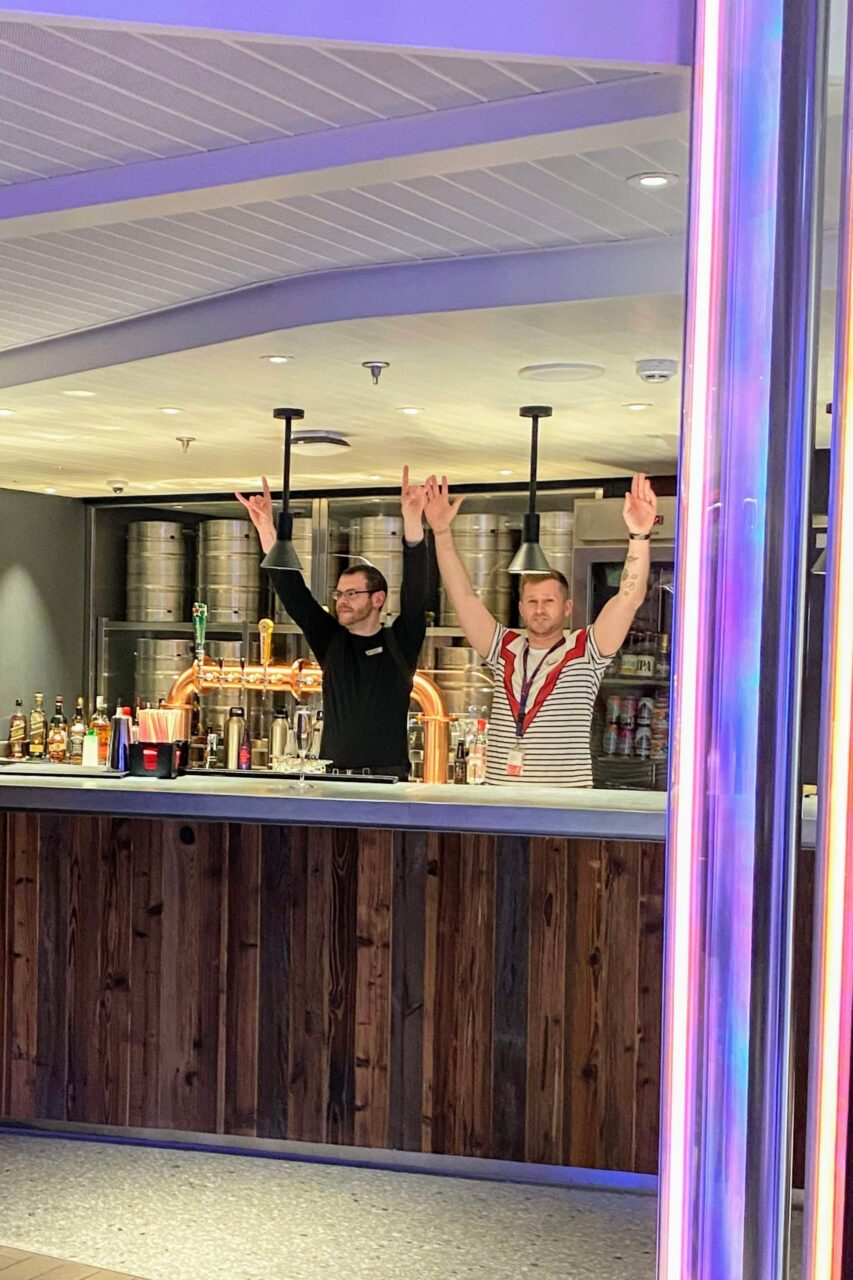 Bars include:
Draught house tap room
Loose canon
Sip champagne bar – Virgin have a partnership with Moët & Chandon but serve a range of other champagnes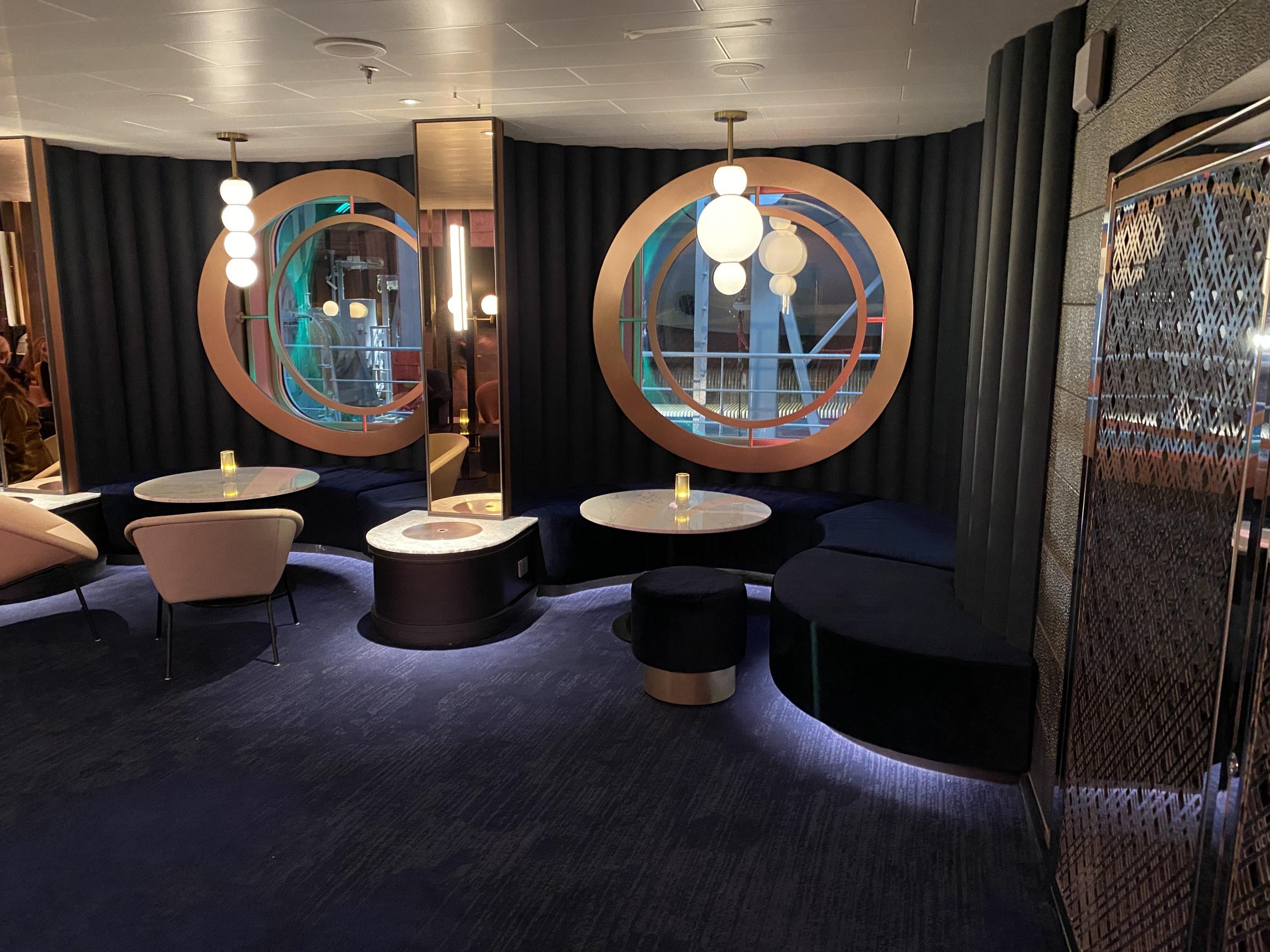 On the rocks cocktail bar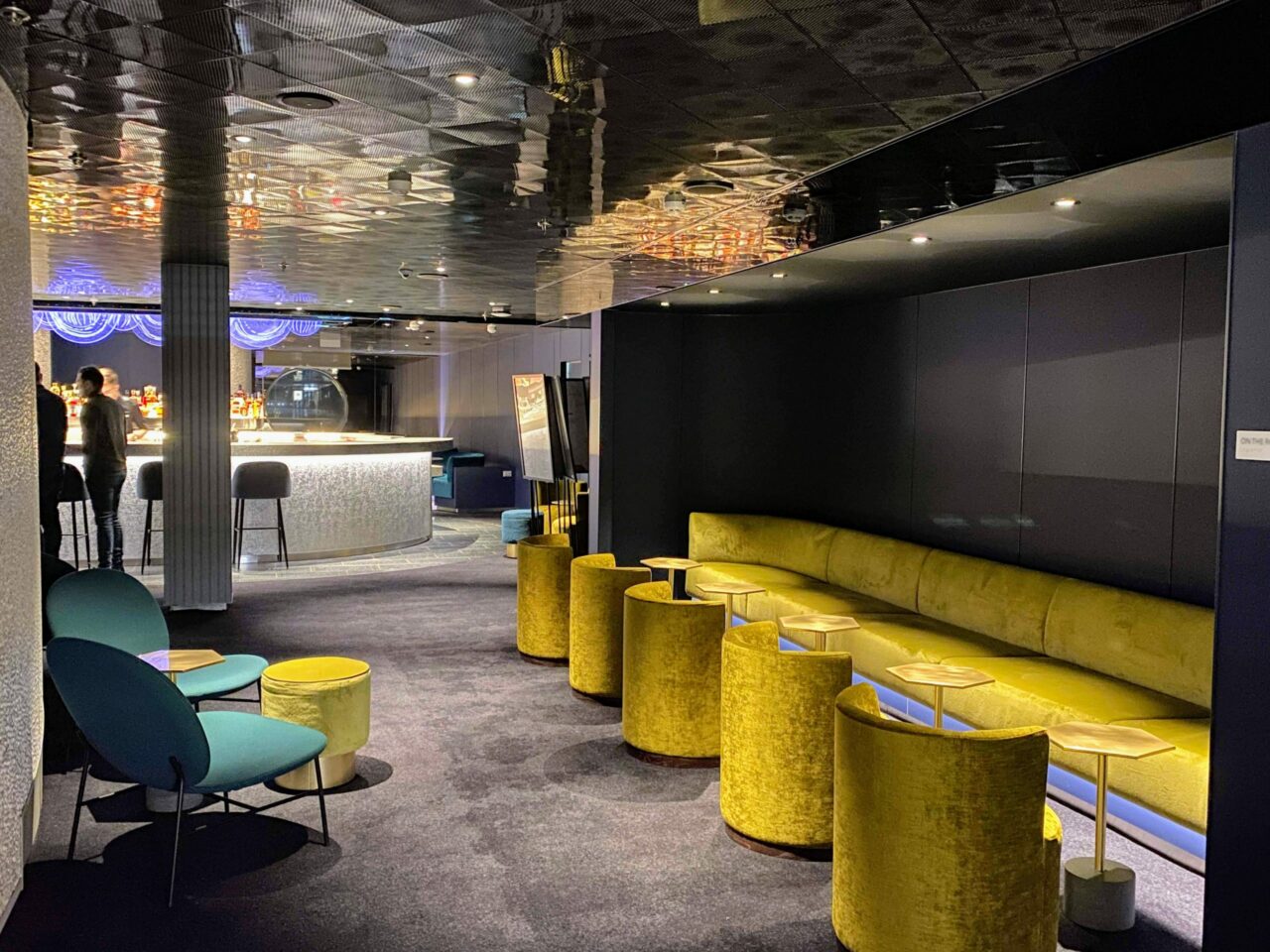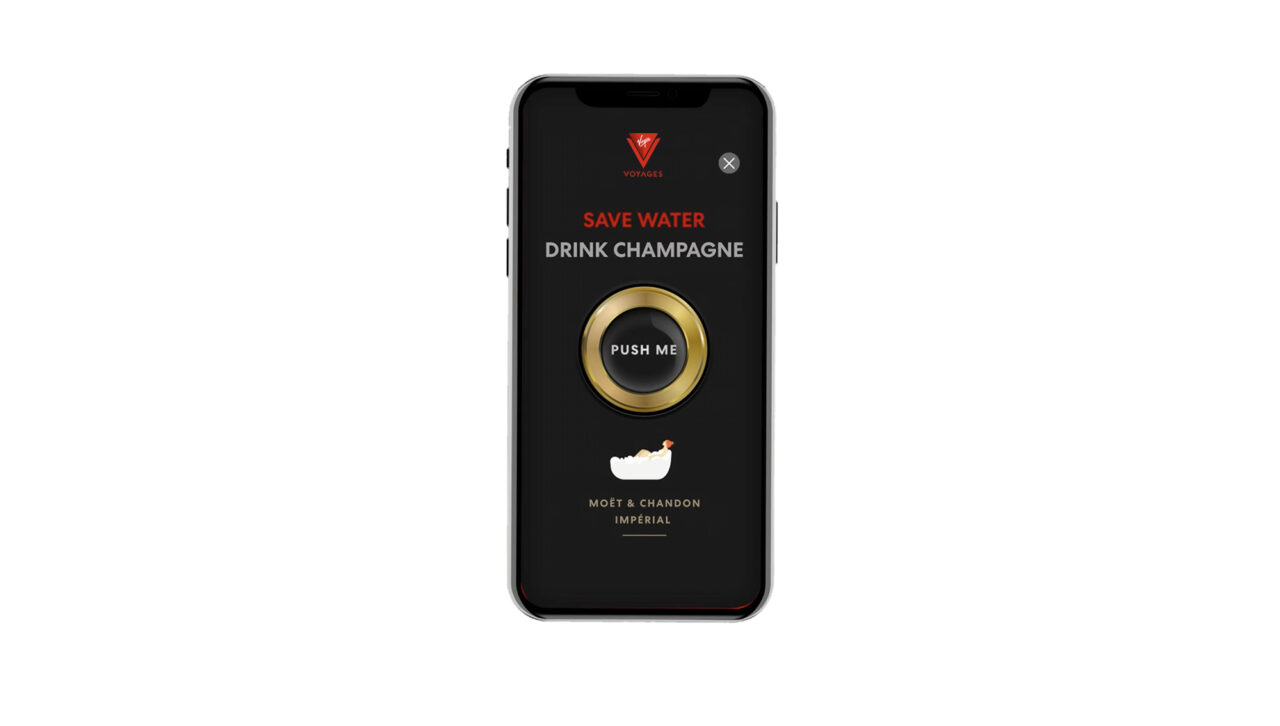 Virgin also have an exclusive on-demand champagne delivery service, Shake for Champagne. I love the idea of something fun like this – if only they could arrange to deliver it wherever I am in the world! Virgin Voyages enable Sailors (what they call passnegers) to request champagne, anywhere onboard Scarlet Lady, with a simple shake of their phone. Given that it is an 18+ adults only ship and it has champagne on demand anywhere – what's not to love?!
When the Virgin Voyages Sailor App is shaken, a secret Virgin Voyages Champagne button is revealed and, with just one press, a bottle of Möet Chandon Impérial will be delivered to the Sailor.
Delivered in an eye-catching, Virgin red champagne bucket, the service includes a 750ml bottle of Möet Chandon Imperial with two glasses.
The Manor nightclub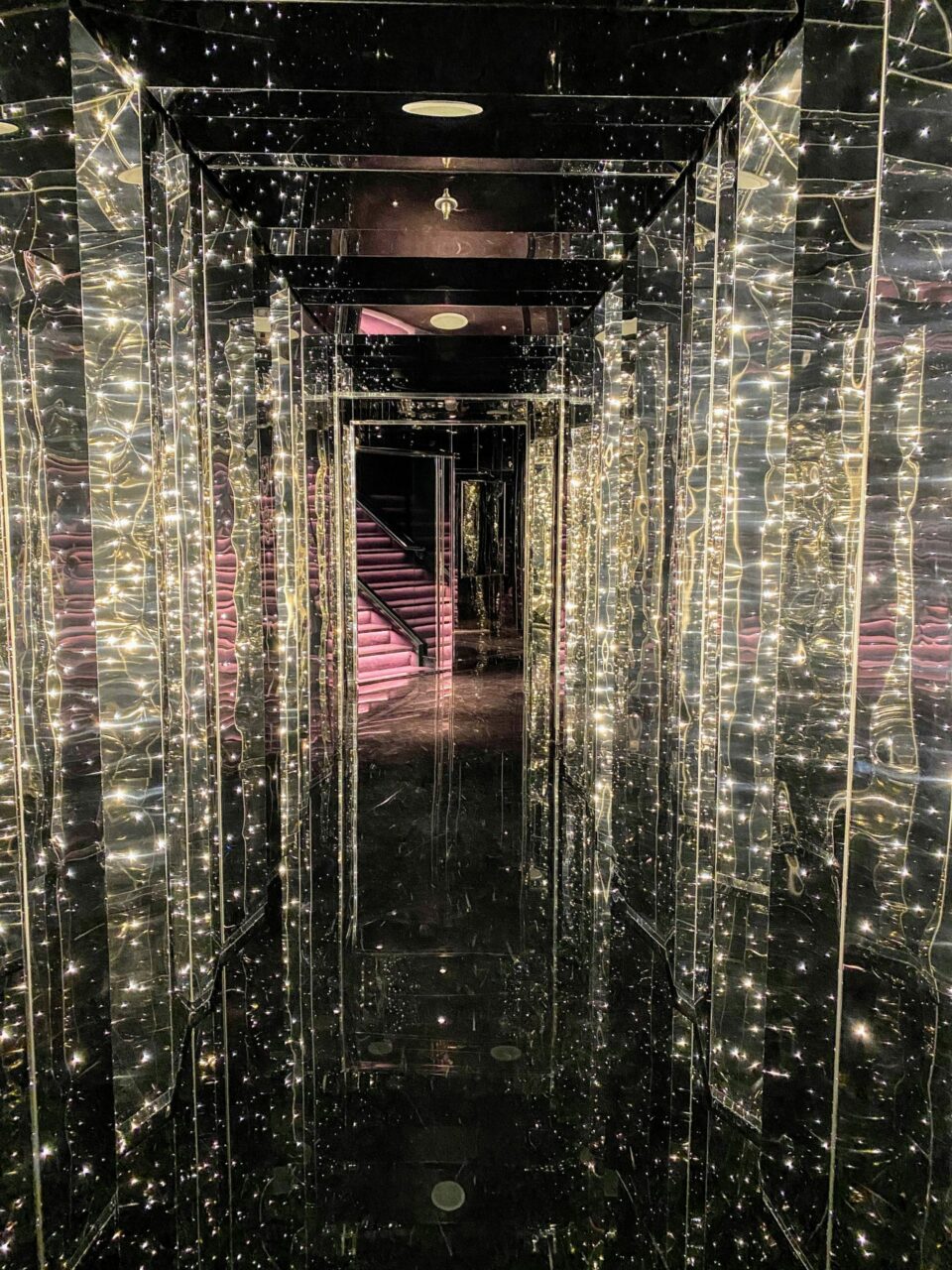 The two-story, three bar space was named after Richard's first recording studio. The night club has fun laser and special effects lights. Virgin aspire to have the best nightclub at sea and from what I saw they are doing a great job. They have a number of very well known DJs that will be doing sets on board on certain voyages such as Mark Ronsen and Diplo.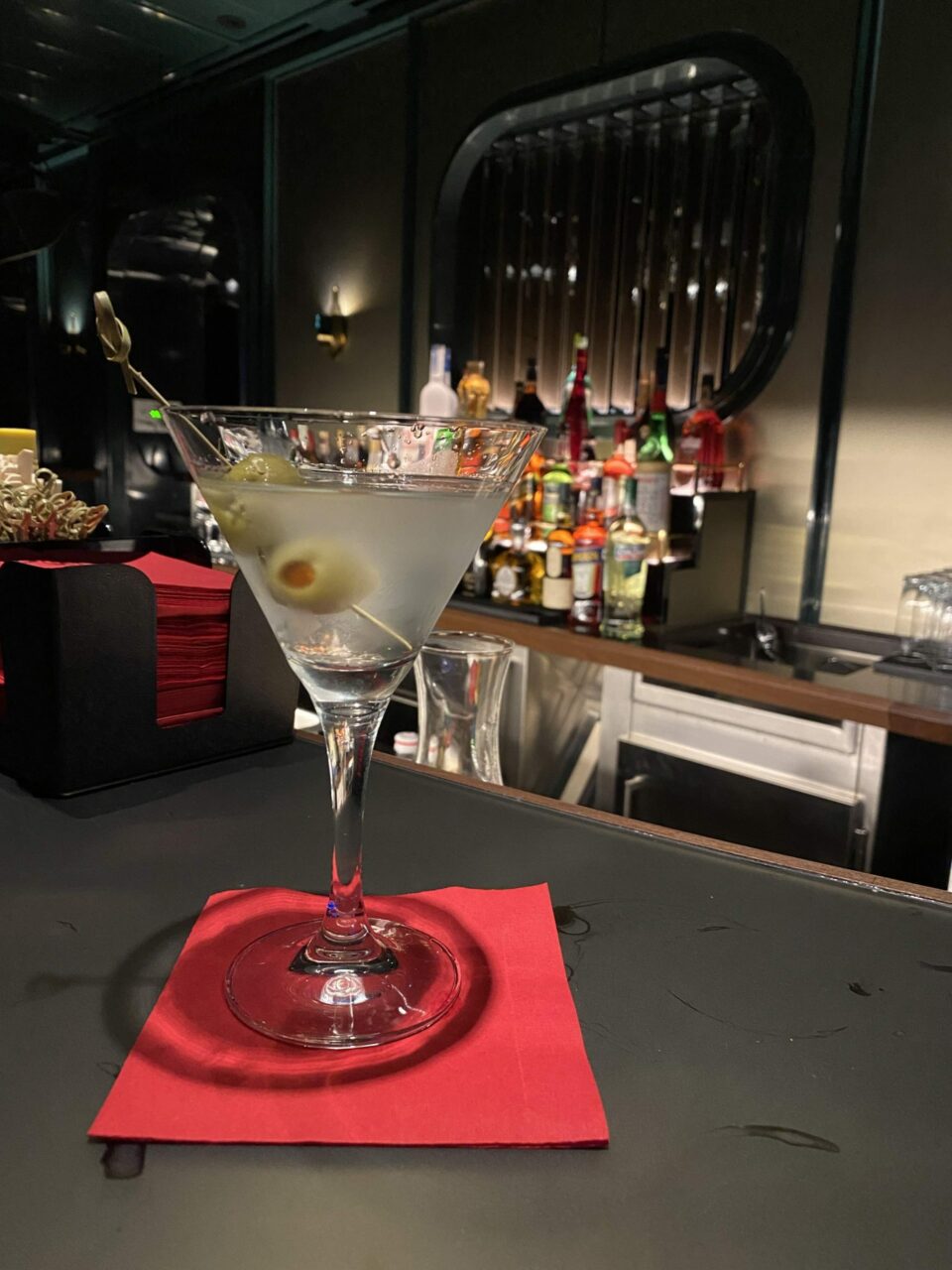 The Beach Club
Sadly as I was in a very wet and windy port in Dover, I did not get a chance to experience their private beach club in Bimini, Bahamas. In the morning it features meditation and slow-flow yoga. Later on there is a late-night bonfire under the stars or a a DJ-led party by the pool.
Entertainment and casino
The entertainment is very different to most cruise ships – Virgin is aiming for contemporary and immersive entertainment.
Here is a selection of what the ships will initially feature:
ANOTHER ROSEPRODUCED BY RANDY WEINER. You're invited to an exclusive and seductively mysterious dinner party performance.
SCARLET NIGHTPRODUCED BY RANDY WEINER. Wear a splash of red and get ready for the dreamiest, most surprising, and heart-stirring event at sea.
DUEL REALITYPRODUCED BY THE 7 FINGERS.
A fast-paced retelling of Romeo and Juliet with an elaborate circus twist.
This is the one I watched and it featured some jaw-dropping acrobatics which led to gasps from the audience.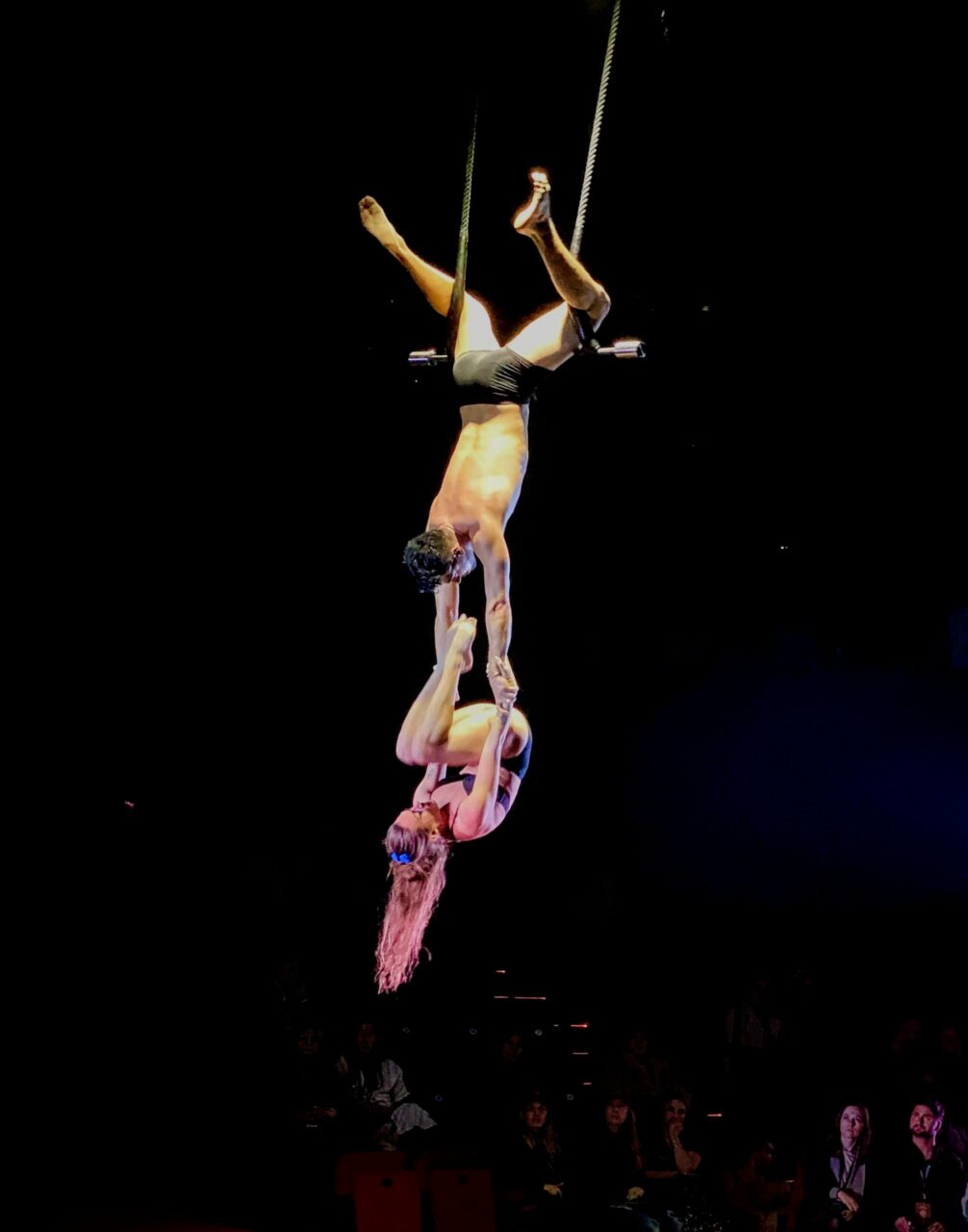 SHIPS IN THE NIGHTPRODUCED BY THE 7 FINGERS. Using ethereal technology and electrifying choreography, it's a thrilling exploration of passing connections.
UNTITLED DANCEPARTYSHOWTHINGPRODUCED BY SAM AND ANI.
The (un)title tells you everything you need to know about this show slash dance show slash thing.
Casino
The HKS designed, retro space of the casino is meant to be reminiscent of 1960s Las Vegas. I can't say that was my first thought, it looked nice enough but I did not feel like it was anything special apart from the lively bar area.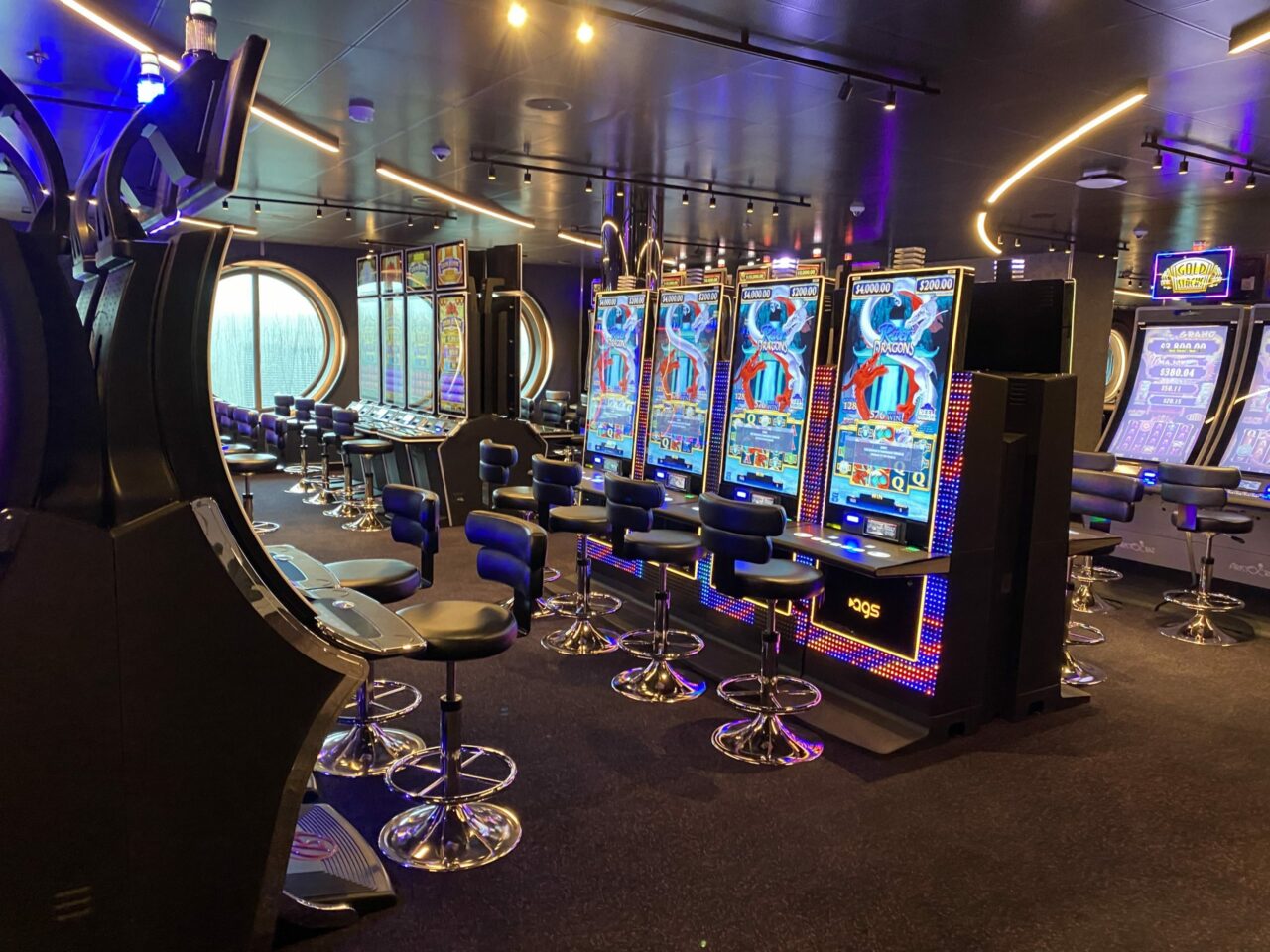 The Groupie
This is a modern take on a Japanese style private karaoke room. There are song choices that span decades and you can reserve a room in advance to bring out your inner diva
Spa and fitness
Virgin Voyages have a strong focus on Well-Being with a host of 'Vitamin Sea' offerings.
B-Complex Gym and The Athletic Club

This offers plenty of options including a variety of weights, cycling classes that rival a gym studio. The Athletic Club has an active Training Camp room and boxing classes as well as a basketball court and a cold-pressed juice bar.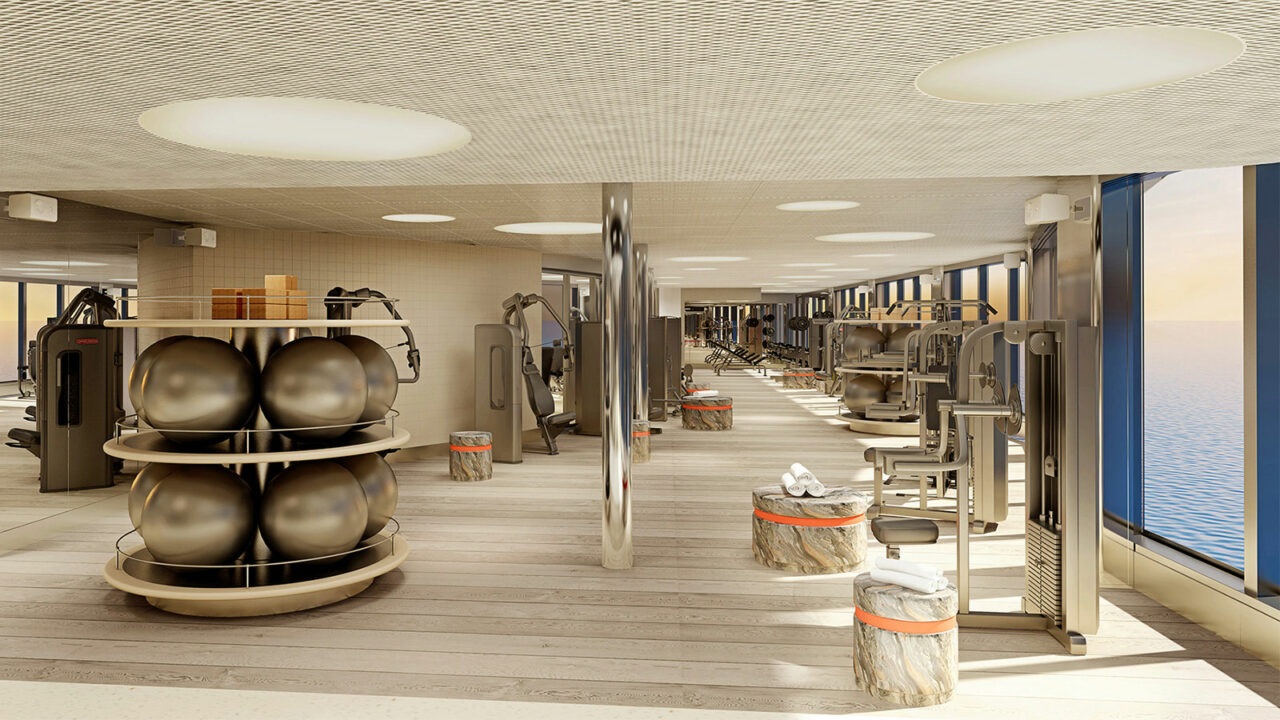 The Runway

This is the Virgin-red running track that circles the upper deck.
The Perch
Located on the upper-level deck, this provides a yoga, meditation and stretch-based space.
Redemption spa

I thought this looked very impressive. As well as the main area with a choice of hydrotherapy pools, there was a steam, sauna, salt room and heated marble benches.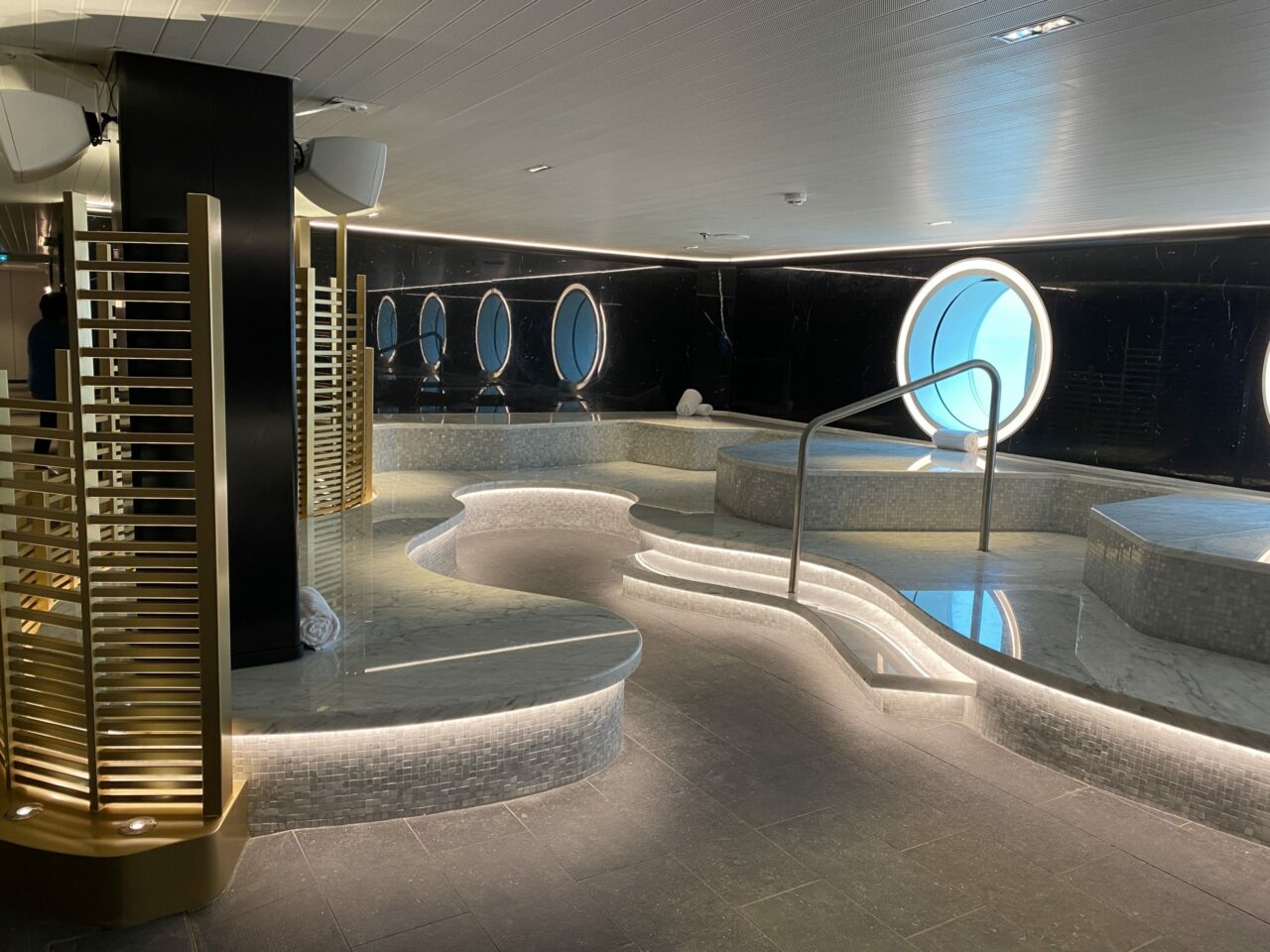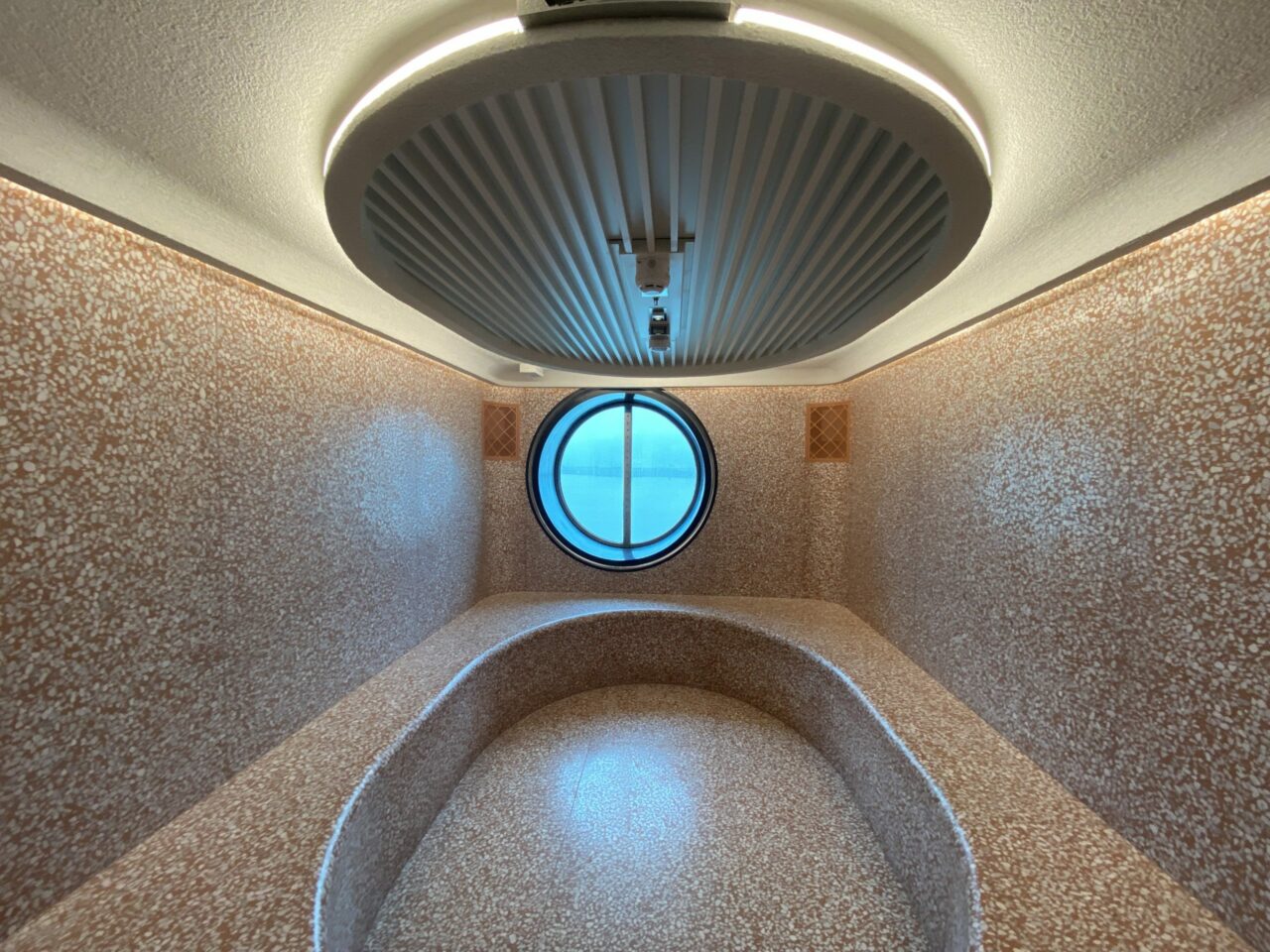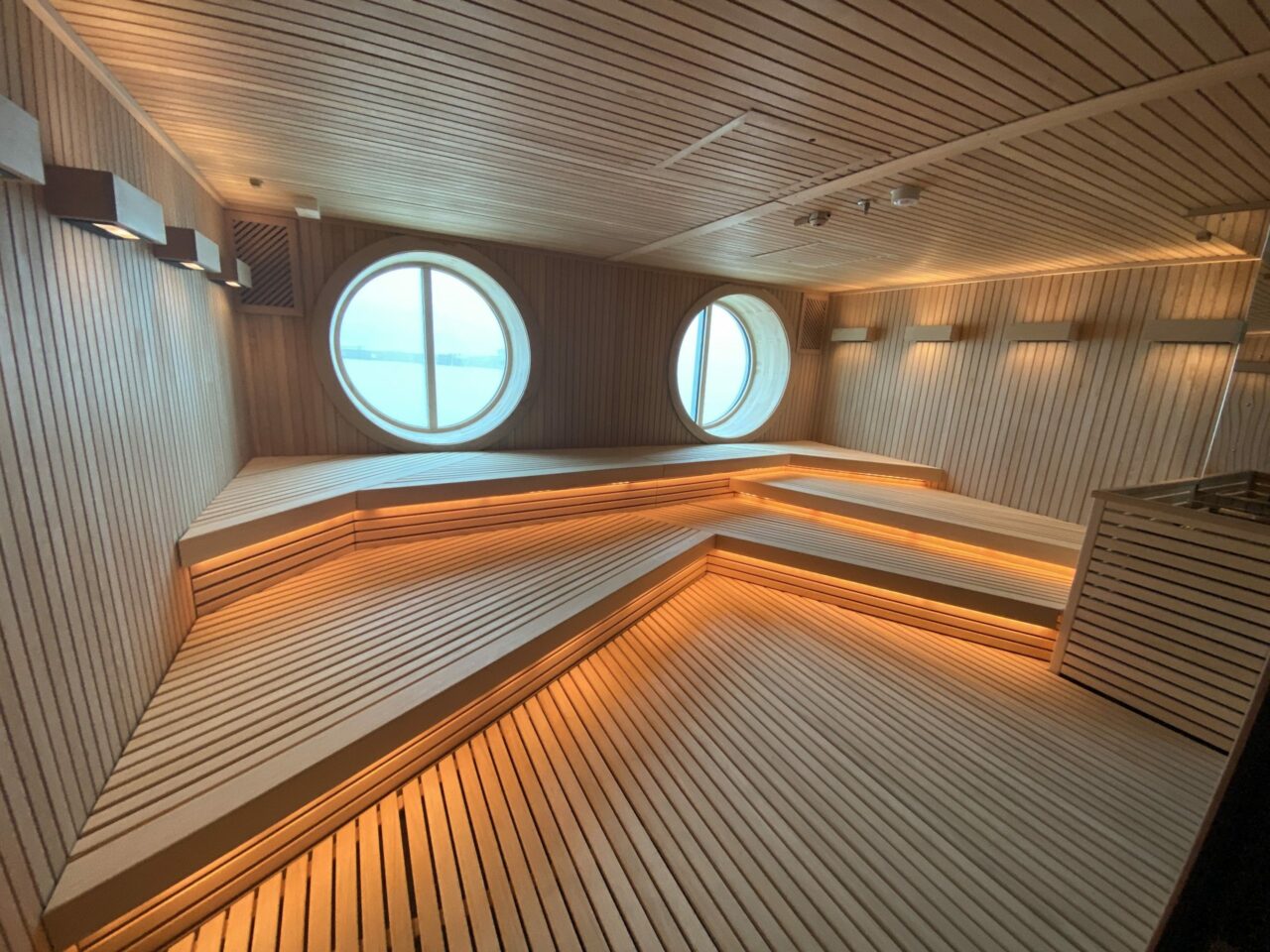 The treatments were very varied but I thought the prices were pretty eye-watering, although you do get to use the facilities.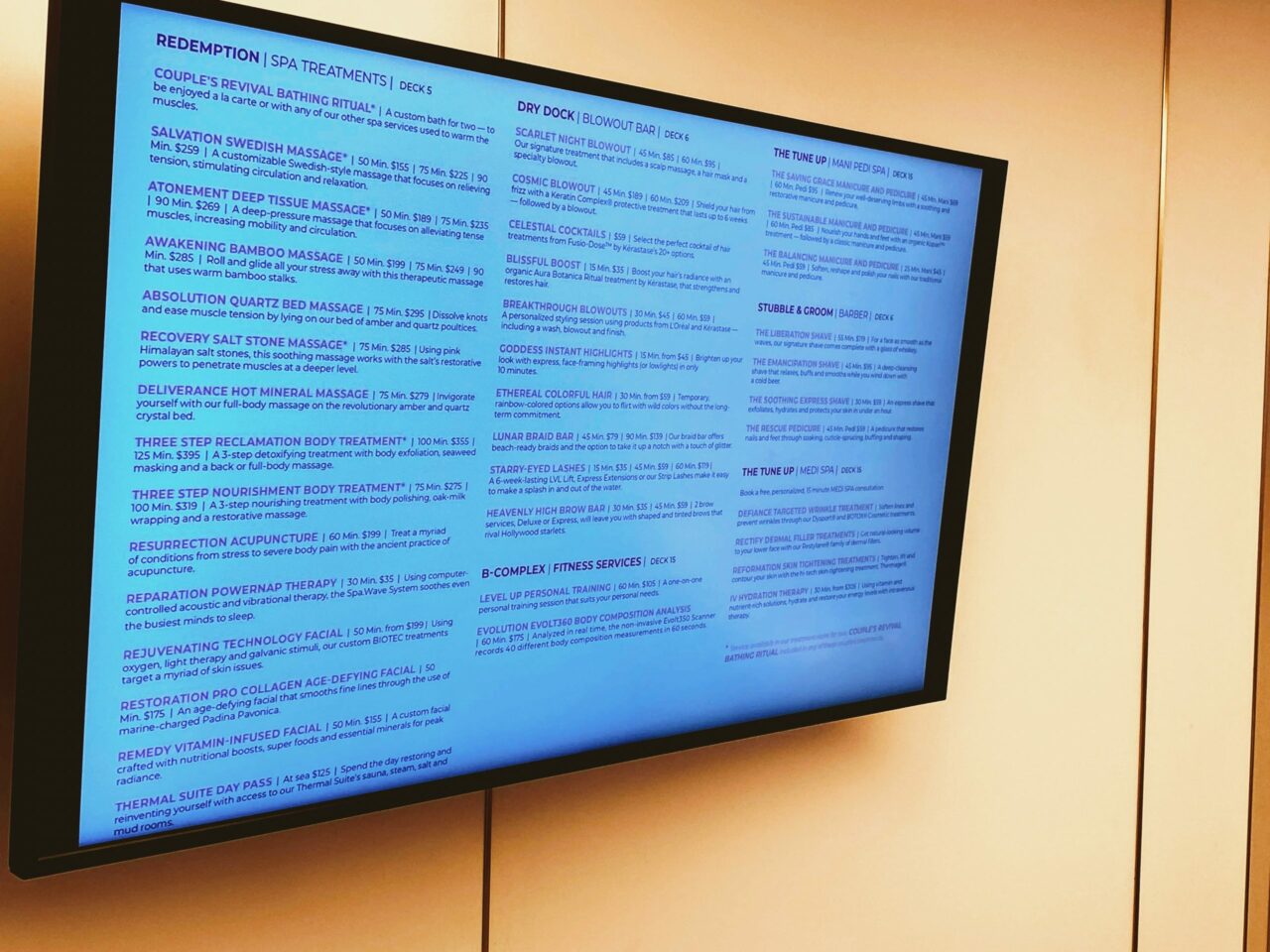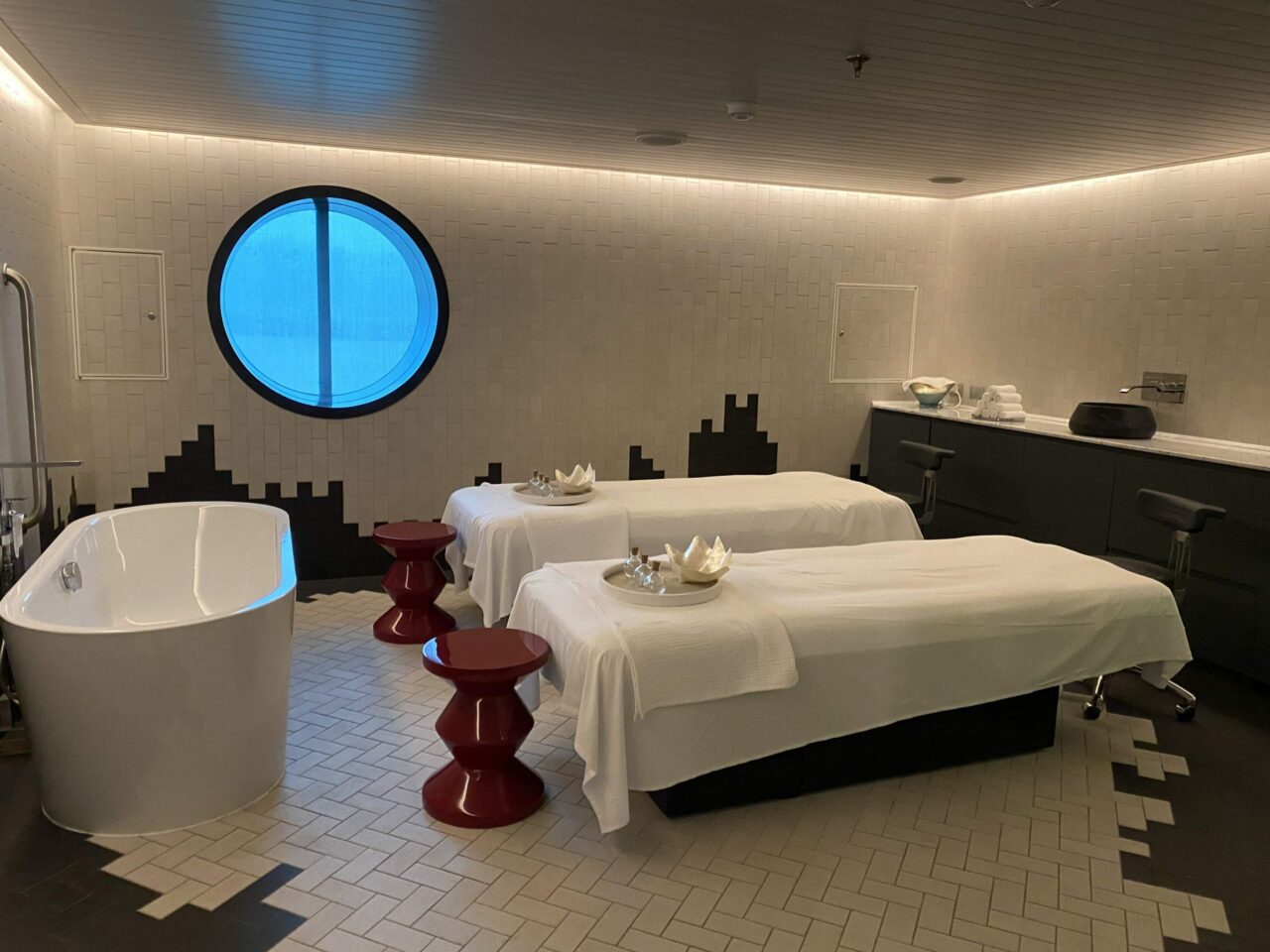 Shops and services
For a ship of this size, there were a lot of shops which looked very high end. There was even a tatoo parlour called Squid Ink!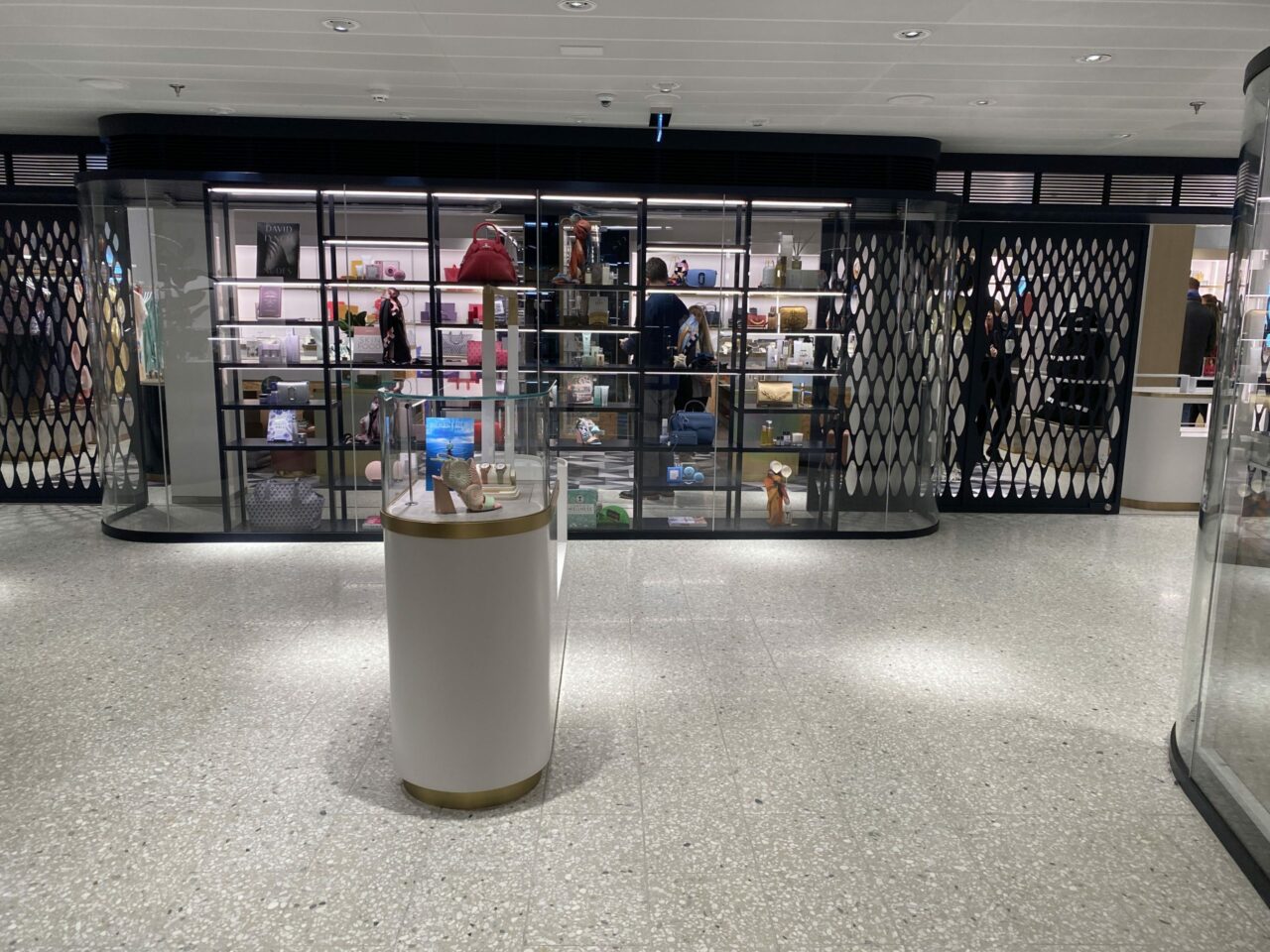 Pools and communal areas

The main pool area of the Virgin Voyages Scarlet Lady was a little disappointing as it was a bit small. There was also another area with whirlpools though.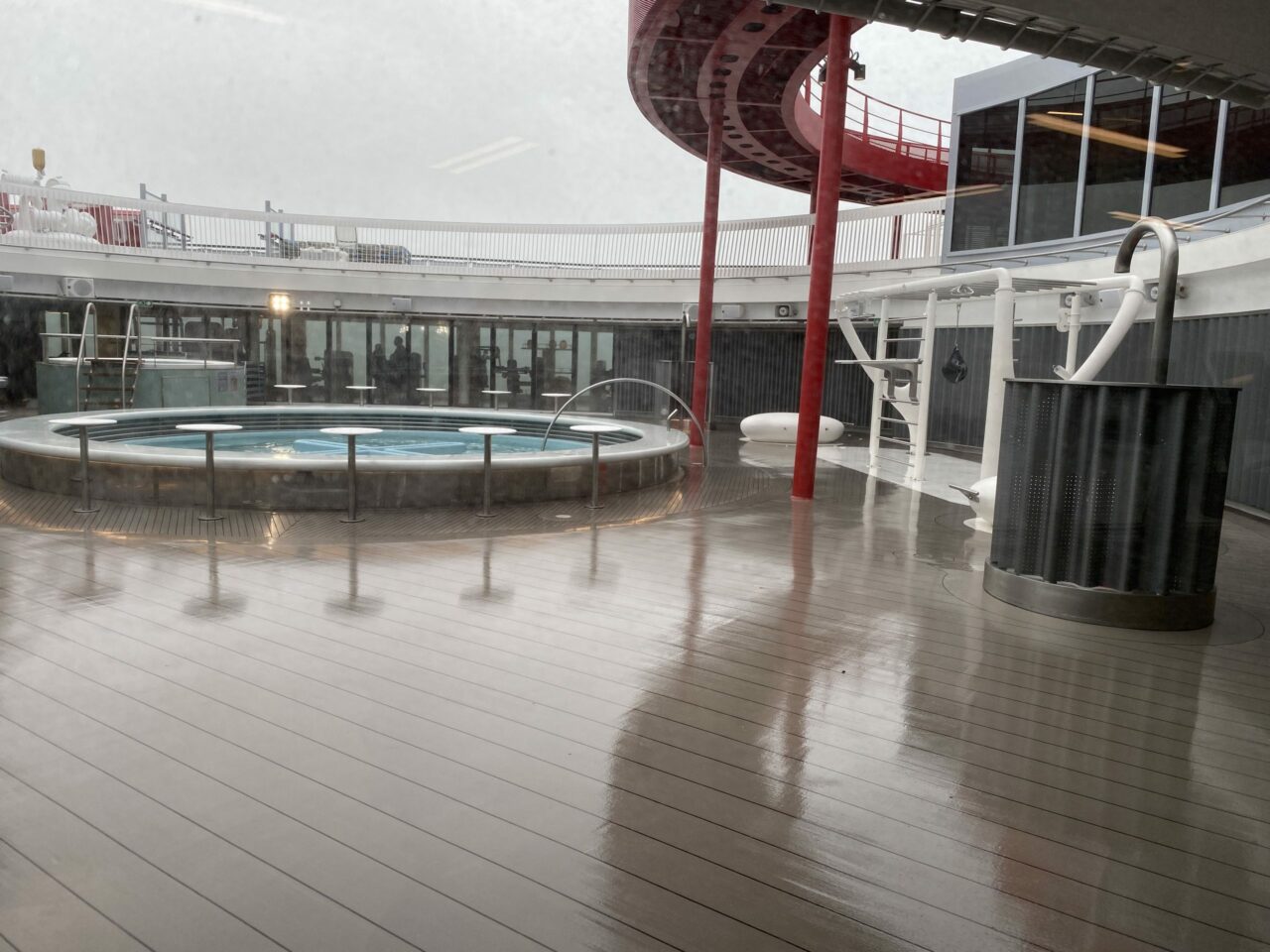 There were plenty of communal areas for lounging including some that had games.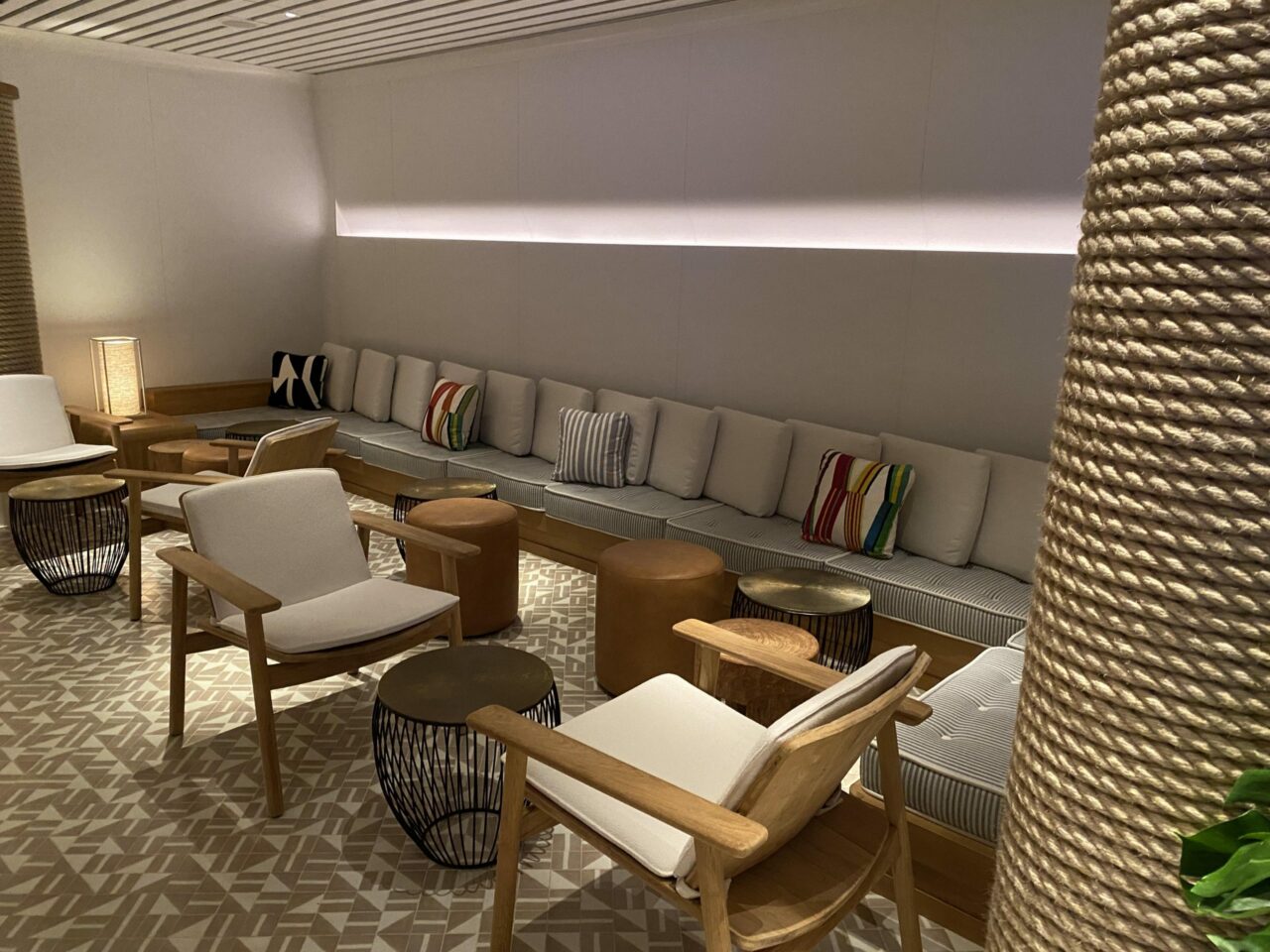 Conclusion
The Virgin Voyages Scarlet Lady cabins were a bit disappointing visually and the pool area a little small, but other than that there was little I could fault. Virgin had clearly listened to what people dislike about cruising and tried to do things differently. No buffets or formal dining, a more relaxed less mass-market atmosphere without the stuffiness of the ultra high-end ships. I loved the food onboard – it is definitely a cruise for foodies. The only problem would be narrowing down which restaurants to eat in! The bars were fun and I liked the fact the staff were all individuals and having fun.
The ships sail to the Mediterranean and the Caribbean. I, for one, will definitely be booking a Virgin Voyages cruise in the future after this little taster!
Special offer
Purchase a $300 prepaid bar tab and get double the usual $50 bonus, giving you $100 extra to spend at any bar on board or at The Beach Club. Available for a limited time.
You can find out more about Virgin Voyages here.
Like our Virgin Voyages Scarlet Lady review? you can read more reviews here.