Today's review is by reader 'Roffen Explorer' .
Earlier this month, my wife and I enjoyed a fantastic week in Northern India, with our stay beginning and ending at the Oberoi Gurgaon.
We had booked the holiday through the BA website, during last autumn's sale. Back in 2004, I had stayed in the Oberoi Mumbai on a business trip, and I was excited to stay at an Oberoi property on a holiday. The Oberoi group, headquartered in Delhi have properties all over India, as well as some in the Middle East, Indian Ocean and South East Asia. There is a sister Oberoi Hotel in the centre of New Delhi, but this property was the only one in the Delhi area available through the BA site. It has the advantage of being much closer to Delhi Airport. Gurgaon is a satellite city, known as the Tech and Business hub for Delhi. The hotel is less than 10 years old and is 'upside down' in construction. It is entered on the top floor, and the restaurants, rooms and facilities are on lower floors.
Check-in

We had upgraded our stay direct with the hotel and were met at the airport by a complimentary hotel car service (BMW 7 series) on arrival at Delhi. We would strongly recommend fellow travellers to use this service, particularly if arriving in India for the first time.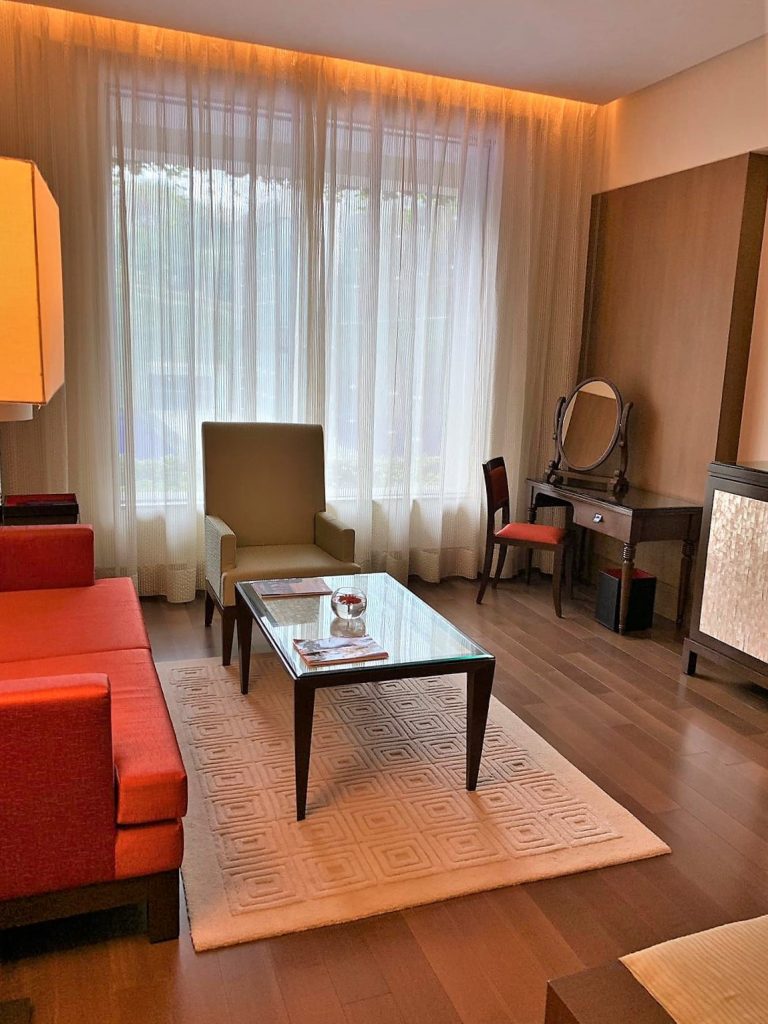 Check-in itself is in room, something which the Oberoi group do as standard and travellers will also encounter at the Mandarin Oriental chain. Checking in in one's own room gives the process a sense of privacy, and quickly alleviates the 'hassled' feeling of having arrived from a long journey.
We left the Oberoi Gurgaon for a weekend in Agra (to visit the Taj Mahal) during our trip, and when we returned the Oberoi had upgraded our room from a 'Premier' room to a 'Deluxe suite'. The suite was enormous and consisted of a large lounge (including a 'guest toilet'), then there was corridor – off which there was a walk in wardrobe capable of holding four suitcases flat – and a bathroom. At the end of the corridor is the bedroom.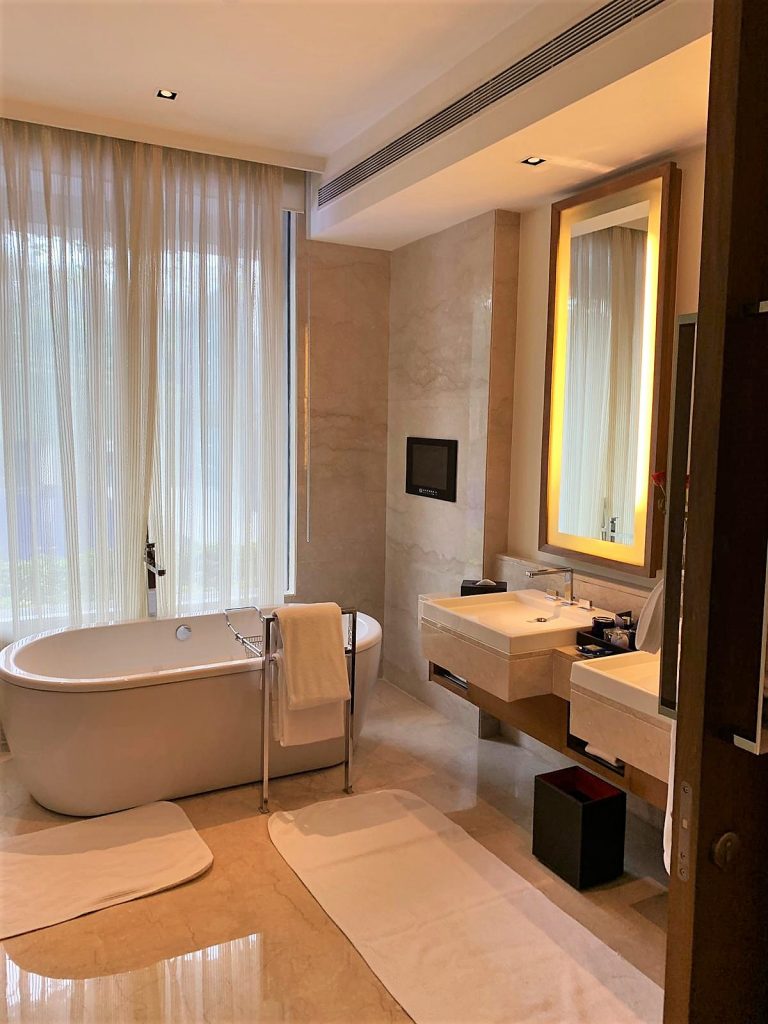 24 hour butler service
What makes the Oberoi group distinctive is that they operate a '24 hour butler' service to each group of rooms. In each room, there is a button marked 'butler' and the butler (all of whom have trained in the UK) will come to your room. Services such as packing/unpacking and shoe shine are complimentary. We were also offered complimentary tea and coffee at the beginning of both our stays. Other services, such as laundry and in-room dining, can also be accessed through the butler service.
Food and drink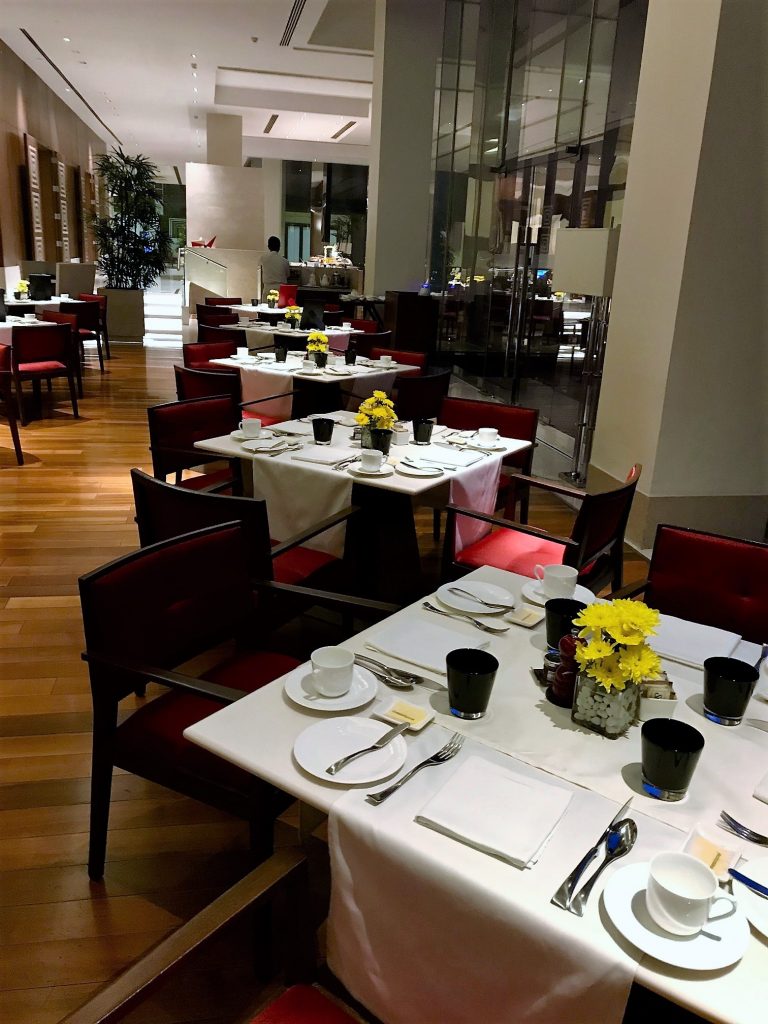 There are four restaurants/bars in the hotel complex
'Threesixtyone' – an large restaurant with international cuisine (this is where breakfast is served)
'The Piano Bar' – a bar offering drinks and bar snacks
'Amaranta' – a fine dining Indian restaurant, offering dishes from around the coast of India
'The Oberoi Patisserie' – a less formal space located among high-end retail outlets
We tried all four of these locations – each has its own quite distinctive characteristics – and we would recommend each of them. For example, the patisserie is a perfect place to enjoy a light afternoon tea.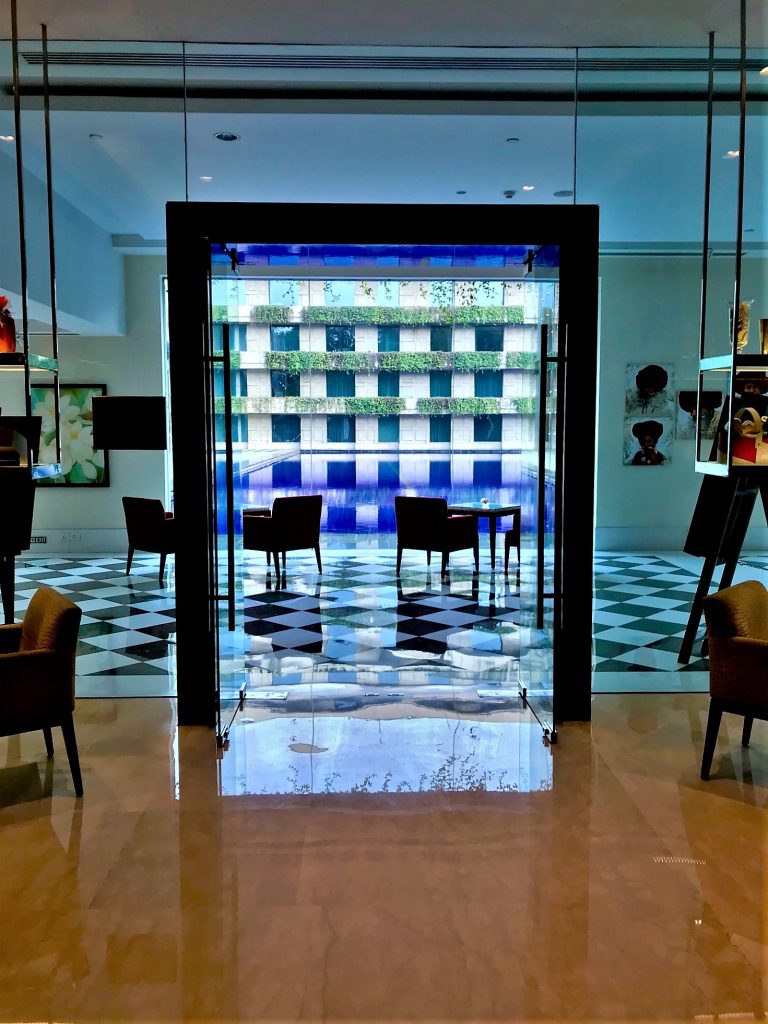 Breakfast (included in our room rate) consisted of a combination of a wide-ranging buffet, as well as hot items which could be ordered from the plentiful attentive waiting staff who were on hand to assist us with whatever we needed.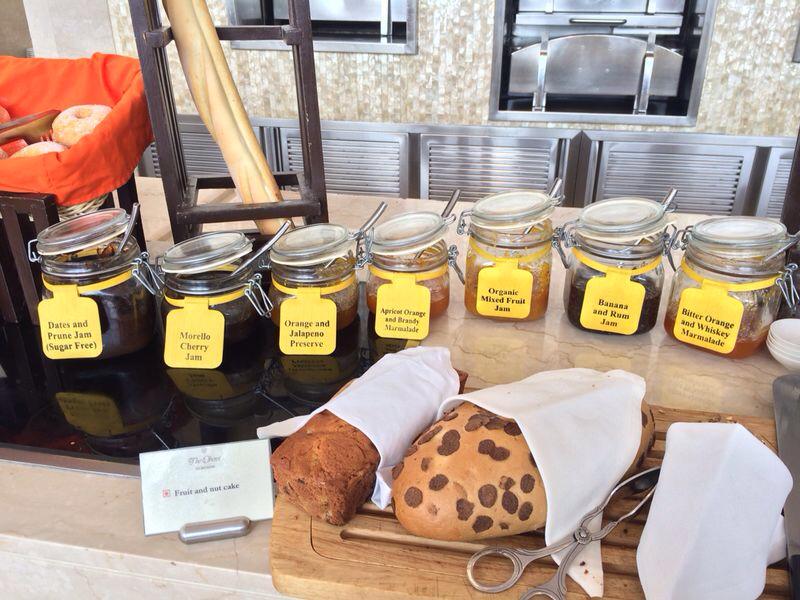 Spa and pool
Whilst we didn't use the spa facilities (it's worth noting however that these are the first 24-hour spa facilities in India and offer complimentary yoga classes each morning), we did enjoy using the outdoor heated pool on three occasions. The pool is 55 metres in length and there are several loungers around the pool area. Attentive staff are ready and willing to provide complimentary towels and mineral water.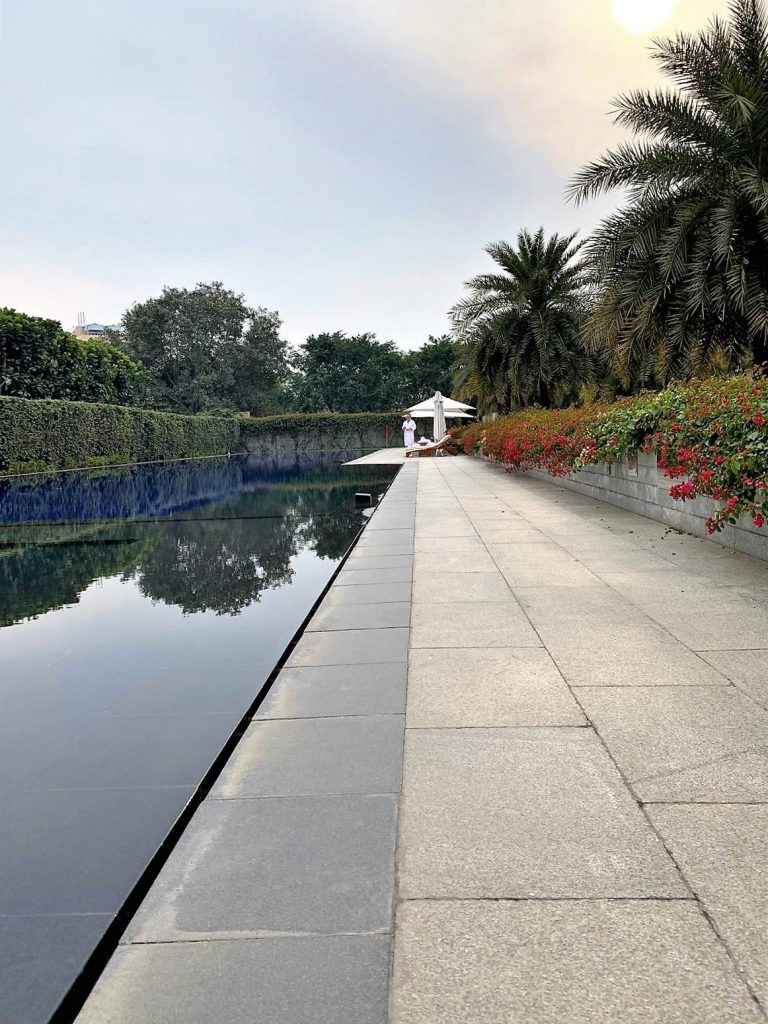 Hotel car service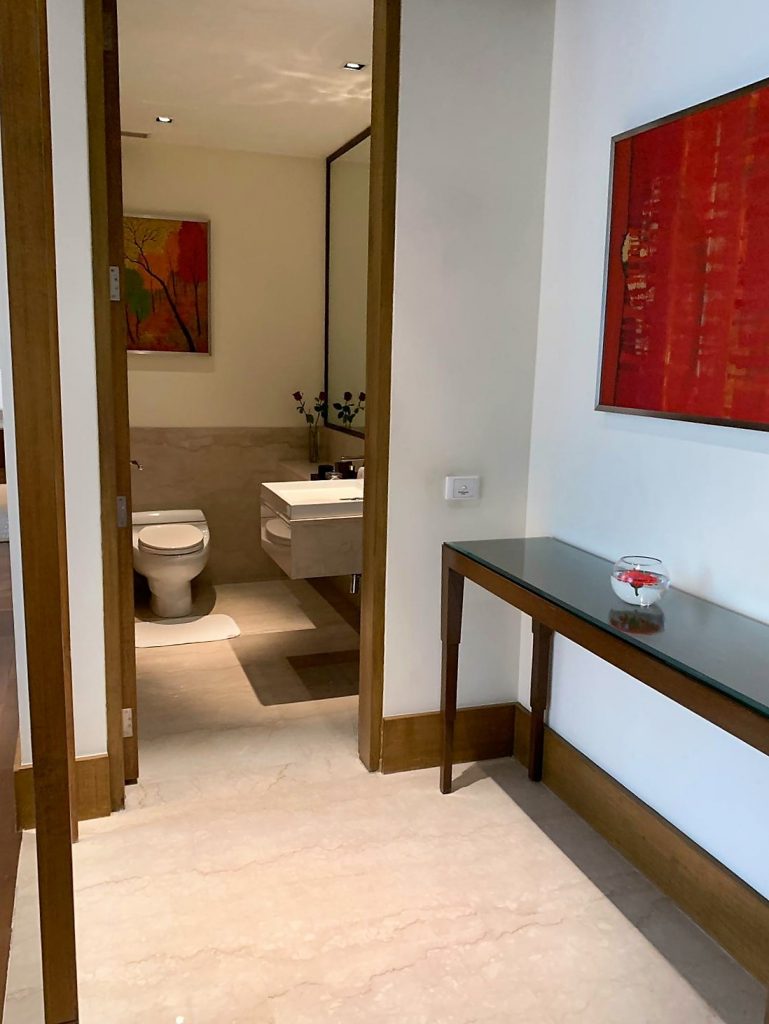 In addition to the airport pick-up and drop-off included in our room rate, we used the hotel's car service quite extensively. The hotel offers a complimentary car service to the 'Ambience shopping mall' about 5 minutes' drive away, and it costs INR1000 (just over £10) for the car and driver to take you to Restaurants in the Gurgaon area.
As well as these short journeys, the hotel offers four hours use of the car and the driver's time for INR6000 (around £60) which we enjoyed for two day's sightseeing around New Delhi City Centre (which is around an hour's drive from the hotel). So pleased were we with the driver who took us around Delhi, that we asked if he could be the one who took us on our final journey to the airport and the hotel gladly obliged.
Was anything lacking?
The Oberoi Gurgaon is a 5-star deluxe property with service standards that live up to those expectations. The one thing that we were disappointed about was that there isn't an 'executive lounge' facility whereby guests can pay a slightly higher rate and enjoy complimentary all-day refreshments. Whilst we realise that this isn't something that every 5-star property has to offer, we feel it would have enhanced the general facilities of the Oberoi, Gurgaon.
Tipping
Whilst tipping is commonplace across India, the Oberoi has a 'no tipping' policy, instead asking guests to leave any cash in lieu of tips in an envelope at the time of checking out, which they will then distribute to the staff concerned. This is made easier by the fact that you know your butler's name and the housekeeping and other staff, so if you want to write a short 'thank you' card naming the individuals, you are welcome to do that.
Conclusion
Because of its location near the airport, the Oberoi Gurgaon is popular with travellers who are on business. But it was equally set up to serve those of us who were tourists and needed to get into the City Centre.
With the butler serving a relatively small group of rooms and having the same driver take us on our tours and drop us off at the airport, our whole experience of the hotel is a lot more 'boutique' than one might have expected at such a large complex. This led to a feeling that we were house guests rather than 'customers'. Additionally, wherever we went in the hotel, the staff would greet us in a friendly manner. This really added to the warm, hospitable feeling of the hotel.
We would wholeheartedly recommend the Oberoi Gurgaon to anyone visiting Delhi for business or leisure and look forward to exploring some of the other properties in the Oberoi group in the not too distant future.