For a long time, one of my flying goals has been to take a shower on a plane. I nearly achieved this when I flew the Etihad A380 First Apartment but unfortunately, the crew forgot to take my shower booking and by the time I asked there were no slots left. So near and yet so far…. Luckily I was flying back from Bangkok on Emirates A380 in business class and upgrades on miles were showing available to first. My shower experience was finally in sight!
Check-in/transfer and lounge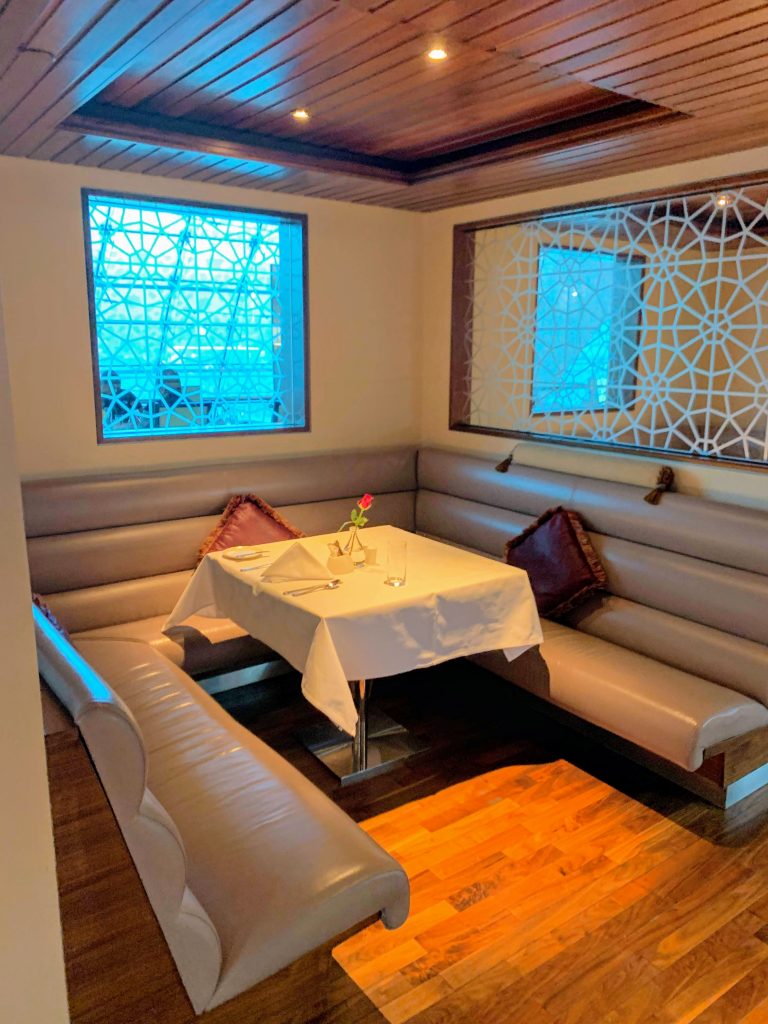 I was flying the second portion of my Amsterdam-Bangkok leg in first class so I had already checked in and got my boarding pass in Bangkok. Although my connection was well over an hour by the time I had gone through the transfer formalities and walked what felt like several miles, there was little time for a lounge visit. I popped into the business class lounge instead which I will cover in a later review. If you want to read about Emirates first class lounge in Dubai you can read this review.
The fare and miles
I had bought an ex Amsterdam fare to Bangkok for £1500 in business class on Emirates. You could fly cheaper with BA currently but I was keen to try Emirates' A380. As I had gained some Emirates miles from my previous First class flights from Cape Town I started to have a look at whether I had enough to upgrade one segment. The Dubai-Amsterdam segment was fewer miles even though time-wise there was little difference from Bangkok to Dubai. I thought I may as well use up my miles and upgrade since I had enjoyed it so much the last time. Plus this was finally my chance to have that airborne shower! The upgrade cost 35,000 miles.
In terms of getting Emirates miles, you can also transfer Amex Membership Rewards into Emirates miles if you need to top up. If you collect Avios you can book many Emirates flights on a Qantas ticket as part of their codeshare agreement. This means that you get both Avios and BA tier points. Otherwise, you can also credit to several oneworld or Star Alliance airlines or even Heathrow Rewards if you only have a small amount to get rid of. I use wheretocredit to find out how to credit miles.
Boarding
Boarding was a bit odd in Dubai with a very confined boarding area but as there were only 2 people in first I was on the plane very quickly. I was shown to my seat and the cabin crew member introduced herself and had a brief chat. The customer service manager also popped by to say hello prior to take off. Throughout the flight, my cabin crew member was truly excellent – attentive but also very friendly and warm. Prior to departure, I was offered a drink so naturally, I went for the 2009 Dom Perignon champagne.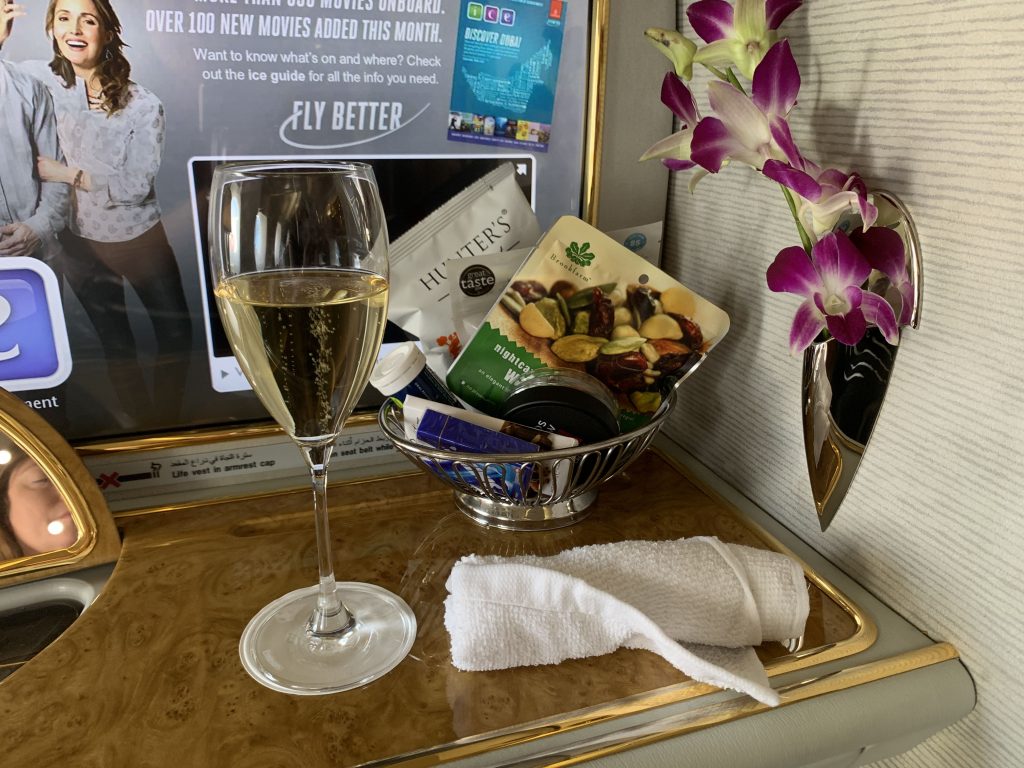 I was also presented the option of having the traditional Arabic coffee and dates. Sadly I am not a fan of Arabic coffee – to me, it is a very acquired taste. It seems very watery and heavily spiced. I do, however, love the Emirates dates that are stuffed with a little candied orange rind. The tang of the orange is the perfect foil to the sweetness of the date.
Finally, a thick scented hot towel was delivered prior to take off.
Amenities
There are a plethora of amenities in Emirates first. A small snack basket is already in the suite when you arrive and then this is taken away for take off and brought back again later. In it is was a small bar of chocolate, trail mix, some Smints, rehydration/vitamin fizzy tablets specifically for flying and some popcorn.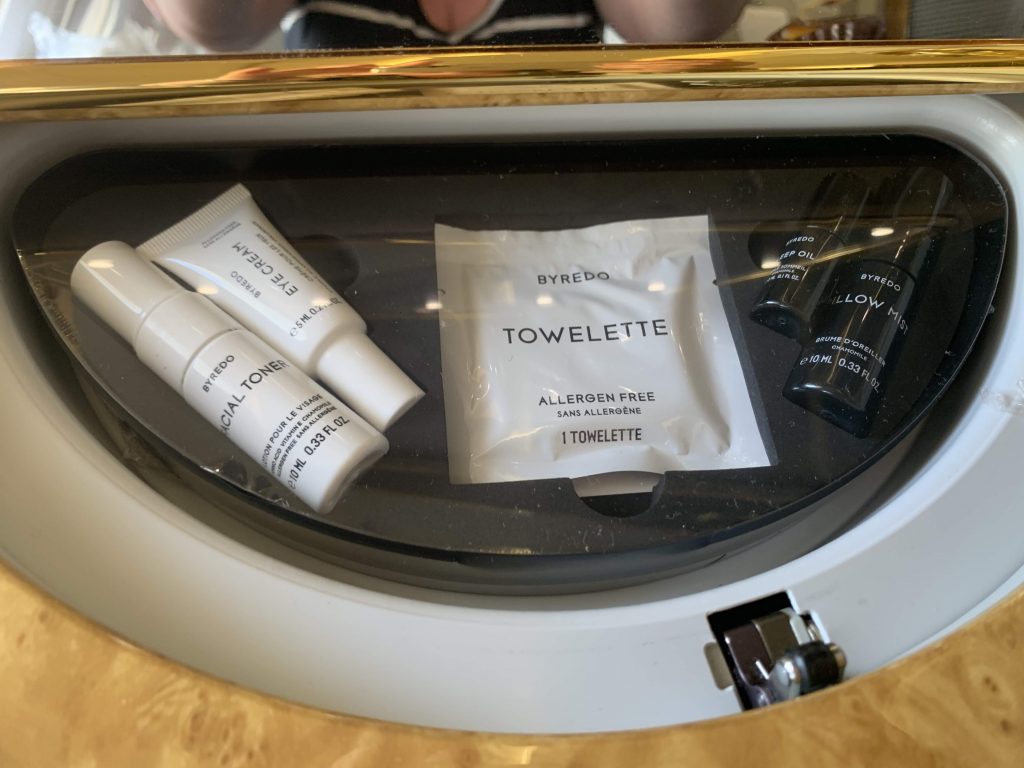 Inside the vanity unit is a small selection of Byredo toiletries that are exclusively made for Emirates. This consists of a cleansing wipe, eye cream, facial toner mist, pillow mist and sleep oil. Next to this was my favourite collectable – a very smart black leather Emirates notebook and pen.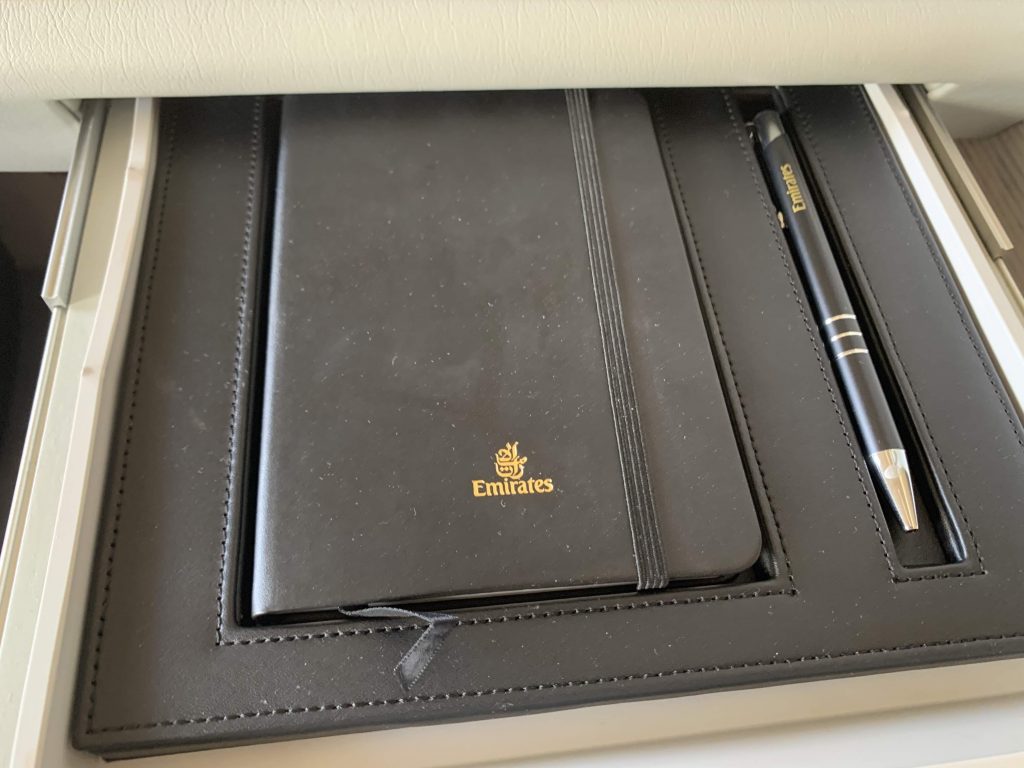 As if that wasn't enough you also get a Bulgari amenity kit (photo from B777 but contents the same) with Bulgari amenities.
This was a daytime flight so I wasn't offered pyjamas but you can ask for them if you wish. The PJs are pretty nice too with special active moisturising fabric to keep your body hydrated in the dry atmosphere. Instead, I was given slippers and eye shades. The eye shades are quite disappointing – the BA ones are much better. These were like the standard business class ones that you get with just a flat eye mask and no extra padding.
The suite and cabin
The first thing that hit me as I walked into the cabin was the full-on bling. The A380 first is definitely the worst for this out of the cabins that I have flown so far. There is a lot of gold, fake wood, lights plus reflective surfaces everywhere. Emirates have made a conscious decision to move away from this style now with their current designs although these still have a wow factor – if slightly more subdued.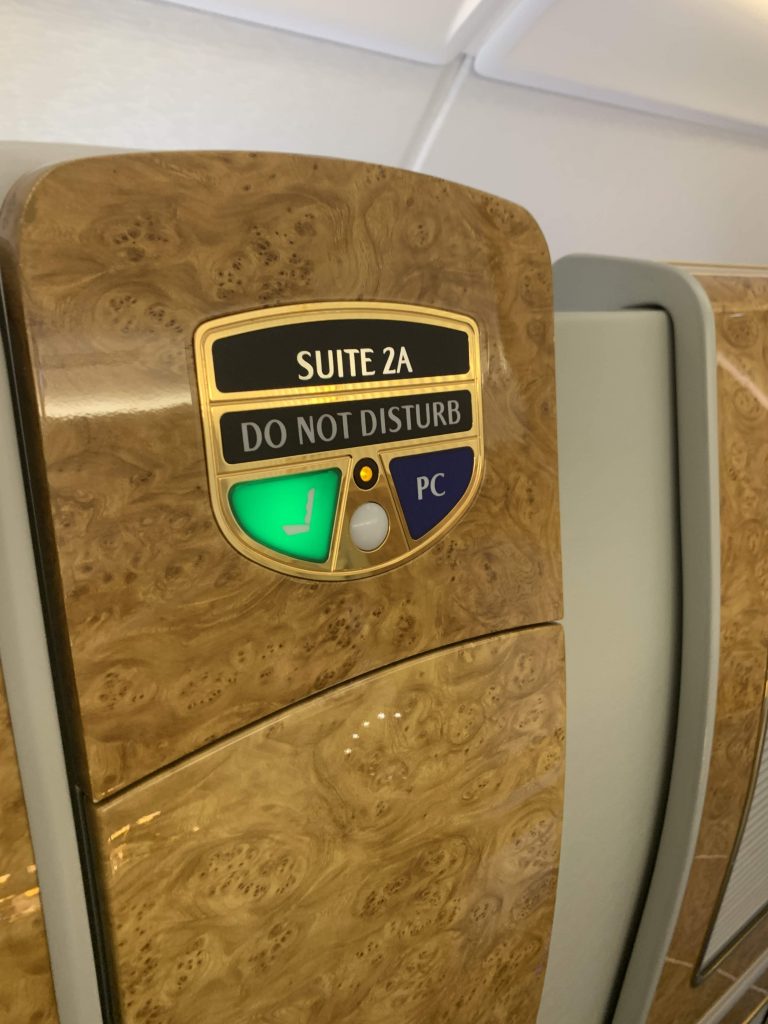 As I mentioned there were only two of us in first so the space felt very private with the other occupied seat on the other side of the aircraft. As I couldn't see anyone if felt like I had the cabin to myself! I had picked the window seat 2A as being in the middle of the cabin for the quietest location but also having a window.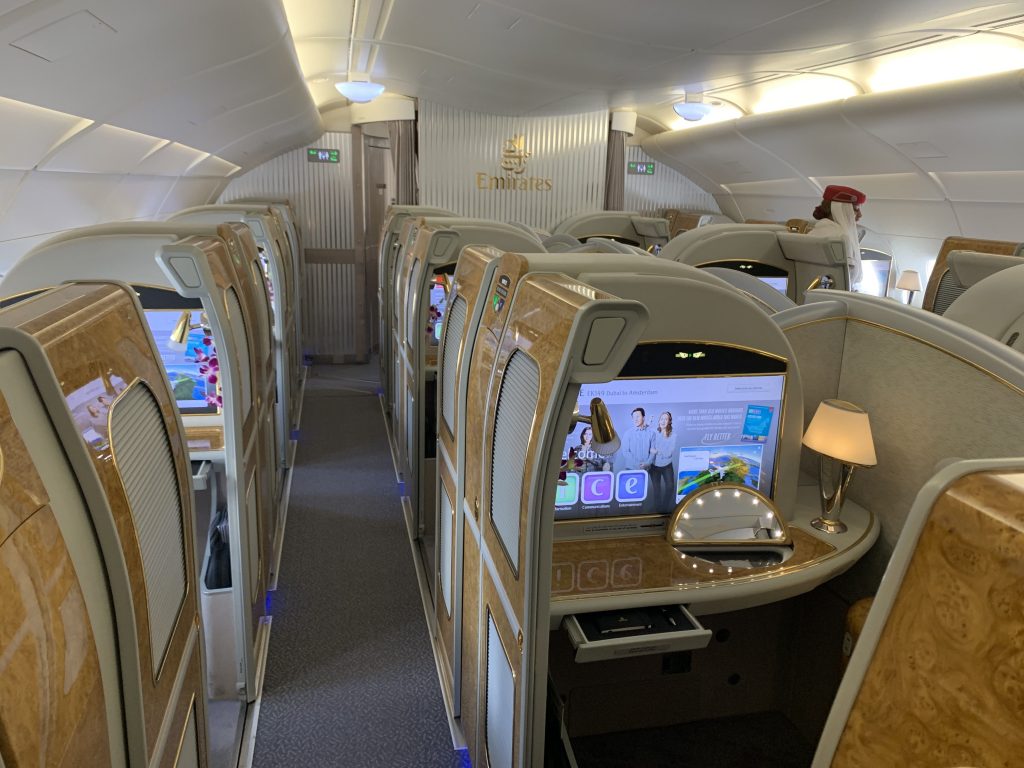 The suites are laid out in a 1-2-1 configuration and feature doors although they are not full height like the new suites which I reviewed here. There are 14 suites in the first cabin but with just two passengers there was a calm atmosphere apart from when someone starts shouting into their phone! I do wish the Middle East airlines would ban this like BA and many others do.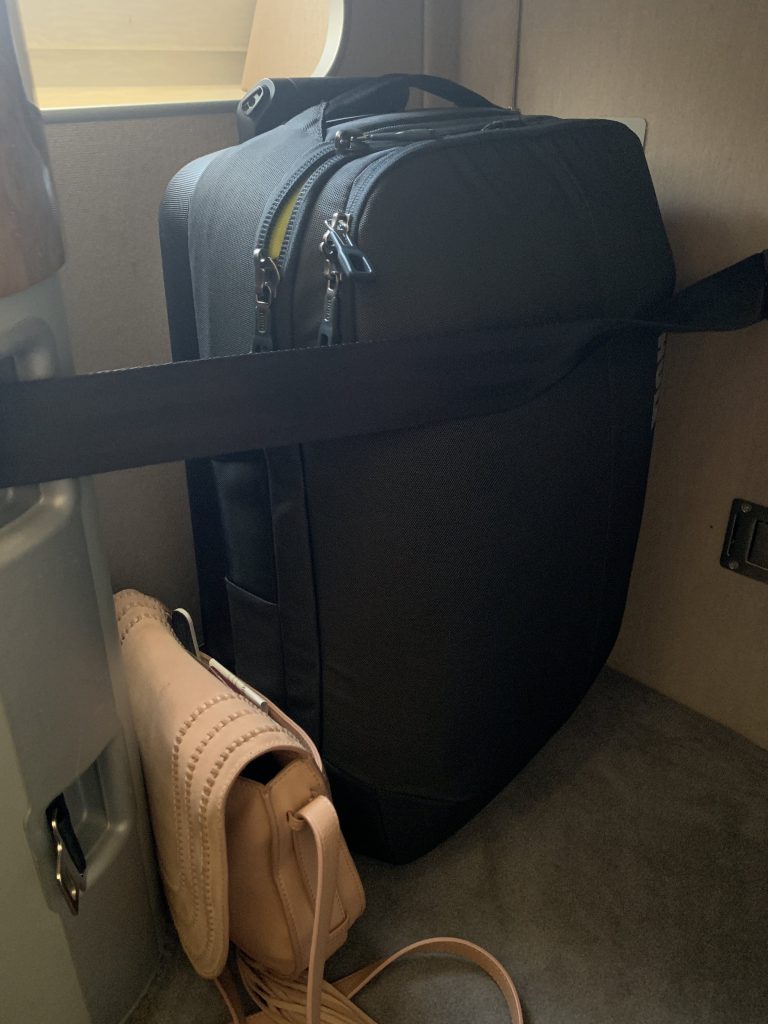 The suite was very similar to the B777 one. There are no overhead lockers which is good and instead of a space with seat belts to secure your carry-on case is tucked in the corner. I do wonder on the safety aspects though of other items that you can't secure being loose and able to potentially be hurled across the cabin.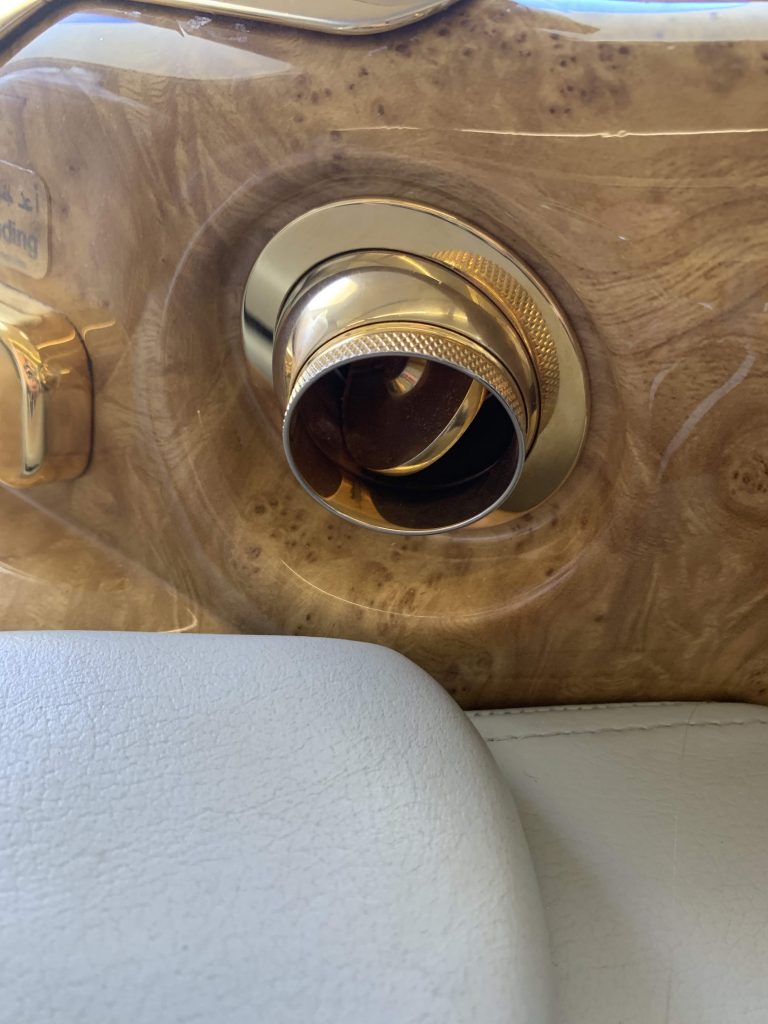 The suite had a lit vanity unit, table lamp and even individual air vents which I liked (although naturally there were gold!). The ubiquitous Emirates mini bar was also present which I enjoy pushing a button to raise up from the side table or stow back down again (simple things…). The drinks aren't chilled which does detract from it slightly but I do like having a couple of bottles of still and sparkling water to grab without having to get someone's attention.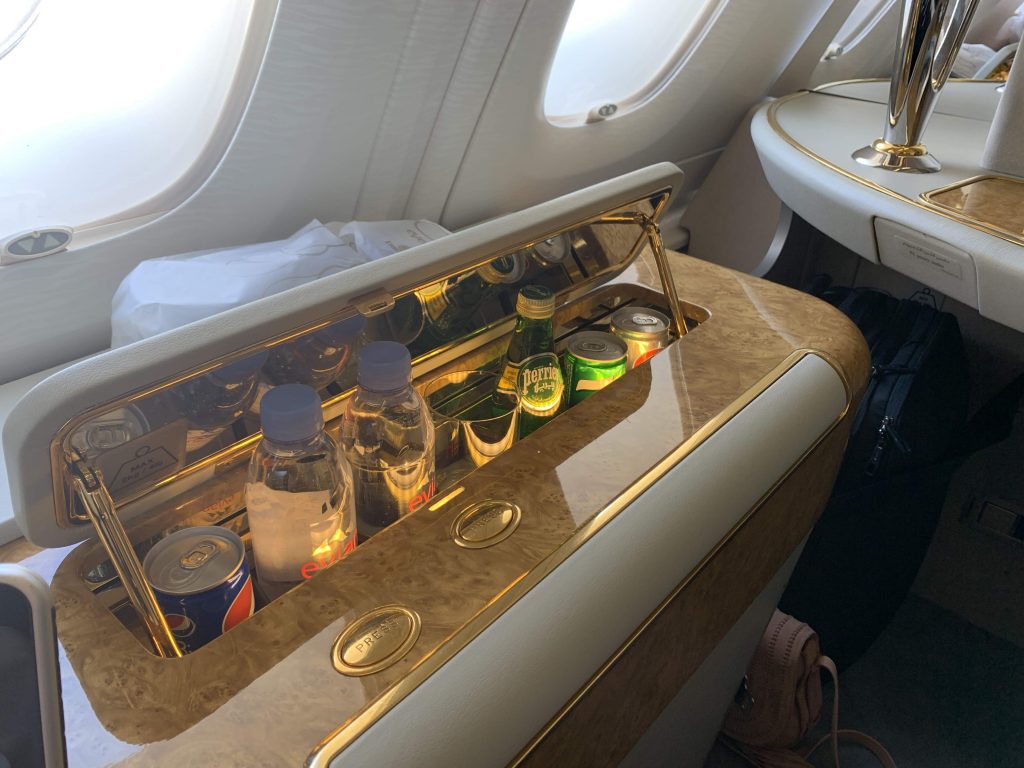 The seat can be controlled either by the tablet-style controller or preset positions in the more traditional controls on the armrest. You can also close the doors from here. I didn't find the doors at all claustrophobic as there was a decent amount of space in the suite. They were a little pointless in this case in terms of privacy as there was no one else within my line of sight! I did like that there was a privacy sign on the outside of the suite so that if you wanted to sleep you would not be disturbed.
I find the Emirates first seats very comfortable for both sitting and sleeping. The fact that the position is fully customisable in about 7 different ways should make it easy to find the perfect lounging position for everyone. The only thing I could criticise is that the table at the front is a long way away from the chair and yet they always place your drinks on here.
I did have a quick lie down for an hour or two even though it was a day flight since I had already travelled from Bangkok early in the morning. The bedding in Emirates first is also a highlight. The best part is the wonderfully thick memory foam mattress topper that makes the seat the most comfortable first bed in the sky for me. There is also a large pillow and duvet in crisp white cotton covers. The crew, of course, will make your bed up if you wish, though I tend to do it myself since it's pretty simple.
Here is a shot from a previous flight of the bed made up: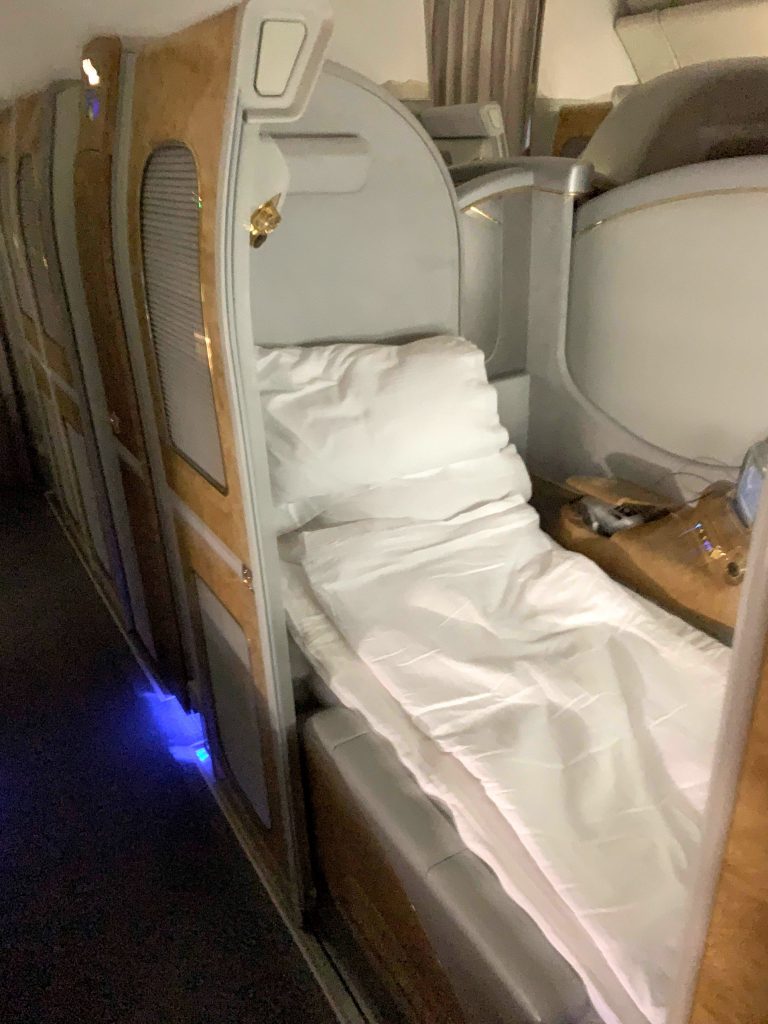 Food and drink
Emirates particularly shines for me in first with their very premium wines and spirits and generally good food too. You can eat whenever you wish on board. Here is the wine list:
I opted to eat straight away on this flight. Here is the menu:
The service begins with a drinks round served with warm nuts and canapes. I decided to try a cocktail before switching back to champagne for my starter. Here is the list of cocktails which are also available in business class.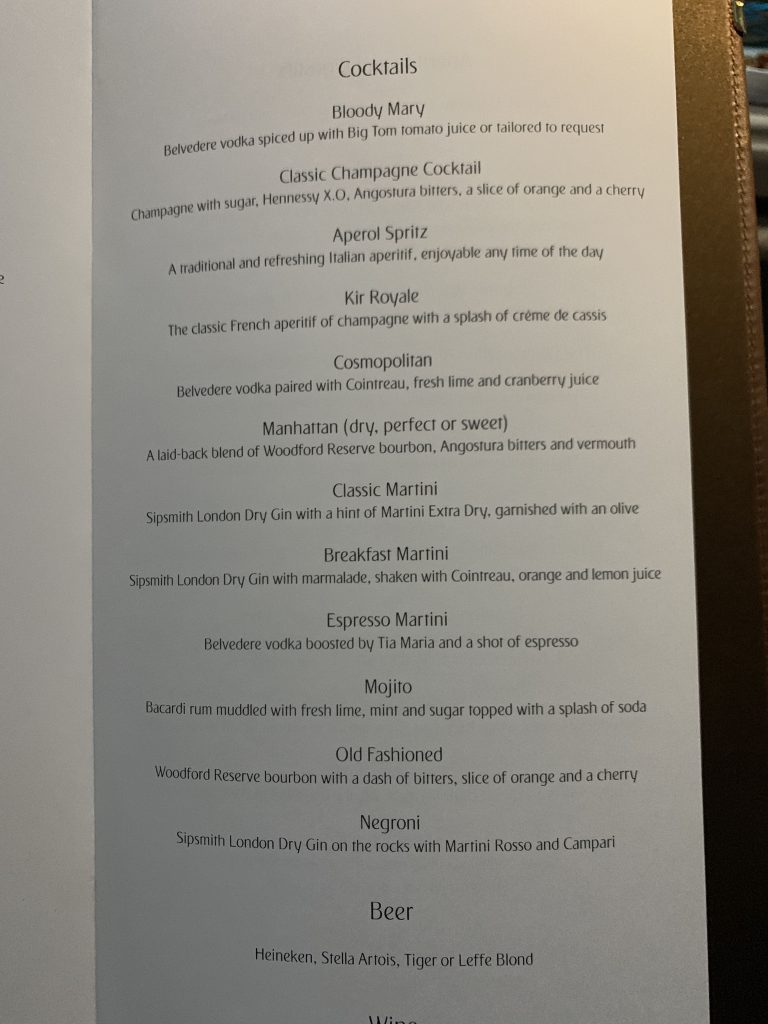 This is probably one of the most comprehensive ranges of cocktails I have seen on board an aircraft. I do find that they are somewhat inconsistent even though they are made to a set recipe. This Aperol Spritz was one of the better ones though some I have had on board have been very unbalanced and bitter.
This came with 3 canapes: Grilled venison, smoked salmon and blue cheese. They were all delicious bite-size morsels but the warm venison was the highlight for me being perfectly seasoned and offset by sweet and sharp cranberries.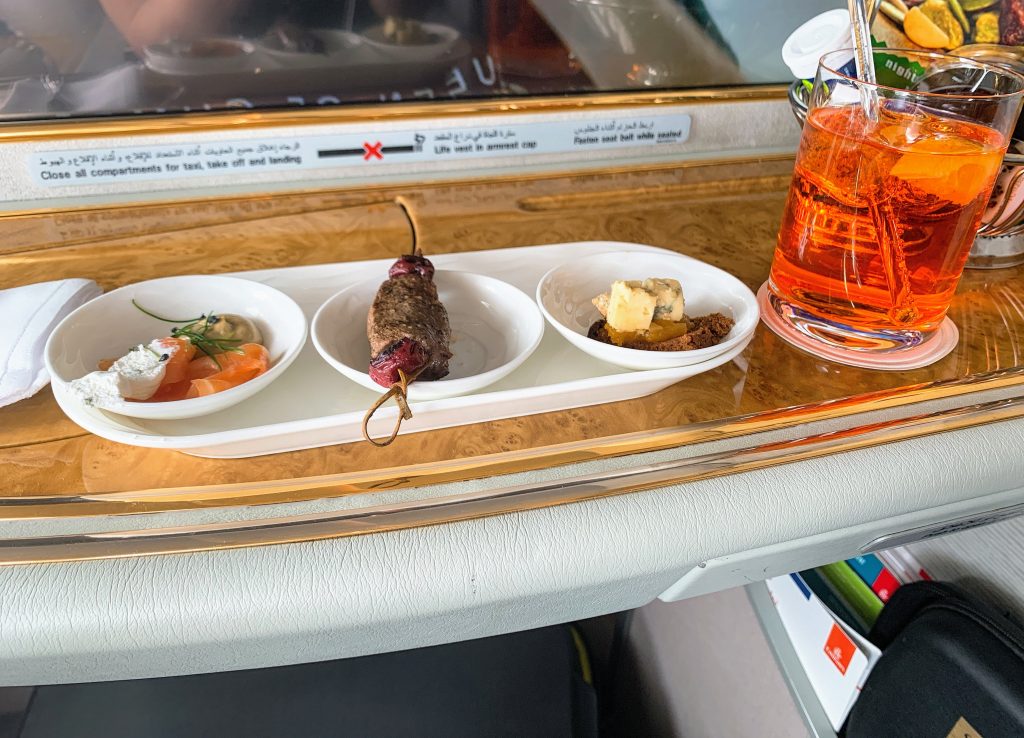 The table was then laid up with a smart white table cloth and a beautifully folded napkin. It does really feel like you are in a restaurant. You are given an individual basket of bread with both olive oil and balsamic as well as butter. They also bring round a further selection of warm breads including garlic bread (BA – why can't you provide this??)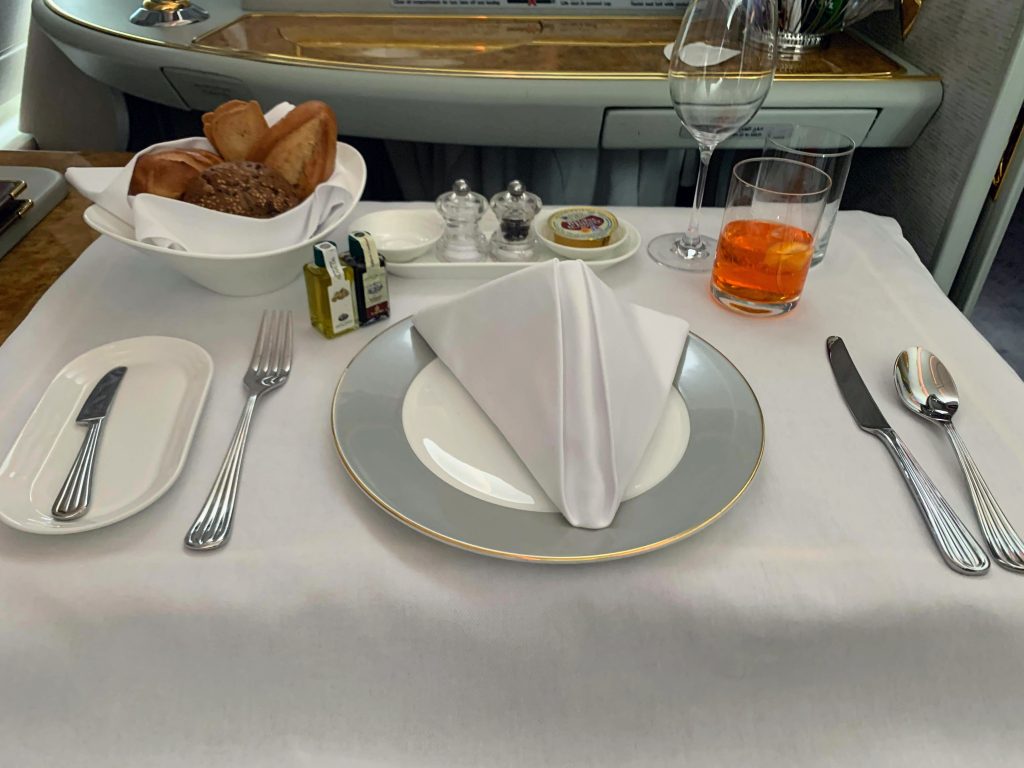 Naturally, I had to get my money's worth and order the caviar as a starter. Out of Dubai, it is always well executed and comes with a good range of traditional accompaniments.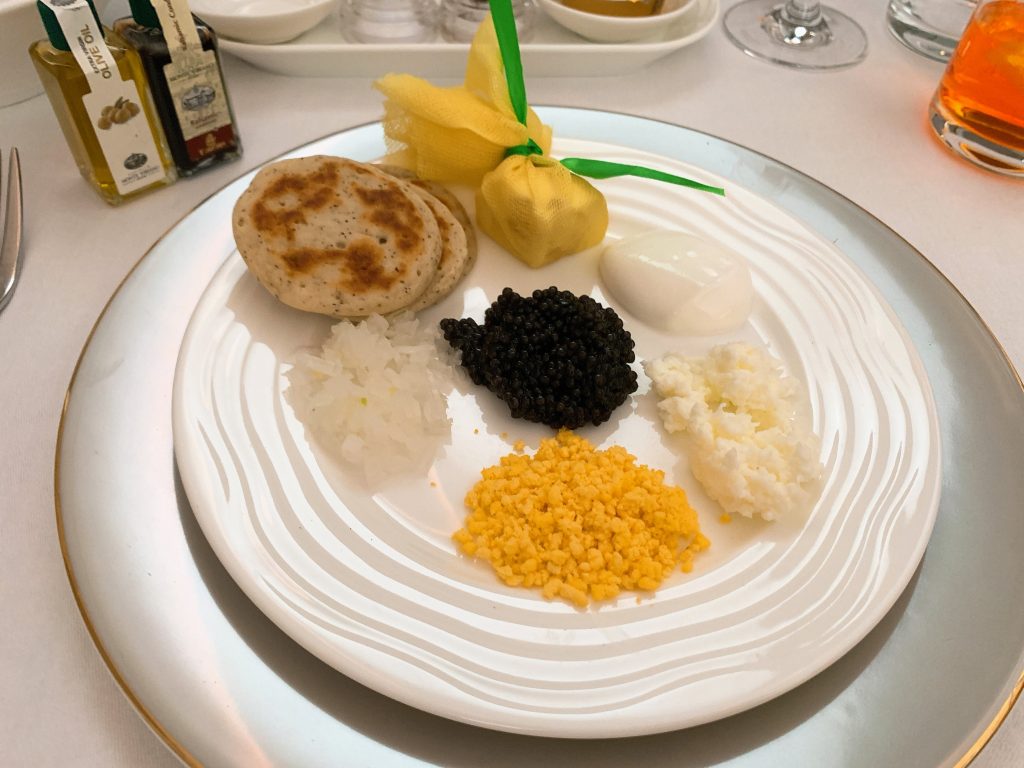 Sadly my main course was something of a disaster zone. To be fair I deliberately choose the beef wellington as a test. It's hard enough to get right on the ground, let along on a plane. The beef itself wasn't too bad and not completely cremated. It was at least tender as well. However, the pastry was horrid – soggy and claggy – so I left that completely.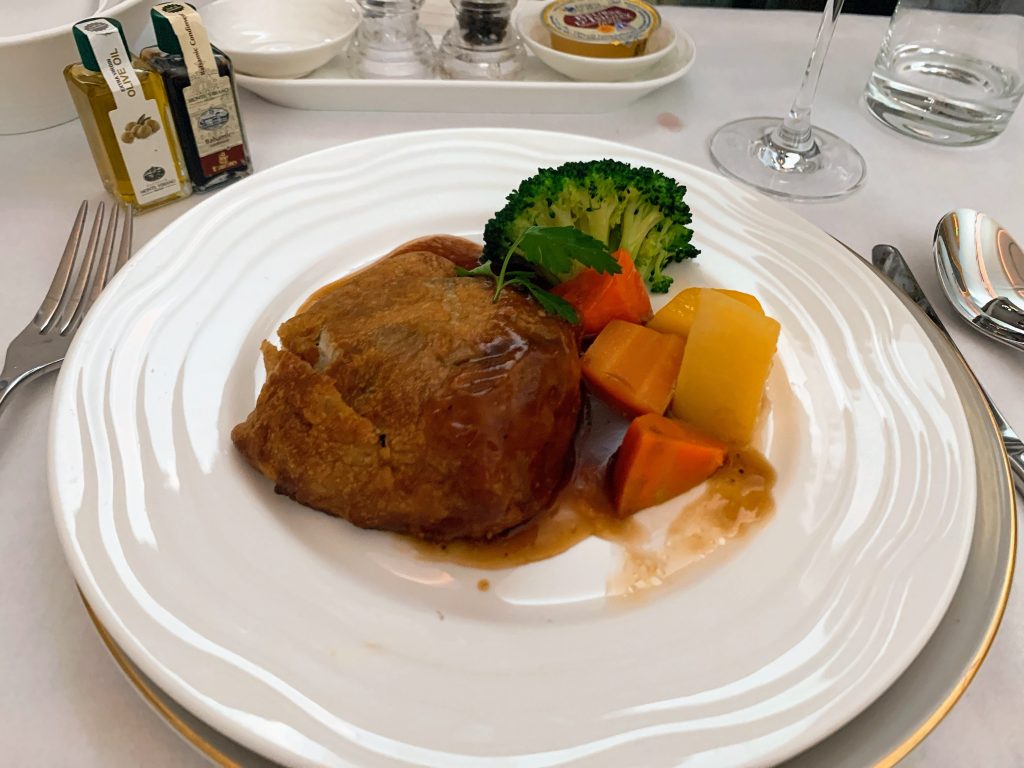 The vegetables were well cooked though. This is something that Emirates do consistently well compared to many other airlines where the vegetables appear to have been boiled for several hours into a "guess what the sludgy green mush is"! The other reason to have the beef was to enjoy one of Emirates excellent red wines. I had the Chateau Haut Bion Graves 2004 which is an absolute pleasure to drink. This comes from their rare vintage collection and retails at around £300 so Emirates are spending some serious money. The wine paired perfectly with the steak being medium bodied with light tannins and a hint of blackcurrant.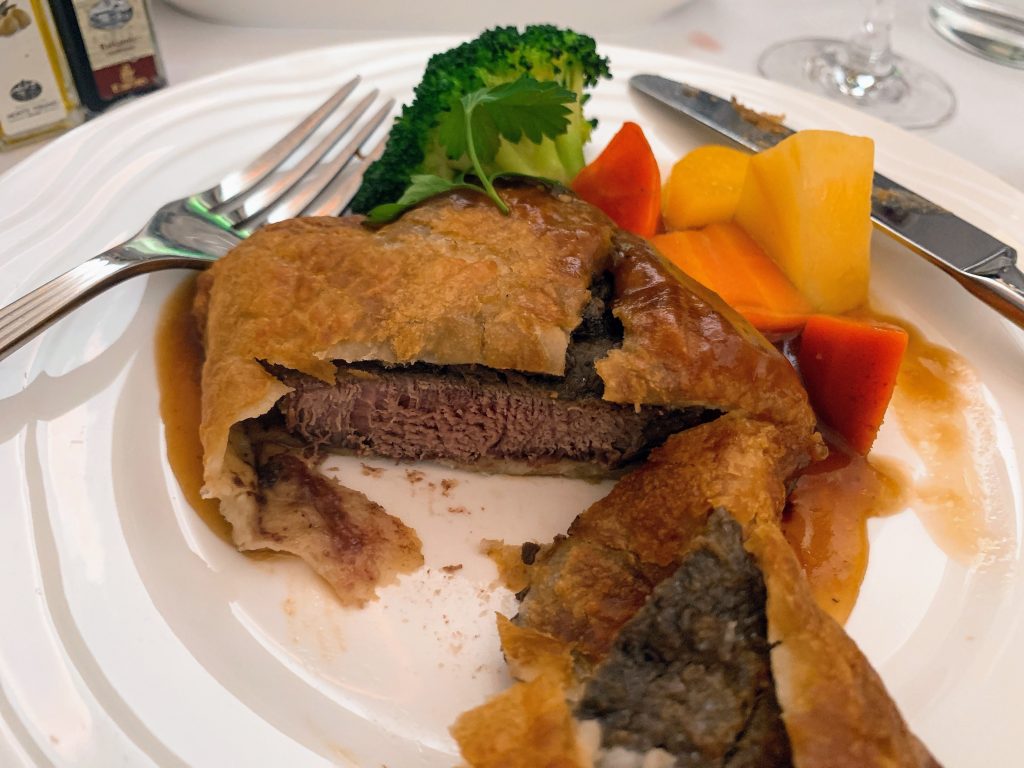 The dessert selection was rather disappointing as they were both chocolate which not being a fan of chocolate desserts only left the fruit.
I could have also had the fresh fruit but I decided to have something far more interesting and have a glass of the Hennessy Paradis. This is one of the best cognacs money can buy and was recently described as "liquified caramelised angels" by a friend in the wine trade! This came with a small box of chocolates as the perfect way to end the meal.
If I had wanted more there was also a snack menu if you needed something light before landing.
The bar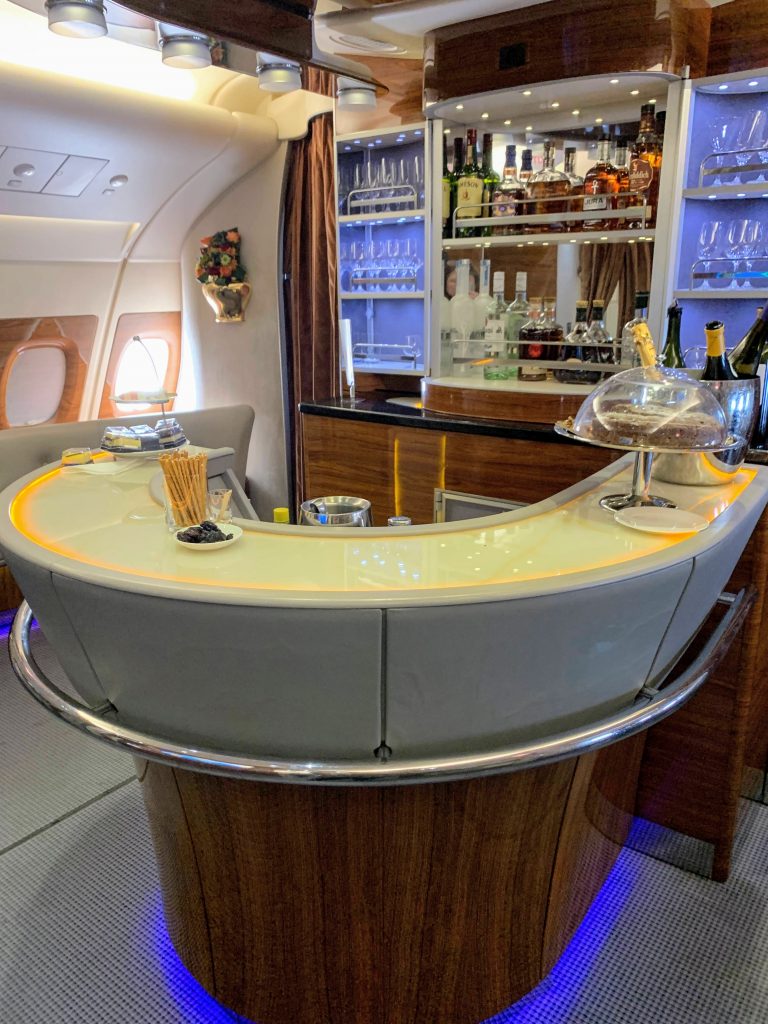 I thought that the newly designed bar on Emirates which actually extremely attractive and not far off my favourite onboard bar, Qatar.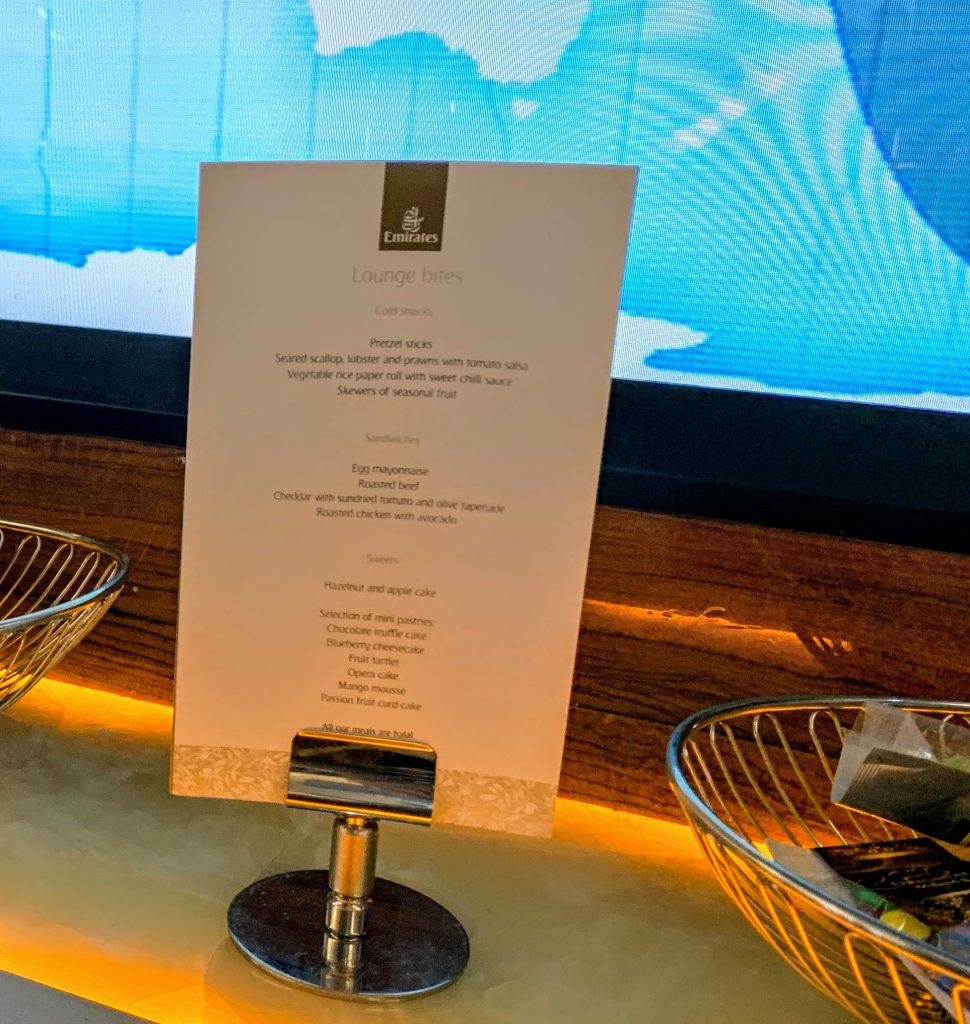 As well as all the onboard drinks they also serve a range of snacks including sandwiches and slices of cake which is attractively displayed on a cake stand.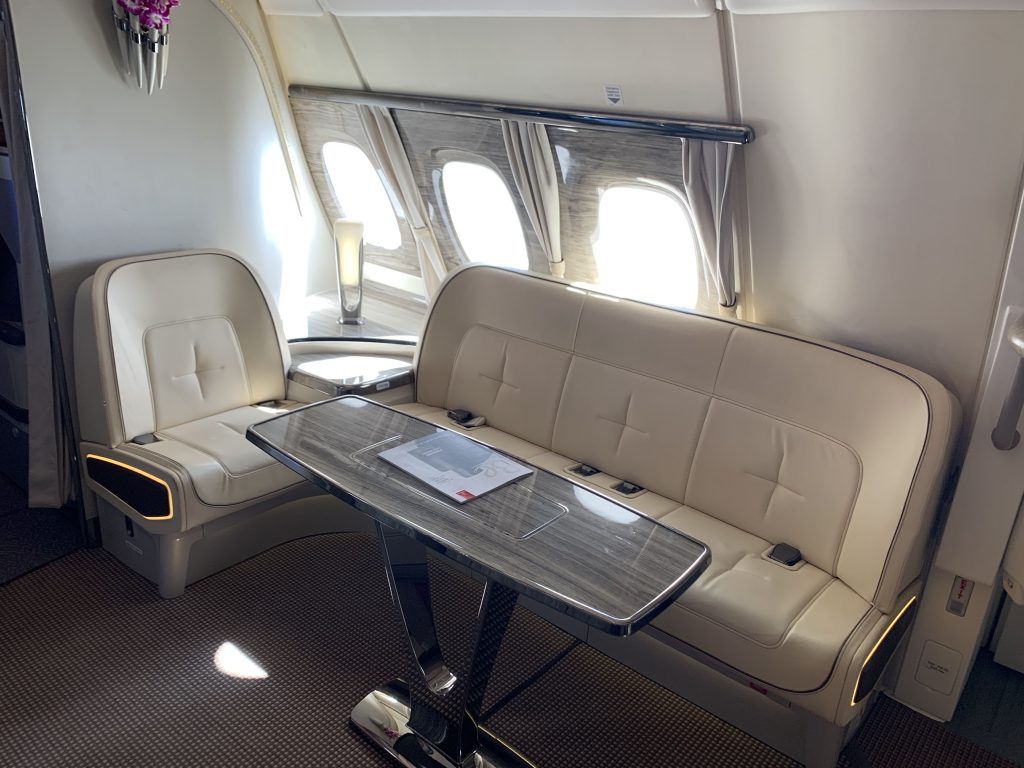 Entertainment
Emirates ICE system is impressive. The suite had a very large high definition TV that could be controlled with the touchscreen tablet or a smaller handheld remote. I found the tablet not that easy to use as it was often slow and awkward to use for the entertainment. It worked well for everything else though. There was a huge selection of films with plenty of new releases as well as the usual TV shows, music and games. It was impressive that there were episodes of shows not yet shown in the UK and I enjoyed a few new episodes of one of my favourite TV shows, Modern Family.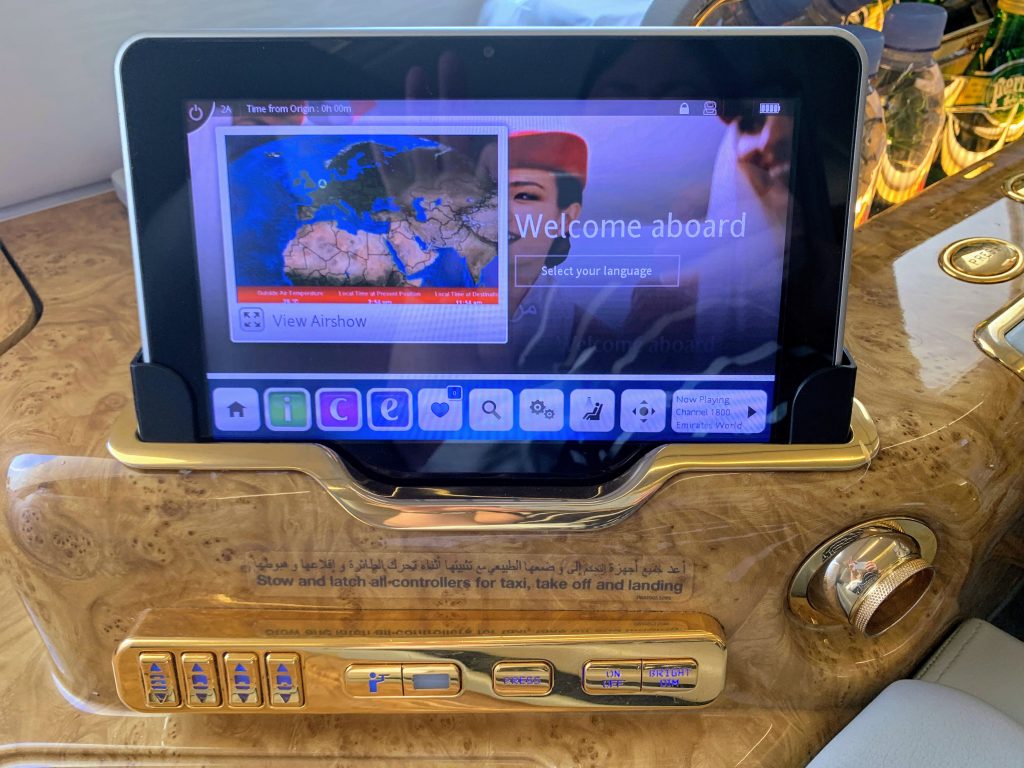 There were ample ways to charge your devices with 2 USB ports and a multi-country socket. Sadly there was no HDMI interface unlike on some of Emirates B777s. Headphones were provided by Bowers and Wilkens which are made especially for Emirates. Despite looking a bit old fashioned there are a classy product which are actually very comfortable and have excellent sound quality.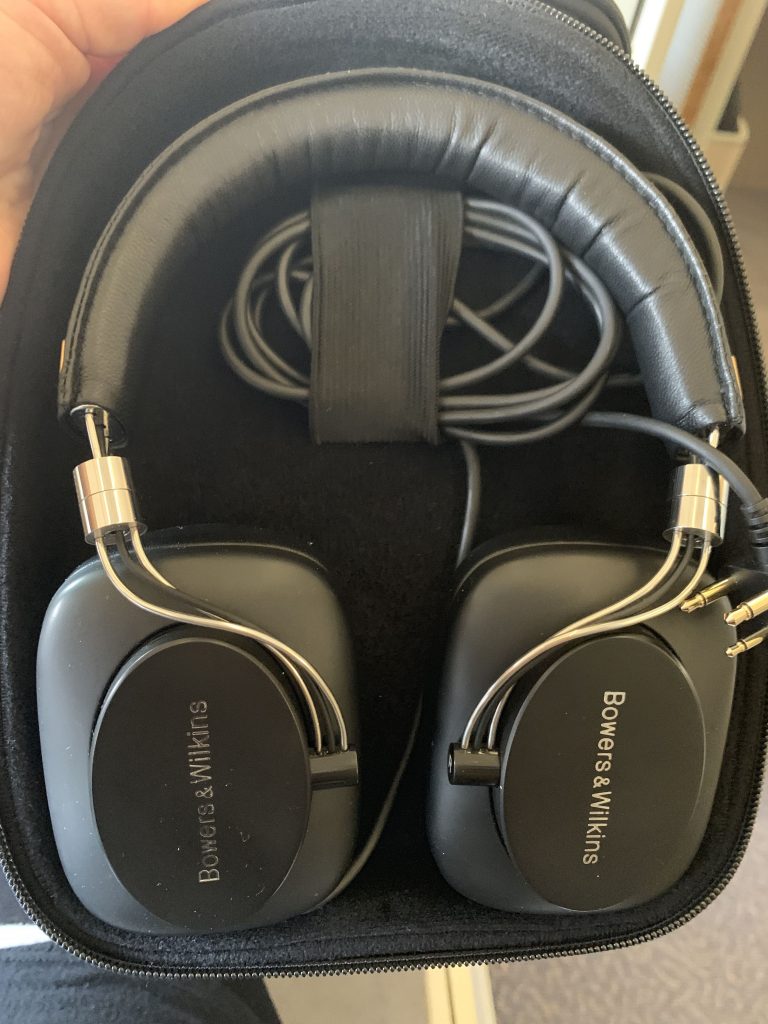 If you are an Emirates Skywards member you get free Wi-Fi in first or business class for the entire flight which is impressive. I found it a little slow, you certainly couldn't stream anything but it was good enough for messaging, social media and general internet browsing.
The icing on the cake – showering on a plane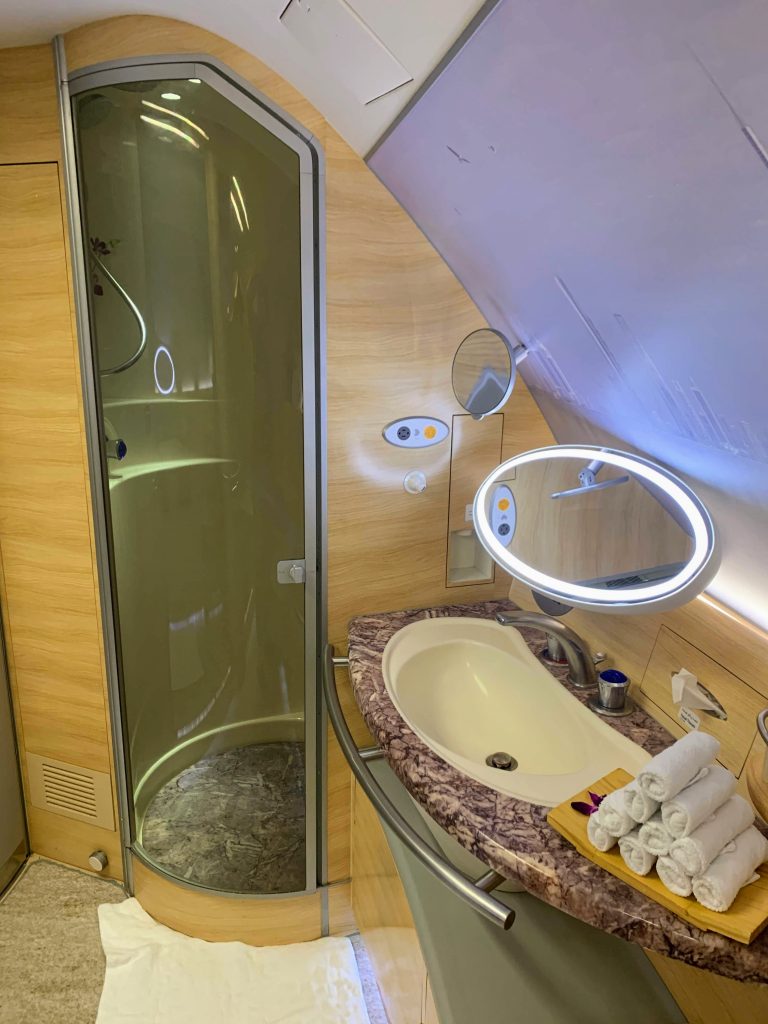 Unlike on Etihad where I assume they forgot, I was asked whether I wished to reserve a slot for the 'Shower Spa'. I decided to go for a slot about 90 minutes from landing which was the latest time. I didn't really need a shower as I was going straight to my hotel at Amsterdam airport (The fairly new Renaissance hotel which I recommend) but it had to be done!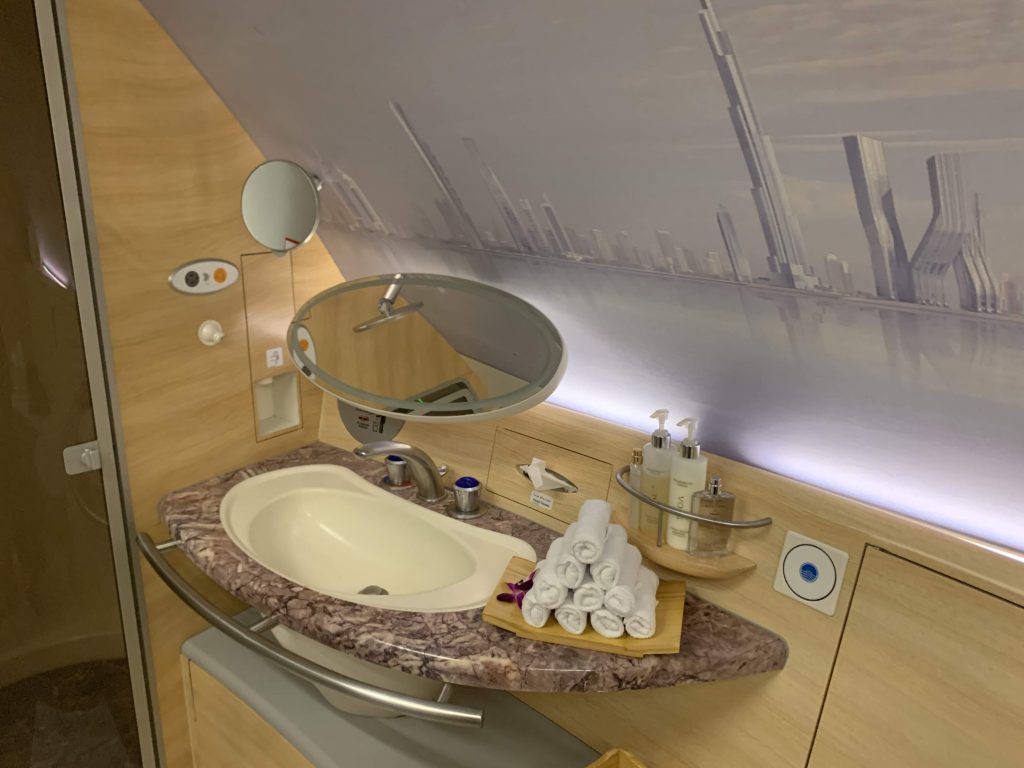 I was told that I would have 5 minutes worth of water for my 25 minute spa session but that I could stop and start the water as much as I wanted. I was shown to the shower and the controls explained to me. Seeing that I had taken a change of clothes with me, the crew member brought back a cloth Emirates bag for me to take them back to the seat.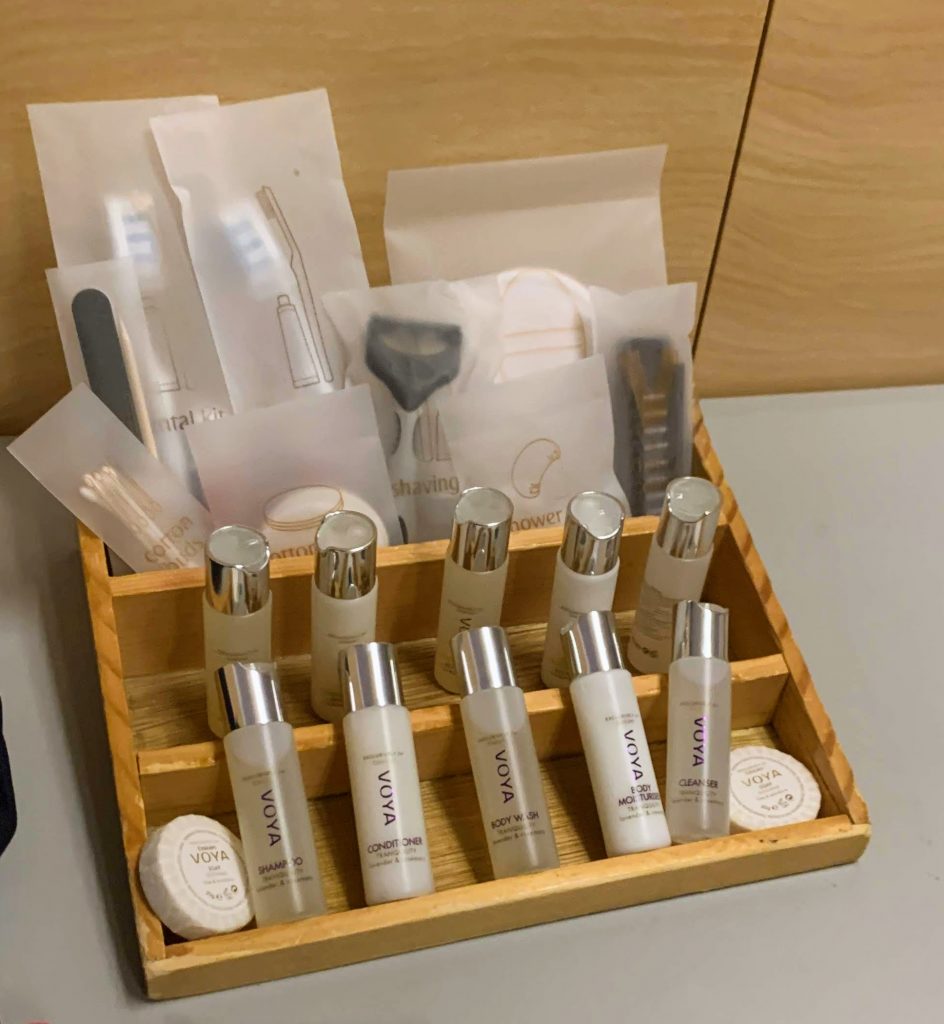 The bathroom felt huge for a plane although they are always large in the nose of the A380. I thought Emirates had really put a lot of thought into the experience. The entire wall had a mural of the Dubai skyline. There was a large sink area with one very large lit mirror as well as a smaller magnifying mirror. A huge selection of toiletries were provided that were by Voya whose products I like. This included shampoo, conditioner, shower gel, soap, shaving kits, toothbrush and paste, nail kit, cotton wool pads and buds, hairbrush and shower caps. (Roving Reporter would have been in kleptomania heaven)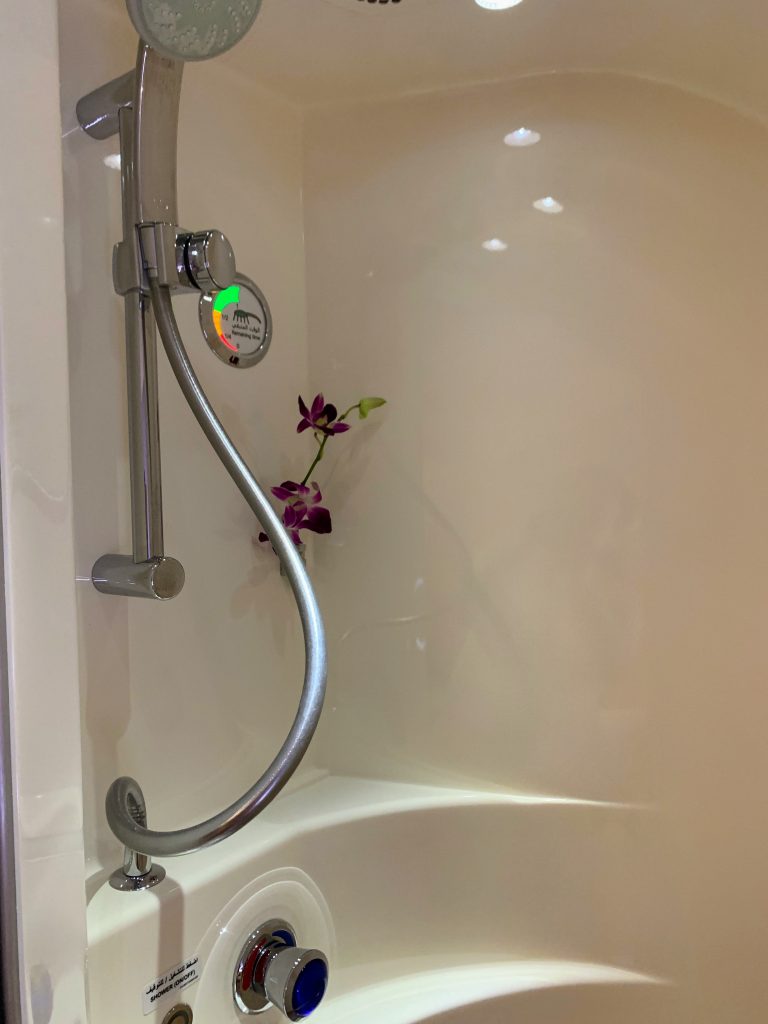 Another nice touch was the orchids in both the shower itself as well as in the bathroom. Thick fluffy towels and a bath mat were already laid out for me. So, how was the shower? Surprisingly good. The water pressure was decent – I have had hotel rooms with far worse. The five minutes seemed to go quite quickly but then I only paused the shower once which probably didn't help. The controls were very user-friendly. There was a constant electronic display of how much time you had left so you didn't get caught out all soapy as the water turns off!
After I had finished in the bathroom I emerged to find that the cabin crew had prepared some tea and fresh fruit just to finish off the spa-like experience.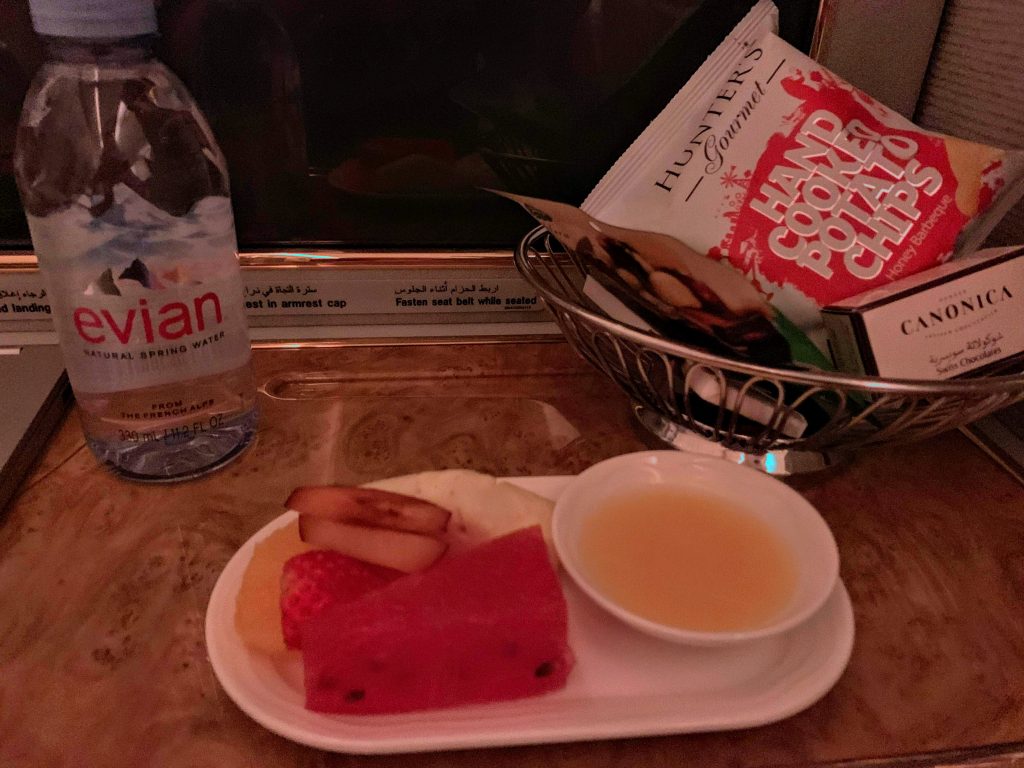 Chauffeur
As I was staying overnight in Amsterdam I booked the free Emirates chauffeur to take me to my hotel even though it was only 10 minutes away. It took me a while to locate the chauffeur as I turned the wrong way out of customs and completely missed them all standing there. The chauffeur was very friendly and I had an enjoyable ride to my hotel in a smart Mercedes E class.
Conclusion
This was another excellent flight with Emirates. For me, Etihad still has the best space and size of the bed in first class with their A380 Apartment which has a separate chair and bed. However, I think the bed is more comfortable on Emirates even though it is smaller. The food was a little hit and miss on this flight but perhaps they just need to accept the limitations of cooking on a plane. I really enjoyed the wine and cognacs and it has to be one of the best wine and drinks offerings in first class.
The service was excellent and the shower experience was something pretty special. Emirates didn't really need to do much other than have a shower on board but I feel that they have really pulled out all the stops to make it the best possible experience.