Today's reader review is by Reader A. Please note that we very rarely take reader reviews, so if you would like to be considered please pitch the idea to us first via the contact us tab before writing the review!
The lounge
You can read full details of all the Club World lounges at Terminal 5 in this article.
Departure
Departure was from T5 B Gates, and while boarding was completed on time, pushback was delayed due to problems with one of the now fully automated tow trucks. We pushed back around 30 minutes late.
The crew (the 'new' and oft-maligned Mixed Fleet) were enthusiastic as well as jovial and used my name throughout the flight. There was the usual hiatus after take-off, with 'hot' towels taking an age to be offered. On this occasion, after an astonishing amount of noise opening and shutting containers in the galley, we were somewhere over the English Channel south of Brighton before they arrived and my towel was barely warm.
Seat and cabin
My seat, in the last row of the rear Club cabin (there was no First on this service) harboured a selection of crumbs and food from a previous flight. I drew the attention of a stewardess to the mess and was told that the company is currently in dispute with its cleaners, which may help to explain things. It is a problem I've come across on previous BA flights in Club, however.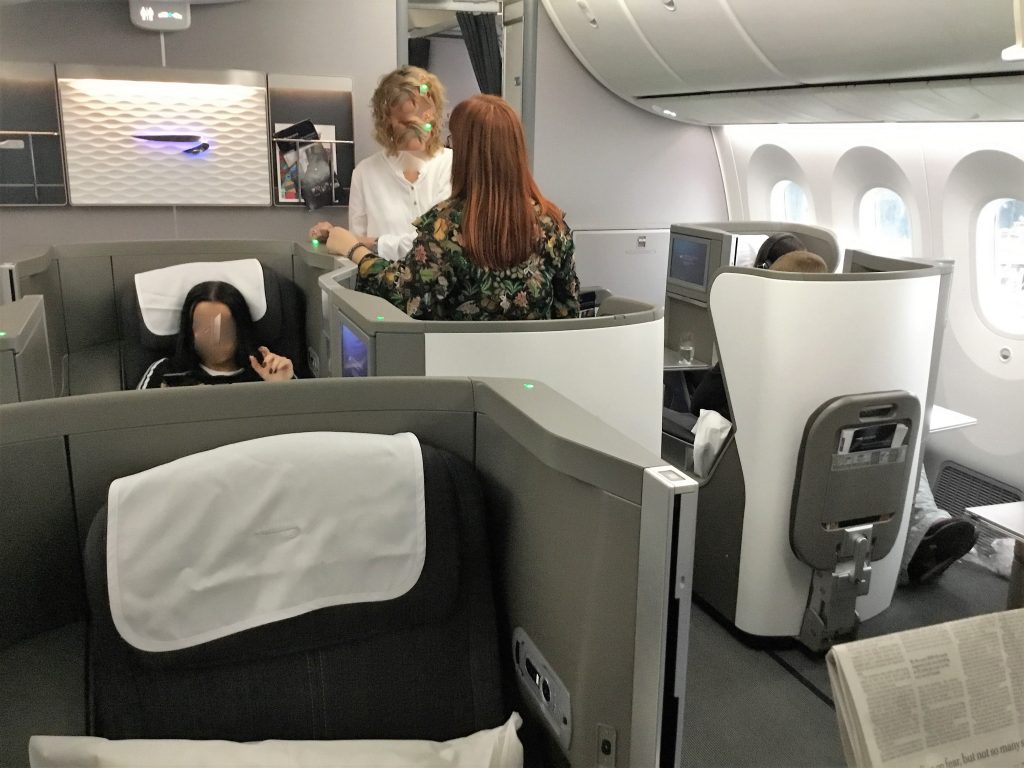 I wouldn't recommend the rear Club cabin – you are served last – and certainly not the back row, where you are regularly woken by the clanking noise of the metal fastenings on the curtains leading to World Traveller Plus, as crew members move between cabins.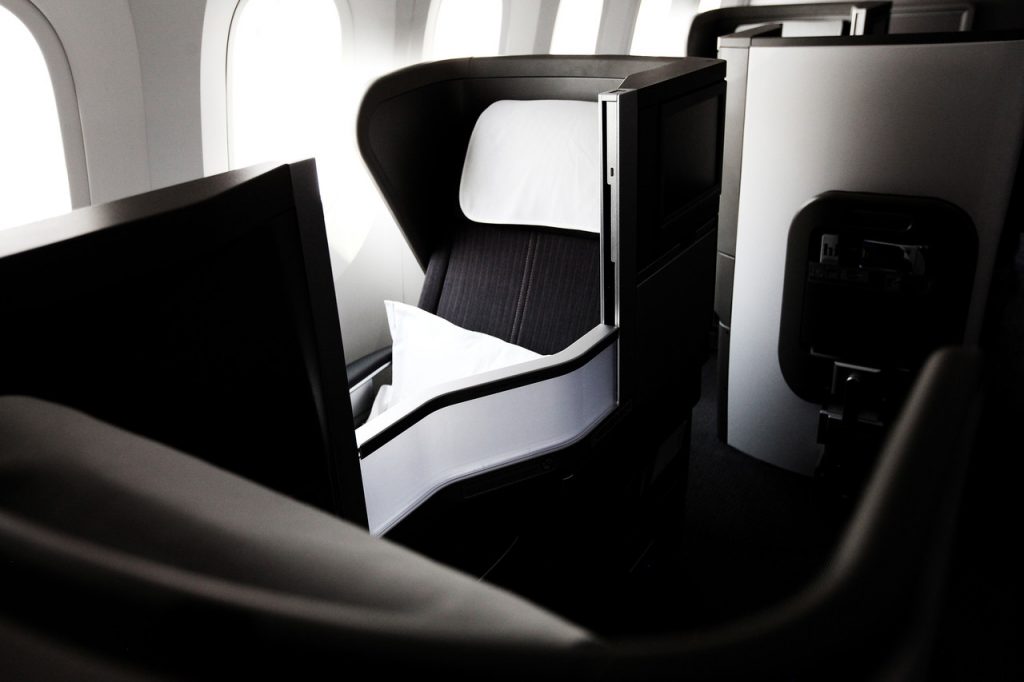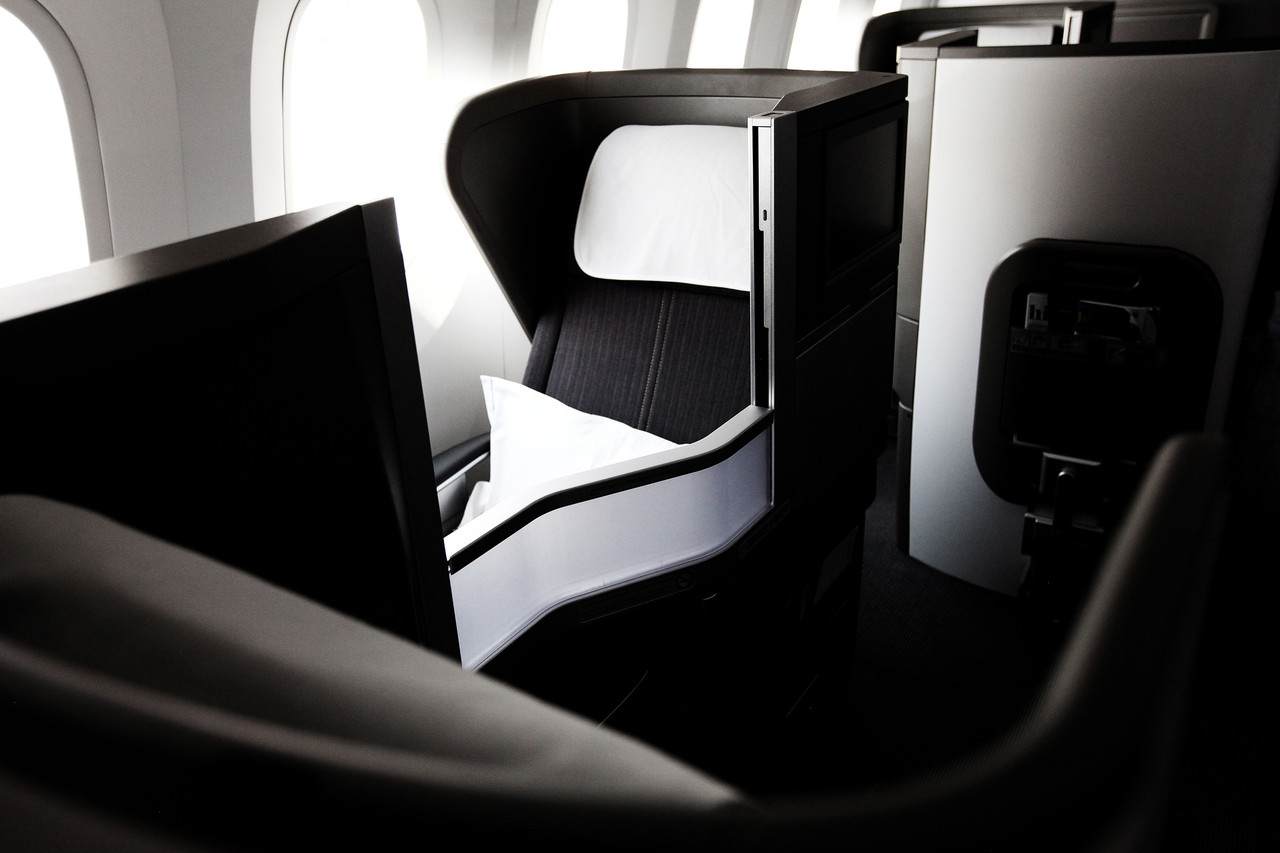 The rear-facing seats in BA's Club always seem very cramped too, even those by the window. Also if you like looking out at passing scenery etc then you have to crane your neck uncomfortably. The sooner they install new Club with all forward-facing throughout the better, in my view.
Food and drink
The pre-dinner drink looked a little bare and uninviting on an 'undressed' table. I'm never quite sure why BA does one or two drinks rounds before dinner on an overnight flight. I would have thought that both passengers and crew would want to get the meal service out of the way as soon as possible for people to sleep.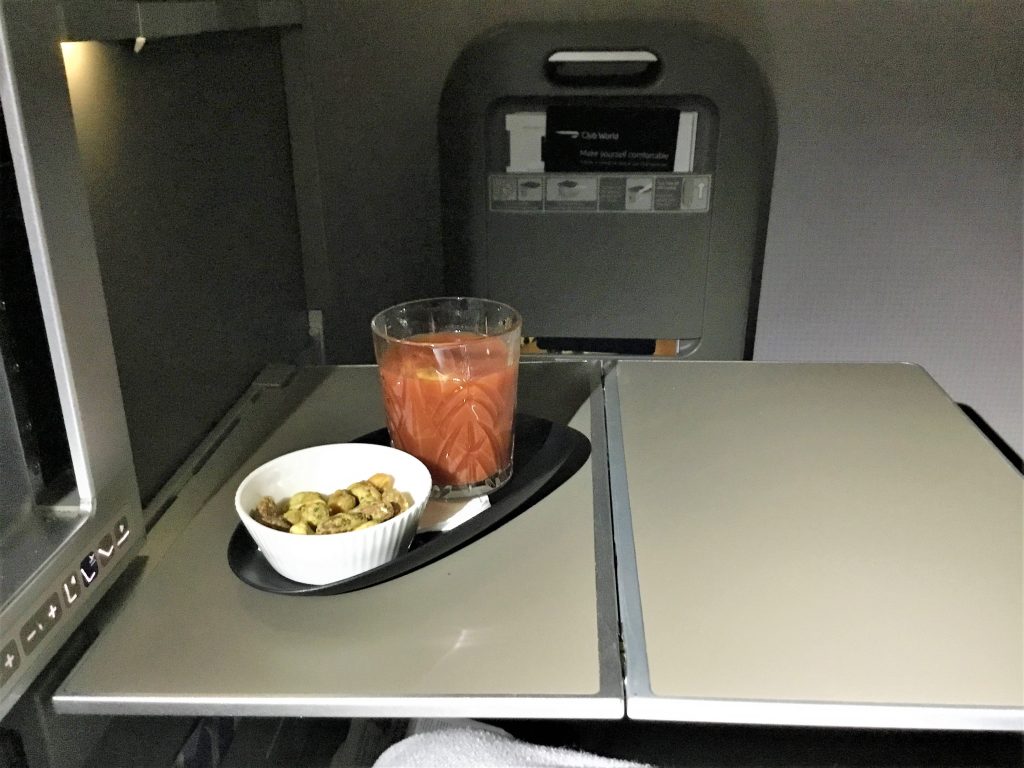 Dinner was served just under two hours after take-off, which I find unacceptably late, even though my drink was topped up beforehand. As regular readers will know, BA has tried recently to address some of the deficiencies of the Club food offering. With only partial success, I would say, based on this flight….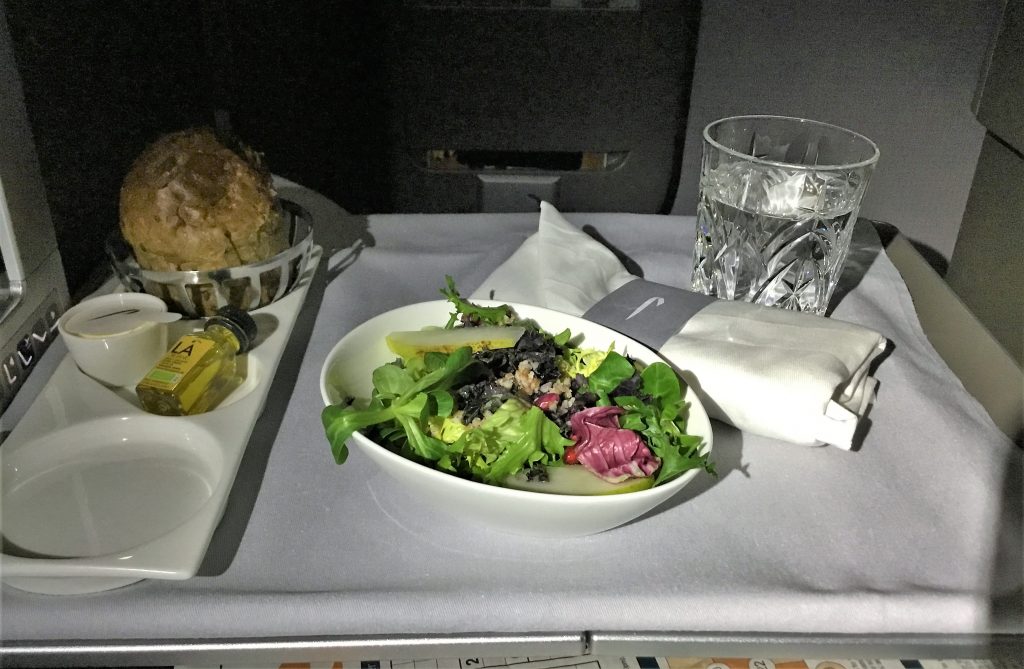 The roll was nice warm but needed eating immediately to avoid becoming unappetising. The butter on BA nowadays is just odd – slightly 'frothy' in appearance, but still served too cold and therefore too hard. My 'fresh seasonal salad' contained just two thin slices of pear, and ten pomegranate seeds so consisted mainly of lettuce. It was pretty underwhelming, despite being very fresh.
The main course, braised Irish ox cheek, was outstanding. BA's main courses used to come swimming in too much sauce or gravy – this had just the right amount. The meat was fabulously tender, the mushrooms full of flavour and the broccoli satisfyingly al dente – a triumph.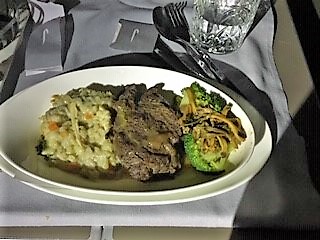 I then opted for cheese, unable to resist Fourme d'Ambert, one of a choice of three. Although served too cold, it was fine, and the fig relish very good.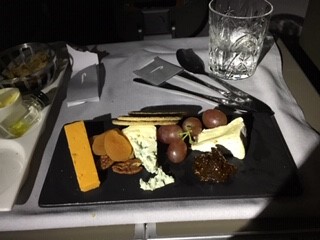 I also belatedly tried the black cherry frangipane – another terrific dish, with the correct amount of almond and no excess sugar.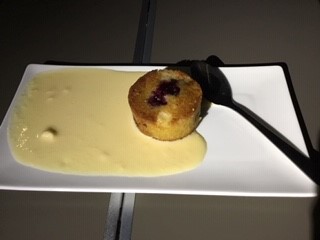 I'm surprised that on this route to South Africa – the same menu is also on two of the Cape Town flights – there were no wines from that country. However, there may be a commercial logic to excluding them and favouring those from France, Argentina, and New Zealand.
My tray was taken away without my being asked, so I ate dessert from a bare table, and the satisfyingly empty plate was left uncleared. I wasn't offered either tea or coffee, and, inevitably, my napkin wasn't taken away. Despite these shortcomings, dinner was good, and I'd give it 6.5 or so out of 10. You'd probably feel you'd had better value on Qatar or Emirates, of course, but it was ever thus. The same is true of the 'The White Company' black wash-bag, which contains mini toothpaste, lip balm, moisturiser, and relaxing oils, etc, and a very inferior toothbrush.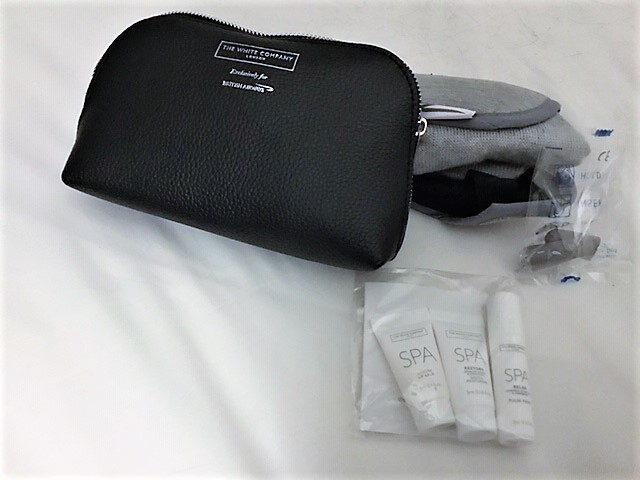 The crew forgot me at breakfast, so I had time only for the cold offering once I'd said I'd like to eat. I declined the fruit smoothie, having noticed during a visit to the galley that the only way the crew were able to extract the already filled glasses from their container was to handle them around the rim.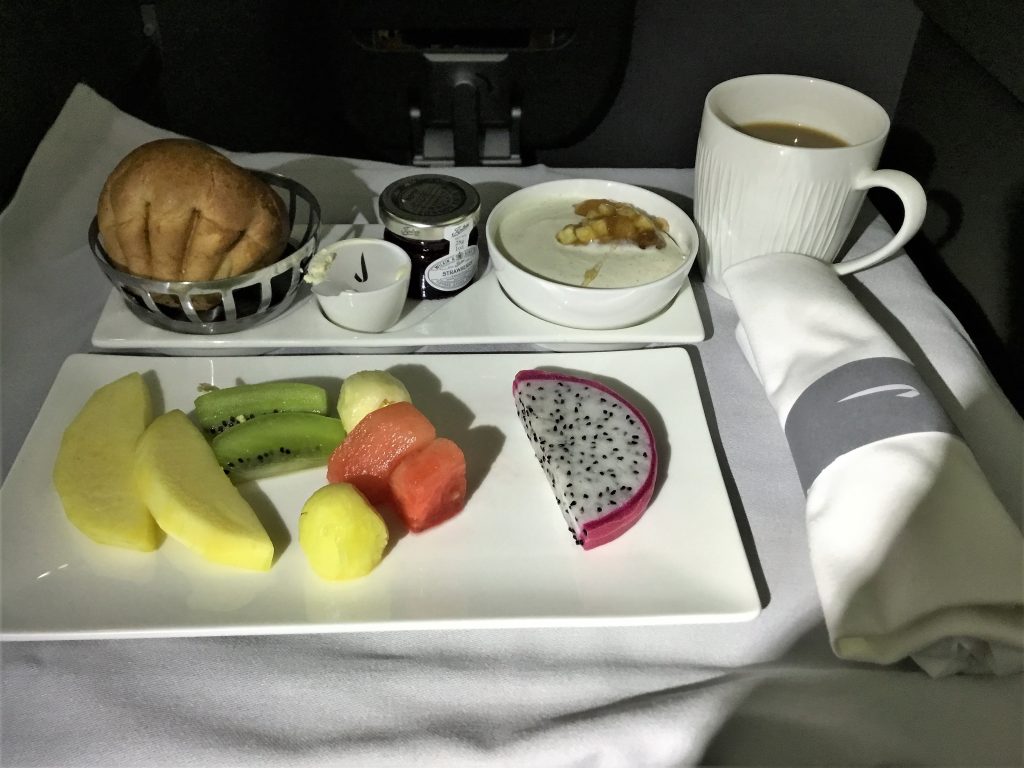 The two pieces of mango on the left were unripe and tasteless whilst the other fruit was good. An odd lack of consistency.
Arrival
We landed five minutes early, at 5.35am local time. This is ideal – between 6 and 8am in the morning at Johannesburg, there are many more arrivals. There are two BA A-380s, an Emirates and a Cathay flight, to name just a few, and the Immigration queues become very lengthy. Being one of the first off the plane, via Door 2, I found no queue at all.
Conclusion
This was a perfectly acceptable flight, with a really delightful crew who, while unprofessional in some ways, were always obliging and smiling. They were also well managed by a very 'hands-on' purser. Overall rating; 7.5 out of 10.