One of the best things about travel is the anticipation and despite the UK government's quarantine coming in on 8 June, overall travel is looking much more positive. I fully expect that the UK will introduce a large number of countries soon that we will be able to fly to and not go into quarantine on return.
So while we wait for the UK government to see sense, it's a good idea to have a look through our travel kits and see if there is anything we need or want to replace. You may remember we have previously reviewed some RHA products. As a result, we have secured an amazing 50% discount for TLFL readers on all RHA products. Just use code TLFL50 to get 50% off their entire product range. You can see their range here.
One of the things that has been on my list for a while is an audio transmitter. This allows you to use inflight entertainment with your own wireless headphones. I previously had bought a cheap one from Amazon and it had terrible sound quality – very crackly and not sharp at all. So when RHA offered me one of theirs to test I jumped at the chance. These devices are also useful if you wanted to watch TV for example without disturbing someone else. Most TVs have a 3.5mm socket so you can plug it in there and use your own headphones.
Universal Bluetooth audio transmitter

This is a wireless adapter capable of turning any audio signal from a 3.5mm device, or double 3.5mm in-flight socket, into high-fidelity Bluetooth signal compatible with any wireless headphones.
It usually costs £39.95 but using code TLFL50 you can get it for half price. From memory, the ones BA well selling were around £45.
Here are the specifications:
16 hours battery with USB-C charging cable
Automatic pairing with device memory
Compatible with inflight media services in dual mono mode
Compatible with portable games consoles and other 3.5mm audio devices
Bluetooth 5 streaming with high fidelity aptX compatibility
Modular inputs: 3.5mm stereo or dual 3.5mm mono
3 year international manufacturer's warranty
What I liked
The first thing I noticed was that it was very small and compact which I liked. You can fold it over so the body is at right angles to the jack as well making it adaptor for different situations. It also has both a single or double 3.5mm plug which is perfect for inflight entertainment. Once I had paired the device with my headphones (see below) I started using it straight away. I phone the sound quality incredibly clear compared to my previous device.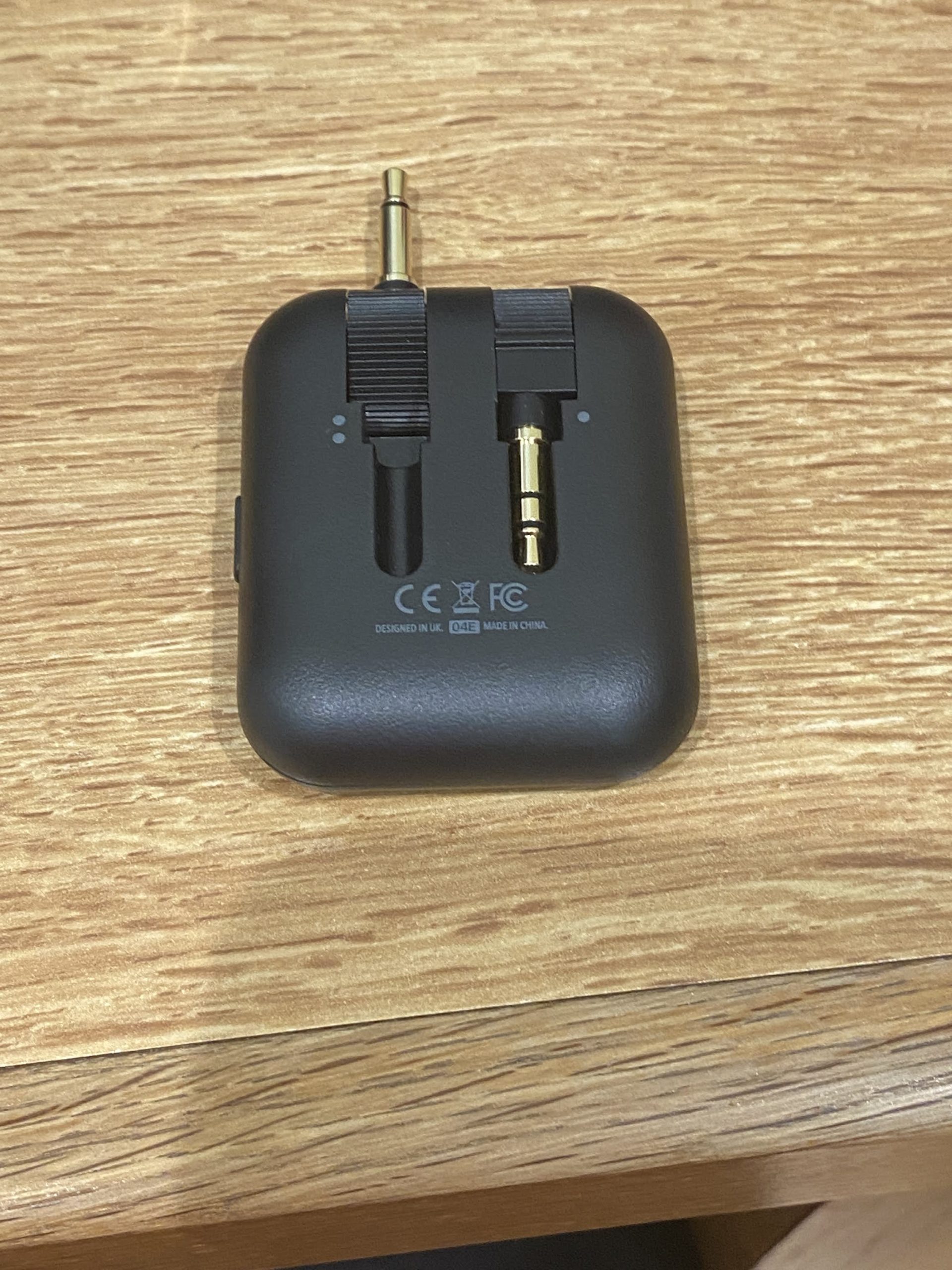 Once you had paired it then it was simple to use. Just turn it on by holding the button for 1.5 seconds and it reconnects with your headphones. I tested mine with Bose QC35s. All you had to do was insert it into a 3.5mm socket and it worked. I tried it on a tablet and a laptop and the sound was equally good on both even at a bit of a distance. I also like that you can pair it with a second device so you could share it with a travel companion if you both wanted to watch something together.
The battery has a long life with 16 hours available and although I didn't test it for that long, it certainly seemed to last a long time. It has a clear indicator when it is running out of battery with a white light when it gets to less than 20 minutes left. So it won't leave you hanging in the middle of a film. It also has an indicator when it reaches full battery charge.
What I didn't like
It was a bit of a faff to get the Bluetooth connection, as if you are in bright light it is not easy to spot the indicator light that you need to use. It took a couple of attempts to pair it, so it would be worth doing it at home before you set off. However, the whole thing only took a few minutes and part of that was trying to find the tiny indicator light. Once you have found it, it is straight forward. At least once it was done you don't need to do it again as it automatically reconnects.
The only other downside was the volume was a bit lower than using headphones connected straight to the device. You could definitely hear it OK but in a noisy environment, you would be best to use noise-canceling headphones or earbuds.
Conclusion
At just under £20 with the discount, this is a real bargain and well worth snapping up now before prices go up again. It is much easier than using a wired connection and allows you freedom of movement whilst using the airline's own IFE.
You can find more details on their website here.
True wireless earbuds with Bluetooth 5 review
Getting the right pair of headphones or earphones is crucial to a relaxing travel experience for me. Enjoying some music to drown out all the noise around you or watching something on your phone or laptop can help pass the time too. So which ones do you choose? We have recommended a few headphones to try but we also were given the chance to try some new earphones.
The TrueConnect earbuds have a range of great features:
5+20 hours battery, with fast charging
IPX5 sweat, splash and weather resistance
Secure, comfortable fit; ideal for active use
Stem design maximises call quality
Full device and digital assistant control via touch and mic
Durable flip charging case carries 4 charges
Supplied with Comply™ TrueGrip Plus and RHA TrueConnect tips
International 3-year warranty
The earbuds come in white, navy or black.
We were kindly given a pair to try out.
So what did we think of the earphones?
Design

The earbuds had a high build quality. There was a nice tactile touch of the case with a great slider action. The slider case has strong magnets holding the earbuds in place so no worries there.
Lots of different sized ear tips are provided albeit on a metallic holder, which I felt without careful removal you could risk riping them. This means getting a good fit is eas,y but may take a few attempts to get the right size ear tips. British built too which gives them an extra few points as I like to support British.

Sound quality

Making calls the quality is good. There were some issues with calls, but these were my error leaving one earbud on in my pocket. ( I like to only use one earbud when taking calls).
For music and video, the sound quality is rich. The bass is full but not overpowering. There were comfortable to wear, but this requires you to have them fitted perfectly in your ear.
Considering they are not noise cancelling they do a pretty effective job of cutting out background noise. This makes them perfect for travelling. Again this is due to getting a good tip fit and the fact the main body fills your ear lobe.
Downsides

There is no application to adjust levels for audio. The pushbuttons are difficult to use/remember what each press does what. Speaking of which, when you remove them from the case it is easy to press a button by mistake. I think this has resulted in me turning off one of the buds on more than one occasion. They do not look as stylish nor as an iconic design as the Apple earpods. The price is a little high compared to similar quality pairs.
Michele tried them too and thought they may be a bit large for some smaller ears / female ears.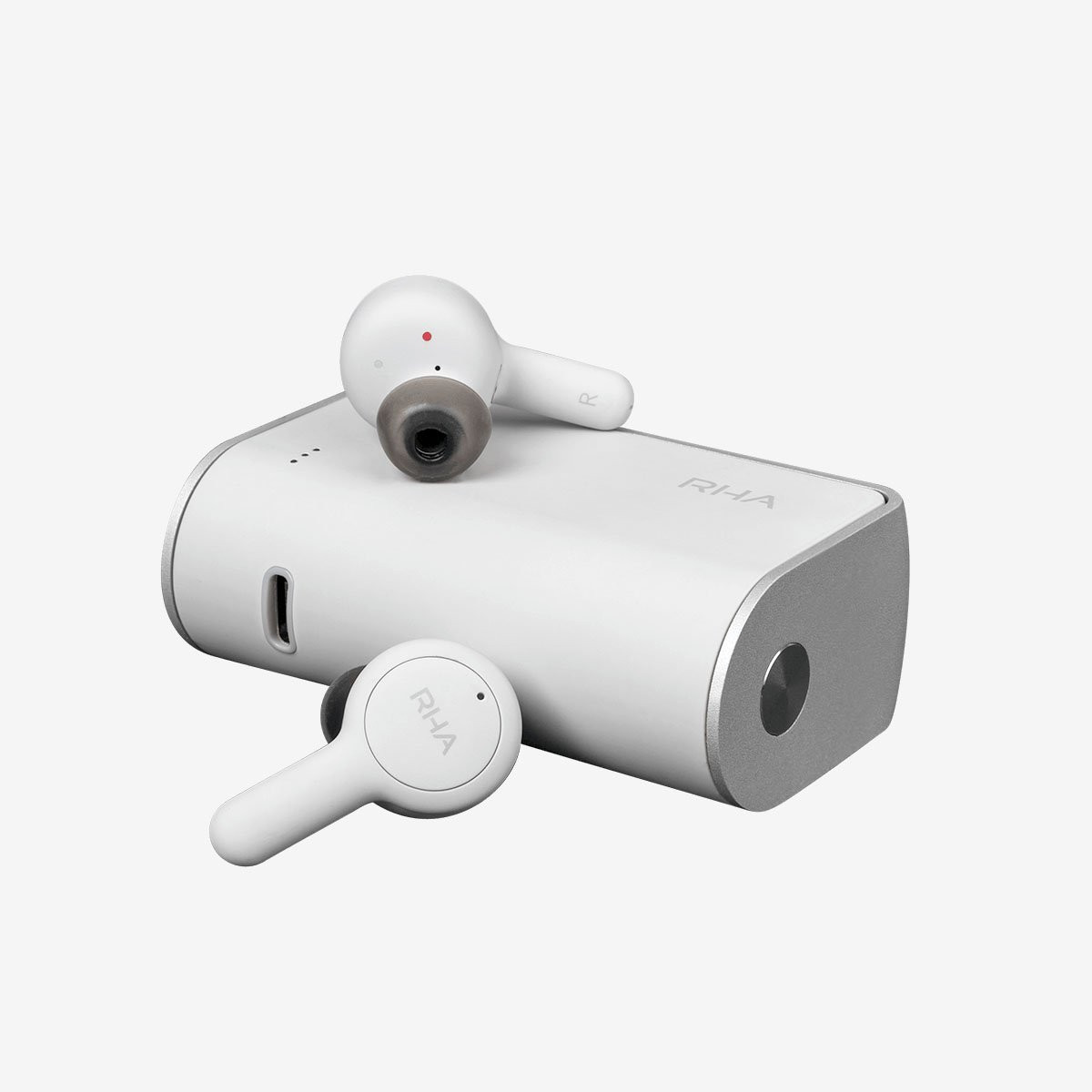 You can find more information on TrueConnect on their website here.