Today's review is number one in a series of Glasgow hotel reviews by Roving Reporter.
Also known as One Devonshire Gardens, the hotel occupies five townhouses built in 1886, the hotel still retains all its original features – including oak-panelled walls, open fireplaces, sweeping staircases and stained glass windows. Sir William Burrell lived here in 1896 and commissioned one of these impressive windows. The hotel is set in a tree-lined Victorian terrace in Glasgow's West End and is only 30 minutes from Loch Lomond.
Arrival and check-in
I arrived at 1pm to an cordial receptionist who checked me in in minutes. I had booked a very last minute rate via the hotel website of £108 for B&B for a Club room. Before check out on the website I was offered a 3 course dinner and a glass of wine for £22. As I had planned a quiet night I added this to my reservation.
I was allocated a room immediately. I was escorted to my room by the porter and was pleased to have been allocated 'Ruinart' (I have actually stayed in this room twice before so I knew I had been upgraded).
The room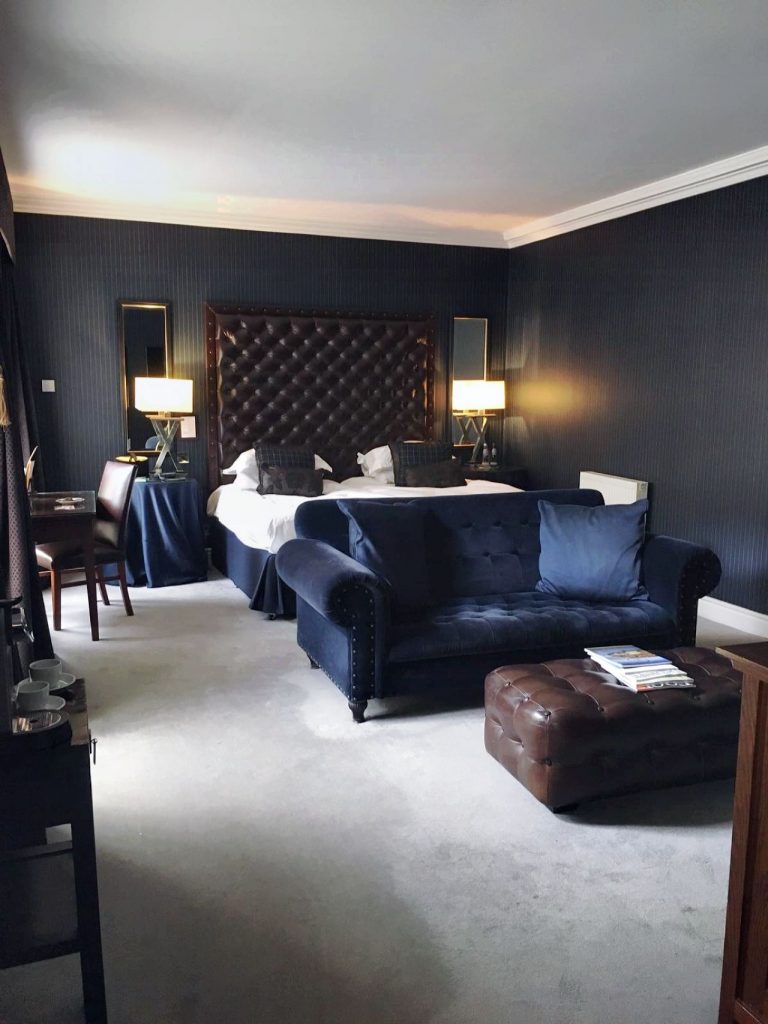 The first thing I noticed was the pretty poor condition of the carpet. There were a lot of stains in this room. I stayed in this hotel last July and December (both in Grand rooms) and those rooms also had the same problem. The overall appearance of this room was still very nice though. It is very spacious and had an outside terrace too. The hotel is now showing its age though and a long delayed refurbishment programme, originally planned for Sept 2017, is now due to start in May 2018.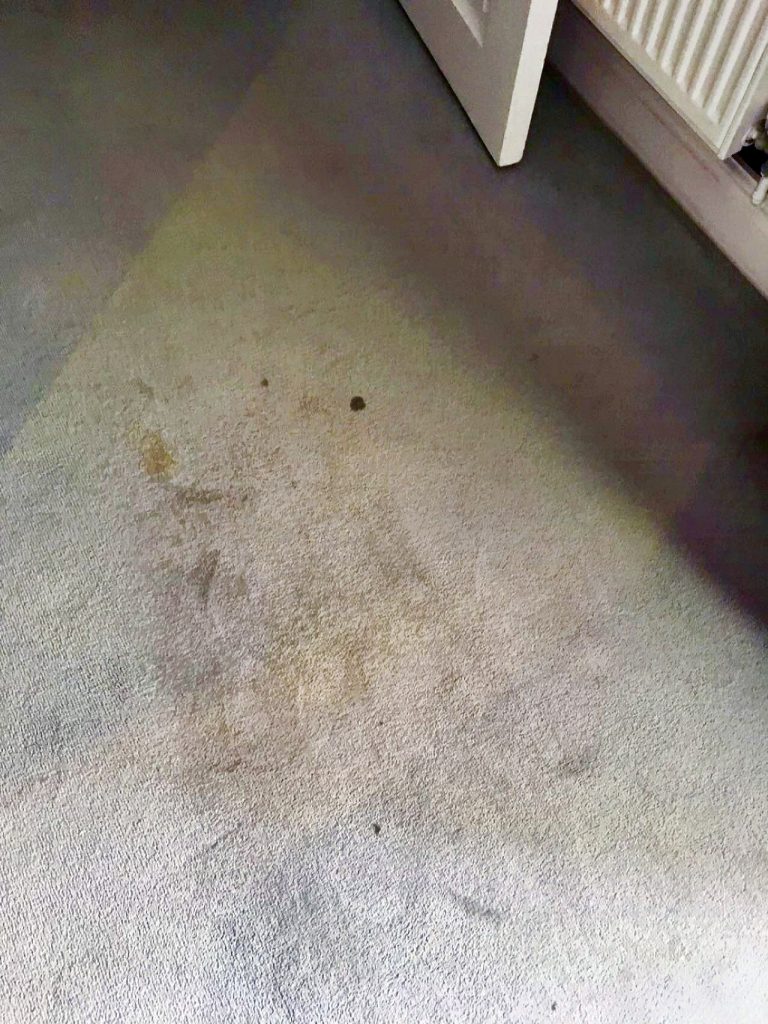 My room was very much a junior suite type (though I think it was a Classic category) with a lovely comfy sofa and chair between the beds and the TV.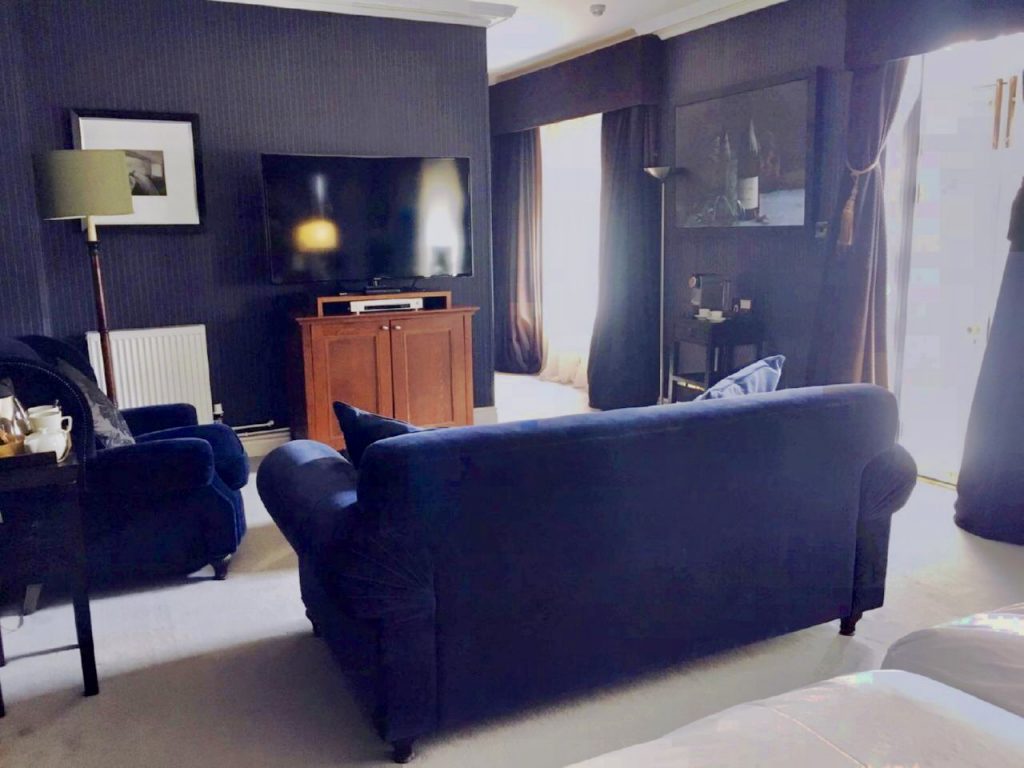 There were 2 bottles of complimentary water and a welcome note from the GM with some Scottish Macaroon and Tablet.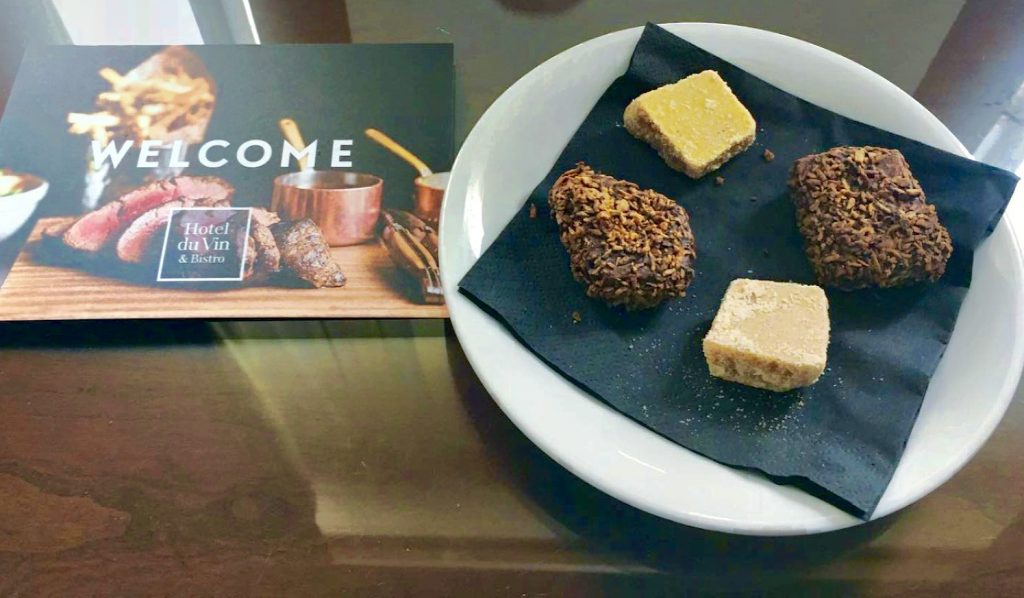 The bathroom was spacious, had a large deep bath and large shower. Toiletries were from REN.
The mini bar was well stocked and there was a vast array of snack items to purchase.
Dinner
After a lovely stroll around the West End (where I obtained a lovely bottle of white burgundy from The Good Spirits Co Wine and Beer on Clarence Drive) I retreated to the room for a lazy night in. I had the restaurant menu delivered to my room and was told I could choose from the 3 course menu, the room service menu or the Bar menu. It was all very reasonable. I decided to go for the 3 course menu and ordered a beetroot and goats cheese salad, rump of lamb with caponata and smoked aubergine and a cheese plate. This together with a glass of un-oaked Chardonnay for £22!
Dinner was delivered all at once (I could have had it course by course) and I was very impressed. It was all delicious. The portions were perfect.
And so to bed…
After enjoying the Burgundy I had a lovely nights sleep. (Note from Editor: otherwise called passing out) The beds all have hand sprung mattresses and Egyptian cotton bed linen which definitely results in a lovely comfortable bed. These beds were actually in a twin configuration. The hotel had offered to change it for me but I declined as I wasn't really bothered.
Breakfast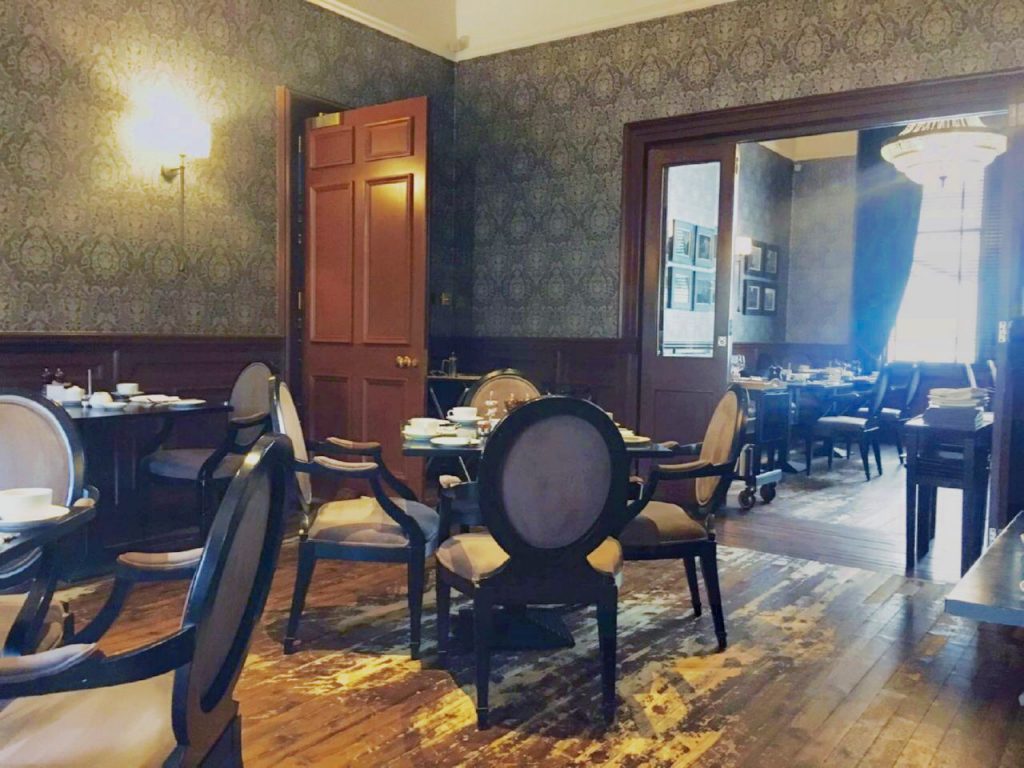 I had breakfast in the restaurant at 9am. I was the only person there until 9.30. There was a small buffet of cereal, yoghurt, granola pots, chia pots, granola slices, nut snacks. Toast and pastries can be ordered at the table. There is a good selection of hot items including Poached eggs with Avocado on Sourdough (my choice) to Eggs Benedict, Florentine or Royale and Omelette Arnold Bennet or Smoked kippers. I also had 2 delicious, flat white coffees. Service was very friendly.
Check out was very pleasant. I only had a tray charge from dinner to pay but the receptionist kindly removed this from my bill.
How to stay for £50
Hotel du Vin do a great offer which starts from £30 a night. At Glasgow the price is £50. To get this price you have to stay on a Sunday night and spend £75 in the bistro on dinner. This is very easy to do with 2 people so if you were planning on dinner anyway, it's a no brainer at £125 for dinner and a room for 2 people. I have spent that much just on dinner with wine at a Hotel du Vin many times!
You can find more details on the offer here.
Conclusion
There must be a reason that this is still my go to hotel when in Glasgow. The hotel is showing its age but there is a plan to resolve some of those issues. The food quality for the price is exceptional and the staff are generally very friendly. I paid £130 all in for Dinner (and a glass of wine), Bed and breakfast which is outstanding and I really look forward to seeing the changes when I next stay. Highly recommended.
You can find more information on the hotel here.