Hopefully, this post will help brighten up your Monday morning. Today's review is courtesy of long term TLFL reader Mrs B. It has made me very envious reading about her amazing trip, it's definitely one for my bucket list! If you would like to have your review featured or have a question about travel you would like answered, either use the contact us tab above or email me at [email protected].
Overview
Funnily enough, I had met a representative from Atmosphere at a travel show and had been really impressed by what he was telling me about OZEN by Atmosphere. Their philosophy is at odds to most hotels, they feel that if a guest goes home without having spent any additional money, they have done their job! The resort is one of the newest in the Maldives, having only opened in July 2016. The hotel covers the entire island but the island's circumference is only one and a half miles!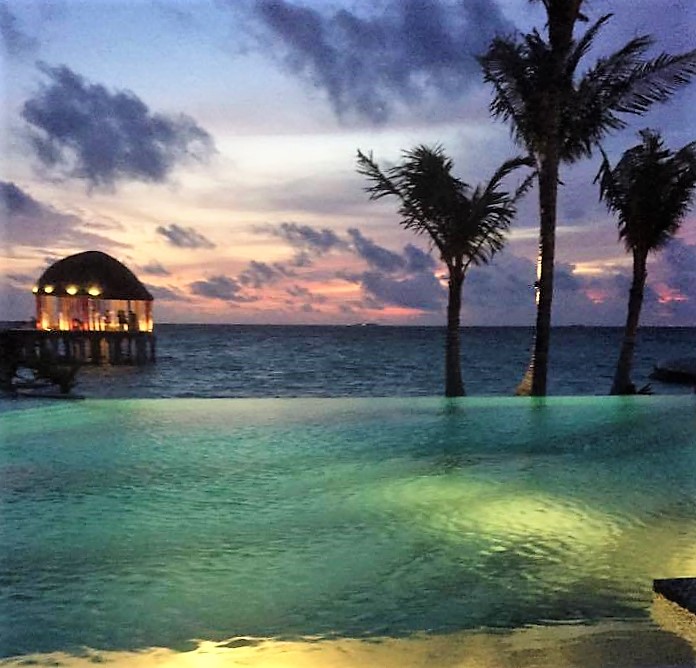 The resort is billed as the Maldives' first luxury all-inclusive resort. The facilities at the resort that are included are:
Fully Equipped Gymnasium, Indoor & Outdoor Activities
OZEN Kids Club – Children and Young Adults can enjoy a variety of daily organized activities, games, and exploration
Atmosphere Aqua Club at OZEN – Complimentary Snorkeling equipment for all guests during stay – UNLIMITED Snorkeling excursions during stay: 2 Snorkeling Excursion Shuttles per day (09:30 hrs & 15:00 hrs) Arranged daily from a selection of 6 nearby snorkelling sites
Complimentary rental of non-motorized water sports Windsurfing, Catamaran, Canoe, Stand-up Paddle Board
OZEN Special Activities, Events – Weekly & Seasonally
1 Adventure excursion from Excursion Menu per stay (weather permitting)
Sunset Fishing Excursion – Once per guest per stay (weather permitting)

This video gives a good over view of the resort
Now over to Mrs B for the rest….
Arrival at OZEN by Atmosphere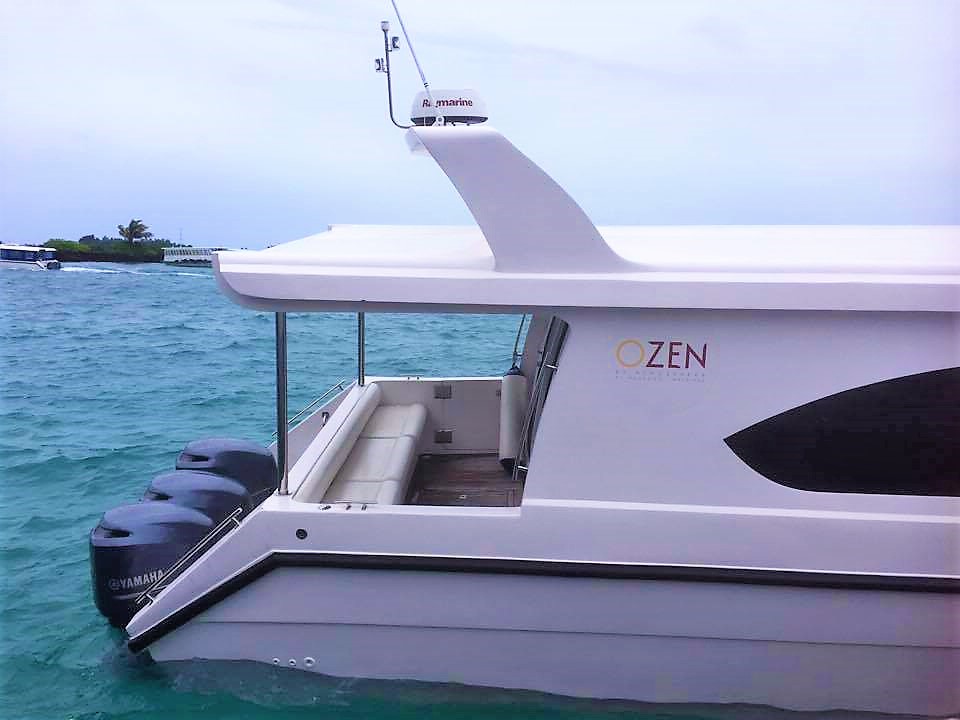 On arrival in Male, we were met by a uniformed OZEN representative. We then waited about 30 minutes for guests arriving on other flights. The speedboat is 'parked' immediately outside the terminal, literally just across the road! Our luggage was brought to the boat and we were all helped on board and inside to the air conditioned cabin, where we were given a life jacket. Bottles of chilled water, mints and wi-fi were all available. We landed just after a heavy shower and the sea was very choppy. That said, I am not a fan of boats but I was perfectly alright on the 45-minute transfer.
On arrival at the OZEN jetty, there was a 'welcoming party' – members of management first greeted us, a staff member then presented a palm leaf necklace whilst escorting you to the reception area. We were immediately offered cold towels. A manager welcomed us and introduced our butler who arrived with two very welcome ice cold glasses of champagne.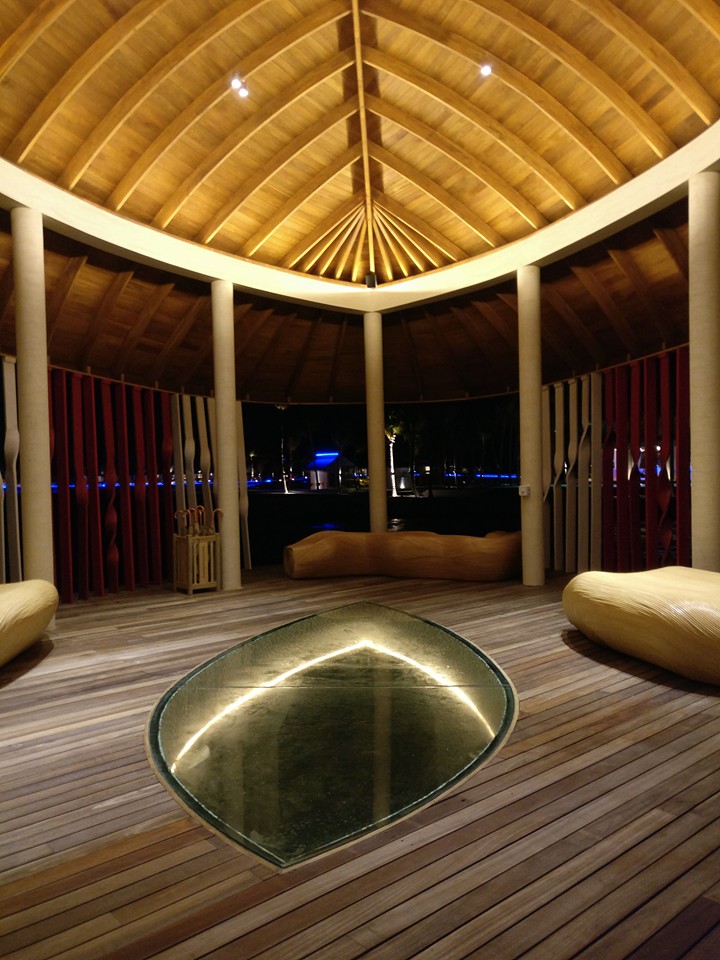 Our butler took us around the resort in a golf buggy to help orientate us before taking us to our villa. We had booked an over water 'Wind' villa with a private 8m long pool. The villas are set out along a jetty and although it was only a short walk back to the restaurants, golf buggy pick ups were always available if you wanted to be lazy! Alternatively, you could help yourself to one of the numerous bicycles positioned around the resort.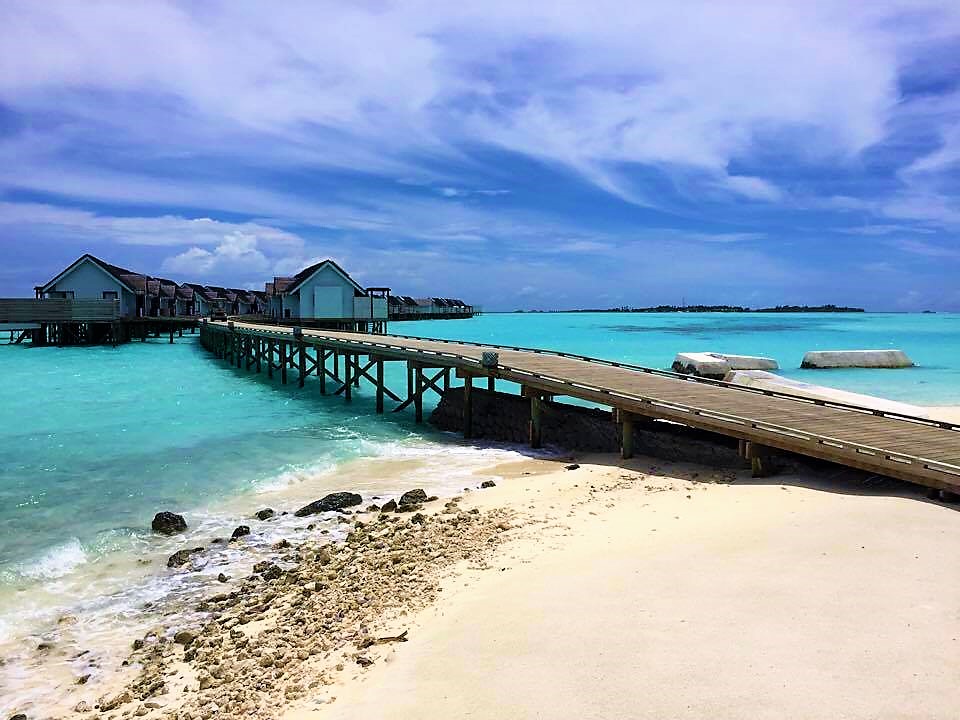 Check in was quickly done in our room. Our butler told us that he had made dinner reservations for us each night which he would happily adjust if we wanted. We were also informed that we could have two complimentary excursions, one of which is a sunset fishing trip plus a choice of one of the others available – we chose a dolphin watching trip. We were advised that we could each have two 1 hour-long spa treatments as well. Our butler offered to book all of these but we were happy to wander to the spa to book.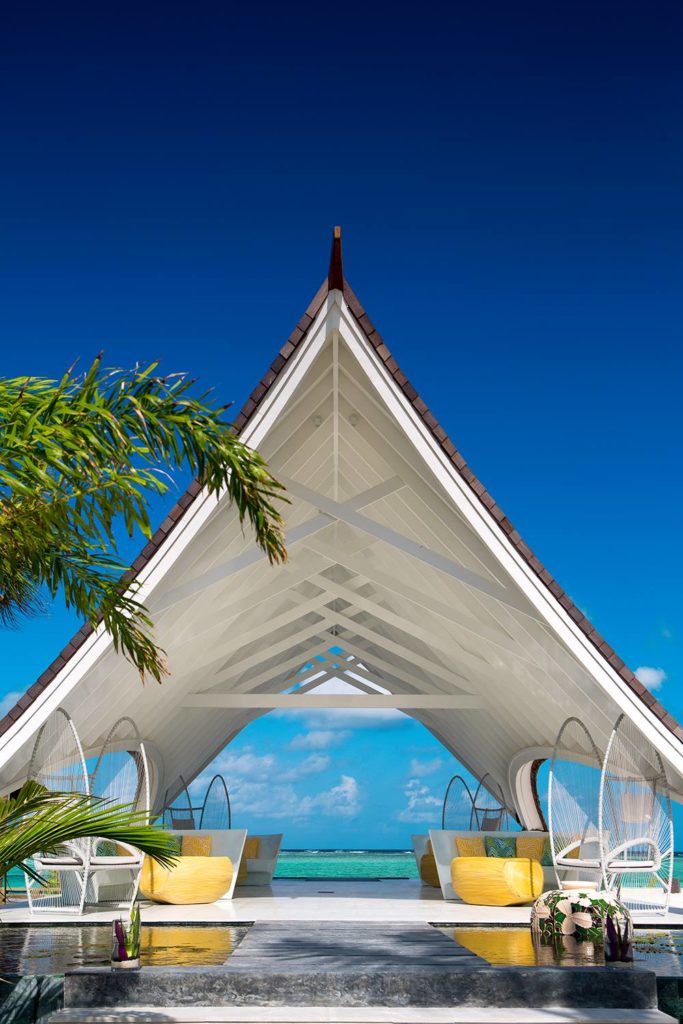 The room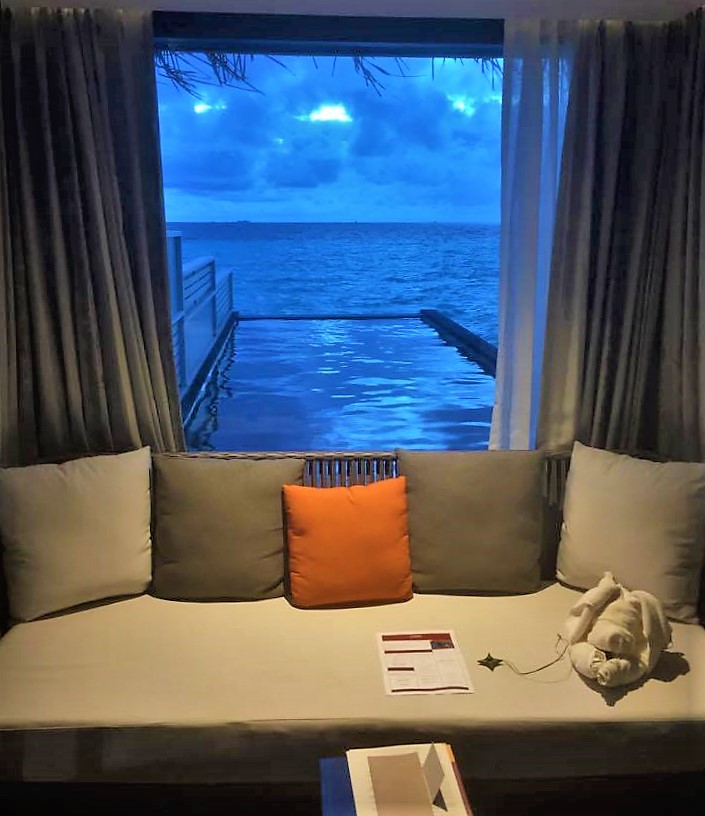 We were shown around our villa which was even better than we had hoped. The bedroom was large and tastefully decorated. There were two glass floor areas, one by the door and the other just in front of the sofa where you could watch Stingray and baby sharks swimming by. The next room had a free-standing elliptical bath, double patio doors opening on to your deck and mood lighting. There was plenty of wardrobe space and an iPad compatible safe. Beach towels, high-quality beach bag (to take home!) and life jackets were provided.

There was a large powerful shower with a full-length window looking out to the lagoon. There were double sinks which were unusually made from metal then finally the WC. The toiletries provided were full size and high quality. Other 'necessities' were in a tasteful box by the sinks.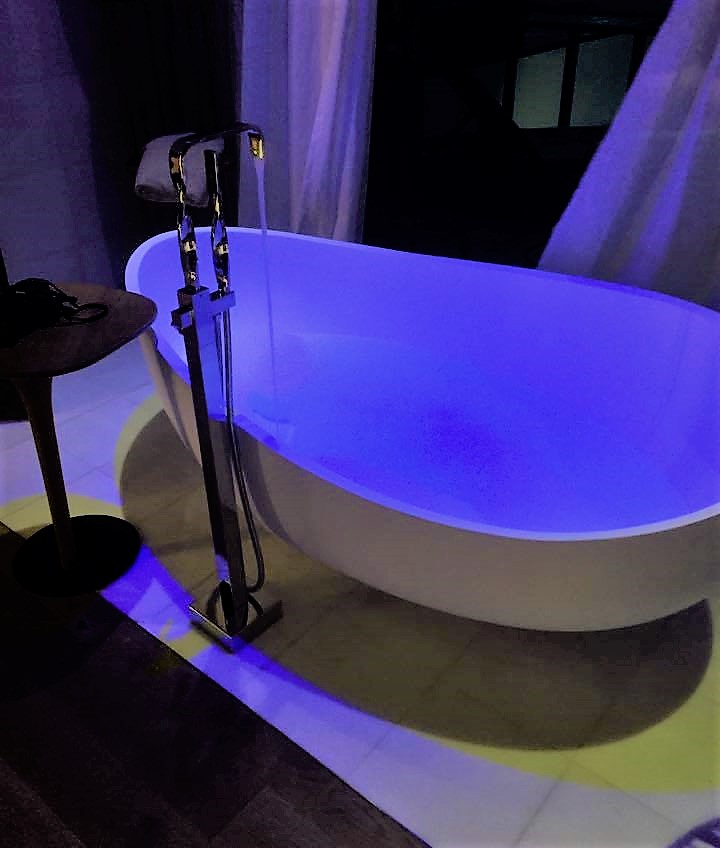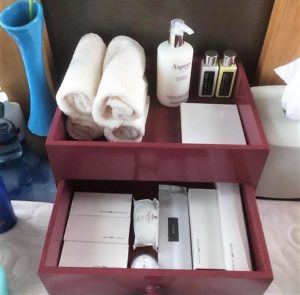 Housekeeping also visited twice daily and left various towel animals or other nice extra touches each visit.
Mini bar
The in room refreshments were jaw dropping. On arrival, there was a full-size bottle of champagne, two bottles each of red and white wine and one rosé in a wine cooler. The mini bar contained two different types of beer, one half bottle of champagne along with the 'usual' tonic waters, juices and soft drinks. There was also a Bounty, Twix, Mars bar plus crisp and nuts. The mini bar was replenished twice daily (including the snacks!).
On arrival, we were asked to choose two half litre bottles of good quality spirits including Grey Goose, Tanqueray and Absolute. Nespresso coffee and a selection of teas were also in the room. The spirits weren't replenished during the stay but I'm sure they would have been if we asked.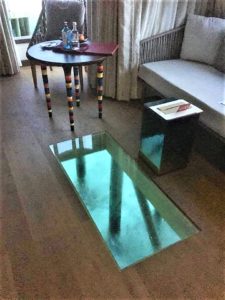 Outdoor space
Outside the villa was a large deck area with access to your private pool (so private that it was impossible to see any of the other villas pools or decks!). From the deck, a ladder led down into the lagoon and we discovered that the life jackets were mainly to help you float whilst snorkelling (snorkel sets available free of charge for the duration of your stay). The lagoon was never deeper than chest height. There were two comfortable sun loungers, a table and large parasol and finally a double sized over water hammock.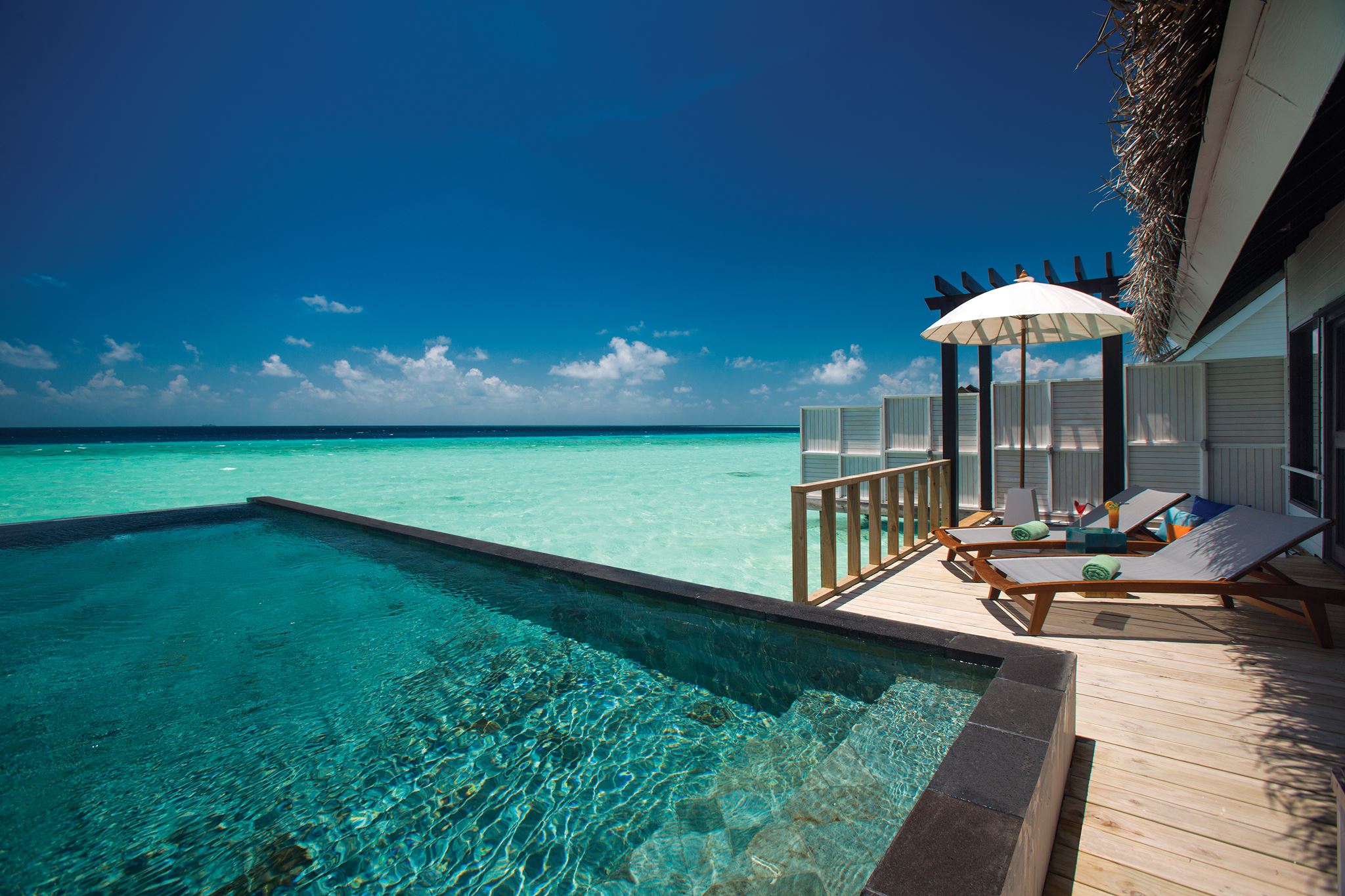 On our trip, we were told the resort was 90% full having had several villas booked for a large Chinese family wedding. Surprisingly we never felt that there were many people around. The hotel always seemed quiet, which may have been because with everything that was provided in the villa you hardly need to leave it!
Dining
Breakfast was buffet style served in Palms restaurant with eggs, pancakes etc cooked to order. Definitely something available for even the fussiest eaters. Lunch was also available although we couldn't quite manage that after our large breakfast! Dinner is served here as well. We only wanted a light meal one night, so thought we'd go to the buffet. In fact, the only 'buffet' items were salads and desserts, everything else was à la carte with both of us enjoying beautifully cooked steak.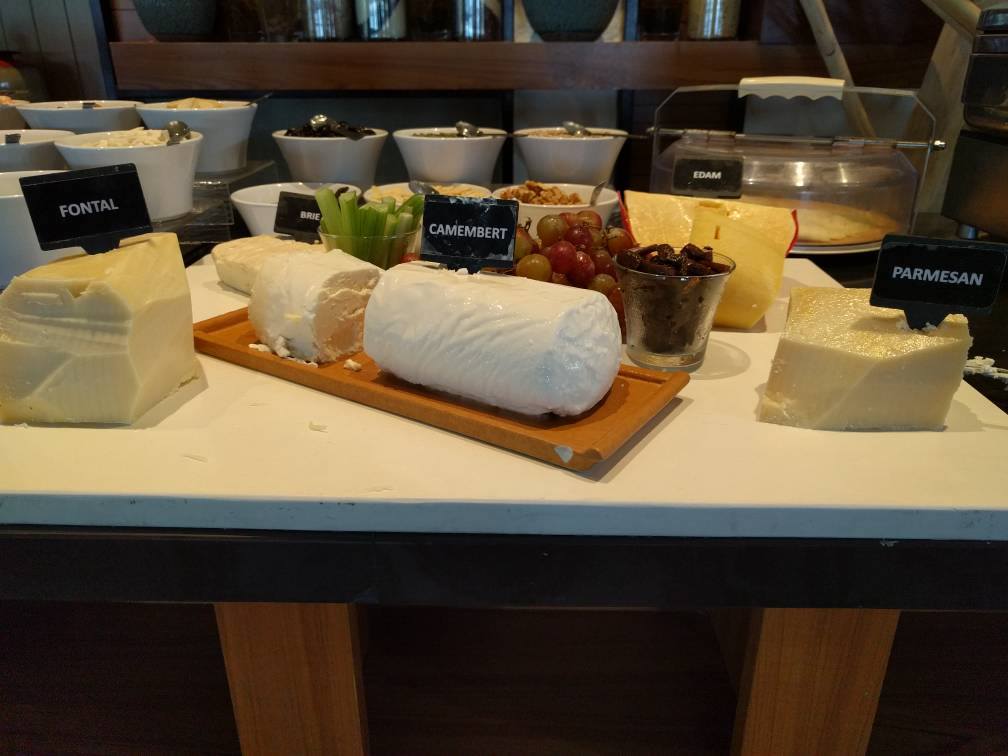 M6M is the underwater restaurant which you can try one night during your stay. It serves a choice of two wine paired tasting menus. The food was beautiful but if I had to pick fault it would be that we both found the food not hot enough. That was more than made up by watching colourful fish swimming through the reef outside the window.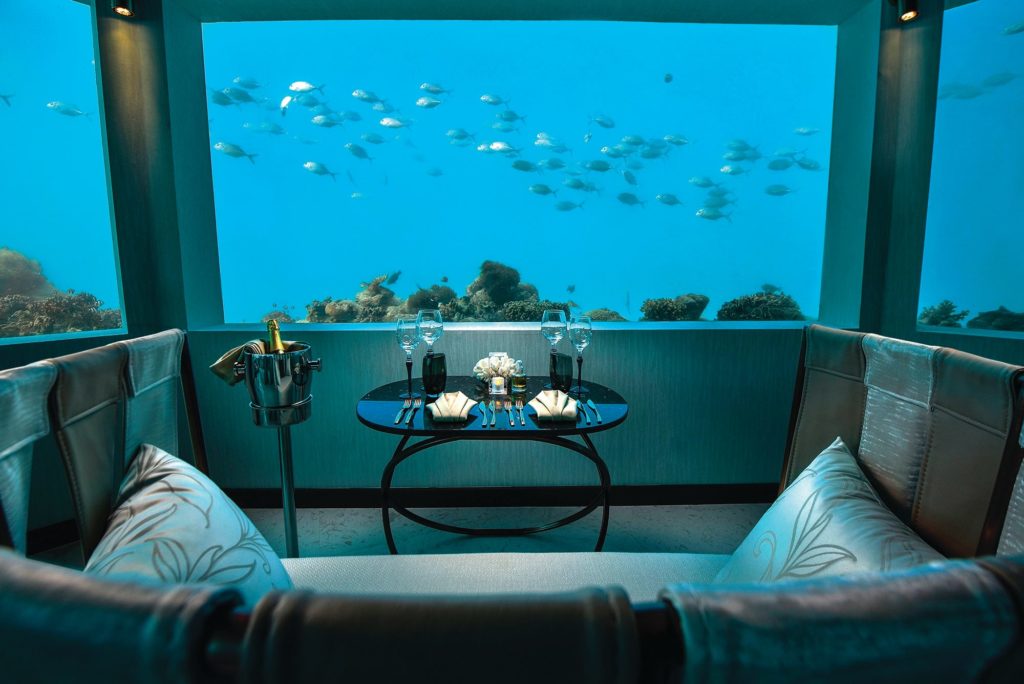 Indoceylon and Peking
The other main restaurants that serve dinner were Indoceylon and Peking. Both were wonderful but our favourite was Indoceylon. On arrival at all restaurants, you were escorted to your table and offered a glass of champagne (Taittinger or Moët) while you looked at the menu. Everything we sampled in the restaurants was beautifully made with high-quality ingredients. There is an enormous, high-quality wine list. We spotted several bottles that cost £65+ in UK restaurants. The wines were properly presented at the table with the waiters surprisingly knowledgeable on the numerous wines. We were always asked if we would like another bottle of wine as we got towards the bottom of the first – it would be rude to say no!
Dinner bookings at Indoceylon and Peking restaurants were for either 19:30 or 21:00. This felt to us a bit like first and second sittings at school lunch! That said we never arrived at 19:30 for dinner imagining a queue may have formed. It also meant that we were not ordering courses at virtually the same time as the other diners causing the kitchen to be really busy. This may or may not have impacted on the service.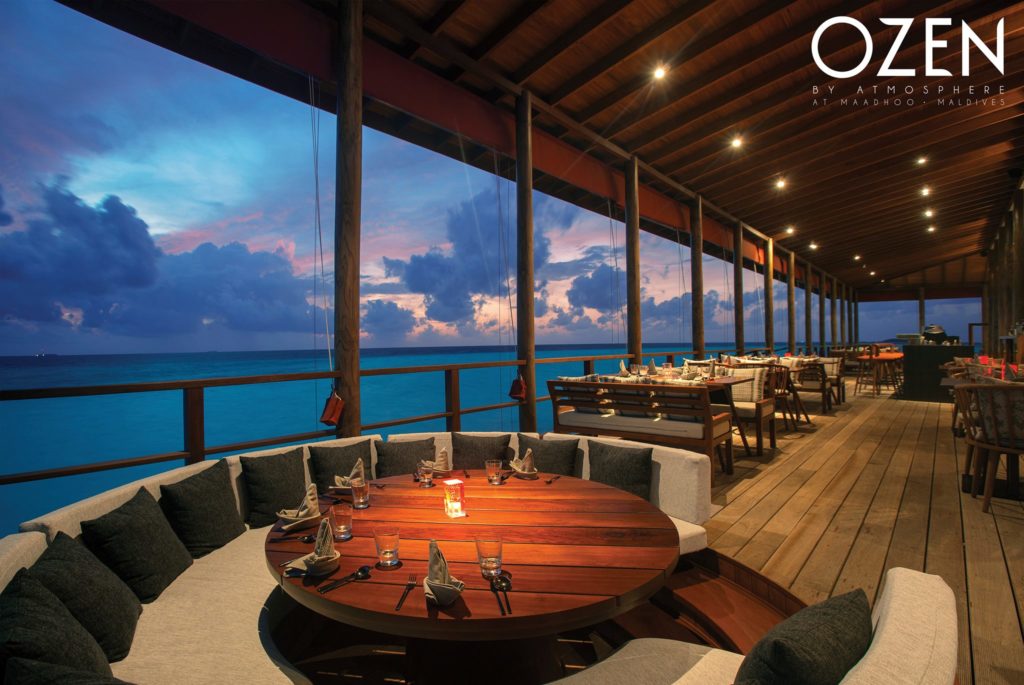 Joie de Vivre is the all day bar by the main pool. It serves pretty much any drink or cocktail you could think of. They also serve snacks all day which included pizza, deep fried calamari and club sandwiches with the menu changing daily. We enjoyed going there after breakfast for a glass of champagne. We didn't need to ask after our first visit, as your preference was always remembered. This was also true of pre and after dinner cocktails.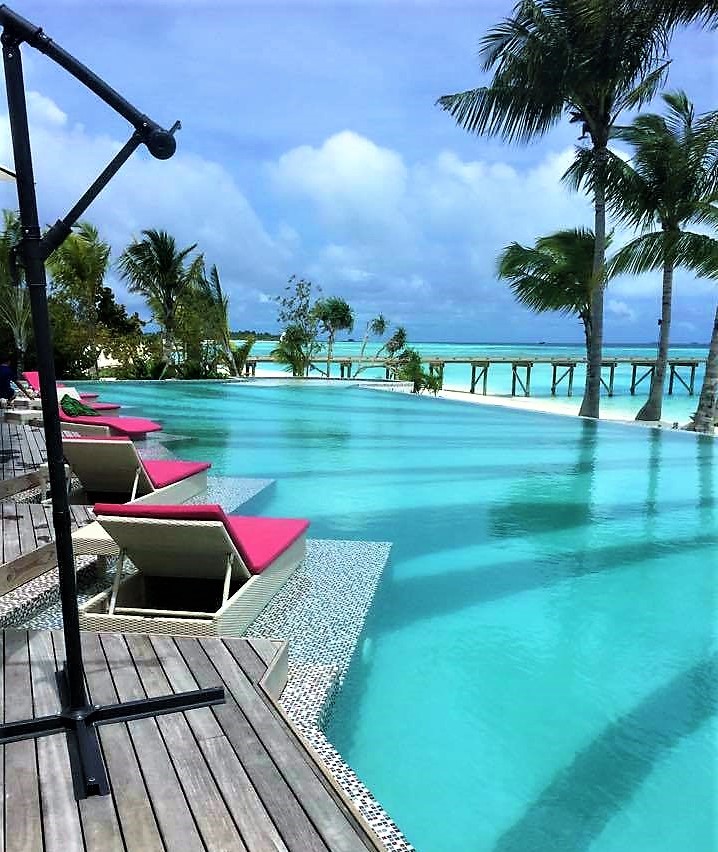 Conclusion

It's hard to sum OZEN up in just a few words:
Location – stunning
Accommodation – wow
All Inclusive drinks – unbelievably high class with free flowing champagne and high-end spirits, wines etc
All inclusive food – nothing like 'normal' AI food. Excellent ingredients beautifully presented. The food was so good it was impossible to resist.
Staff – a credit to the resort. Completely guest focused and will do anything to ensure you love your stay.
I find it very difficult to think of any negatives but if pressed I would mention the temperature of the food in M6M and the booking system for dinner at Peking and Indoceylon.
The hotel wouldn't be suitable if you can't just relax with a book and a nice drink on holiday. If you are happy to slow down, relax and enjoy the luxury I doubt you'd find anywhere that compares with OZEN. All in all, we would return to OZEN at the drop of a hat. It is expensive but with this resort there you really do get what you pay for. We got a good deal on the flights with Qatar in a companion fare sale for around £3000 for 2 in business class. We booked the hotel through an on line travel agent. Don't forget to use TopCashback as recently they have been offering up to 20% cashback on some sites such as hotels.com.
You can find more information at the OZEN's official site http://ozen-maadhoo.com/here or look at TripAdvisor for further reviews.