LugLoc luggage tracker
You may remember the previous article I ran written by guest blogger Tom from techfortravel.co.uk about luggage trackers. You can read the article here. As I had a complex itinerary involving 9 flights in 10 days, including several connections, I thought now was the time to take the plunge and buy one myself. I had a look through the choices and decided on the LugLoc Luggage Tracker
. This was mainly due to the fact that it did actually give you GPS tracking, but you could buy the GSM network access on a month by month basis for $4.99. This means I can just use it when I really need to rather than having to pay per year. It even comes with one month free.
Set up

The LugLoc
was easy to set up and use. The only drawback was that it needed 12-24 hours charge time for the initial charge so you need to be organised. It comes with its own USB lead but you will need something to plug the USB into. You then need to download the app before you do anything else. Next, you pair the device using Bluetooth or manually using the code on your device. It should then show your LugLoc's location and proximity to your phone.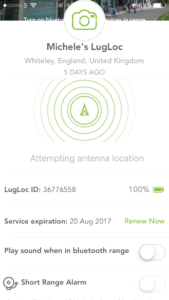 Once set up, you leave it switched on and place it inside your luggage. It is pretty small, about the size of the palm of your hand and lightweight too. The device "goes to sleep" when your plane takes off and "wakes up" on landing. The battery lasts up to 15 days, so it is great for a trip with lots of flights like mine so you don't have to keep recharging. I like the fact that you can see how much battery is left on the app too.
Using the LugLoc
So how did it work in practice? It was a bit variable I would say. It always comes up with the correct answer eventually, but at times it took up to 2 hours after the flight had landed. I used it at JFK which was a complete zoo in baggage reclaim. There were bags everywhere including some that had been taken off the carousel. Fortunately, the LugLoc was very quick and soon alerted me with Bluetooth that my bag was within 10ft. I looked for it on the carousel and could see nothing. Then when I realised it wasn't moving, I looked at the pile of bags next to the carousel and found it there. This time I found it very useful as otherwise, I could have been there for ages. You can also set an audio alert for your phone when your bag is in range.
I wrongly assumed that they only take old bags off the carousel so hadn't bothered to look. Here it appeared that they were taking Premium tagged bags off.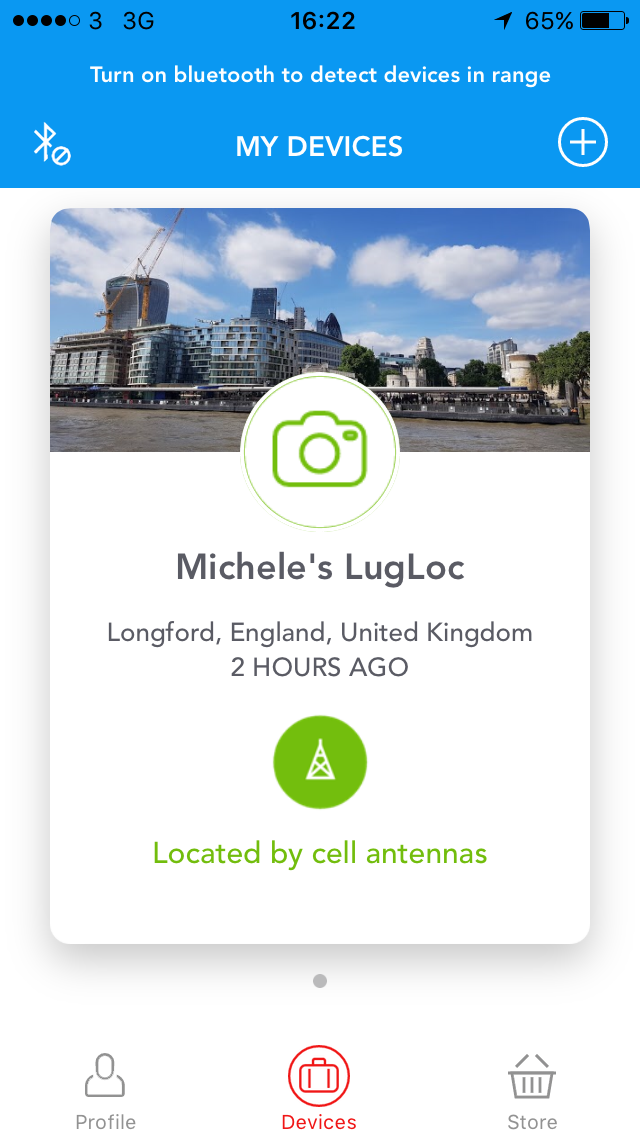 The rest of the trip it was a bit slower, although most of the time it did text me just before my luggage arrived at the carousel. The only time it really didn't work well was at Heathrow when it texted me to say it was in Hayes 3 hours after I had landed. You can manually refresh the app but as my bag appeared quickly, I didn't bother.
Another useful feature that I didn't test out is the short range alarm which alerts you if you walk away from your bag.
Conclusion
I found the LugLoc
great for peace of mind and useful for knowing when your bag was about to appear on the carousel with the proximity warning. It was a bit hit and miss at times but overall it did work which is the main thing. At least, if the worst happens and your luggage doesn't arrive, you will know exactly where it is, unlike the airline most of the time!
This video shows more about Lugloc.
https://vimeo.com/201704473
The LugLoc costs £69.99 and is available from Amazon here.