Yesterday I wrote about the rooms and facilities at the new Pan Pacific London that opened last month. Today I will cover Pan Pacific hotel London's restaurants since it's well worth visiting the hotel for those aspects alone.
Breakfast at Straits Kitchen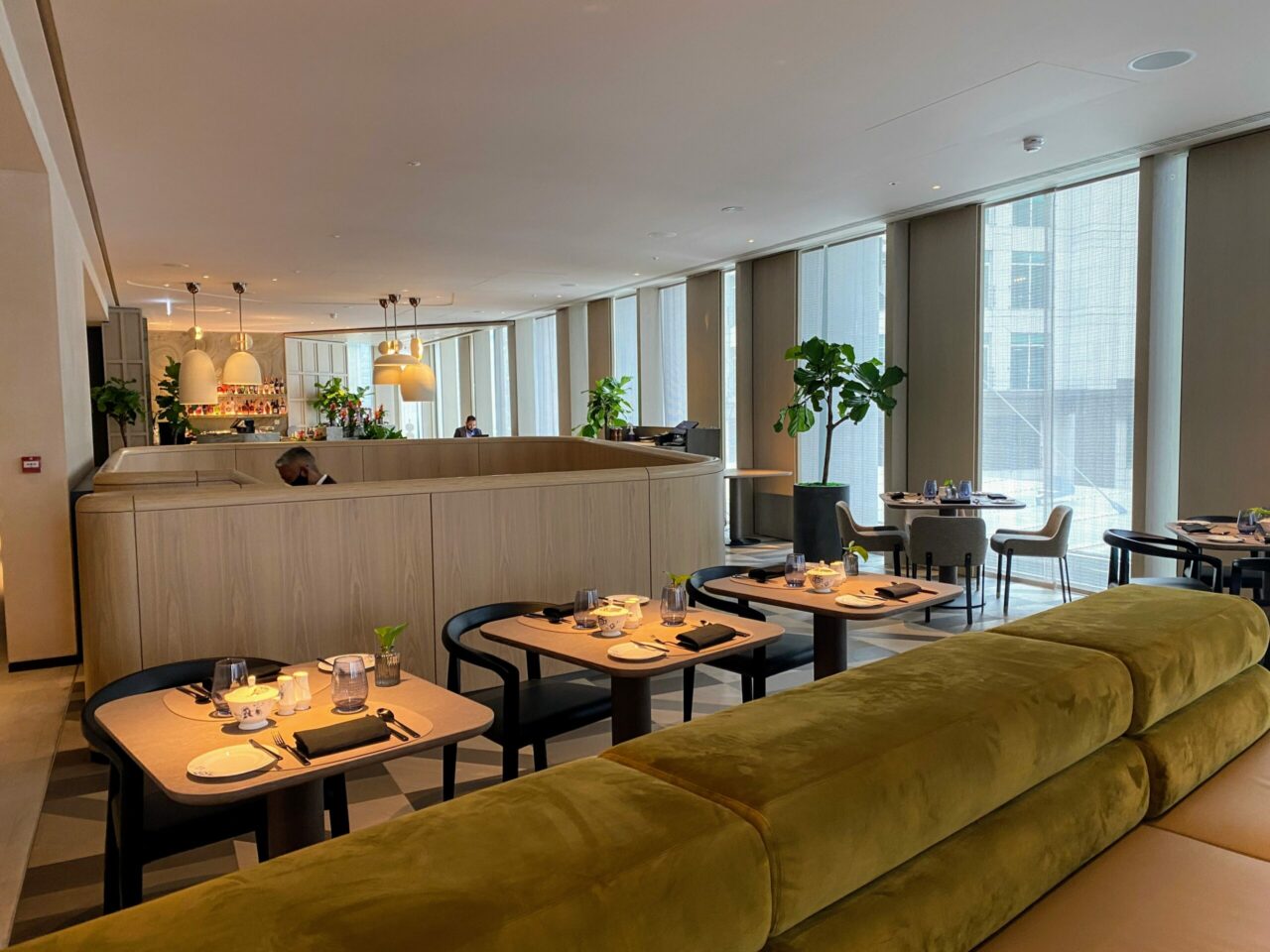 Breakfast is included on many rates but they also a do a la carte that has some really tempting options. Breakfast is served in the main Straits Kitchen until 10.30 am weekdays and 11 am on weekends.
The restaurant itself has a modern feel and like the rest of the hotel, the lush foliage of the plants adds to the essence of Singapore that you feel throughout the hotel.
The first time I visited Pan Pacific hotel London's restaurants' breakfast was a little slow but by my second visit they had worked out all the kinks. Staff are very chatty and willing to do whatever they can to make you happy. Substituting things on the menu was no issue at all.
First, you are offered coffee or tea and then you are free to help yourself to the extensive continental buffet.
The tea was of excellent quality and served in a lovely patterned tea pot. Staff were attentive and when offering more tea they also gave the option of a new cup which was excellent attention to detail.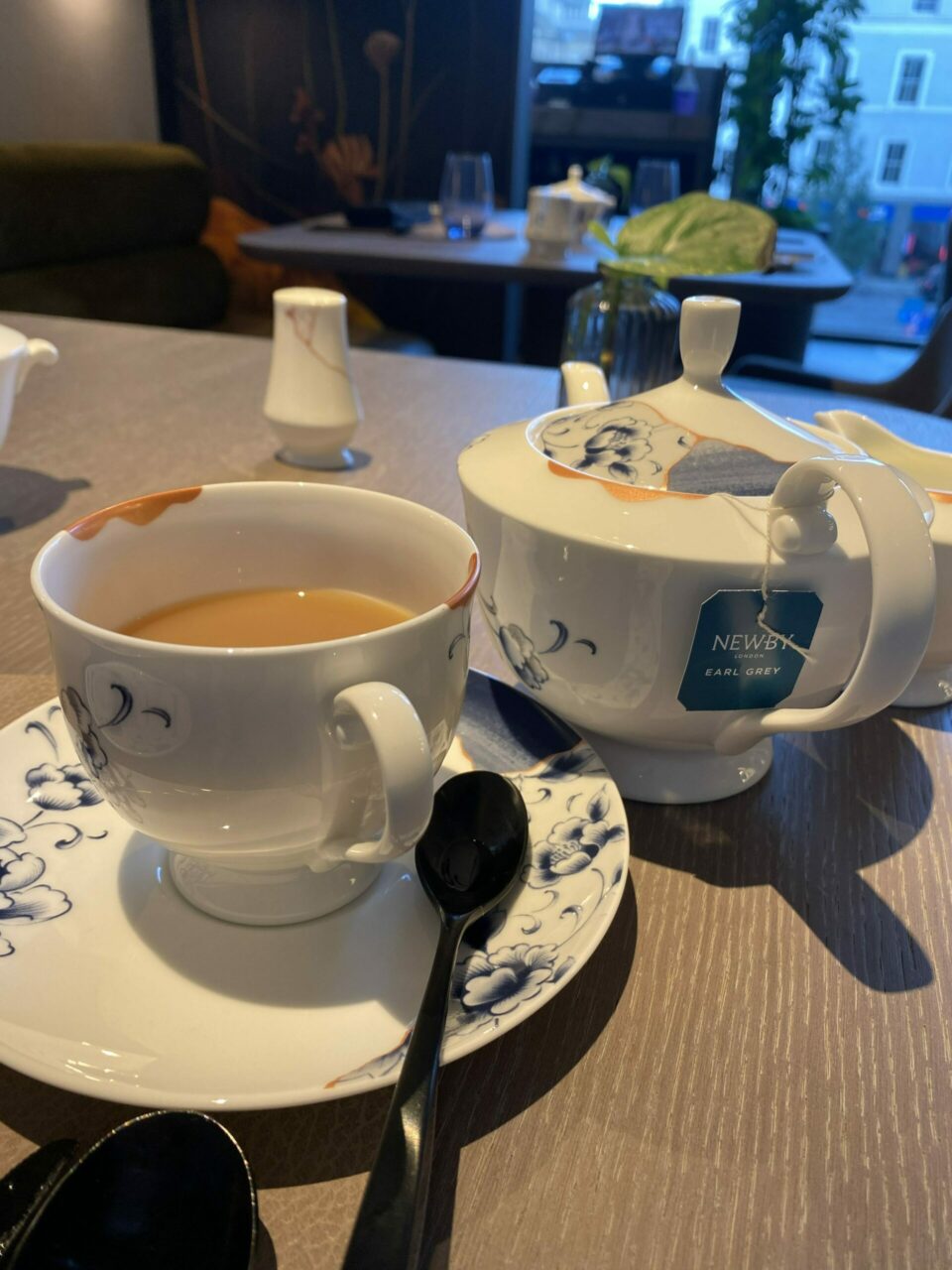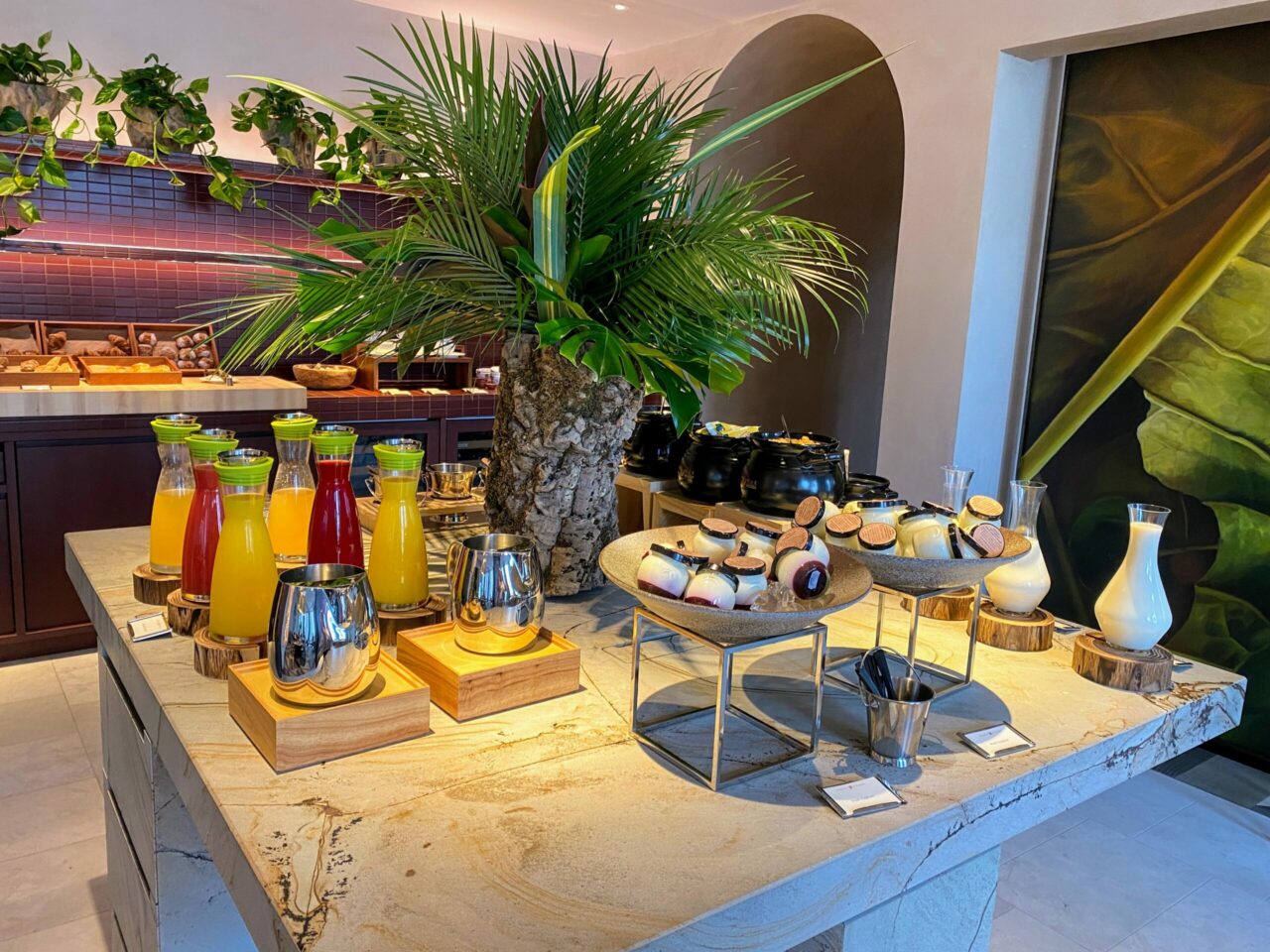 I loved the plant display on the juice selection which was very tropical! I would have liked to see a tropical juice option like watermelon or guava to keep in with the Singaporean feel.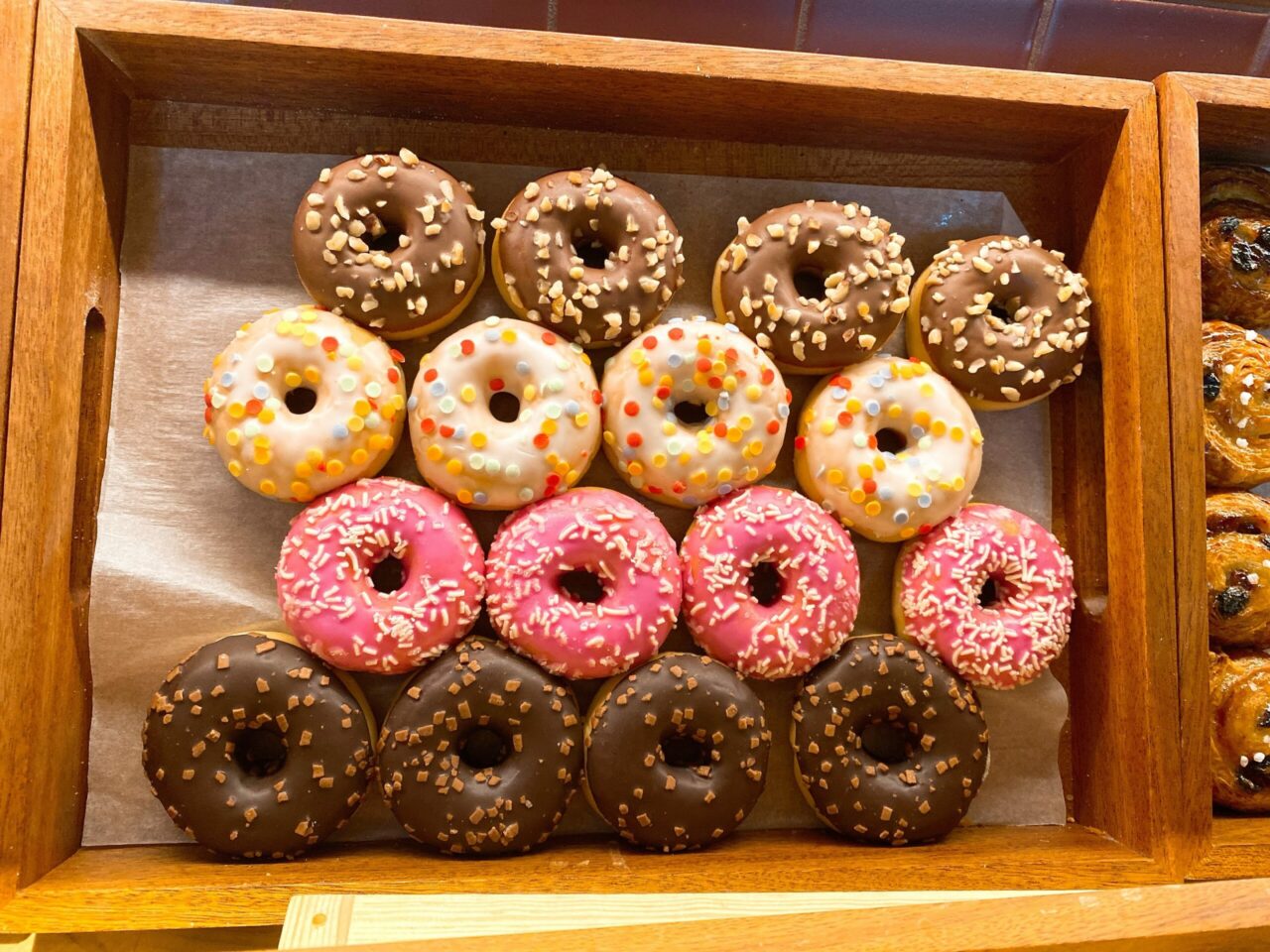 Naturally, with a pastry chef like Cherish Finden, the bread and pastries section looked amazing and the sourdough bread was delicious.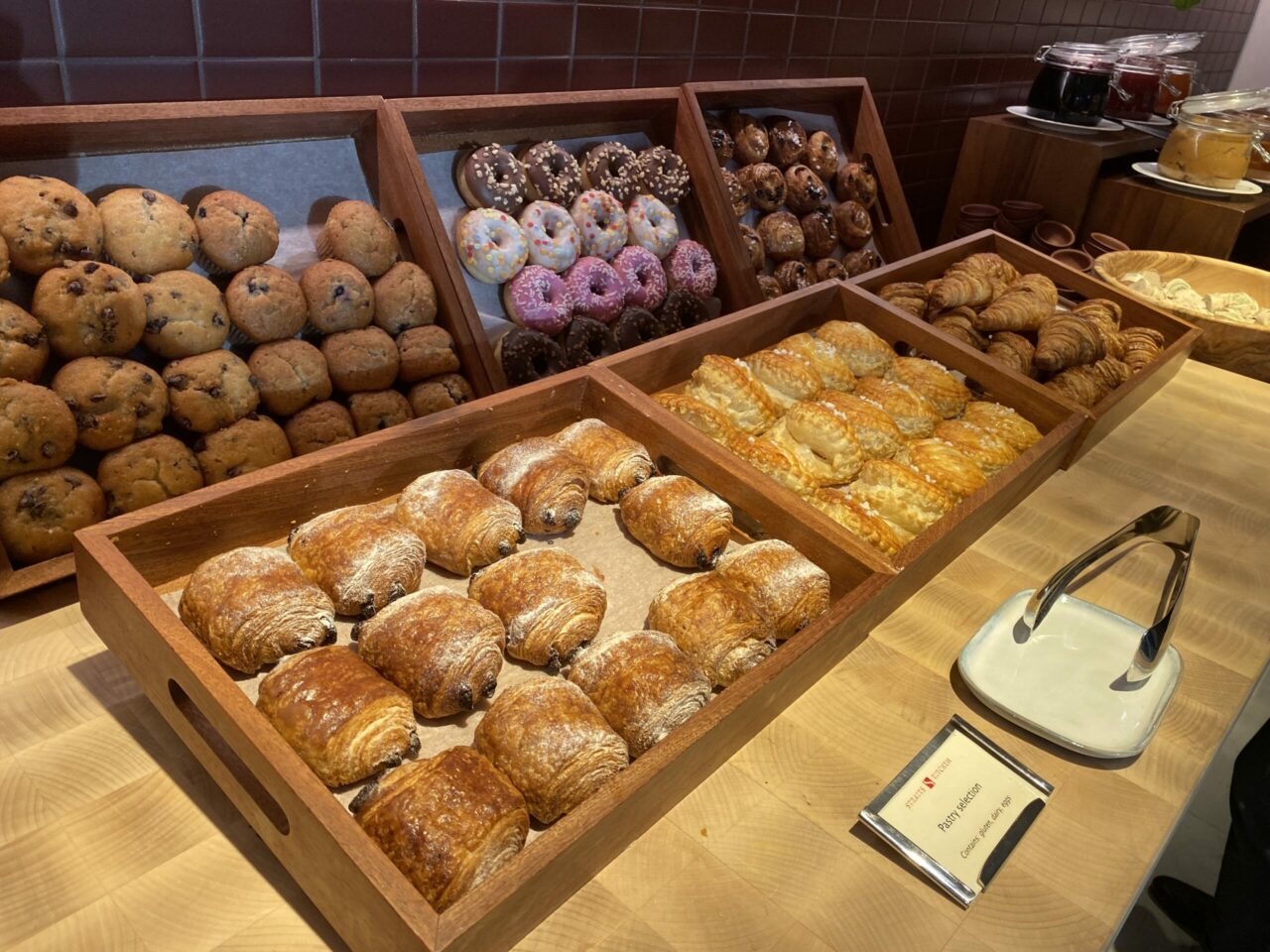 There was a selection of meats, cheeses in fish including some excellent smoked salmon and gravadlax. In addition, there were some fresh salad items and plenty of accompaniments for the meats and fish like pickles and capers.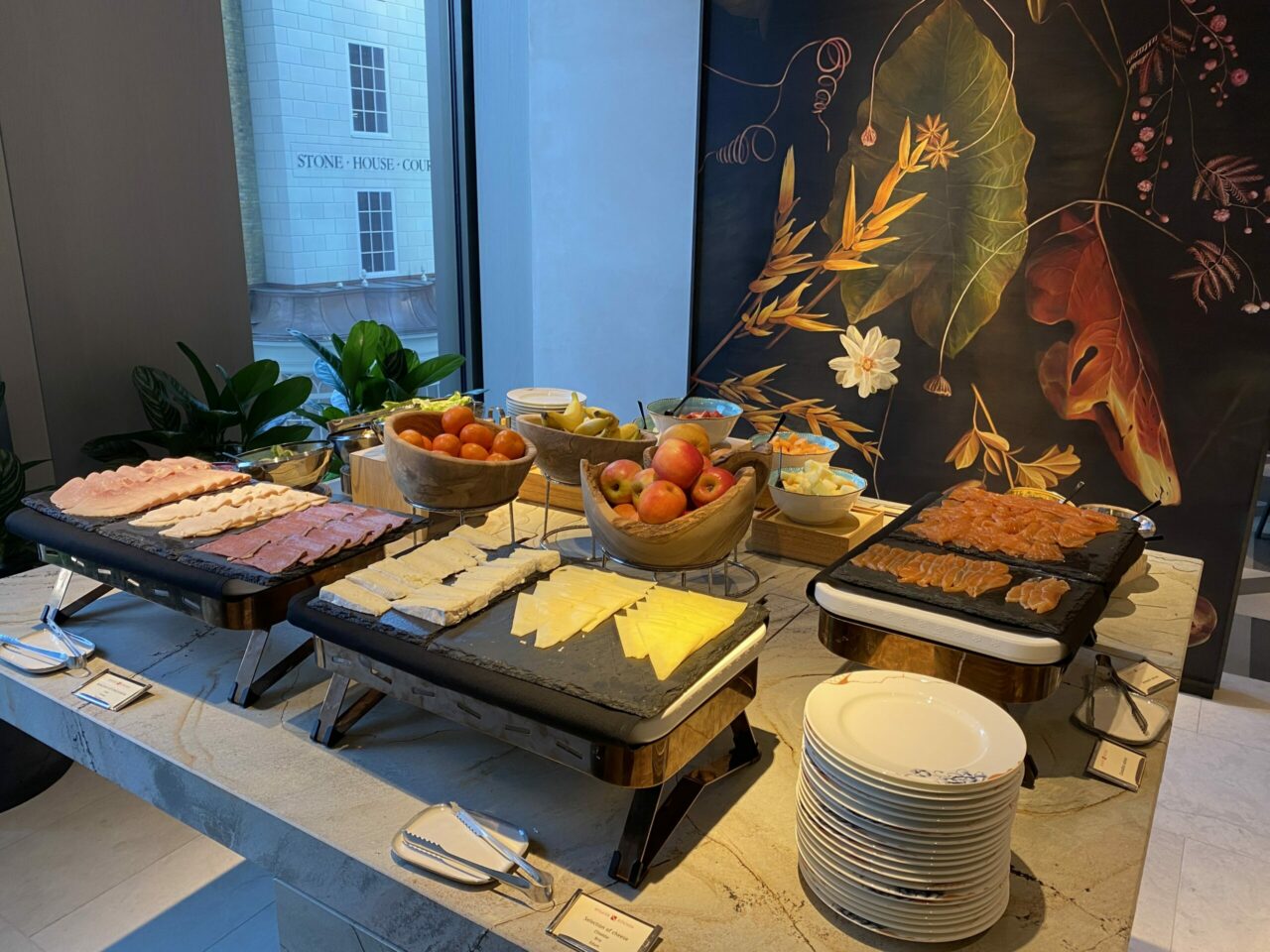 I was pleased to see a decent fruit selection as this seems to be becoming less common in hotels recently. The berry selection looked particularly tempting. There were also the usual yoghurts and cereals available.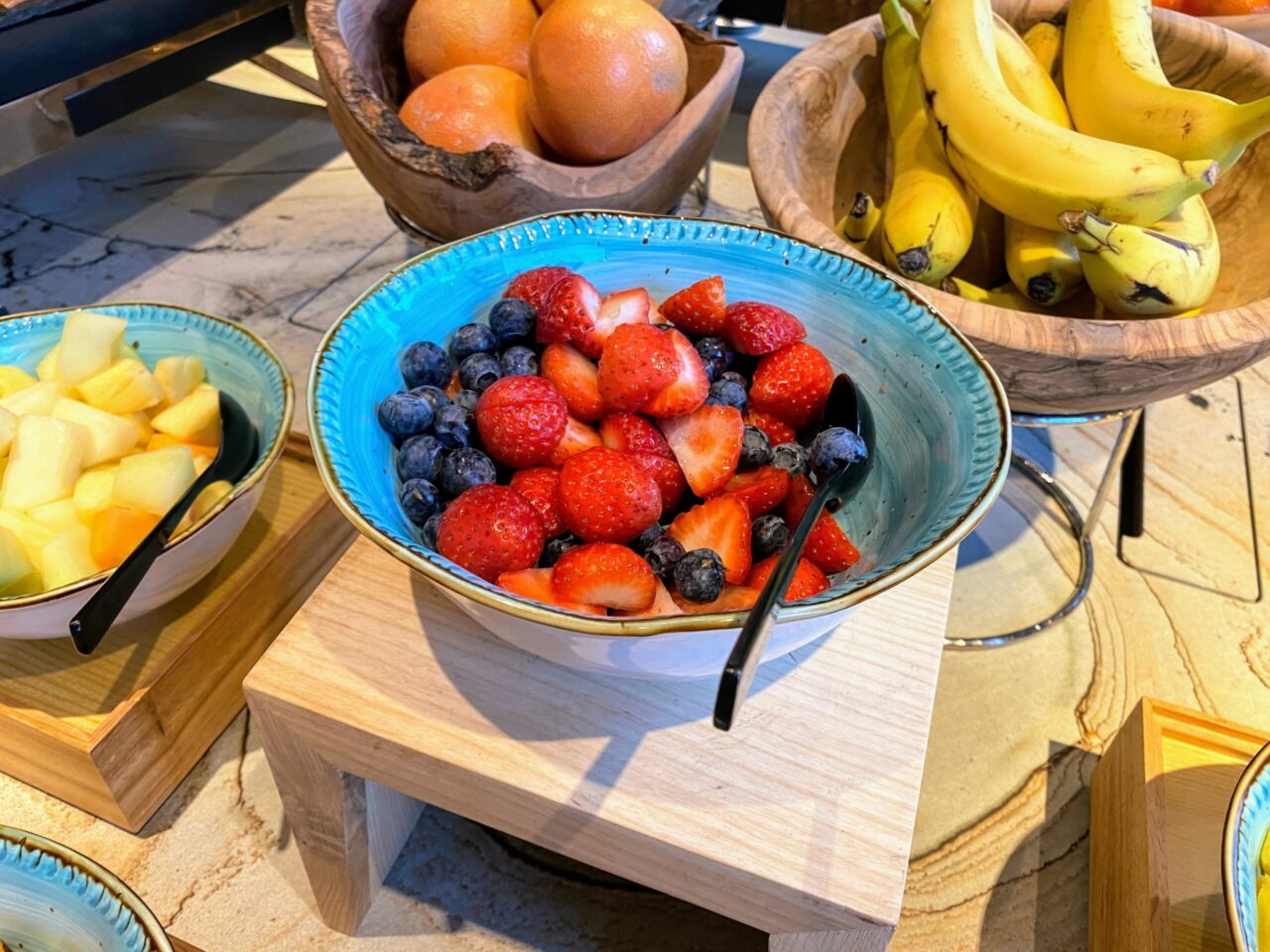 I would have perhaps expected something a little more Asian-themed on the buffet other than congee which is not particularly popular with Brits. Perhaps some dim sum?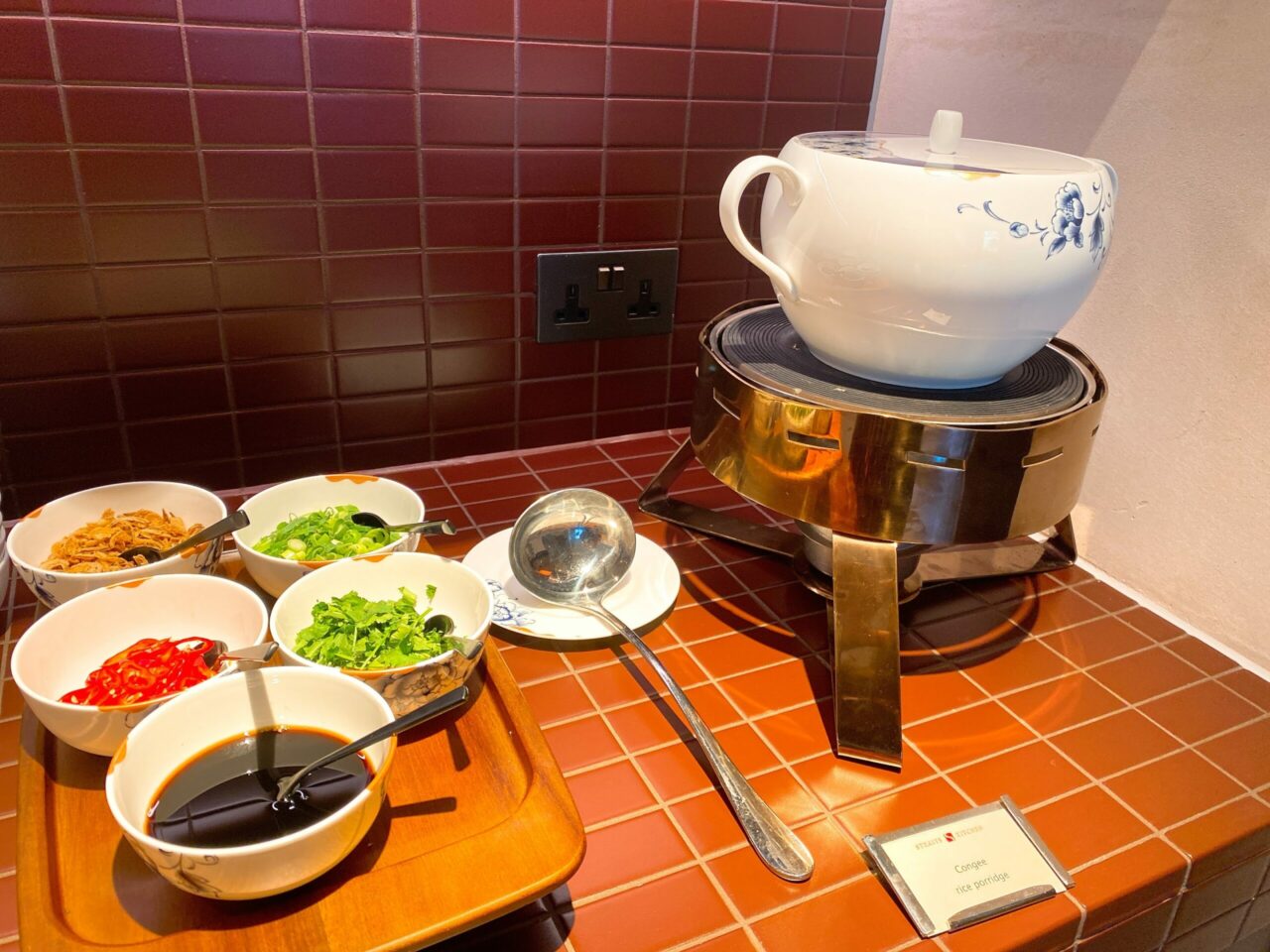 The a la carte menu looked fantastic and I'd be tempted to pop in for breakfast if I was in the area. I mean, lobster thermidor omelette and a glass of champagne for breakfast? What a way to start your day! The chilli crab omelette also sounds amazing (see more below on chilli crab).
The inclusive breakfast menu was a little less exciting:
Personally, I think they should have a full English type option since 99% of hotels include that if you have breakfast included in your package. I went for the poached eggs but asked for some tomatoes and mushrooms instead of the toast.
This was no issue and it came well presented. For once the poached eggs were almost perfectly cooked as it's rare to find anywhere that can cook them enough not to have the horrid jelly-like white inside!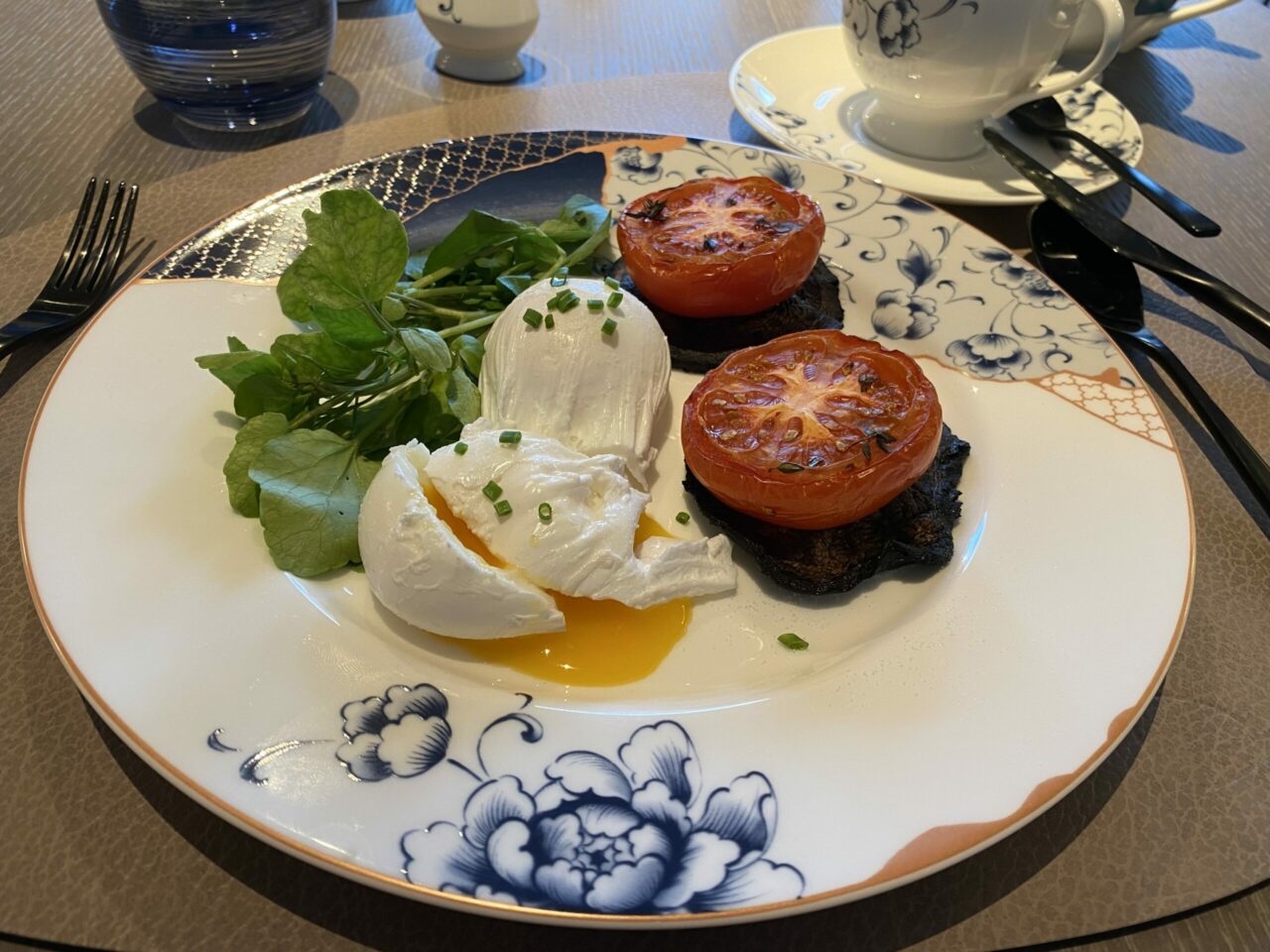 Afternoon tea by Cherish Finden at The Orchid Lounge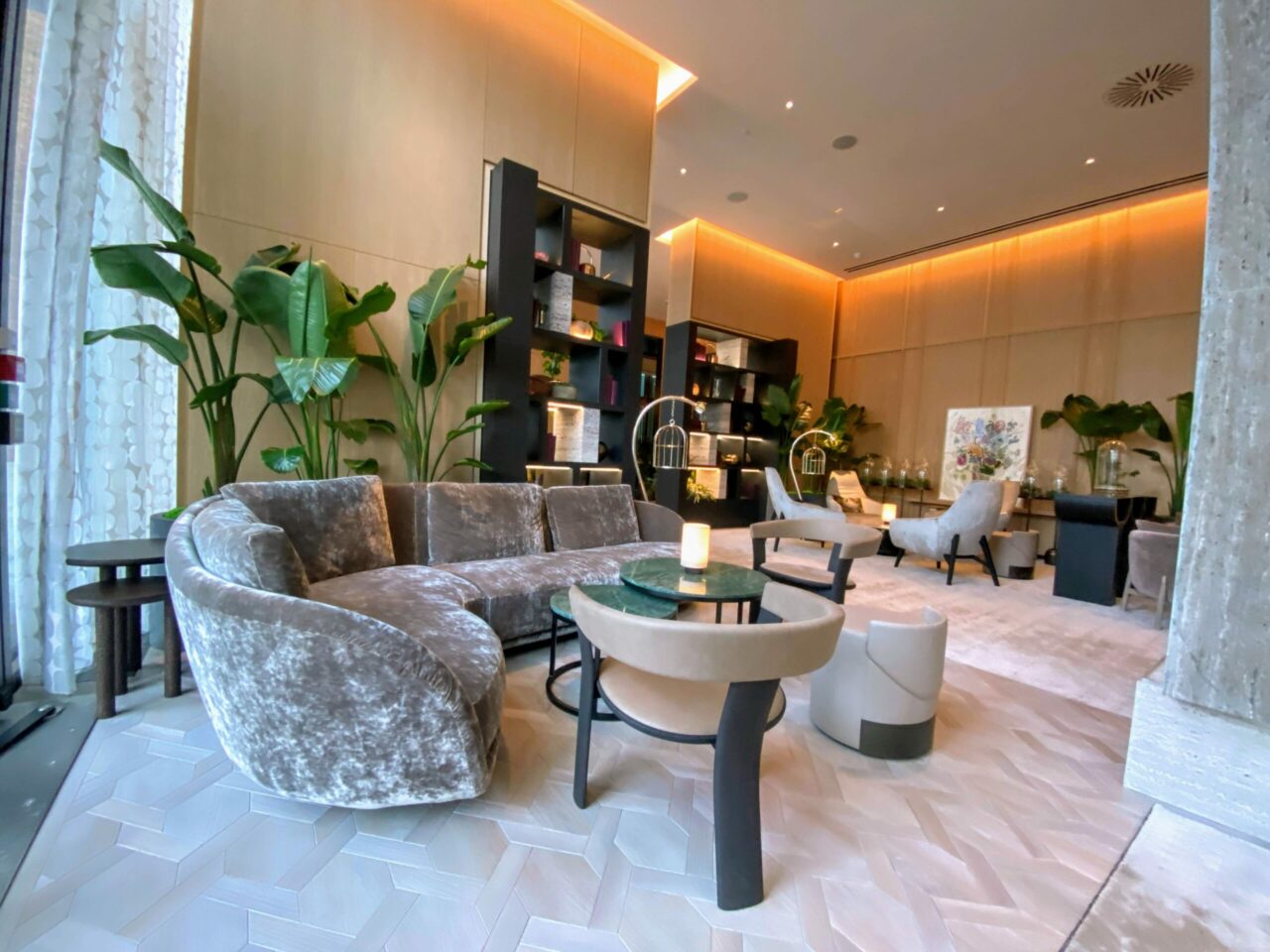 This was the shining highlight of my time at the hotel. If you love Asian food, I highly recommend the afternoon tea. I usually find afternoon very filling but this was the perfect amount and felt much lighter. We even got to meet the lady herself as Cherish popped by to say hello and see how we were enjoying it. I'll admit I was pretty star-struck by her, though she, fortunately, is less fierce in person than on TV! It was obvious she was very emotionally invested in creating the afternoon tea based on her childhood in Singapore.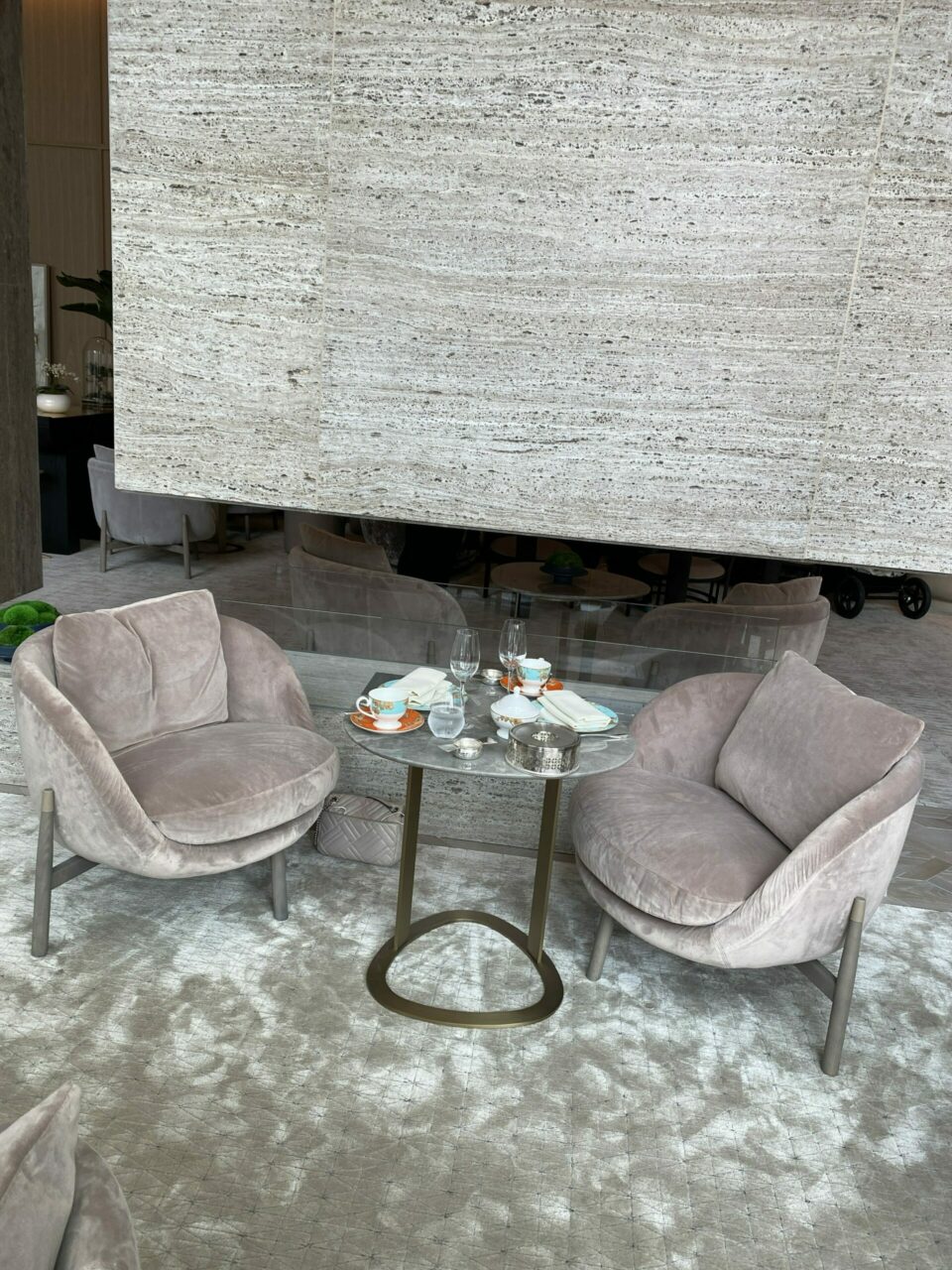 There is a choice of a more traditional afternoon tea "Traditional Delights" which showcases British sandwiches and scones, whilst the Singaporean-inspired Kopi Tiam that I had offers bao and dim sum. Here is an idea of the prices for the tea: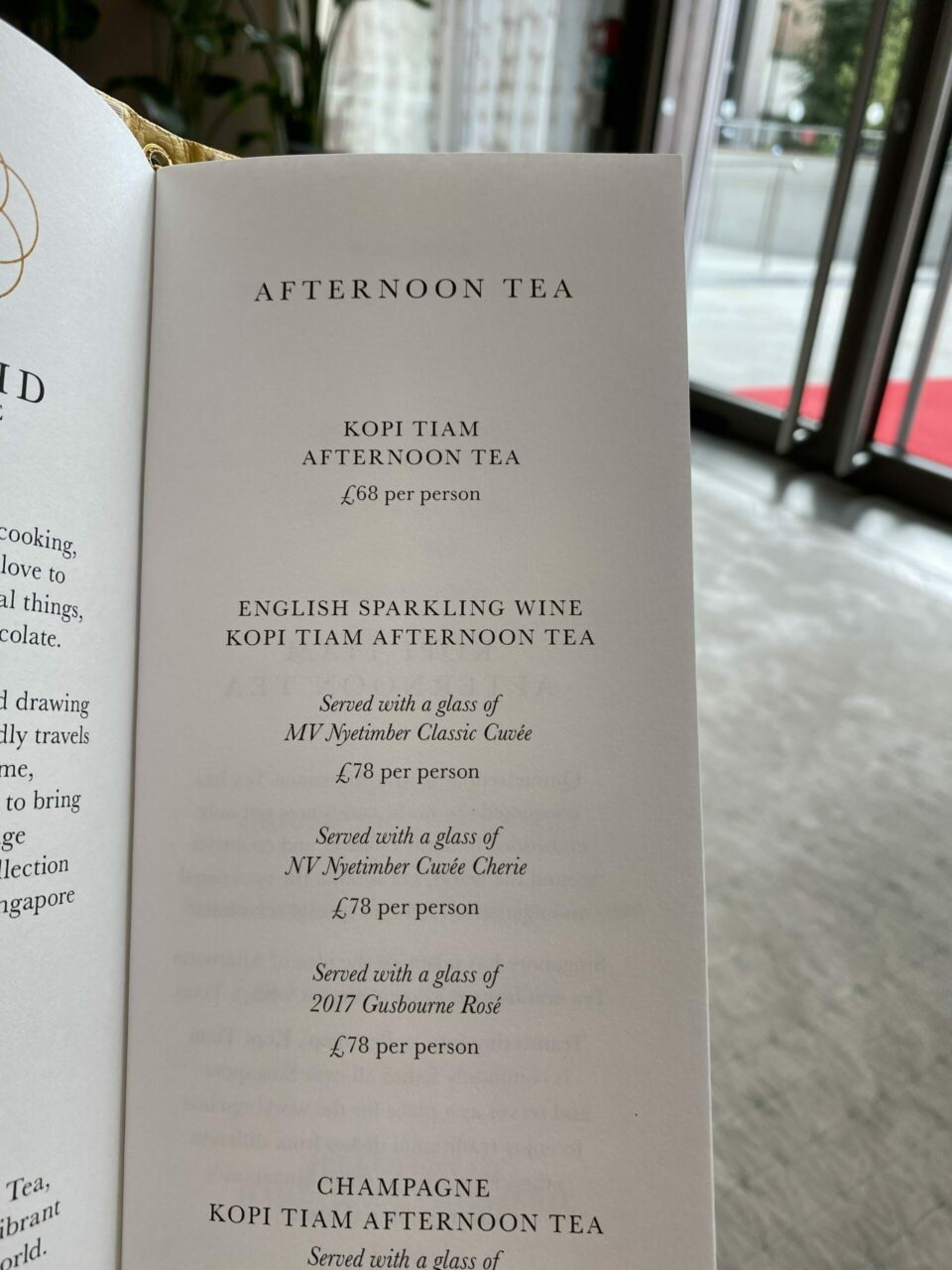 We of course started out afternoon tea with some fizz. The Orchid Lounge highlights British Sparkling wine although they do have champagne as well.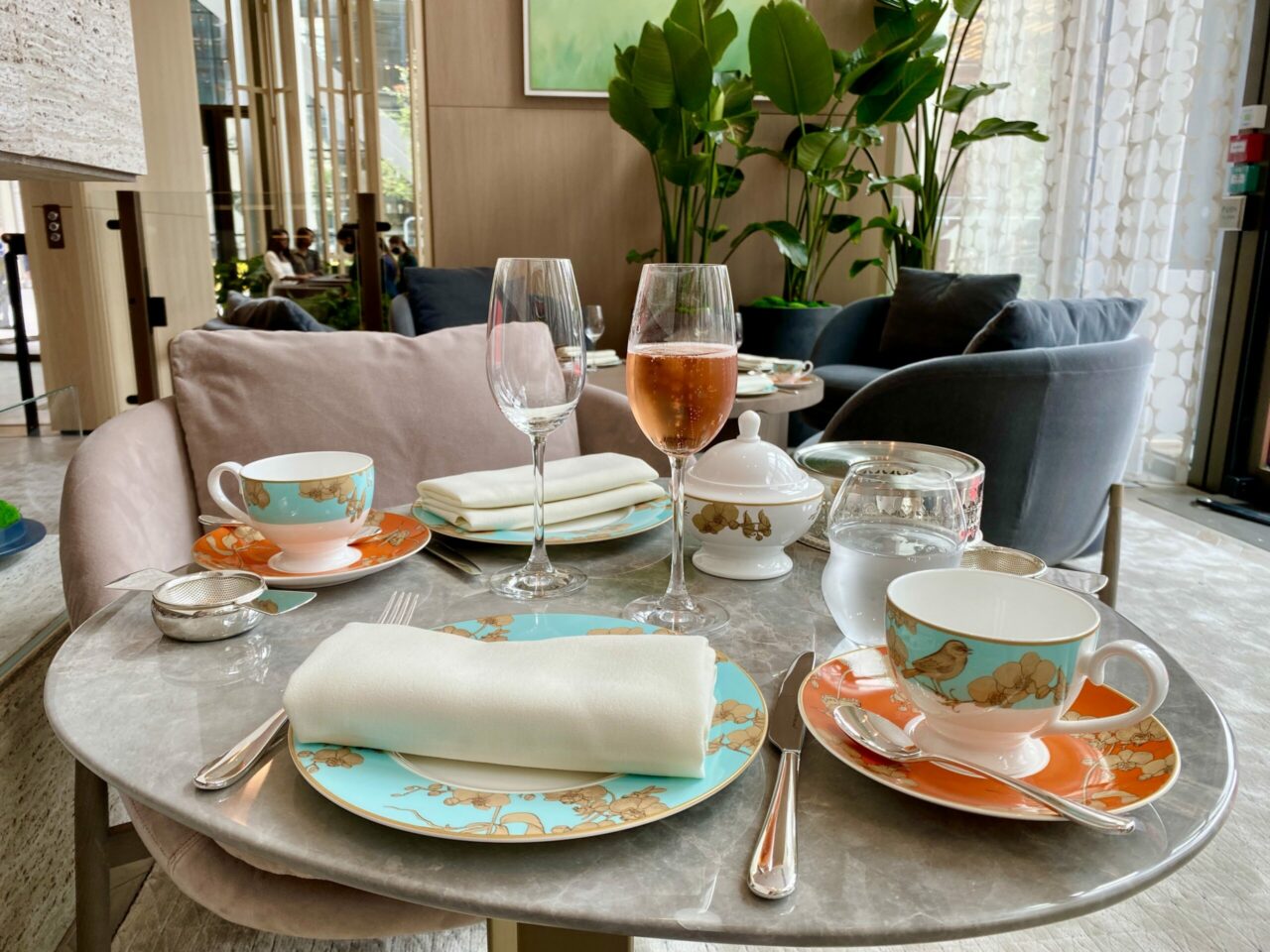 Naturally, we decided to share a bottle since it would be more cost-effective!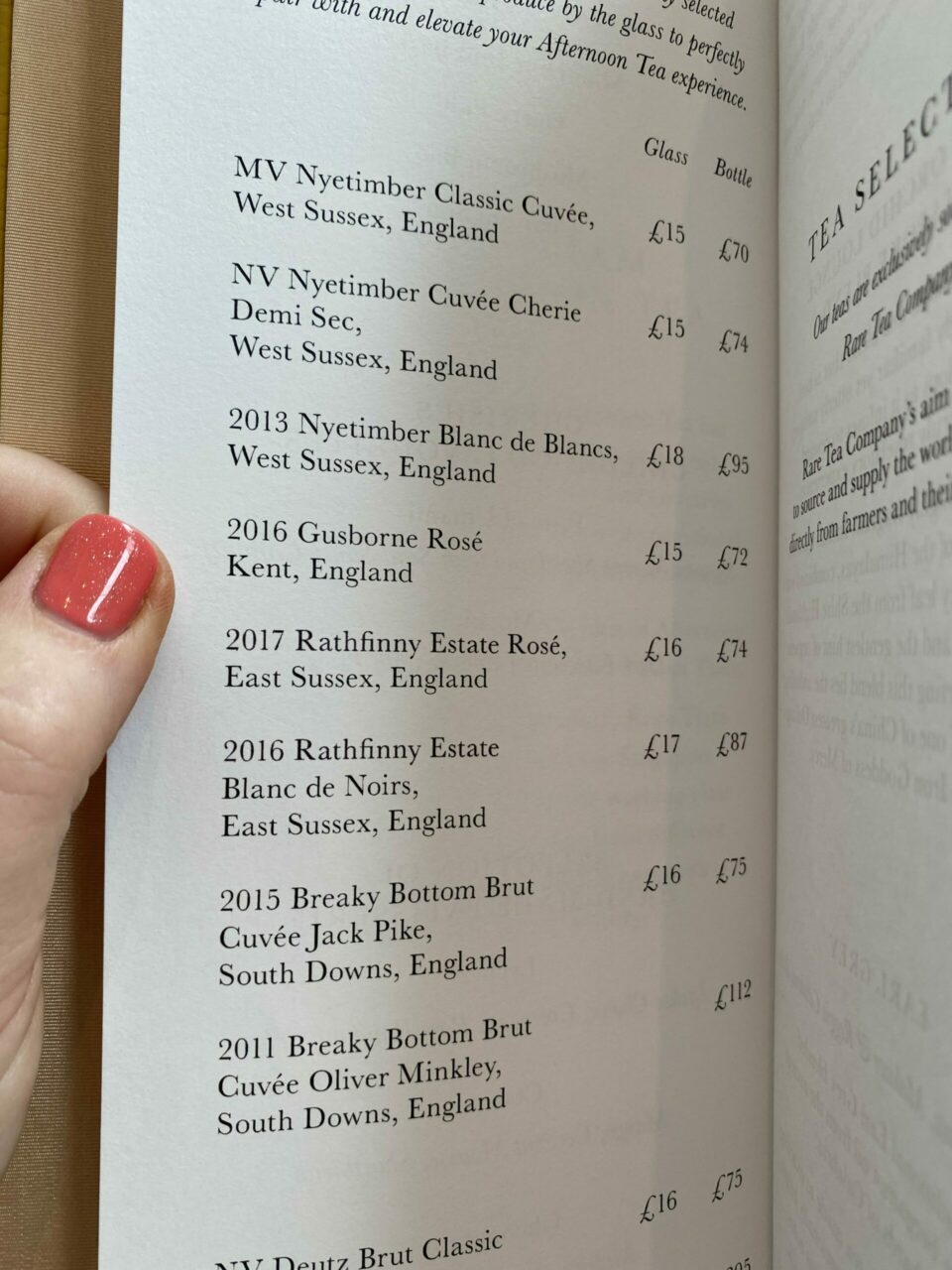 We went for the Rathfinny that I have never heard of before, which was delicious.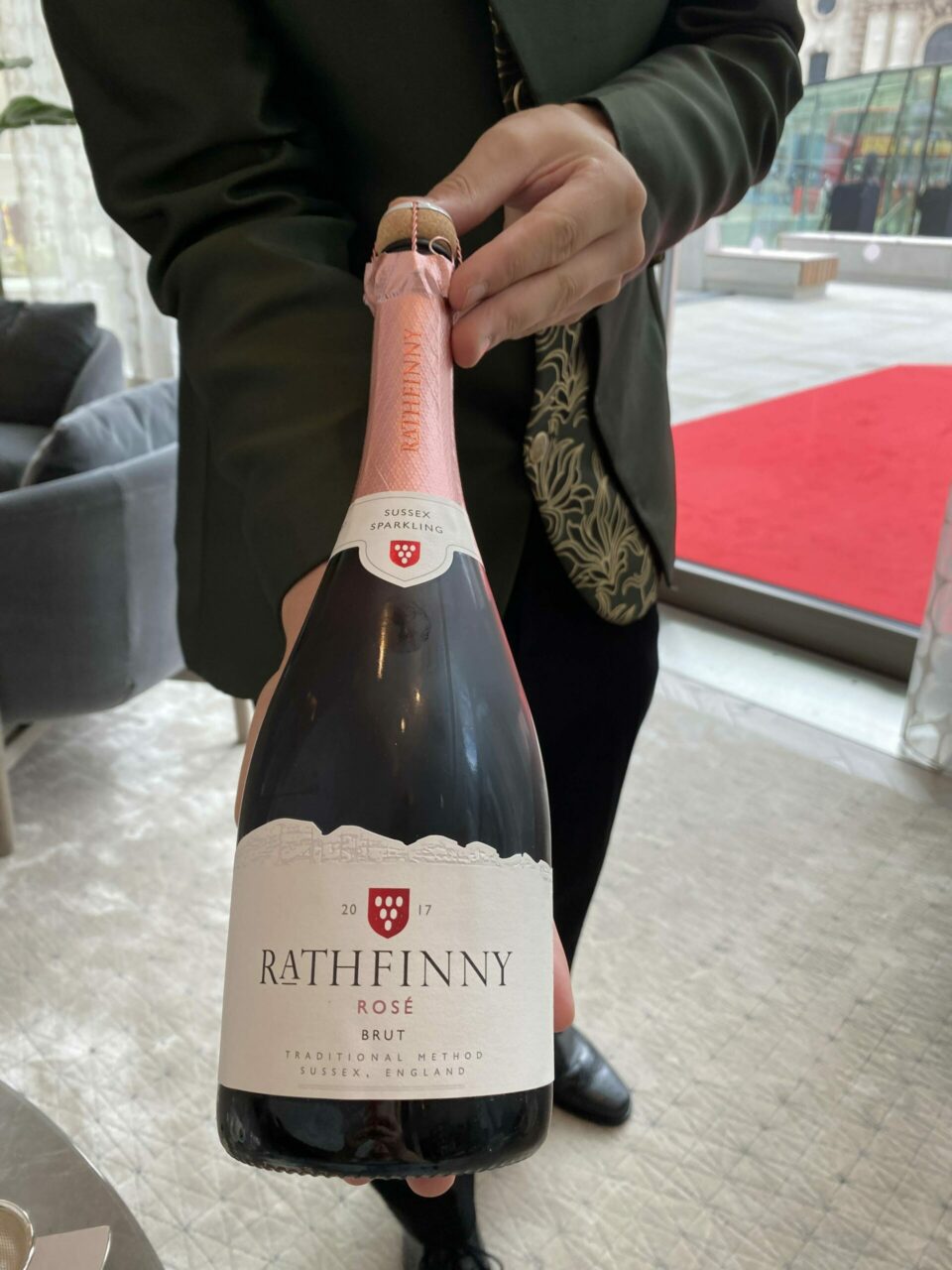 The tea itself is taken very seriously as Pan Pacific hotel London's restaurants' afternoon tea is accompanied by amazing teas from the Rare Tea Company. Our waiter was an absolute delight who really made the experience. He was hugely knowledgeable about everything and explained the process as you go along. Many of the teas are designed for three separate servings to accompany different stages of the tea. This is achieved by allowing the tea to steep for different amounts of time. Instead of having a tea strainer on the table, the waiter simply strains each pot of tea into another empty pot, ensuring you don't have to faff about with it yourself!
There's even a warmer underneath the tea pot to keep it warm.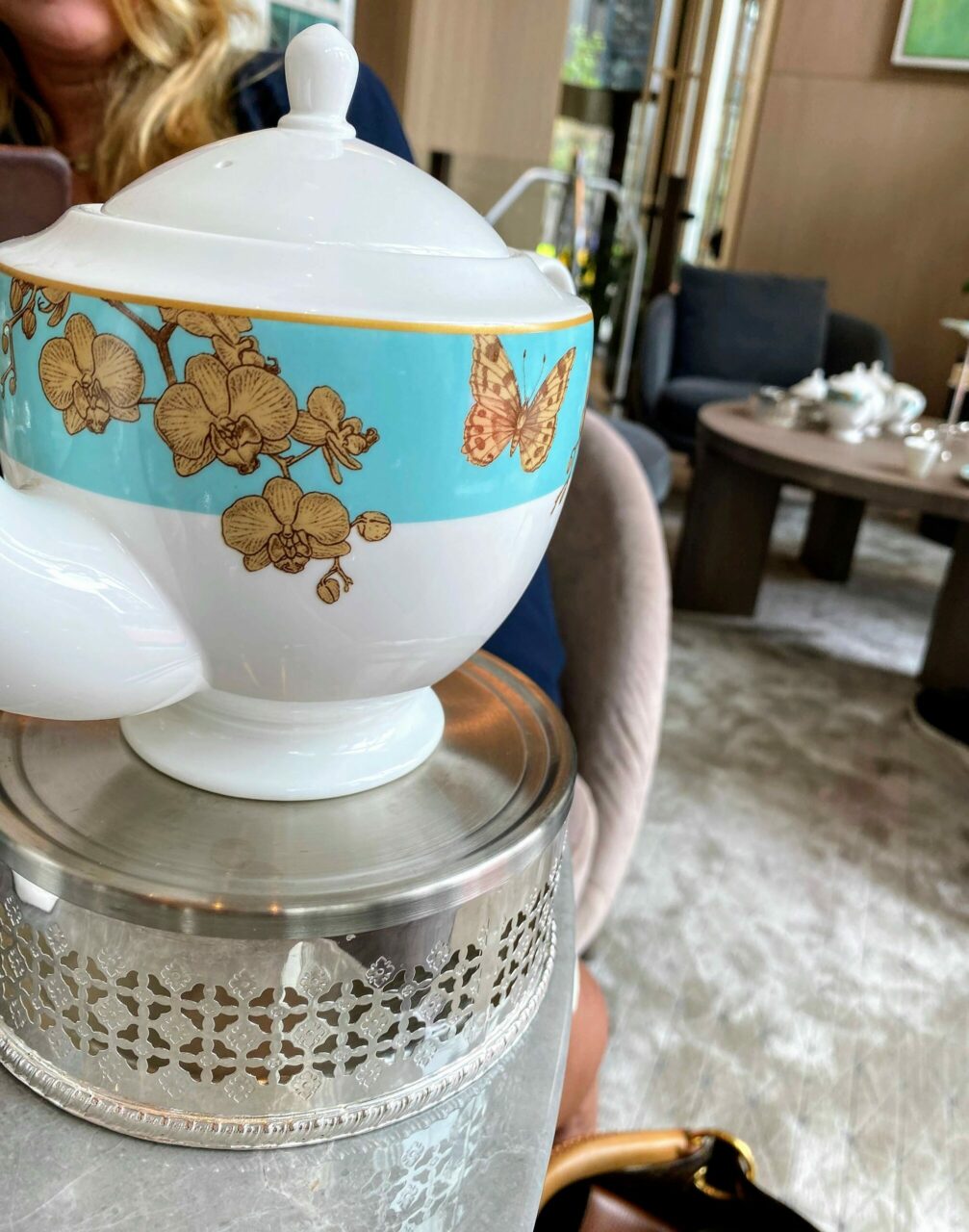 We decided of course to try the Bespoke Orchid lounge blend which we really enjoyed and you could really tell the difference between the different stages.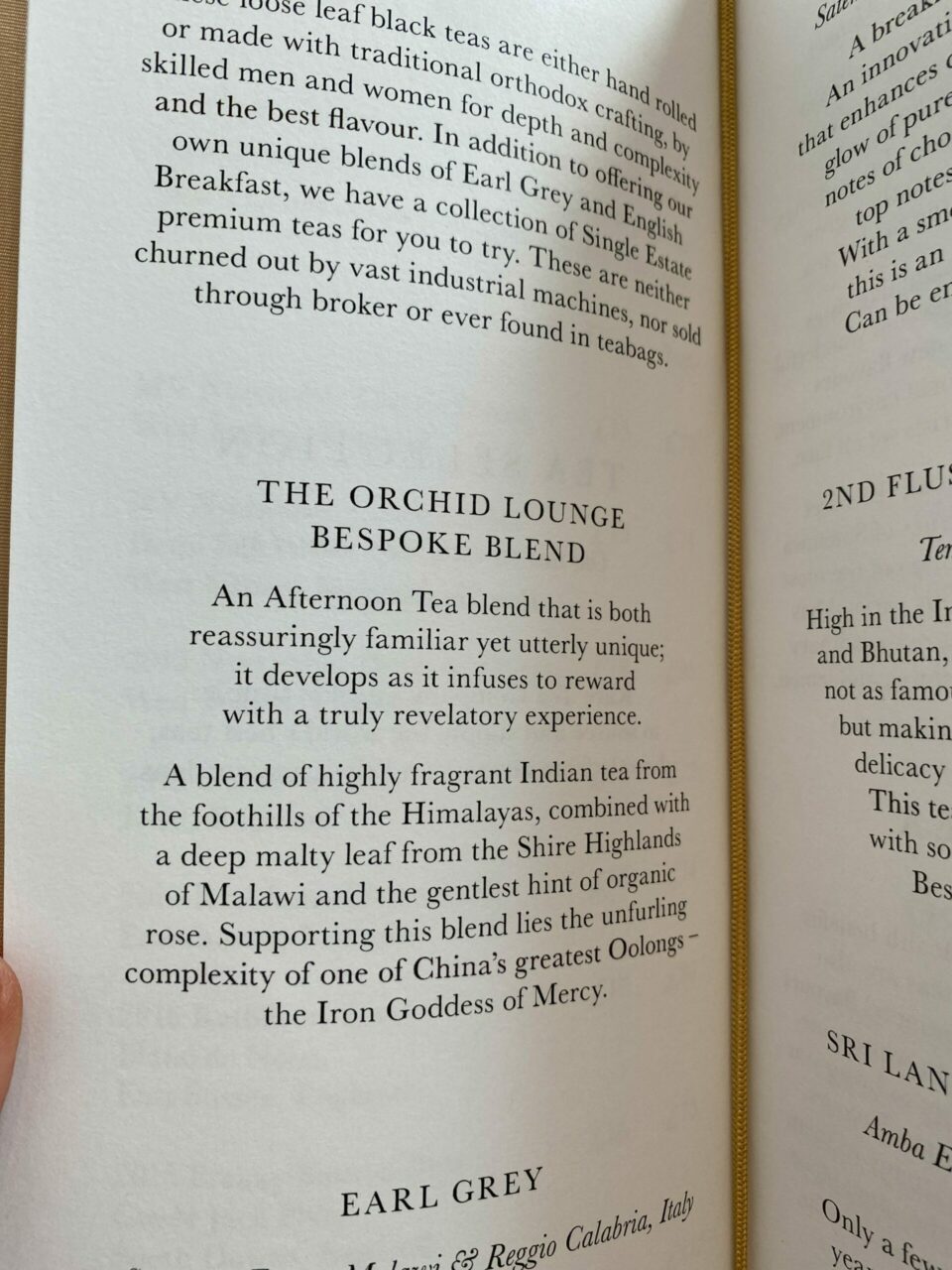 The first course was a sort of amuse bouche designed to look and feel like eating an egg but of course, it wasn't actually an egg but a refreshing palate cleanser with tropical fruit and lime. I loved the china and the way each course was presented.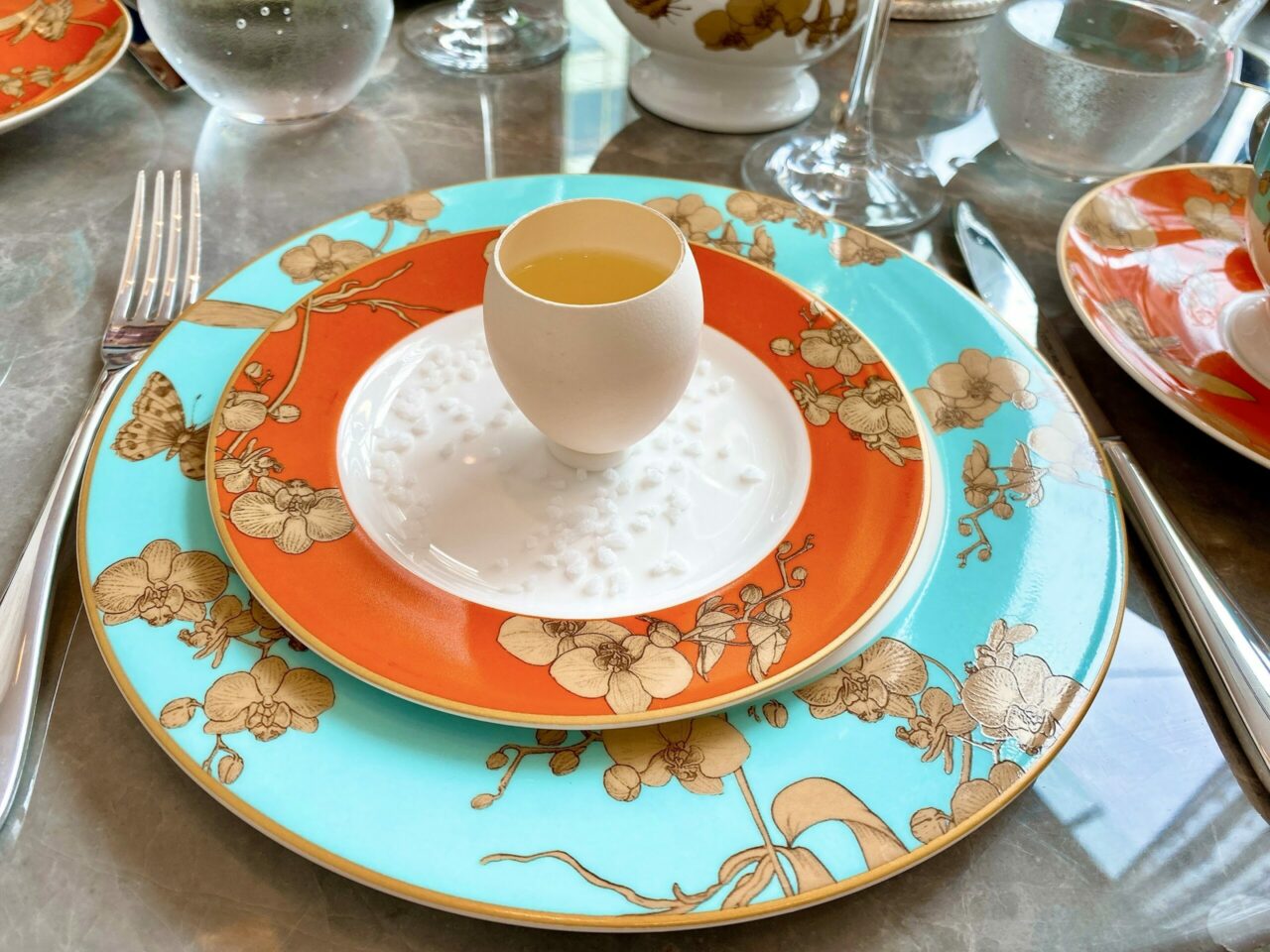 Next came the savoury courses starting with some beautiful but delicious steamed dim sum with a dipping sauce.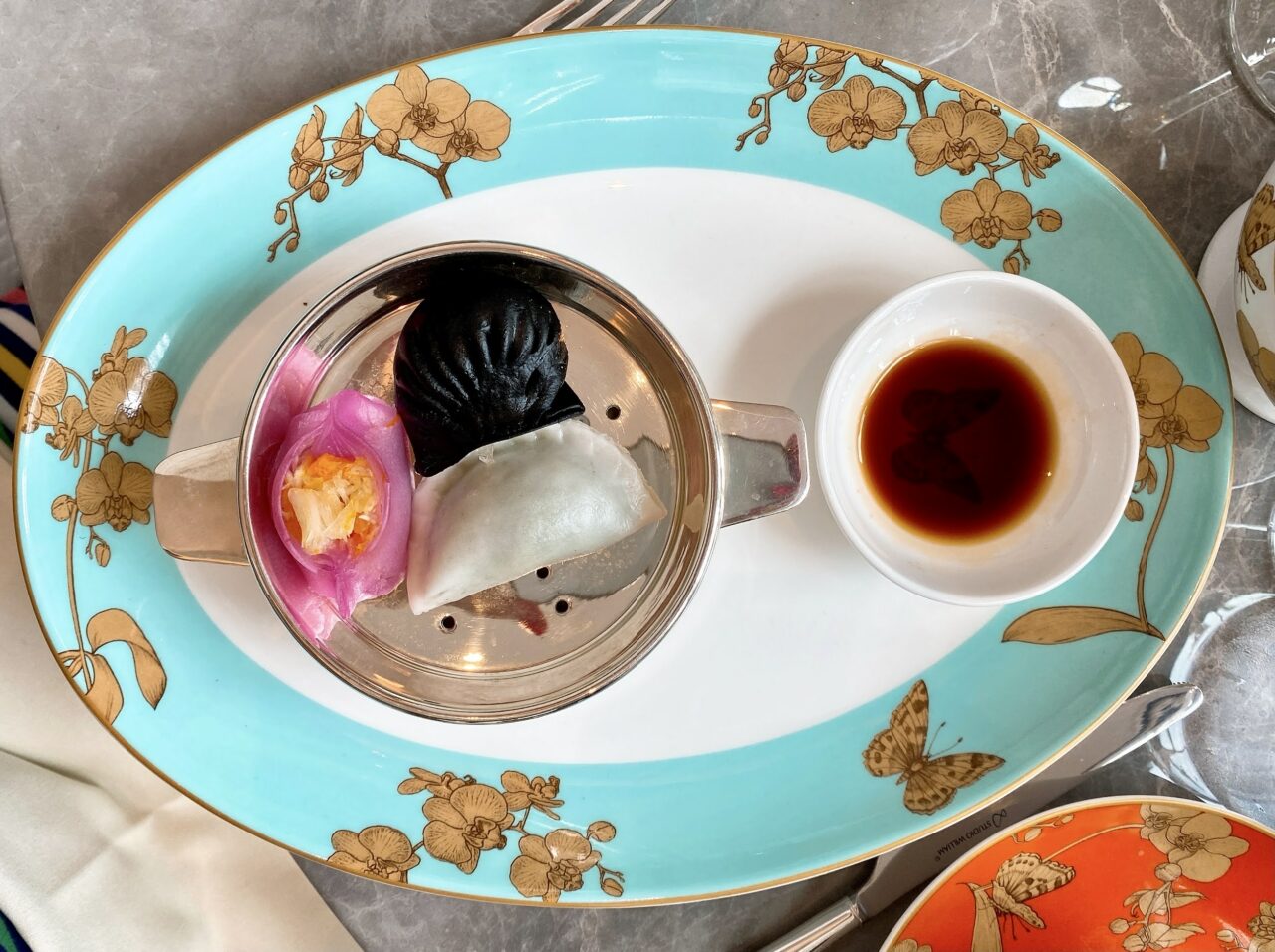 This was served on a traditional-looking tiered plate stand of savory pastries.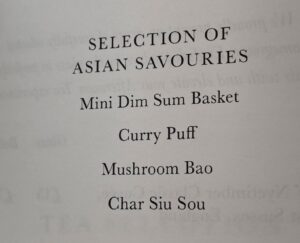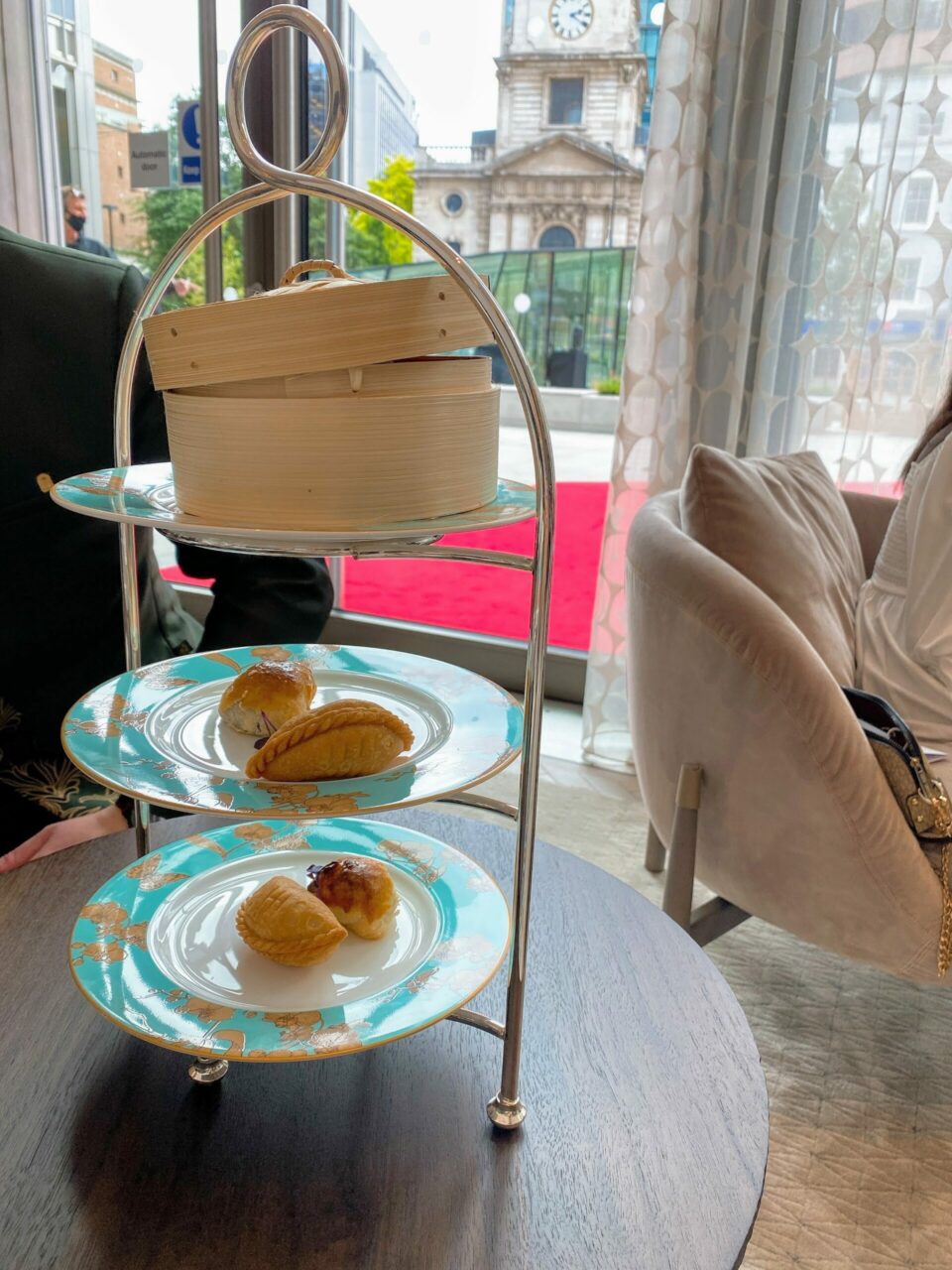 Being Singaporean of course there was a curry puff that was light, crisp, and flaky which melted into a delicate balance of curry flavours in your mouth. This was one of my favourite parts of the tea as it instantly transported me back to travels in Singapore and Malaysia.
Next came the childhood favourites with one of our absolute stars of the tea – the taste of Umami. It was so good and looked so beautiful we had to ask for another!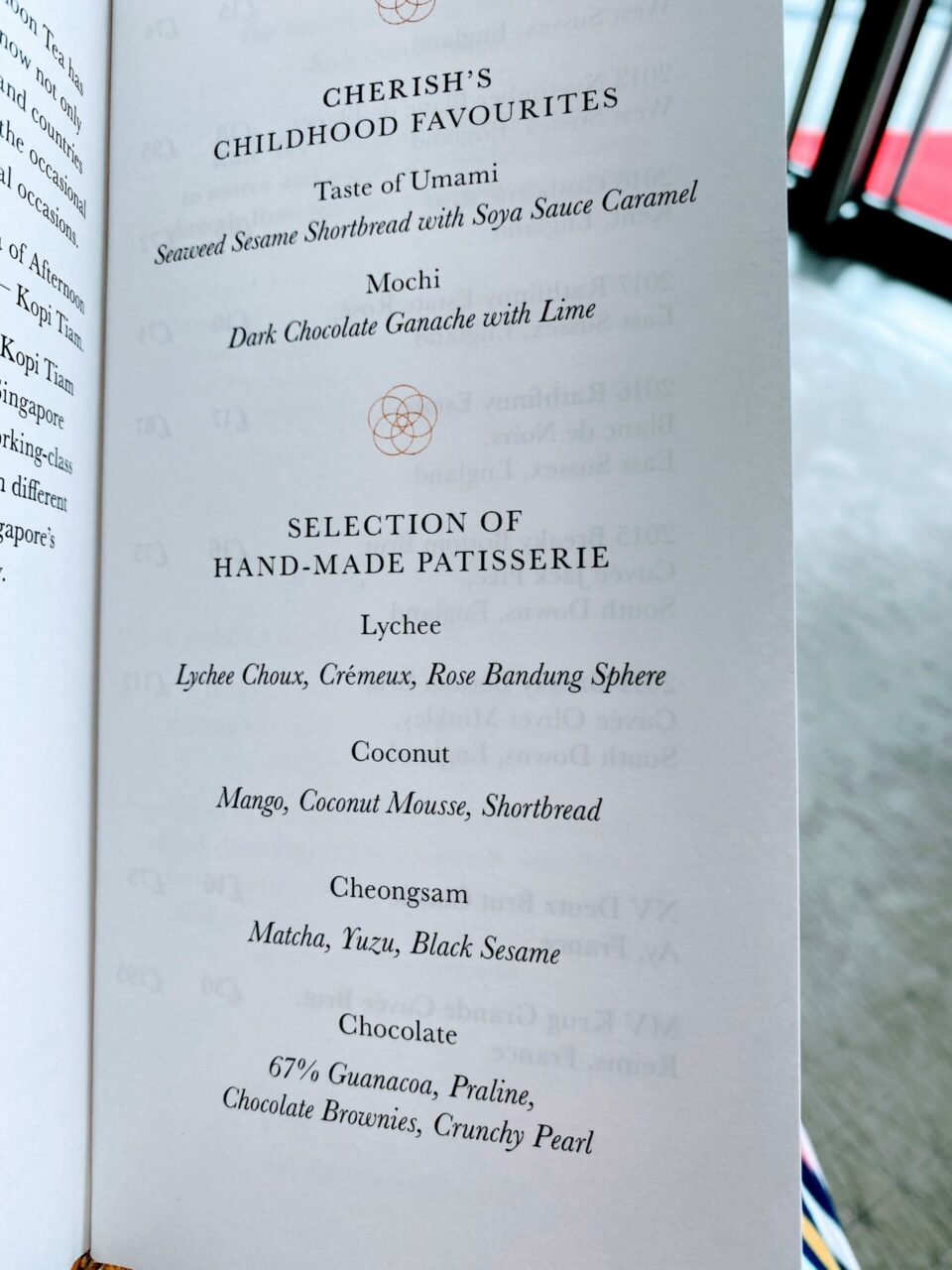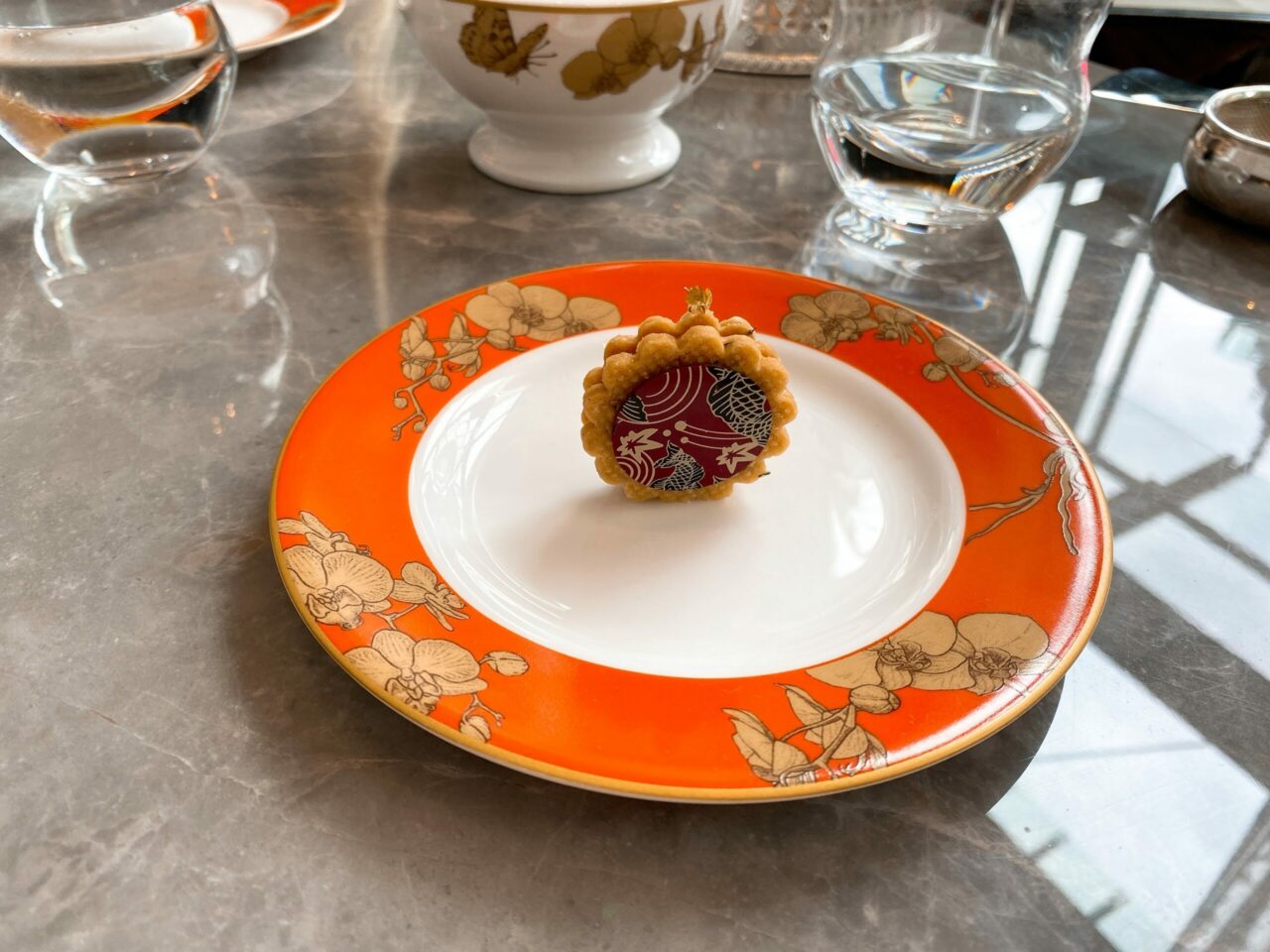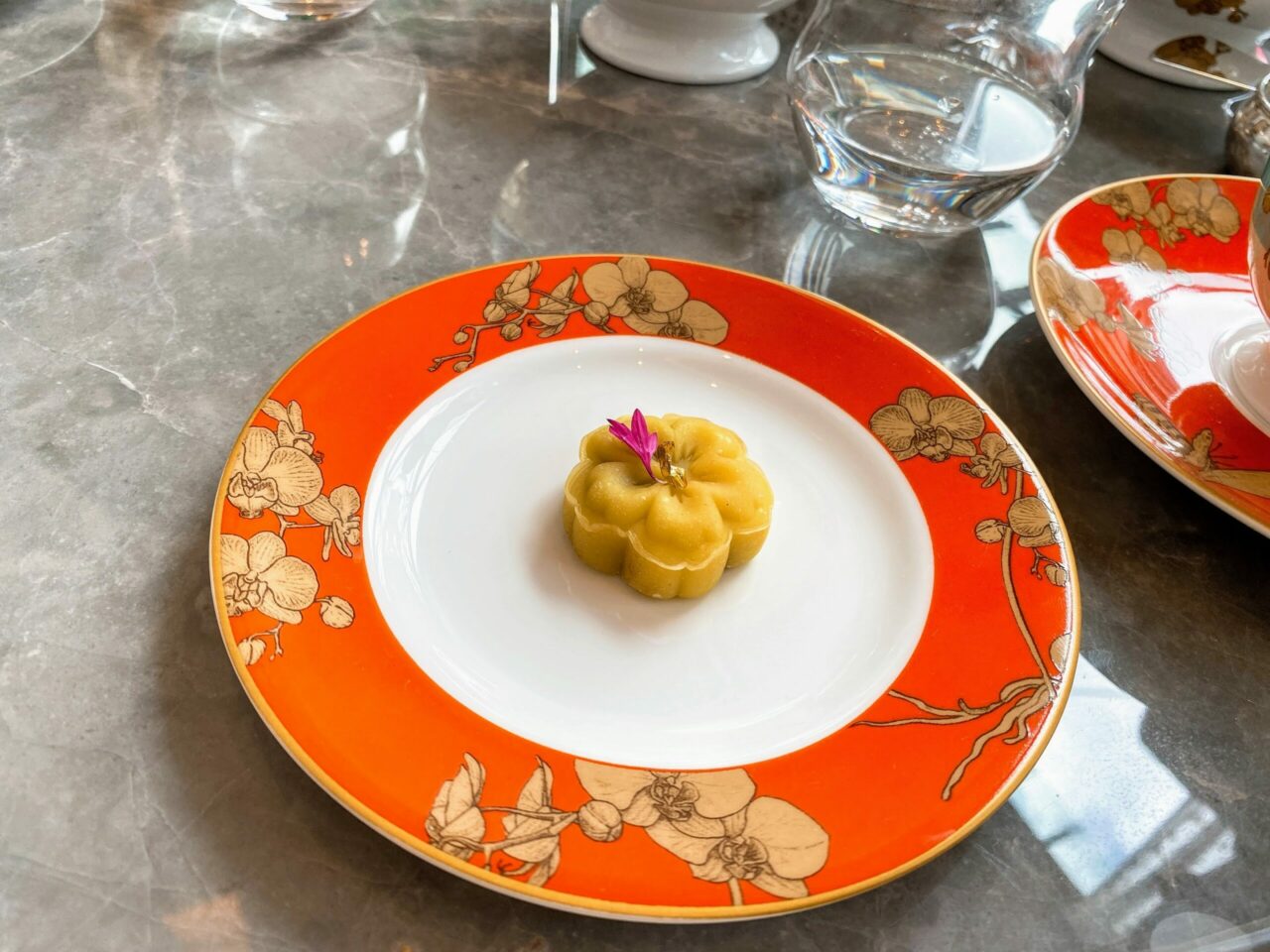 Finally came one of the most stunning-looking plates of patisserie I have ever seen. It really was a shame to eat it with such attention to detail in the making of them.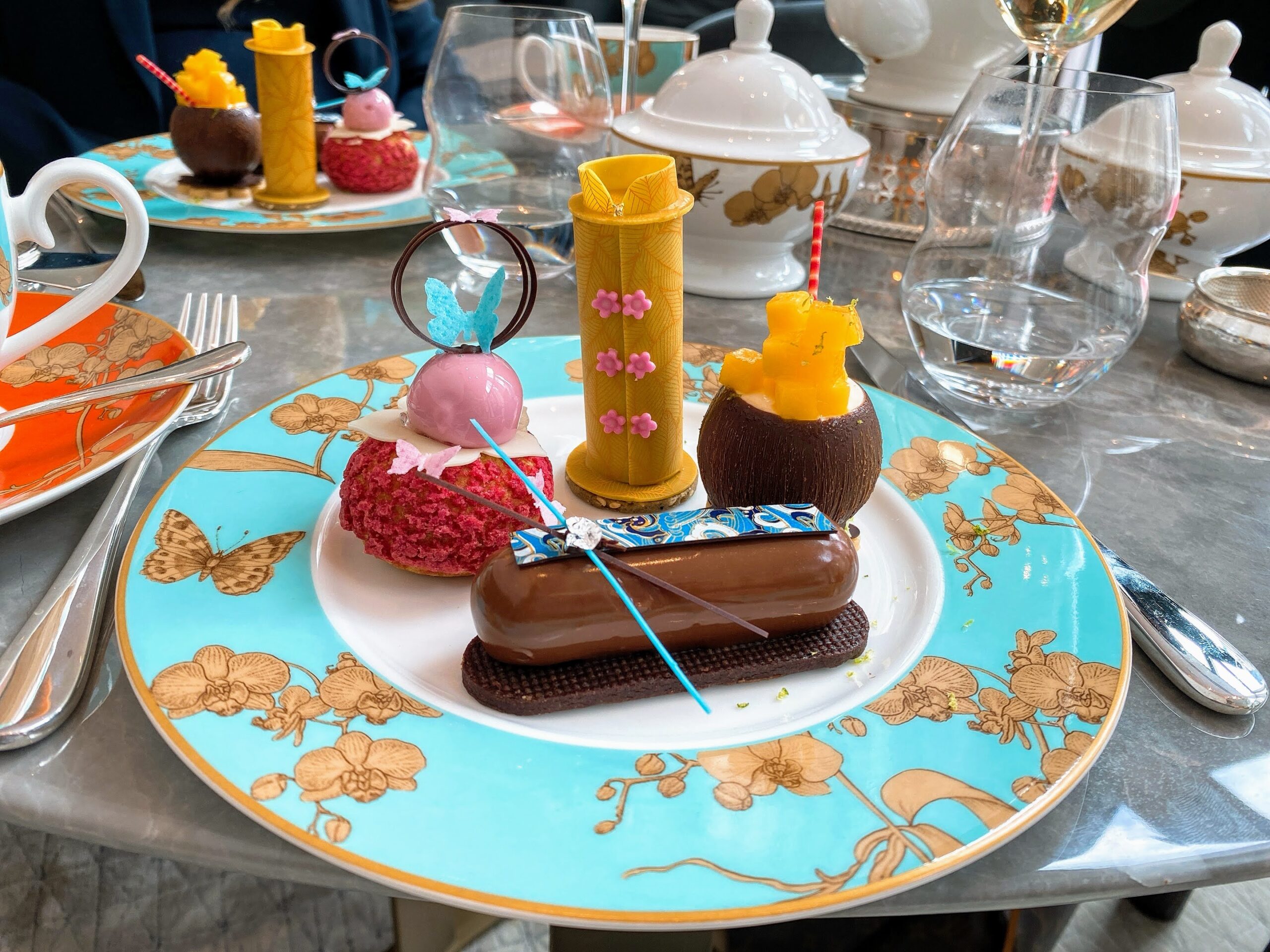 The coconut one had so much fine detail on the shell to make it look like an open coconut that you would drink, even down to the tiny straw. They were all delicious, and not too heavy or rich apart from maybe the chocolate one. But then I am not a chocolate cake fan. My favourite was the lychee one which did indeed look like a lychee.
If they gave Michelin stars for afternoon tea, then this is very much deserving of one in my opinion. It elevated afternoon tea to a completely different level between the exquisite food and the care and attention with the tea service.
Straits Kitchen Singaporean cuisine

The Straights Kitchen transforms at night into a Singaporean restaurant, although they do have some Western options as well. As you enter there is a pretty bar area that offers cocktails.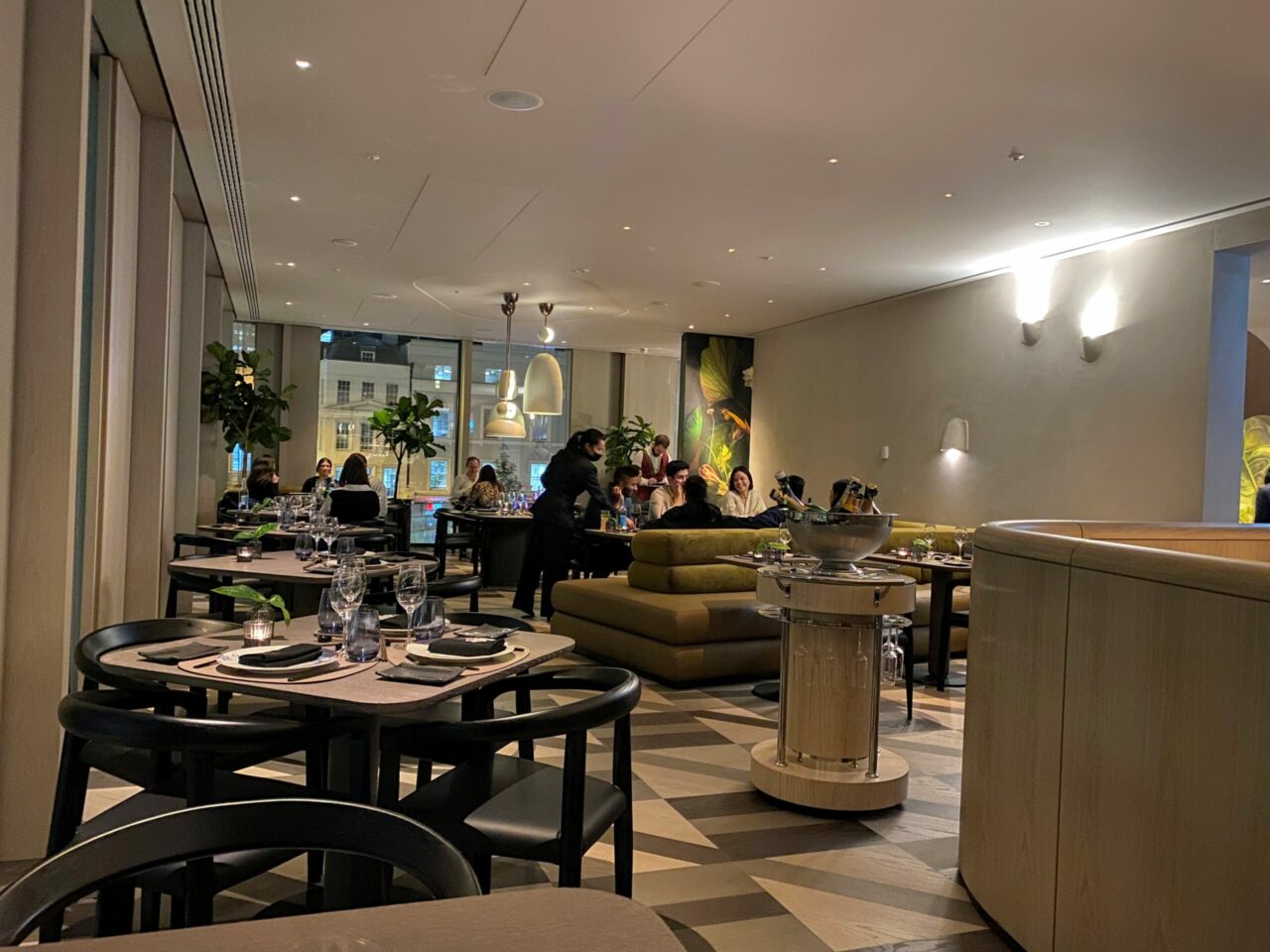 The restaurant had the lighting set just perfectly as many hotel "all-day dining" restaurants can feel a bit cafe like.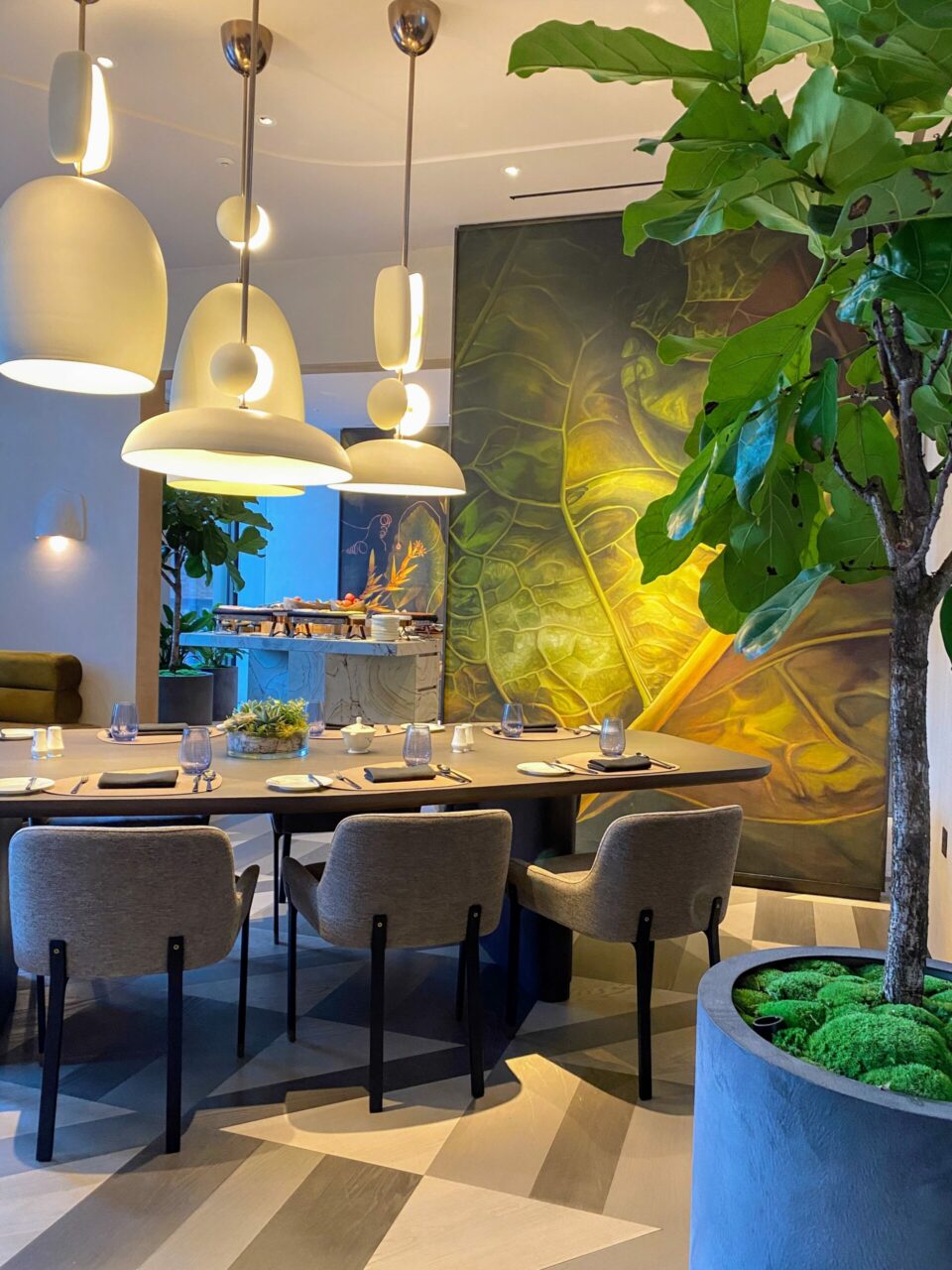 To start with the champagne trolley was wheeled over. For once I did not partake but ordered a cocktail instead. This was the only minor issue as it took a long time to come, well after my starter had been delivered. I only asked for a Bloody Mary, so nothing particularly complex.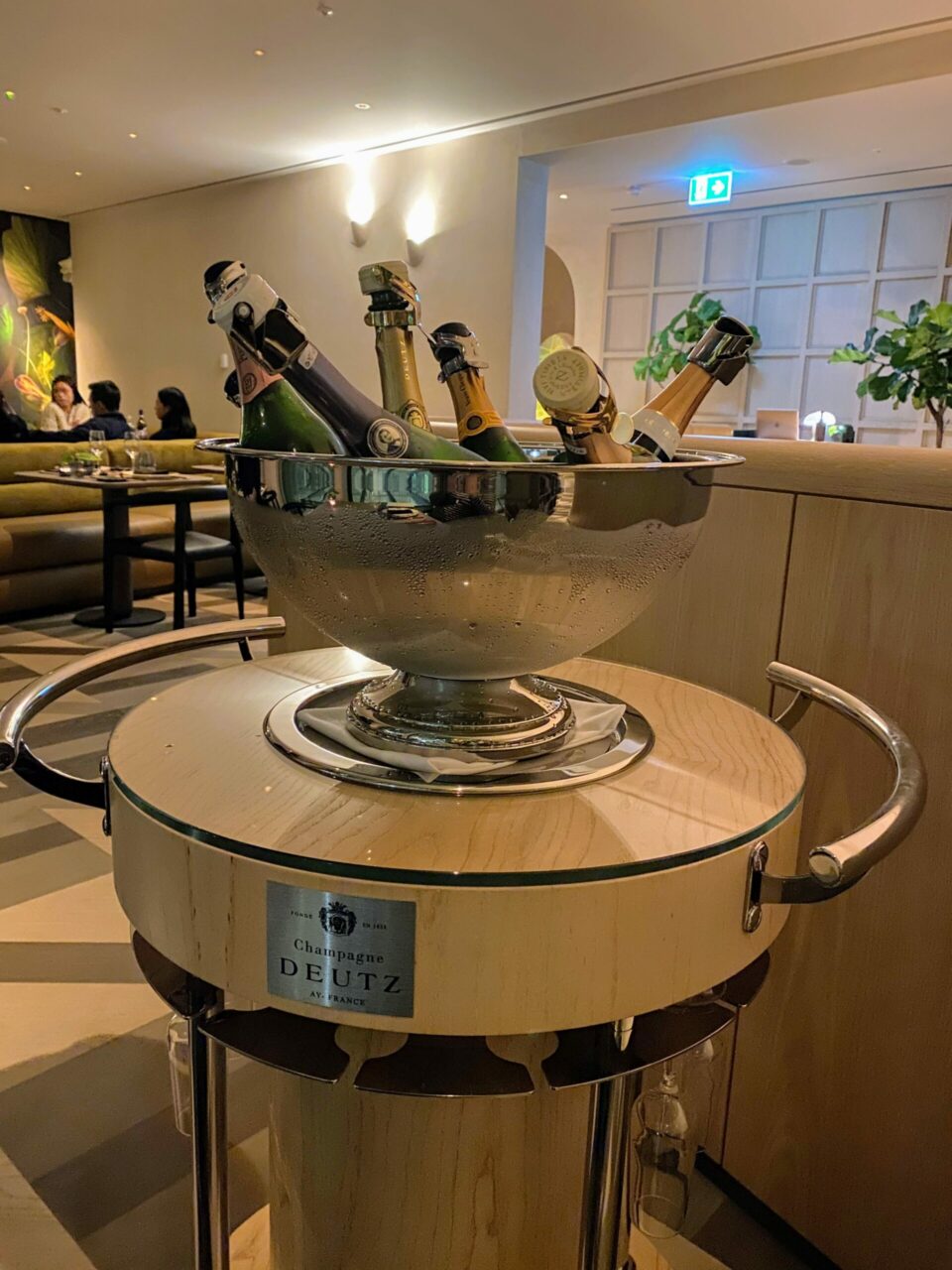 The menu is fairly lengthy and includes plenty of Singaporean favourites or there is also a tasting menu.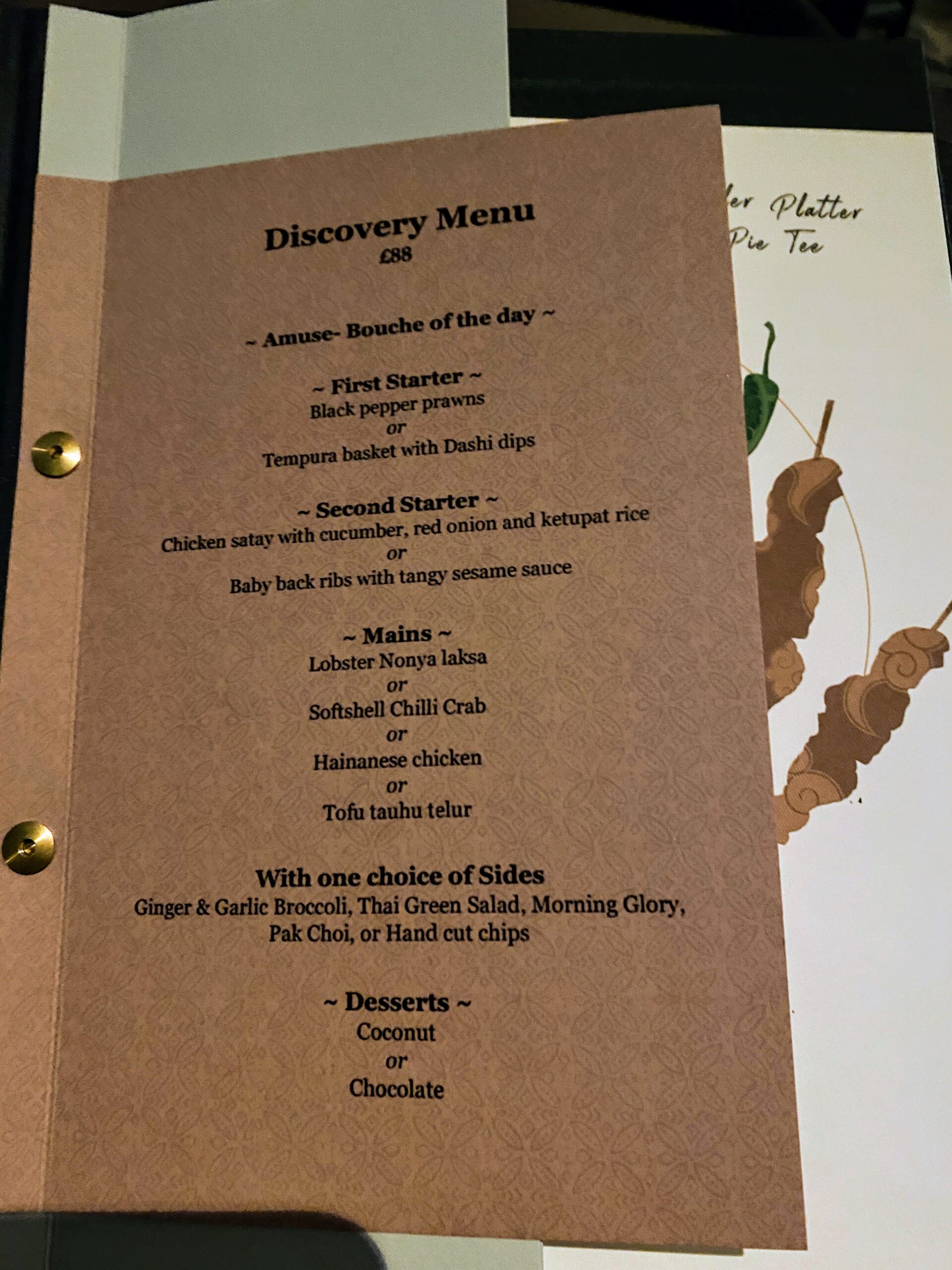 I decided to try the intriguingly named tea pot soup. You are presented with the bowl with the chicken and then the broth is poured from the the teapot at the table. I enjoyed the delicate combination of flavours which made a lovely light start to the meal, although the chicken could have been a little more moist.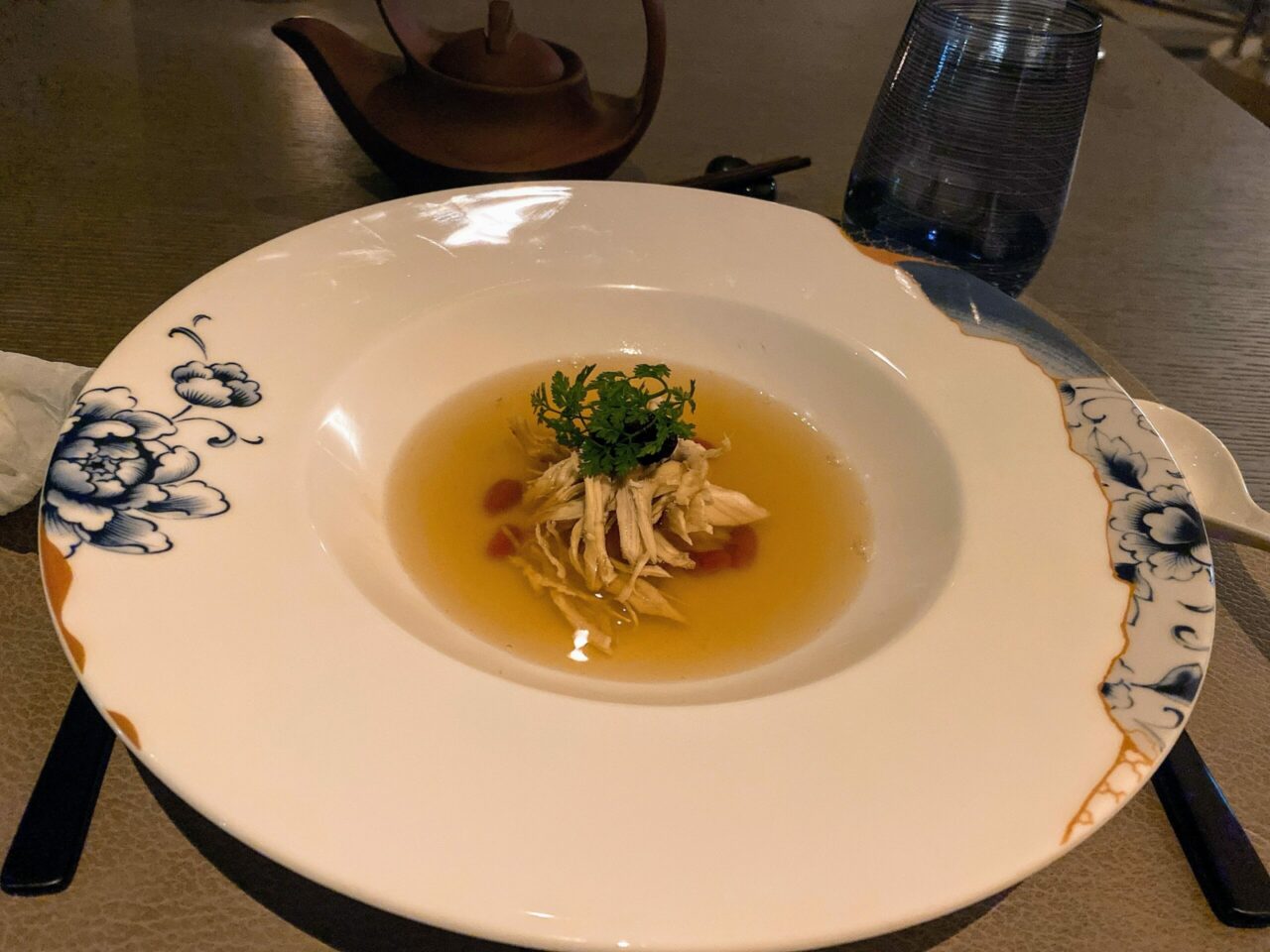 Next, I had to have the chilli crab which I had sampled at the opening party. They only do it for two people but if you forgo the steamed buns that come with it, it's actually not that large since there's a lot of shell. It is definitely not a dish for a first date or business meeting as it is seriously messy. But boy is it so delicious, it's quite addictive. The sauce is not actually that hot despite the name. It's actually quite sweet and full of chilli and ginger as well as a savoury tang with a hint of sweet and sour.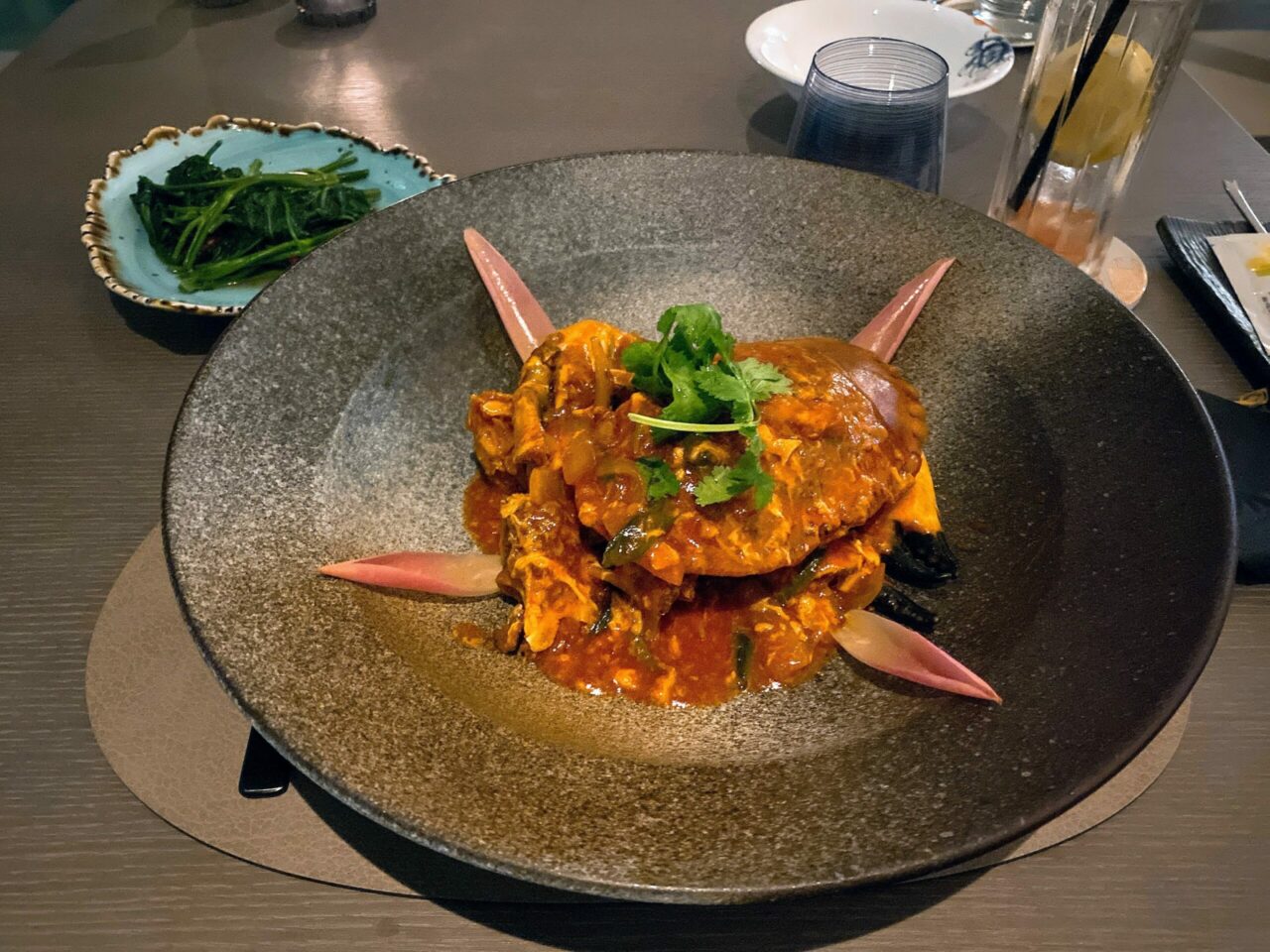 I accompanied it with some Morning Glory stir-fried with chilli and garlic. This Asian vegetable is a little like a cross between long stem broccoli and spinach.
Although I didn't try dessert at that point, earlier in the day the hotel had sent up a complimentary portion of their signature apple dessert dish.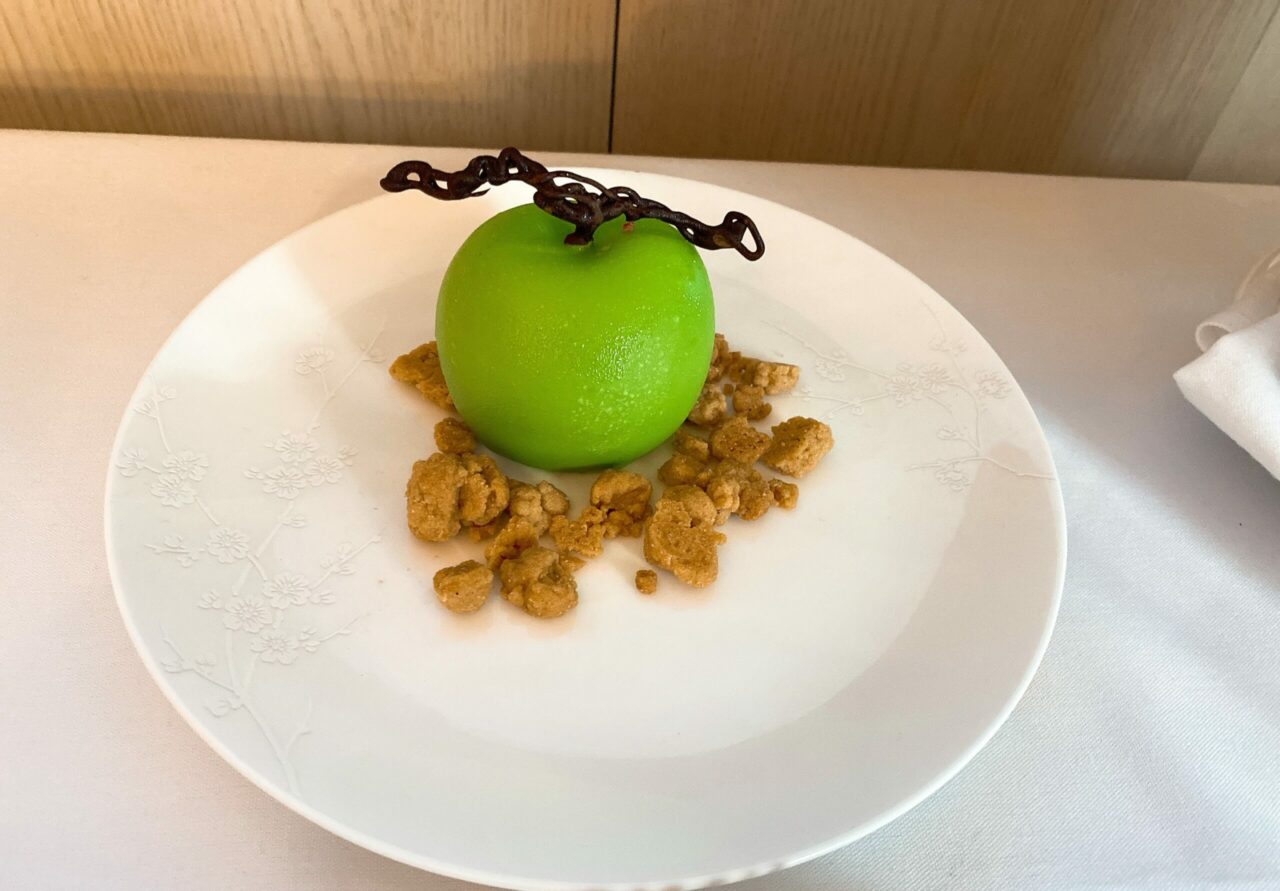 Not only did this look amazing, it tasted great too. Inside was a light apple mousse with a core made from cooked apples. Paired with the crumble that had a hint of cinnamon it was a lovely fresh finish to a meal, far less filling than an apple crumble but equally satisfying.
Ginger Lily cocktail bar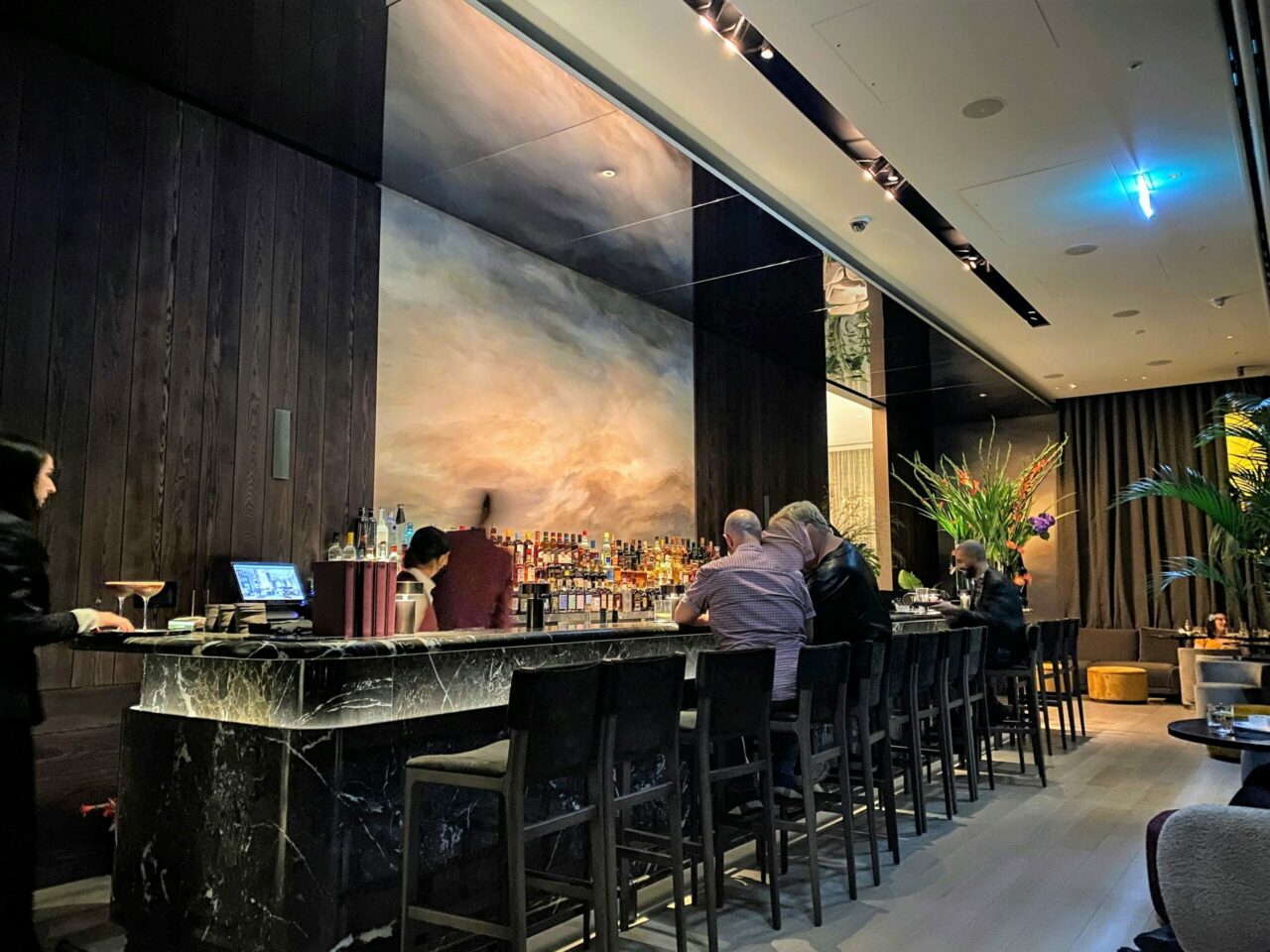 Hidden behind the Ocrhcid lounge is Tiger Lily, their cocktail bar. Like the rest of the hotel, it has that Singaporean touch and even has an outdoor area when the weather is more suitable.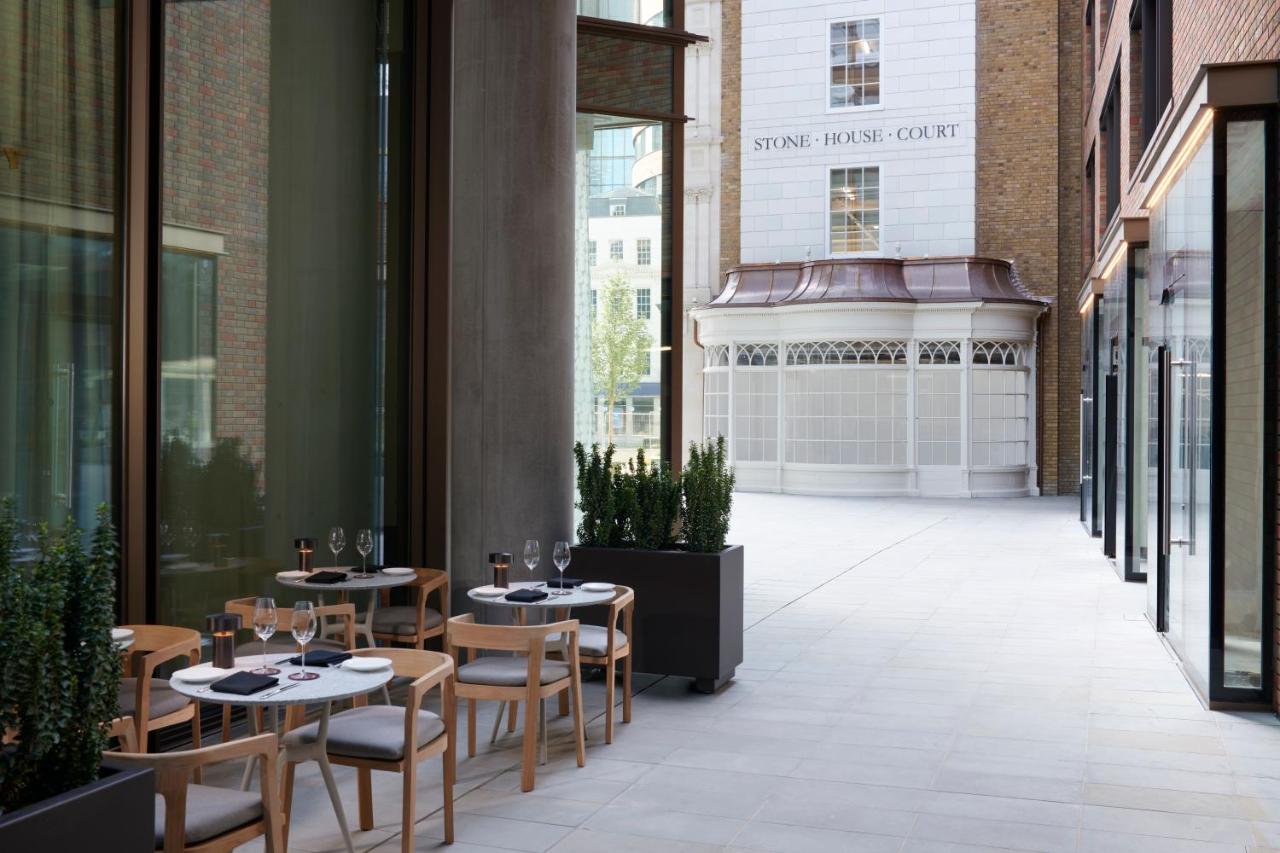 The cocktail menu is modern but with a nod to Asia although there were also more traditional English flavours such as rhubarb. The helpful staff are on hand to advise if you aren't sure which cocktail to chose from the extensive list.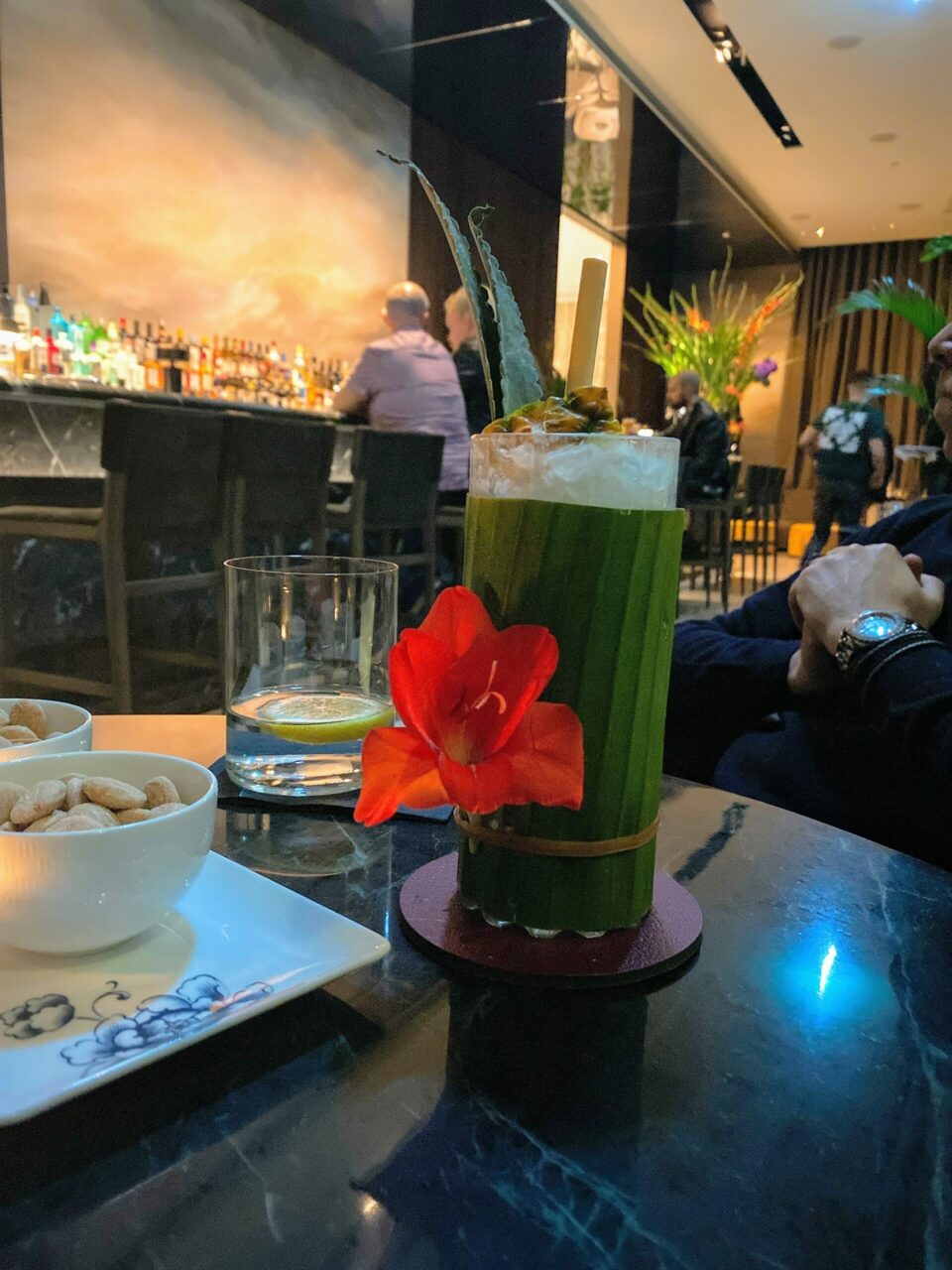 The back of the bar has an intimate feel and would be perfect to take a date for a romantic drink or two. It's open until 2 am except on Sundays where it closes at midnight.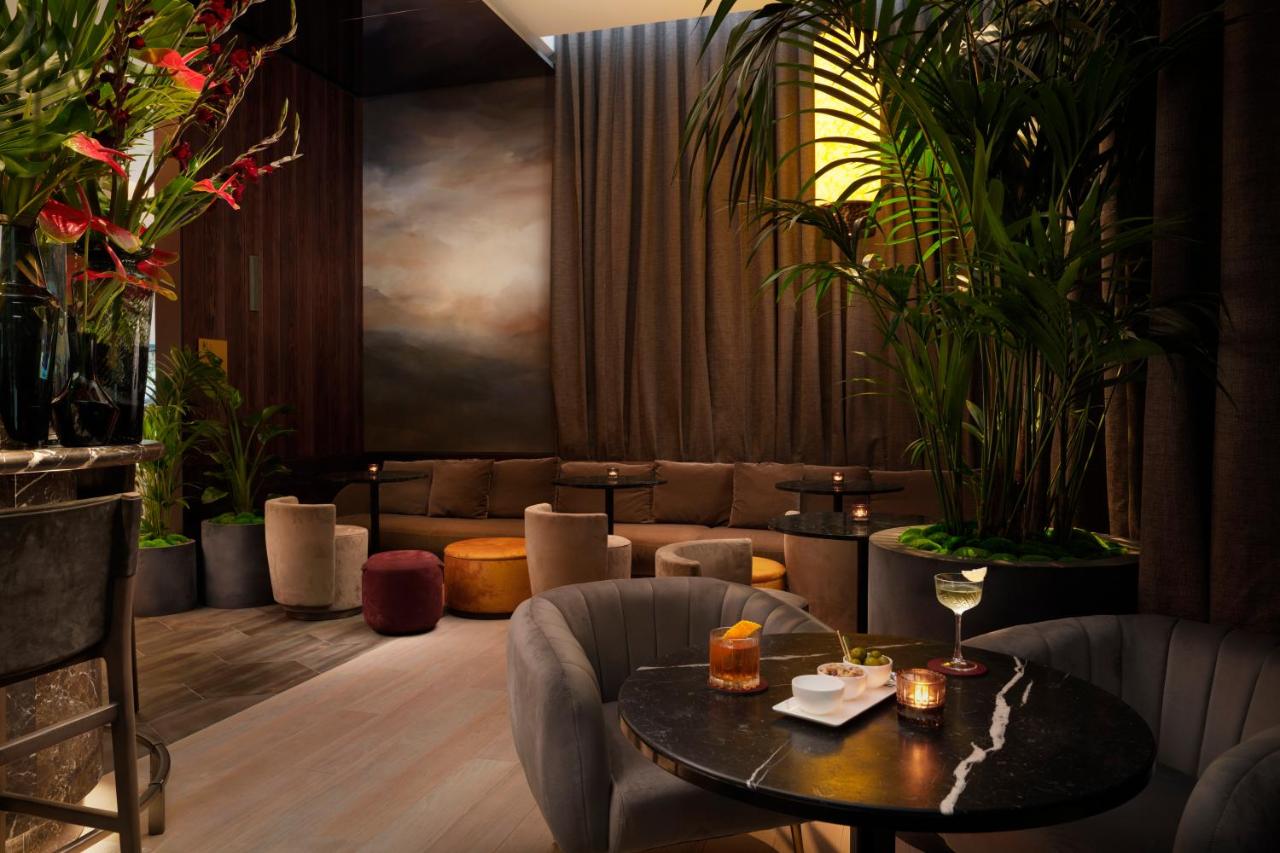 Again if you are in the area, it's definitely worth a visit for a cocktail.
Booking, offers, and loyalty
I booked my initial stay on the opening offer via the hotel's website at around £280 a night but it has now risen to start from £325 but there are some decent deals currently. We are hoping to be able to offer the hotel with extra benefits via our partners Debonair soon.
Pan Pacific is part of the DISCOVERY loyalty program that includes many luxury brands such as The Corinthia and Omni. If you plan to stay at the hotel it's worth joining as you get an extra 10% off.
Current offers
30% off
There is currently a global offer of up to 30% off at Pan Pacific Asia, Australia, London, United States or Canada! It's 30% for Discovery members and 20% for non-members but you can join free here.
You will also get 15% savings at Pan Pacific Hotels Group operated restaurants.
The offer is valid from 21 September 2021 to 31 December 2021 for stays until for stays until 31 March 2022. The good news is that you can cancel up to 48 hours before for free.
Suite discount package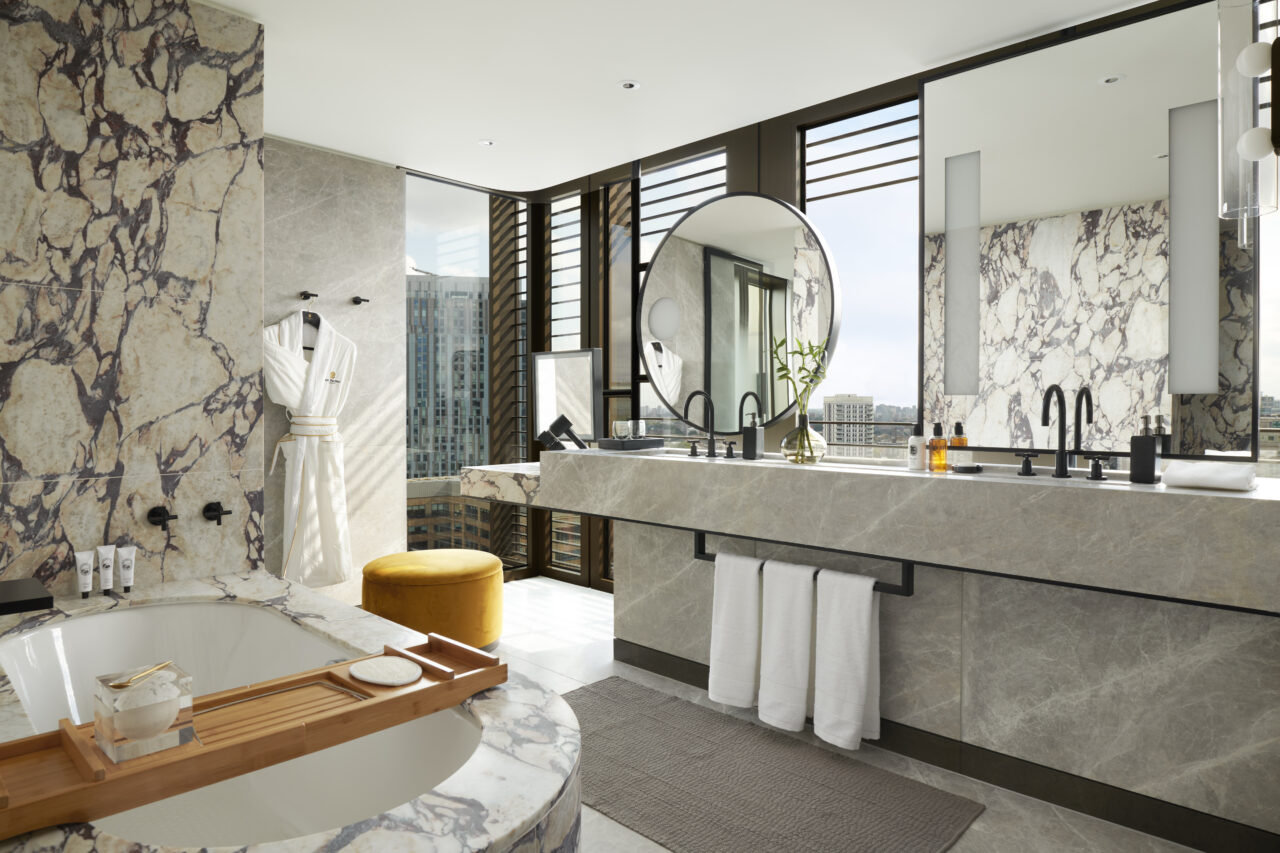 For the Pan Pacific London specifically, there is a 25% discount on two-night suites stays which includes:
Included in this package
Daily breakfast in one of Pan Pacific hotel London's restaurants, Straits Kitchen.
Personal butler service.
Two-night stay in a suite.
Option of an early check-in subject to availability.
Access to the Wellbeing Floor: infinity pool, sauna, steam room, relaxation pods, mindful studio, drawing room and nutritional bar.
24hr gym and interactive training area access.
Wi-Fi.
This is only valid for stays until 31 December 2022. Cancellations can be made up to 6pm local time 72hrs prior to arrival.
Like Pan Pacific hotel London's restaurants review? You can read more hotel reviews here.