I must admit I am not a huge fan of Dubai. I used to got there years ago but fell out of love with it as it got more and more developed and the prices got ridiculous. However, I managed to get a great deal on Oman Air and couldn't be bothered with the long transfer to Abu Dhabi. So I decided to check out a few hotels in Dubai. As I was arriving early in the morning after an overnight flight I thought I would stay somewhere close to the airport to save a long transfer. The Park Hyatt looked beautiful and prices weren't too crazy so this was my first hotel of the trip.
Booking
One of my top tips when booking places where food and drink are expensive is to either book a Club room or use a Virtuoso agent. Virtuoso agents give you lots of extras in your bookings. The catch is that you pay the best available price, not the advance purchase price. However, you can then cancel up until fairly last minute and you also will still get your loyalty perks with hotel chains. You can book through our partners, Debonair to get the Virtuoso benefits.
This gave me:
Early check-in and late check out
$100 to spend on food/drink or spa treatments
Free breakfast
A room upgrade
Location
The hotel is about 10 minutes from the airport. It is about 9 miles from the Burj Khalifa and the Dubai Mall.
Check-in
I had taken a taxi from the airport and as soon as I pulled up I was greeted by a porter who took the luggage and welcomed me to the Hyatt. The receptionist was very charming and welcoming. It felt like I really was a valued guest. She went through all the benefits of the Virtuoso deal and gave me a letter detailing them. She then took some time to go through the property and where everything was on a map. She explained that they are building a lagoon on one part of the property so I had been situated at the far end of the hotel away from the building. (Having stayed there I really want to go back and see the lagoon!)
I was arriving very early at around 10am so I had emailed them advance to say that I would be arriving early. Fortunately, my room was ready so I was escorted straight away to the room by the porter with my luggage. He pointed out a few features in my room and was generally friendly and helpful.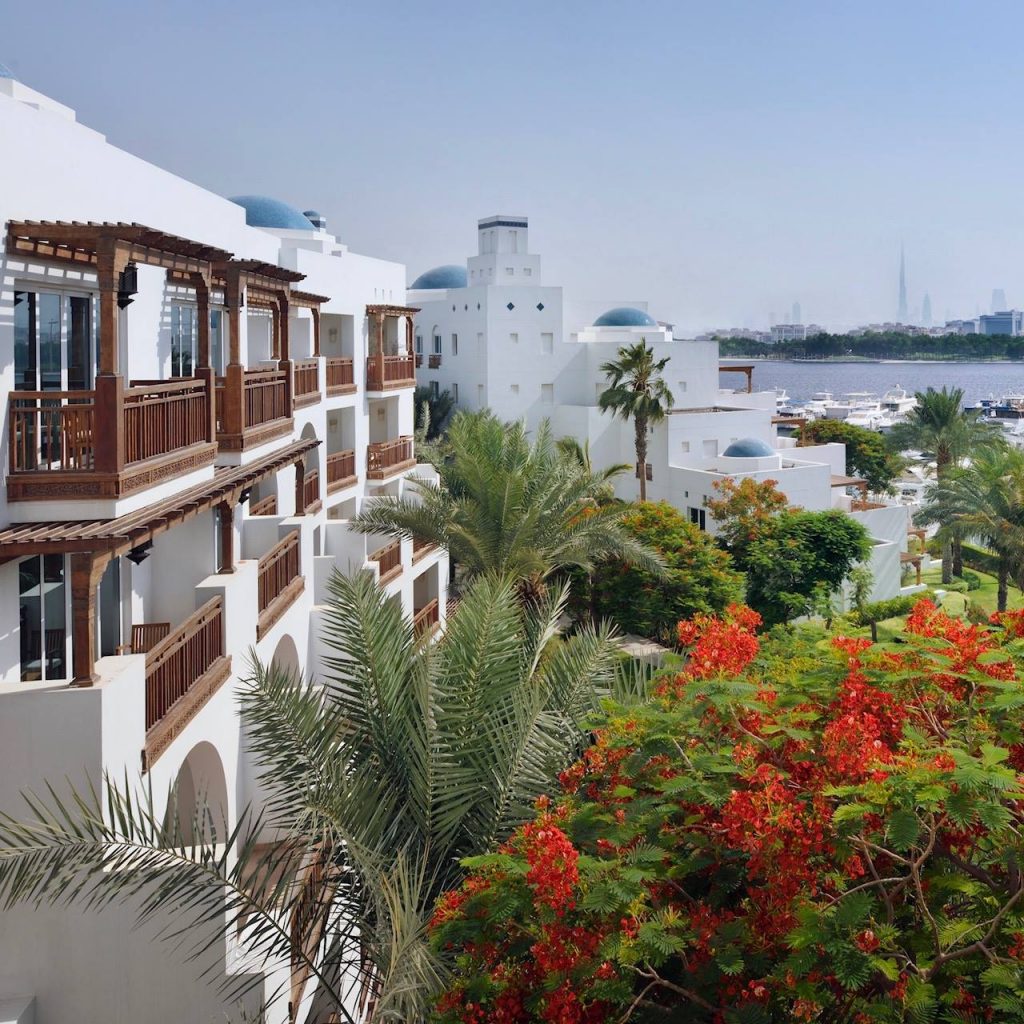 The hotel itself is beautiful with lots of small courtyards with fountains and lush gardens surrounding it.
The room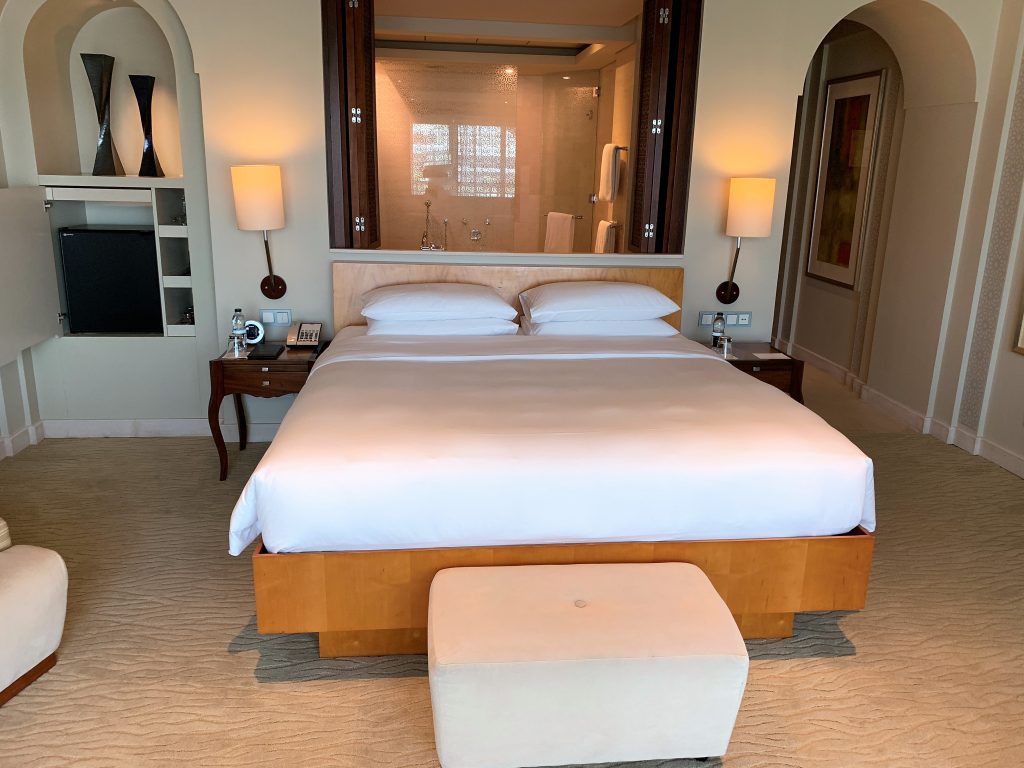 The room was comfortable and luxurious but apart from the bathroom not particularly remarkable. Fortunately, the views from the room and level of comfort made up for that. The room had all the usual features you would expect in a luxury hotel. There was a pod espresso maker, although there was no kettle unlike some hotels that have both.
Post from RICOH THETA. – Spherical Image – RICOH THETA
Bottled water was provided twice a day and the usual turn down service was done with bottled water and slippers laid out etc. A welcome bowl of fruit was also provided.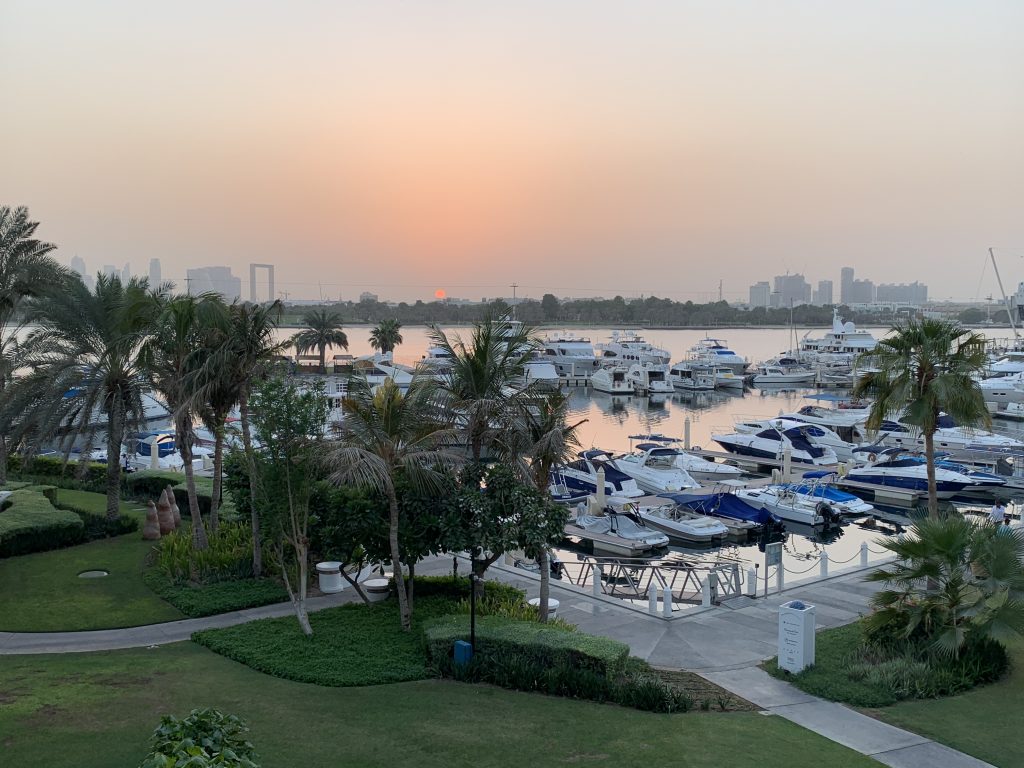 I had a good size balcony with two comfortable chairs to enjoy the view. I could see the Dubai Downtown in the distance and even catch a glimpse of the Burj Khalifa tower. It did not feel like I was in Dubai at all, more somewhere in the Mediterranean at a harbour.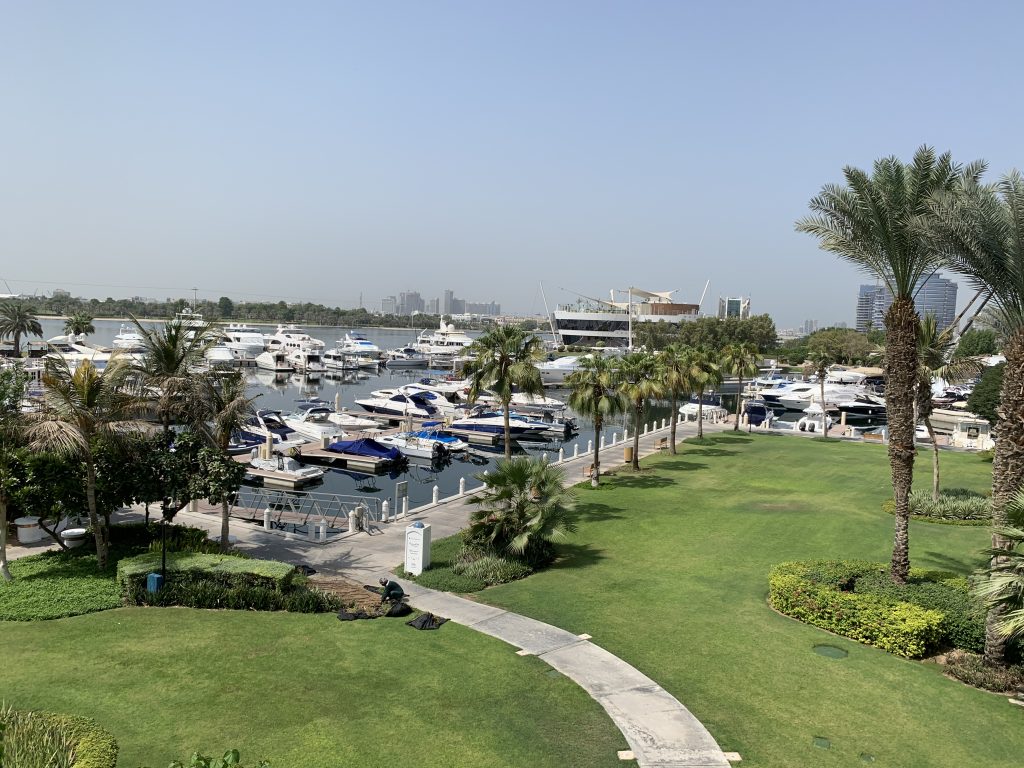 There was a walk in dressing area off the bathroom with iron and ironing board, safe and lots of storage space.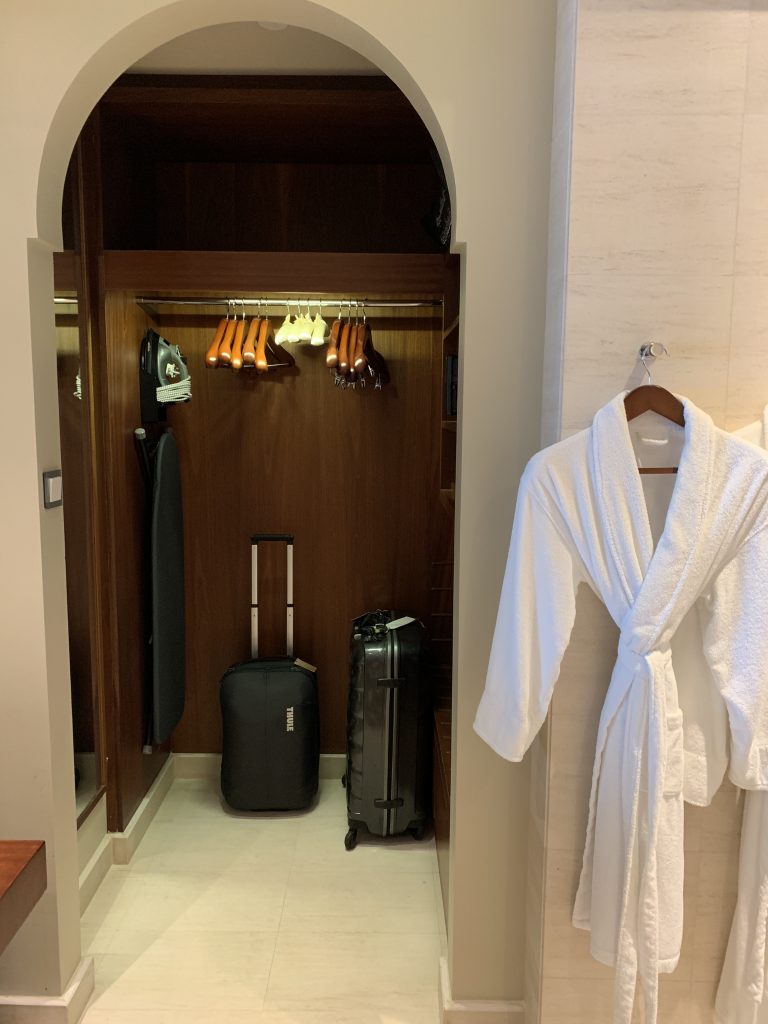 The bed was comfortable but it could have done with being a bit softer as it was the hardest bed out of the 5 hotels I stayed in on this trip. The pillows were lovely and soft though and the bedding high quality cotton.
Bathroom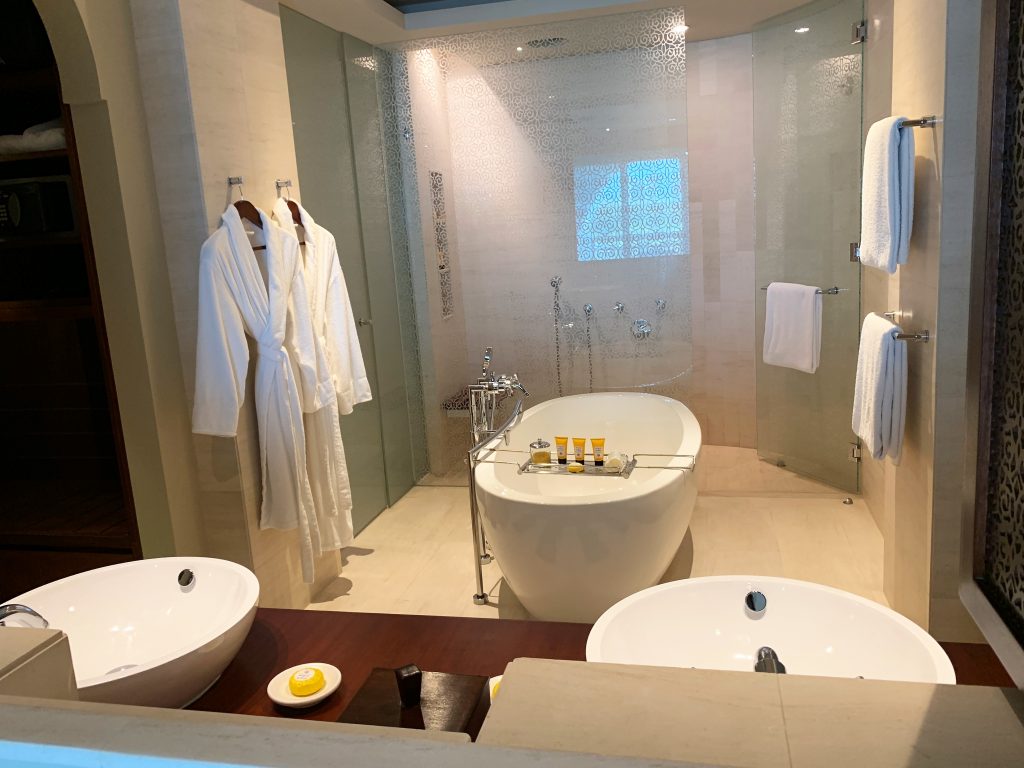 I loved the bathroom, particularly the bath which was large and elegant. It did have the open style which I am not a fan of although you could draw down a blind plus the toilet was behind frosted glass.
Post from RICOH THETA. – Spherical Image – RICOH THETA
The bath was probably one of the most comfortable baths I have had a soak in and I loved the Acqua Di Parma toiletries which included bath salts. There were lots of other amenities provided too such as a loofah, mouthwash and dental kit.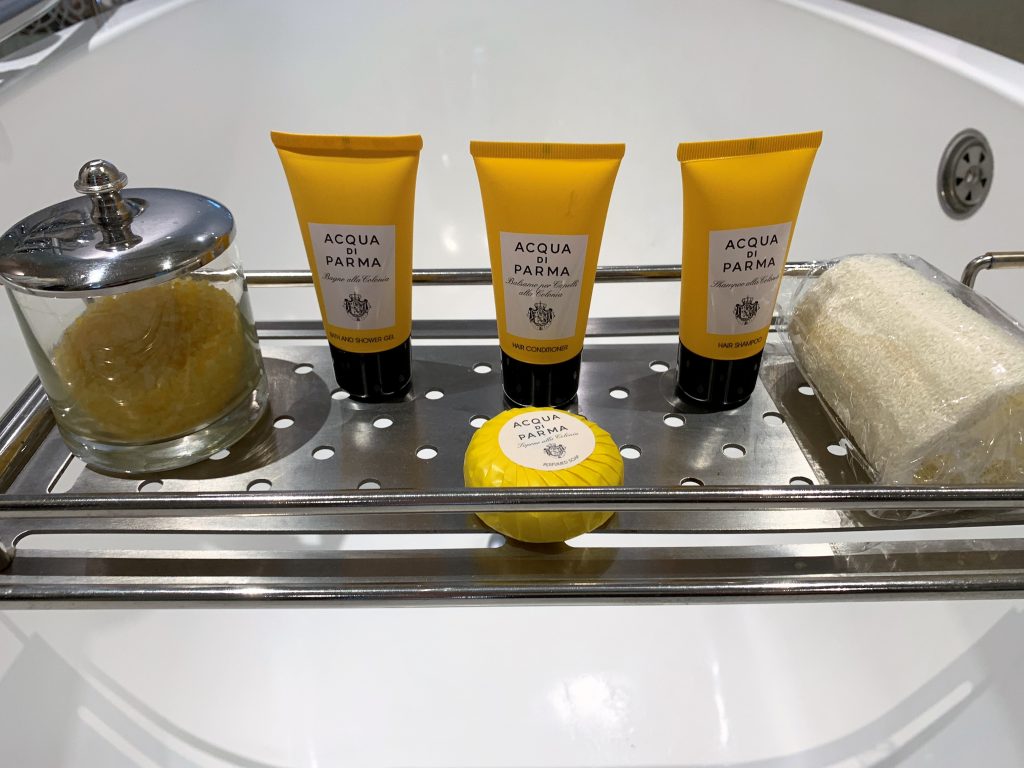 The hotel was extremely quiet and I never heard any noise from my room at all.
Facilities
Swimming pool
The Park Hyatt Dubai has a 25-metre swimming pool (270-square feet) with in-set palm trees, and four whirlpools, one in each corner. I visited the pool on three occasions and each time the pool attendant came over straight away to help set up a chair for me. I liked that there were double chairs if you were with a partner and in fact, they insisted on setting up a double chair for me so I had more room. Then they would bring over a lovely tray with a cold towel, water and a treat such as fruit or a cold drink. The pool was never crowded and compared to the other hotels I stayed at, blissfully quiet. I did find the temperature of the pool a little cool (I suspect they chill it) and it was the coldest of the pools on my stay.
The one thing that I found cause to complain about was the service at the pool which was nowhere near the level of a 5* hotel let alone a Park Hyatt. You basically never saw them. Nobody approached you at any time to give you a menu or ask if you wanted anything. You had to go inside to the bar if you wanted a drink or try to call out to one if they passed by in the distance. When I did eventually order a drink it was taking 20-30 minutes to arrive. I did talk to them about it at check-out. I often will do this, not because I expect compensation but otherwise, the hotel has no way of knowing and rectifying it. I was surprised when they offered me 50% off my pool drinks which I thought was very fair and good service recovery.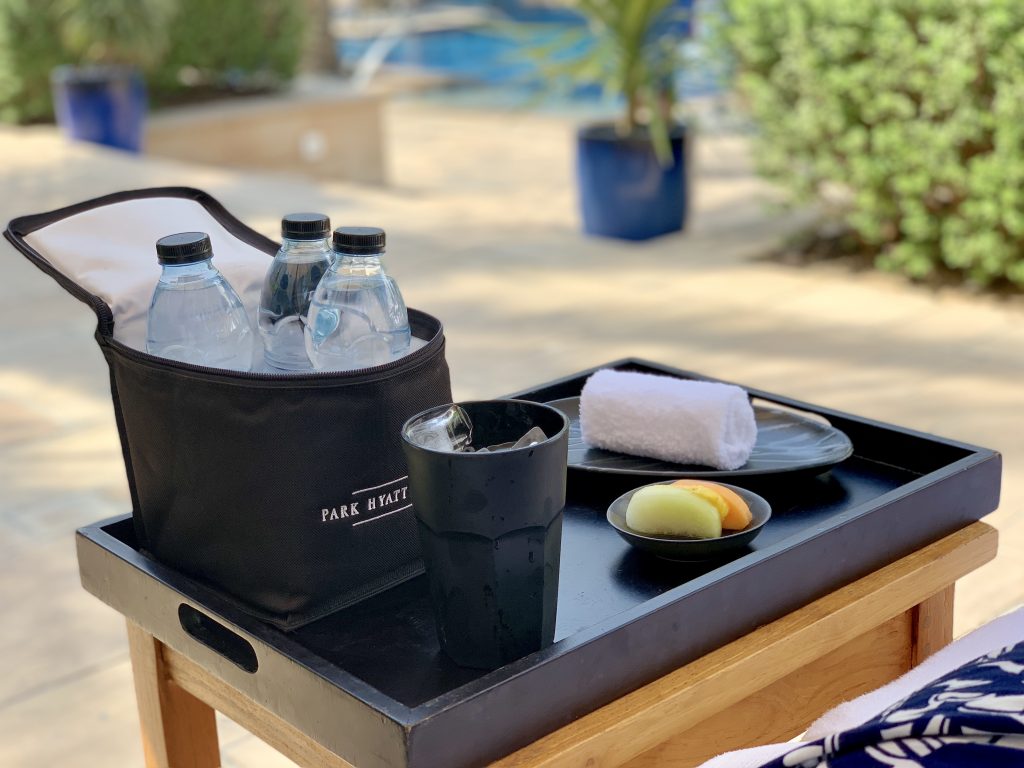 Amara Spa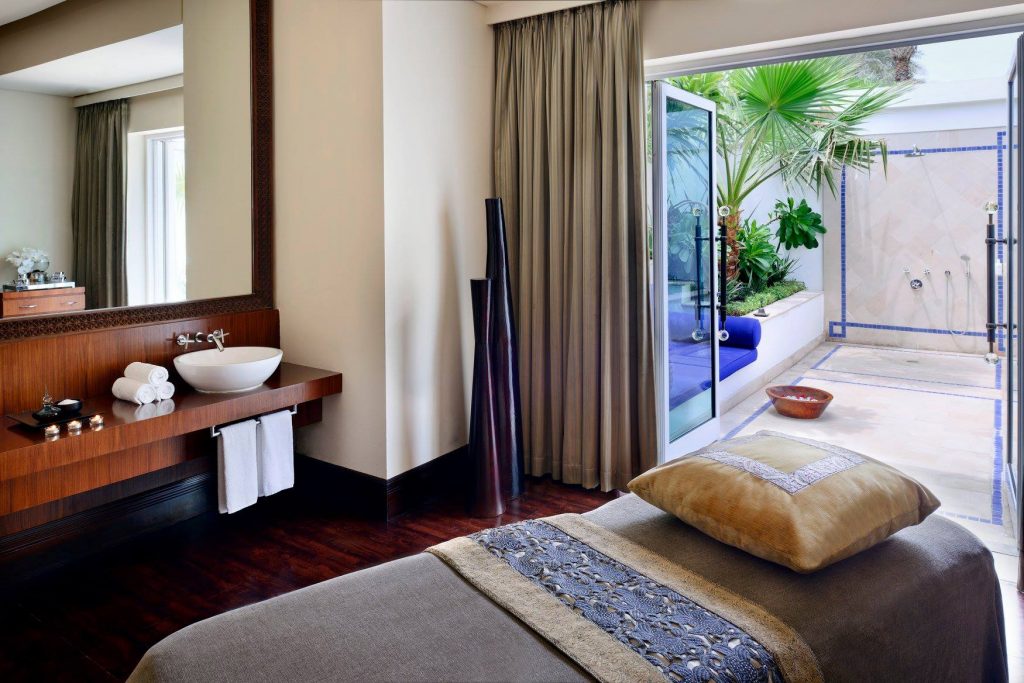 On this occasion, I didn't visit the spa but if you fancied it they have a sauna and steam room plus 8 treatments rooms.
Gym
The hotel has a 24-hour fitness centre with the latest fitness technology from Technogym. The Park Hyatt offers various outdoor activities such as three different jogging routes. Personal fitness trainers can also be arranged. I visited the gym and although not that big it was well kitted out with the latest equipment and nicely air-conditioned.
Golf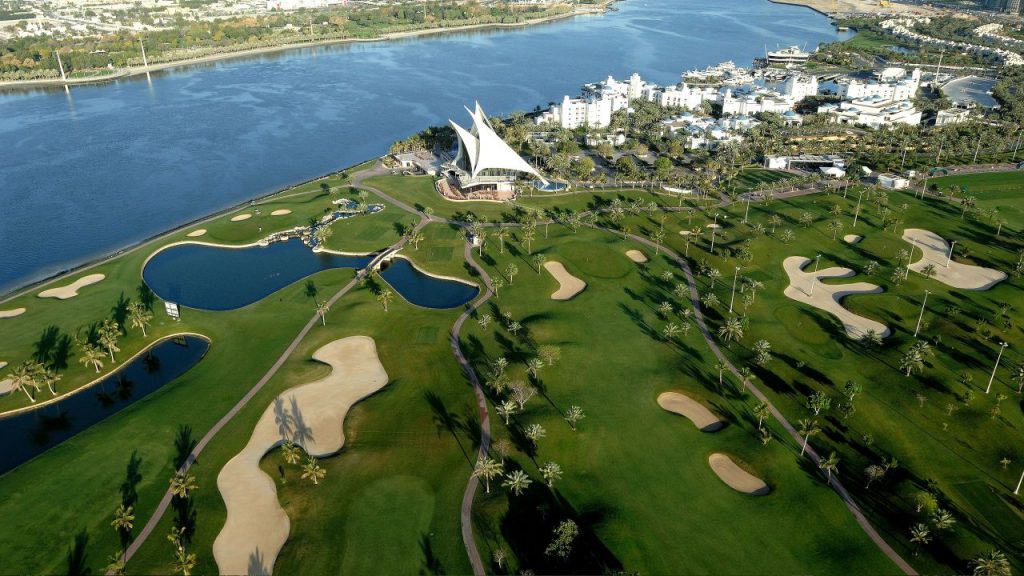 If you are a golfer the Park Hyatt Dubai is ideally placed adjacent to the famous Dubai Creek Golf and Yacht Club. You could also opt for a round at the Emirates Golf club in Dubai Marina, which is meant to be one of the best golf courses in Dubai. The hotel concierge team can arrange tee times at both golf clubs for hotel guests.
Dining
Breakfast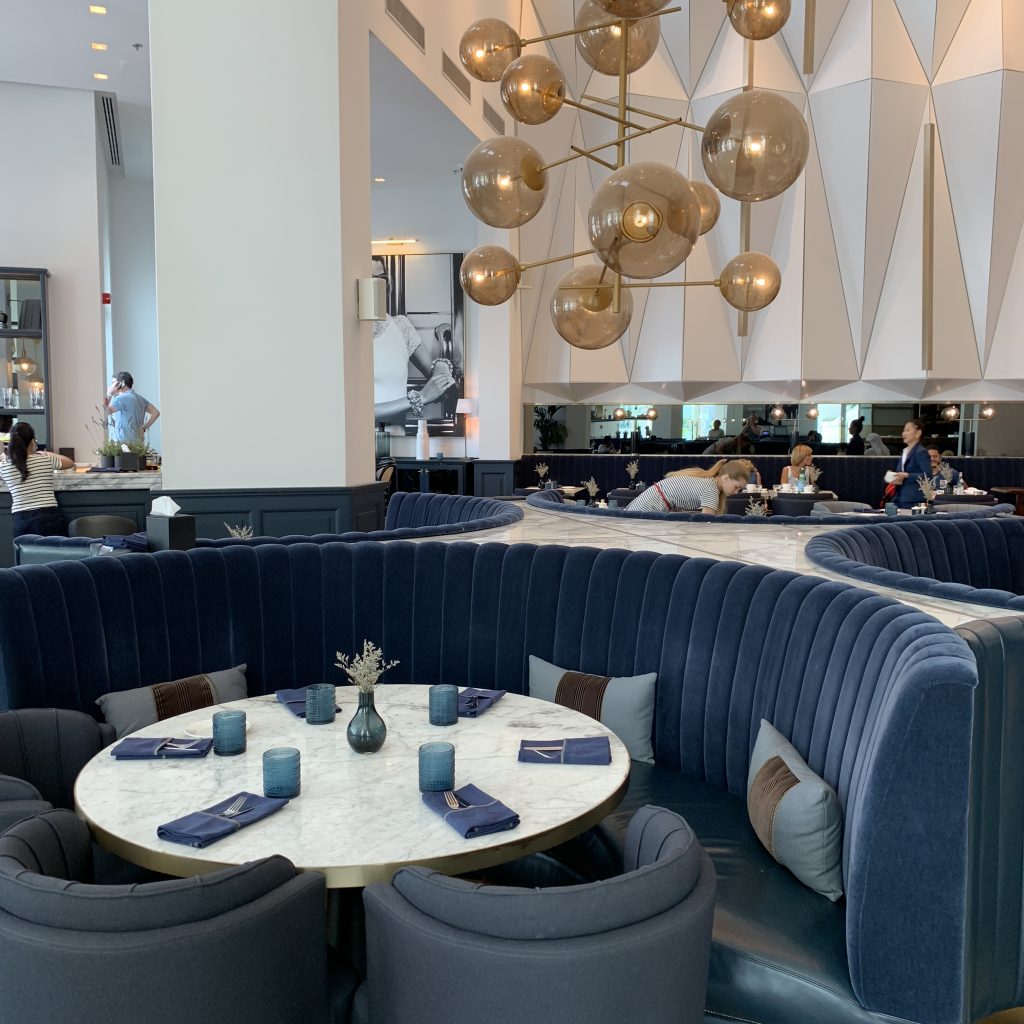 Breakfast is served at the buffet restaurant, Brasserie du Park. I was impressed with the service as a note was made of my name and used during breakfast. The cappuccino was one of the most delicious I have had with a velvety foam and I loved that they took the time to do a design on top too.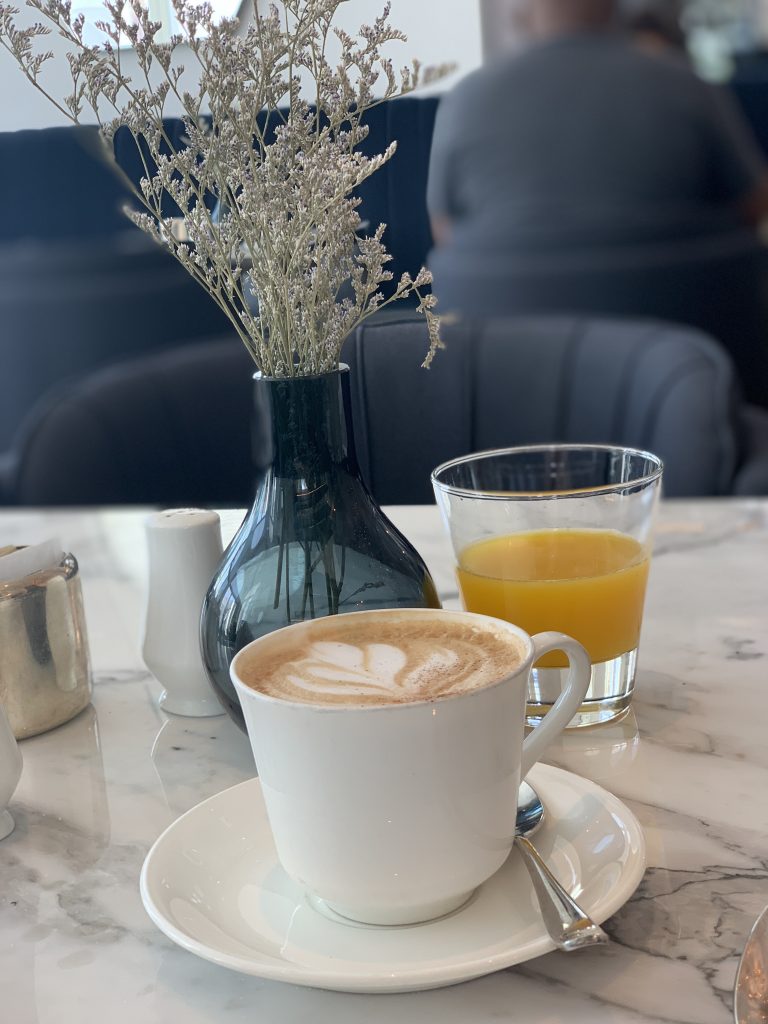 There was an excellent selection of local, international and healthy options. As well as juices there were several different superfood type juice blends and smoothies. To eat there were salads, fruit, Arabic breakfast, bread, pastries, cheese, meat, smoked salmon and full cooked breakfast.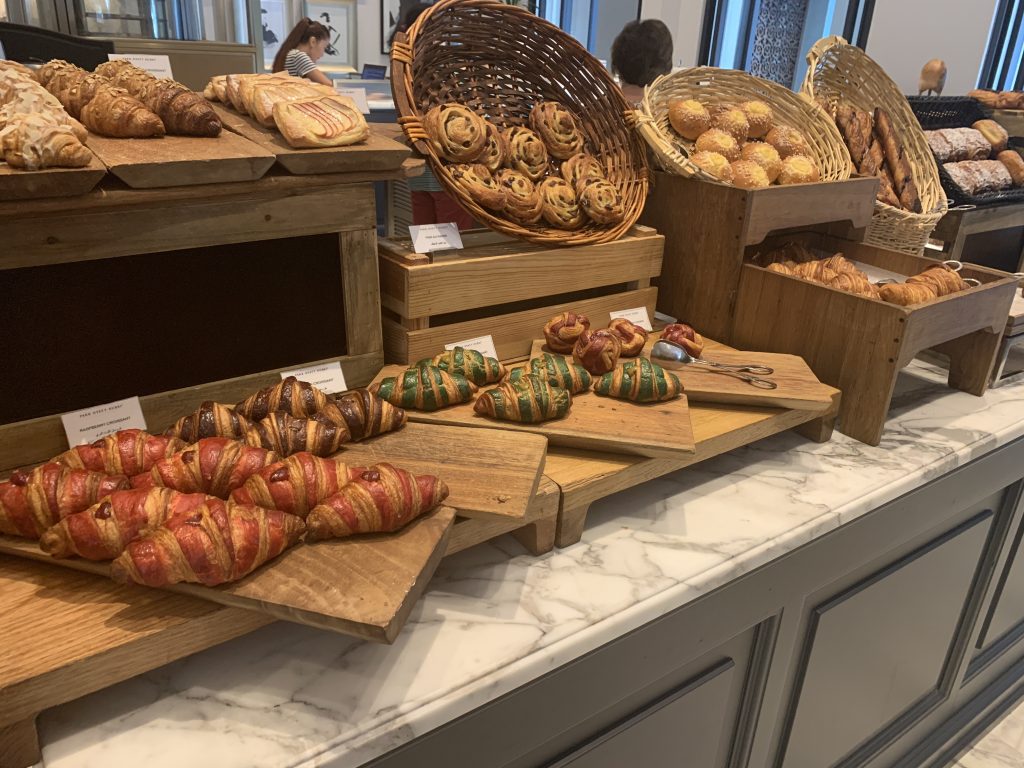 There was an unusual arrangement right in the centre of the buffet section with an open area where the chef would cook your eggs to order.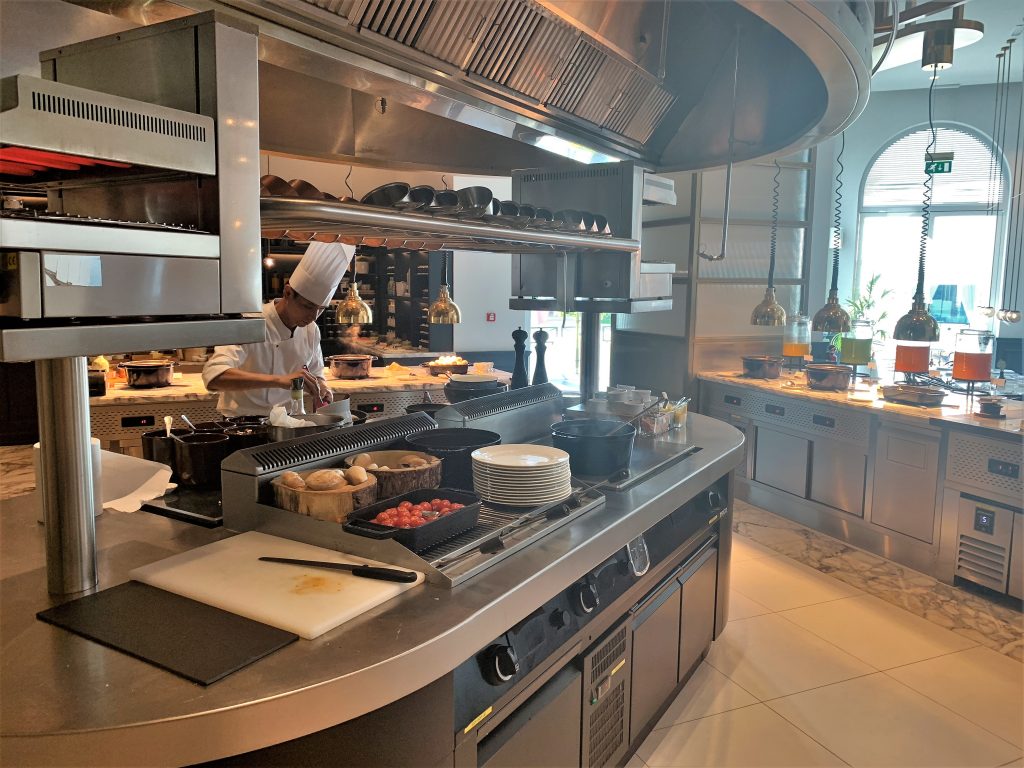 The Thai Kitchen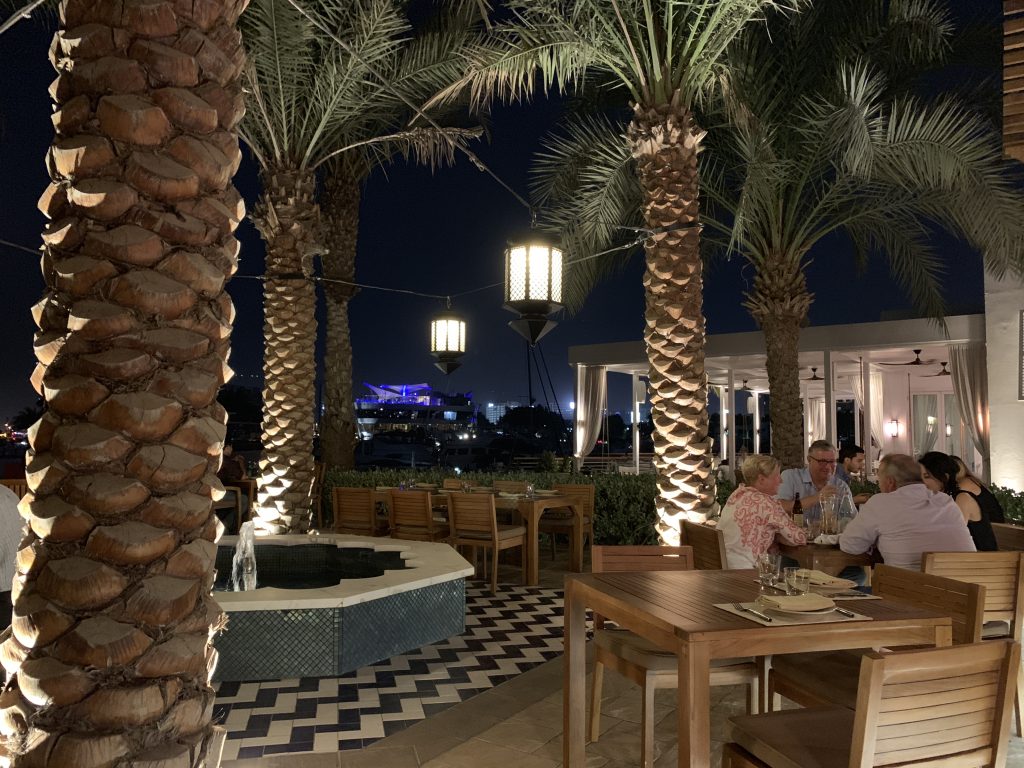 I opted to eat dinner at The Thai Kitchen which is renowned for its authentic Thai food prepared by Thai chefs. The restaurant features three live kitchens – one each for wok, grill and noodles.
I rather foolishly opted to sit outside and soon regretted it as it was still a balmy 32° at 9pm! The setting by the marina was lovely though. The service at the restaurant felt a little disorganised and was a little slow to start with. I ordered the Som Tam papaya salad to start and then a Penang Prawn curry. I was asked how spicy I wanted it and they explained that it was Thai spicy. I went for the usual safe option of medium.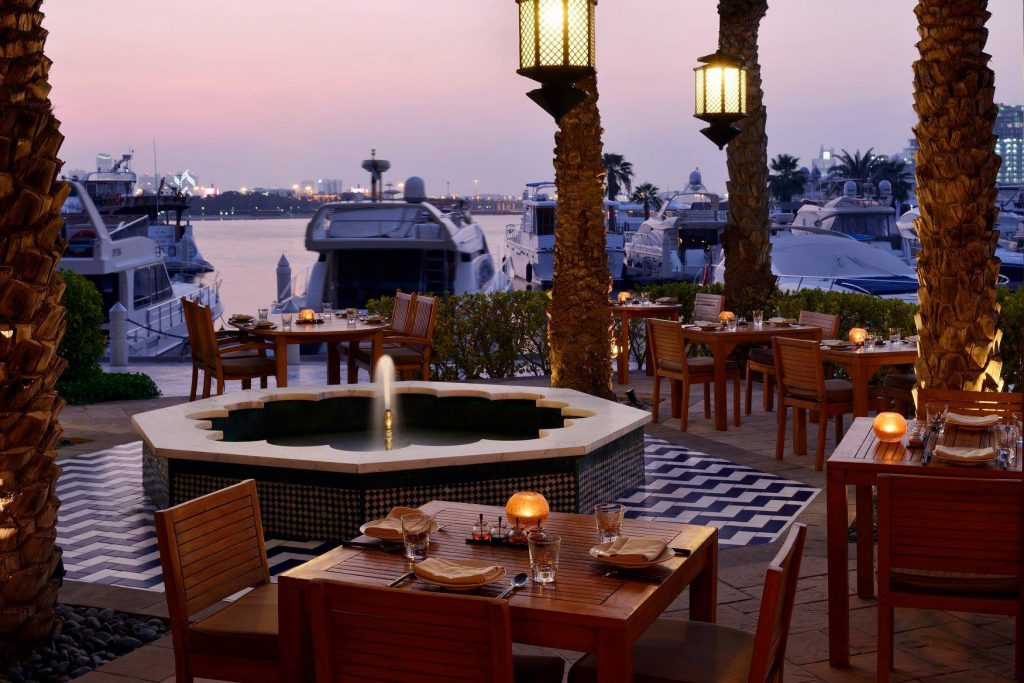 The salad was very good and tasted authentic but my god it was hot! I dread to think what a hot version would be like! Only around 10 minutes after the arrival of the salad and whilst I was still eating it, my main course arrived which I thought odd. Rice is included in the price but you only get one scoop and they don't ever come back to offer you any more which I thought was a bit stingy. The curry was delicious, but like all the portions, very small with a total of 3 prawns. I normally prefer small portions as I don't like to feel too full but after the curry I had to order a portion of chicken satay as I was still hungry!
Prices were not bad for Dubai in a 5* hotel but would be regarded as fairly high for the UK, especially for drinks.
NOÉPE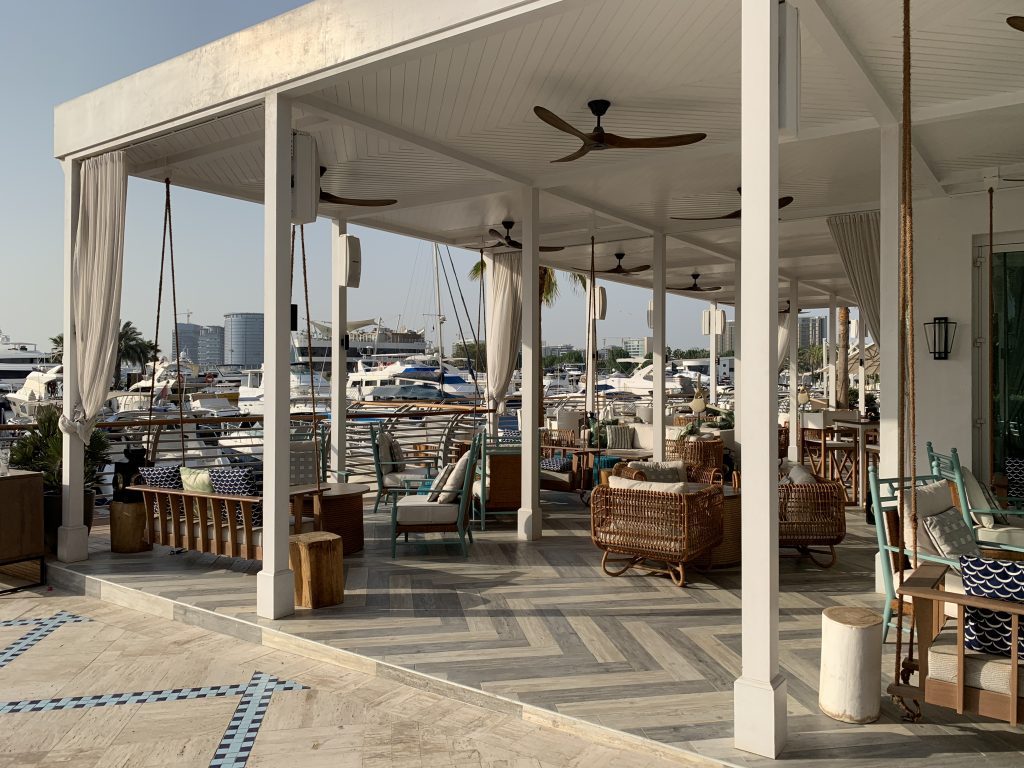 NOEPE has a breezy New England vibe and a great view of the marina. You can pop in for a drink or enjoy the seafood cuisine.
Brunch
The multiple award-winning Traiteur brunch is held at The Promenade on a Friday and was also recommended to me by one of TLFL's readers. It features premium champagne and great views on the water's edge of the Dubai Creek.
Bars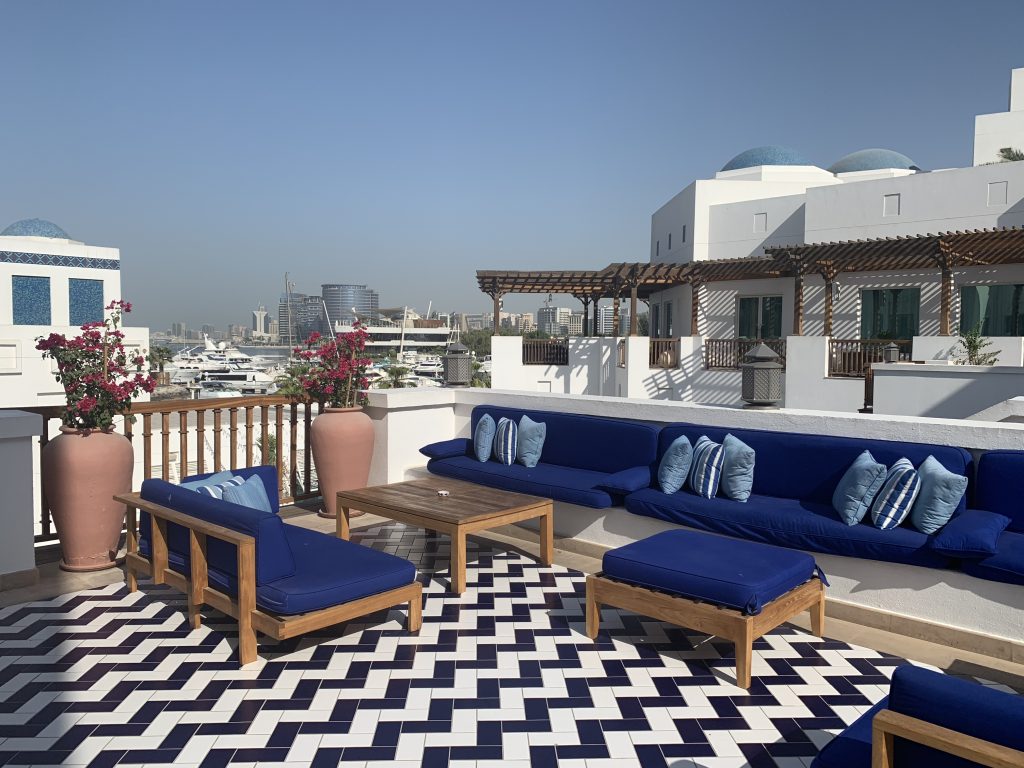 If you fancy an al fresco drink or shisha, then the main lounge is a lovely place to sit overlooking the creek and marina. There is also an inside part of you need to cool down. Next to the lounge is a small cafe with cakes and coffee.
Seventy-Seventy
The bar has a feel of the early 70's to it and I liked the feel of it. The menu was presented on an album sleeve which I thought was very clever. As well as the inside part of the bar there is also a small outdoor balcony if you would rather be outside. I did find the music rather intrusive for a hotel bar as the volume was pretty loud, although I did enjoy the music itself. They had a special on giant cocktails but I didn't really fancy any of them so I asked for an off-list Brandy Alexander which they executed well.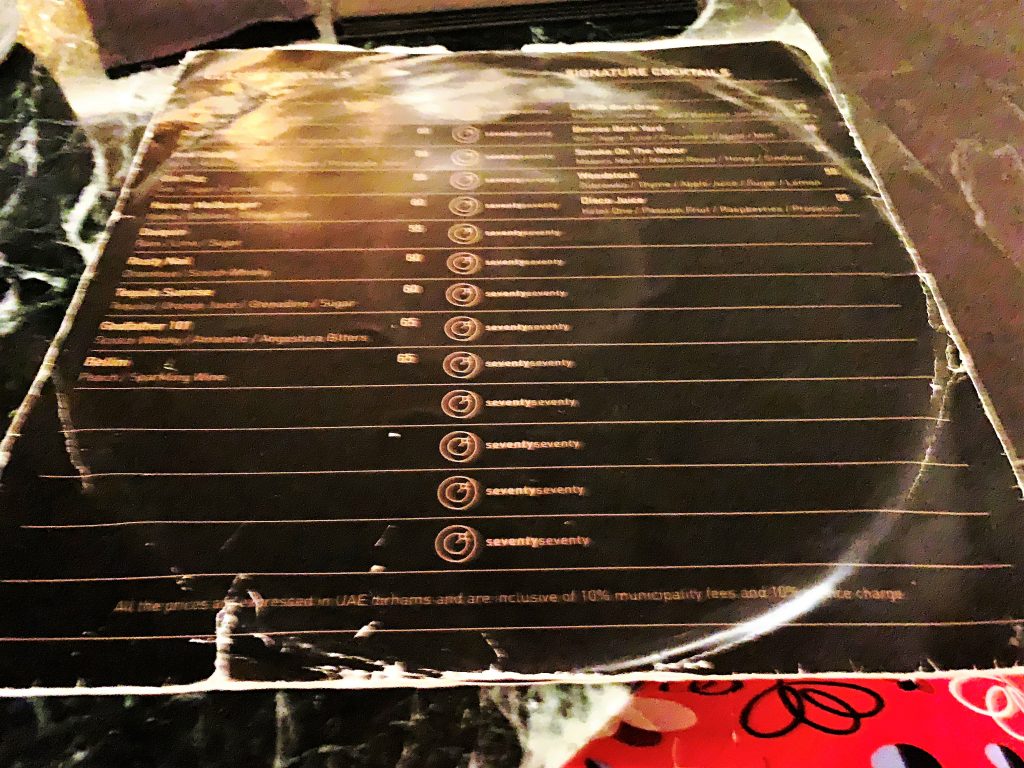 Conclusion
I was extremely impressed with the hotel. Considering it was in the heart of Dubai right near the airport, it was a beautiful, tranquil hotel. A lot of thought had been put into the design of the hotel and it was really gorgeous. Food and drink prices were expensive but not crazy and there were some deals on to help soften the blow.
I would definitely go back to the Park Hyatt if I wanted a short break in Dubai. The location means that you wouldn't waste time on long transfers to the beach area and you would be central to everything in the creek area of Dubai.
You can find the lastest prices and see more information on the Park Hyatt here.